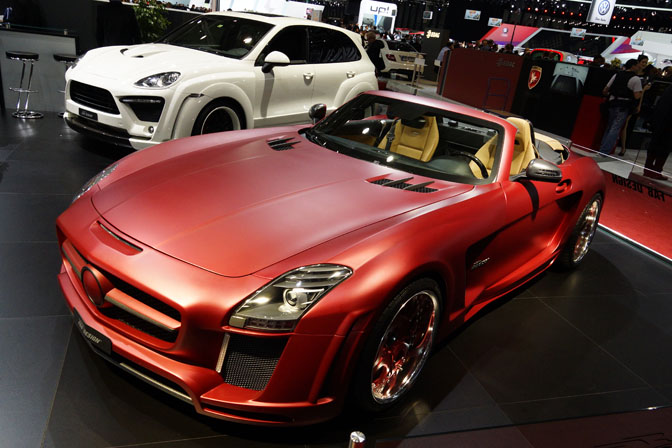 ?Standing shoulder to shoulder with the supercars, stylists and mainstream car companies at the 2012 Geneva Salon International de l'Auto are the tuners. Here in Switzerland the order of the day is to take an already hot car – and turn the heat up even further. Bigger engines, more extreme body styling, lower stances… Some of the cars look look like game renders!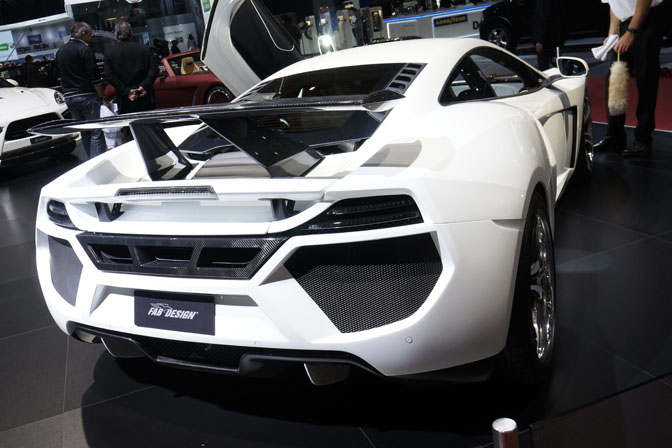 If your exclusive car isn't quite exclusive enough, these are the companies you turn to. And there are a surprisingly large number of specialists around, even for cars that have barely rolled off their respective production lines.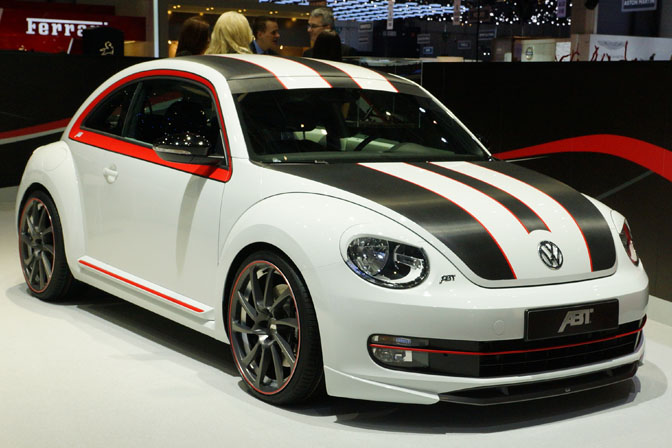 Thankfully it's not just the supercars that get attention: even more humble cars can be given the tuner treatment – and usually for the better.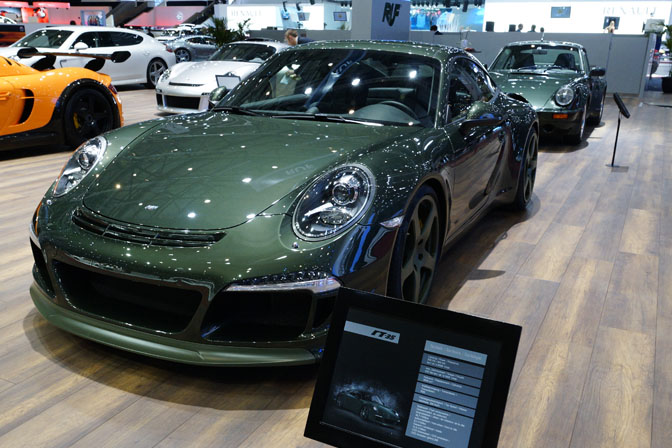 RUF are well-known for their reinterpretation of Stuttgart's finest: at Geneva they celebrated their original 1977 RUF Turbo 3.3 with the release of the new RT-35 Anniversary (the original metallic green car from '77 is parked up behind its new young relation).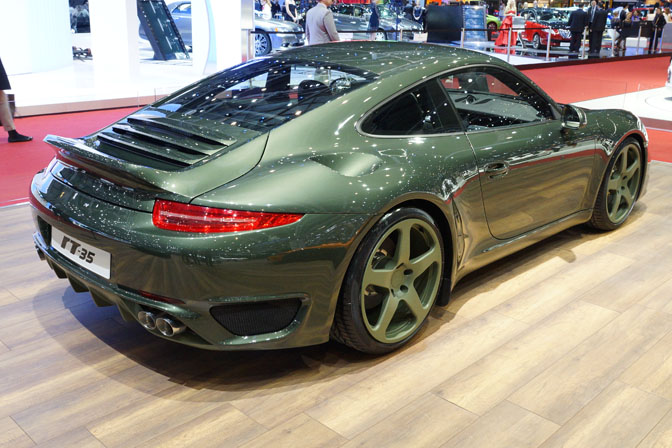 The RT-35 is based on the new 991 model: its turbo-charged unit pushes out 630hp. The aggressive front styling is matched at the rear: more bespoke shaping to feed the big turbocharged 3.8-litre six, including the enormous scoops on the flanks.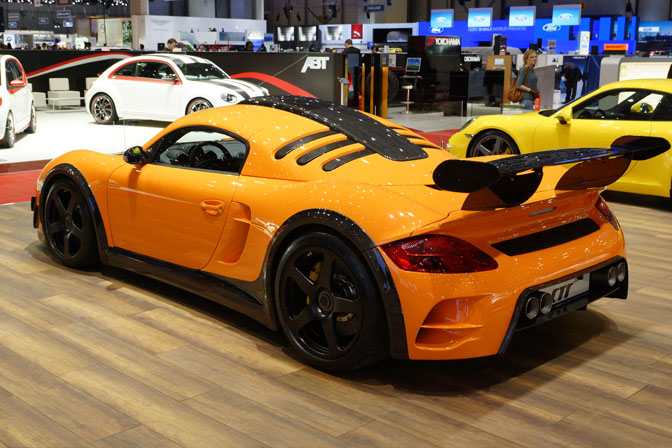 According to RUF, their CTR-3 Clubsport harks back to the Le Mans coupés of the 1950s. However, I'm not sure that there was this much carbon fibre in the world then! I see it as more an Exige crossed with a Carrera GT. The Clubsport's twin-turbocharged 3.8 litre flat-six has an output of 750hp, giving a frighteningly high top speed of 380kph, and is another model echoing an older RUF design – this time the CTR Yellowbird from two decades ago.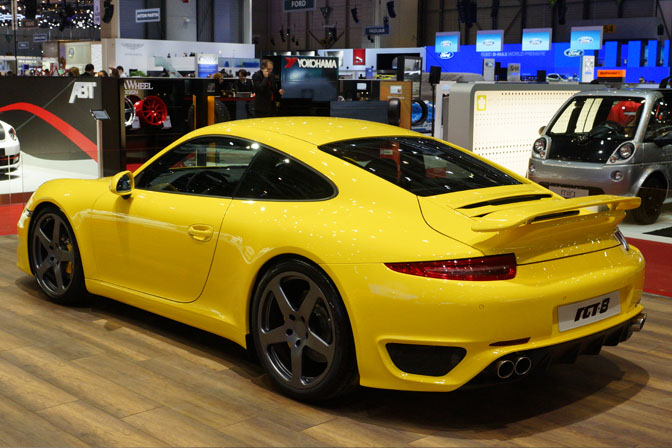 The other new 991-based RUF on display, the RGT8, has a unique RUF-developed V8 shoe-horned into the back, producing 550hp and edging towards a 200mph top-speed. The V8 engine was inspired by racing technology and features hemispherically arranged valves, a 180-degree flat crankshaft, dry sump lubrication and direct drive ancillaries eliminating all drive belts. It's going to sound mind-blowing, basically.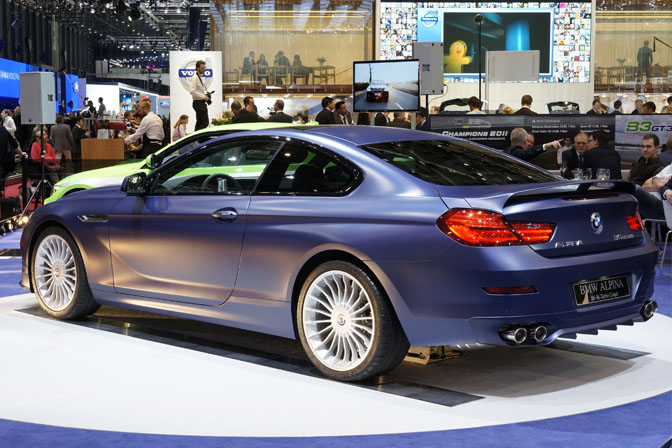 I've sneaked Alpina in here – they are technically a full-blown manufacturer – as masters of high performance BMWs. They had their B6 Bi-Turbo Coupé on show: the all-aluminium V8 is supplemented by two turbo-chargers in parallel, each feeding one of the two cylinder banks. The eight-speed gearbox smooths the way to a 200mph top speed.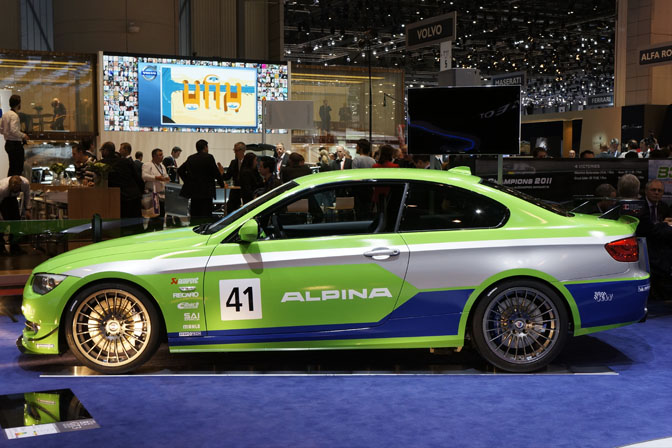 Alpina were also showing off their B3 GT3, celebrating the marque's victory in the 2011 German ADAC GT Masters series. 99 road cars will be made, and you can get it in a replica of the GT3 racer's livery – though race logos on a road car are rarely advisable, I would suggest… It's also a shame that the body kit doesn't ape the extreme styling of the racer.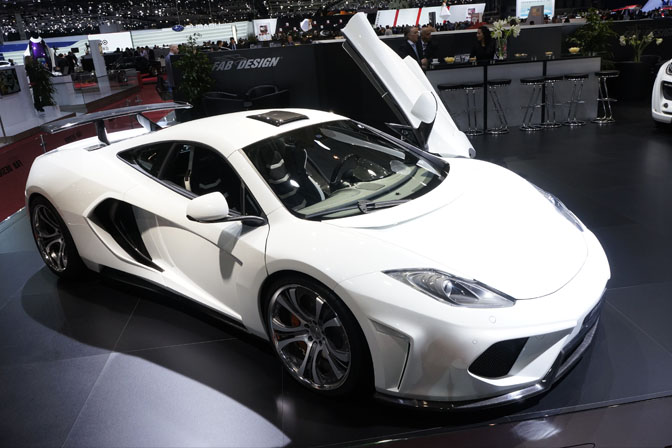 FAB Design are a Swiss styling house: they had a trio of cars at Geneva including another modified McLaren MP4-12C. The MP4-12C Terso adds Lamborghini-style polygonal cut-outs and straight edges, breaking up the softer original lines and giving it a much more aggressive stance – something that the McLaren has been accused of lacking out of the box.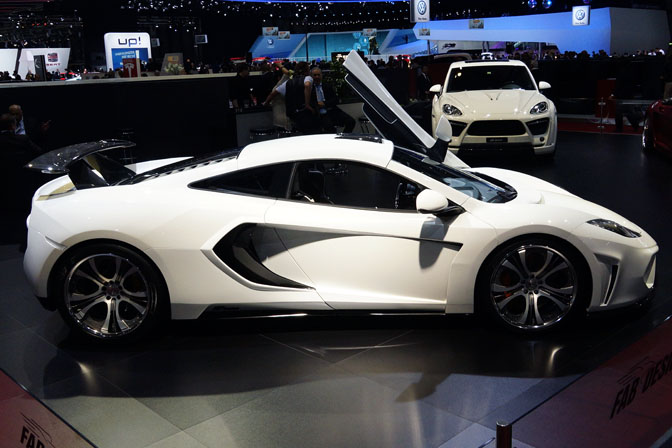 FAB have created a bespoke new diffuser and rear wing, and have upped the performance of the 3.8-litre V8 by about 10%. The rear wing is a bolt-on, but it's interesting to note that there's a thin lip of a wing just in front of the windshield. Just five example are due to be built.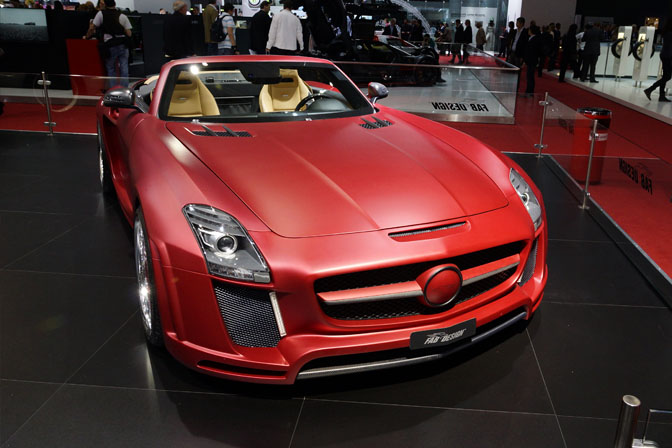 They also had their take on the Mercedes-Benz SLS: the Roadster Jetstream in a stunning, almost translucent candy-red, a topless version of their vicious-looking Gullstream – very much a race-car for the road.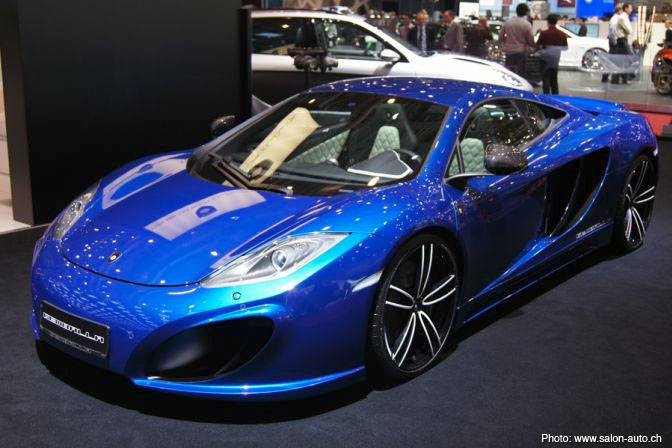 Gemballa are better known for their Porsche tuning, but they're another company who have snuck in a McLaren reinvention: a one-off tied into a planned 2012 FIA GT3 racing programme with the car. This one has less extreme styling applied than the other McLarens about the show, and is purely an aesthetic make-over.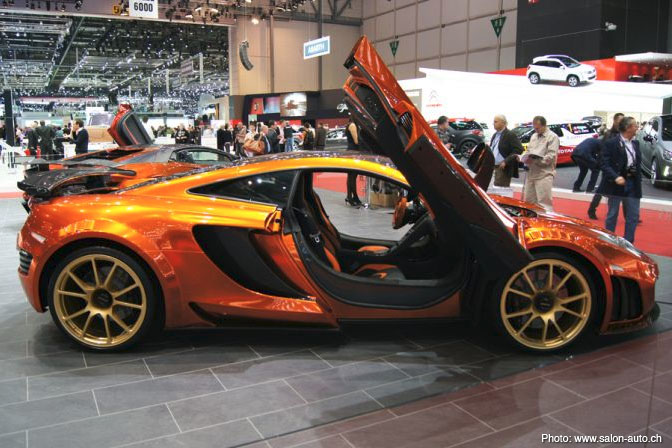 The third of what turned out to be four MP4-12C reinterpretations, the Mansory version widens and lightens the original, and adds even more carbon fibre – which surely wasn't possible! New engine management and exhaust systems bump up the power by the by now expected figure of 10%, and the top speed climbs to 353kph.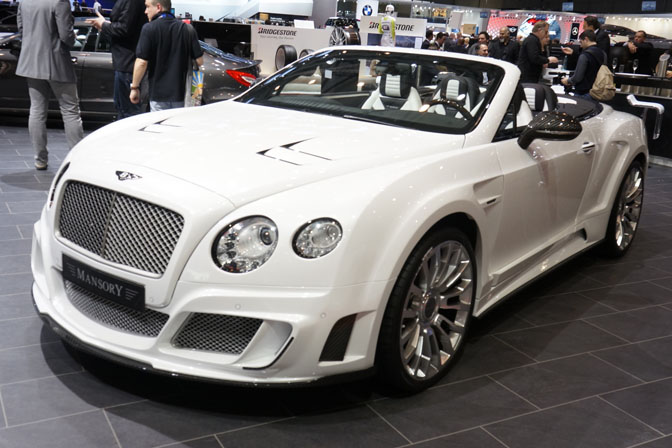 Mansory have applied their touch to a wide range of luxury vehicles: with the Bentley Continental Le Mansory II they've attempted at lightening the multi-ton behemoth by the liberal application of carbon fibre – despite of course expanding the bodywork yet further. Apparently the car delivers the "perfect symbiosis of sports functionality and luxurious ambience". There is nothing ambient about this car, I would suggest.
Back to planet Earth for the Abarth 695 Tributo Maserati, a limited run of 499 cars featuring a 1.4-litre Turbo T-Jet 16v engine mated to a 5-speed paddle-shift Abarth Competizione gearbox, Maserati 'Neptun' 17" alloys, 305mm Brembo discs and a Record Monza variable back-pressure, dual-mode exhaust. How to make a great car even greater.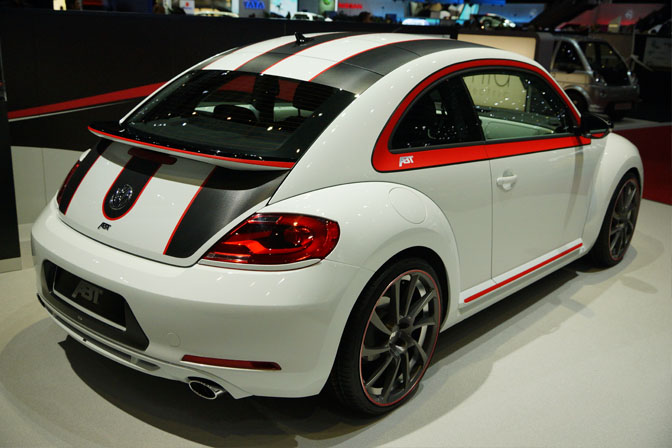 Abt Sportsline are well-known internationally for their DTM participation with Audi, but the tuning company had a pair of glorious day-glo VWs on their stand at Geneva alongside their normal four-ringed models. Its Beetle has a 240hp, 2-litre TFSI unit and sits a whole lot lower than normal on 20" alloys. 
Abt have also got their hands on the VW Up, presented as a matching pair with the Beetle. The Up has been upped all round – except for the lowered stance – and like the Abarth just looks like a lot of fun. 
Lumma are another German tuning house specialising in Porsches: their contribution to Geneva was the CLR 9S. Adding almost Audi R8-alike front grills and wider overhangs all round, the CLR 9S also has a three-part spoiler lip at the rear to aid downforce. In their marketing material, Lumma pay a lot of lip service to the purity of the Porsche brand, which might explain the relatively subtle modifications of this 911.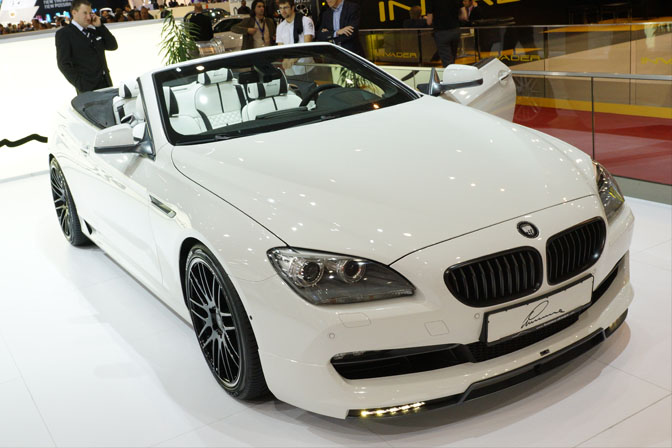 Their other offering was the CLR 600GT, a BMW 650i 'modified to perfection'. More power, more sound, is the promise: the BMW's V8 has been tweaked up to almost 500bhp and torque increased to 720nm. In a drop-top. Fancy hairstyles will not go well with this car.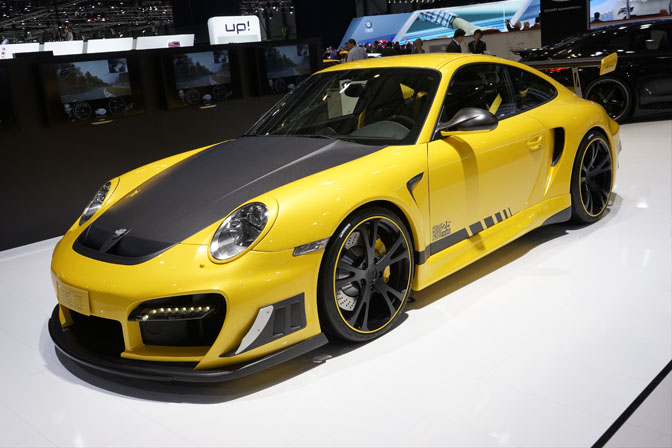 Techart have taken a more bespoke aero approach for their 911 Carrera: it's all about aggression for them. An optional new exhaust system can also be fitted, along with a choice of ultra-low profile light alloy wheels. Particularly in this colour, it's a not a car that will go unnoticed on the road.
AC Schnitzer's dual premier in Geneva introduced the ACS5 Sport and ACS3. Schnitzer have a long history of modifying and racing BMWs, going right back to running 1800 Tis in the 1960s and on to multiple victories in Touring Cars with 320s over the last decade.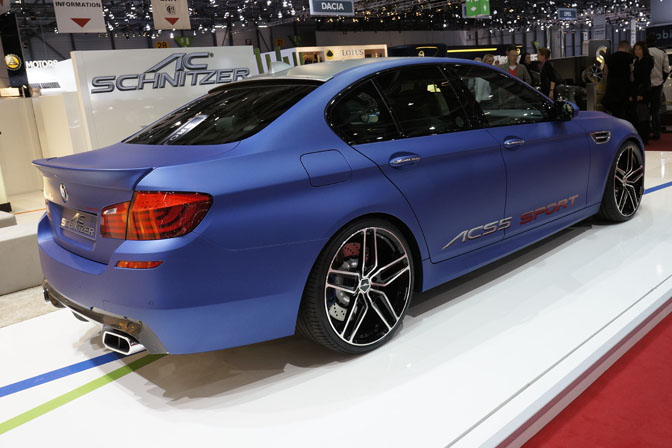 The ACS5 M5 was presented in this shimmering satin blue, but for Schnitzer it's as much about what's under the bonnet as any additional styling: the F10 ACS5 has been pushed to 620hp.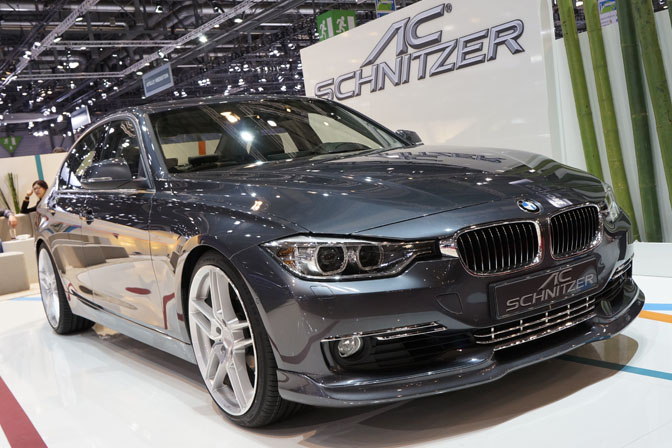 The sixth-generation 3-series has been similarly breathed on: AC Schnitzer's F30 ACS3 package includes a whole host of performance and aero upgrades to choose from.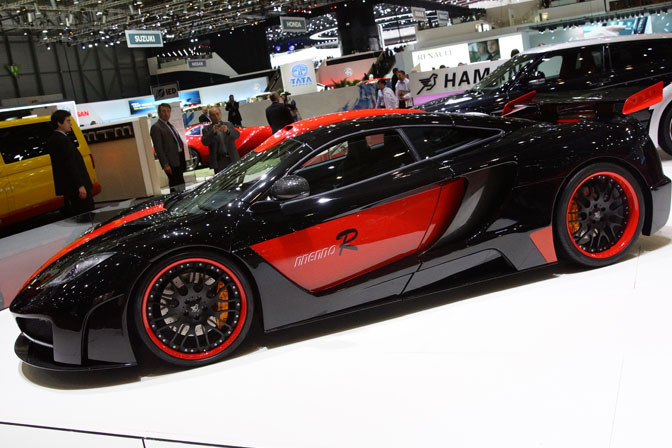 German tuning company Hamann Motorsport turned up with a full-house of styled offerings: let's start with the final example of the tuned-McLaren quartet at the Geneva show: the MemoR. This is the least recognisable variant, perhaps because of the high contrast paint job and pointed nose treatment. The front splitter aims to supply GT racer levels of downforce, tuned by the ground effect door sills and rear diffuser.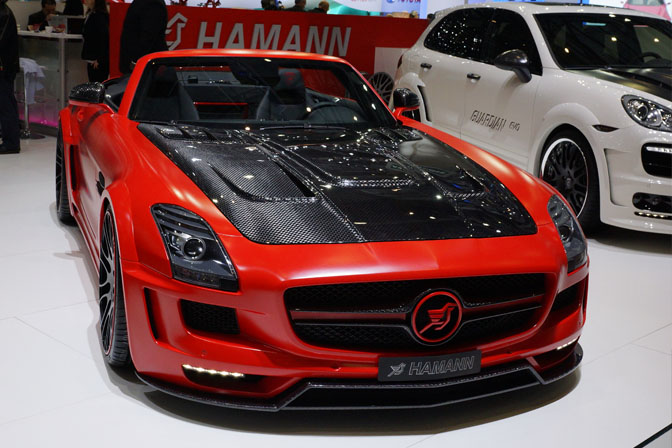 The Hawk Roadster offers a complete upgrade kit to muscle-up your SLS, including the all-important Powerdome. Who doesn't need one of those? And a lot of carbon. Hawk isn't the most inspired name, but uprated suspension and exhaust options are the more desirable options on offer. 
SUVs are normally off-limits for good reason, but Hamann have at least tried to make the bulky Cayenne into something that can fit under a regular motorway bridge. Lowered and with carbon panels to break up its imposing silhouette, it has to be said that it still looks like a double-decker bus. But a very fast double-decker bus.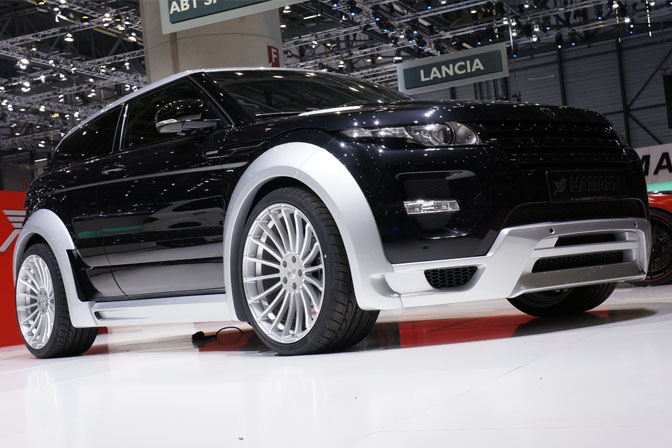 However… there's then the Range Rover Evoque. I'm seeing an awful lot of these on the roads in London, and I worry that I like it a little too much. Hamann's wide-body interpretation looks like it has the aerodynamic efficiency of a brick but there's still something about it… The two-tone aero bodykit gives away the fact there's more than the regular lump under the bonnet.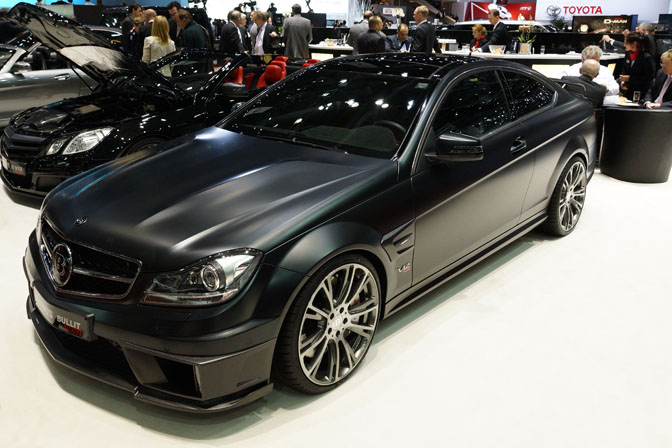 As Alpina are to BMW, so Brabus are to Mercedes. A manufacturer in their own right, they are perhaps best known for taking innocent Mercs and dipping them in a vat of evil. Just look at this brutal C Class. The Bullit 800 has a bi-turbo V12 bomb of an engine producing a potential thousand pound-feet of torque. It's limited to around 800 as they can't find a transmission capable of dealing with those numbers. It still has a top speed of 230mph. I think the Batmobile has competition.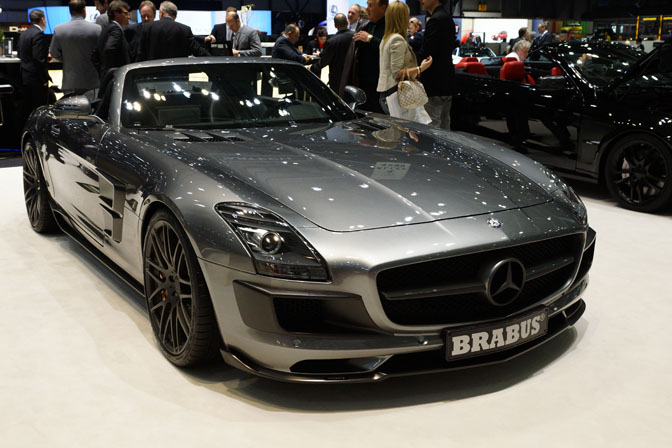 Next to it, the 700 Biturbo does similar battlefield surgery on an SLS: an extra 100 horses and 200 pound-feet of torque have been thrown in for fun. I think Brabus win here by some margin. Awe-inspiring stuff.
Jonathan Moore