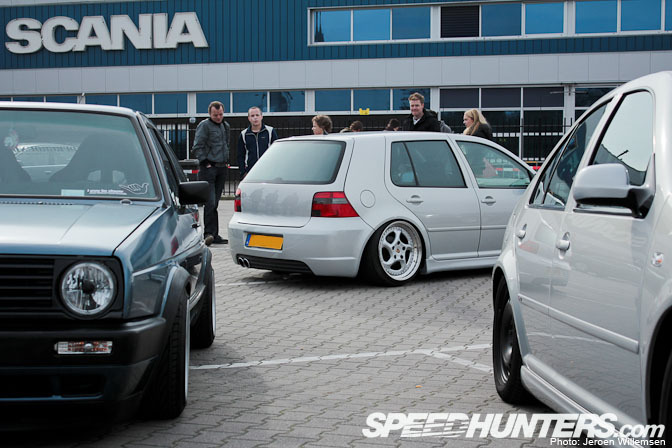 Time for part two of the Midwinter event
coverage. I'll start right away with this Golf MKIV on Porsche split wheels.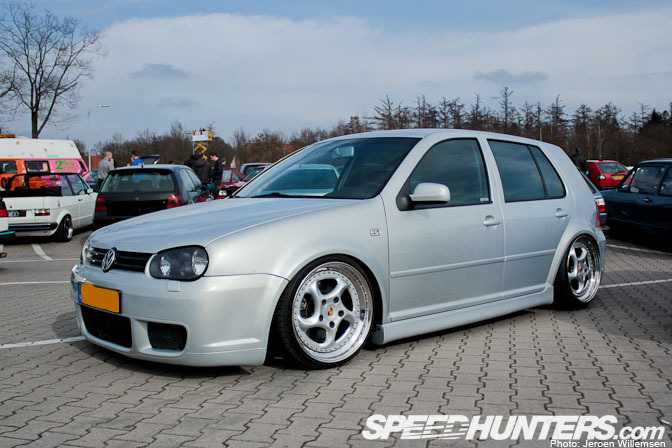 It's hard to make a MKIV look right. I
guess that is the reason you don't see a lot of them – in comparison to other models – in the pages of
Performance VW. But these cars certainly have potential, as is proven by this silver
version.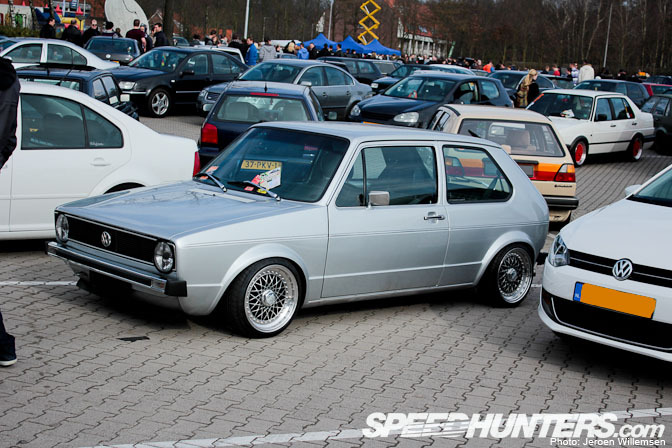 The MKI on the other hand is the
quintessential hot hatch. In the right hands it can be turned into something
that everyone would want to drive. Even if the MKI is in its original form, it's
still able to get your motoring juices flowing.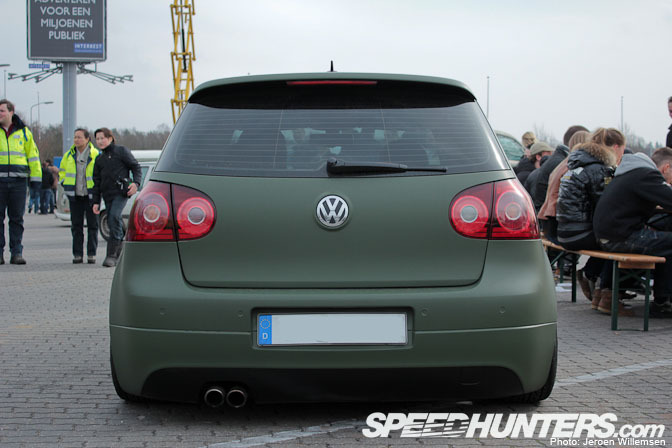 Dat ass?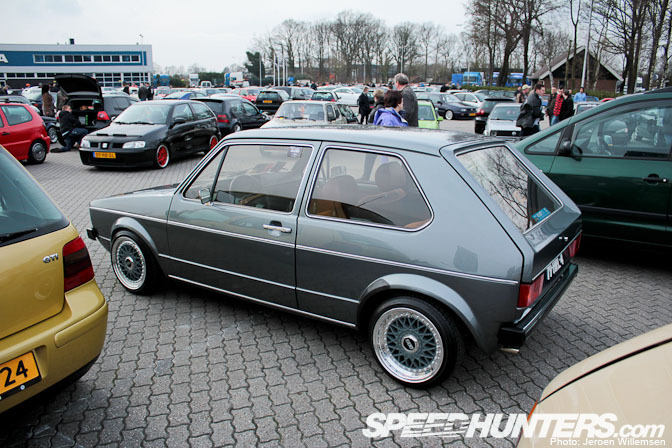 This MKI was my favorite of the show with a
cool blue/grey finish and matching BBS wheels. I showed you the front end of
this car in part one.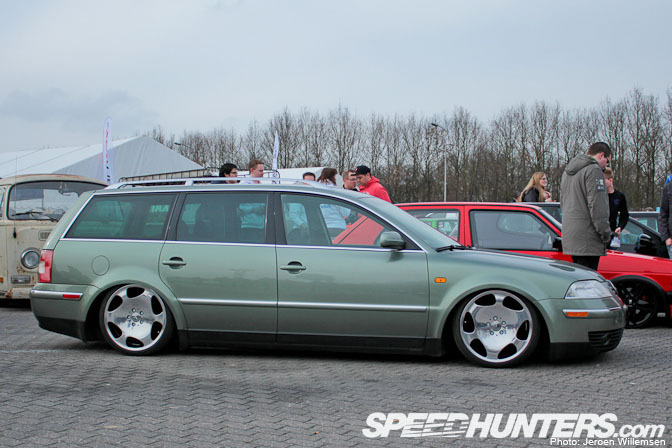 Sometimes all a car needs to impress is a
set of wheels and airbags.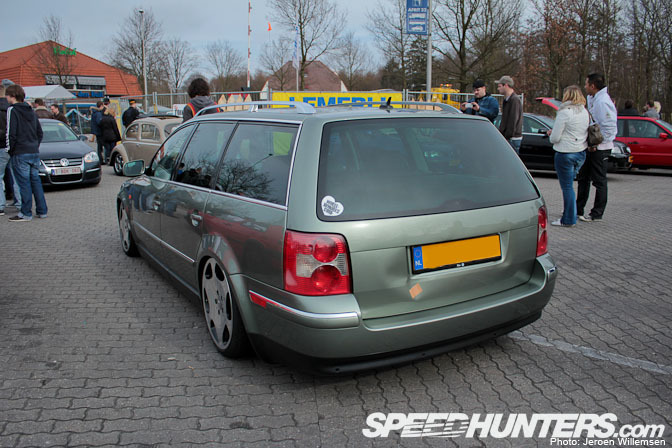 The car did have some damage but everything
was under control with a small band-aid.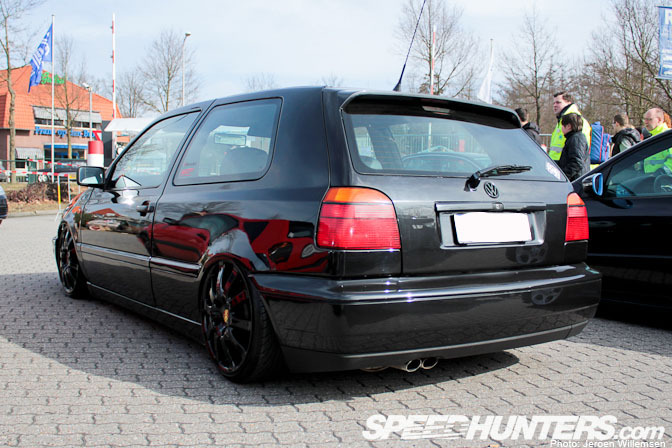 I loved the subtle exhaust tips on this
blacked out MKIII.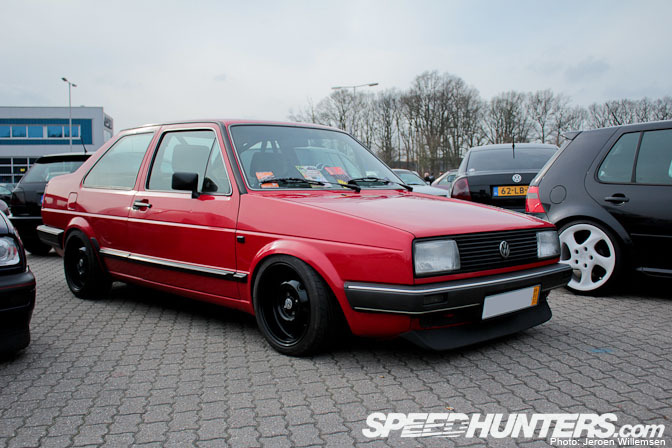 This Jetta on temporary German plates had a
few surprises. One of them was the perfect fitment and the other …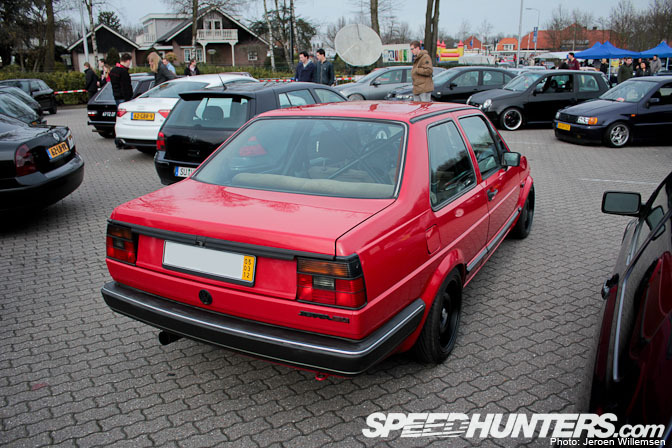 … was the rollcage. It's
not often you see a car like this with a bolt in rollcage.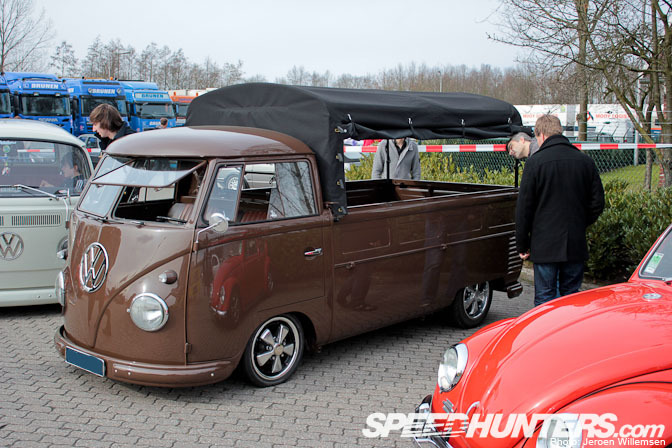 There were also several vans from different
ages all built in different ways. This one was fully restored with a new
canopy and an immaculate paintjob.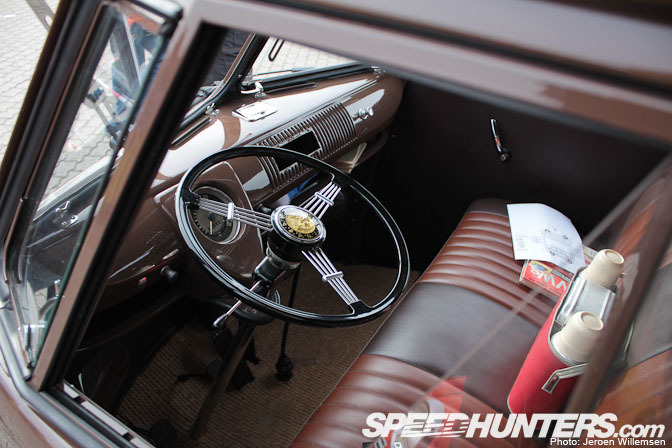 The interior had been re-upholstered with
new leather and carpet. Also notice the period correct lunchbox and thermos.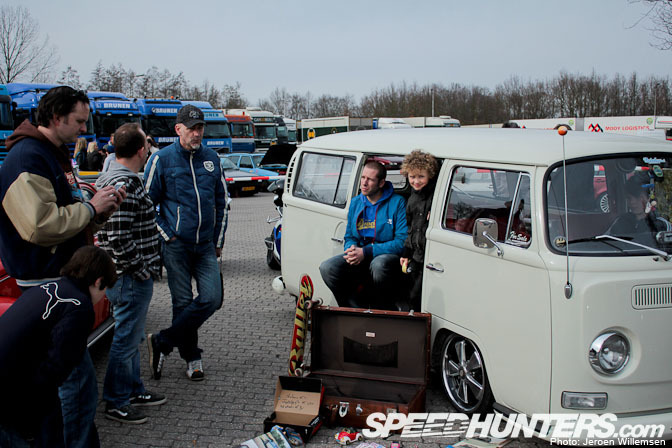 Several of these vans belonged to these
people that I have seen at almost every VW event I've attended. The little kid
inside the van has one of the coolest 'trikes' in the world, it features one
giant Porsche wheel in the rear that helps him balance.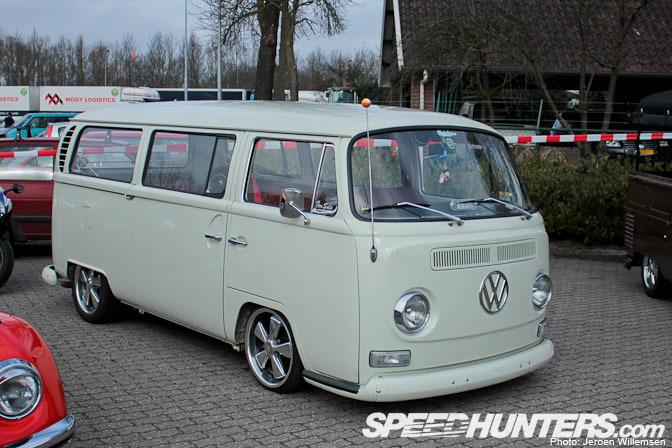 Here is a better look at the van on a set
of Fuchs wheel with very skinny rubber.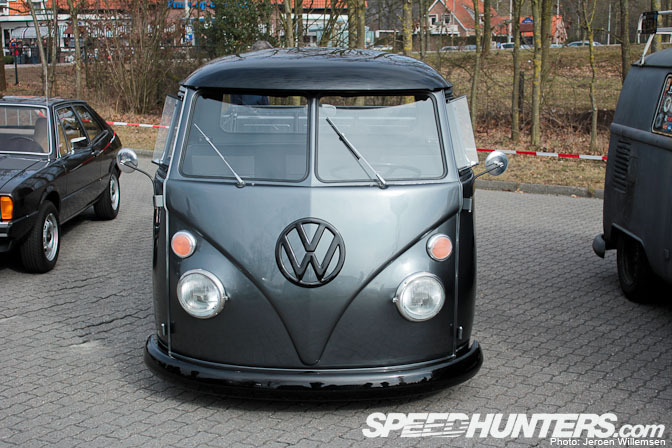 This one was spectacular. It has been
restored to a level that I thought was even better than when it rolled out of the factory.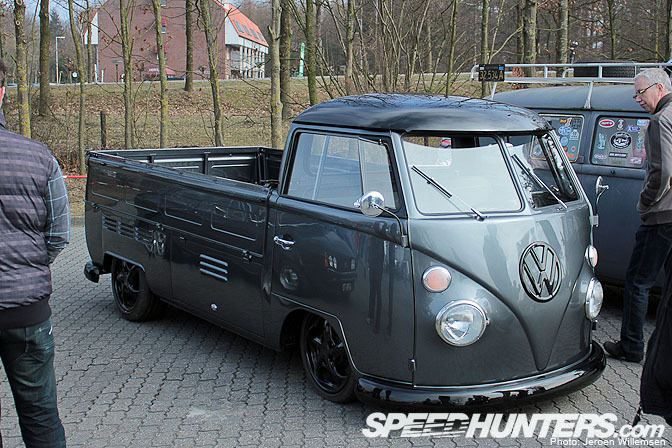 It was rolling on a set of Porsche Turbo
wheels in black that are a perfect match with the black accents like the
frontbumper and VW emblem.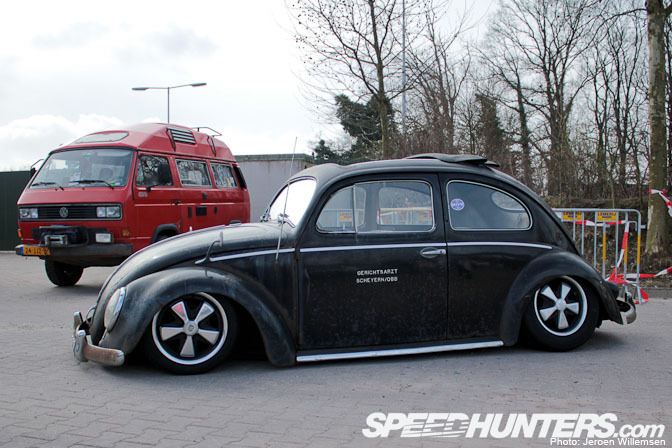 Some choose to go for the cleanest car possible while
others go for a more raw approach. This Beetle still had its original
paintjob and accessories.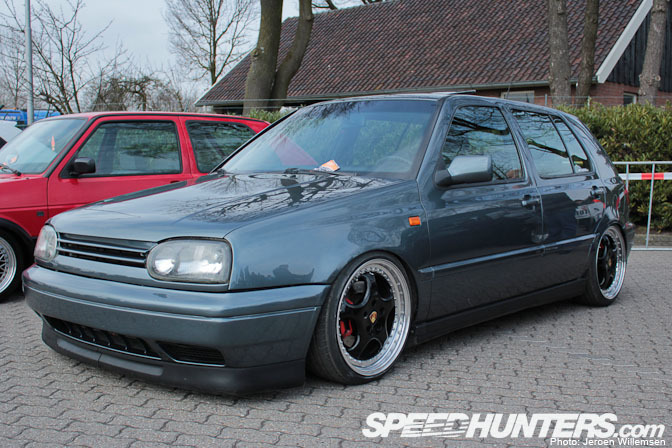 I spotted several Speedhunters stickers and
that always makes me proud. This Golf from Germany had one on his side rear
window. So I gave him some more that I always bring with me to shows.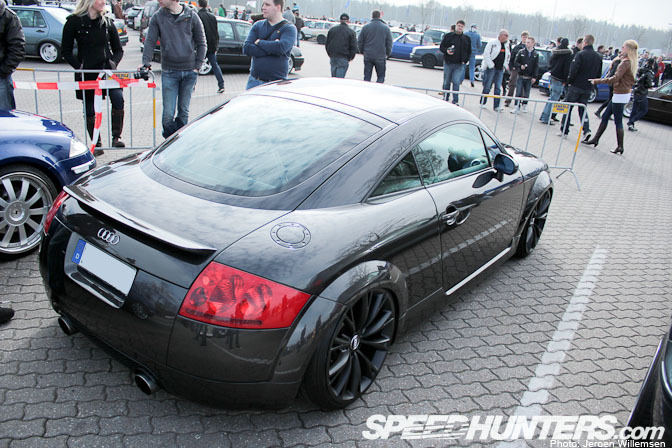 A lot of people refer to the TT as a hair
dresser's car but when it looks this good it's hard not to like it.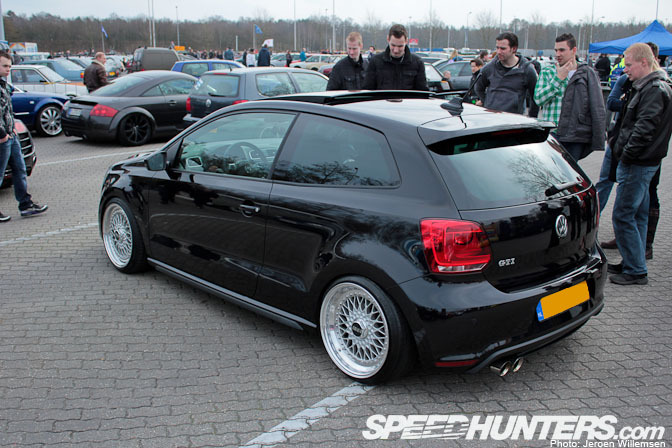 A good set of wheels and a drop are all
that this latest generation Polo needs to stand out from the crowd.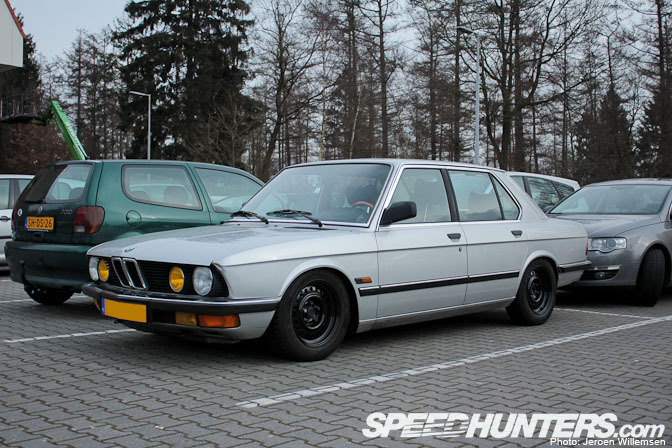 While walking to my own car on the way out
I came across this very good looking BMW 5 series. It even had a old school Nardi steering wheel.
-Jeroen Willemsen