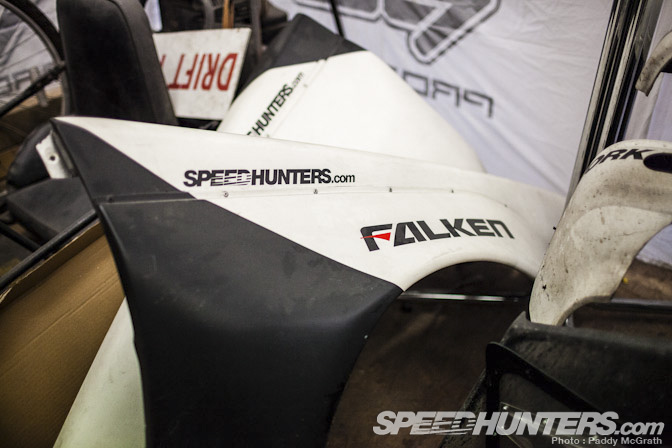 Hello Speedhunters, Darren McNamara here bringing you an update on the DMac86. In this post we are going to take a brief look back on 2011, and more importantly a look forward to what lies in store for 2012. We will also take a look at some of the other '86s in my life which reside at MCNSPORT HQ.
In the above photo, some panels from the DMac86 have been removed in the off-season which suggests some activity. Well read on and my master plan will be revealed …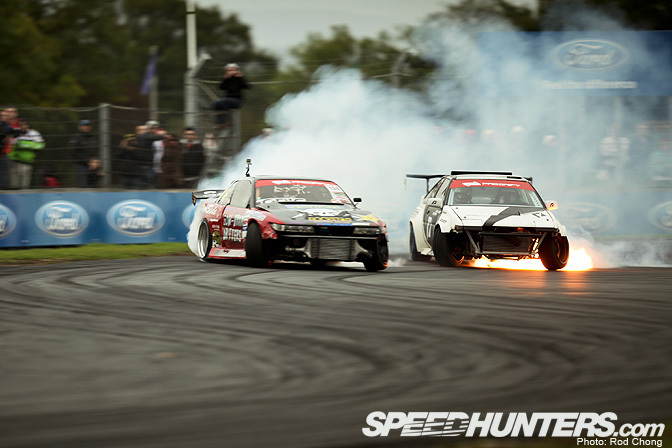 This was our final lap in anger in 2011 and it was quite spectacular. We have to declare how pleased with how our 2011 summer tour went. We brought a brand new experimental car to the table and got a fourth and second in our first two events. I must say we got a fantastic reaction to the car from everyone we met and I have to thank everyone for their kind words during that time. As a tuner, the fans reaction is one of the most important things to me.
Since the above picture was taken, we repaired the damaged sump and ran the Hayward Rotary motor in anger and all is well thankfully. Having to rebuild the engine would have taken up precious time. I have to say I fall more and more in love with these motors every day. Not only are we making silly power from 1.3 litres, we lost enough oil to cause serious damage to a piston motor but yet our rotary is still in good health.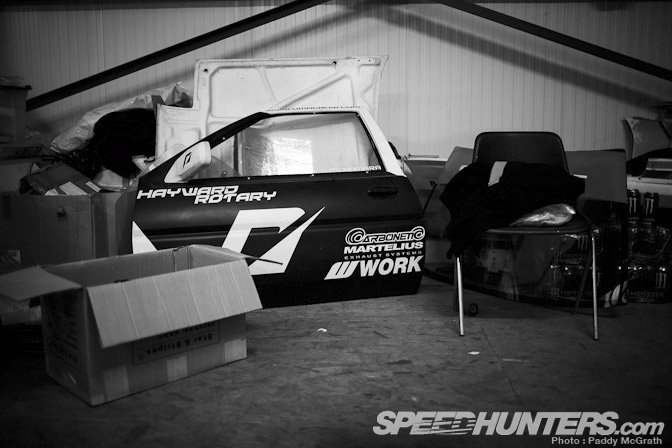 More panels scattered around our upstairs canteen area hints towards maybe a bigger rebuild than you might be expecting …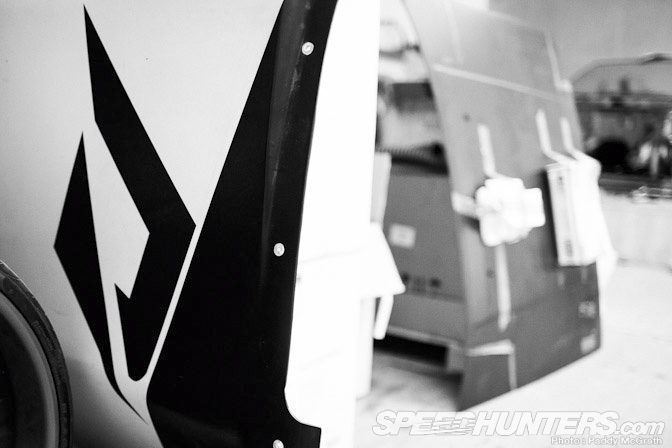 That's the roof that has been removed …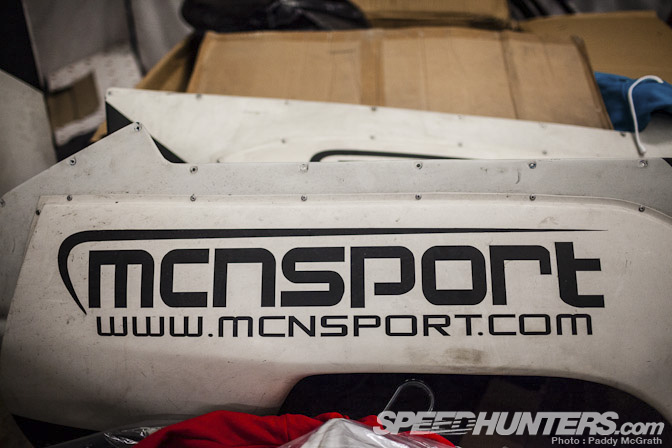 … and that's every other panel!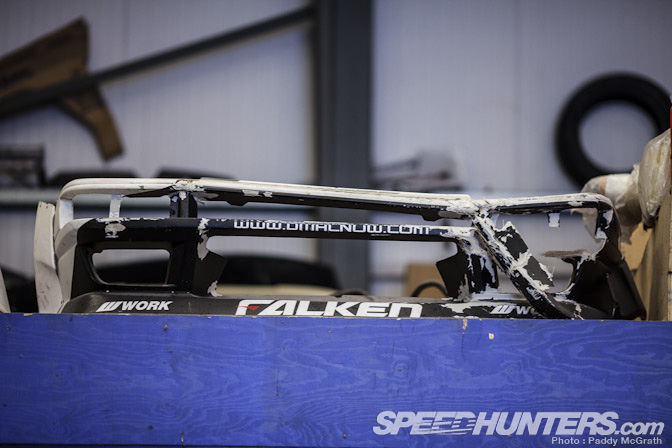 Almost every panel will make its way back onto the car for 2012, but not the front bumper. It was destroyed during our kerb hop in Mondello but still, it lasted two events which is not bad!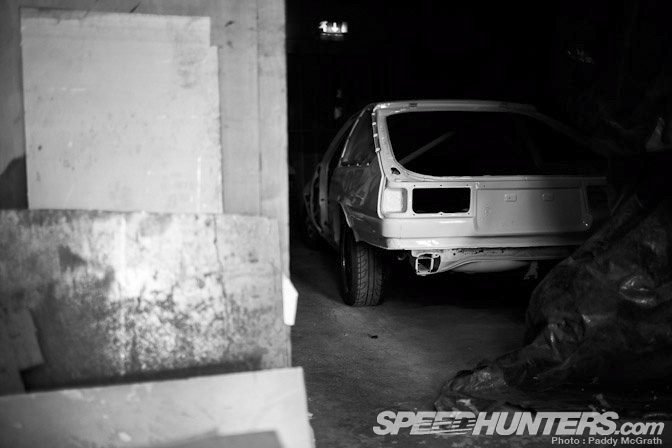 Before we get down to business, let's take a little tour around MCNSPORT HQ …
A 1985 chassis is getting the full treatment and is ready to be reborn and live a second life. There is always something satisfying about bare shell rebuilds like these. Everything has been re-worked better than factory and it's nice to know when it leaves our doors, it will last for another twenty plus years. Keeping the AE86 alive makes us happy!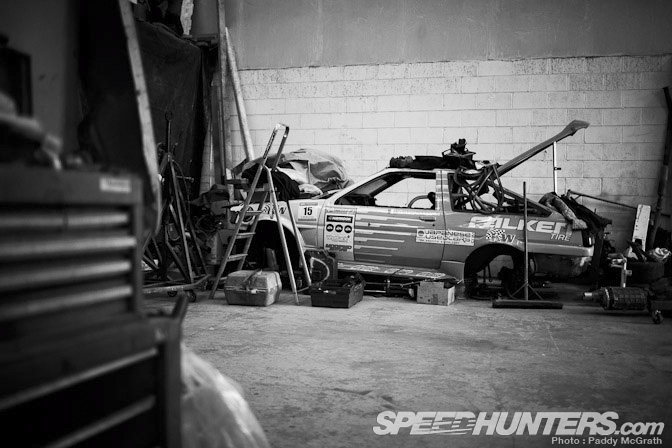 My personal AE86 history goes back eleven years when I bought my first AE86 at the age of 16. This is that very car and it needs no introduction. It remains Europe's most successful drift car and it's hard to see any other car topping it. Back in the day, we took on Europe, Japan and America with great success and had some legendary battles and some of the best times of my life. I owe an awful lot to this car and I will never part with it.
What a shame I hear you say as you look at the pic and see the car now in a state that can only be described as a shelf. The reason the car sits like this is, after four years drifting with a lunatic driver learning to drift and trying to punch above his weight, the frame no longer points in the right direction on basically all four corners. But, rest assured one of my goals for 2012 is to fully rebuild this car using a screaming NA 4A-GE which is the whole reason I started drifting, trying to emulate Katsuhiro Ueo beating all the more powerful cars.
Maybe you guys would be interested in Speedhunters following the rebuild later in the year?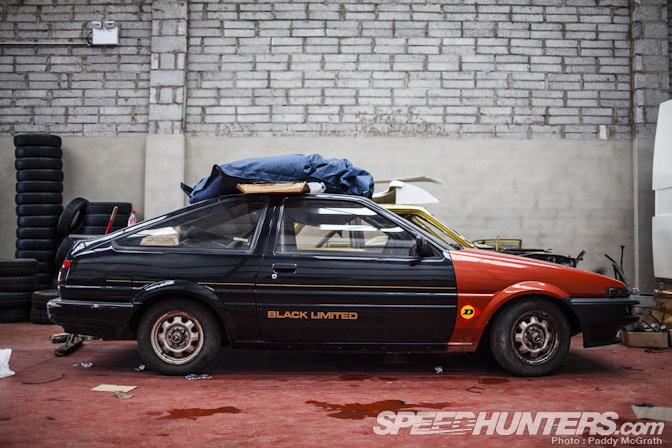 Let's move on to this one. Something I've always wanted was a genuine Black Limited Trueno and when the opportunity arose last year and I snapped it up. Over the winter I sourced some perfect orange panels and the car went to the body shop to get all the panel gaps straightened. It now lies in our storage unit and will be fully rebuilt this year also (hopefully) with sensible upgrades but with a stock exterior as the Black Limited should be.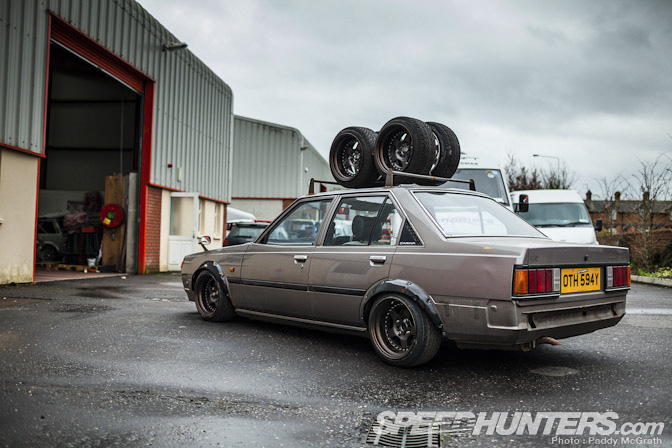 By the end of the year our shop car collection will be legendary and our very controversial Carina TA60 is going to be a big part of that. As it sits now, it's a 'rat' look sort of lifestyle machine but it will not remain that way. It's current job is to get noticed and show off the new range of Work Meister CR01s, which it is doing very well. But its primary purpose will be as my drift practice car. Using parts we have lying around the shop we will build it into a cost effective but very capable drift machine and the best part is it will have four bucket seats and harnesses with a four person rollcage, meaning we can take three passengers at a time for a heart stopping ride with myself.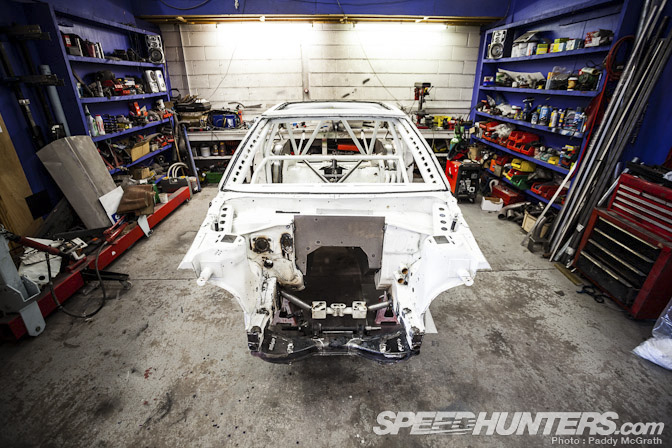 No, this isn't an old shot from six months ago, this is how the DMac86 sits right now so let's get back to business. The reason behind the total rebuild is we planned to do a lot of modifications during the off-season and then Prodrift released a new rule book which will come into effect in 2013. This meant we would either have to re-modify again in 2013 or do everything at once, so we chose the latter.
Eagle eyed viewers will notice the AE86 crossmember and steering rack. There are two reasons behind this – One is we are now developing a full new range of AE86 suspension and steering arms which will be available from MCNSPORT. Our arms will make the AE86 chassis more competitive and we are putting a lot of time and effort into them and I'm really excited about how they are progressing.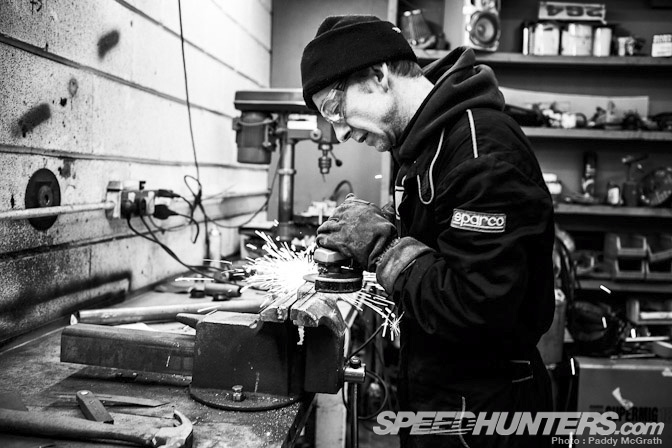 Ever present team member 'Happy' Darren Butler has learned to love and hate this project, but all the time spent grinding is worth it once we hit the track.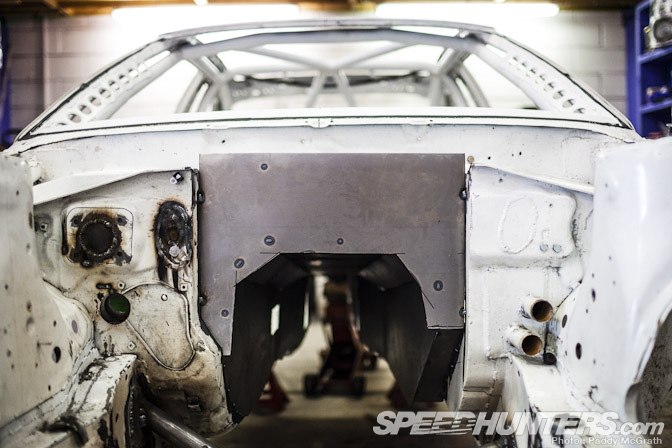 Reason number two for the use of an AE86 steering rack is that the new rules do not let us push the engine through the bulkhead so the old bulkhead had to be removed and a new one made. This will move the motor forward and that would interfere with our previous front steer system.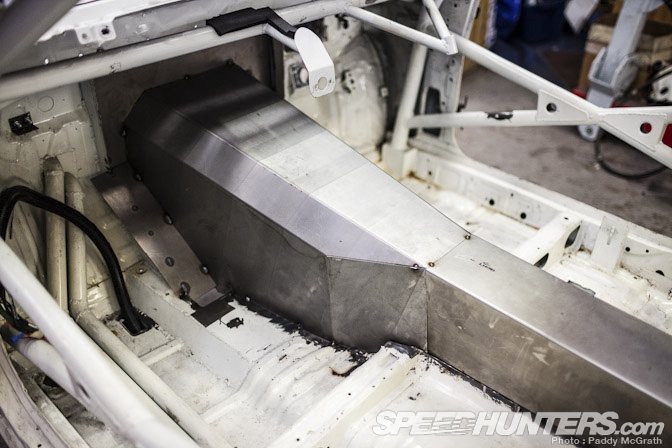 The bulkhead is not the only thing that has been removed, the transmission and driveshaft tunnel have also been replaced. Using AE86 steering rack means the engine has to now sit on top of it and anyone who knows rotaries will tell you they are only made for a front steer steering rack system, and you have to mount them very high for a rear steer steering rack which takes away from their very low centre of gravity, which is one of their main advantages. So how do we prevent the centre of gravity being raised? Well here is our plan …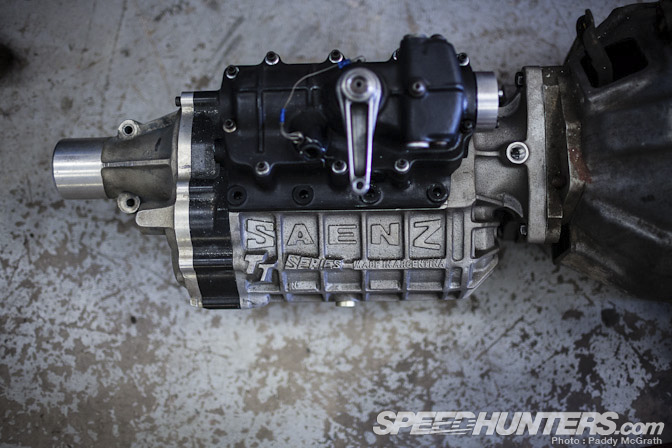 Introducing the Saenz TT Series Sequential Transmission. One of our new partners, Saenz Transmissions Europe, have supplied us with their TT 5 speed sequential gearbox. Saenz also make a 6 speed but we don't need so many gears in a drift car. Mike at Saenz has been very enthusiastic about what we are doing and supplied us with custom ratios to my specification.
One of the great advantages of the Saenz is the layshaft lies alongside the main shaft and not below like most transmissions with keeps the weight lower down and lowers the centre of gravity  It's also lighter than the Supra transmission it is replacing and is ready for 9500RPM flat shifts!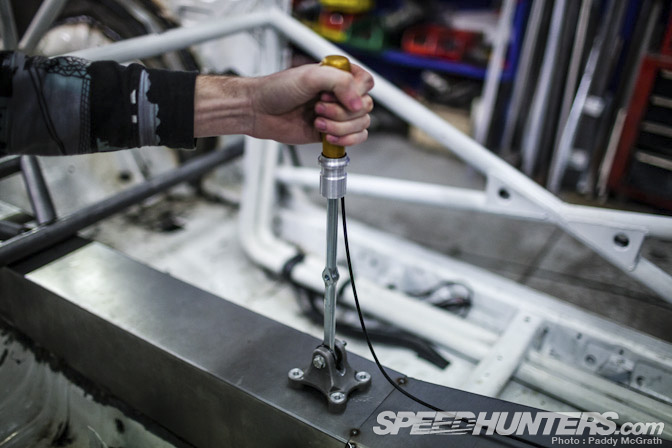 This is my new gear lever which I must not mistake for the e-brake!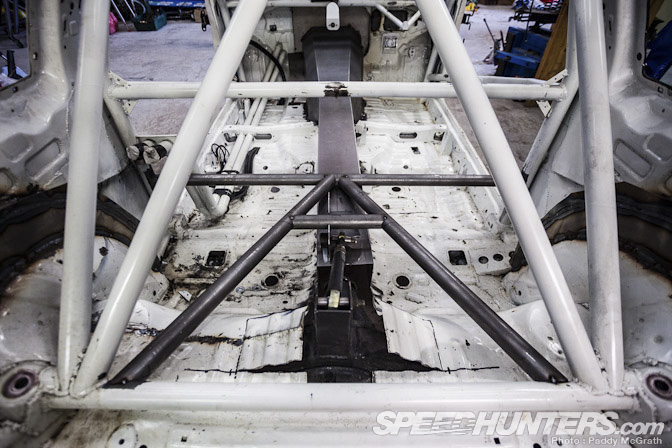 Now that our engine and gearbox sit higher, this has caused us to remove our axle third link mounting point. We have re-engineered the third link mounting point as it carries a surprising amount of load and it's life will only get tougher as we develop more grip and more power, which is planned for 2013 in our final evolution of the car.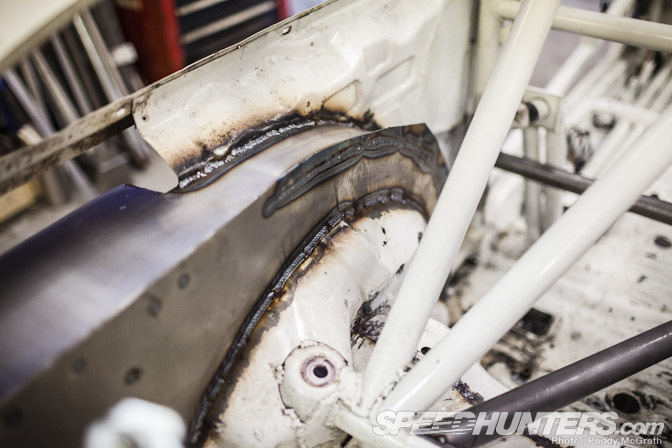 Also looking forward to 2013 and the completion of the master plan, we have enlarged the rear wheel wells. This is to give us the option of running 18inch wheels when we make more power.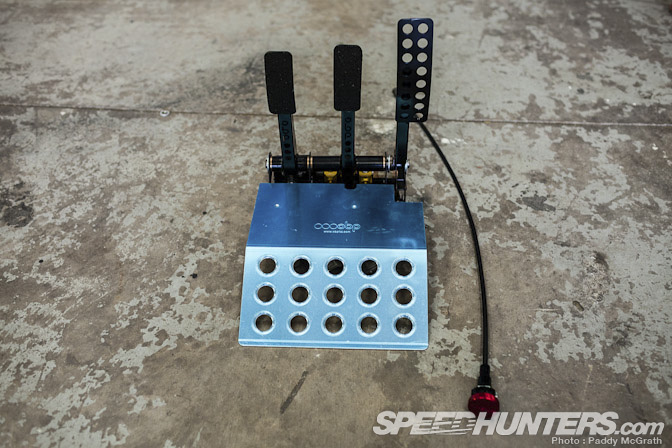 We would also like to welcome OBP Motorsport to our program for 2012. OBP have supplied us with their Pro Race Floor mounted pedal box system. I'm 6'1″ so I fit just about perfectly in the AE86 chassis so OBP have supplied me with their rear facing cylinder setup and nice alloy false floor. We will now have adjustable bias on the bias bar for our much enlarged braking system. The bias is adjusted easily with the cockpit mounted turn knob. This should also lower the centre of gravity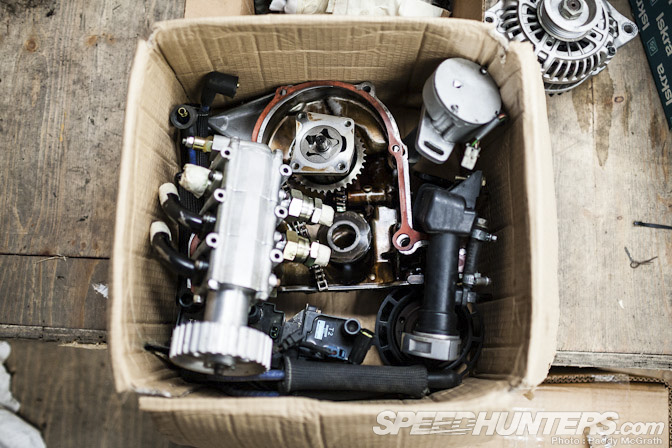 Among this box of disassembled parts lies our only motor upgrade for 2012. Hayward Rotary have supplied us with a dry sump kit for the 13B they built us. And yes you've guessed it, this will allow us to mount the engine lower, and lower the centre of gravity even further. It will allow us to rev to our 9500RPM limit at ease and we will be mounting the oil tank in the passenger footwell. This will help with weight distribution which is difficult to get even on a lightweight car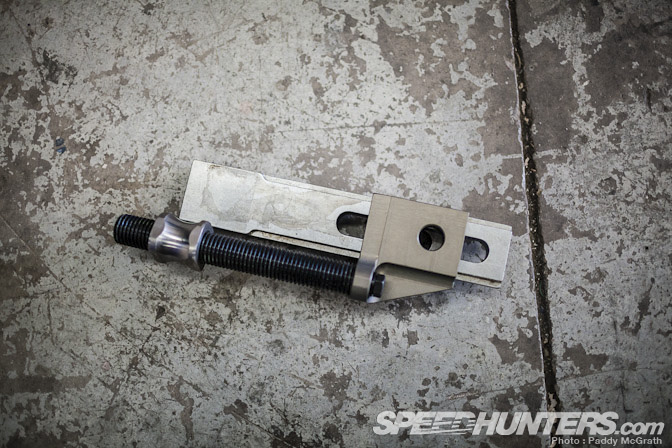 I have just returned from Charlotte, North Carolina with Falken Tire where we were testing the Falken Tire Saturn Sky for the upcoming Formula D season. Whilst in NASCAR country, I decided to take advantage by picking up some NASCAR parts for the rebuild like this adjustable track bar or panhard bar mount. If you've ever wondered what they do in the pit lane when they wind a wrench at the rear window, well most of the time they are tuning this part. This is a chassis mounted panhard mount and can be screwed up or down easily thus raising or lowering the panhard bar pivot point and changing the setup.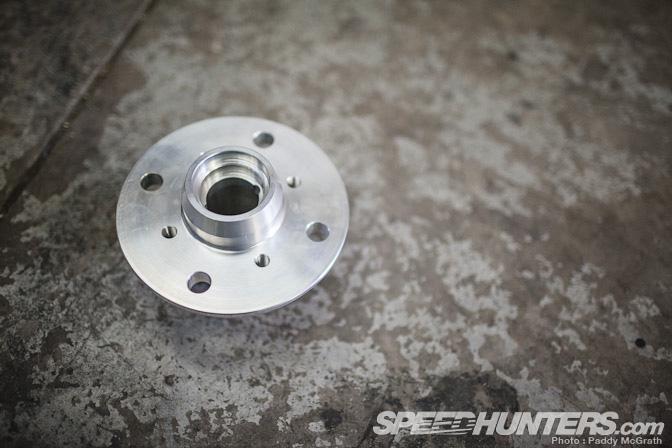 The final upgrade waiting at the shop are these MCN/GRP4 alloy front hubs. These are much lighter than the steel items they are replacing and are unsprung, so it's a weight saving exactly where we want it. With all the above parts installed I hope the overall weight to remain the same but time will tell.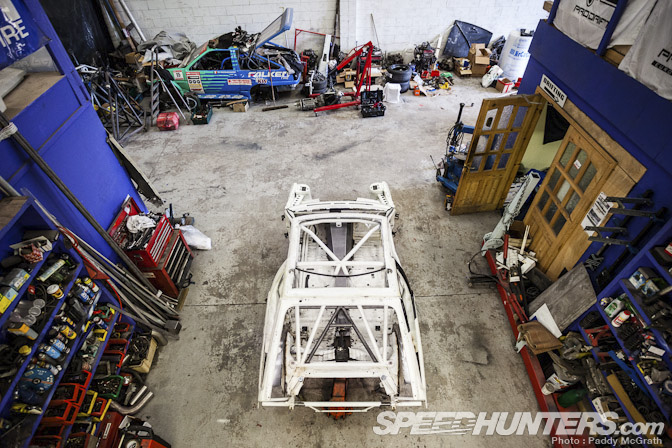 I hope you've enjoyed our first post for 2012 and we are looking forward to bringing you lots more. My plan for the second evolution is take what we have learned from running the car in 2011, make the setup changes and upgrade the more stock items of the car like the gearbox and brakes. We are modifying the chassis to the ultimate level of spec and forward planning to our third evolution which will involve more power and more rotor(s).
In just a few months this car will truly be a formidable AE86 in our eyes and Europe's best drift car, capable of taking on any D1 or FD competitors that visit our shores …
–
Darren 'D-Mac' McNamara