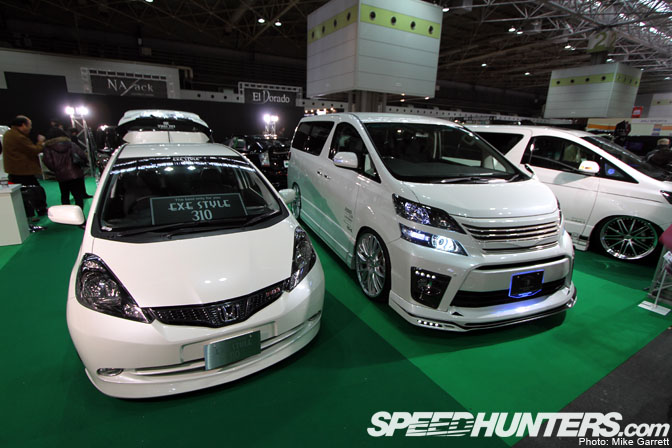 For my final piece of event coverage from the floor of Osaka Auto Messe, I want to share one of the largest and most interesting sections of the show.
I'm of course talking about vans, compacts, and kei cars.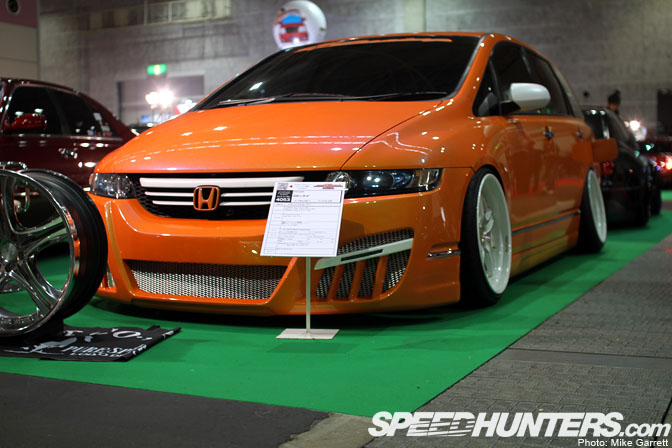 In many ways the van and kei builders follow right along with their VIP sedan relatives. Right now this means lots of one-off bodywork, bold paint colors, and of course interiors customized to match.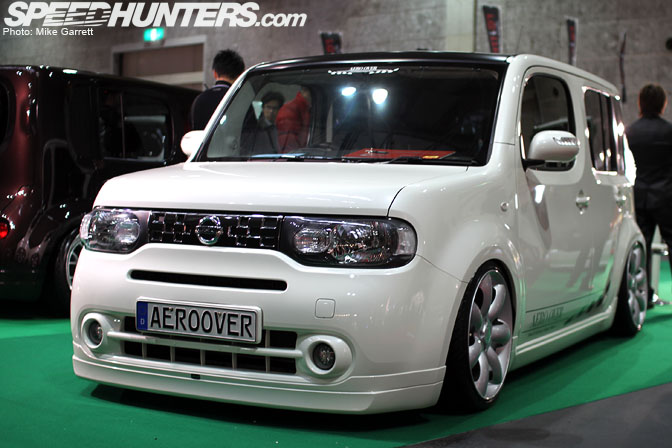 Here's another view of the Aero Over Nissan Cube. As opposed to the over the top custom creations, this is typical of the smooth and simple shop demo car.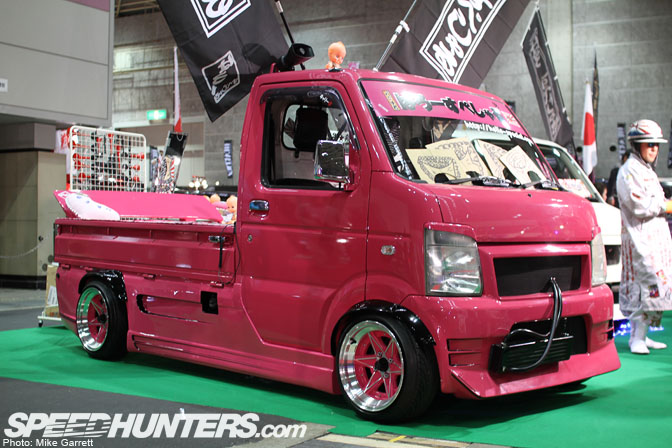 Looking to add some kyusha flavor to your utilitarian kei truck or van? That's what "Hello Special" is for.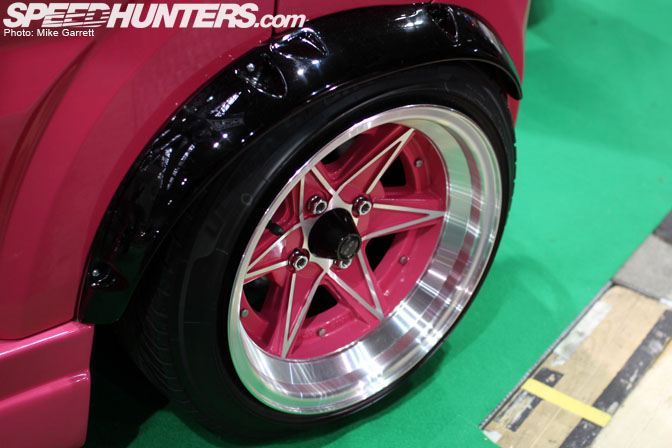 Besides their lineup of retro body parts. Hello Special also offers its own brand of vintage-themed wheels.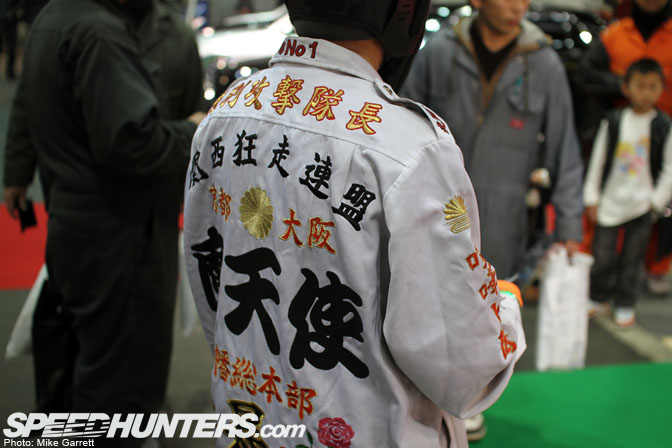 The official Hello Special uniform. I want one!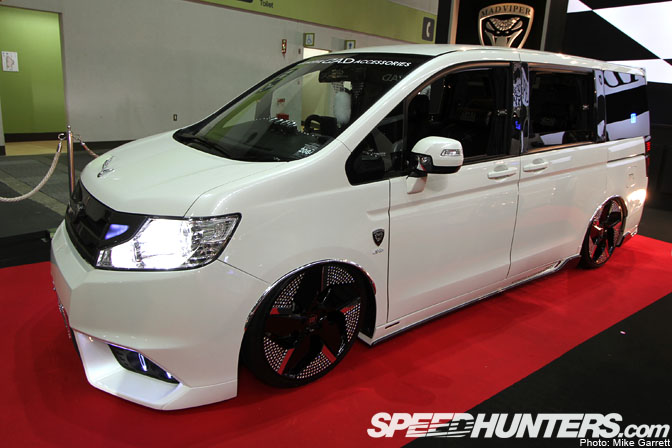 Osaka's own D.A.D can always be counted on for a big presence at Auto Messe.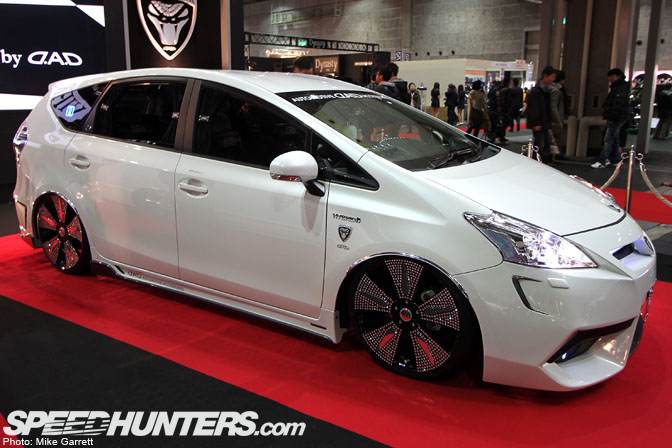 This is their decked out version of the Prius Alpha. Eco bling.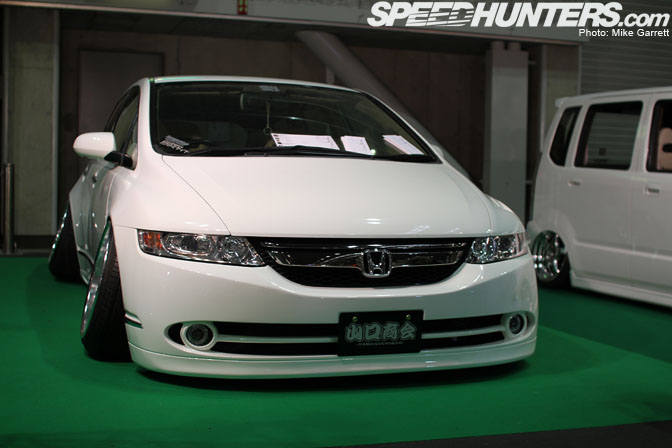 The Yamaguchi & Co. RB1 Odyssey looks like it's half way through converting to hover mode. Next stop, 2015.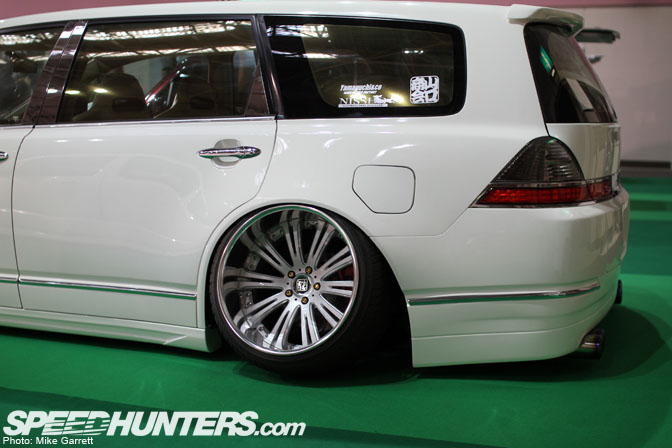 Whether or not you like the extreme negative camber look, it's entertaining to see.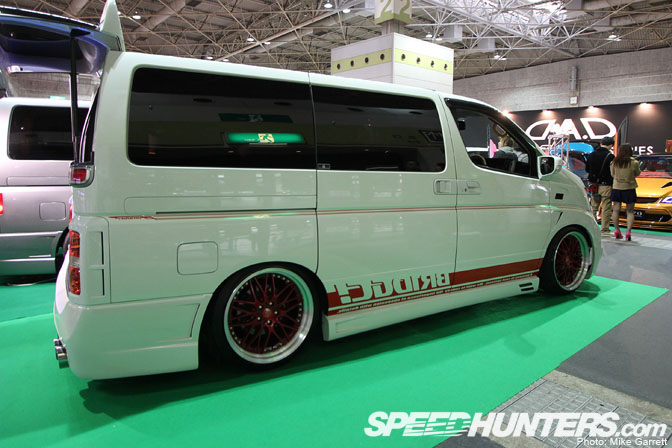 Bridge! specializes in parts for the Nissan Elgrand and they had a pair of the big vans on display in their booth.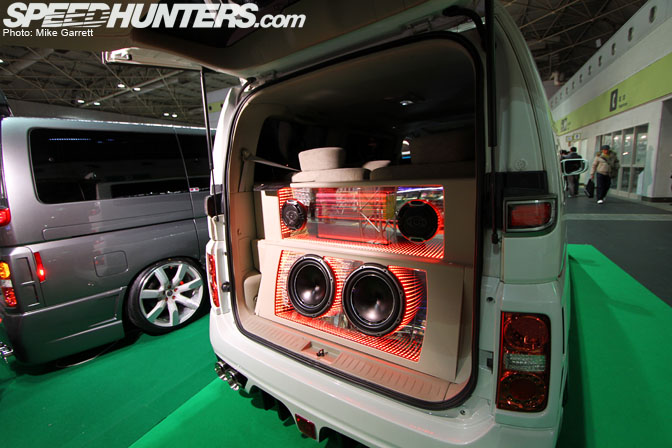 Who needs cargo space anyway?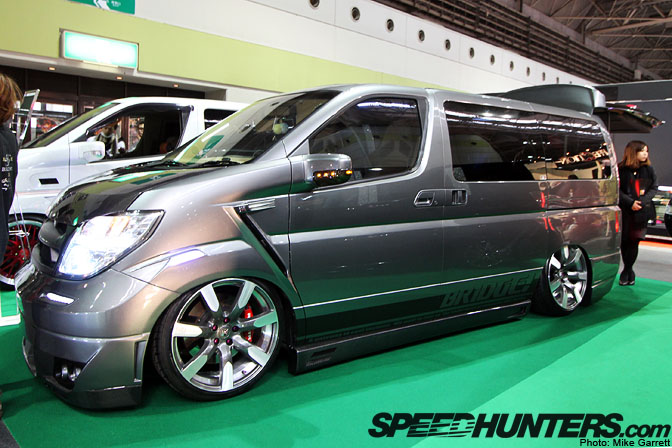 Now this is cool. A GT-R-themed Elgrand.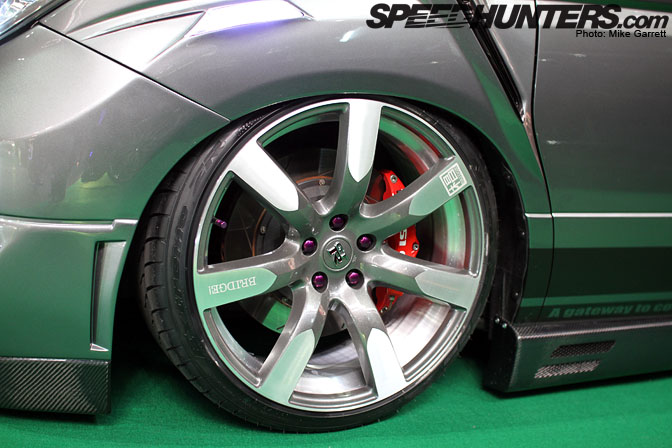 It was even rolling on factory 20" R35 wheels.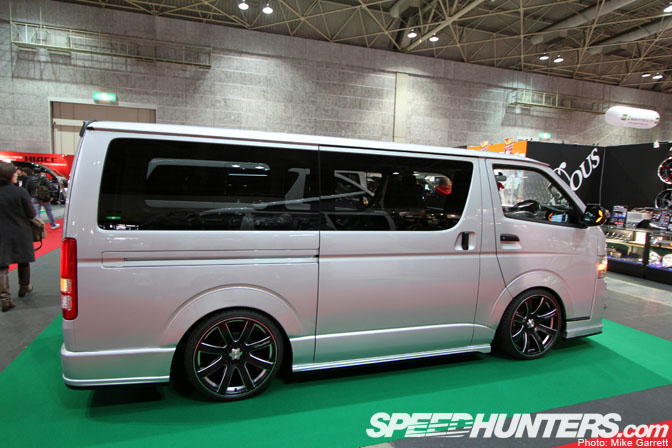 The Toyota Hiace customizing movement in Japan is so big and unique that it's really a separate scene in itself.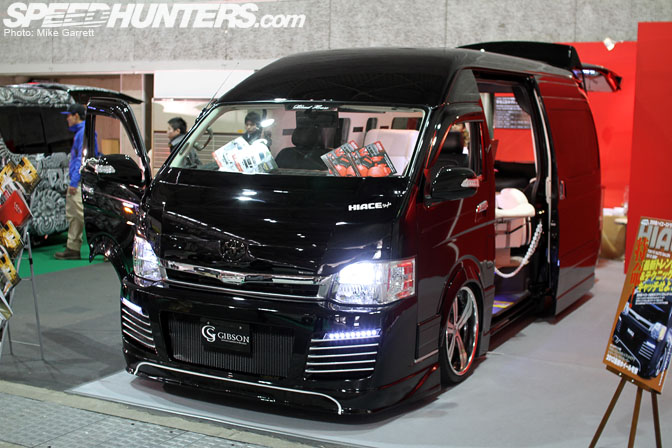 This was Gibson's amazing take on the Hiace.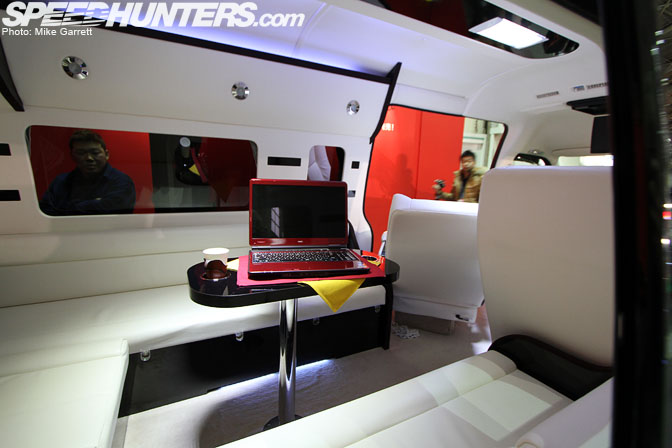 The interior was spacious and plush, like a luxury suite on wheels.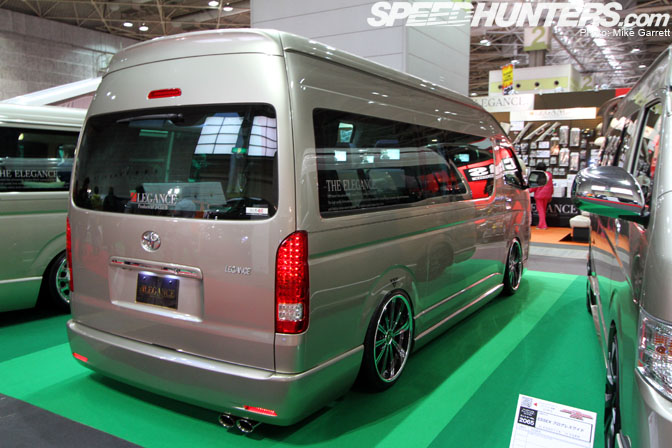 I'm thinking we need to get ourselves a couple of these bad boys as Speedhunters work vans. Rod?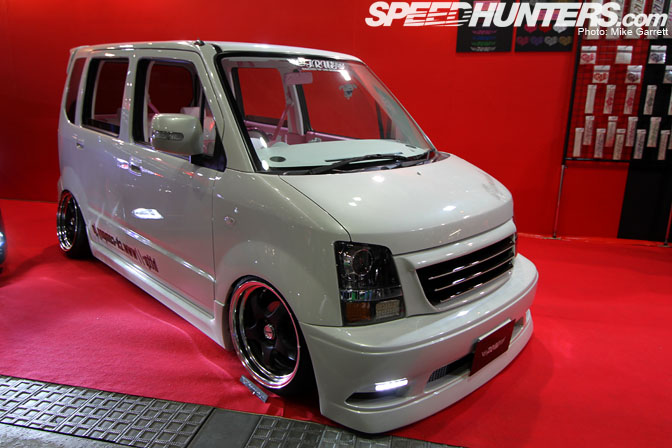 In Japan kei cars are marketed heavily towards women – you will hear the word kawaii used frequently in television commercials for them. Customizers play into this large female market as well.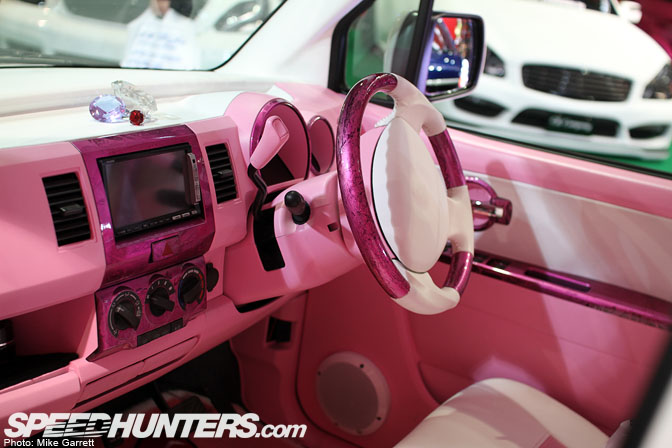 At lease I don't think this belongs to a guy. Could always be wrong though…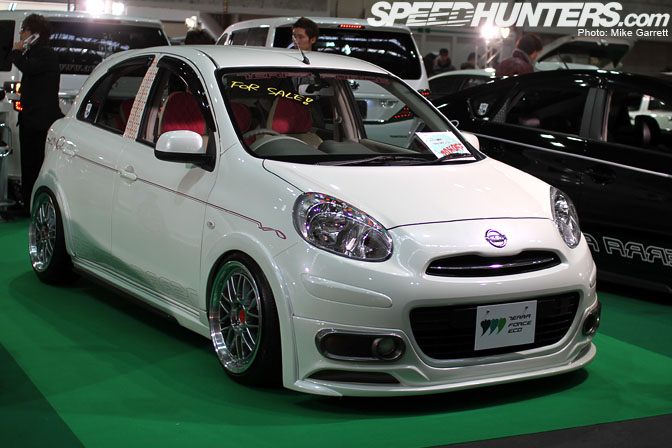 I haven't seen many modified versions of the new K13 Nissan March, so it was nice to see this one produced by Terra Force.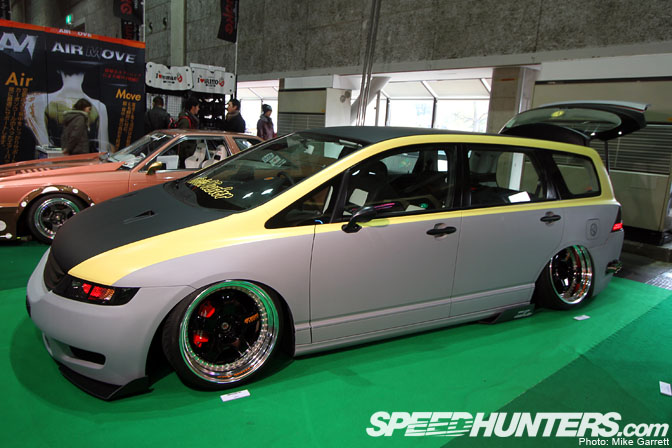 Another slammed Odyssey presented by Body Shop Vivid Luster (cool name right?).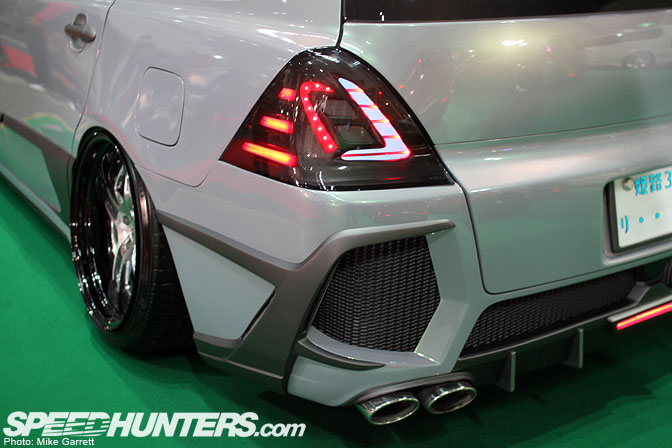 After making the rounds at Auto Messe, it was clear that the Lamborghini/fighter jet custom style is very big right now. There were also several vans in the parking lot done in the this manner.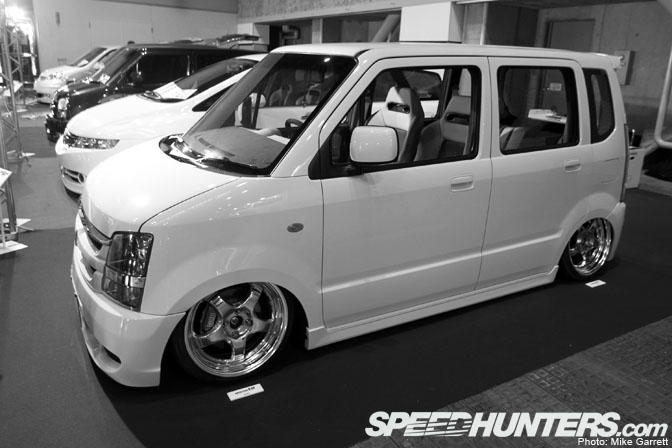 Yamaguchi & Co. also brought out their Suzuki Wagon R slammed on 16" Work Meisters with 165/40 tires.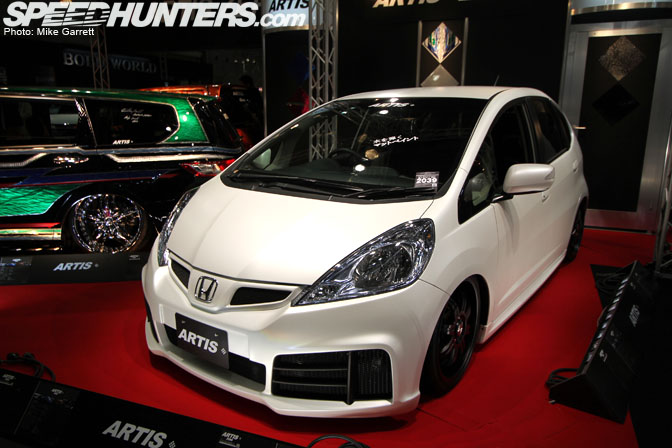 Of course I couldn't leave out the ever-popular Honda Fit. Here's a matte white example built by Artis.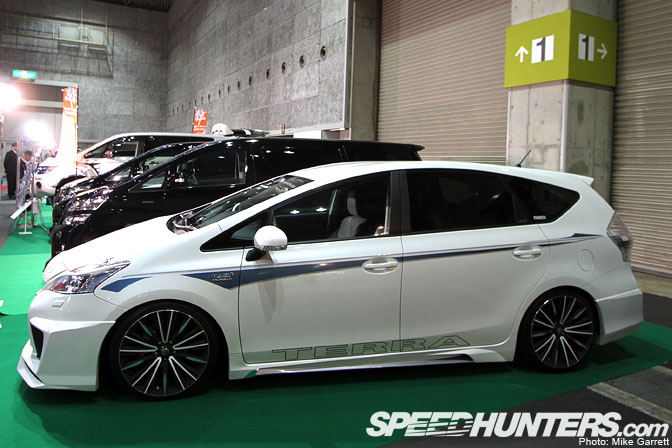 One more customized Prius Alpha, a very popular car at the show this year.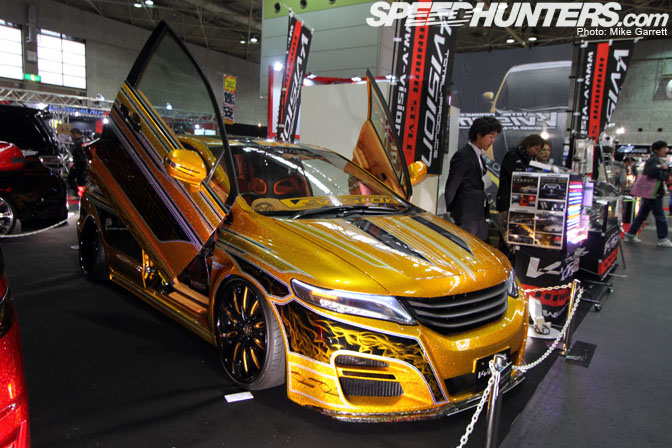 V-Vision's ridiculous Odyssey. I can't imagine the number of man hours that went into this project.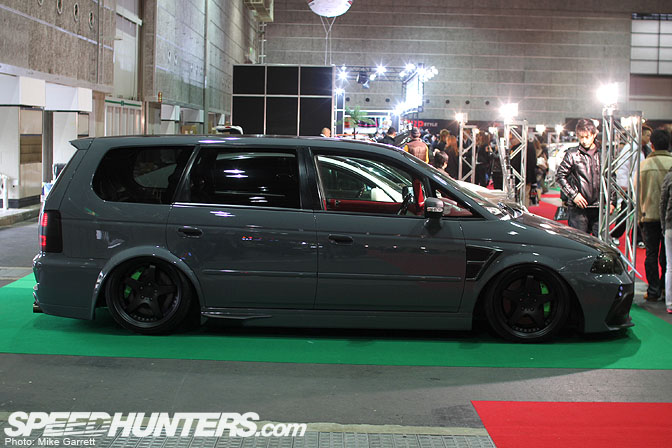 Here's some love for the earlier Odyssey. Again, we are seeing a Euro/Supercar-inspired style here.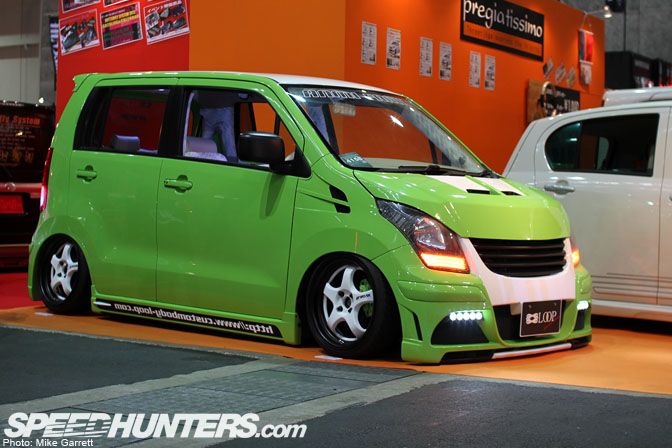 Another one of those "only in Japan" vehicles.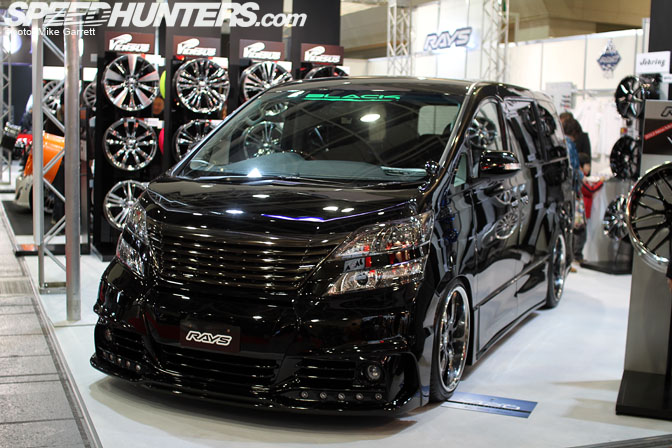 That will do it for my event coverage of Osaka Auto Messe 2012.
I'll be back soon to close out my Osaka adventures with one more post from Saturday Night's M&L Party.
-Mike Garrett