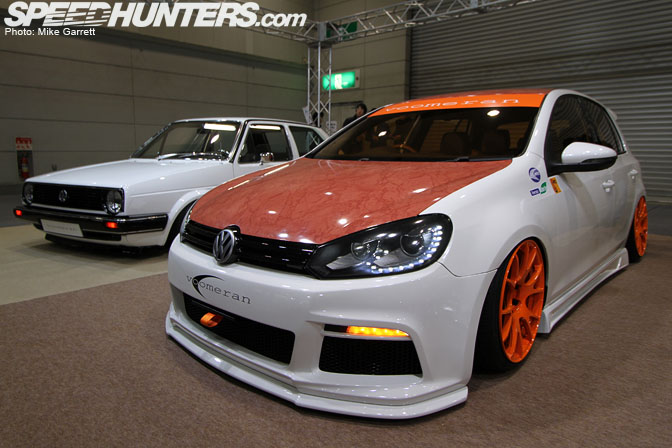 Now that we've seen some of the tuner cars and VIP machines from Osaka Auto Messe, I thought I'd take a few moments to showcase some of the European cars that were shown this year.
Japan's Euro scene is one that continues grow, and whether you're talking about big body luxury sedans or the smaller compacts from VW and MINI, there was lots for Euro fans to see at Auto Messe.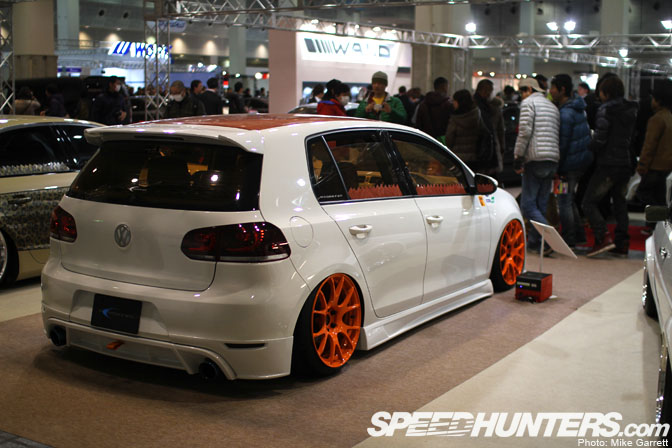 Here's the rear view of the Voomeran Golf6 GTI, equipped with their full R-style aero kit and dropped to the deck via an Air Runner kit.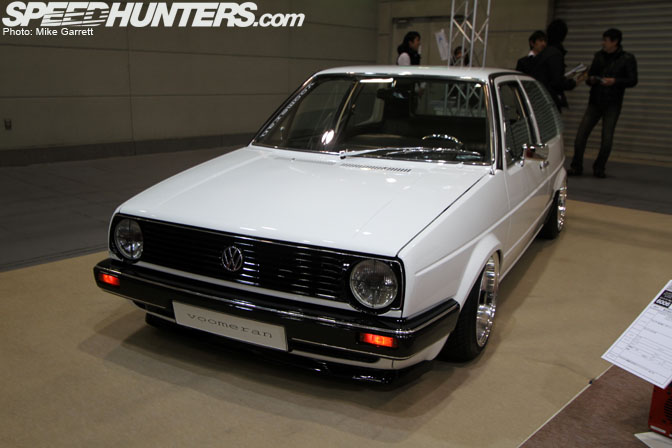 Sitting alongside the new GTI was this smooth and classic Mk.2. Don't worry, I grabbed a few extra photos for a little Car Spotlight.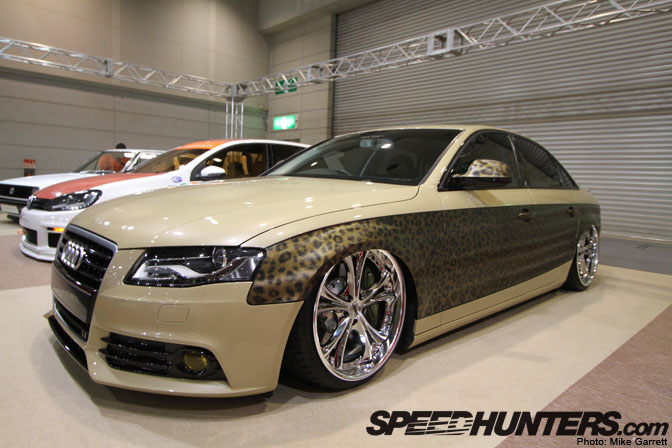 Voomeran also brought out this unique looking Audi A4, aired down over a set of 20"x10J Weds Kranze wheels.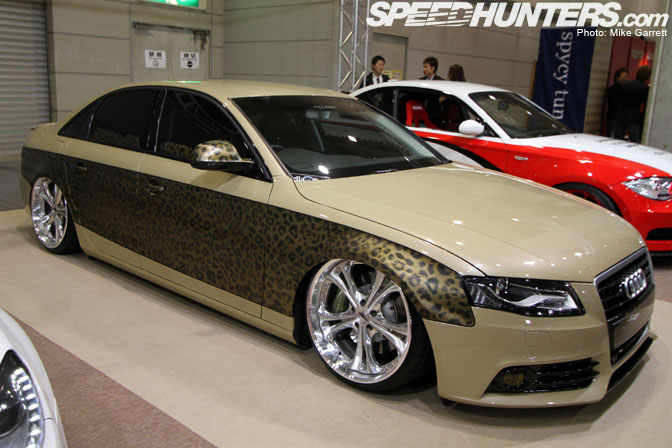 All around Japan, Osaka's women (especially the middle-aged ones) are known for their love of cheetah, leopard, and tiger print clothing. Being an Osaka-based company, it was only fitting that Voomeran decorated their Audi in this manner.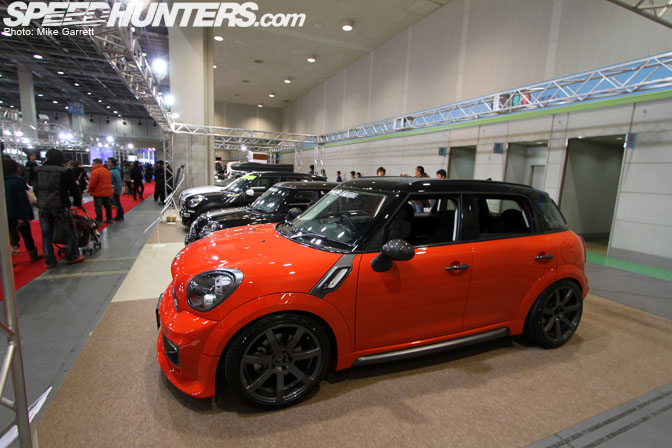 Given its small size and chic looks, the MINI line has proven extremely popular in Japan. These days there are many Japanese shops that specialize in producing high end MINI tuning parts.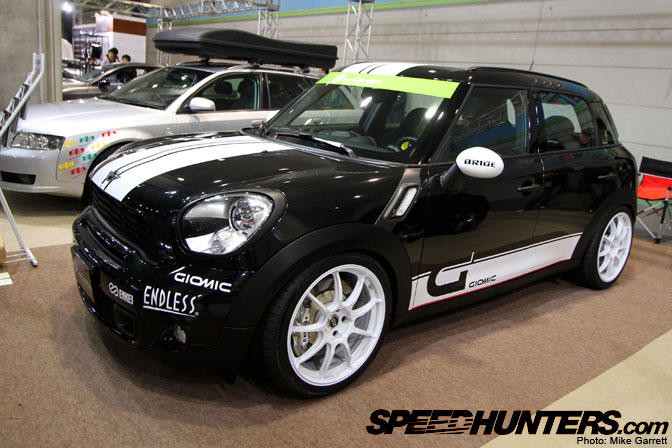 Being one of the newer additions to the MINI lineup, there were a few examples of the MINI Crossover (Countryman) on the floor at Auto Messe. GIOMIC is a company that specializes in outfitting MINIs for circuit use. This is their take on the Crossover.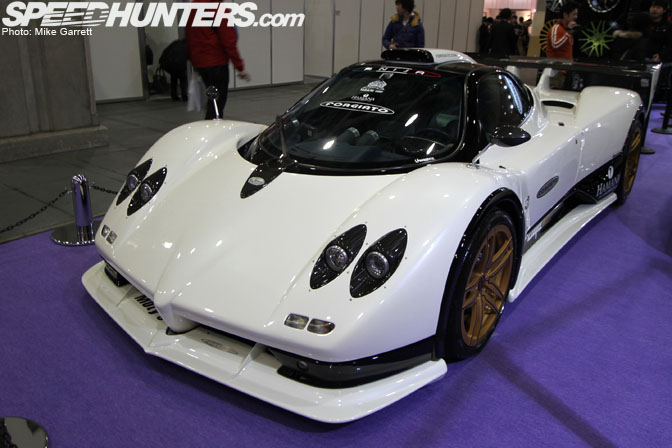 Looking for something slightly more "exotic" than a VW or MINI? This might do the trick.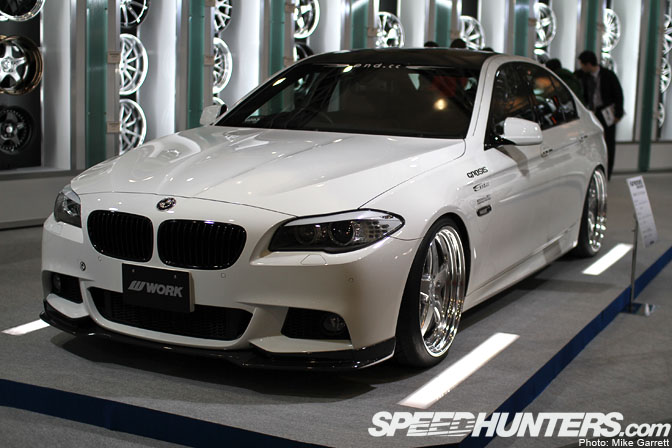 Work Wheels brought out a handsome F10 BMW 5-series…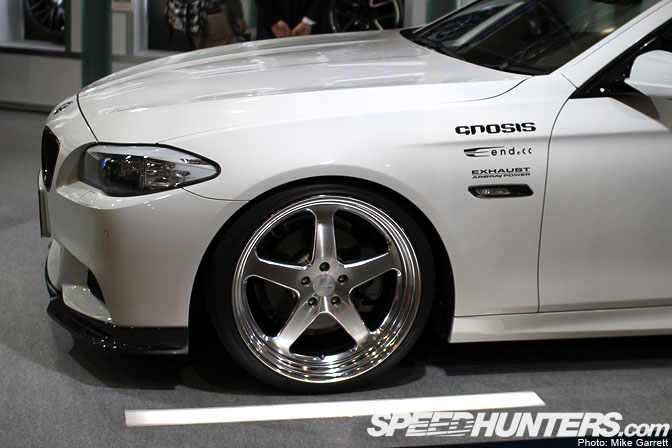 …to model a set of their 21" GNOSIS HS203 wheels.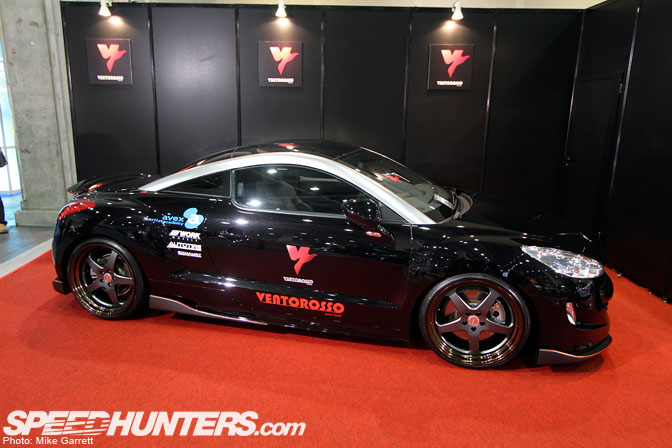 Once again, as I hail from the USA I had the chance to check out many tuned European cars I'm not often exposed to. Here's a Peugeot RCZ built by Ventorosso.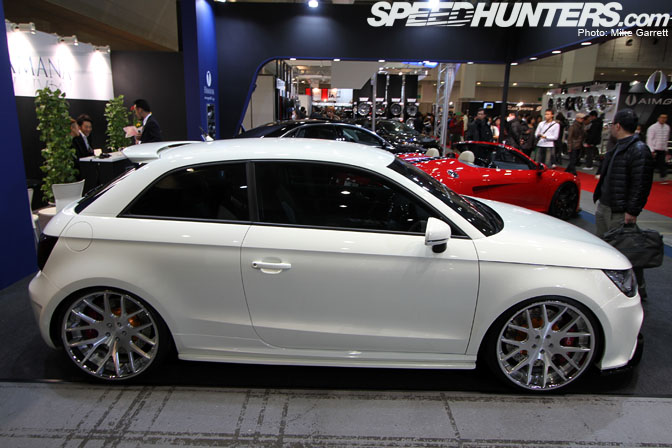 Another car that I won't see in my homeland – an Audi A1 in the Hamana booth.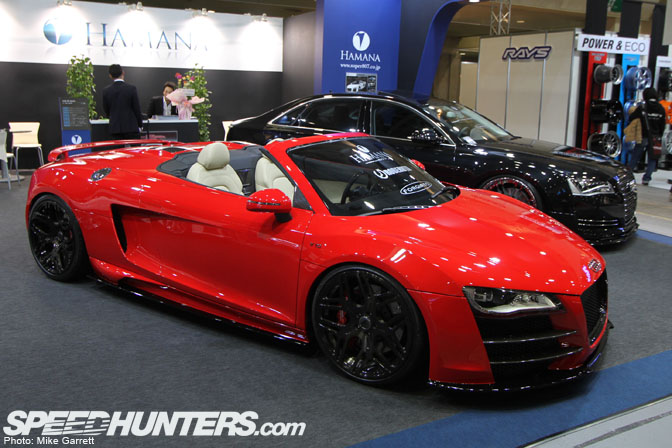 If the factory Audi R8 Spyder doesn't have enough personality for you, well here you go.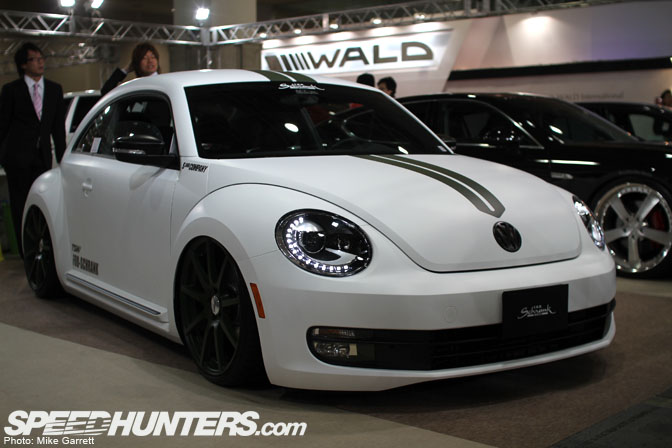 The newest version of the Volkswagen Beetle was another popular car on the show floor.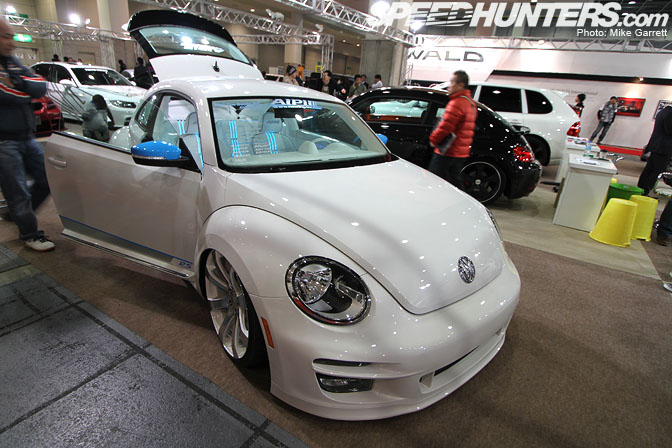 Alpil was displaying this airbagged '12 Beetle sourced from the US market.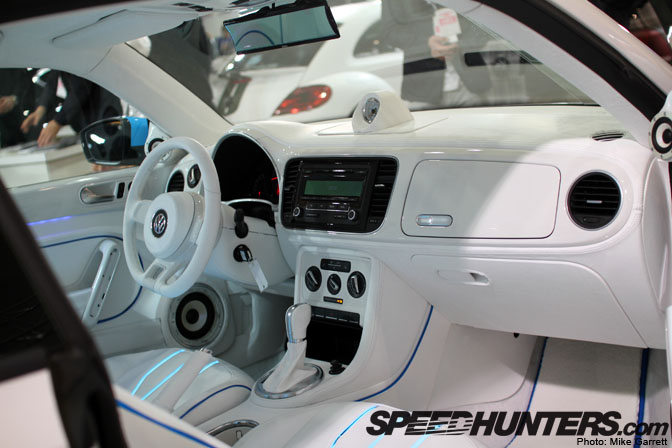 The interior was something to see, completely redone in white and blue with lighted accents.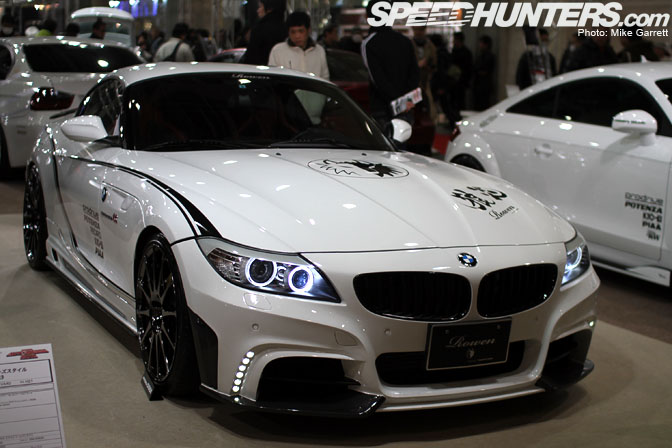 BMW Z4 equipped with full Rowen aero and a set of 19" Prodrive wheels. Tasty.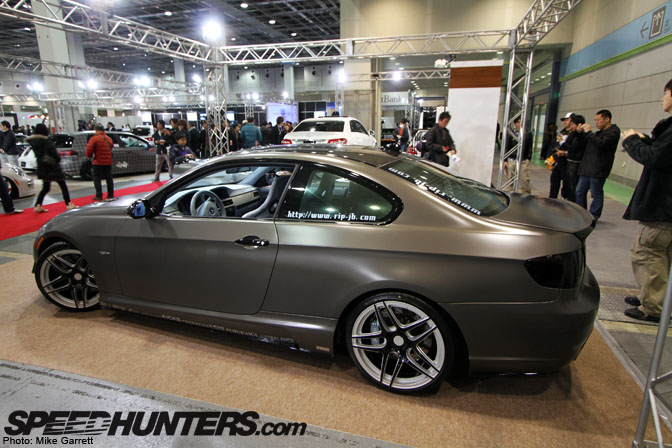 Vinyl wraps are still quite popular it seems. Whether it was the bronze look on this BMW…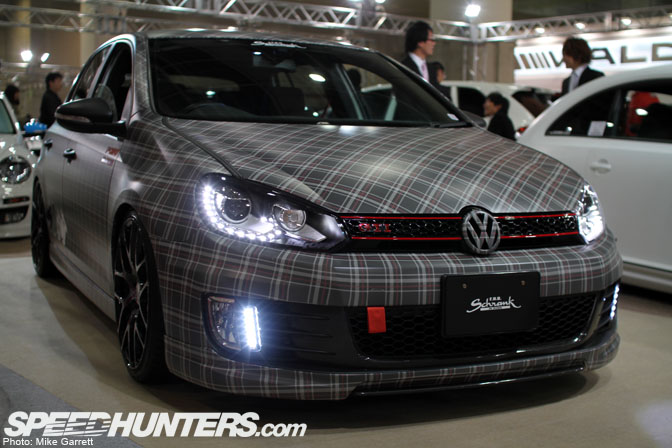 …or the plaid pattern on FOB Schrank's GTI.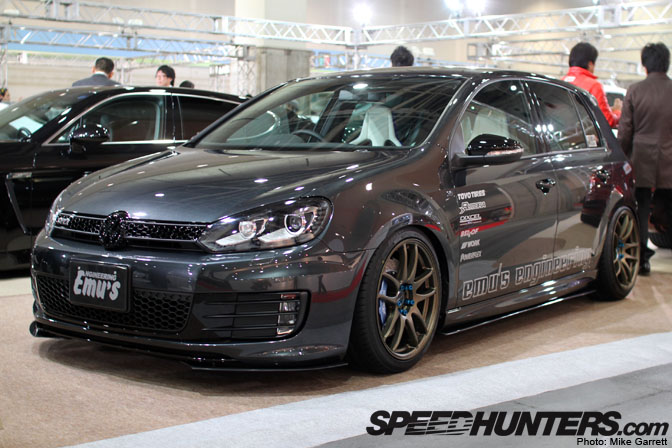 What do you get when you take traditional Japanese tuning car style and apply it to a VW? The Emu's Enginering GTI.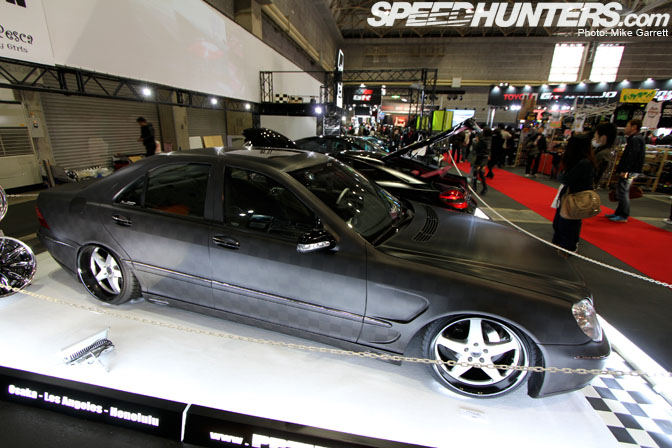 Osaka's own Pole Position Tuning had a large booth featuring several imported and luxury style cars.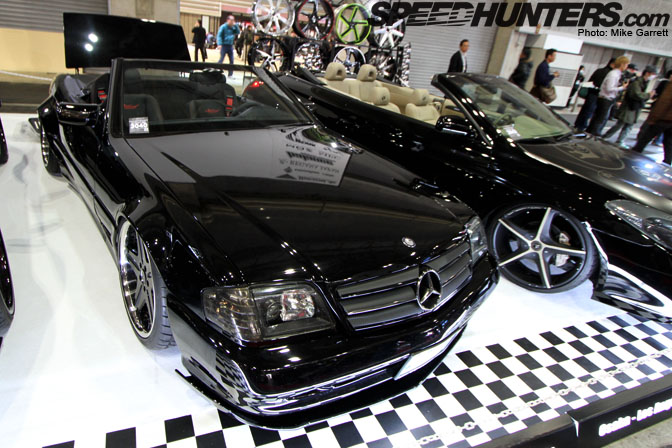 It was really cool to see them giving some love to the older Benz SL Roadster.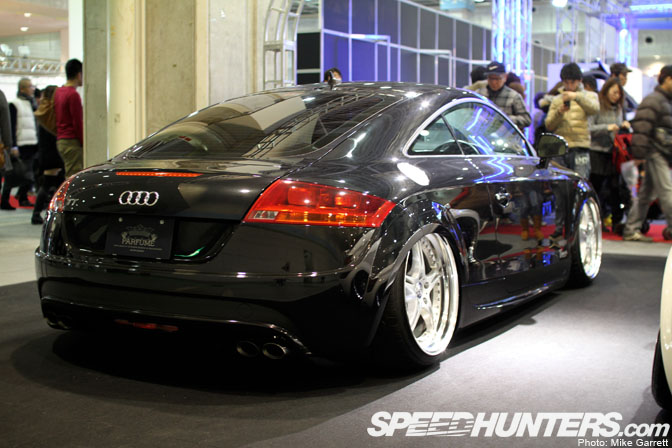 Slammed TT looking mean in the Mode Parfume booth.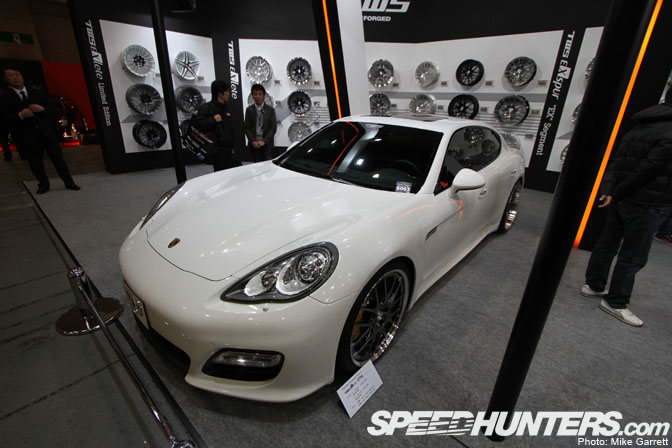 The Panamera has been a smash hit for Porsche back in the US, so it was interesting to see that it's picked up a large following in Japan as well.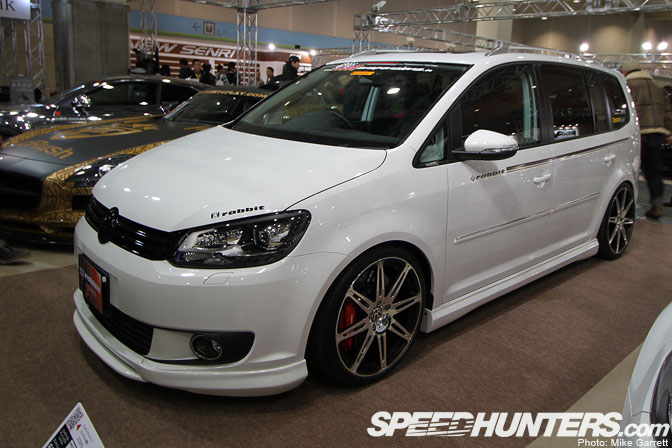 I'll finish up with this Touran built the aptly-named "Rabbit" company. It's the perfect vehicle when you want the style and feel of a Golf with some extra space.
Next time I'll head back outside for one more look at the cars of Auto Messe's parking lots.
-Mike Garrett