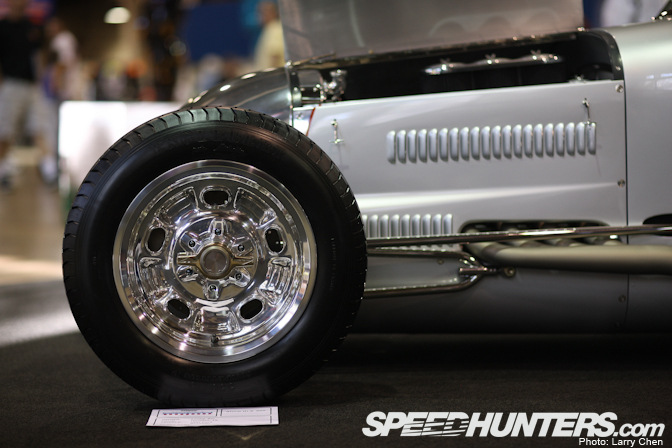 We are back to cover the rest of the 2012 Grand National Roadster Show's AMBR award.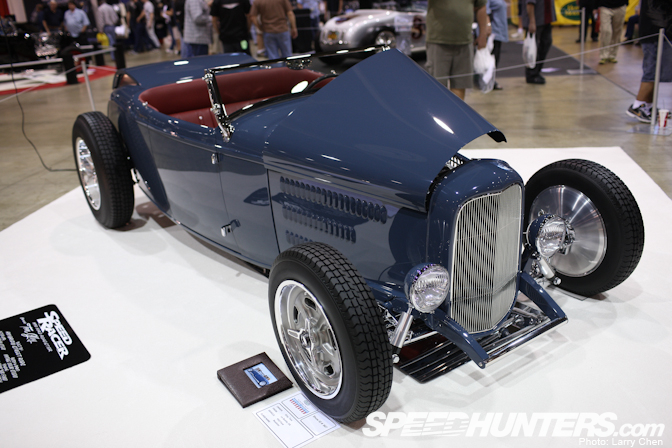 First up is my favourite entry for the award for America's Most Beautiful Roadster. I am a huge fan of Roy Brizio's work. To me, this 1932 Ford is poetic and graceful and it caught my eye from across the room.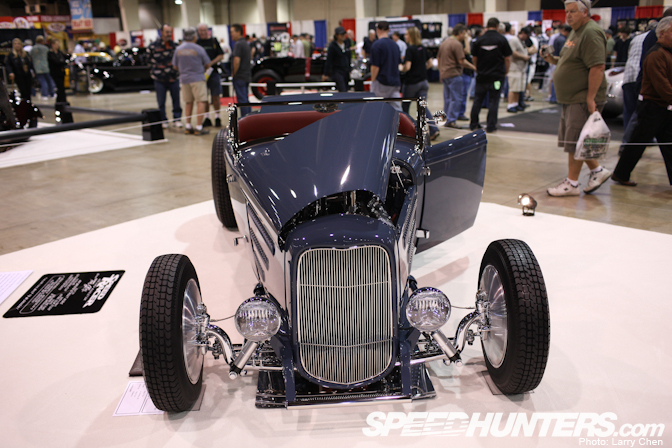 The muted palette is so sophisticated and unexpected. Usually the entrants are highly saturated in colour, or abyss deep shiny black.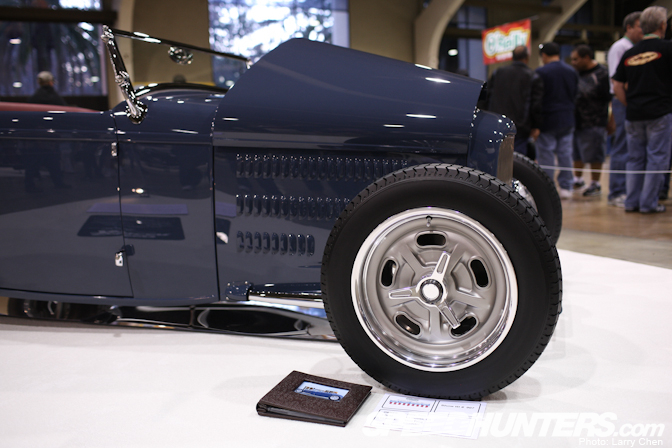 These Halibrand style Kidney Bean wheels really seal the deal for me.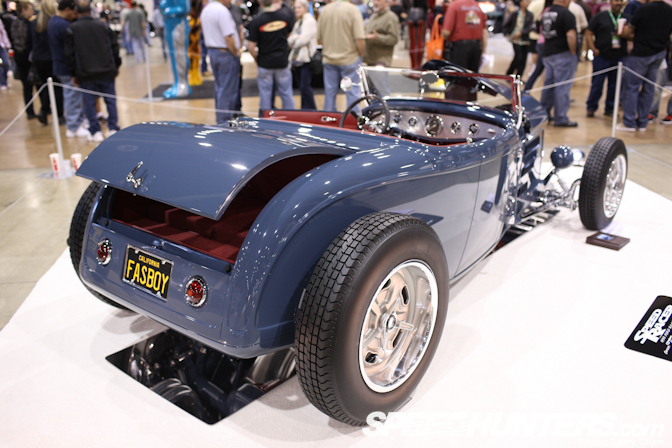 This car wasn't initially built to be a show car. It was commissioned by Tom Gloy, best known for racing in the '80s. So the car was built in the spirit of old salt racers.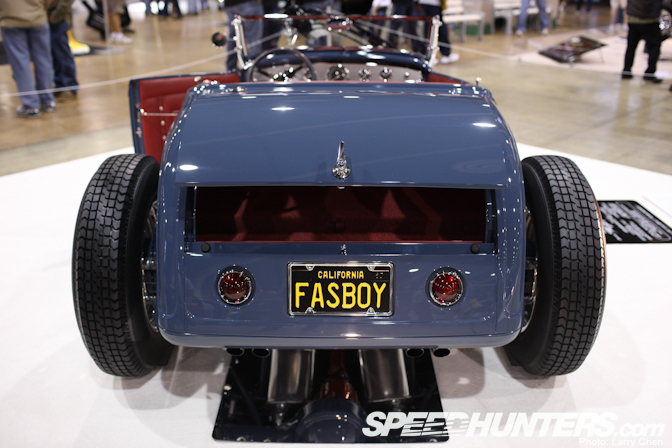 This car may look like a mild rod; there was a ton of work involved.  Brizio channeled six inches as per Gloy's initial design request. The grille shell and cowl were narrowed two inches, the windshield was lowered two inches and the rear-end wheel-well area was completely remolded. The body is lowered over the frame rails and the seats are lowered into the floorpan in order to accommodate Gloy's 6ft frame.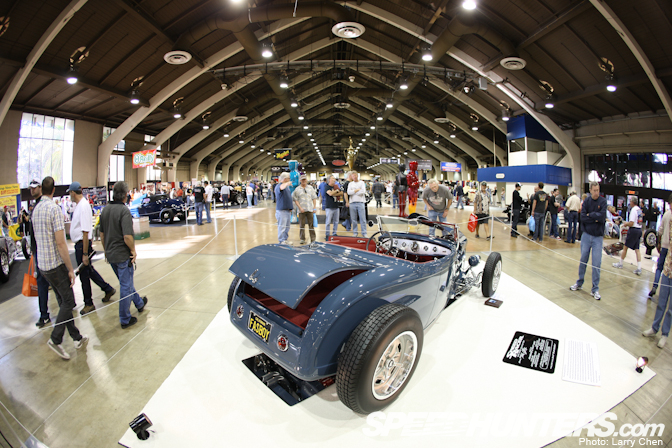 You can check out the build progress here.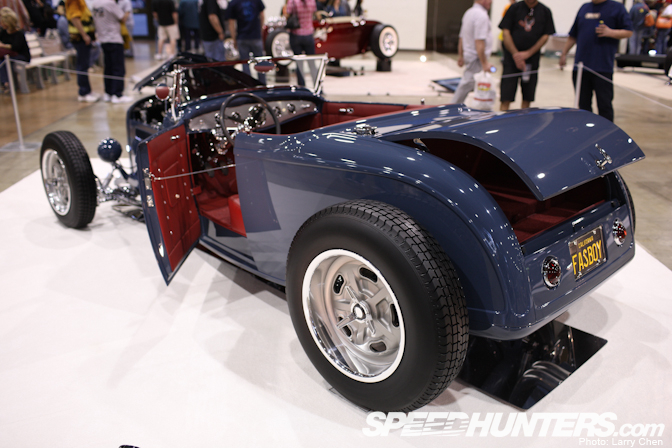 I really hope to see this beauty roaring around the salt flats this year!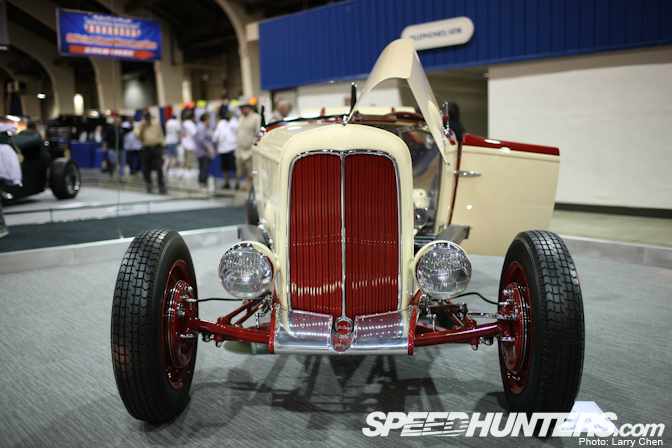 Here we have the Riley Roadster, a 1932 Ford owned by Don Smith. The driver is listed as Juan Fas Boogar, but he was nowhere to be found when Larry and I were hovering around this car…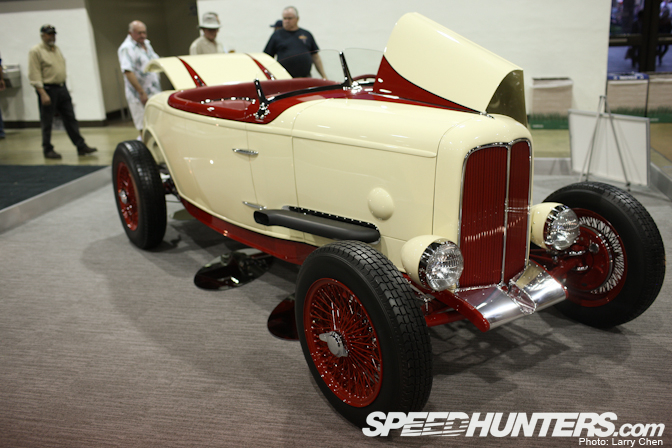 This car is powered by a Riley Overhead V8 engine, an unusual choice but was decisions like this that kept this year's AMBR contender list interesting.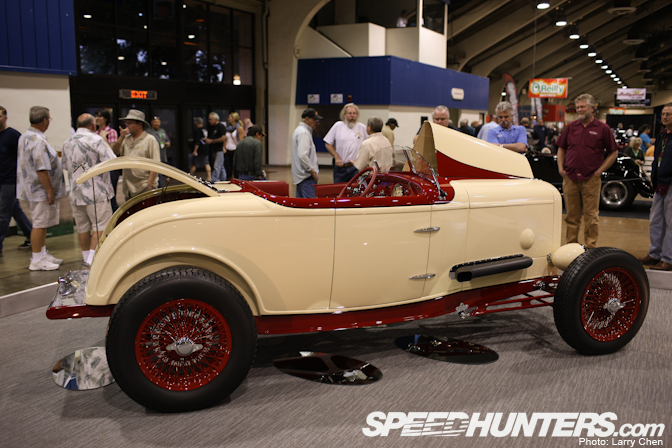 Along with the V8 is a Riley Prototype transmission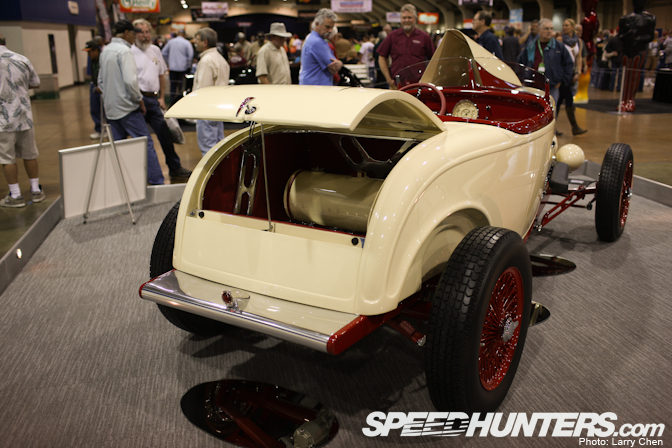 Another unusual choice is this rear bumper, what do you think?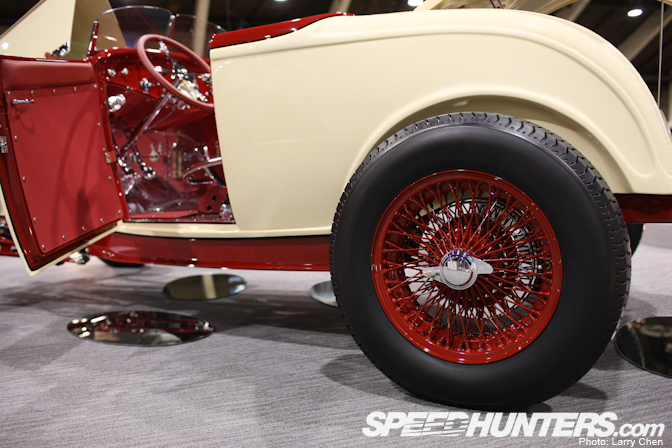 Another killer interior, with every chrome accent you could imagine.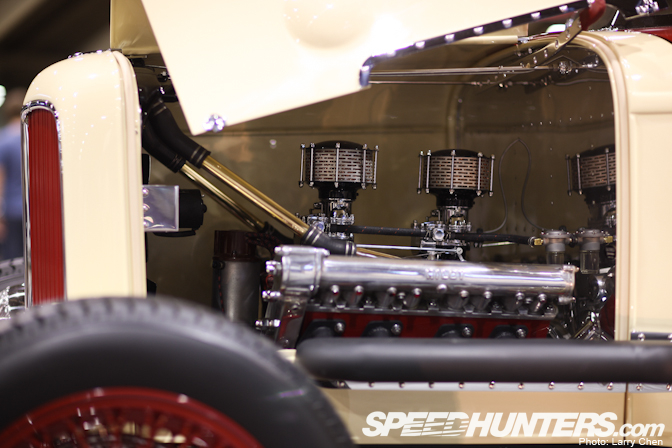 A closer look at the Riley engine, it looks like it should be in a museum.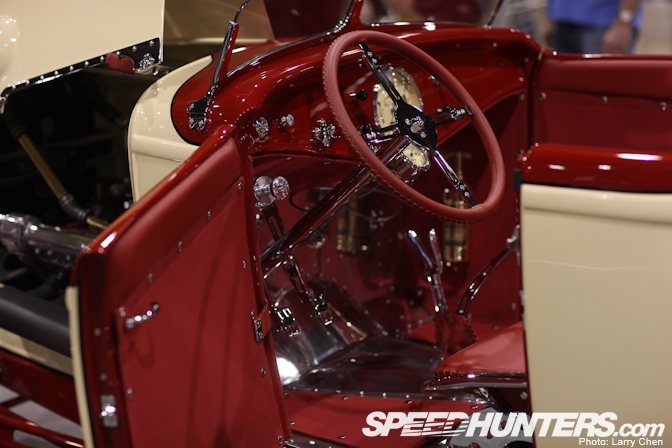 Look at that firewall; you'd blind yourself on a sunny day!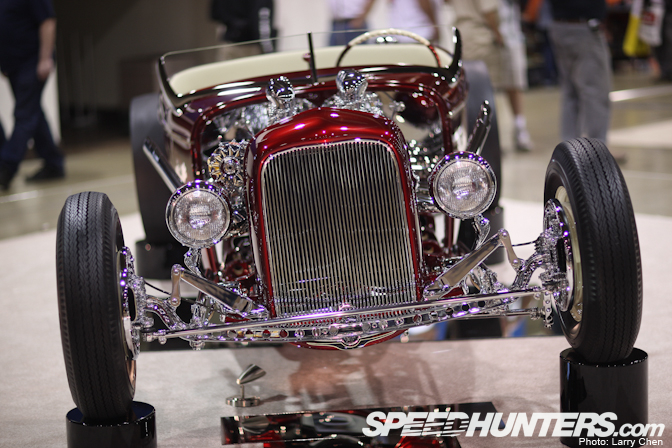 Here is Sylvester III, a rebuild of an original 1962 GNRS entrant.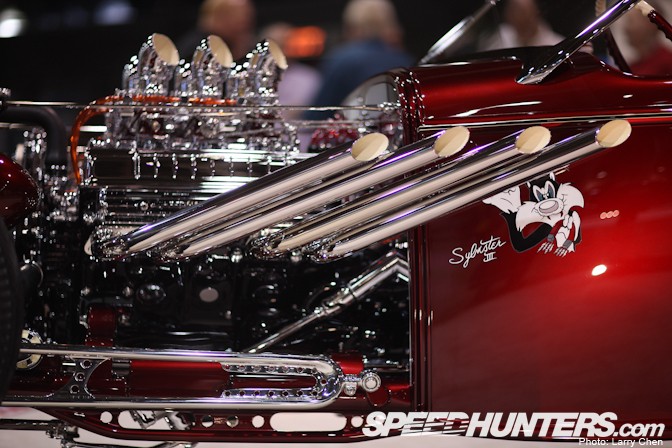 With the shiny new chrome everywhere on this car, I really needed my sunglasses.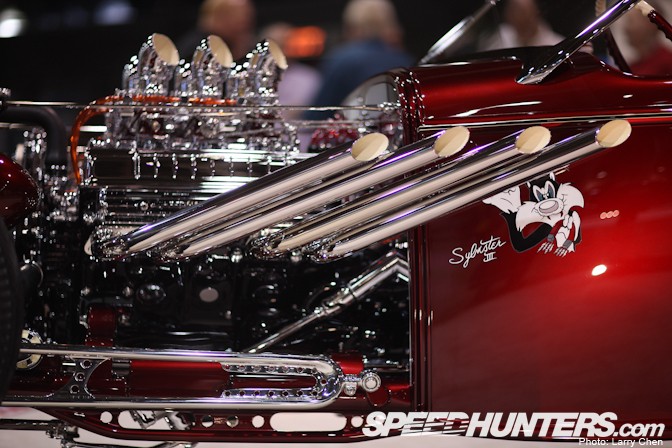 It was by fluke, when responding to an engine for sale on Craigslist, which led to the rediscovery of this beauty. Sylvester that sat in a barn for 35 years and the team at New Metal Kustomz decided to restore it back to show quality.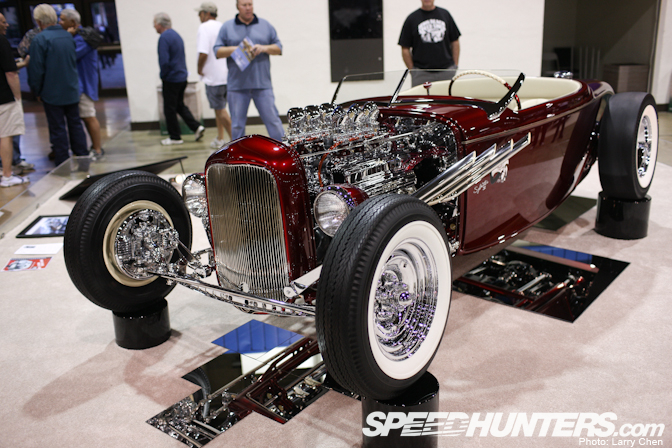 Check out that sexy 401 Buick Nailhead!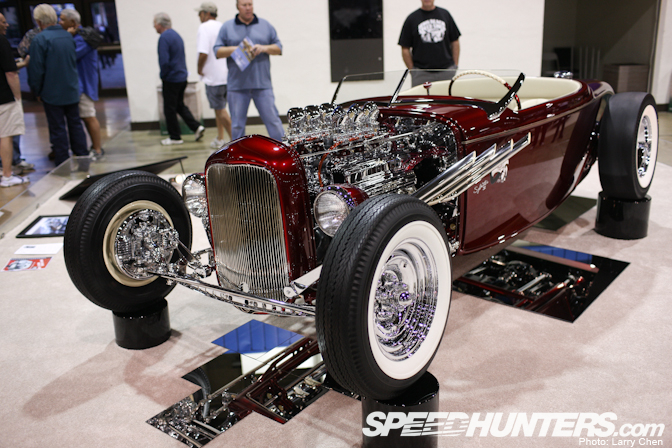 Gorgeous Hurst piecrust cheater slicks on chrome steel wheels, such an awesome combo!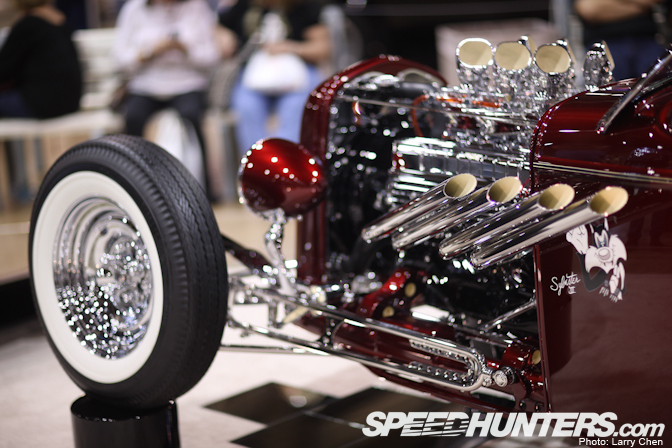 The headers here show them painted on the inside, now that's a show car.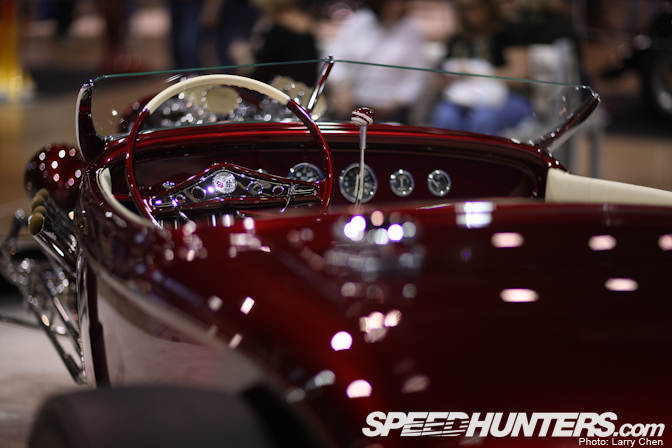 The original Sylvester was on the cover of Car Craft magazine in October 1963 and this latest version holds true to the original set up, save for the extreme headers.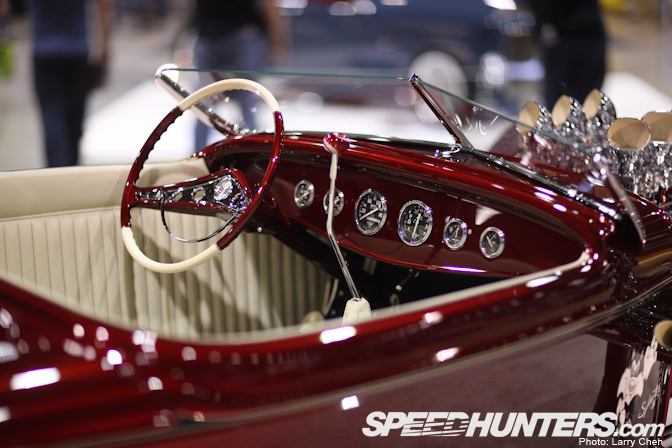 Check out the impeccable interior and that two tone steering wheel. Again it's those small details that finish the job.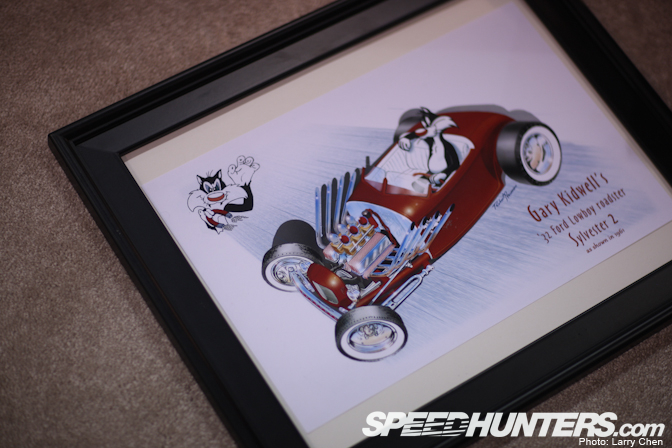 An inspirational drawing that kept Sylvester's restoration on track.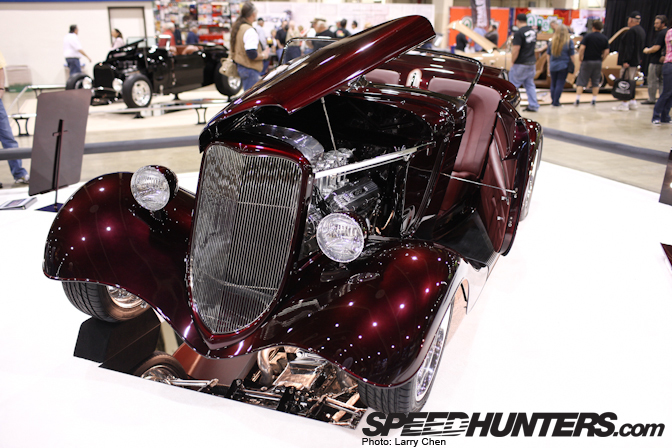 Here's an elegant build by Brian Dickey appropriately named Merlot.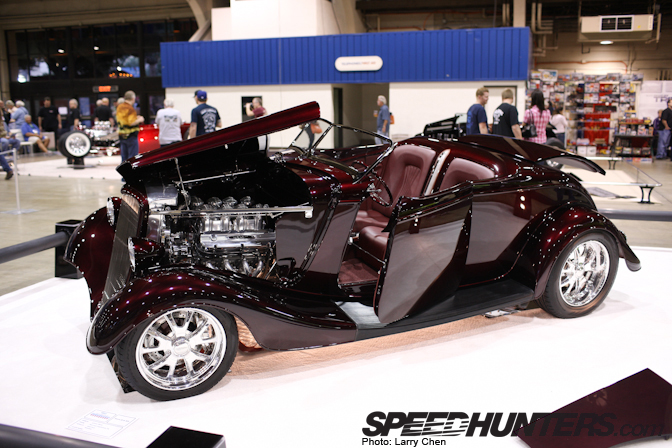 The exterior paint looks to have been poured straight out of a wine glass.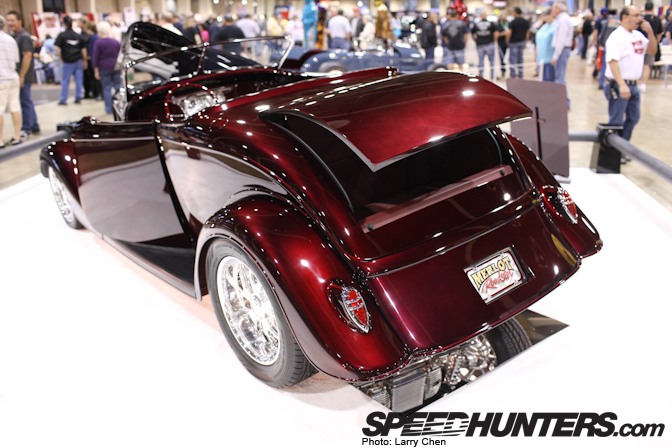 With these beautiful curves and an almost organic line flow, Merlot certainly lives up to her name.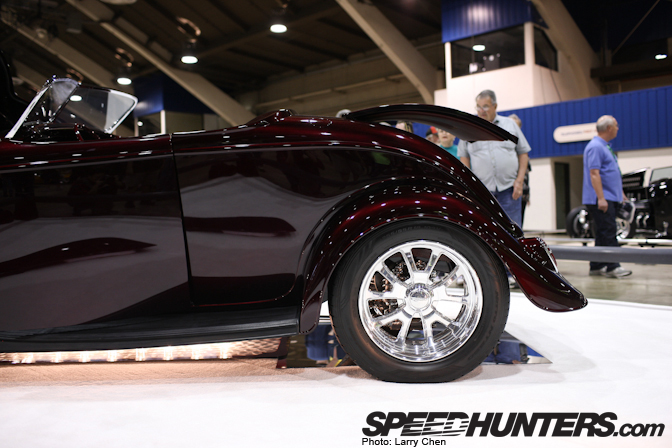 Chrome wheels are classic on this roadster.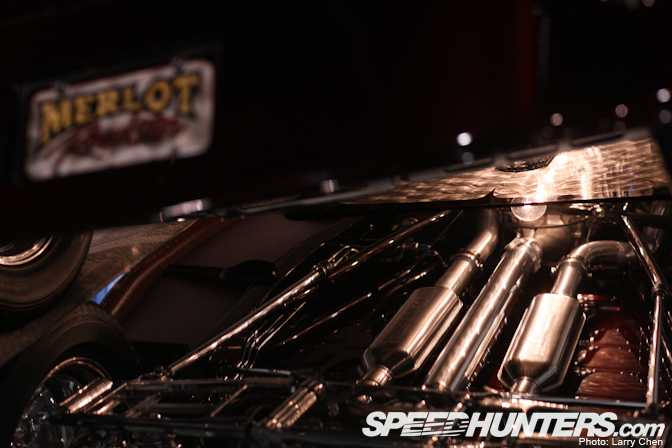 The undercarriages of all of these vehicles were this immaculate; everyone's arms must have hurt from all the polishing!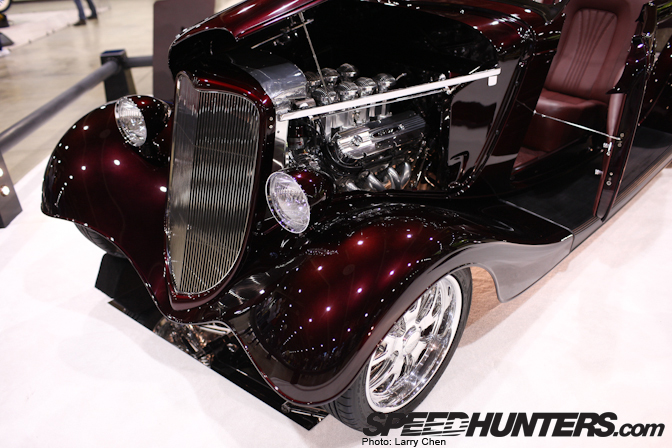 A 427 small block Ford engine sits nicely under the hood.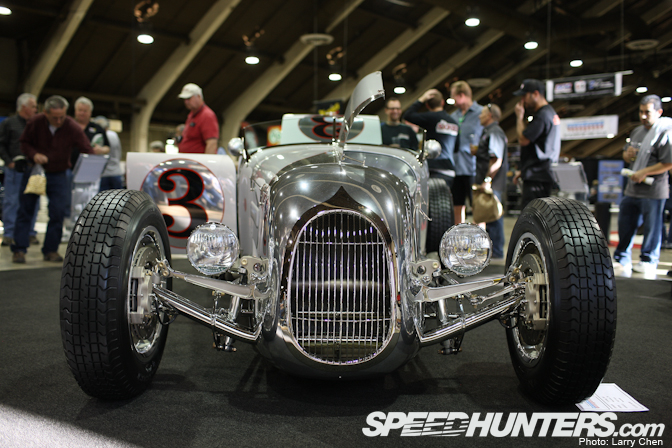 And now we have the 2012 America's Most Beautiful Roadster winner: Bill Lindig's Indy V8 Roadster built by SoCal Speed Shop.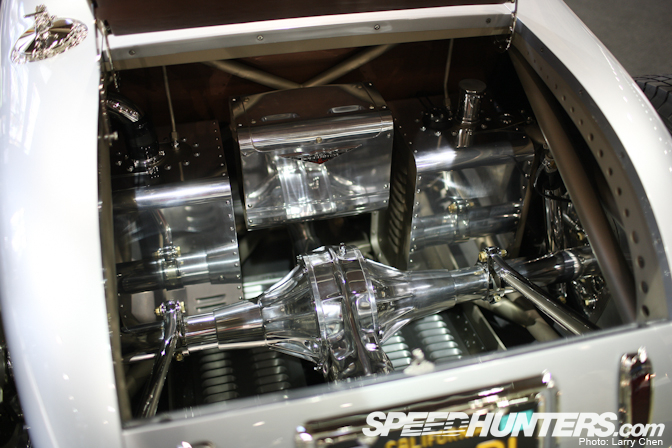 This year the GNRS judges decided to go back to the roadster's roots and went with a car that is clearly influenced by the old sprint cars of early stock-car racing.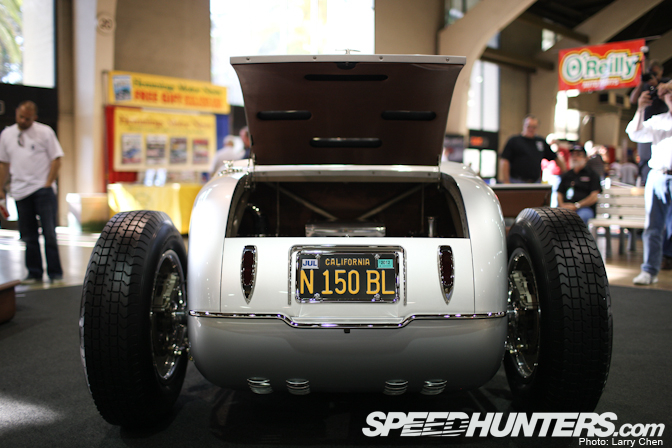 This car has a bit of building history to it, originally owned by Jack Howerton and worked on by Steve Moal, a fellow AMBR contender.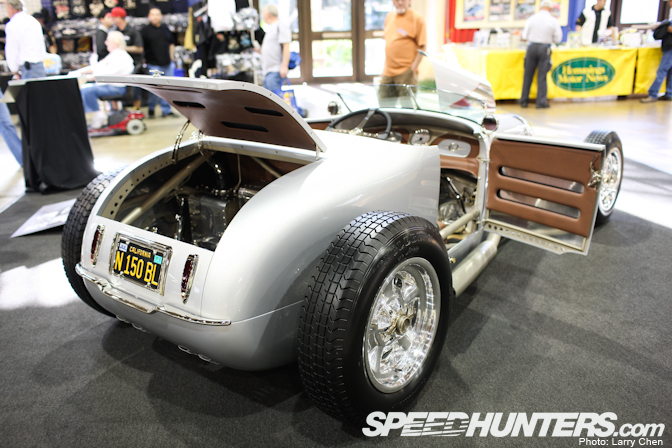 Lindig saw potential in the car 12 years ago and coerced Howerton into selling it to him, and kept him in the loop as the build continued on.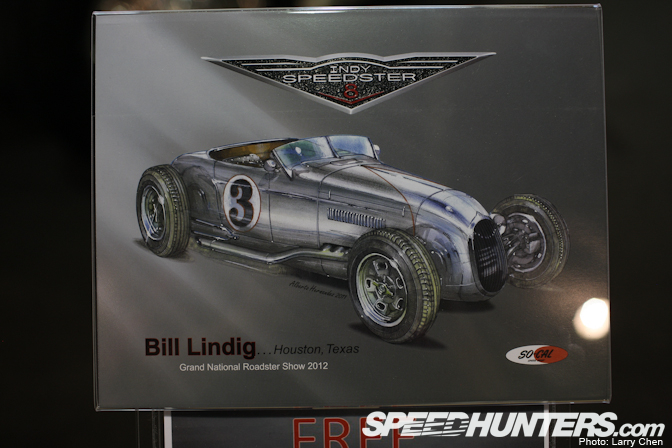 This AMBR winner won't be a trailer queen, as Lindy is determined to keep her as a driver. This is such a great thing to hear, as it always makes me sad to see cars that aren't driven.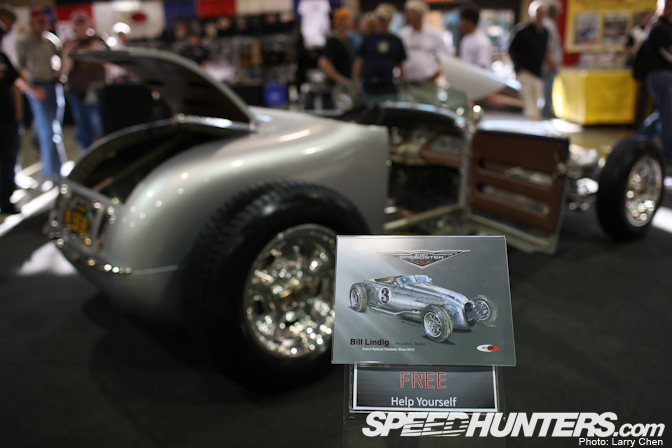 The car may be silver, but not everything is chromed. No overkill here, this roadster is just right.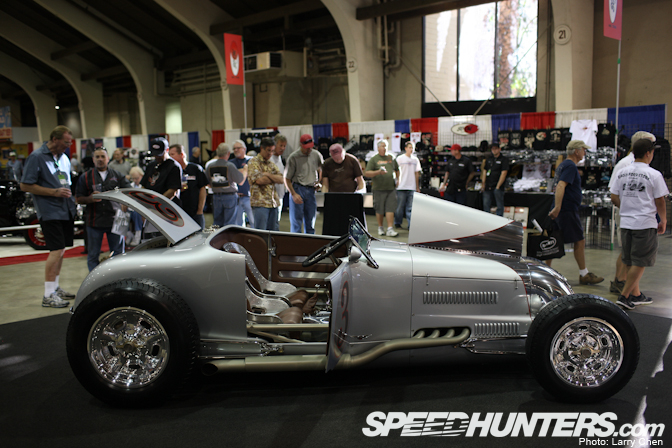 The brushed aluminum look is great here and the matte pipes off set the chrome wheels.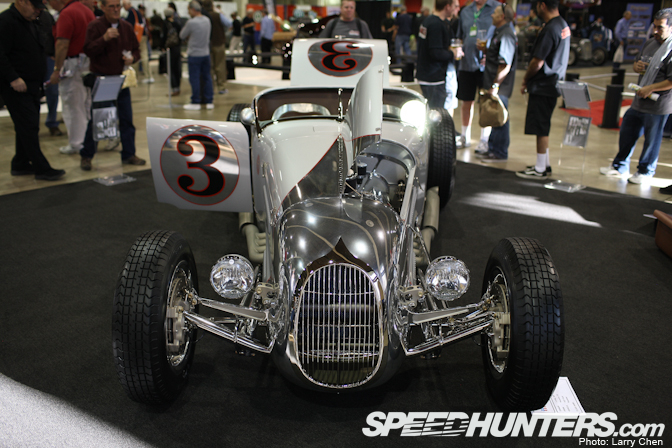 The track nose here is perfectly executed.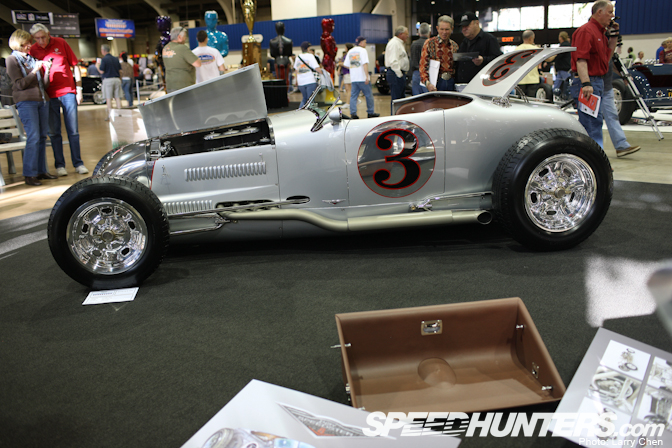 The Indy Roadster has an Art Chrisman built engine. A 352 small block Ford that makes 450 hp with a Tremec T5.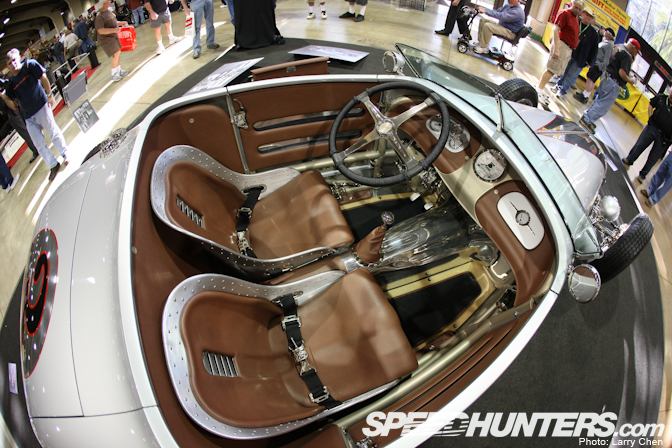 The interior is gorgeous; bare bones yet complete.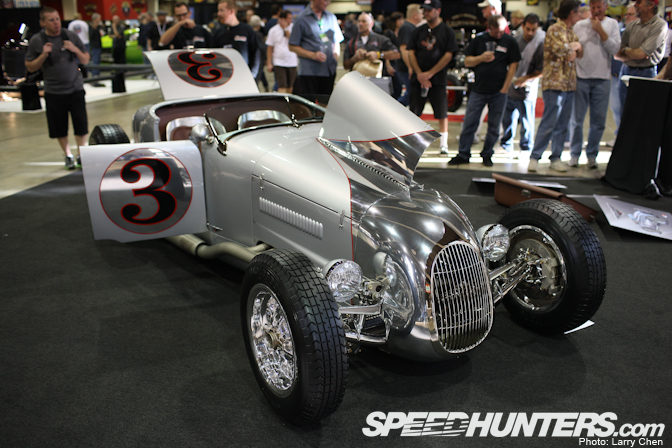 And there you have the 2012 AMBR winner! It looks like it is hungry for some dirt track racing!
-Melinda
(photos by Larry Chen)
More Grand National Roadster show coverage on Speedhunters