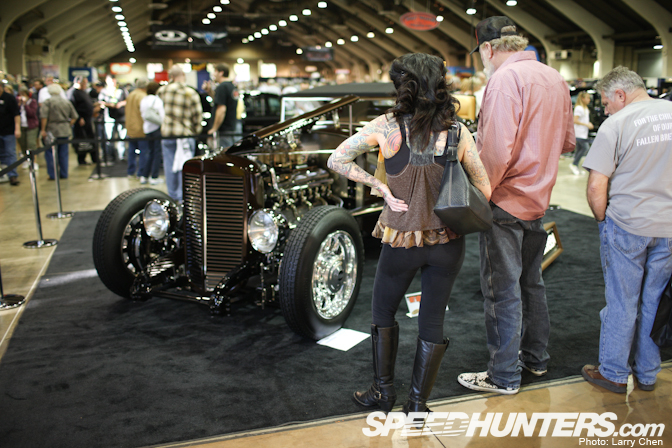 The "America's Most Beautiful Roadster" competition formed an important portion of the 2012 GNRS show. Dating back to 1950, the AMBR award is the ultimate title in the North American hot rodding
scene and in the next two stories we are covering its 10 contestants and
the winner.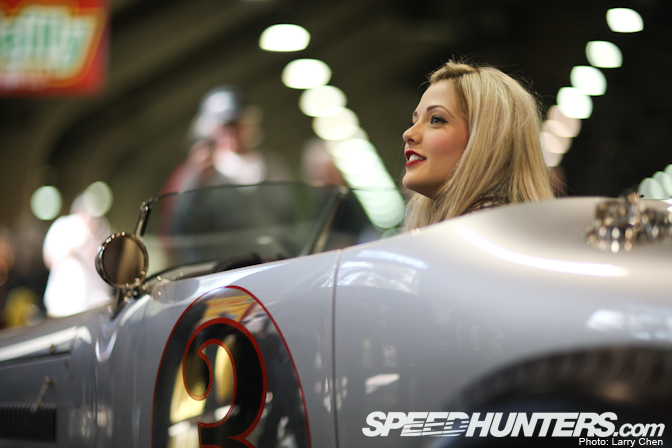 The contest is only for roadster hot rods and is only open to cars dated from 1937 and earlier.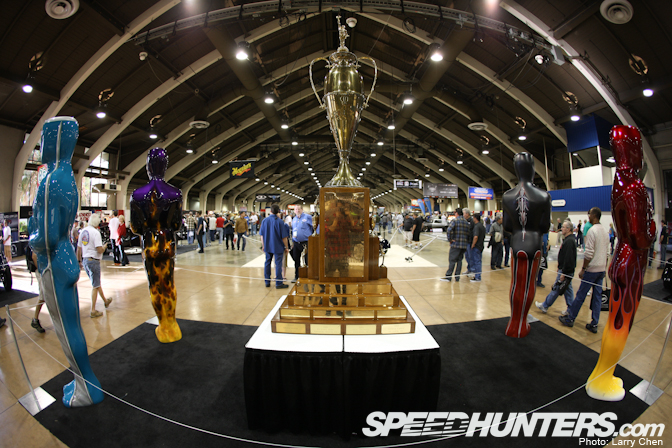 Home garage builds competed against million dollar projects for this coveted 9 foot trophy, which has been awarded to some of the most famous Hot Rods of all time..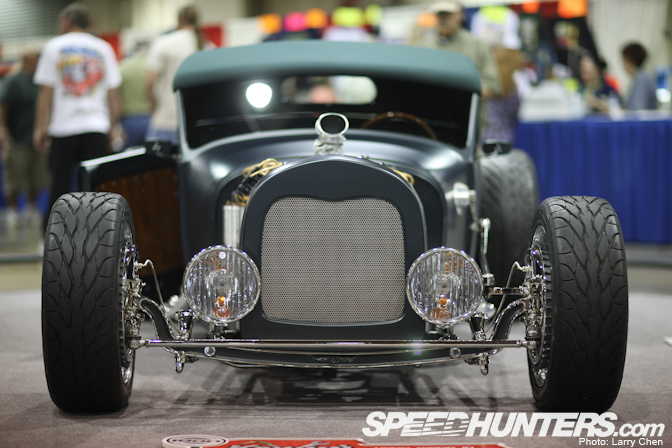 From first glance, you can see why this suede green 1929 Lakes Modified Ford sits with the AMBR ten.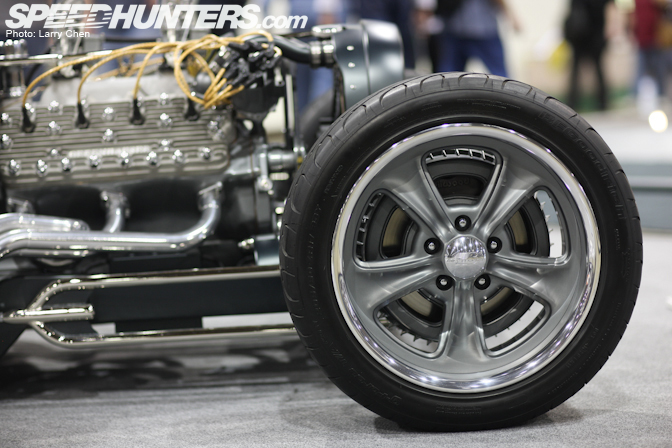 One thing that was definitely not lacking at the Grand National Roadster Show was wheel porn.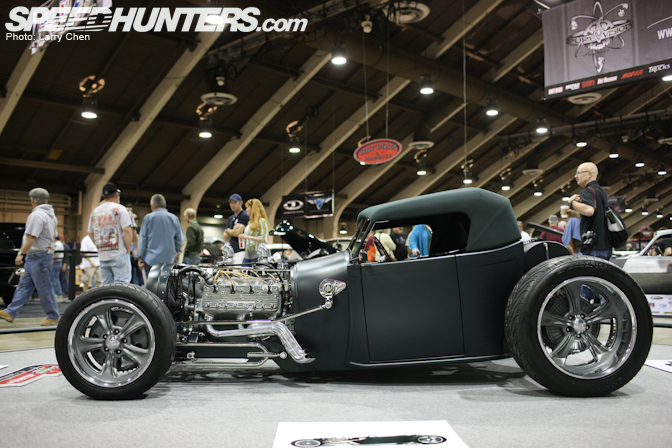 Monster five spoke billets wrapped in miles wide low profile rubber.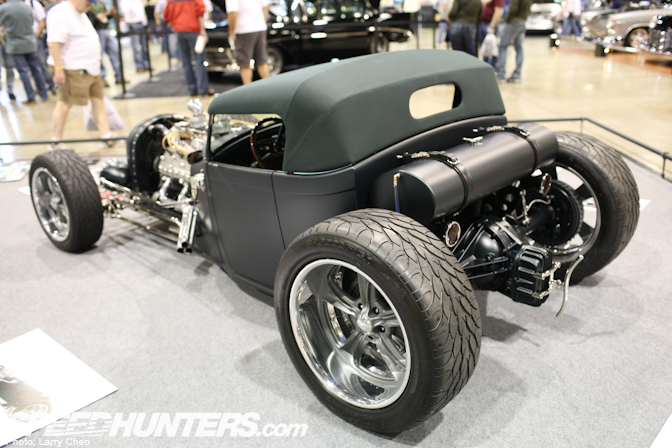 Striking here too is the rear axle set to the end of the body.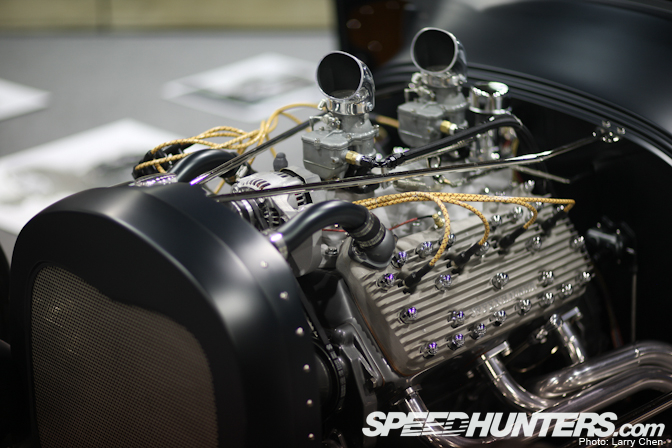 I wish it were possible to be able to hear the engines start up at
this show, maybe next year I can stick around long enough to hang around
til load out. In years past, the entered cars didn't have to have
working engines; these days part of the judging includes seeing the cars
driven in and how the driver sits in their seat.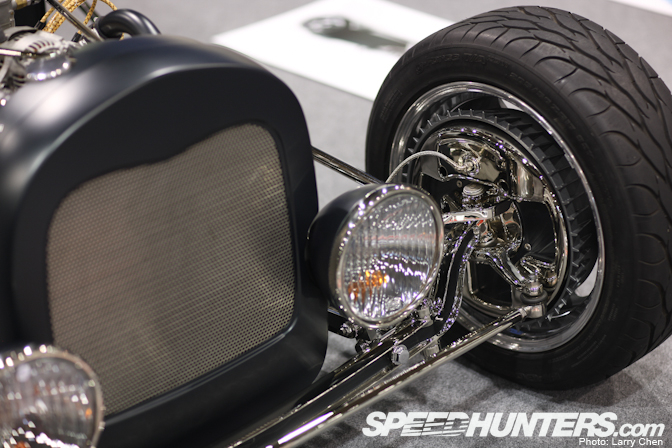 The team at Kenny's Rod Shop has the engineering here down to an art.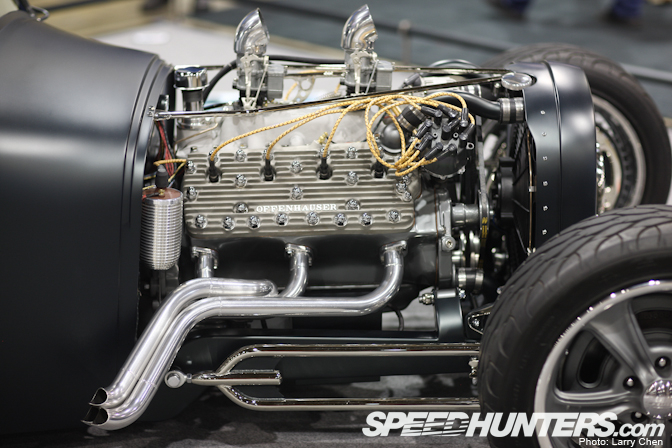 Reynolds' car is well driven with a Flathead Ford V8 with Offenhauser
heads. This little monster definitely boogies on the tarmac.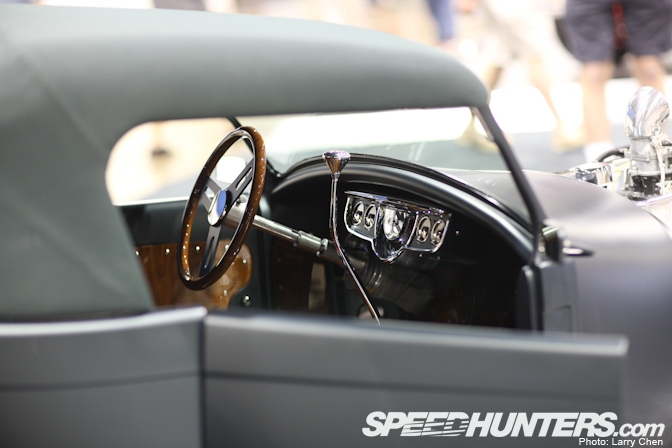 Sometimes it's the small details that make you smile…like the flipped 1950's Plymouth gauge cluster.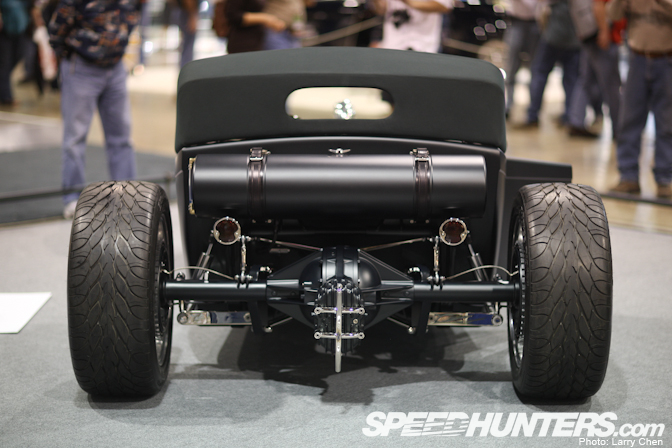 The Halibrand quick-change rear end has an aesthetic that gives the car a sophisticated finish.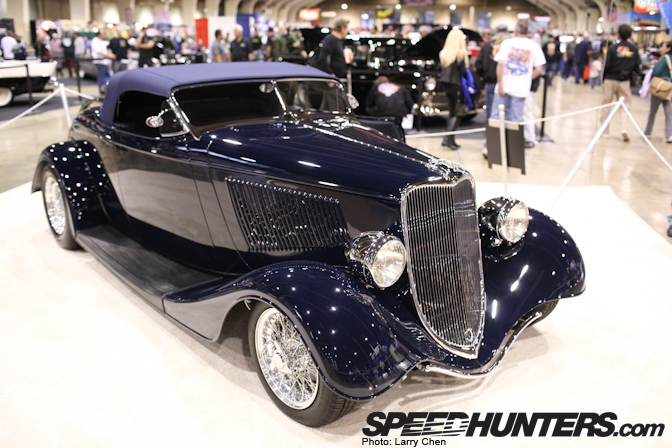 This blue 1933 Ford Roadster was built by Steve Moal, the 1997 GNRS Builder of the Year.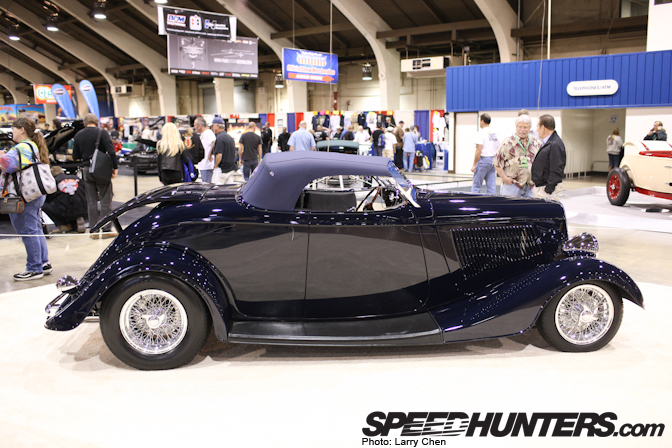 Moal's classic style is pretty clear with the sleek elegant lines evident from all angles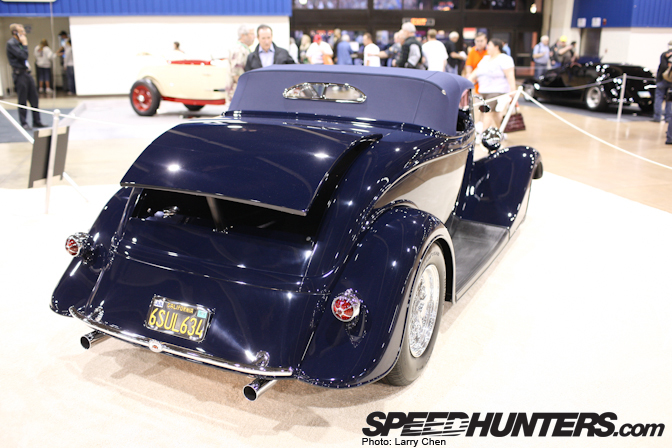 I have a feeling that on the street, this is the only view you would get for this car.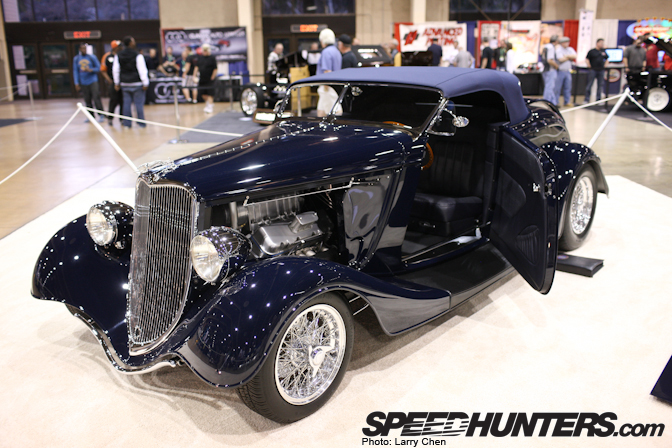 Under the hood is a V8 with an 871 GMC blower that can pull 700 hp!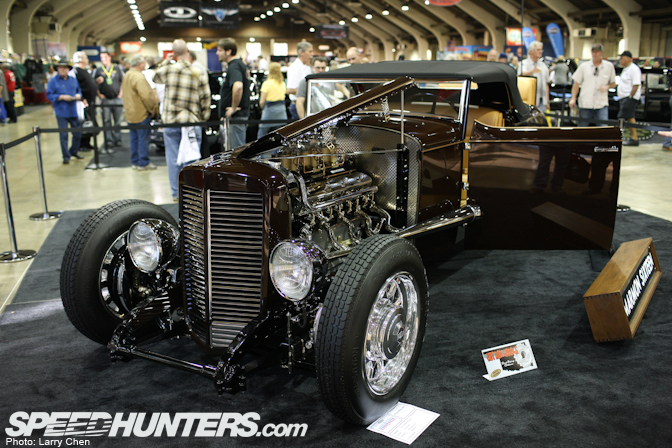 There were more than a few jaws dropping around this behemoth, the Marmon Sixteen built by Hot Rod Garage. I don't think many people were expecting to see a 1931 Marmon to be one of the contenders for the AMBR award, but it very deservedly belonged in this top ten.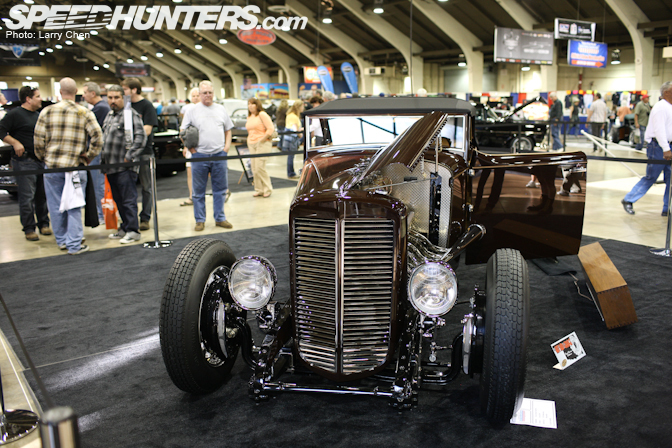 The folks at Hot Rod Garage followed the original blueprints for the Marmon keeping it as original as possible.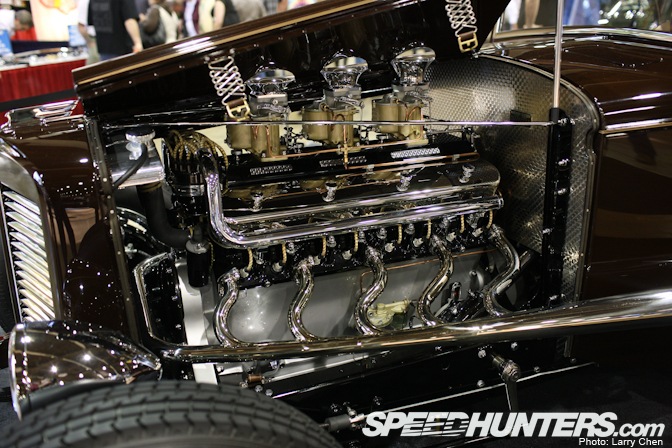 That is a real Marmon V16 under the hood, 200hp and according to Jason Smith of Hot Rod Garage "the torque is unbelievable!"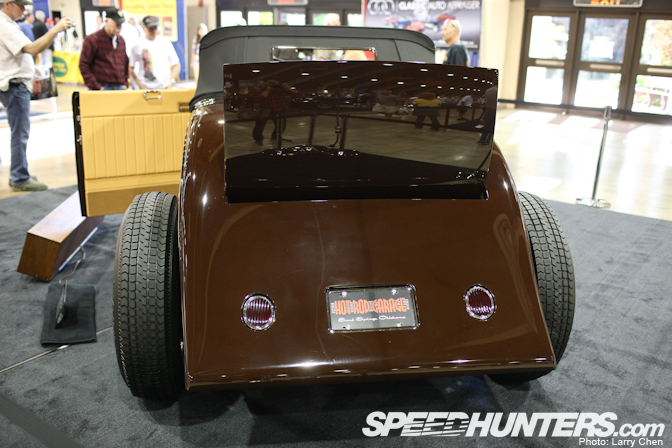 The Marmon was built on a 145 inch wheelbase…imagine trying to parallel park that?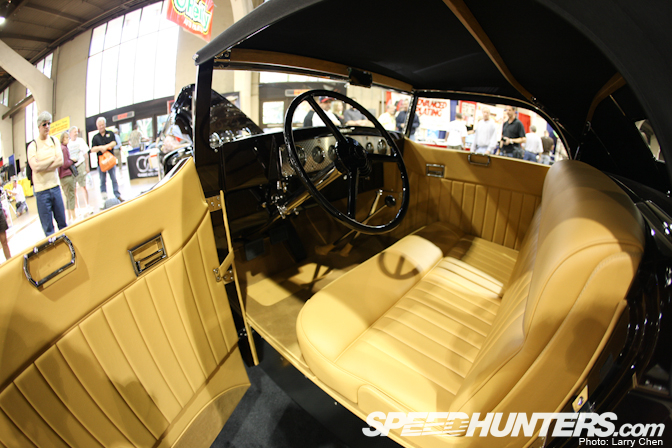 Beautiful interior as expected, but shouldn't Jeeves be holding that door for me?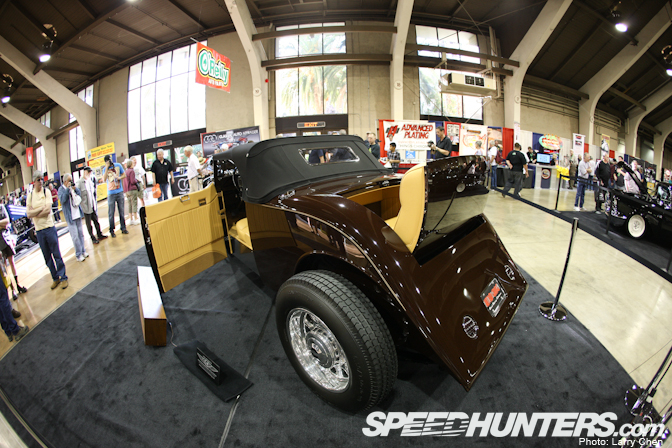 I think the rumble seat is an option that should be reconsidered.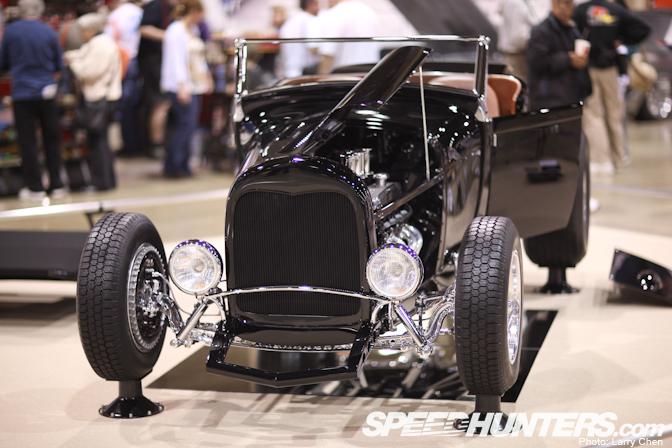 Next up is a super classic 1929 Model A Ford Roadster entry built by co-owner Eddie Baumann from Texas.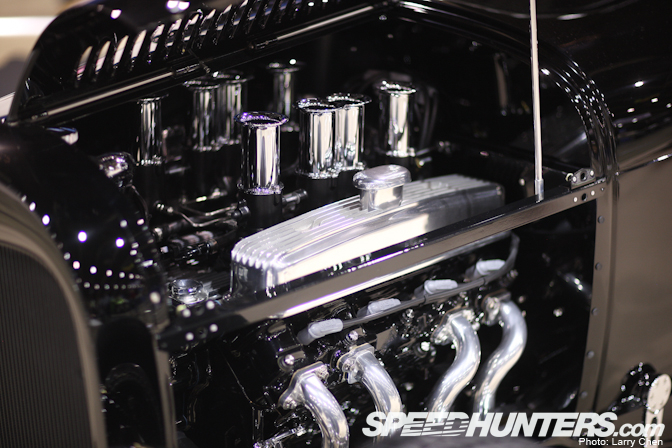 Under the hood Baumann pairs a 425 Buick Nailhead with a Tremec 5-speed and Hurst shifter.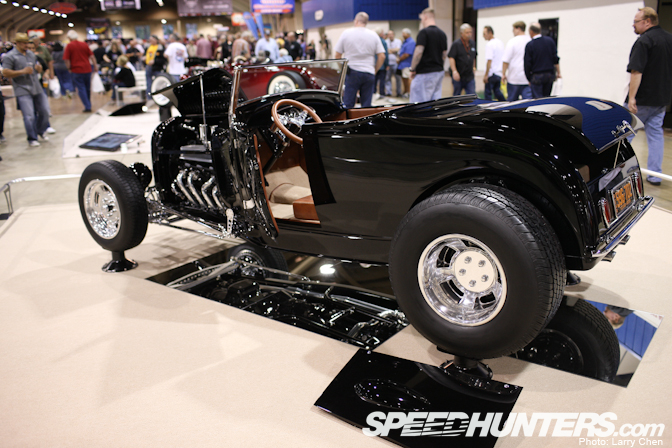 Immaculate bodywork with a classic Roadster stance and Halibrand style wheels.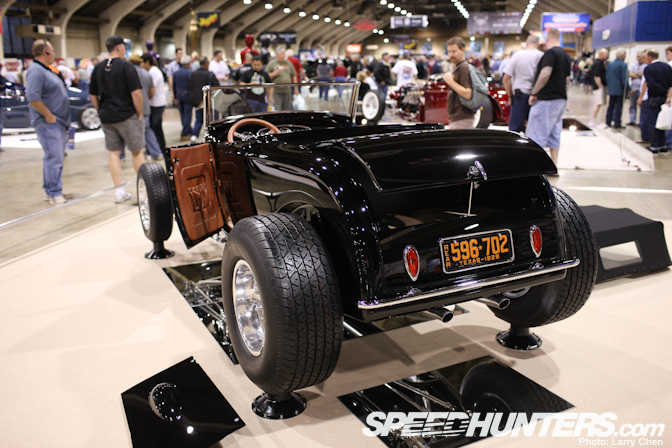 All of this amazing work was done in the owner's home garage… I would love to see what his garage looks like!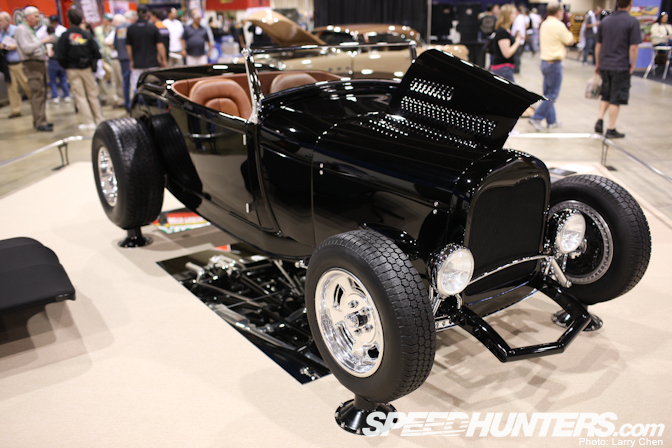 I am always in awe of perfectly done louvers.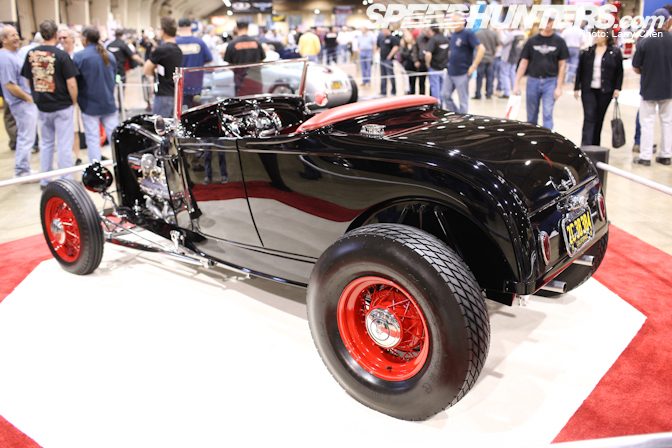 Here we have another black beauty, and another home shop build. The owner's aim with this 1928 Ford was to emulate the classic styling of a 1950's roadster and I think he has fully succeeded.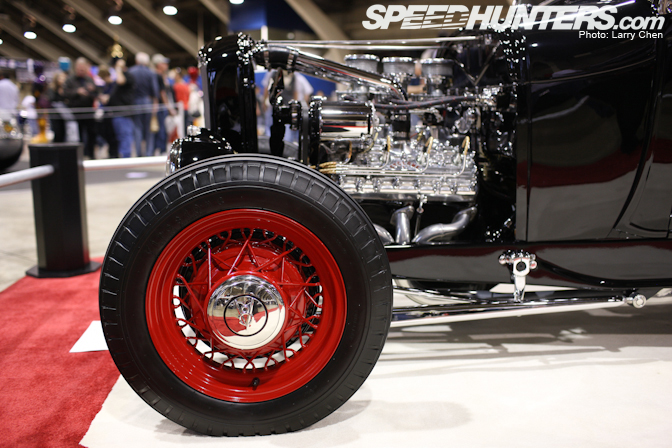 More wheel porn!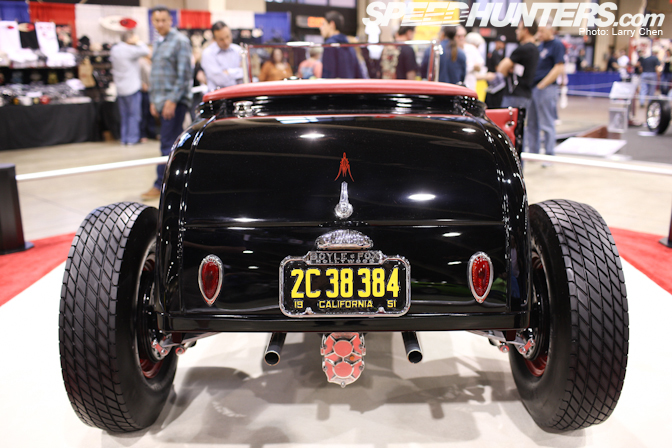 At a final total of $26,000 the owner jokes that this entire build likely cost what some of the other cars' hood ornaments cost.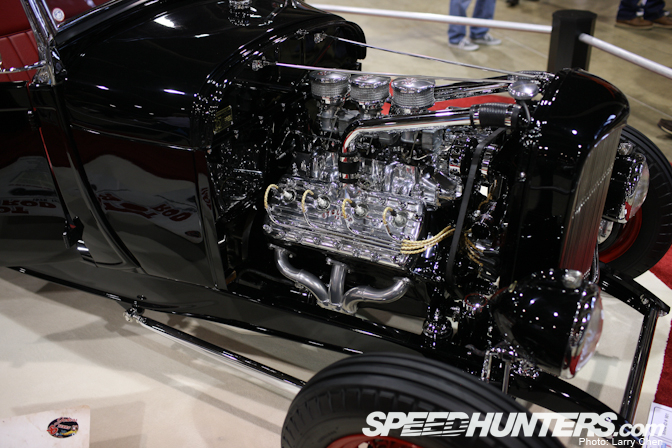 A well plated Mercury flathead engine looks ready to put another 2,000 miles on the odometer.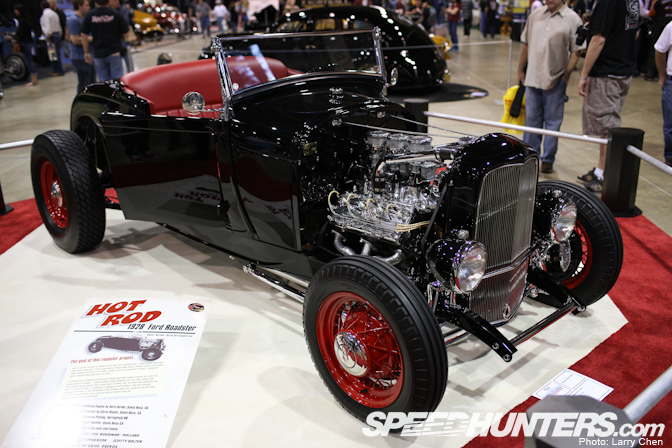 This roadster is a sweet and tidy ride and an excellent example of an affordable build. You don't have to break the bank to build a beautiful machine like this. Scour the swap meets, E-Bay and a little help from your friends and it's doable!
Next up, is the final installment of the contestants for America's Most Beautiful Roadster award and the recipient.
-Melinda
(photos by Larry Chen)
More Grand National Roadster show coverage on Speedhunters