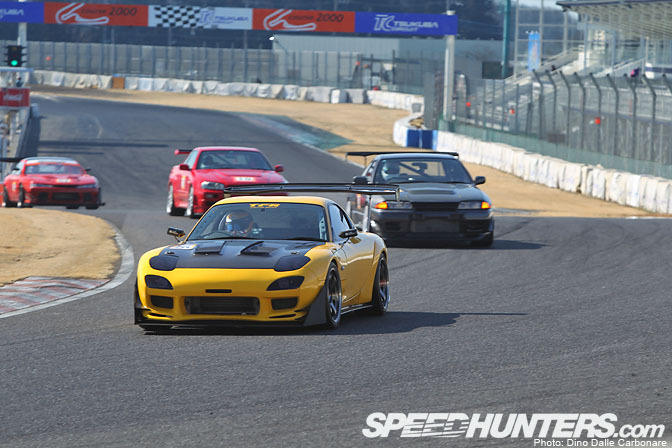 With surface temperatures rising steadily, the final half hour session of the Battle Evome meeting this past Sunday was the last chance for the drivers to attempt to shave off a few hundredths, or more, from their lap times. There is nothing more inspiring than seeing these privateers lap Tsukuba with so much devotion, they really put all they have into their cars and driving and the results speak for themselves.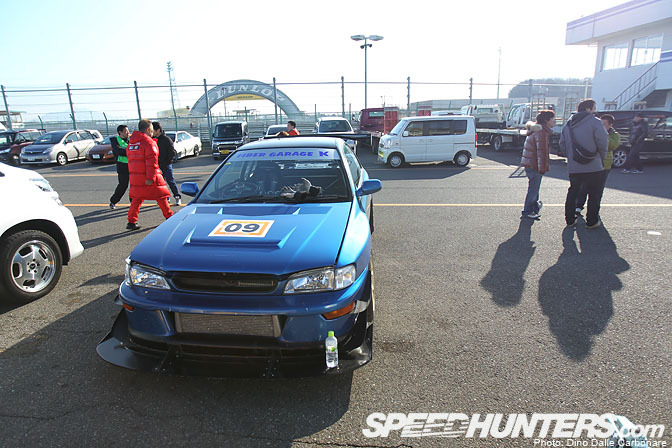 More than half of these cars would shame entrants in the yearly Tsukuba Super Battle, proving that you don't need huge budgets to achieve great times. The most admirable thing however is that it's all about fun without a trace of rivalry and attitude.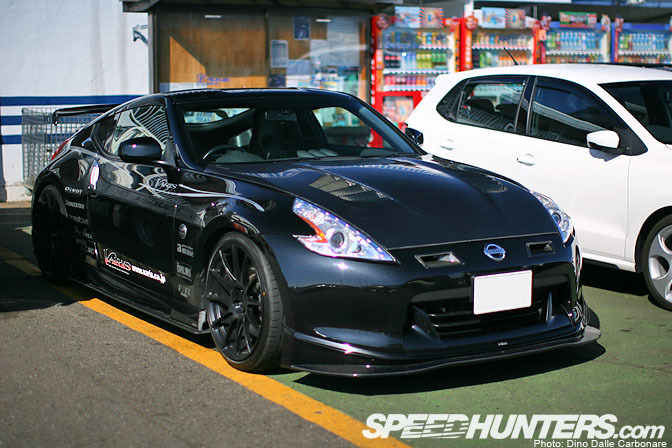 While passing through the paddock for the tenth time as I literally ran from corner to corner in attempt to get a nice variety of action shots, I noticed that Yahagi-san of Varis had dropped by the event to check out how the old Varis Evo 5 demo car was doing in the hands of Satoh-san. I'm sure he was very happy to see it grab the fourth fastest time of the day. He drove out to the event in this very cool Z34 demo car sporting a ton of beautifully constructed carbon parts. I still can't believe Varis doesn't make carbon parts for GT-Rs, more specifically the BNR34. Yahagi-san, please cater to us GT-R otaku out there, onegaishimasu!!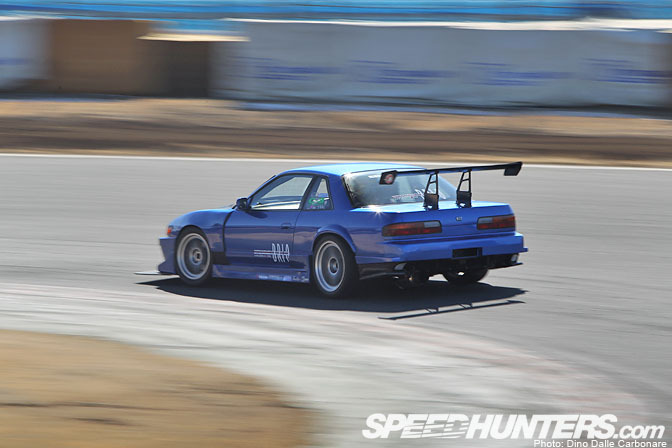 This Brio Silvia perfectly showed just how mean and purposeful S13s can look when set up for grip. Best time the driver managed was a 1'03"197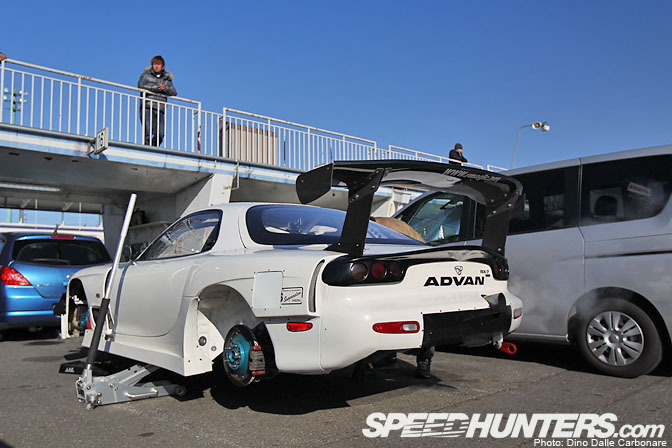 This is one FD I couldn't keep my eyes off.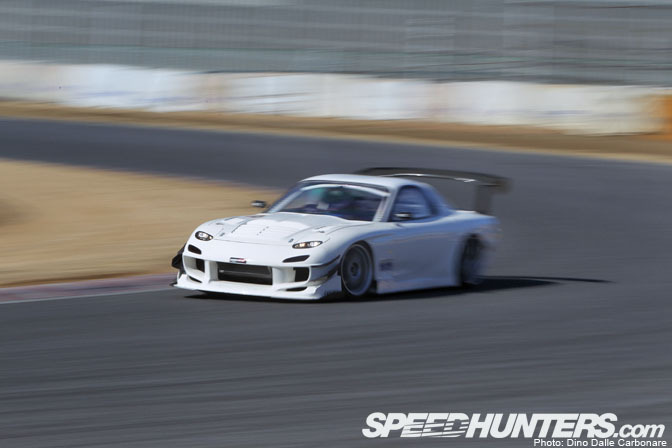 The R-Magic aero really does make it look like no other FD3S out there, something extremely hard with the sheer number of aero parts and conversions available for this final generation of the RX-7. It came third overall on the day with a 55"942 lap.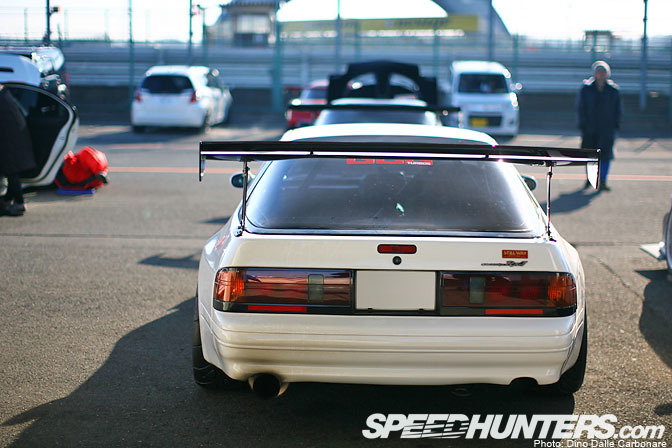 We can't talk about RX-7s without giving some love to the FC, in particular this Stillway built car, which was able to lap in a fastest time of 59"780.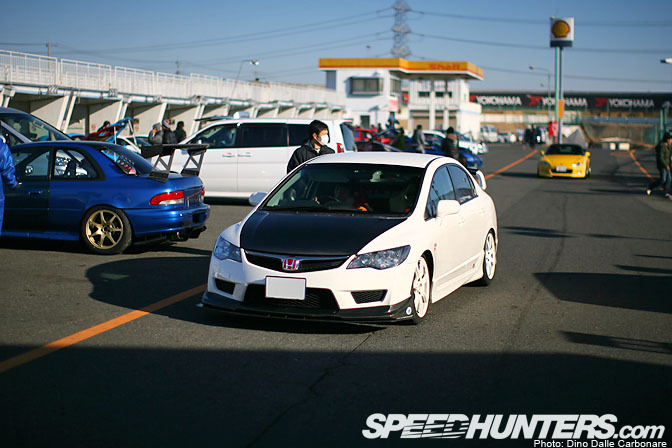 Throughout the last couple of sessions more entrants to the next soukoukai event kept rolling in and parking up on the other side of the paddock.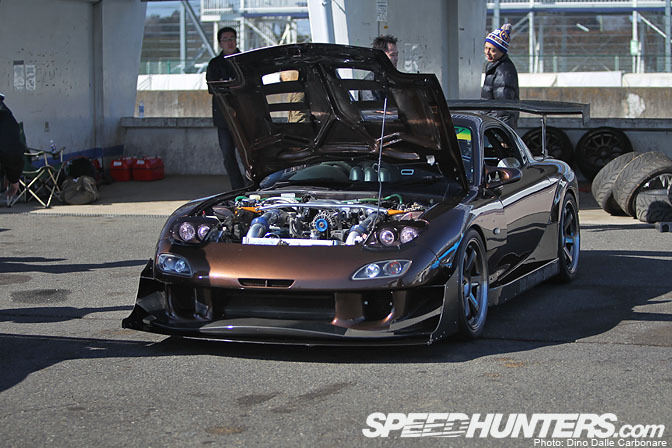 The Car Shop Glow FD is one of the nicest looking cars at these Battle Evome days. It not only packs a mighty punch in the engine department…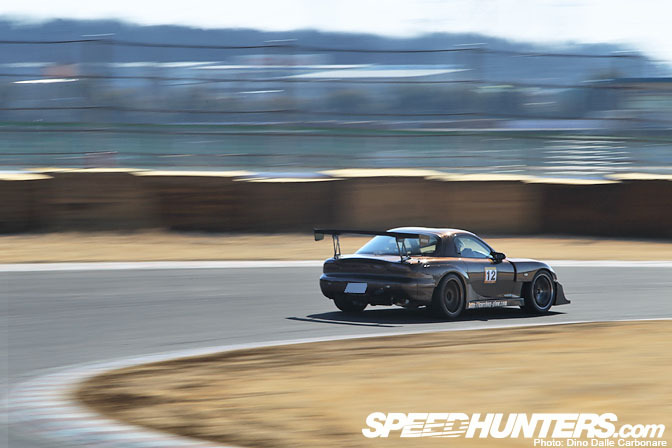 …good for a best time of 56"868, but looks rather good doing so with its metallic bronze exterior and all the carbon aero additions.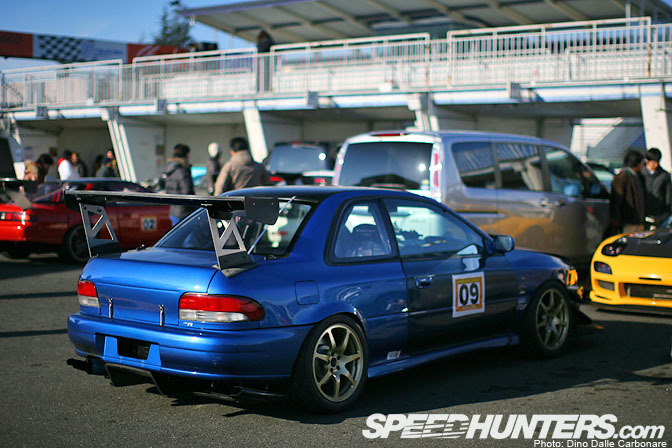 And talking of fast cars this GC8…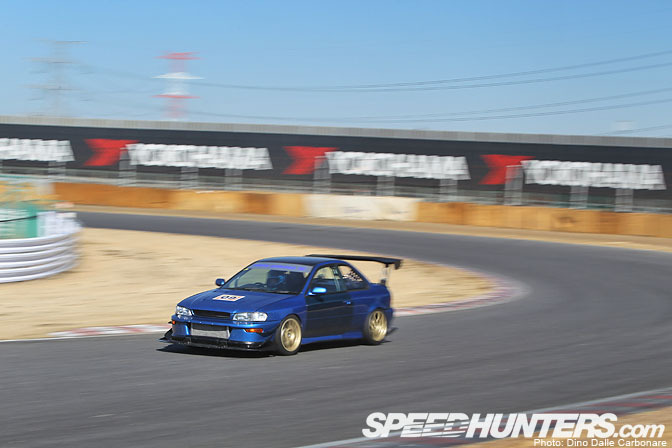 …posted the fifth fastest time with a 57"820, right behind Satoh's Evo 5.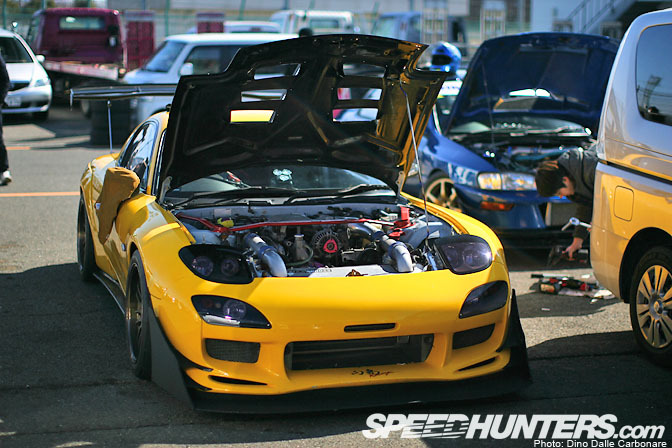 The Top Fuel Racing FD is getting extremely close to the 57-second barrier, managing a 58"012 on Sunday, slightly faster than the 58"240 it got a couple of weeks back when I dropped by Tsukuba to check out the second BE-Circuit round.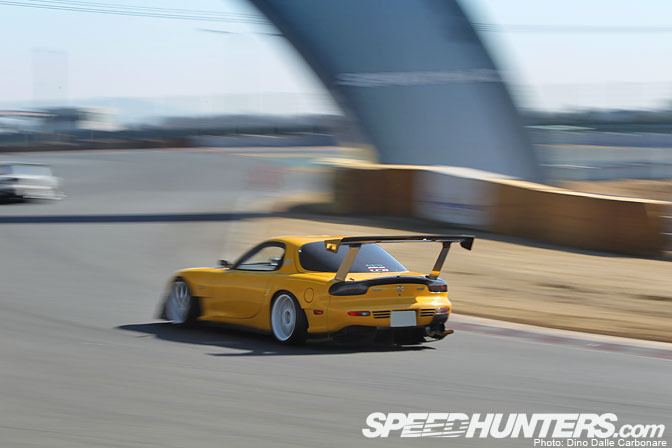 Here it is on the edge of grip passing under the Dunlop bridge in the mid-field.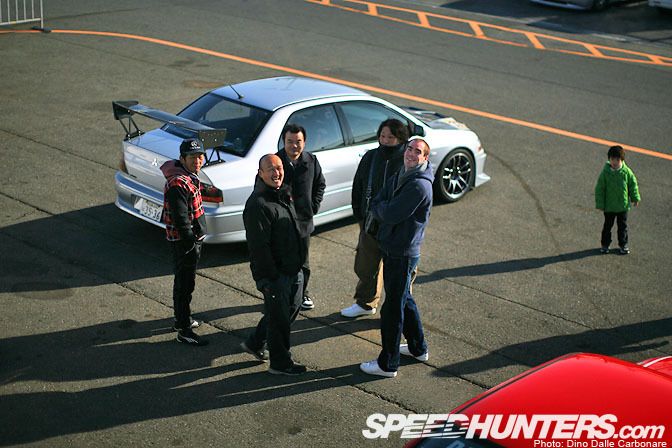 The Garage Kagotani crew; they were supporting a total of three cars on the day.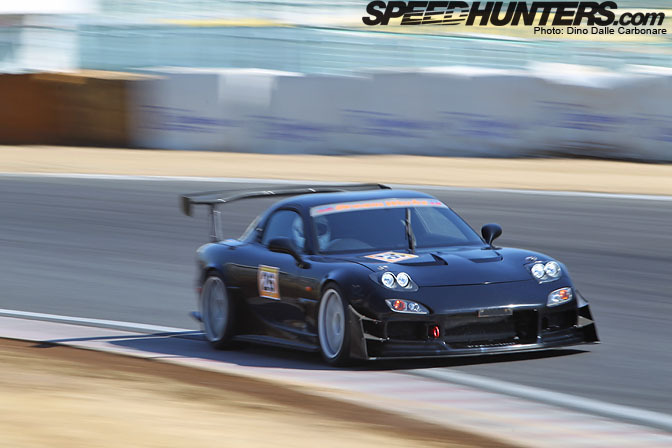 The Yume-Koubou FD, entered in the more street-car oriented class, put down a solid 59"306 lap, the second fastest time of the group.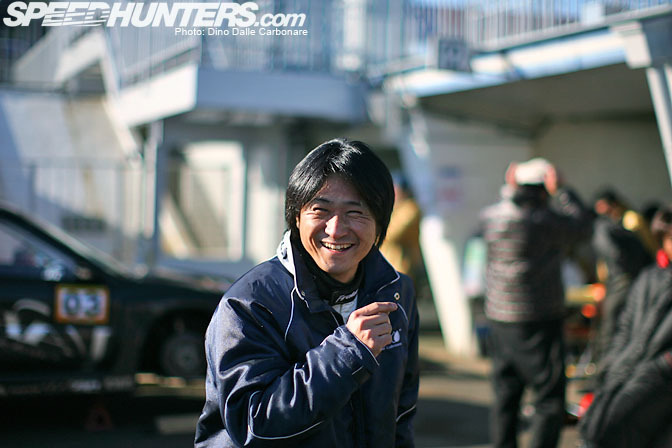 Despite having pretty much forfeited his first attempt of the day, Under Suzuki wasn't stressing out too much.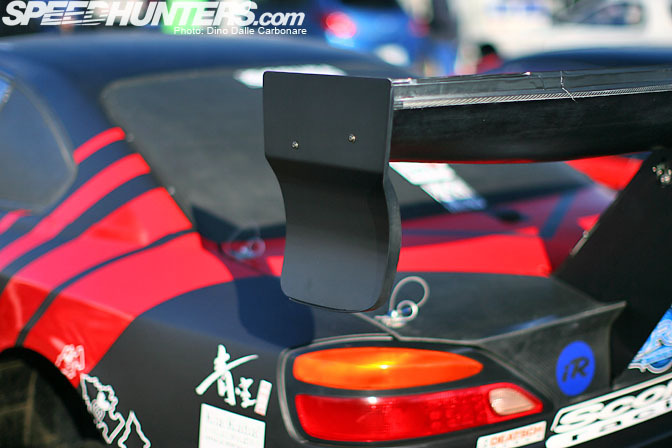 Since we last saw the car it has now been modified with new wing end plates, sporting a refined profile. These along with…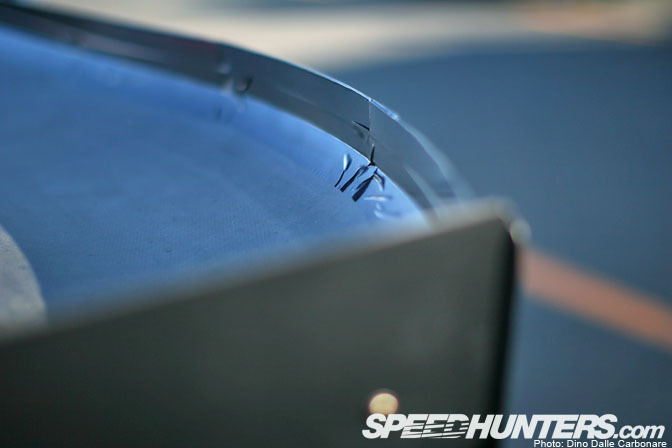 …an even higher Gurney flap balance out the newfound front-end downforce that was found thank's to pro-aerodynamicist Andrew Brilliant advice.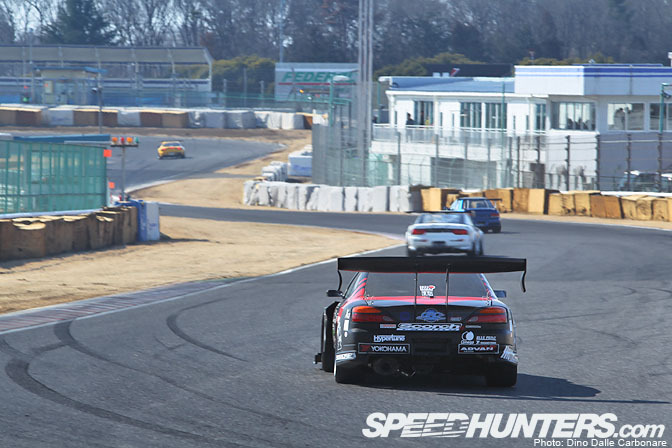 Suzuki-san told me he didn't even get to use his good set of tires, so after the lost chance in the first session of the day he probably knew that it just wouldn't be happening, despite the perfect surface and air temperatures. He has one final chance this coming Sunday, a very short 30 min session during a Yokohama Tire soukoukai event. Gamabatte Suzuki-san! After this final attempt all efforts will be directed into getting the Silvia ready for this year's WTAC in Sydney.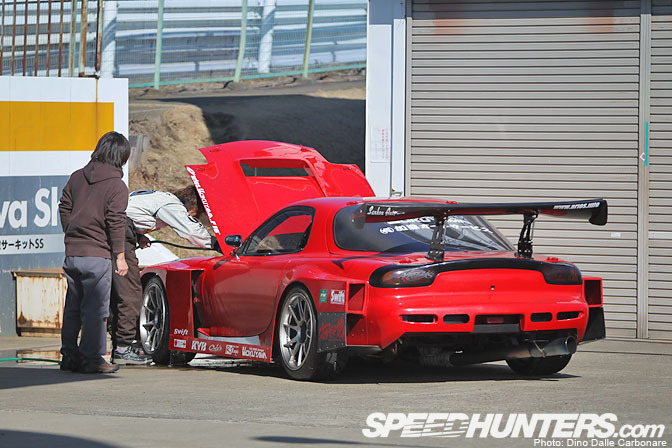 In the mean time the Arios Okuyama FD was getting its engine bay rinsed off and shortly after was put on the transporter and whisked off to the shop for much needed TLC. I hope these guys get it all fixed up and ready for the next time attack season. This is one car that is potentially capable of 57-sec laps, and even faster!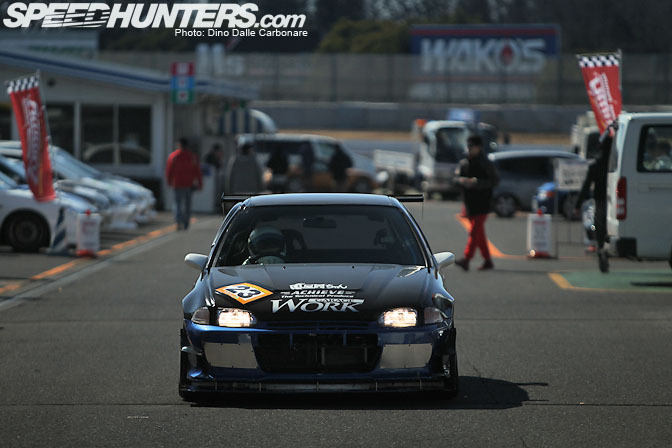 So that's it's for this year. Battle Evome will return next winter where I'm sure the fastest cars will continue to get even faster. Hats off to all participants and of course the organizers in making this the most exciting grassroots grip event out there!