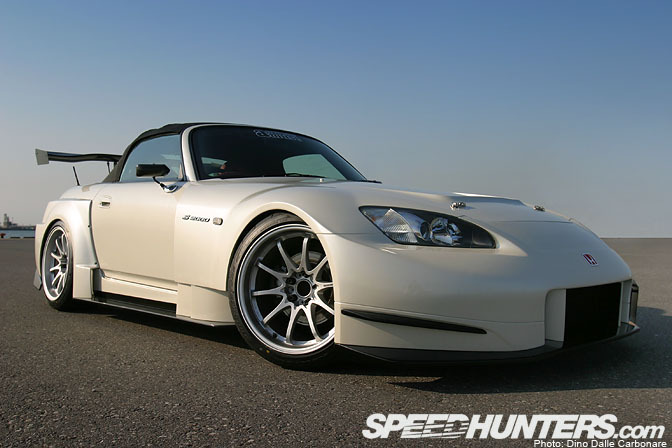 It was 2004 when the late Tanabe-san of Power House Amuse came up with an all-new idea for a wild Honda S2000-based project. He wanted to push the boundaries of what had so far been done with the then 5-year old Honda sports car. It took him less than a year to come up with the design of what has to be regarded as one of the best and most recognizable wide body conversions for the AP1/AP2.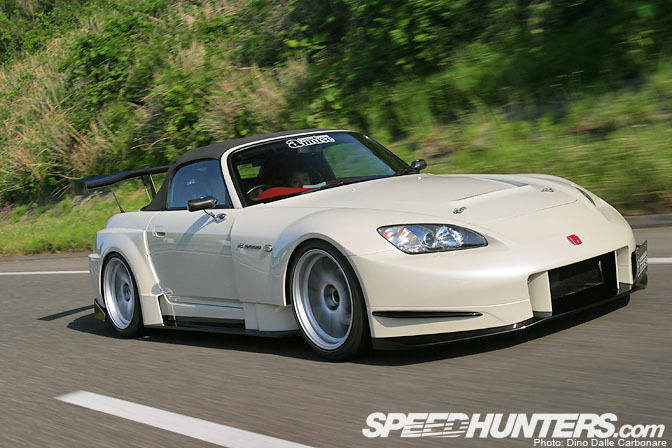 But the idea went well beyond pure aesthetics; Tanabe-san wanted to create an unbeatable car that would be able to lap Japan's circuits faster than anything out there. Unfortunately fate had other plans and an incurable disease pretty much put an end to him ever completing what he started. Even if the initial idea never materialized fully, I just can't pass up the opportunity to post up a feature on this car, as it was a Game Changer on so many other levels.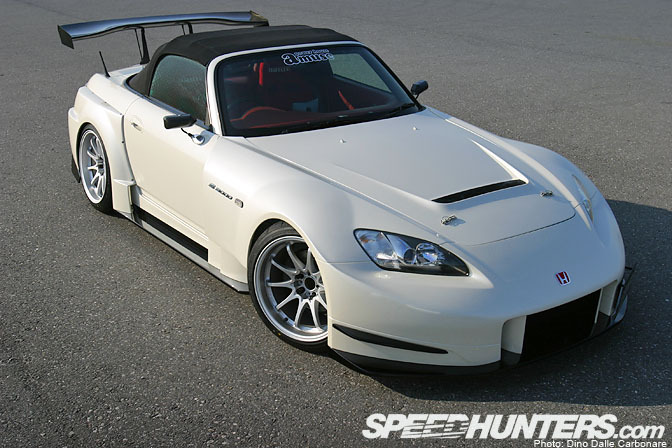 You see Tanabe-san was never one to waste time. Even in the last months of his life he dedicated all of his efforts to completing various projects, cars that helped him leave behind a true legacy. The S2000 GT1 did meet a lot of goals, first up in the aero department as the kit was deigned, produced and sold in a short period of time, quickly becoming a favorite among Honda enthusiasts. When I visited Power House Amuse in 2005 Tanabe-san was very excited as he knew the potential his soon to be created demo car could have when completed. On top of the beautiful body conversion,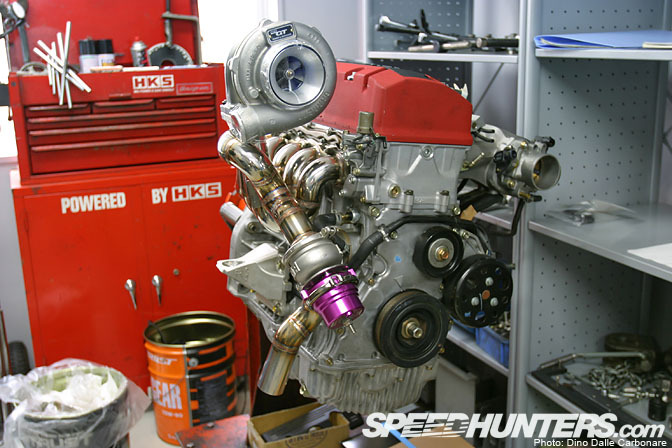 …he was then working on the motor that would power this crazy time attack car, a 550 HP F20C. Thanks to a JUN H22A crankshaft, JUN H23A connecting rods and special 87 mm pistons the engine was stroked to 2259 cc with the compression ratio lowered to 8.8:1 ready to accept a serious dose of force feeding. Tanabe-san built a one-off stainless steel exhaust manifold on which he bolted on an HKS GT3240 turbo along with an HKS GTII external wastegate. When he showed me the progress he had made in a few short months, sitting there on an engine stand in the little engine-building room at the Amuse HQ, I was just blown away. The plan was all drawn out, the F20C, once completed was to be fitted to the S2000 along with an HKS 6-speed sequential transmission and an R34 GT-R rear end to handle the savage power and torque this motor would crank out.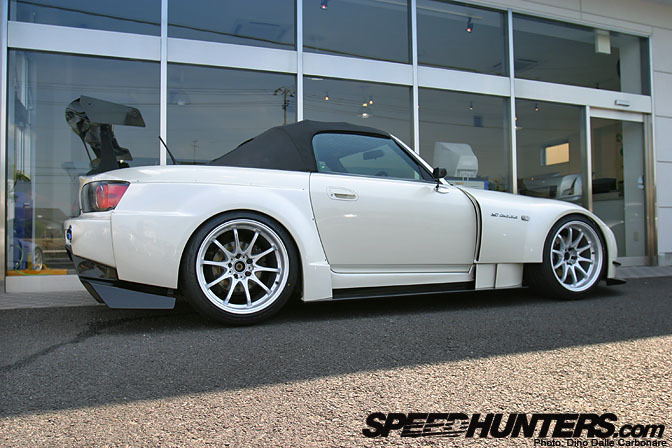 It was all very exciting and I was due to return there to see the car when it was completed. In the meantime however I was shown to one of four GT1 kitted S2000 that were parked up outside the shop.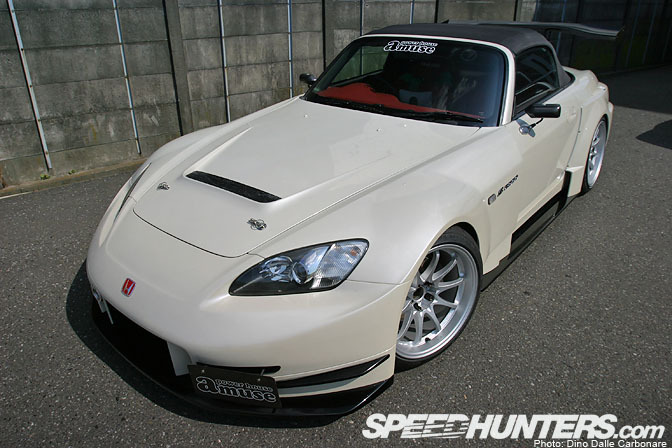 I picked one finished off in Honda's factory pearl white color, which perfectly highlighted the gentle yet aggressive lines of the conversion.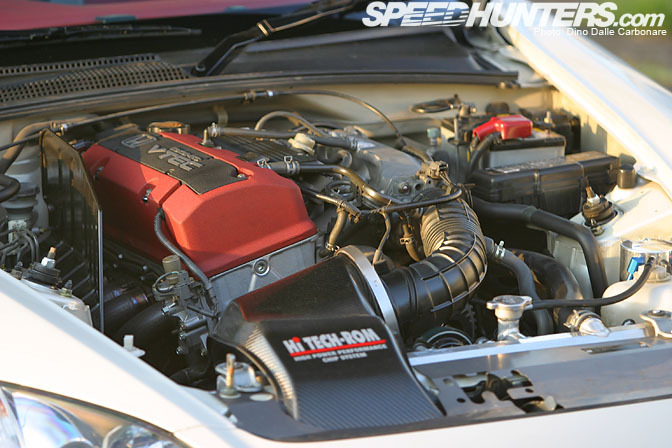 Under the hood this car was running a stock engine mated to an Mugen carbon air box with air scoop, an Amuse stainless manifold…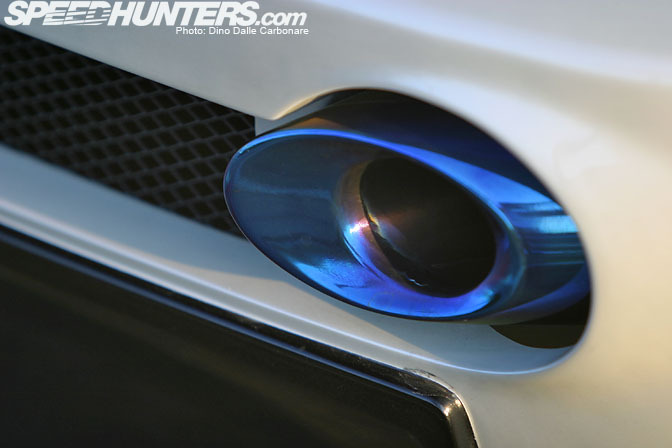 …and a stunning titanium exhaust system that had been especially created for the GT1 kit, with two blue tail pipes sticking out from the rear bumper.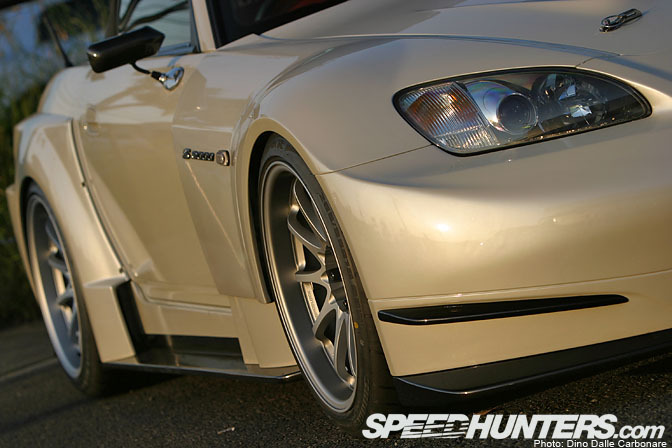 It was dropped on a set of Amuse suspension, which were running lightweight titanium-alloy springs, another of Tanabe's many great ideas. Silver 10J wide 18-inch Volk Racing CE28Ns were the perfect wheel choice to complement the race-car inspired aero, shod in 265/35R18 Bridgestone Potenza RE-01Rs at each corner.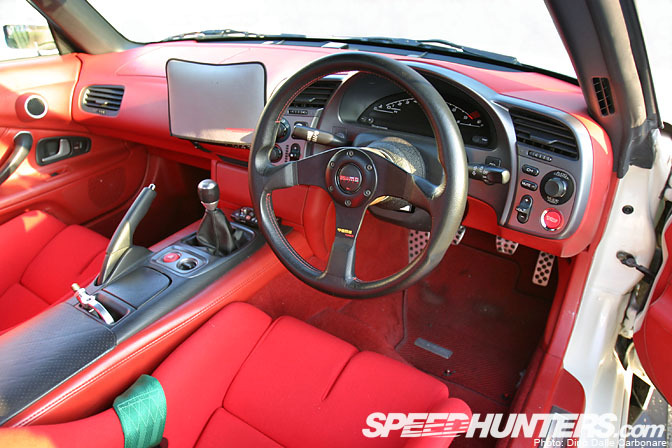 The factory red on black interior was complimented with a Momo steering wheel…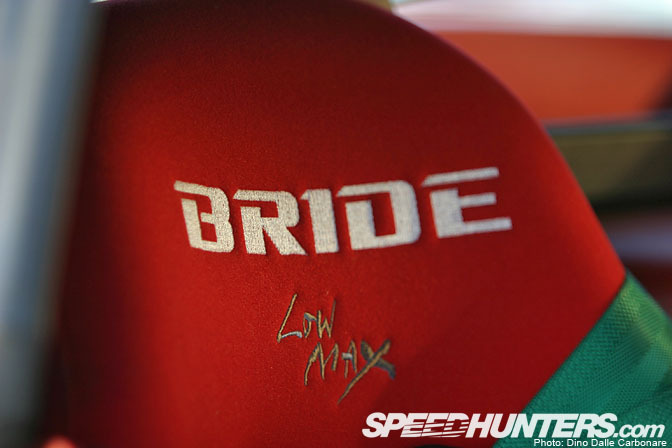 …and a set of red Bride bucket seats sporting the unmissable Takata harnesses.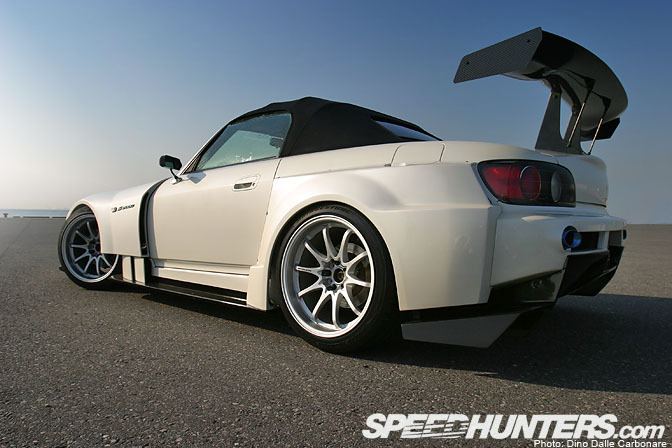 It's very sad that Tanabe-san's life was cut short. He was a true innovator, a man with so much drive and passion for anything on four wheels. He was never one to settle for a specific brand or car, he liked to fiddle with anything he could get his hands from GT-Rs to Supras, Chasers to S2000s and of course Fairlady Zs. He even set up Ericsson where JDM style was fused with the best BMW had to offer. The S2000 GT1 was one of his best creations, and I'm sure that if he ever had the chance to fully complete it, it would have been nothing short of savage!
Game Changers features on Speedhunters
-Dino Dalle Carbonare