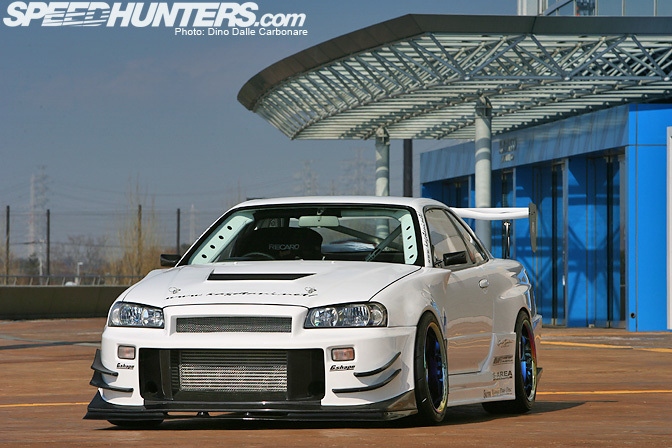 For my last selection of the Game Changers theme that we've had this month I decided to pick another GT-R, the Garage Kagotani BNR34. It was a car that appeared as quickly as it disappeared, it surprised everyone at the 2005 Tsukuba Super Battle by coming in third position with a 57"232 lap, and that was it, after that it was gone.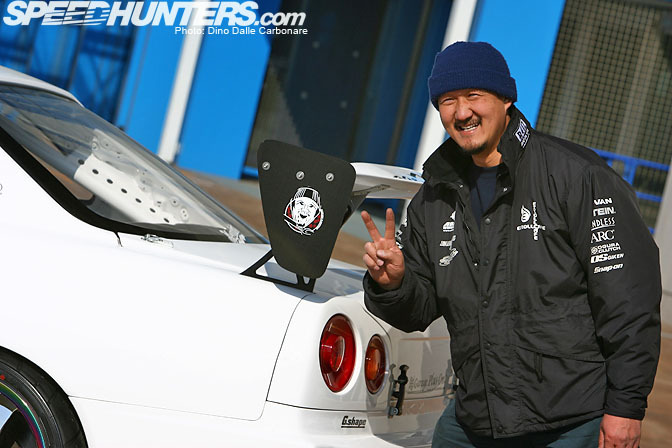 Kagotani-san, seen here posing…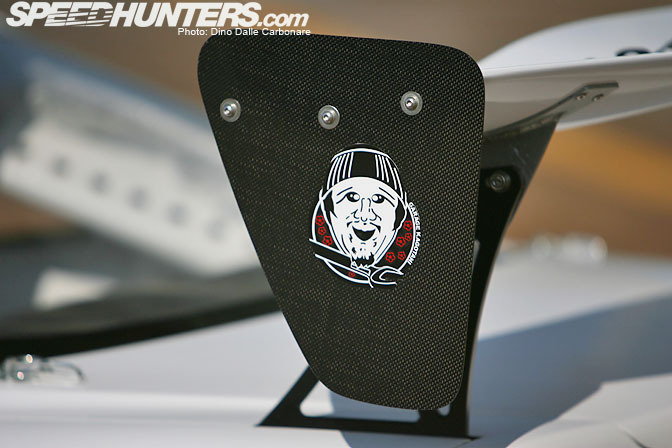 …next to his caricature on the carbon sides of the rear GT-Wing, was contacted by a customer of his that wanted to create something different. A dedicated and very capable time attack car, extreme in every way from the powerful yet responsive engine to the one-off exterior.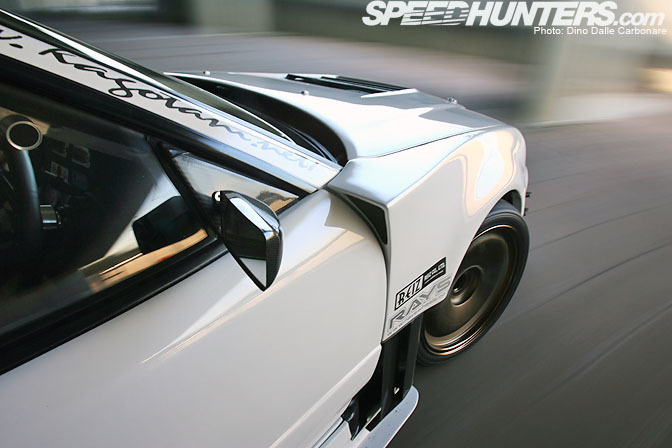 The car was shown off at the 2006 Tokyo Auto Salon where at the same time the complete  Garage Kagotani G-Force aero kit was released to the public. It may cost a cool ¥1,000,000 ($12,415 at todays rates)…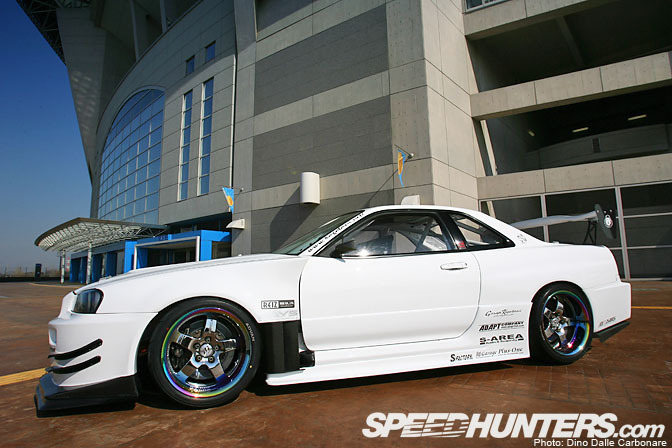 …but it still remains one of the most high quality conversions I've ever seen. With factory-like panel fit and sturdy construction this FRP kit was spiced up with a little carbon here and there for added effect. The aero was designed to give a Super GT feel to the R34 and to be as effective as possible at creating high levels of downforce at the front and rear, not to mention directing large abounts of air towards the engine, various coolers and brakes.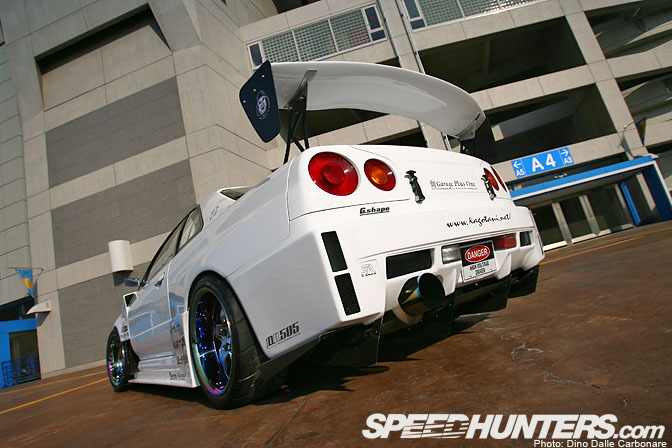 Check out the extractors integrated into the rear bumper, there to channel air out from under the car.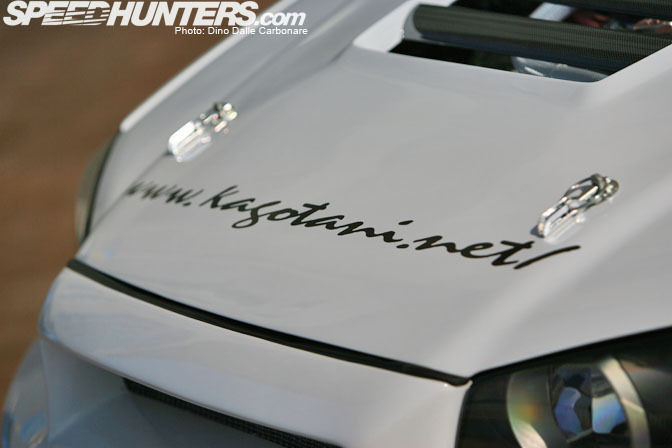 This R34 really put Garage Kagotani on the map as a serious and capable builder of fast circuit cars, and his experiences isn't only in GT-Rs, his shop is littered with all sorts of cool unique projects, which you will be seeing soon in a little tour of his facility.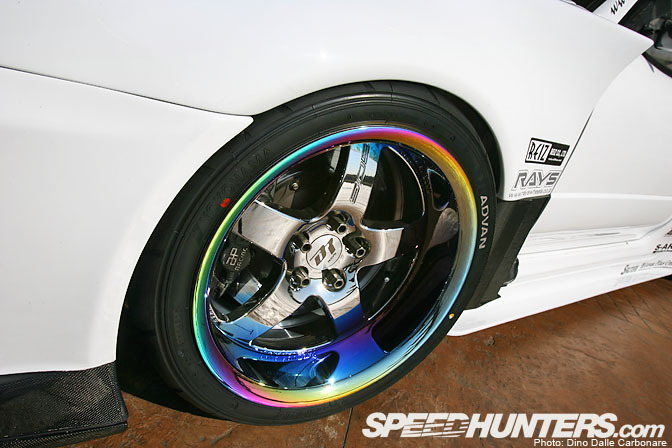 Rays collaborated with Garage Kagotani on the project, fitting it out with the then pre-production version and now discontinued, titanium effect Gram Lights DR-505.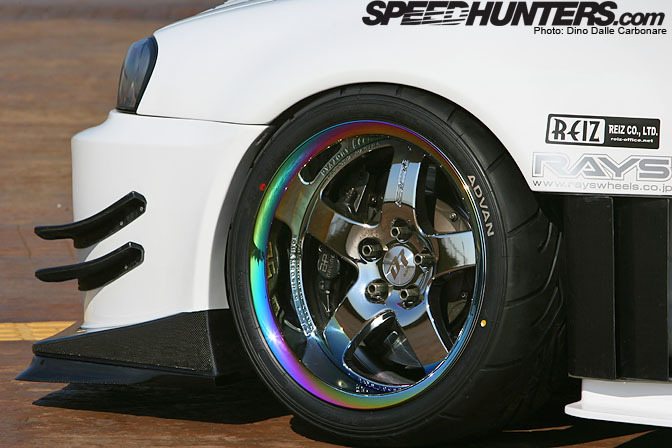 These 18×9.5J wheels featured a welded on external rim part, where the titanium like effect was applied. Since the car was built for track duty only it was fitted with sticky Advan A048 semi-slicks in 265/35R18 sizes all round.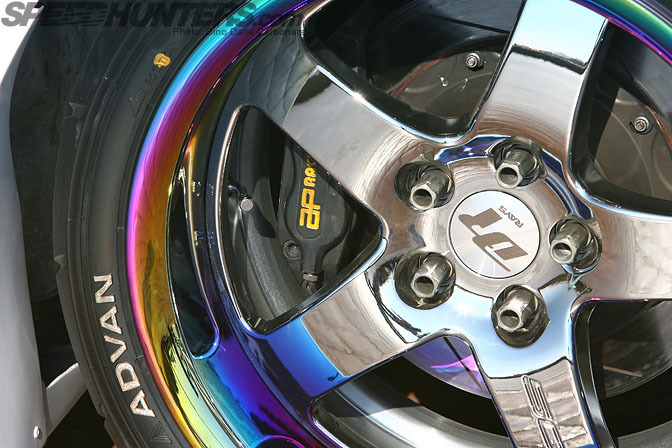 Hiding behind the chunky spokes of the CRs is a complete AP Racing braking package made up of 6-pot calipers up front and 4-pots out back. These are joined with 2-piece floating discs, 355 mm front, 332 mm rear.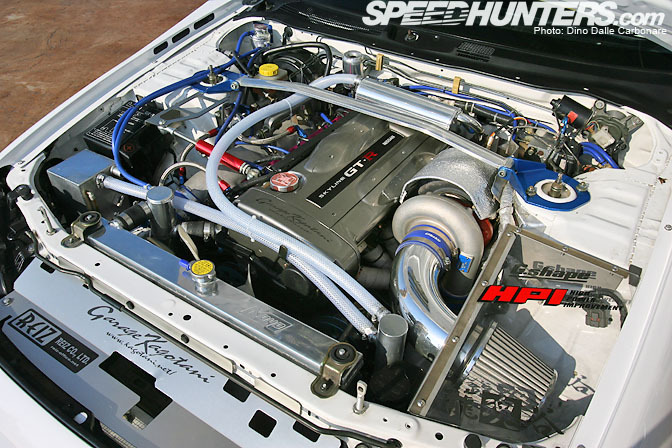 Kagotani had quite a challenge on his hands when it came to the engine, as he needed to create a responsive yet very powerful set up able to give instant acceleration out of corners. He based the motor around a limited edition "RRR" 2.8L Nismo GT block, the same cast iron block that the JGTC and Super GT GT500 GT-Rs used to use in competition. This, along with the HKS 2.8L kit, would allow for faster spool up of the Trust T88-33D single turbo that was chosen. Kagotani-san made sure the head was as efficient as possible so dedicated a lot of time to porting and polishing all surfaces before he threw on a ton of Tomei Powered goodies like valve springs, guides, 270º cams and adjustable cam pulleys. I especially liked the transparent air box!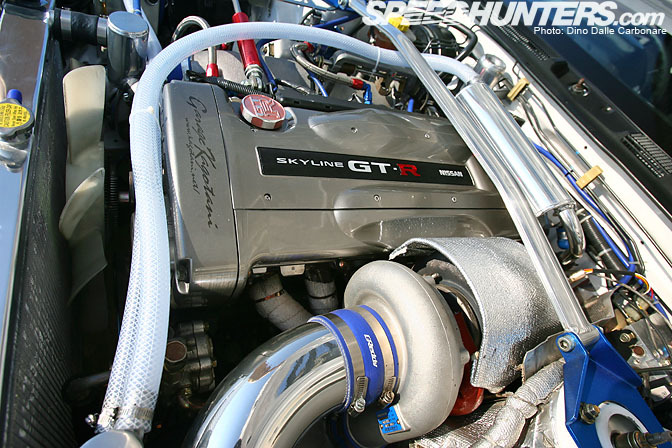 The T88 dumps spent exhaust gasses through a GReddy front pipe and Power House Amuse full titanium system. Fuelling is handled by two Bosh pumps which fish high-octane gas from the 50L race fuel cell in the trunk before sending it to the six 1000 cc/min injectors. An HKS F-Con V Pro ECU takes care of the engine management and allows the RB28 to churn out 700 HP at just 1.5 bar of boost.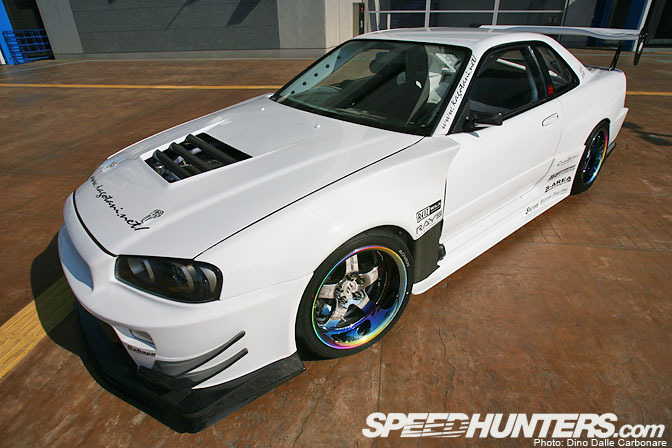 With the car weighing in at just over 1,400 kg that is a decent amount of power to be playing with. In time attack, shifting through gears quickly is a very important thing, so it's no surprise that the stock Getrag transmission was replaced with an OS Giken 6-speed sequential. This allows for almost instantaneous changes while the ATS twin plate carbon clutch makes sure every lb/ft of torque is transferred efficiently. With 700 HP on tap guaranteeing optimal traction is vital, so Kagotani-san fitted a Cusco 1.5way LSD at the front and a smooth-engaging ATS 2way carbon LSD at the rear.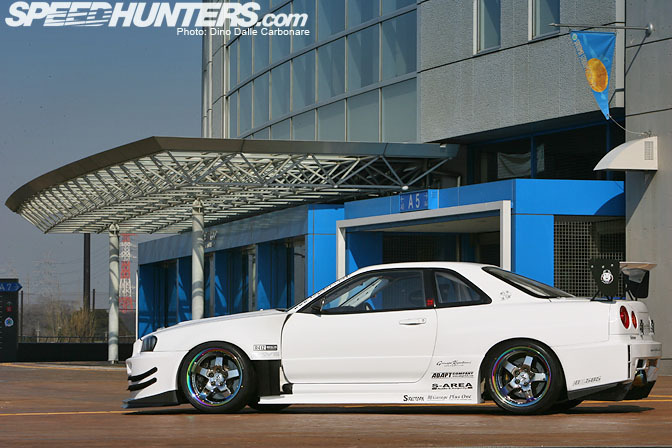 Element adjustable race dampers take care of the handling and are joined by very hard Swift springs, 20 kg/mm front and a slightly softer 16 kg/mm at the rear.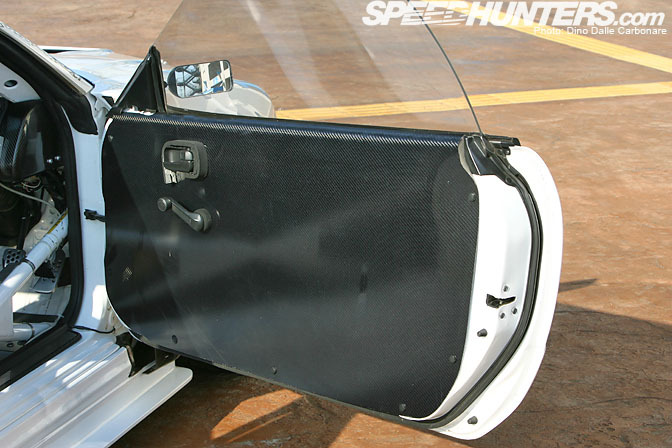 Swing open the driver side door and the surprises continue, revealing the fully stripped and prepped chassis…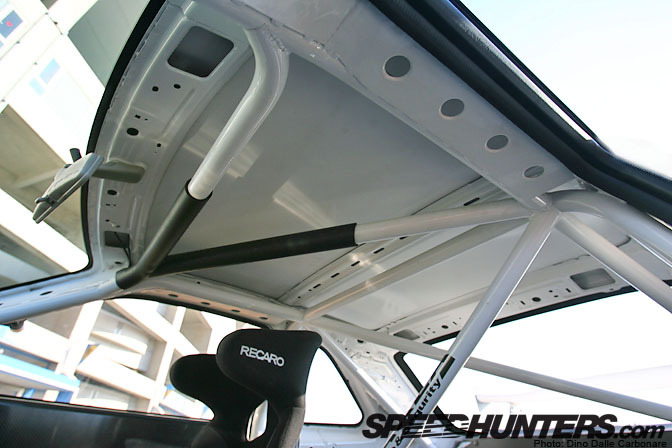 …custom welded-in roll cage…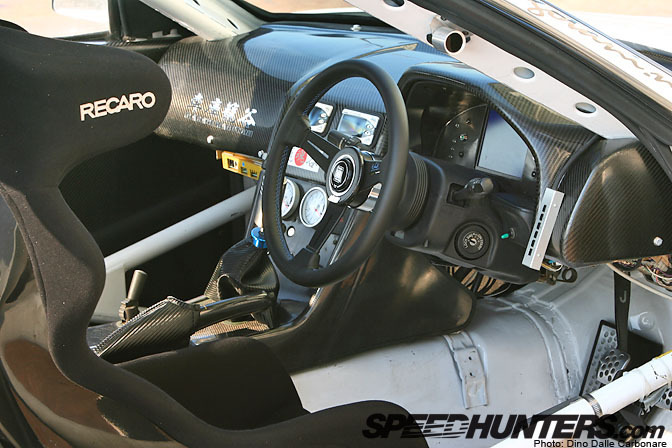 …and lots and lots of carbon fiber.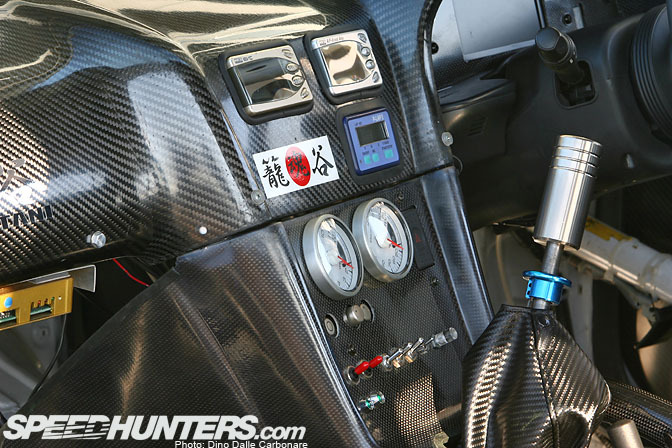 All-important modules like the HKS boost controller, A/F knock amp meter and lap timer…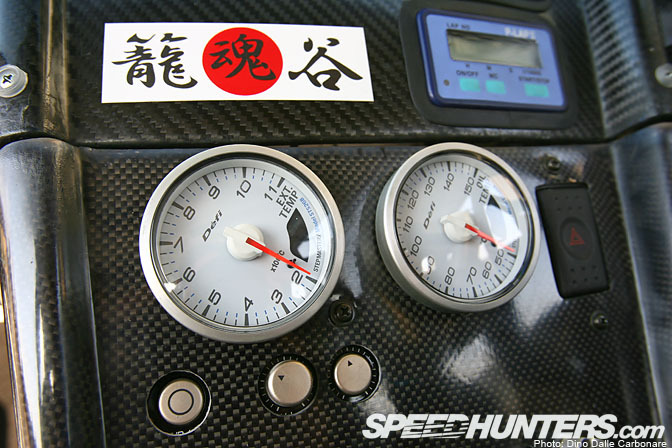 …as well as the Defi gauges are neatly laid out in the center console, again all made in carbon fiber.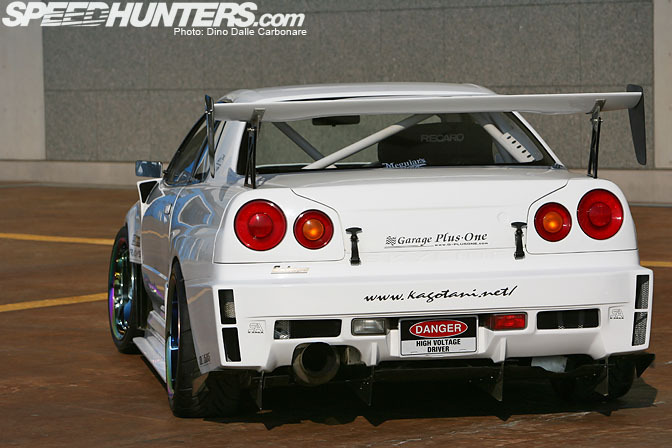 So there you have it, yet another impressive GT-R build and a car that really made itself noticed. It showed that with a bit of imagination and great engineering skills to back it up you can accomplish anything. 
Game Changers features on Speedhunters
-Dino Dalle Carbonare