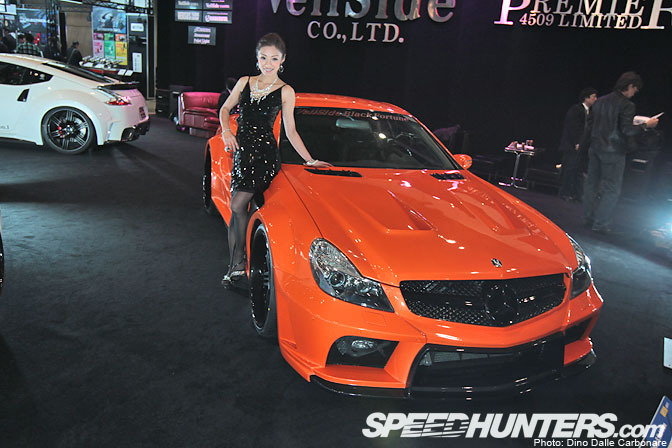 Let's continue on with the TAS 2012 coverage and take a look at some of the imports that were present this year. Popularity of imported cars has flourished in Japan over the last decade, the most recognized brands being an almost universally accepted status symbol. One walk through the streets of central Tokyo and most first time visitors to Japan will probably be wondering where all the JDM cars have gone! For the wealthy the choices are obvious…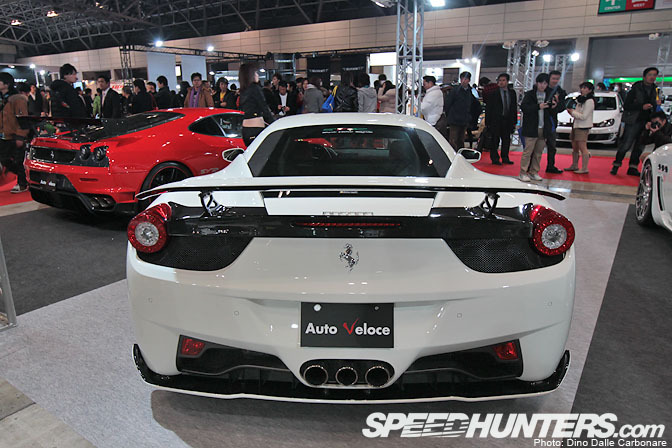 …exotics like the 458 Italia make for excellent commuters to get around within the city. Auto Veloce helps in the looks department with an all-new series of aero parts.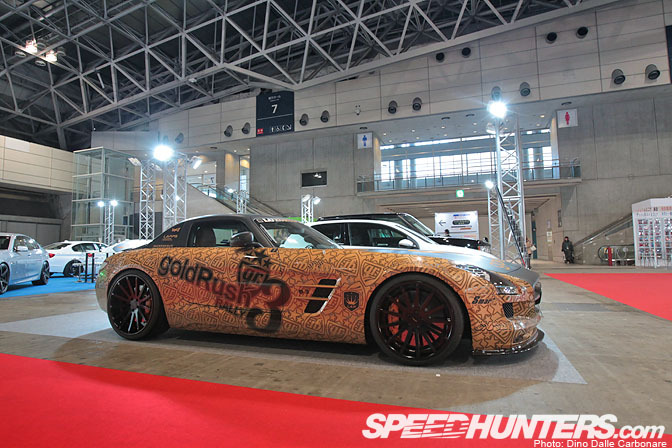 S & Company had the only SLS AMG at the show and it was hard not to notice it with the Gold Rush Rally livery it was stickered up with! S & Company is a place I have been meaning to visit, as their collection of exotics is quite impressive. I still haven't forgotten their matte white Ferrari GTO from last year!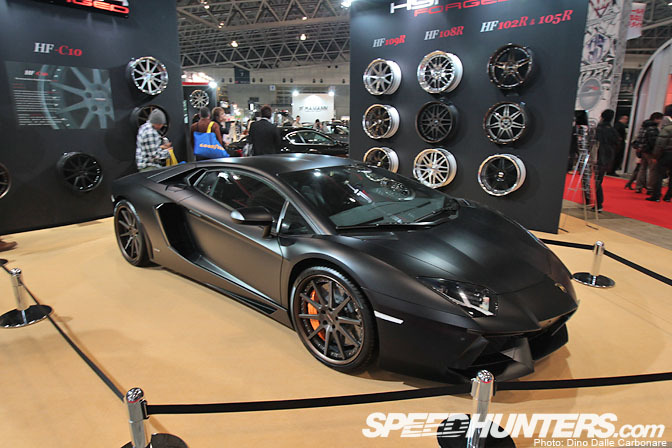 The Aventador has been available in Japan for a couple of months so I wasn't expecting to see one already. Aside from the official car Lamborghini Japan has here, which I have drooled over on various occasions at their main dealer in central Tokyo, this example at the Hyperforged booth is the only other one I've come across. It was fitted with dark silver HF-C10s, which looked great against the satin black body.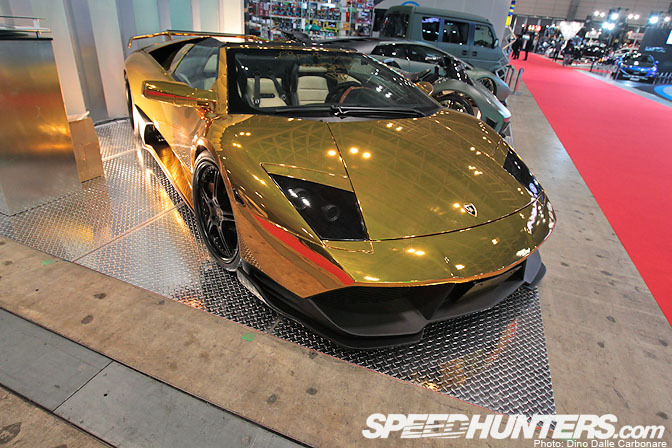 Liberty Walk certainly know how to get noticed. This gold Murcielago roaster was on display…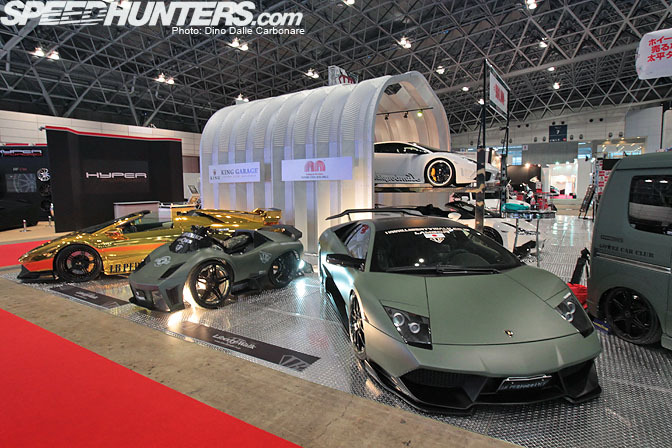 …next to this military themed matte green beast. Both cars were fitted with original LB Performance aero. Plus who can forget the little Lambormini in the center there, a matching quad for any Lambo owner!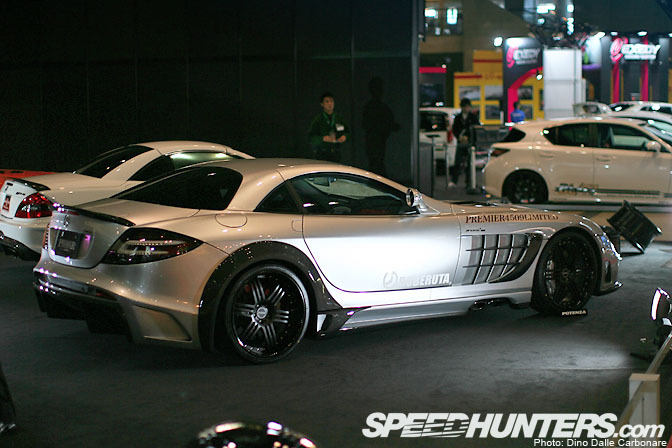 Yokomaku-san at Veilside had an obvious Mercedes Benz theme this year with this SLR at the center of the display. On top of the carbon aero for this rare exotic…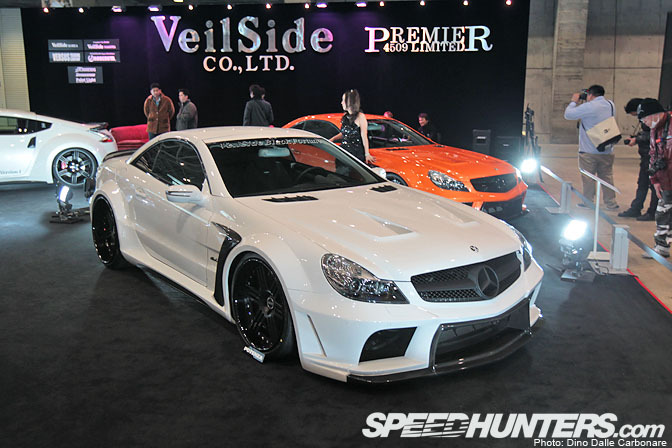 …he has come up with the Black Fortune VS, a complete body kit for those that want to give their SL the "Black Series" look.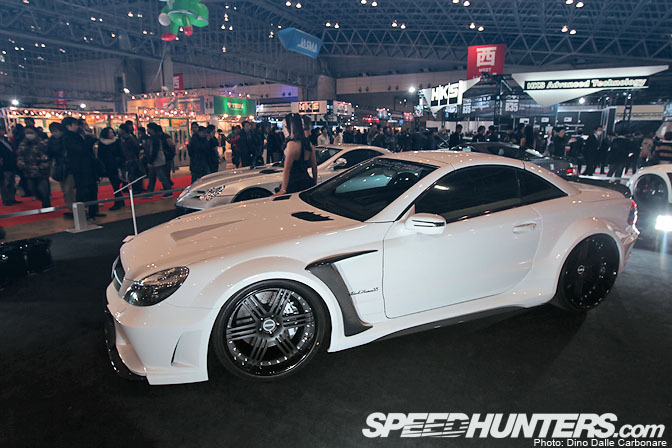 The DTM-like flared arches aren't inconspicuous, that's for sure!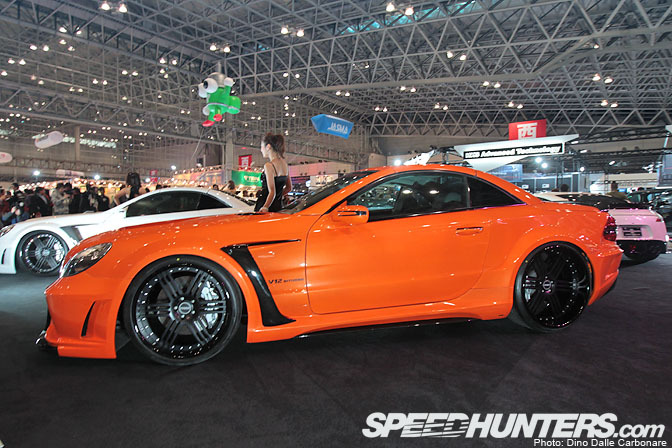 There were two cars on display too, this orange one based on a V12 Biturbo version of the SL!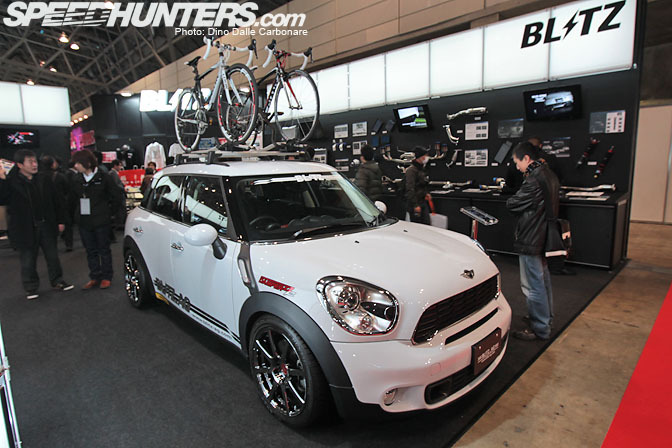 Blitz has been catering to affordable imports for years now and along with this new-gen Mini at their booth, they released a few electronic gadgets like the Throttle Controller, for a variety of cars.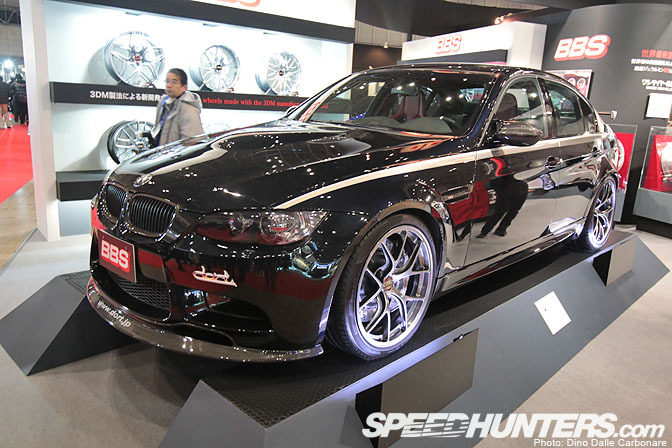 The new BBS RI-D as fitted to this M3 Sedan is an incredibly light wheel, with a 9Jx19" rim weighing in at 7.2 kg. These will soon be released in R35 GT-R sizes too, 20-inch with 10J and 11J width for the front & rear.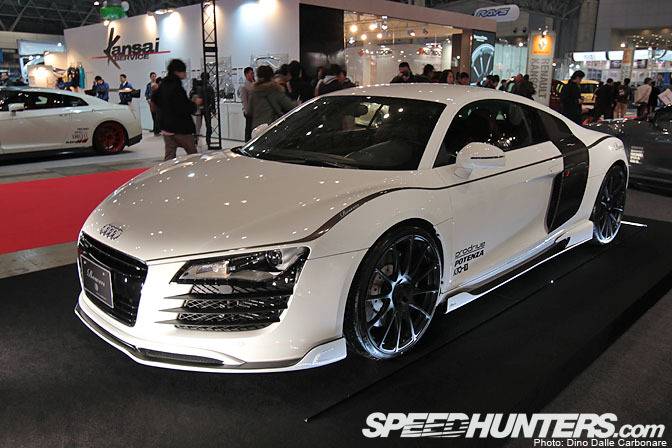 Tommy Kaira's Rowen brand aimed at import cars has extended this year with a series of parts for the Audi R8…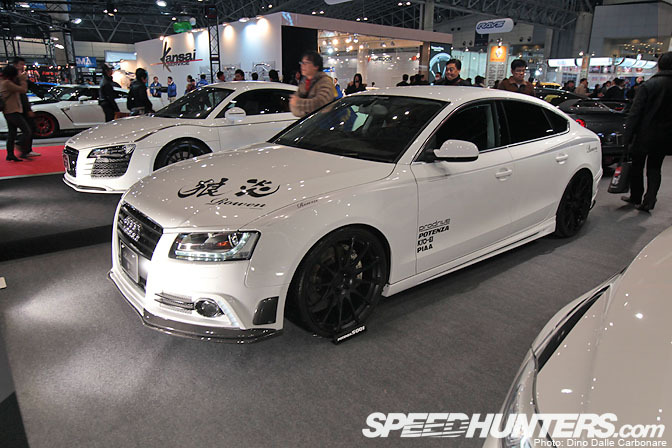 …and A5 Sportback. Unlike their more extreme work with Japanese cars these dress up parts are very subtle. You can never go wrong with carbon details on any car, especially a white one!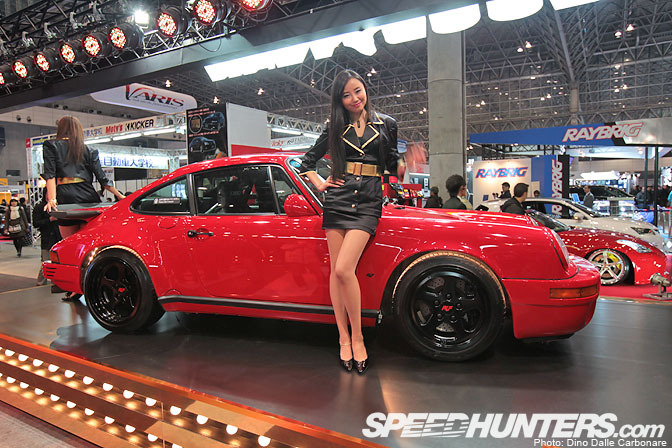 Goodyear had one of the coolest booths at the show, with a very evident 80s theme. On top of appropriately dressed girls they had this RUF CTT on show…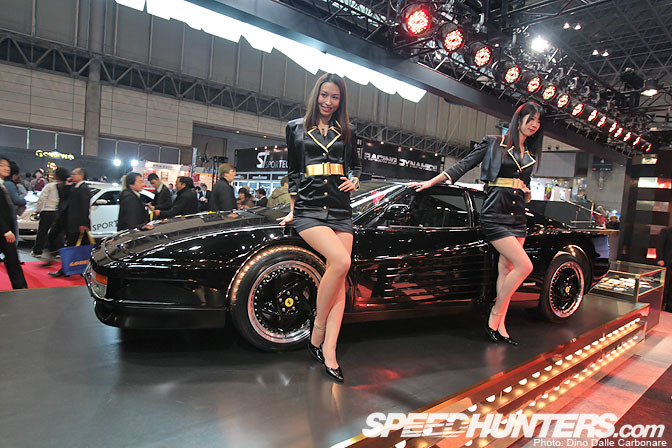 …along with this black Testarossa. Images of Miami Vice were instantly flying through my head!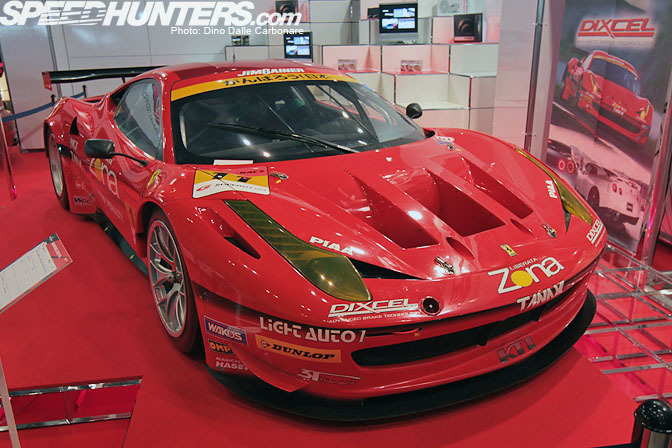 I would love to get back to covering Super GT, as it would mean I could get to see cars like this JimGainer GT300 458 Italia in action.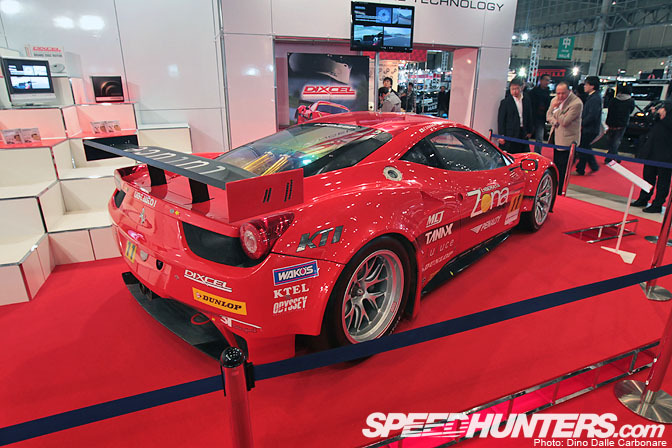 This car finished second in the 2011 season and there are rumors that it will race along side an all-new CR-Z race car the team is preparing for this year.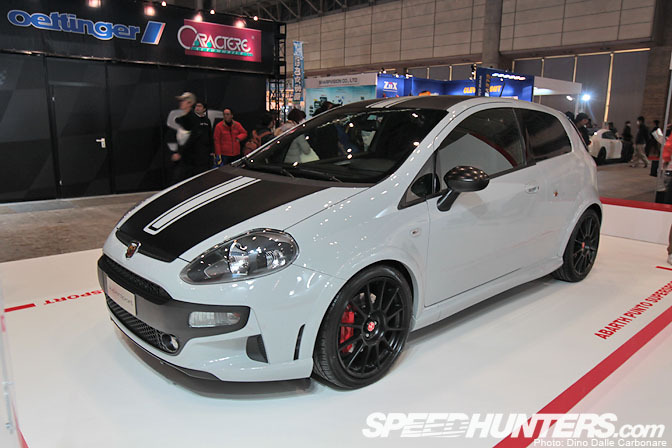 The 500 Abarth has done quite well in Japan but a lot of people forget that there is also a hot Abarth version of the Punto. This particular car is the new Supersport version which on top of the 180 HP of the base Evo Esseesse, gains stiffer suspension, better brakes and leather seats.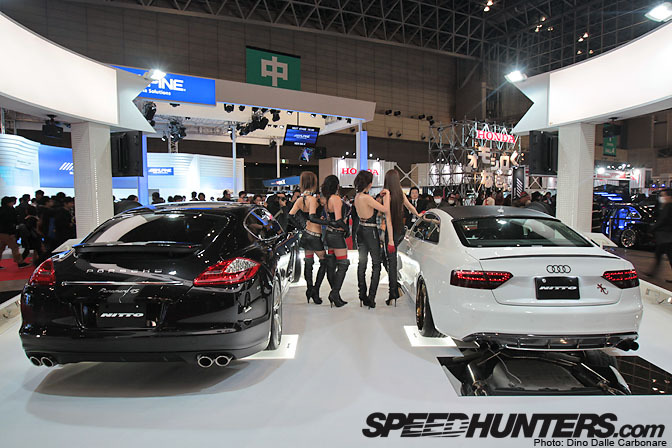 Once the Nitto girls came out the Panamera and Sportback pretty much became invisible!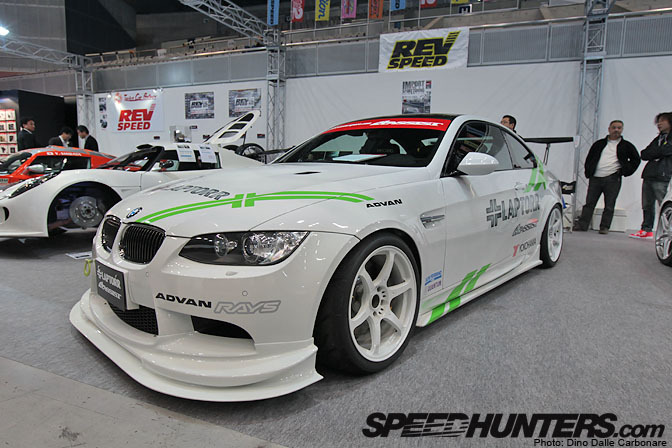 Time attack BMW M3 from Laptorr as seen at the recent Tsukuba Super Battle.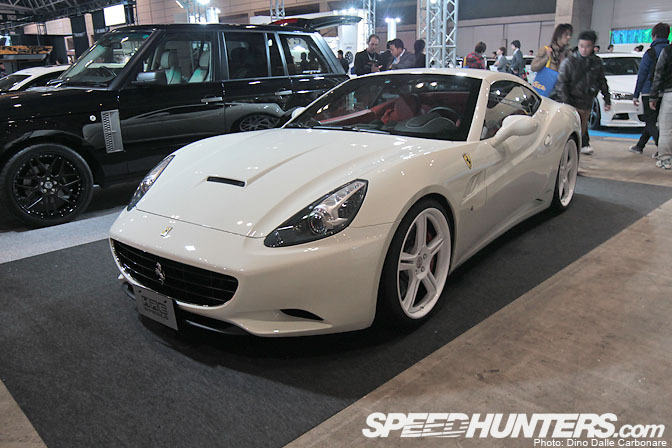 The 458 Italia is a great car but there were a few other nice Ferraris at TAS like this California from HRE…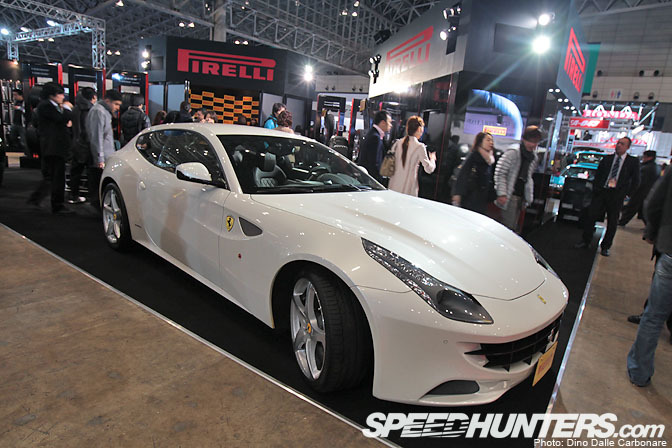 …and the FF at the Pirelli booth. It might not be a model that everyone likes but you have got to admire Ferrari for taking such a gamble with the design of this car. The interior in this thing is like heaven on four wheels!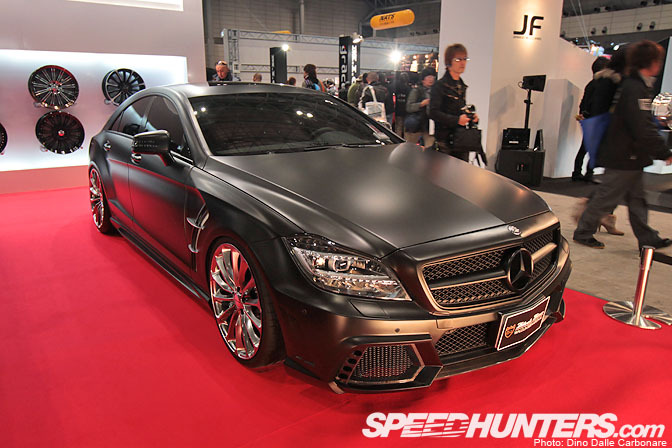 The brand new CLS63 AMG wearing a Black Bison kit from Wald…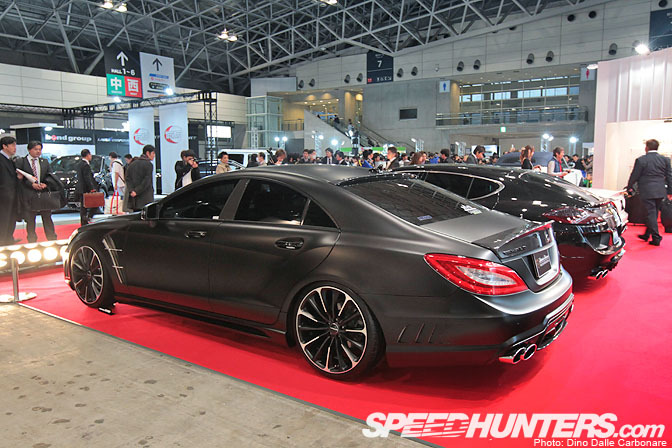 …when you absolutely, positively, need to scare everyone on the street!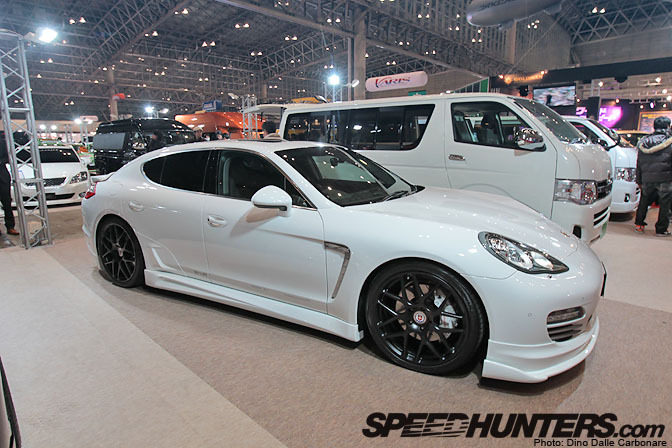 Panamera on HRE rims, nice!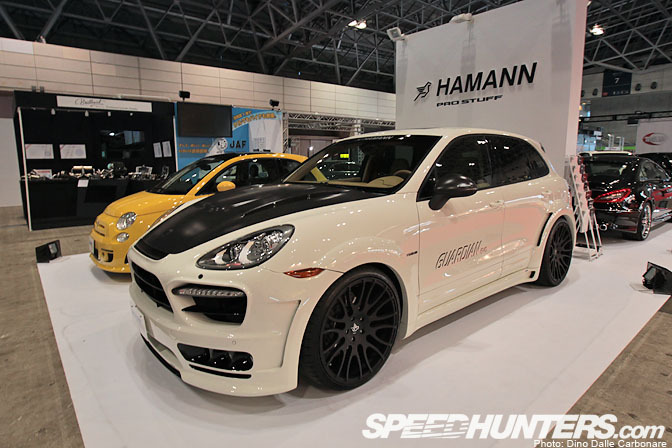 The 100,000th second generation Cayenne has just rolled off the factory in Germany. It's incredible how many of these massive SUVs they are selling around the world and of course you can be sure to find tons of companies like Haman that offer upgrades, even wide body kits! I want to drive one of these behemoths now!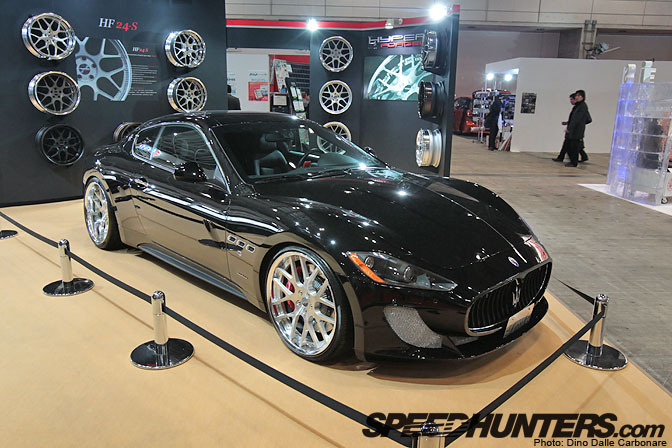 The Maserati GranTurismo is possibly the most beautifully styled car on the planet. I am Italian, so don't take too much notice of that statement, but you can't not like this car, especially when riding on nice rims like these Hyperforged 24Ss.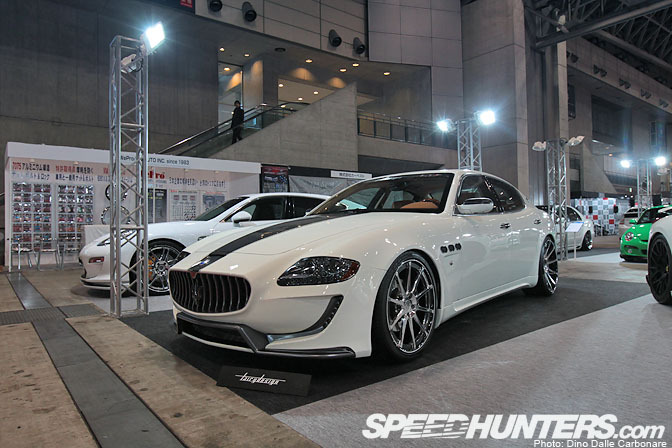 More Maserati, this time the Fairy Design Quattroporte….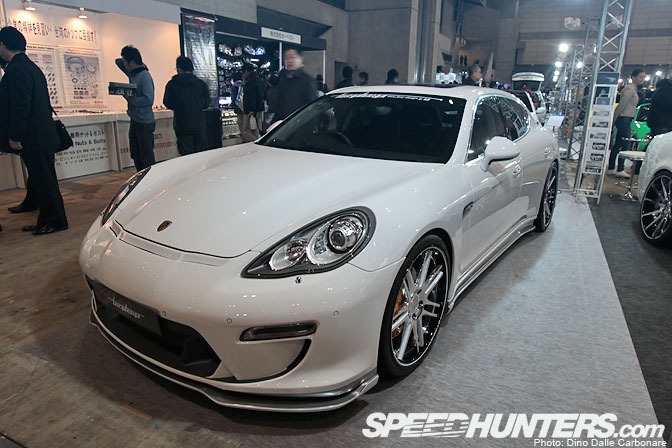 …along side their Panamera Turbo.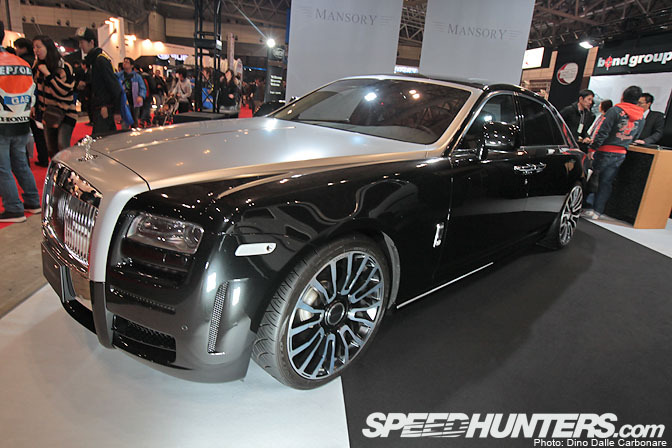 You know you will always find extravagance at Mansory!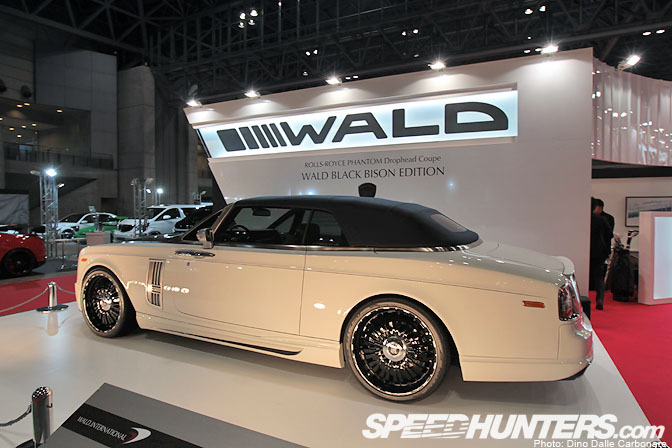 It's quite incredible how enormous the Rolls Royce Drophead Coupe is. It's no wonder anything smaller than 24-inch wheels looks small! Will these cars continue to get bigger?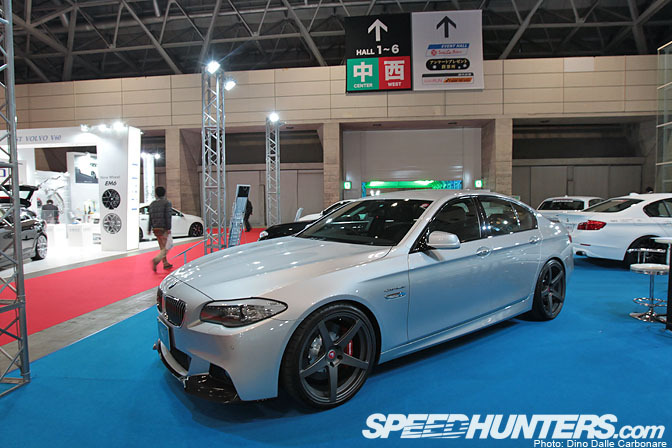 There were so many tuned BMW F50 5-series on display like this car from Vörsteiner. This time next year TAS will be overflowing with 800 HP M5s!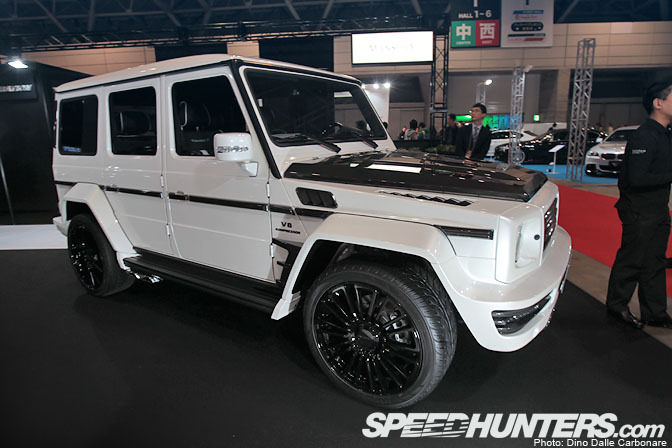 I'll conclude with a picture of this G-wagon from Mansory. If it wasn't for Japan there is a good chance this massive angular off roader from the seventies would have been axed by now, but the market keeps demanding it and they continue to be incredibly popular in big cities like Tokyo and Osaka.
I'll be wrapping up the TAS coverage in the next post, combining a selection of cars that I might have not showed you yet, along with some other interesting things I came across.  Back soon with more.
TAS 2012 features on Speedhunters
-Dino Dalle Carbonare