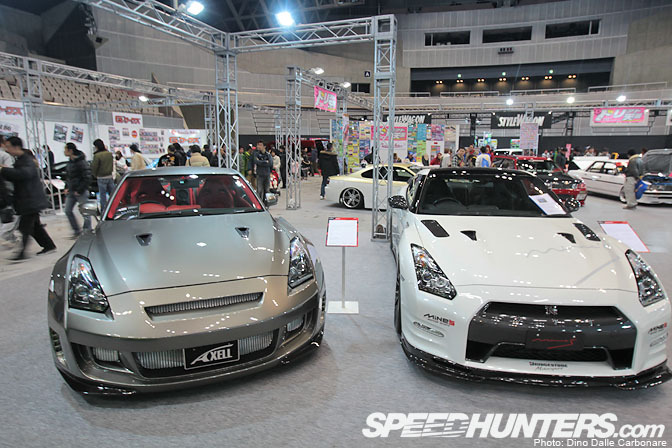 There was quite the explosion of GT-R popularity at this year's Tokyo Auto Salon. It seems that after four years that it's been around, tuners and parts makers have really caught up and are churning out upgrades for serious big power and performance.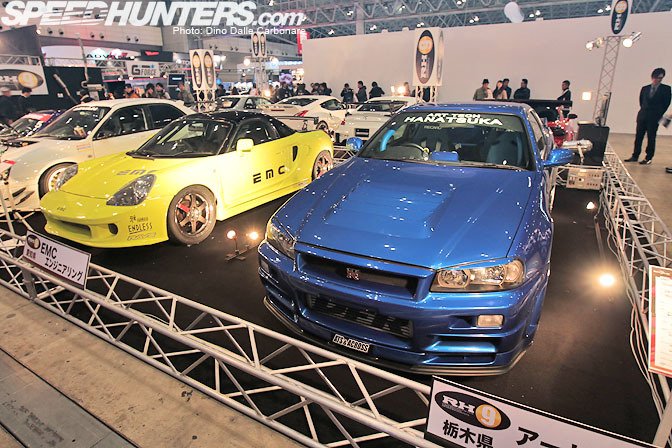 We can't however forget the previous generation of the car, there might have not been many on display at the show but what was present was mouthwateringly good like this BNR34 from Art Tech Hanatsuka…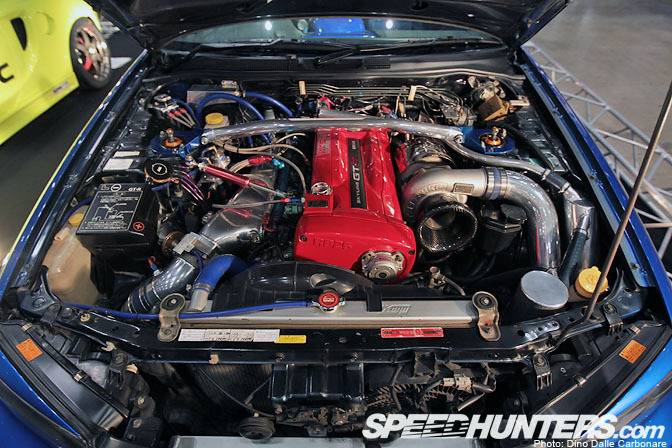 …on display at the RH9 booth. That's an HKS T51R, capable of over 1000 HP, on a supporting engine. The great thing is that development on the RB26 and the Skyline GT-R continues, so we aren't saying bye bye to this legend quite yet!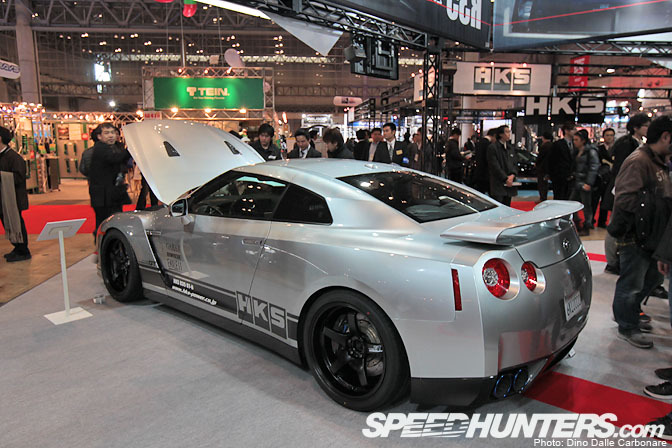 HKS had this USDM R35 on California plates as a main display car.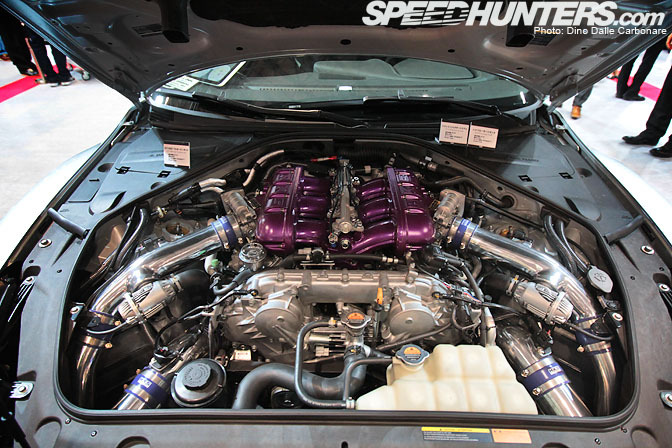 It was fitted with the GT1000 complete engine, which is stroked to 4.1L and runs larger turbines than the ones used on the GT800 kit. When HKS releases packages like these you know they have been tried and tested. 1000 reliable horses? That is plain silly! No word on the price of this kit quite yet.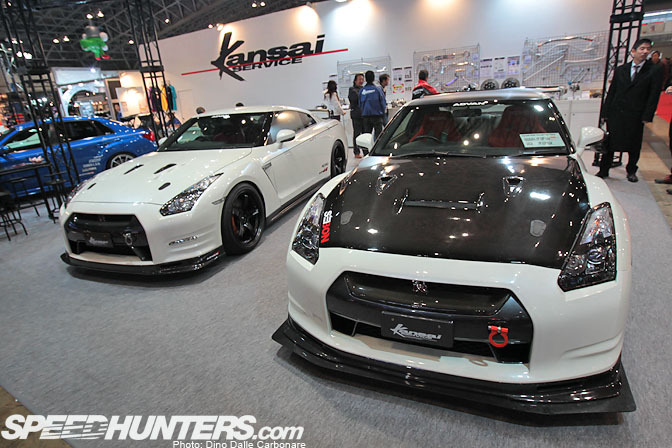 Mukai-san at HKS Kansai is a respected figure in the Japanese tuning world, he has always strived to develop functional products and upgrades, and his cars reflect this precisely. I can't wait to see this new track-spec R35 of his around Fuji at the HKS Premium day this spring.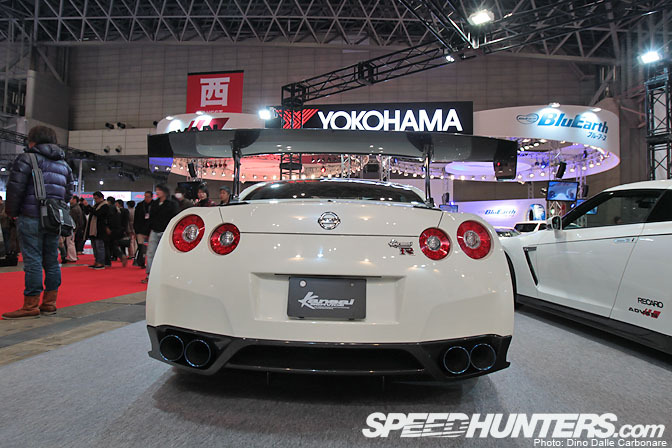 That wing should provide plenty of downforce around the high-speed corners of Fuji.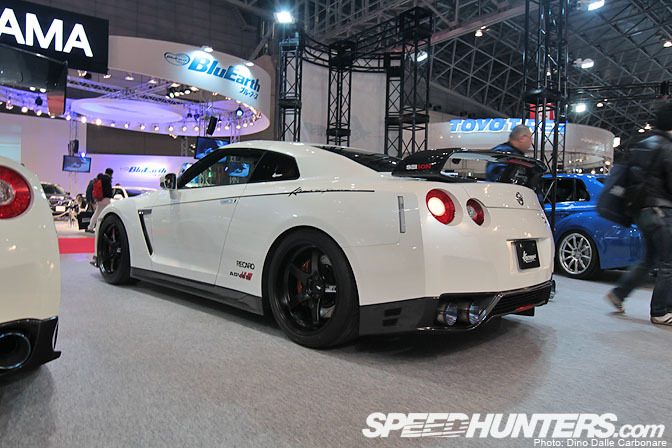 The street-sepc demo car is just as cool.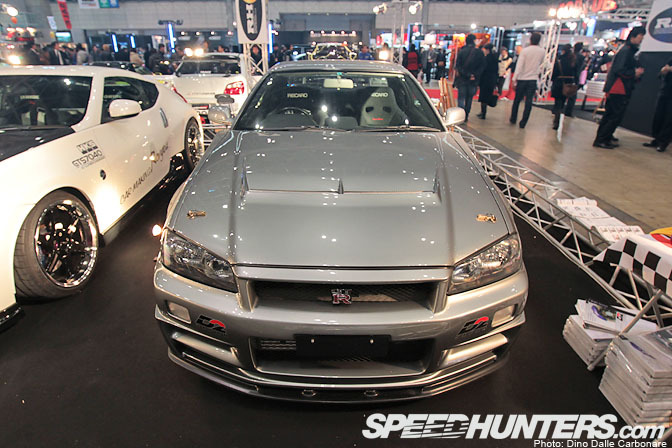 More R34 goodness.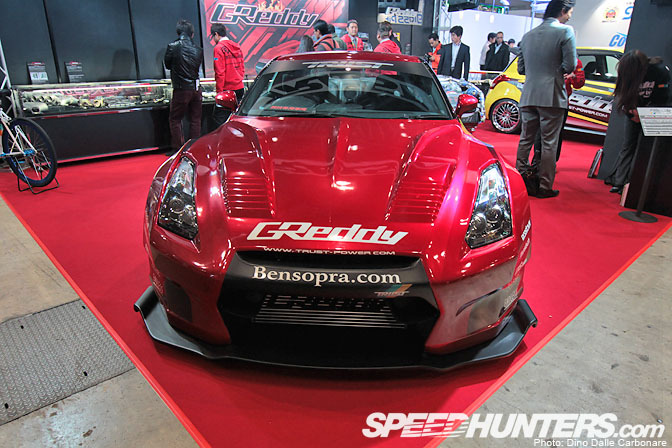 The Trust R35RX took away the best tuning concept prize this year and it's not surprising why. Under that BenSopra exterior…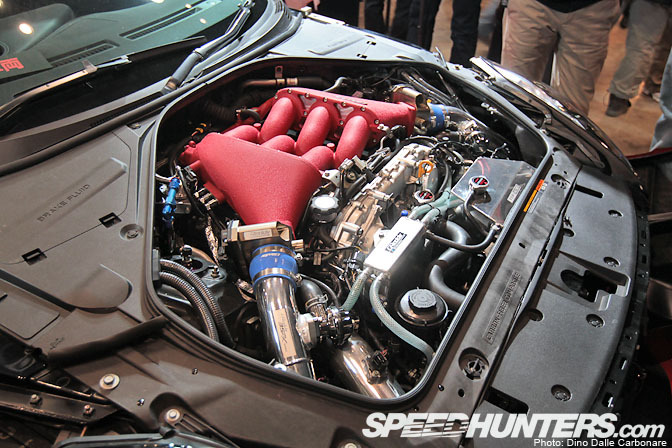 …is a pretty crazy VR, stroked to 4.3L and good for 1200 HP. The most impressive thing is the linear delivery of the motor even at 2 bar of boost, managing to crank out 1085 lb/ft in the mid range.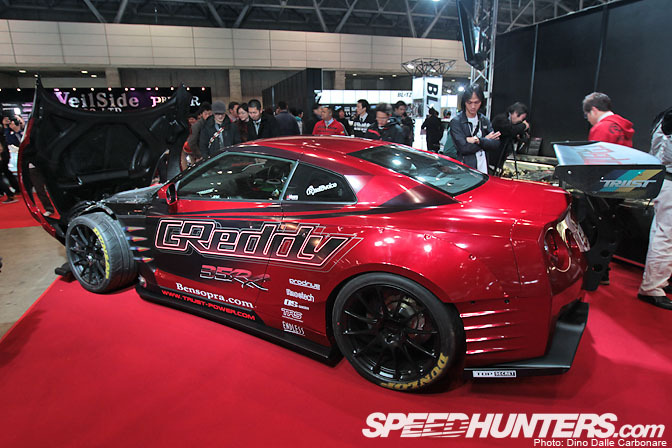 The car hasn't had much time out on track, only a couple of shakedown tests. During one of them, held at a regular track day in Fuji Speedway, Tarzan Yamada managed a top speed of 333 km/h (206 mph) on the main straight, which beats HKS's previous record with their R35 GT800 development car. No word on actual lap times yet but this will be one car to watch out for this year!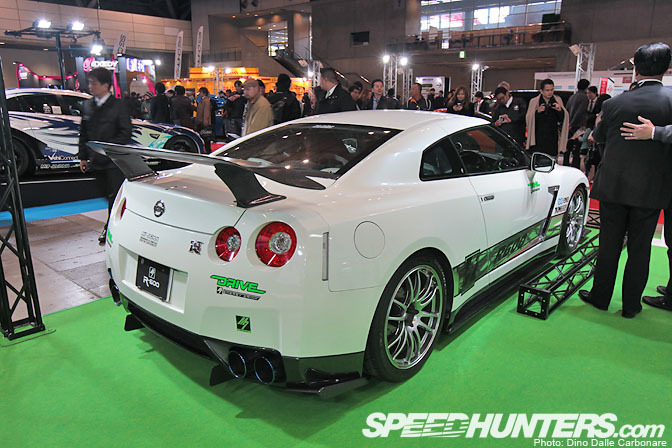 I quite liked the rear carbon spoiler on the M7 GT-R, looked like an Esprit item.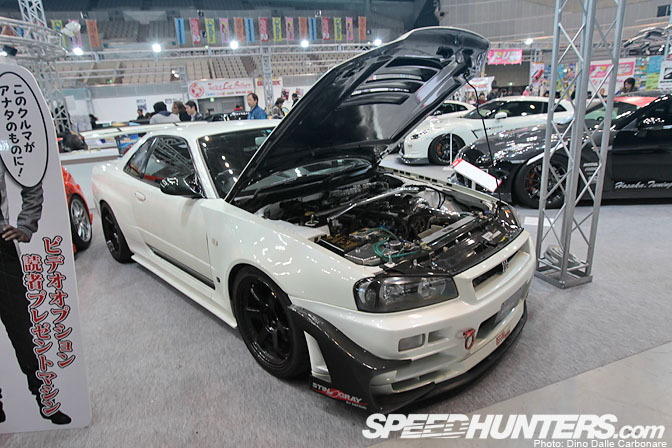 You can never go wrong with a Nismo Z-tune look on an R34 GT-R, even if this car from Racing Service Defend has a Nismo Ver. 1 bumper. The massive carbon canards definitely help.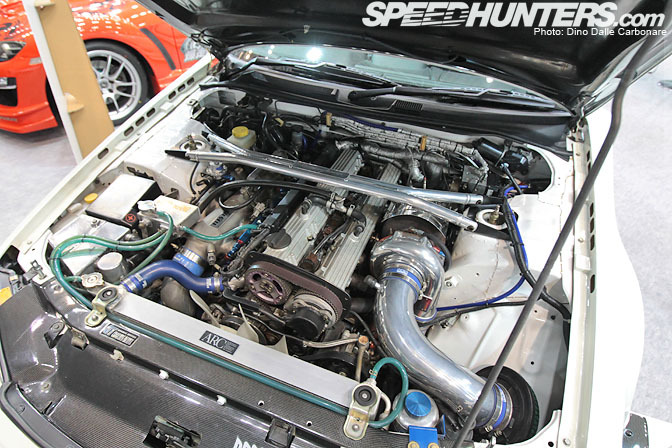 I love the look of an RB26 with RB20 cam covers. It's something Auto Gallery Yokohama started in their BNR32 time attack car and something I've been seeing more and more lately.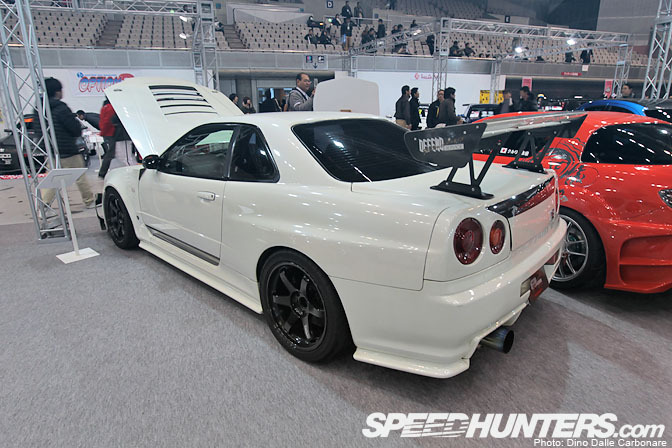 Big carbon GT wing completes the look at the rear.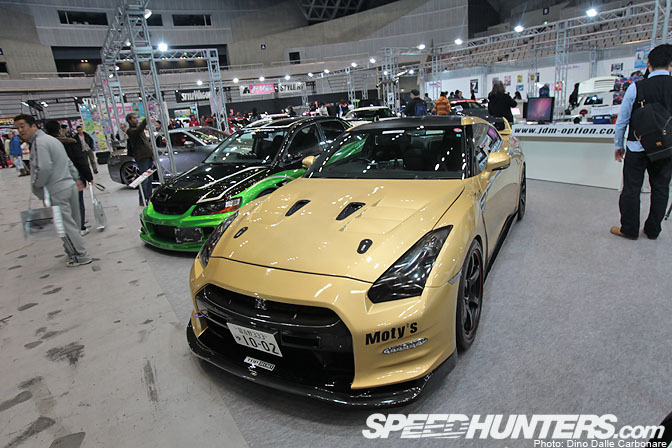 Top Secret had three R35s at show, this particular one in the Option Tuning Car Gallery among some impressive other cars…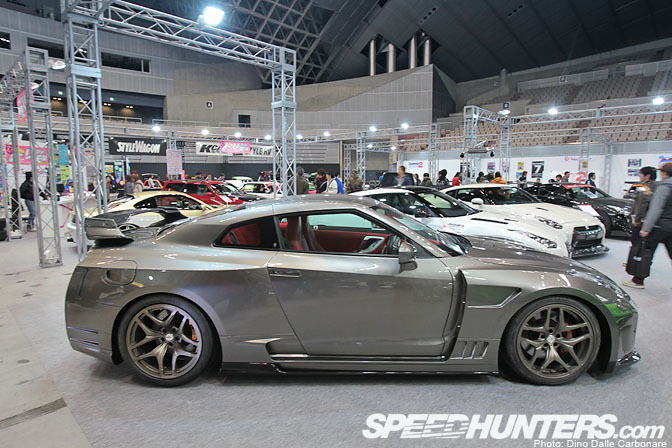 …like the widebody Axell GT-R from last year's TAS.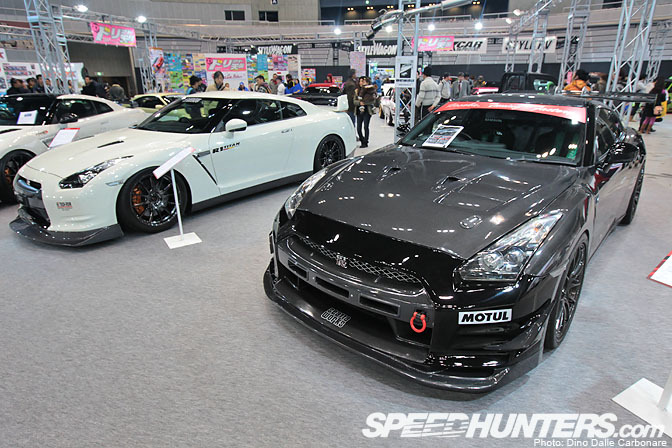 It was great seeing the Amuse GT-R again, on the left next to the Hosaka Tuning Factory demo car. Right before his death Tanabe-san gave it all he had left in him to extract as much performance as possible from the then just released R35. He was the first to get a sub 1-min lap at Tsukuba, a last bit of satisfaction before he left this world. Now Amuse's new president, Matsui-san, has some more plans for the car.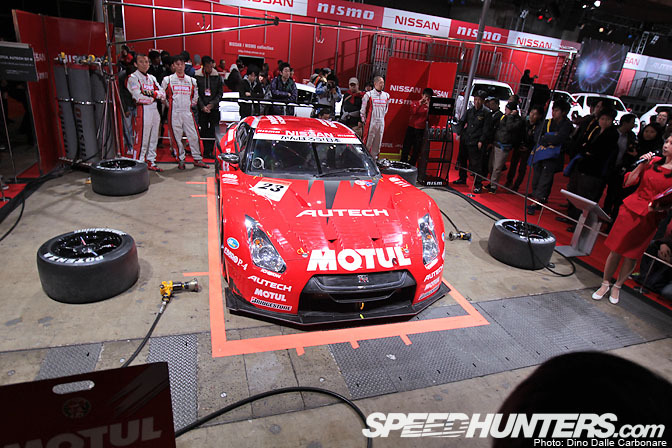 At the Nissan/Nismo booth Super GT mechanics were showing off just how fast they can swap out those massive 330-section slick shod wheels.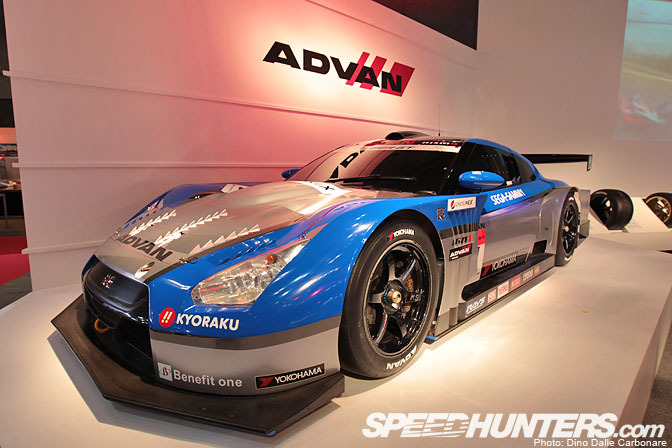 Another GT500 GT-R, this time at the Yokohama Tire display.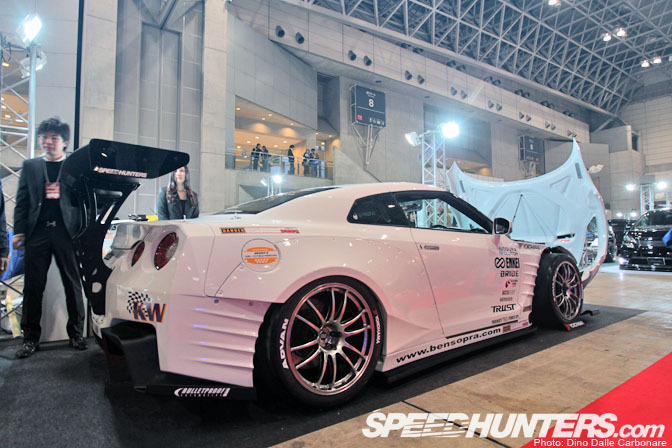 Once that complex front end on the BenSopra GT-R is lifted forward on its massive hinges…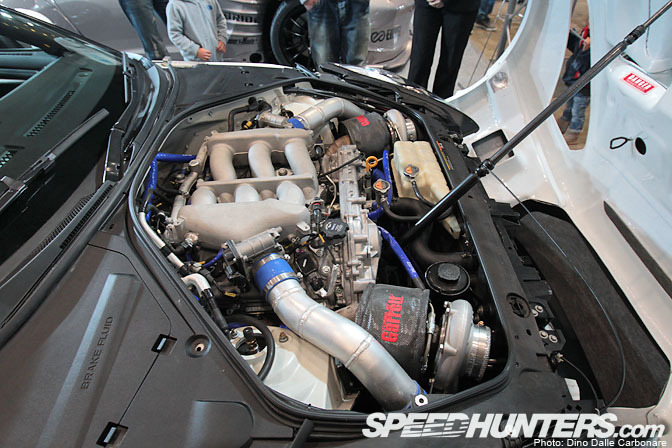 …the engine is revealed. When Bitz built the car for Nomuken they knew that big power was needed so fitted massive Garrett blowers, mounted at each corner of the engine bay, where the stock airboxes usually sit. There is still some fine-tuning that needs to be done to get it to perform properly but you can expect to see this car drifting around at various events and circuits this year. BenSopra have every intention to have fun with the car, not keep it as a showpiece.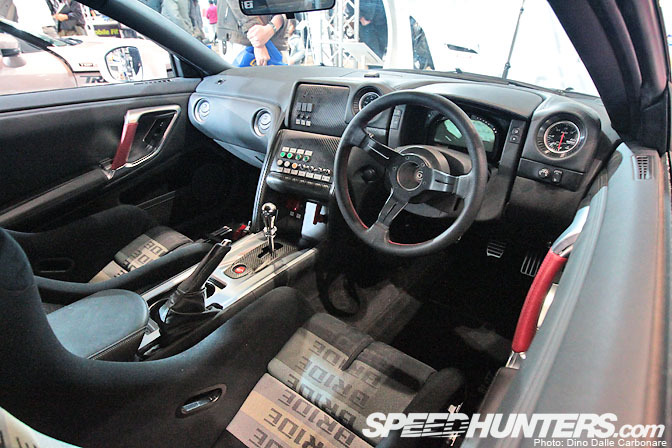 The interior is very tastefully done. Pretty much every bit of electronic equipment has been removed like the MFD screen, A/C and audio. The stock instrumentation is replaced by a RacePack LCD unit…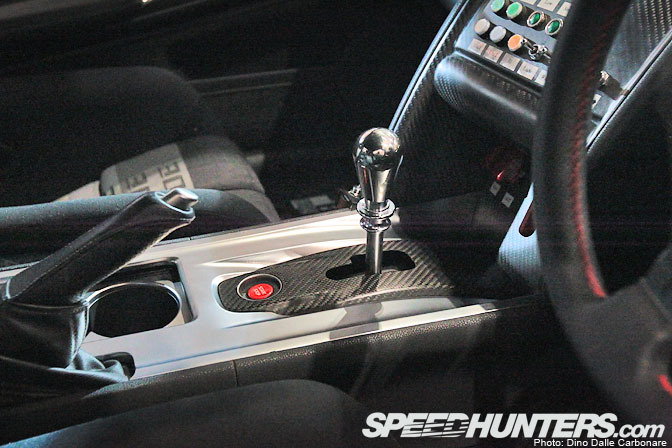 …while on the transmission tunnel the Hollinger's shift lever has been nicely integrated.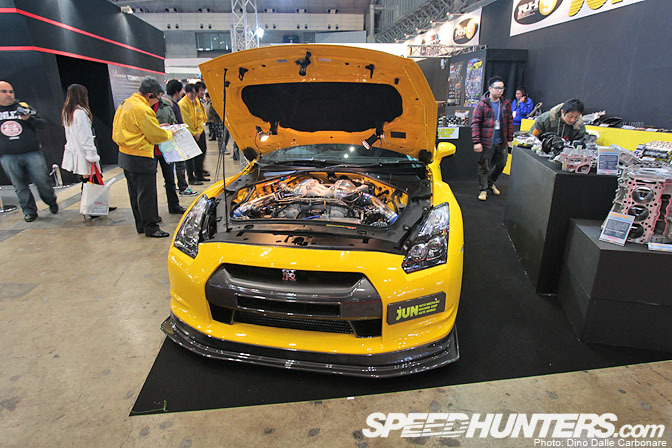 JUN had every single upgrade piece they make for the VR38 on display at their stand…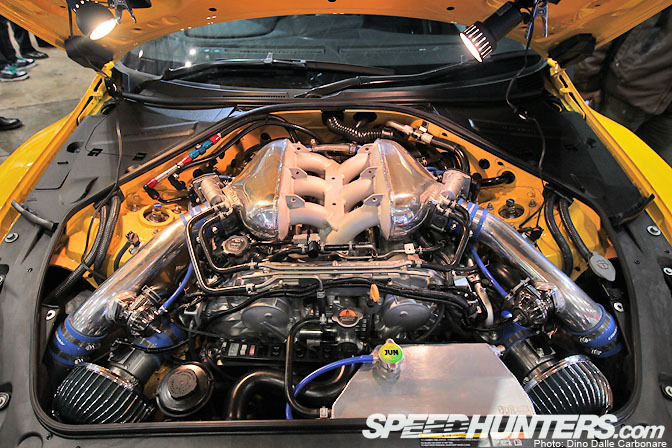 …next to their very own R35 demo car. I wonder if they will run this car at the HKS Premium Day this year.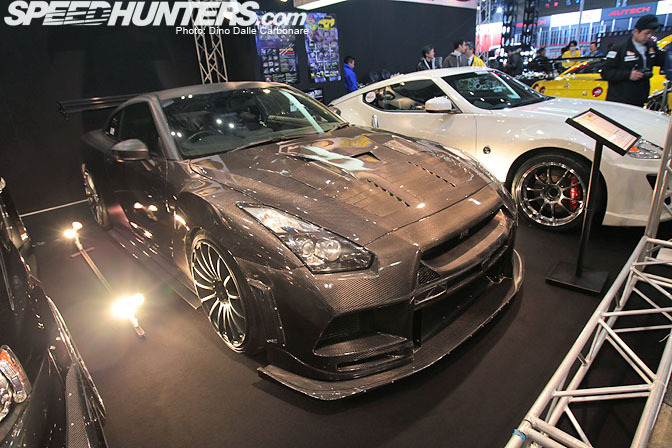 Taniguchi must really love carbon fiber! I just had to post up another image of his car wearing the Top Racing wide body aero.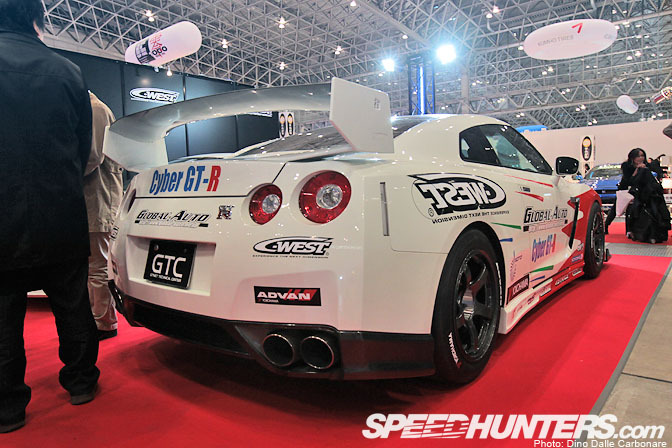 Rear view of the Cyber GT-R fitted with a C-West rear wing.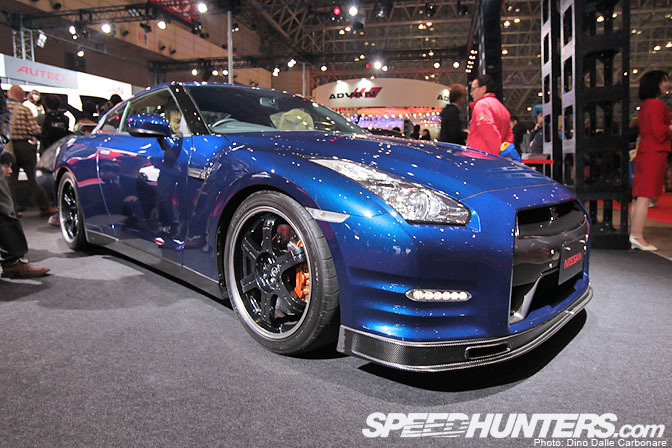 You can expect a test drive of the 2012 Track Package to come soon, although the car I get to drive won't be fitted with the cool NordRing carbon upgrades.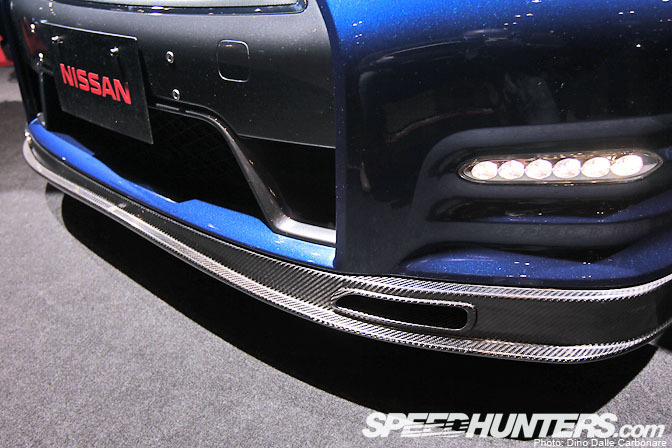 The front splitter has a little lip spoiler to help get a tiny more downforce and a pair of SpecV-looking intakes to help cool the now larger rotors on the 2012 R35.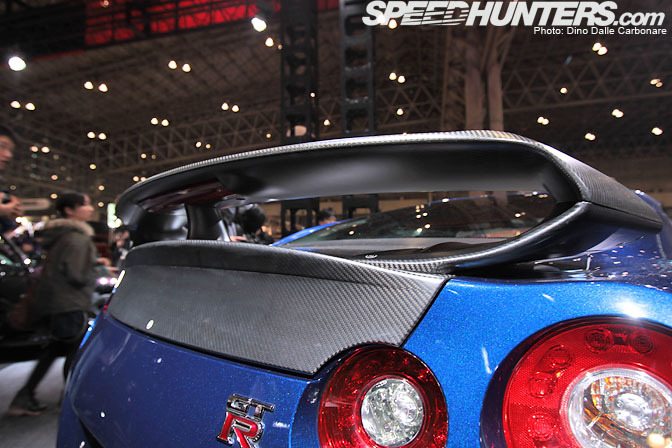 The lip on the NordRing trunk lid looks so cool I'd probably wouldn't even bother with the spoiler myself!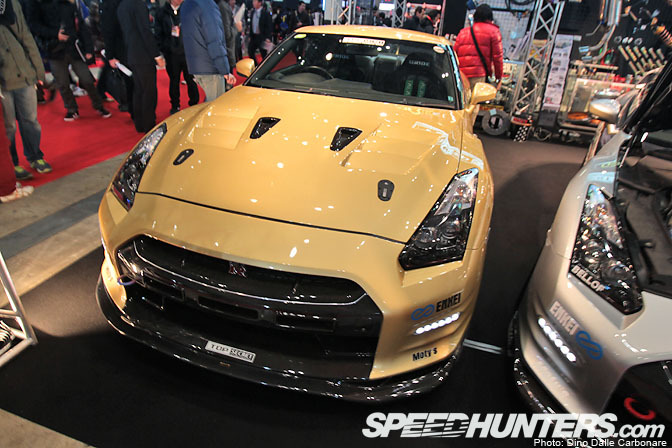 More Top Secret Rs, this time at their own booth.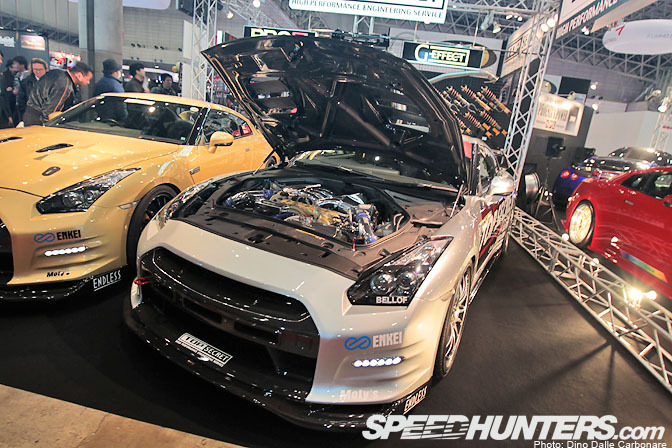 It might not be gold but this is their latest and most potent R35 GT-R yet, the "Circuit SPL" time attack car.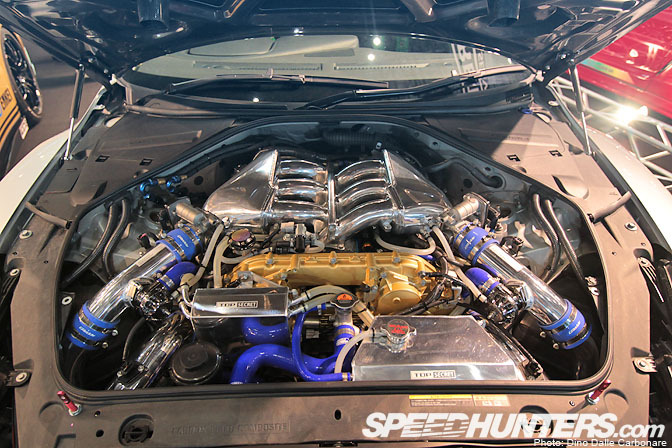 1000+ HP and lots of potential for very fast times around Fuji. We will have to wait for the HKS Premium Day to see just how fast it is.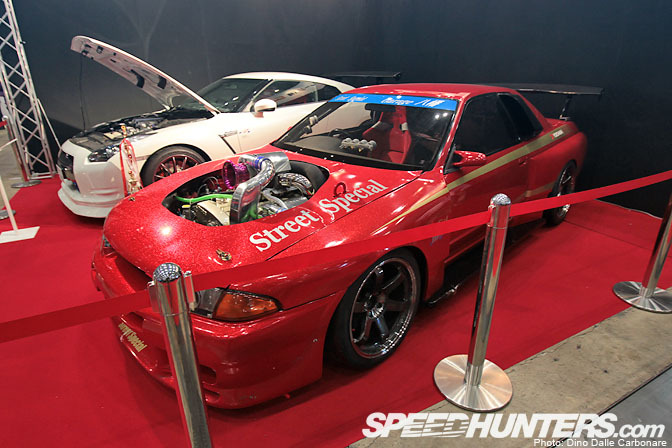 Most controversial GT-R at the show? Well it just has to be the Street Special Garage Yawata BNR32.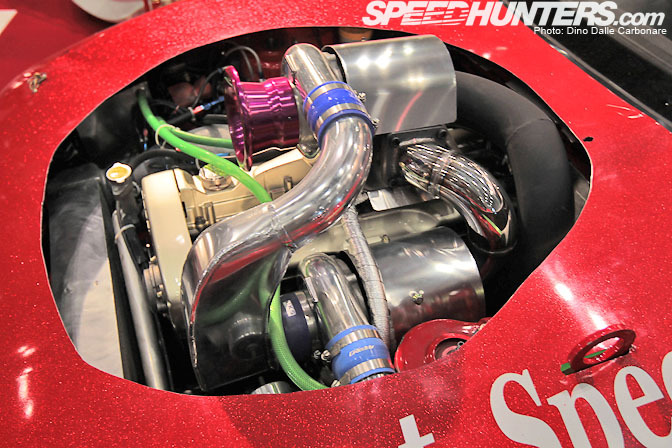 I've looked at this set up over an over again, now I just want to see it in action!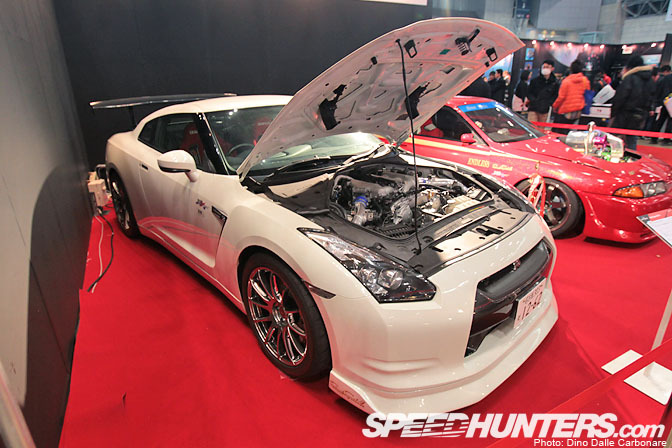 Their R35 GT-R is one of the best sounding ones I've heard over the years. You may remember my spotlight on this very car.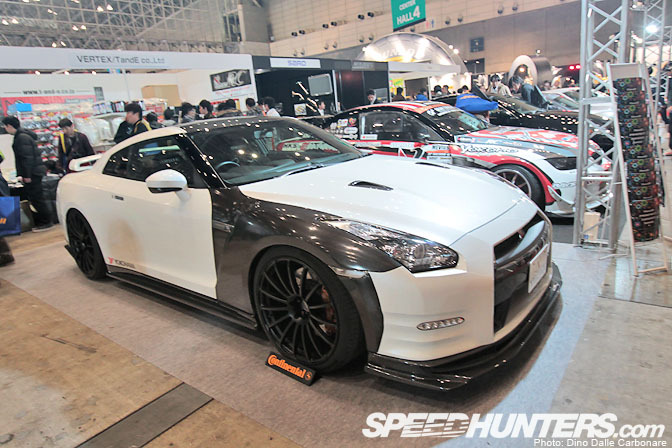 And to finish off this is T&E's GT-R demo car. Ueno-san has been busy developing a carbon roof for the R35…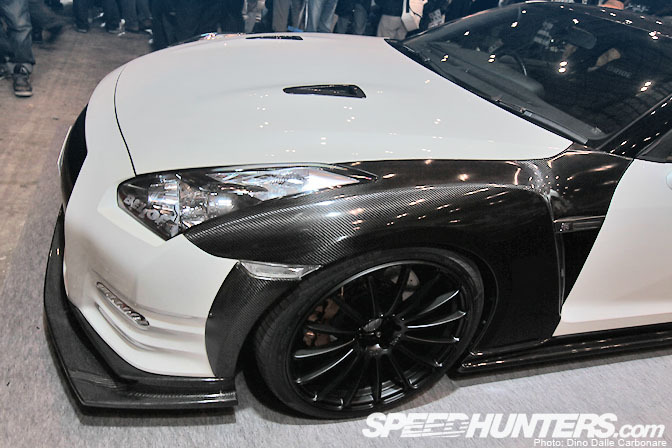 …as well as dry carbon wider front fenders. These parts complement the carbon front lip spoiler and side skirts.
That's it for the GT-Rs.  Stay tuned for more TAS coverage.
TAS 2012 features on Speedhunters
-Dino Dalle Carbonare