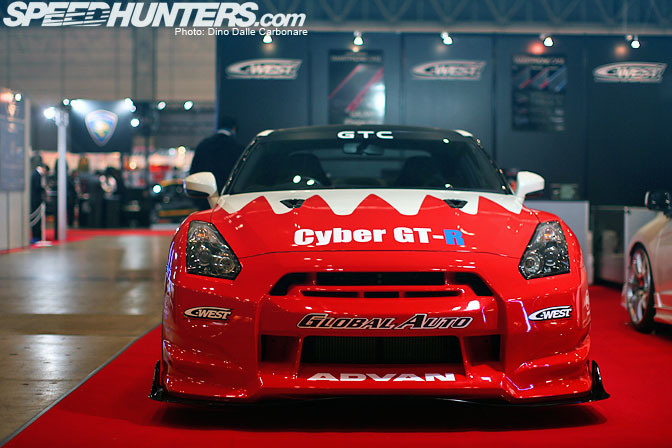 This year's Tokyo Auto Salon certainly had a few surprises up its sleeves. As you probably gathered from my behind the scenes post of the set up day, it seemed the Japanese tuners really stepped their game up. It wasn't so much a case of an increase in cars or booths, but more involved builds, lots of exciting new parts and an overall better atmosphere. After a couple of years of decreased interest, TAS was back with a vengeance!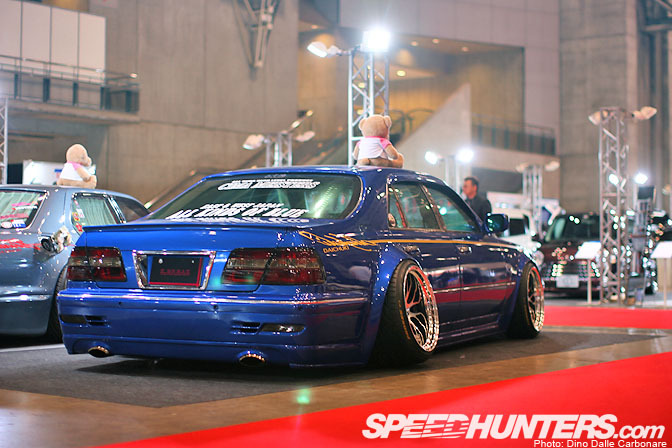 Before I begin focusing in detail on the main cars that stood out during the long and grueling hike through the three halls of the Makuhari Messe, let's take a general overview of the show, setting the mood for the more in depth coverage I've got planned. You probably remember this Bee Dragon Cima from the King Of Sedan Festival in August. Back then the car was far from completed, built in a rush as a main showpiece for the country's biggest VIP gathering. It's now looking very much finished!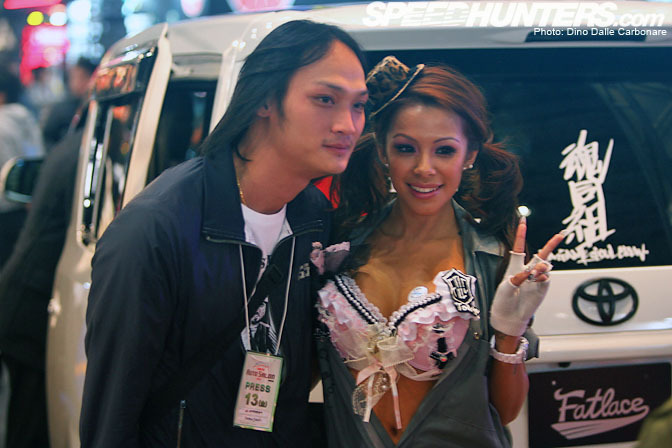 Of course girls are as much a part of TAS as the cars are.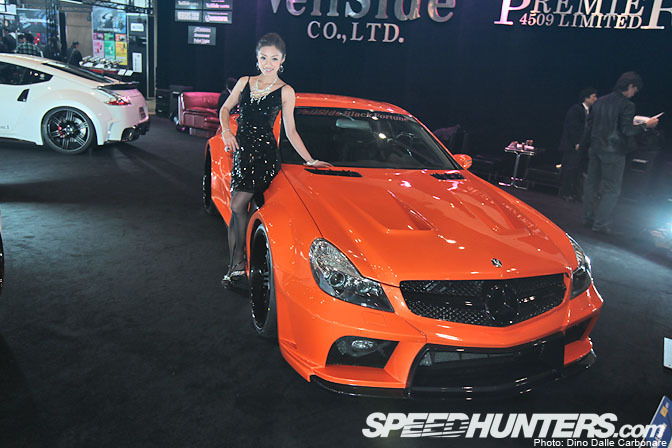 Veilside have continued to shift their attention to the import and exotic side of things and for 2012 created some pretty wild Benz SLs…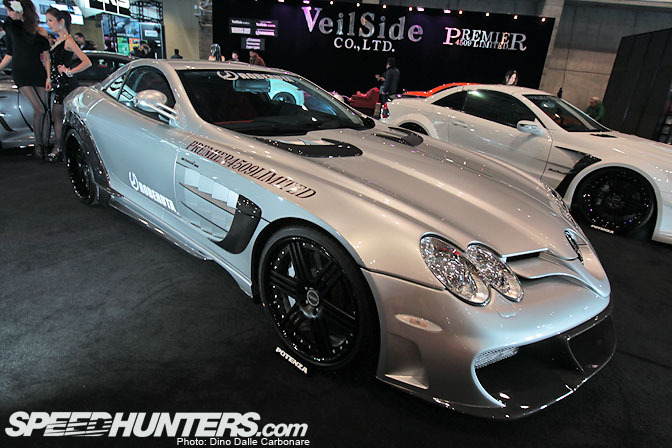 …along with their main car of the show, this McLaren SLR wearing a Premier limited edition aero kit.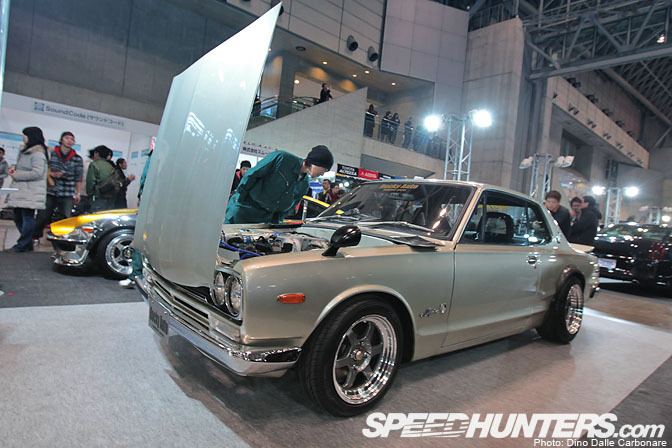 I don't know how Watanabe-san at Rocky Auto does it, but every year he manages to surprise people with fresh new "mix & match" vintage rides. This year on top of the S30 powered by a naturally aspirated RB26, he conjured up the idea of dropping a 1UZ into a PGC10 chassis! What will the Nissan purists have to say about that?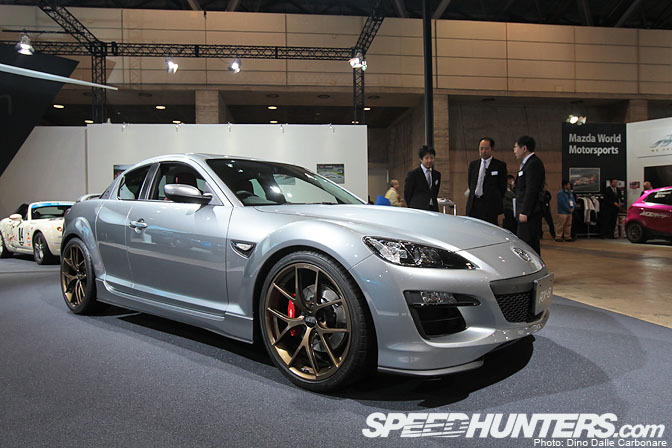 This is probably the very last time we will be seeing an RX8 at a Mazda booth. It will be dropped from the line up this summer and it's anyone's guess when we will be seeing another rotary offering from them. Still, it was great to get a closer look at this limited edition final version!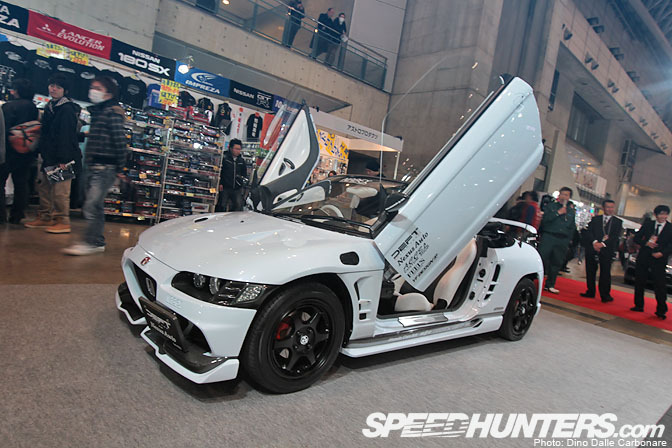 It's little wild cars like this Deft Design Craft with Nexus Auto Honda Beat that give TAS its own unique flavor. The car was down up in a NSX-R kind of theme, scissor doors aside of course, and even sported a Type-R badge at the back!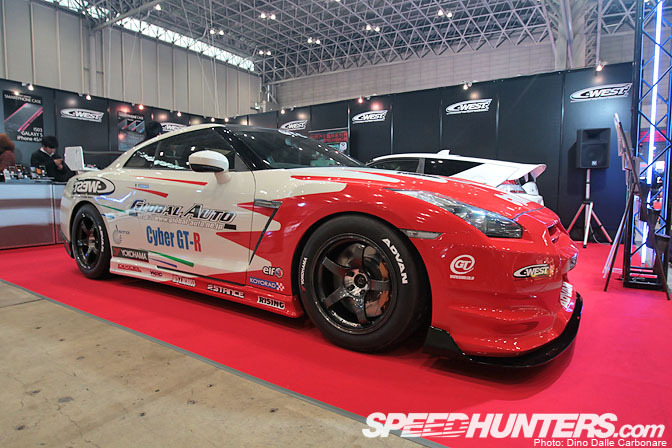 The main exhibit at C-West was the new Cyber GT-R which is built in collaboration with second hand GT-R reseller Global Auto. Mechanically the car is still pretty much stock, with the development beginning straight after the show. I can't wait to see what they come up with for this R35, and of course can't wait to see it out in action at future time attack events. It's sad to see the Cyber Evo go, but they have chosen an exiting new platform to develop.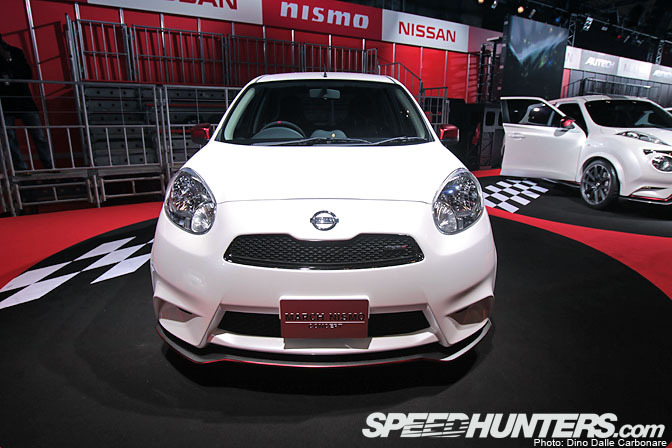 Nismo launched the "March Nismo" concept at the Nissan stand, right next to the Juke Nismo we saw back in November at the Tokyo Motor Show. Nismo is set to become an even bigger presence in the next couple of years, so get ready to see quite a few new special edition Nissan models in the future.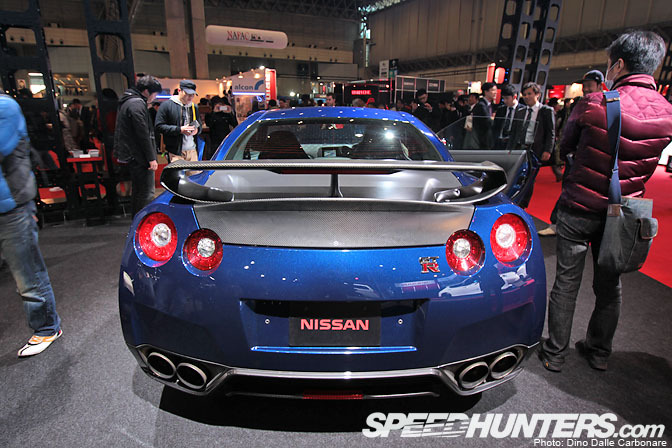 The 2012 GT-R Track Edition was stealing all the attention of course, especially since it was fitted with a few choice new carbon parts from NordRing like a "lipped" trunk lid, carbon rear spoiler and front lip.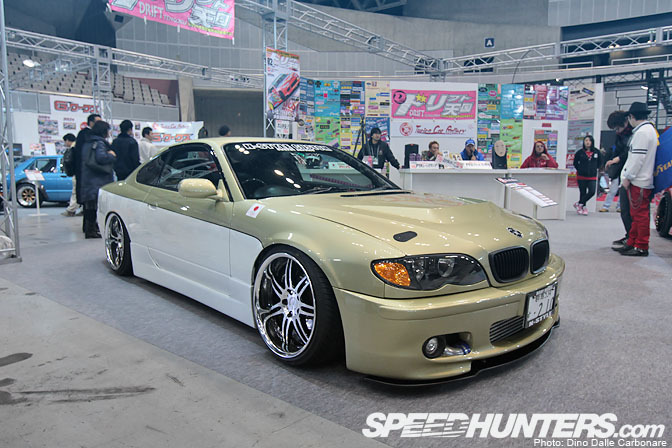 Yes your eyes are not deceiving you. You can always count on the Doriten guys to have some wild drift cars on display!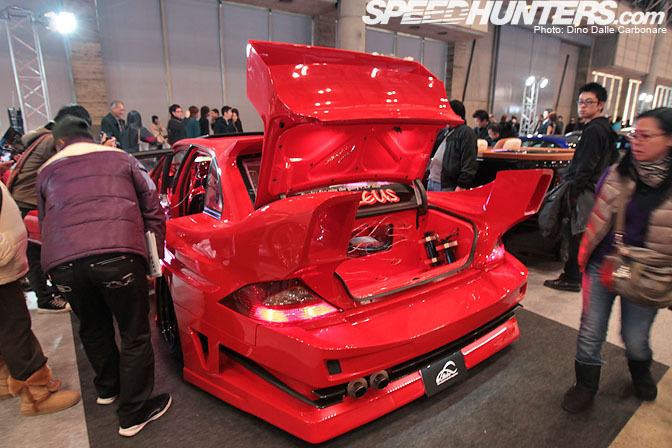 OK so who wants to guess what lies beneath all of that FRP?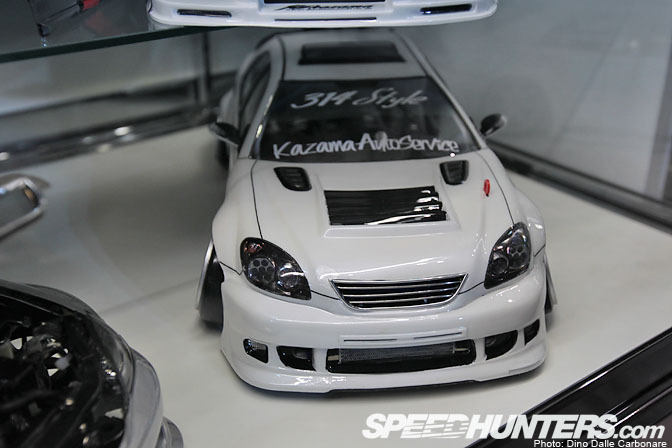 The drift RC scene continues to grow and Kazama Auto is one of the biggest players in the whole game. Along with a line up of custom hop-up parts he had some pretty mean looking ready-built cars on display like this Aristo. Negative camber and stretched-tire look will be the new fashion for this year!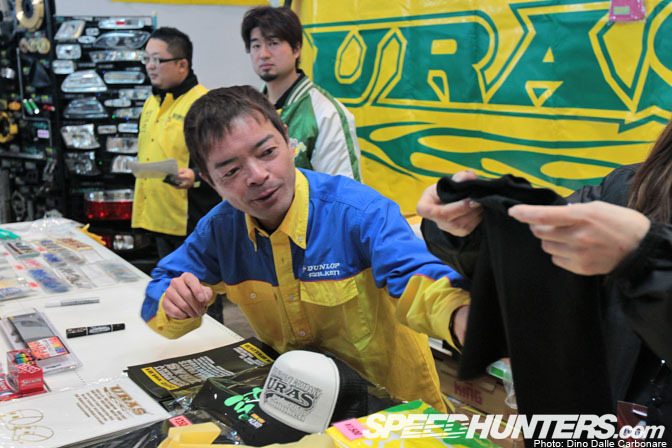 As ever Nomuken, when not driving his Blitz ER34 in the D1 exhibition, was busy selling Uras merchandise from his stand.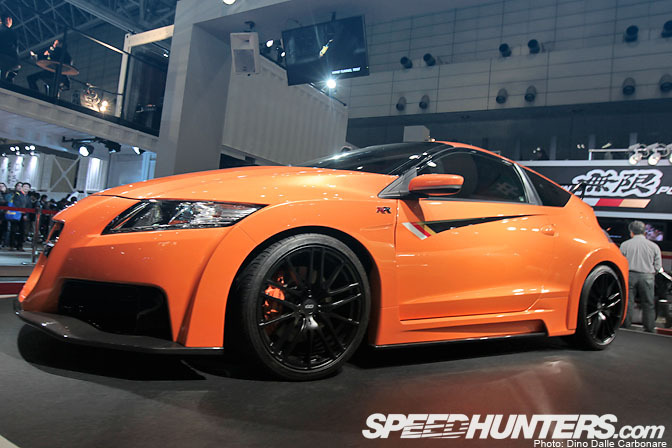 Mugen's absence at last year's show was definitely felt, but they certainly wanted to get noticed this year! This CR-Z "double R" was one of two CR-Z based show cars they came up with. More on this soon.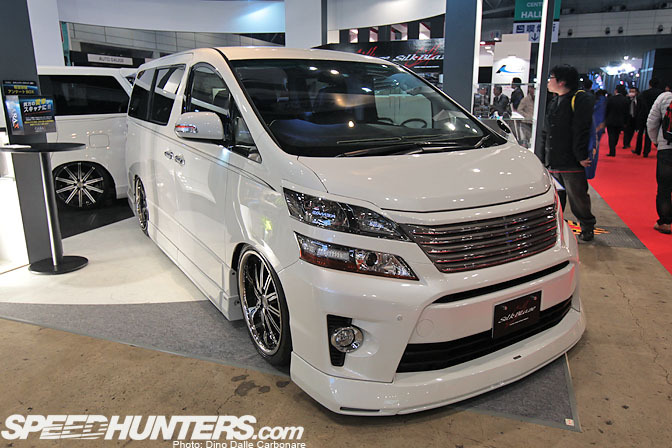 Vans are a huge part of the tuning scene in Japan and TAS was as crammed full with them as ever.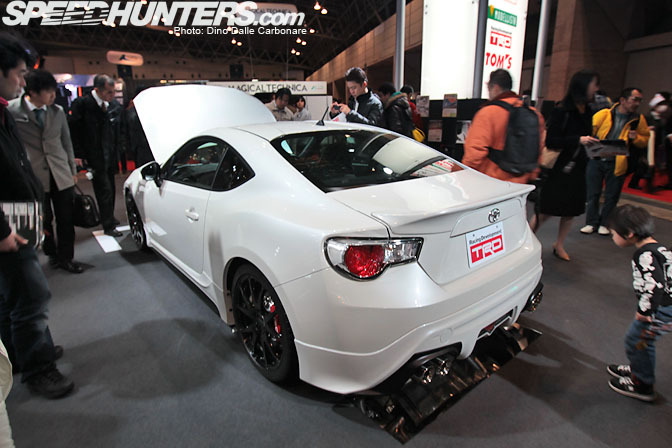 The TRD 86 seemed to have its very own magnetic pull. It was continuously surrounded by tons of people at any given time.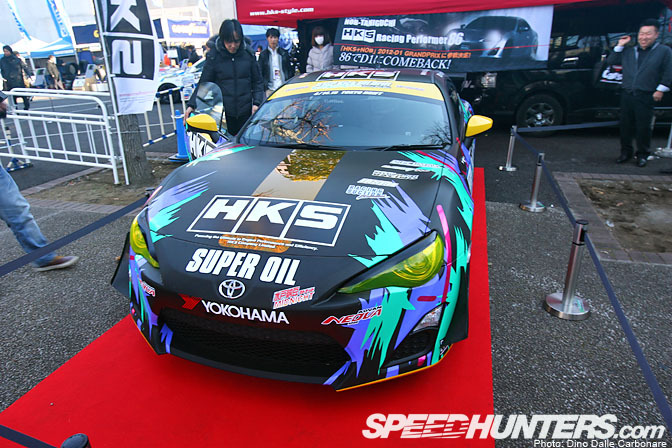 HKS have already gotten their hands on the hachiroku, and are using it to launch their comeback into D1 with Taniguchi. This team alone could help boost the ever-decreasing attendance that the series has been suffering from for the last 4-5 years.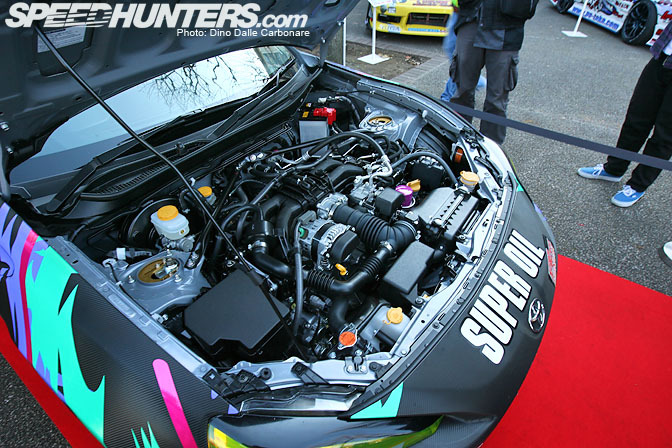 It will be exciting to see what they will come up with on the engine front. It will obviously be turbo, but it will have to be real special to keep up with the 800 or so HP a lot of the cars are running these days. Will they stick to the boxer-4 or drop something else in there?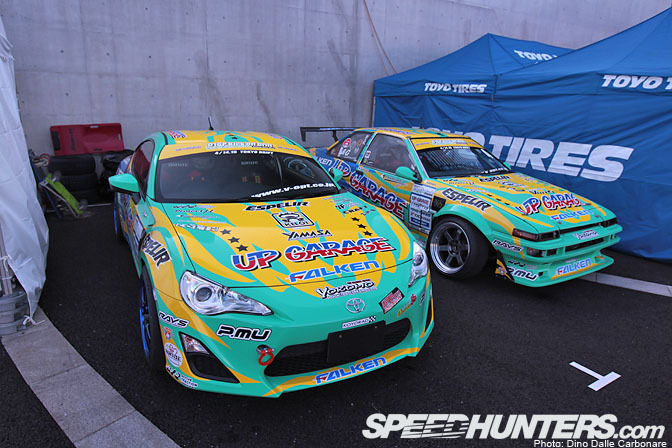 Same with the DrooP team, what will Hibino's 86 run? 3S power? Will any other engine actually fit in the shallow engine bay? Only time will tell I guess. Finally D1 is getting more cool new cars, but will they also rethink the way they run the series? They have been criticized for their uninspiring and repetitive proceedings, not to mention questionable judging, for a while now so 2012 would be a good year to bring about a few changes. The loss of Tsuchiya and Inada has really hurt the series too so they will have to work extra hard to compensate.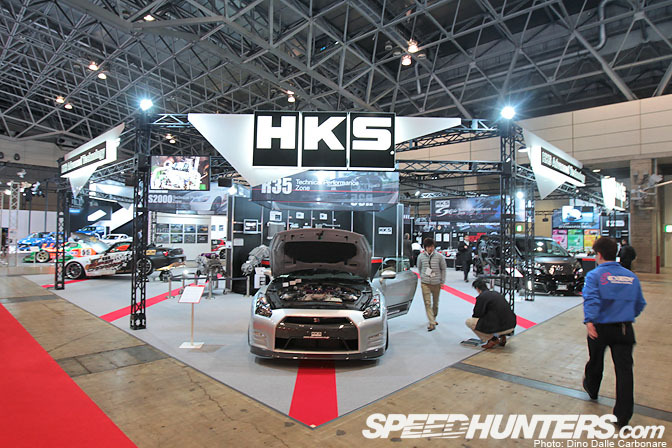 After a few years of absence, HKS was back at TAS. They had tons of new products and packages on display as well as couple of new demo cars. Their presence at TAS however means that they will not be organizing the much-anticipated HKS Premium Day in Fuji Speedway this month. The event has been moved to spring, so we will have to wait for a few more months for that.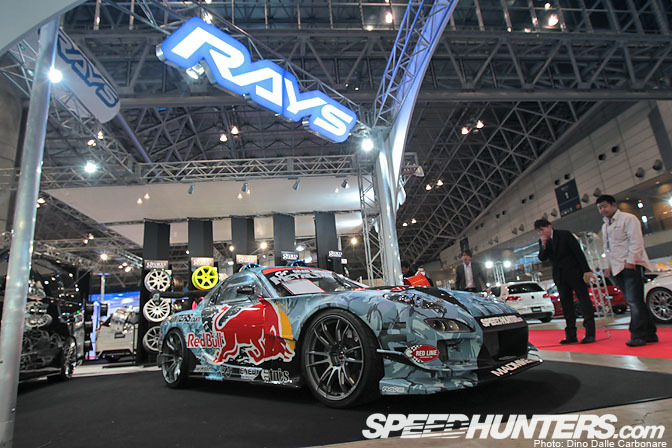 Here is a proper look at Mad Mike's new D1 FD. Mike is entering the first round in Odaiba in April and will try to make as many other rounds as he can with his TCP Magic built 4-rotor beast!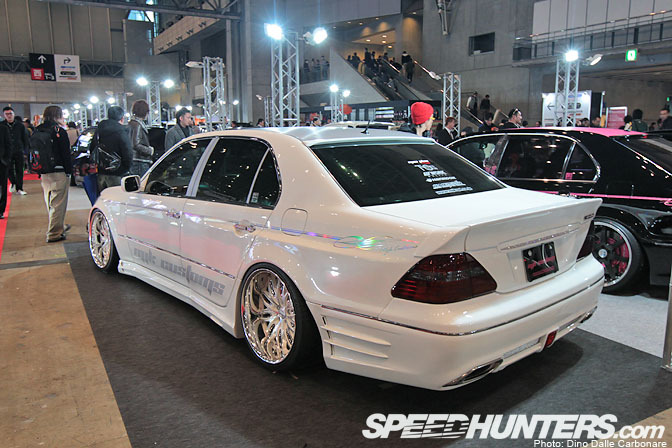 The VIP movement continues to grow in popularity and evolve in a variety of different directions.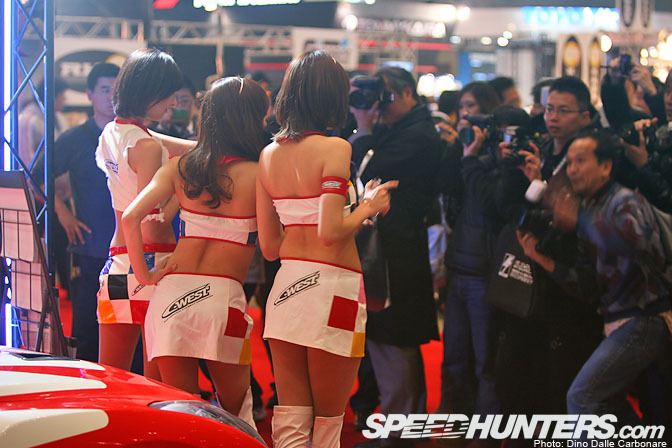 This tale-telling shot kind of portrays the immense popularity of the girls at TAS.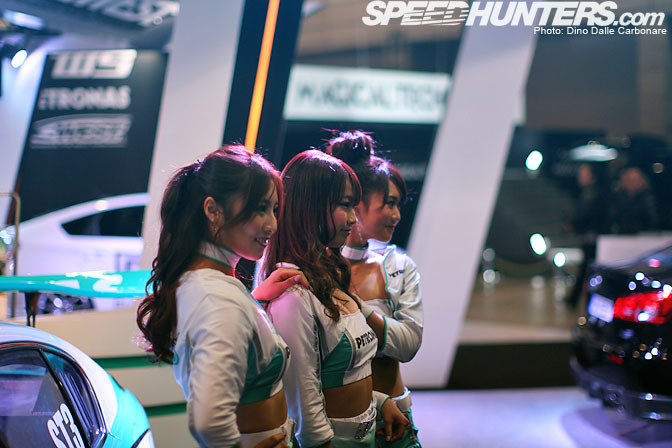 Some people just aren't interested in the cars! It's incredible the crowds that form around booths once the girls are out doing their thing!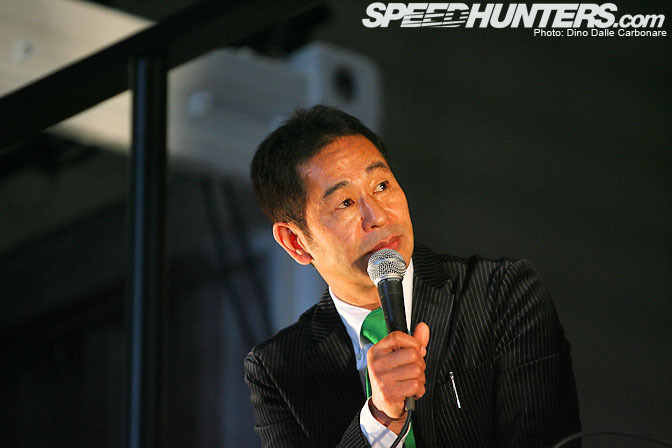 Keiichi Tsuchiya was at the Honda stand throughout the day taking part in a series of talk shows. He continues to be one of the biggest ambassadors for the whole racing, tuning and drift scene in the country.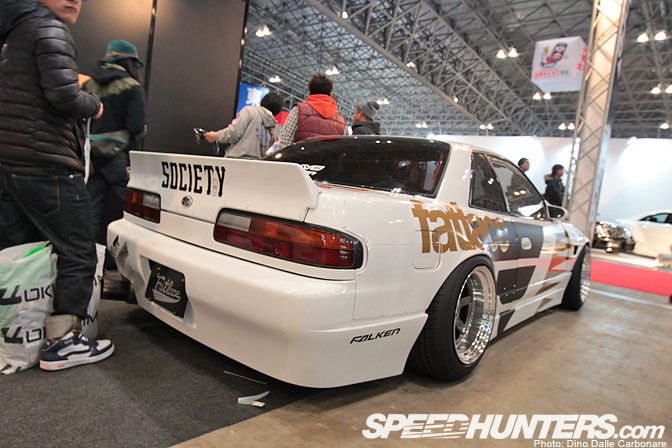 Mark from Fatlace had a steady flow of fans dropping by his booth. It's great to see the whole scene he has created be so well accepted here in Japan. I can't wait for the next Hellaflush Japan gathering myself, it was one of the biggest highlights of 2011.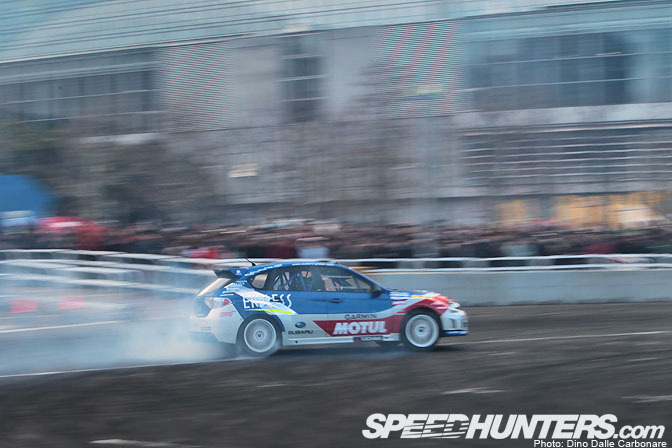 Outside the exhibition center the usual car park was taken over and turned into a small track where the D1 guys held their 2012 D1 Kick Off event, and where cool racing cars were let loose in front of the crowds. Here is rally driver Toshi Arai literally throwing this Gr.N Impreza around the tight corners of the makeshift track. Rally drivers are nothing short of driving Gods!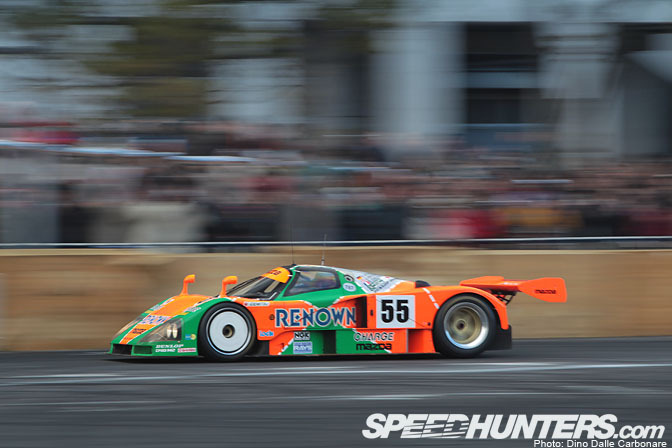 Finally, after so many years of seeing it in static displays, I got to hear the Mazda 787 in action. It might have never gotten out of first gear, but the fury of that 4-rotor was quite the aural delight.
That's it for this first look into this year's TAS. There is lots more coming and if you want to see a specific car in detail just let me know in the comments and I'll do my best to accommodate requests.
TAS 2012 features on Speedhunters
-Dino Dalle Carbonare