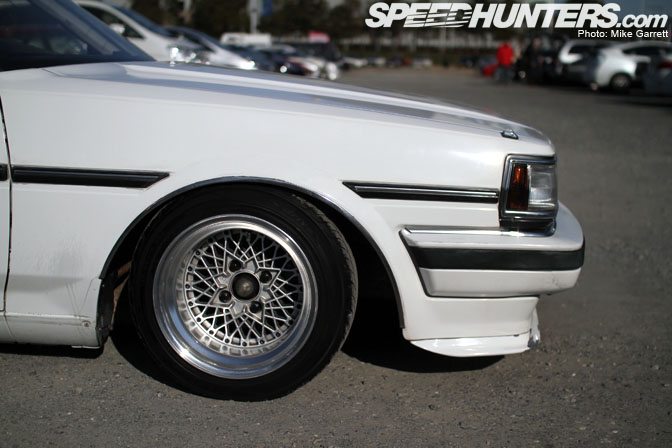 Whenever I can I like to stroll through the parking lot at events I attend. Whether it's a Hot Rod show, a race event or something else – there's always cool machines to be found outside in these parking areas. The lot at the JCCA New Year Meeting though, is on an entirely different level.
As I mentioned before, there are lots of people that head to this event every January without any intention of viewing the main show. Such is the power of the New Year Meeting parking lot.
Now then, let's begin our journey through these lots of glory.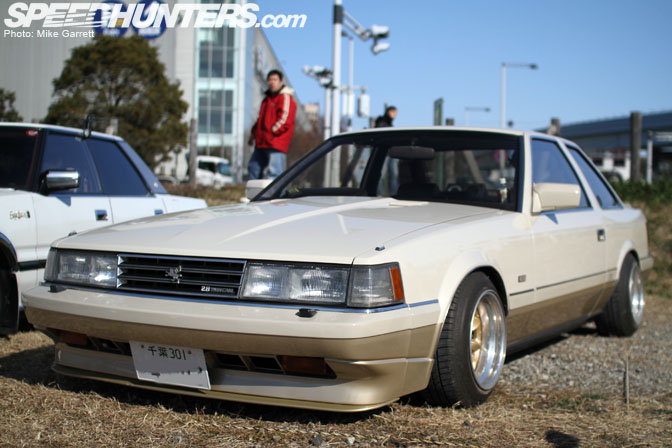 While both the main show and the parking lots are packed with bitchin' vintage cars, many of the ones you'll find in the lot are shall I say, more gritty.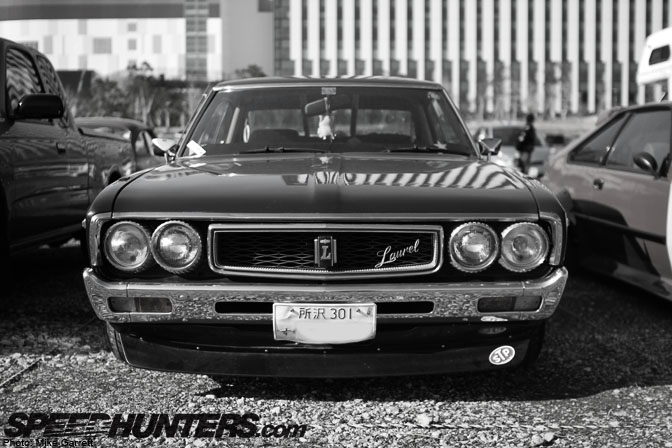 But it's these gritty street machines that make the New Year Meeting so special…and so uniquley Japanese. We are talking about the realm of the shakotan, the guranchan and the like.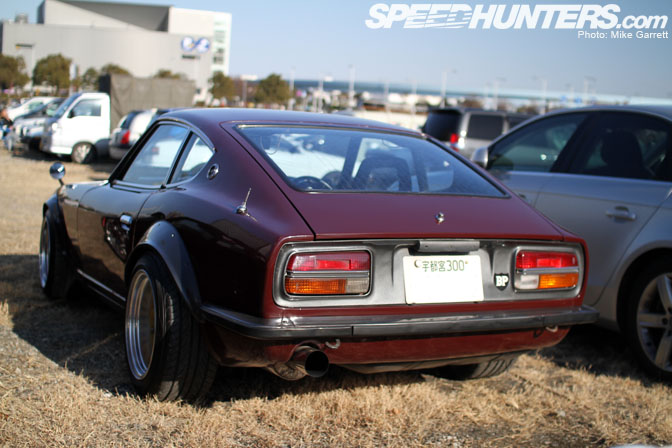 Of course that's not to say that all of the cars gathered in the parking lot are of the street outlaw variety. There are plenty of fully restored and rare classics that could easily be part of the main event – such as this immaculate Fairlady ZG.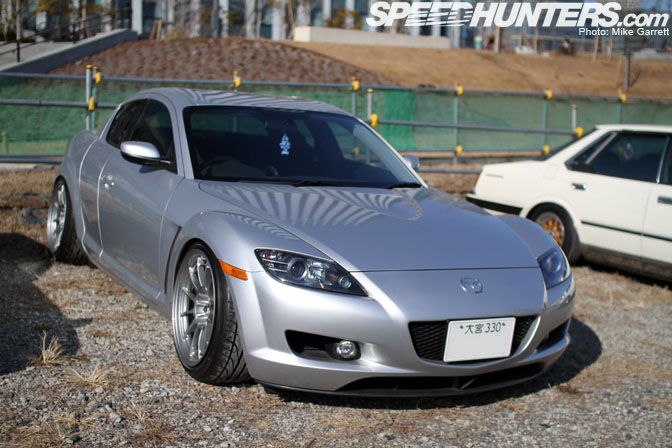 You'll also find some cool modern vehicles lurking around the lot, like this stock body RX-8 slammed on Enkei NT03s. I'm sensing some USDM inspiration here.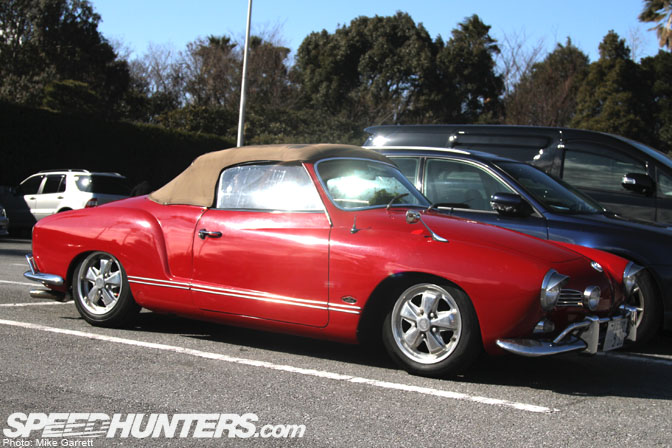 Here we have a choice looking Karmann Ghia ragtop that looks like it could be straight out of Southern California.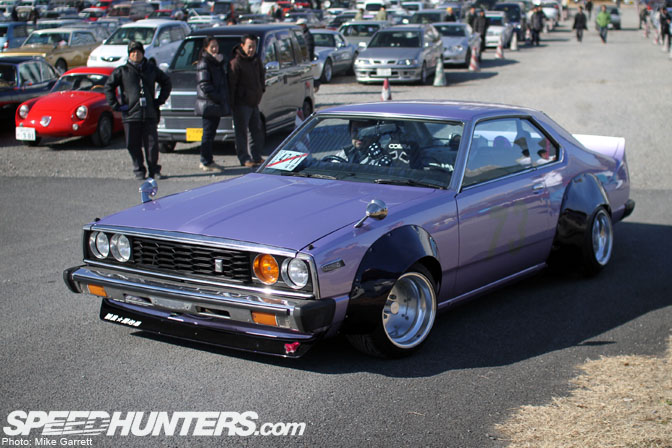 A C210 "Japan" Skyline rolling out on its mega-deep SSR Mk1s and matching overfenders. Nearly every car that pulled out of the lot serenaded the crowd with unmuffled exhaust music.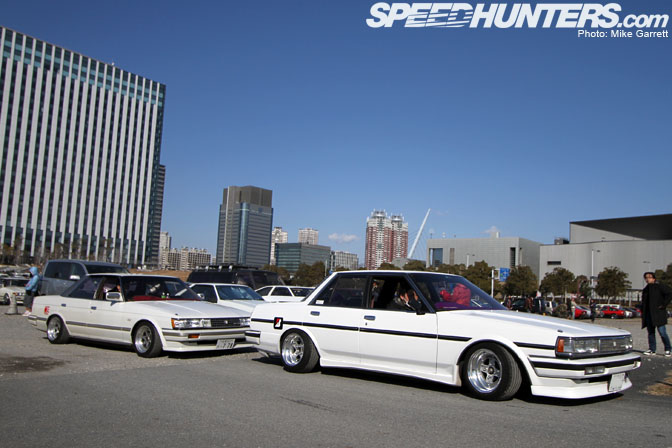 It was a bit surreal actually. The cars would be waved out of the lot by the old man directing traffic, all while revving endlessly and bottoming out on the driveway. Many of them also laid some serious rubber as they pulled out onto the street. This is the sort of organized chaos you'll only find in Japan.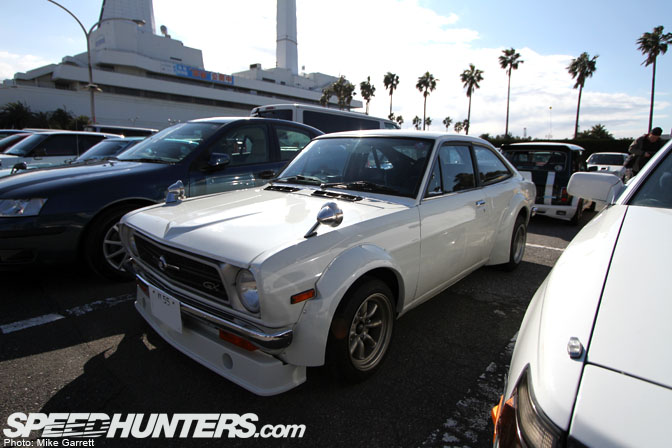 This works style B110 Sunny would be right at home battling it out at Fuji Speedway. So good.
You don't see a lot of 2+2 S30s around, especially ones this nice. Not bad at all.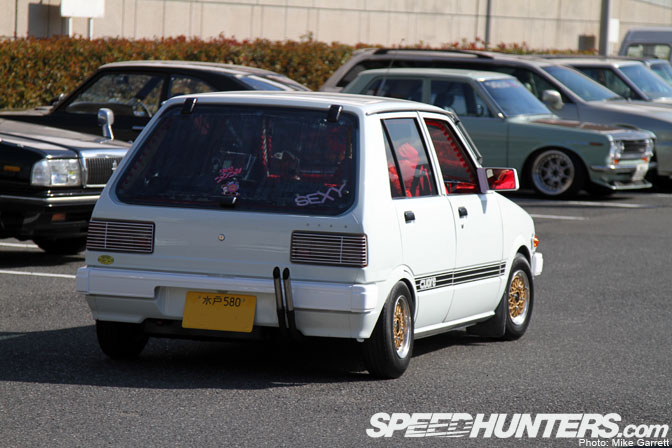 I was accompanied by my friend Chihiro as I made my way around the parking lot, and he provided some unique insight as we checked out the cars. He told me for example, that modifed kei cars like this Daihatsu Cuore were driven by so-called "bad girls" back in the day, while the guys would stick with their Mark IIs, Soarers, Skylines and such.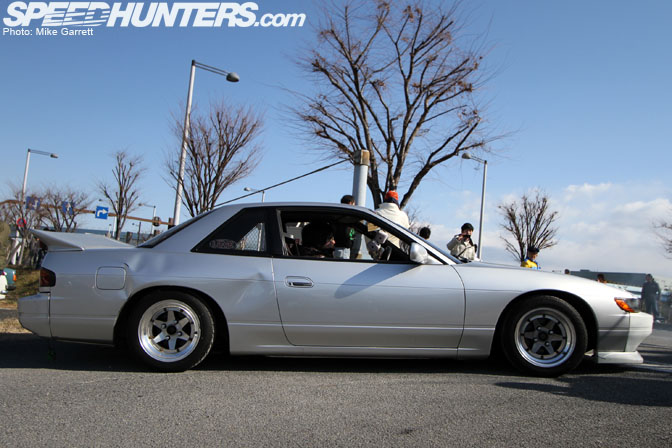 An S13 Siliva fits right in among its older cousins thanks to a shakotan stance and a set of 14" Longchamps. The old school trunk spoiler is also a nice touch.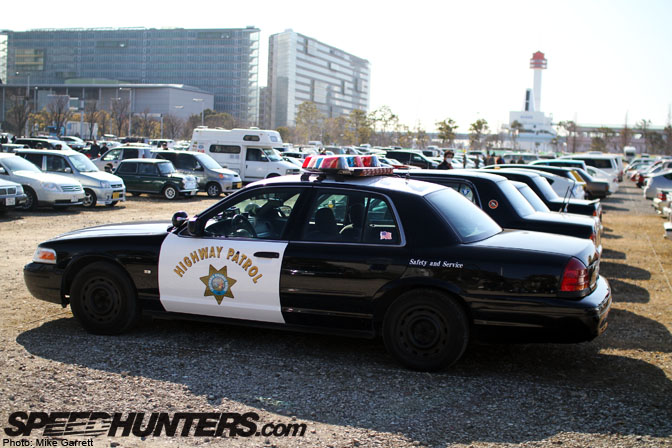 Yes, you are looking at frighteningly accurate replica of a California Highway Patrol Crown Vic. It seems strange at first, but think about it for a minute. It would be pretty cool to have a Japanese police cruiser in the US wouldn't it?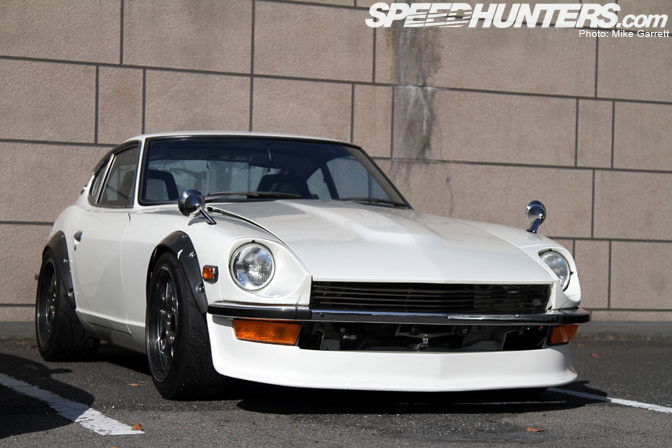 Nothing special, just another stunning S30Z.
This one was done in what you might call a "neo" style with five-lug BBS rims and big brakes all around. Perhaps it's packing a modern engine swap to match?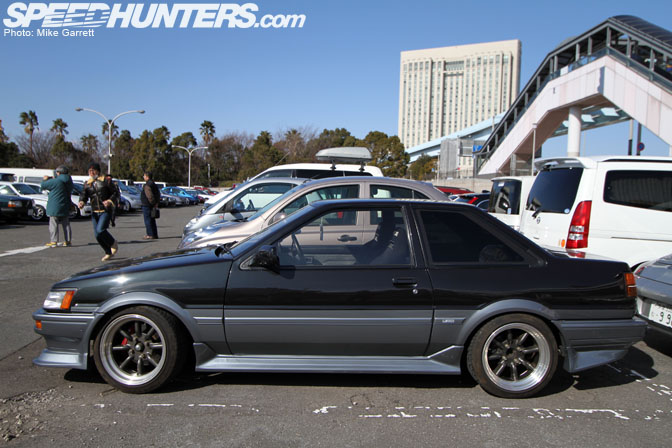 AE86s are just a little too new to be included in the official New Year Meeting, but the parking lot had plenty. Here's a two-door Levin pulling off 16" Watanabes.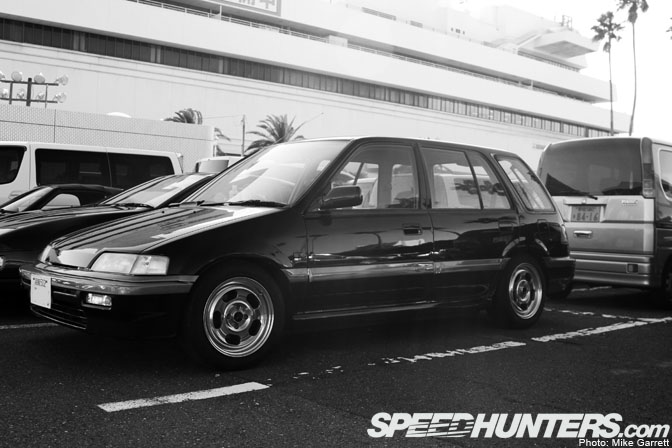 Civic Shuttles are awesome – particularly when they look like this one. Honda recently revived this concept for the Japanese market with the popular Fit Shuttle.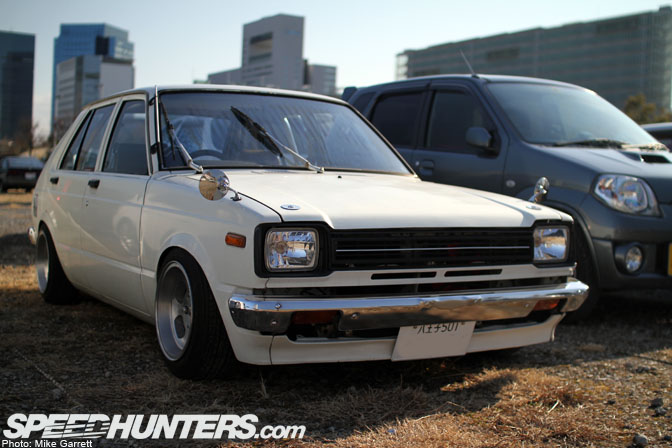 One of my favorites of the day was this five-door KP61 Starlet on wide slot mags. The chrome bumpers work so well here.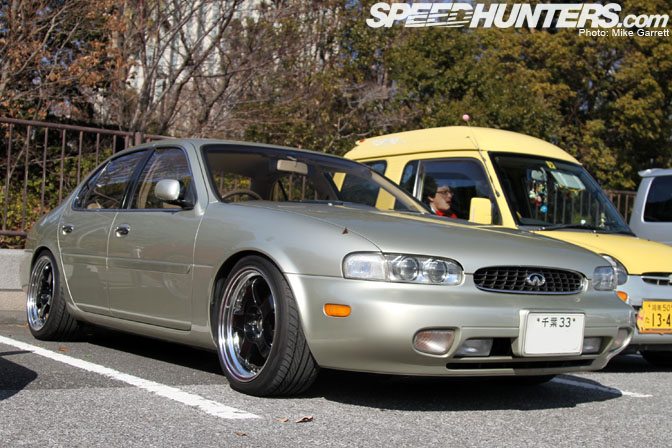 Another rarity was this JY32 Nissan Leopard rebadged as its USDM counterpart, the Infiniti J30.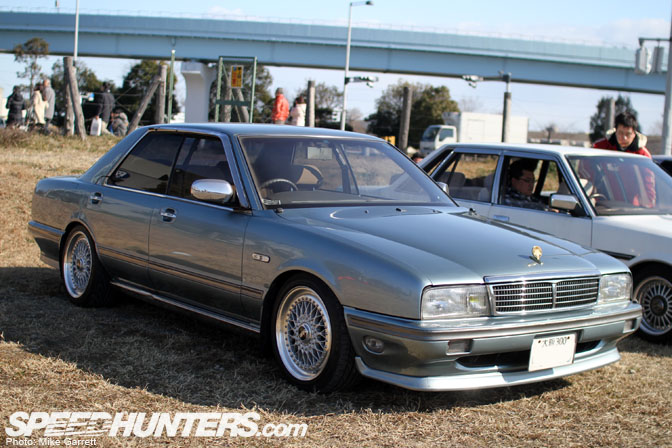 A period correct first generation Nissan Cima, one of the many "high society" domestic luxury cars in attendance.
Elsewhere, a VIP'd out Celsior was on hand to learn about its VIP roots.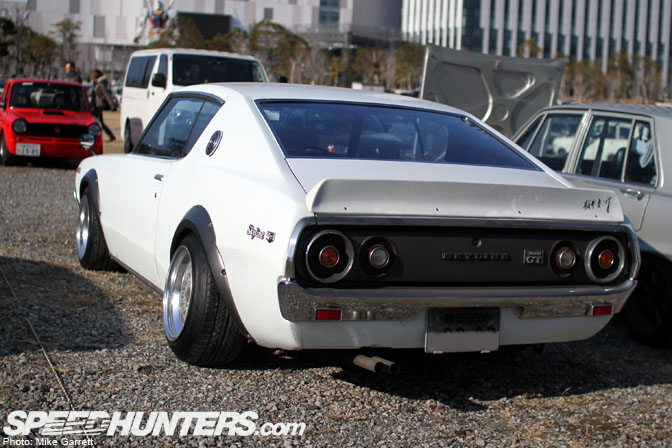 If after seeing this photo you don't lust for a Kenmeri Skyline, please consult your doctor for a head check.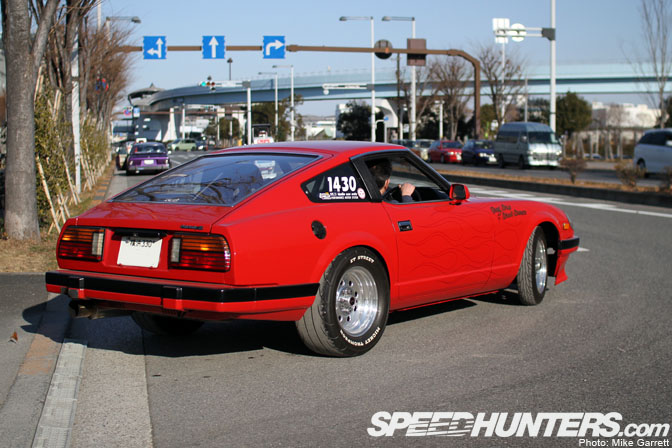 An S130 Fairlady clearly built for zero-yon thrills.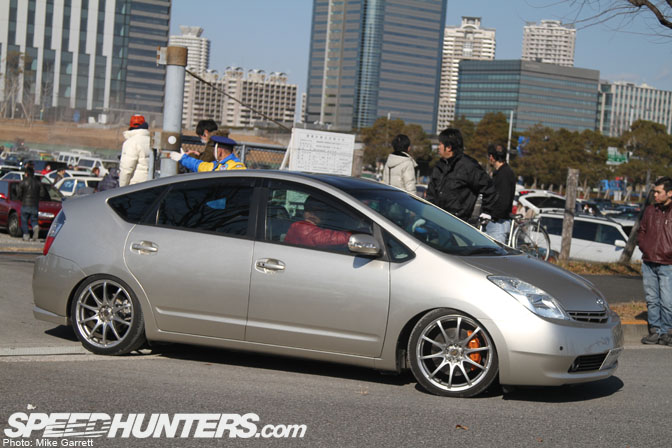 Is it sacrilegious to post a dropped Prius among this bunch? Haha.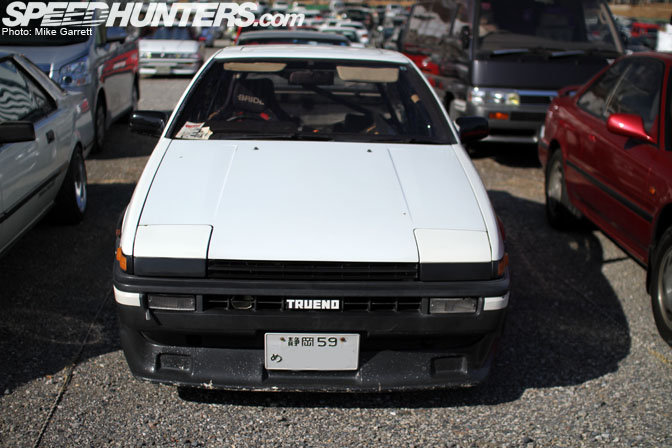 There's just something wonderful about a well-used 86 street car.
Tokyo OG style.
Here's another Skyline Japan with stock body lines and a healthy drop.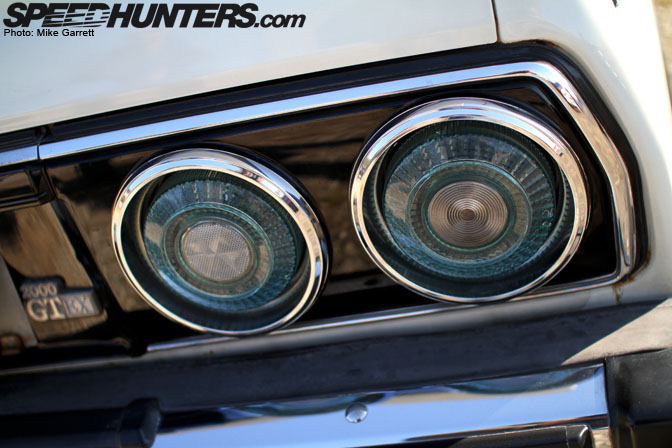 Chihiro tells me the clear taillight conversion on this car would earn you a lot of respect back in the old days.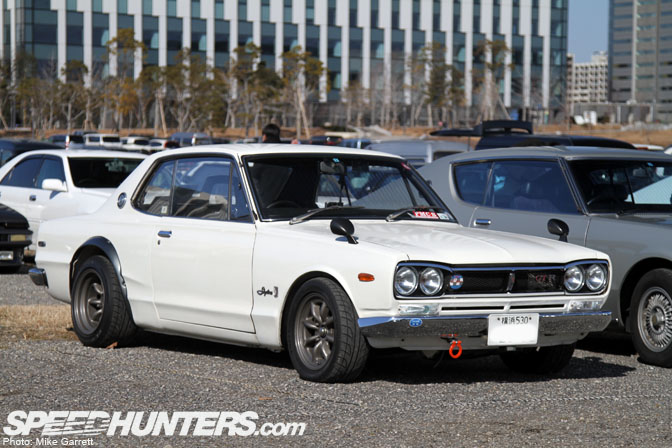 Hakosuka – pure and simple.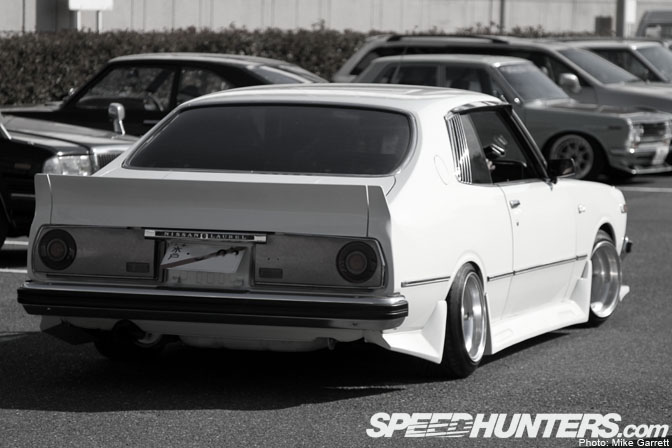 I'll go ahead and close out here, but there's plenty more on the way from both inside and outside the New Year Meeting.
Next up, a look through the swap meet.
-Mike Garrett
Inside the JCCA New Year Meeting