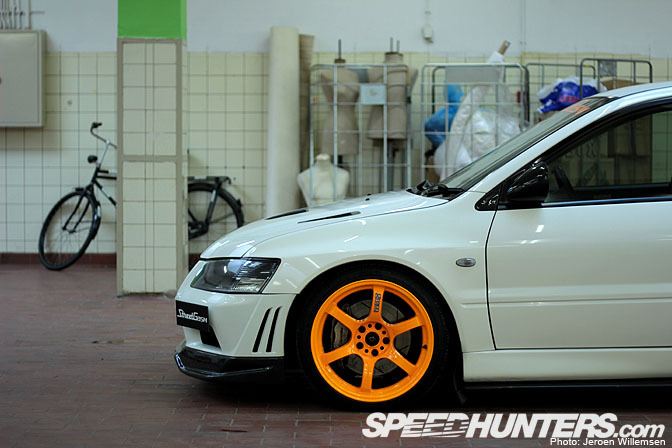 The EVO VII is a pretty rare sight on Dutch roads, so when I was given the chance to shoot this example I immediately said yes. The car belongs to Henry who imported the car from the UK. After he bought the car he didn't change much except for the eye catching orange Gram Lights 57D.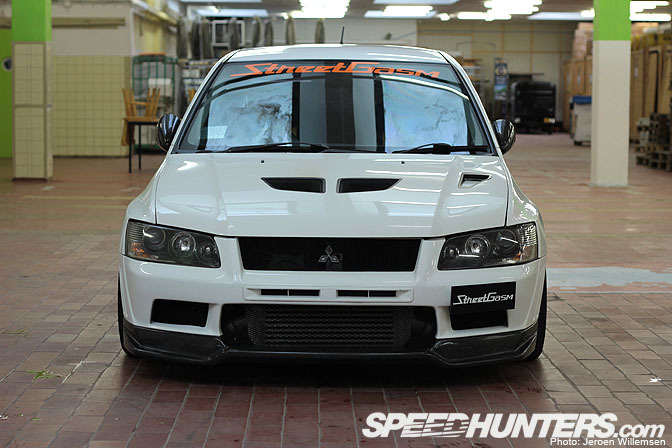 As the name suggests on the windshield Henry is part of the Streetgasm team. It is one of the more well-known teams in the Dutch tuning scene.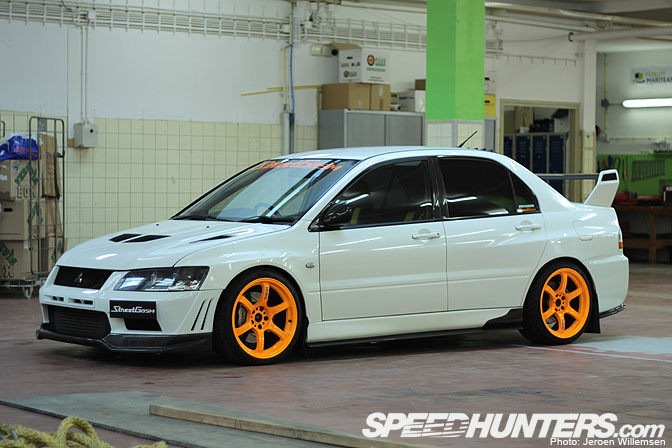 The car has a lot of carbon touches. It starts at the front with a chunky carbon front splitter. It also has a set of carbon sideskirts, carbon mirrors and carbon rear lip.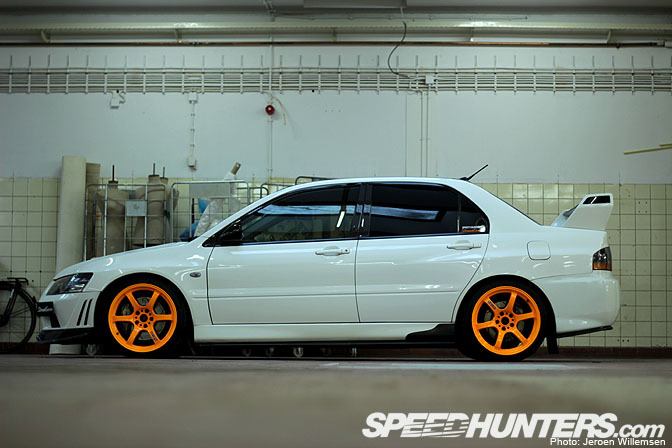 The standard suspension was replaced with BC Racing coilovers that, although being on the stiffer side of things, is still comfortable enough for Amsterdam's rough streets.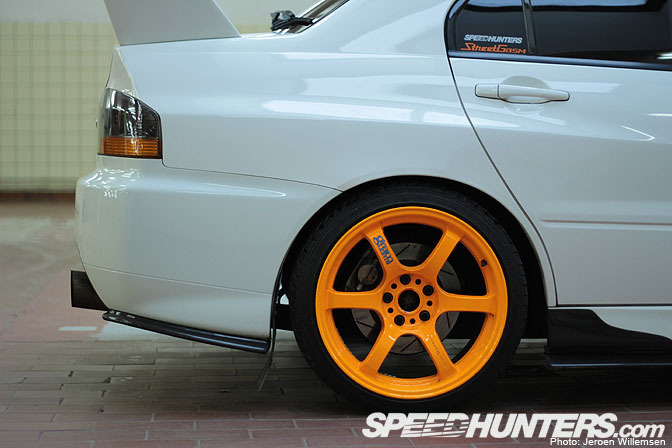 The aforementioned Gram Lights come in 18″x9.5j all round and are finished in a fluorescent orange. Henry told me he wasn't totally convinced that the color combo would work but once the wheels were mounted he was sold.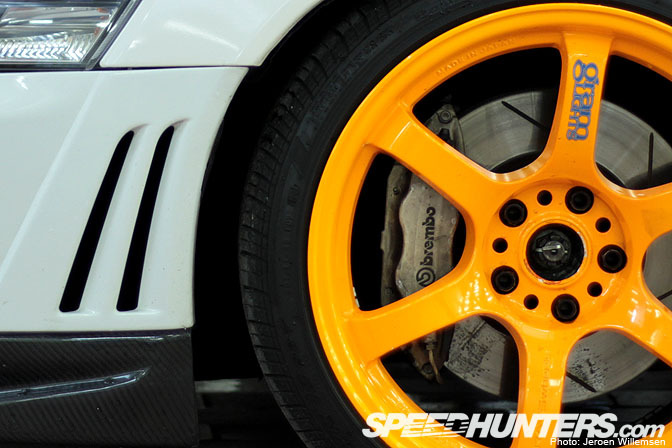 The original brake pads were replaced for Ferodo DS2500 items. HKS braided lines replace the factory brake hoses.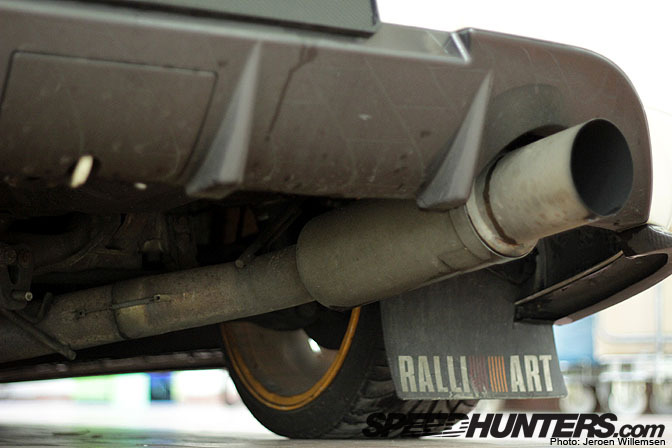 This Buddyclub system frees up any exhaust restrictions and adds a nice burble.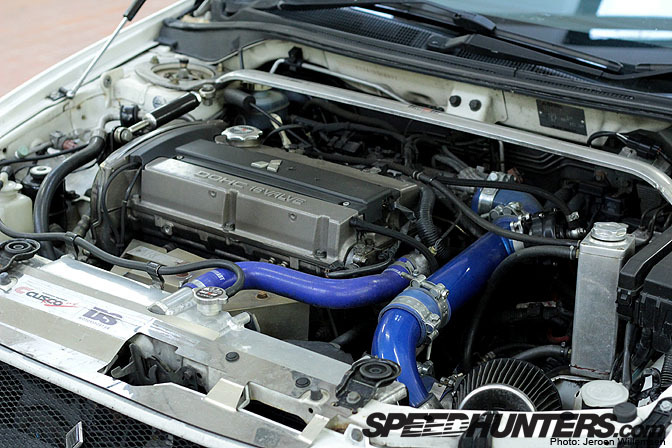 When you lift up the hood you are greeted by this 4G63 which features CSC camshafts, AEM sprockets, Blitz filter and FMIC with custom piping. Providing the boost is an EVO IX MR turbo, with 780cc injectors serving up the fuel. Last but not least is the aluminum KOYO radiator to keep the water temperatures in check.
After being fine-tuned on a rolling road dyno, the EVO now delivers 405bhp and 495Nm of torque.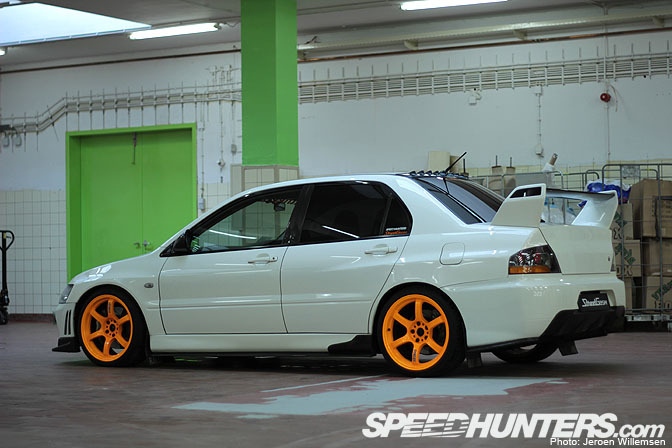 This has to be the best angle of the car showing off its spoiler with carbon inserts and blade.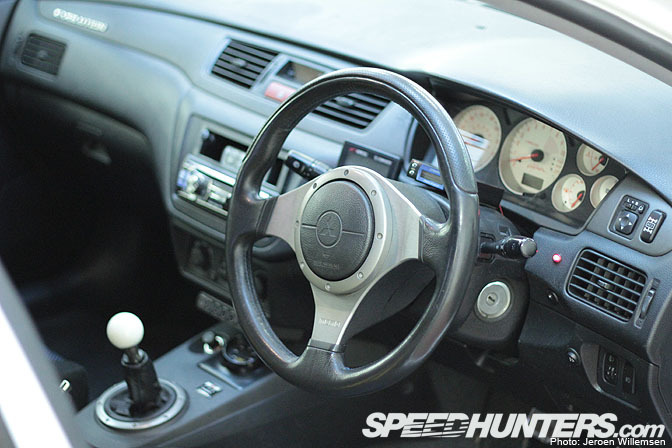 The interior still features all the creature comforts but Henry did place some extra meters to better monitor the engine.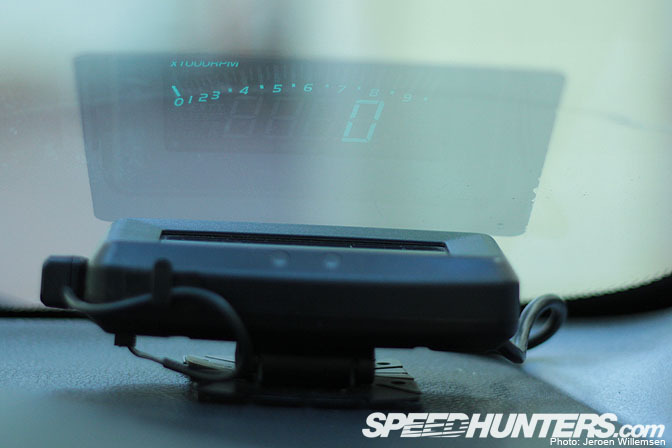 On the dash is a Defi HUD that can display various information.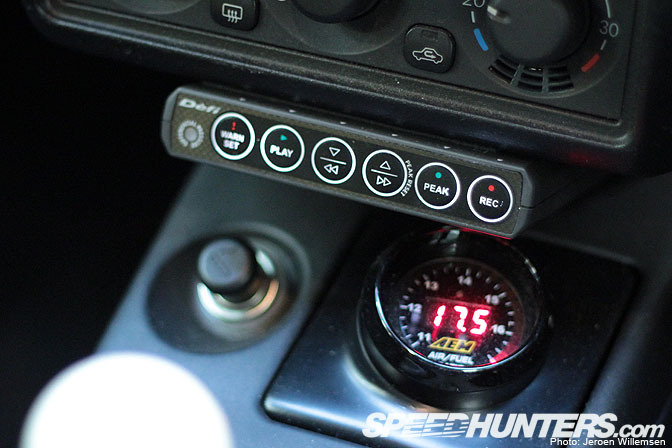 The HUD display is attached to this Defi link controller, which also controls the oil pressure, turbo pressure and water temperature meters through a daisy-chain system. To monitor the air/fuel ratio Henry opted to go with a AEM meter that is placed in a custom holder in the middle console.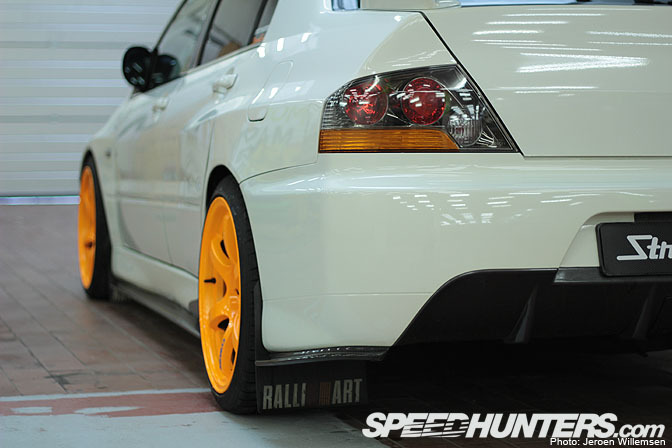 This is definitively not one of the wildest builds but it's certainly a nicely balanced daily driver that Henry uses on the track every now and then.
I'll be along shortly with features on the Streetgasm R34 GT-R and Focus RS.
-Jeroen Willemsen
More Evo features on Speedhunters