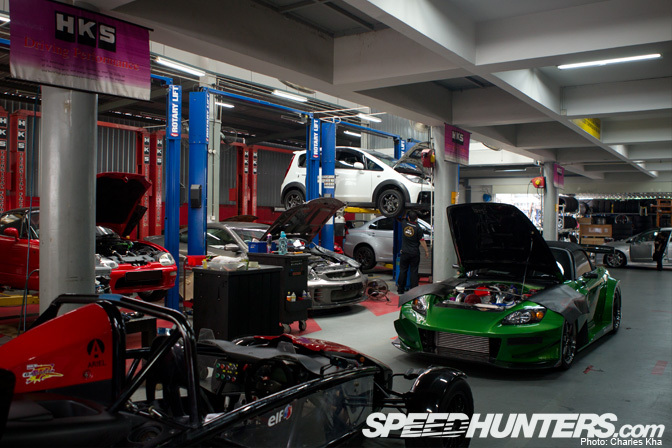 Corrupt CF cards. They're the bane of our lives here at Speedhunters. Unfortunately with the high volume of photos we take (over 10,000 a week), we tend to encounter this problem more often than most. The dreaded error happened to one of the cards I used during my Singapore trip, but thankfully I was able to recover them. It certainly would've been a damn shame not to share the jaw-dropping array of cars I witnessed at Singapore's HKS Garage R.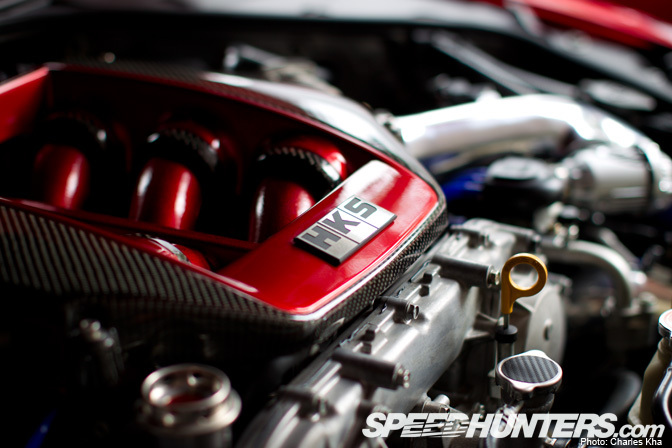 Singapore is a tiny island in South-East Asia with a disproportionate number of diehard car nuts. Despite draconian regulations and ridiculously expensive car ownership, the Singaporeans have a penchant for building tough street cars. At the forefront of Singapore's car scene is HKS Garage R, a tuning house that specialises in building street and race cars.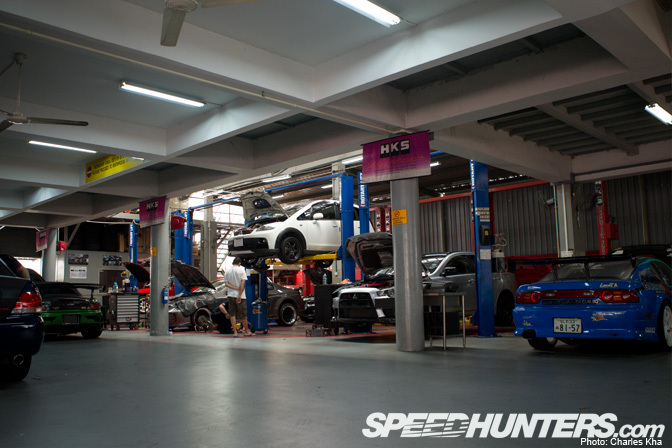 HKS Garage R is housed in a custom built, 25,000 sq ft facility. Not long ago I took you on a tour of their parts showroom, which looked more like a supermarket than a tuning shop. However what was really impressive was the shop floor where the mechanical work is done.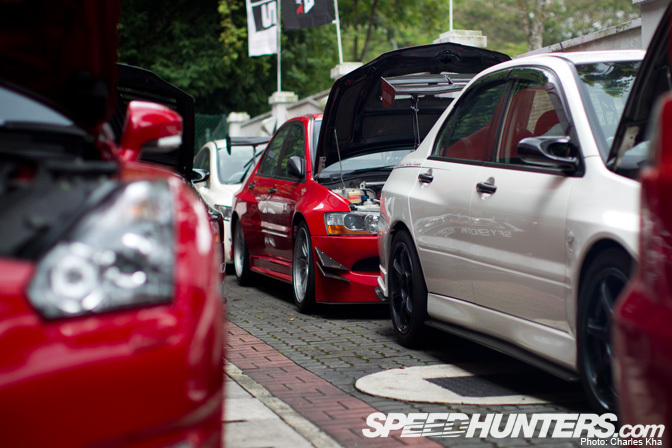 Now I've been to many garages around the world, but only a select few can compare to the magnitude of this Singapore-based HKS Technical Factory. Every inch of their facility was, quite literally, crammed full of Japanese performance cars. Let's take a look around shall we?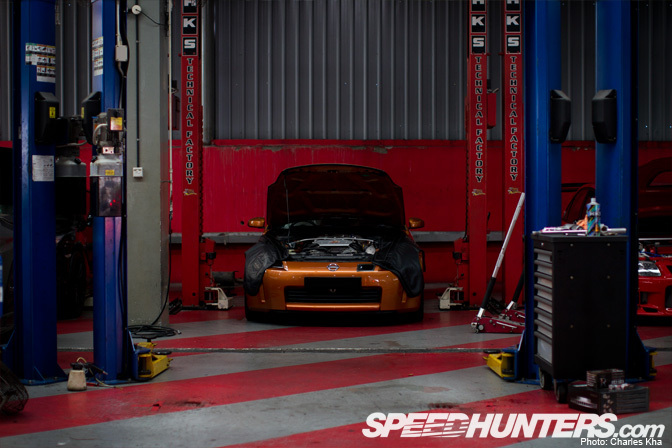 Garage R run their hoists in tandem allowing for eight individual stations. There's space for an additional dozen cars in front of the hoists.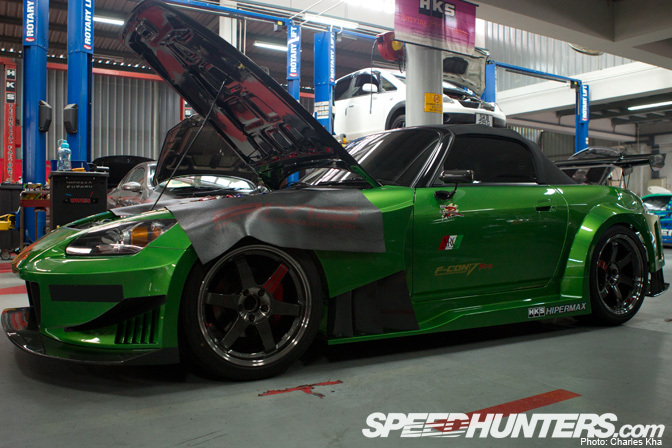 This S2000 is one of their customer cars.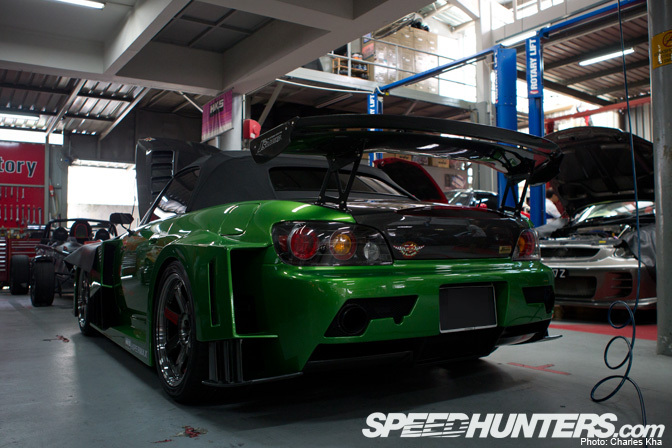 It was probably the most attention-grabbing car in the garage thanks to its colour choice and complete J's Racing Type-GT wide-body kit.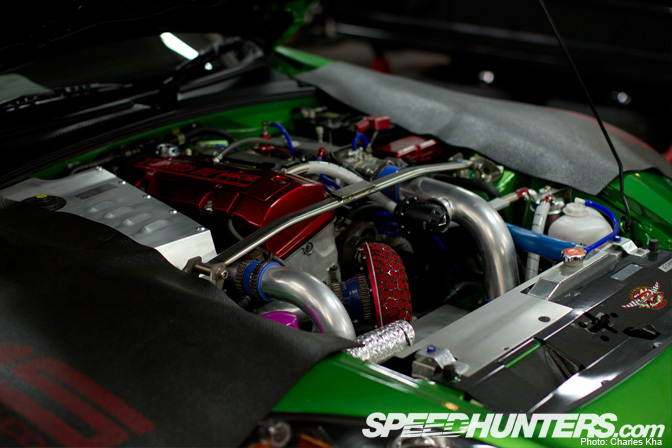 Under the hood, the F20C has been tweaked with a host of modifications including an HKS turbo setup.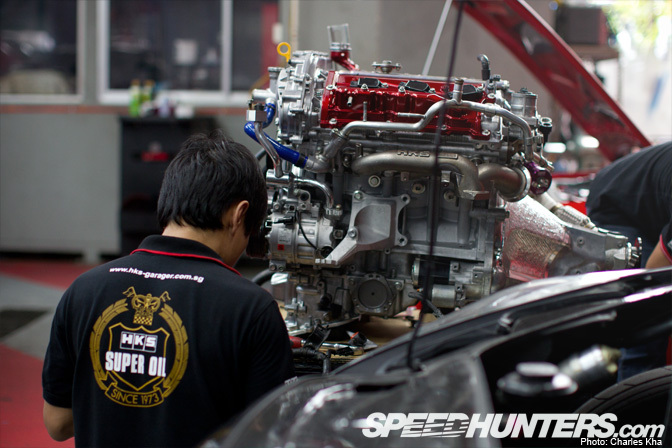 Nearby mechanics were working on a VR38DETT kitted out with HKS' finest bells and whistles. I spotted over ten R35 GT-Rs at Garage R, all built to different spec levels.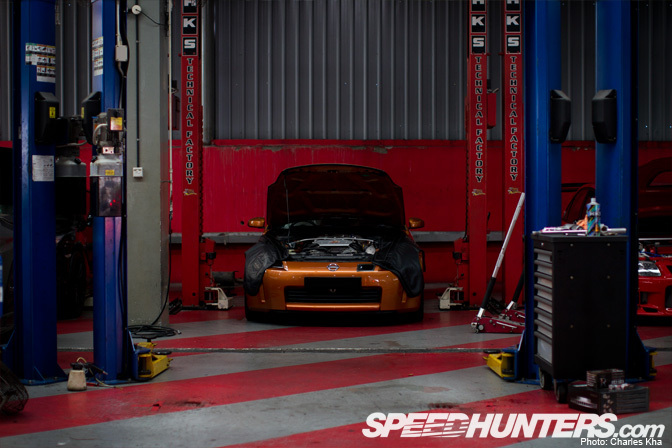 In amongst their customers' cars were some of Garage R's own vehicles.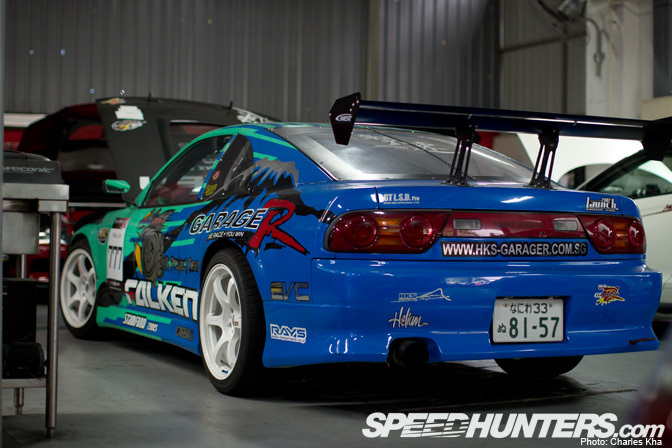 This is their drift car which they've been campaigning for a few years.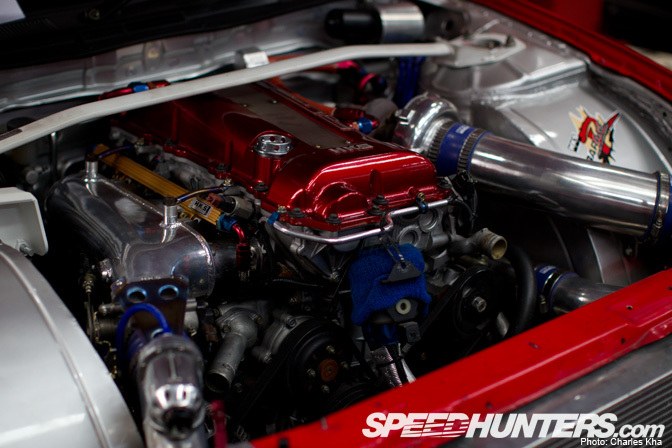 In the back corner was their red S15, which is used in time attack. The chassis has been seam welded and front half-tubs have been fitted.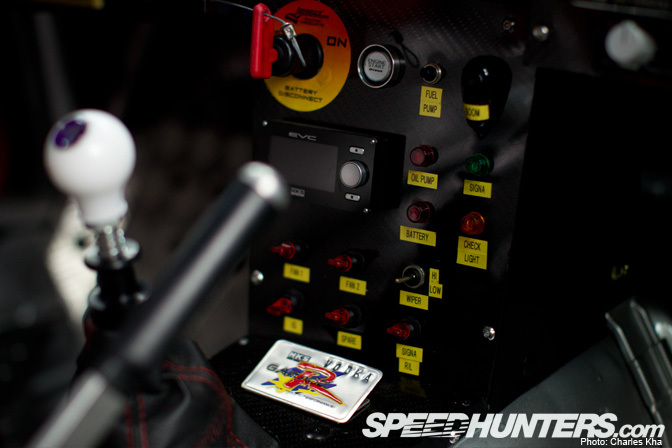 It was certainly an impressive ground-up build.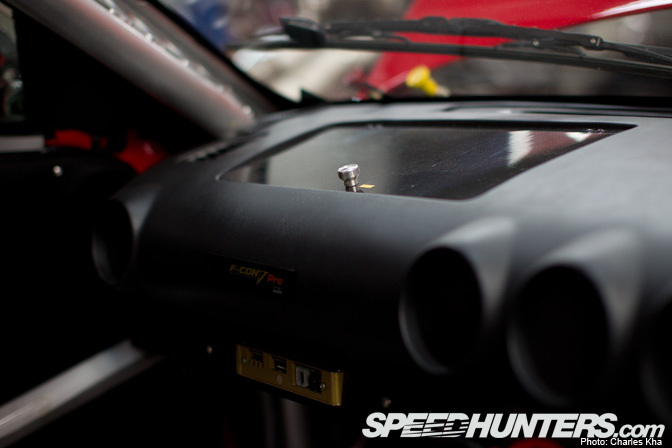 Although this is a dedicated race car, there were some neat little touches. The passenger SRS airbag is replaced with a carbon lid. Turn the knob…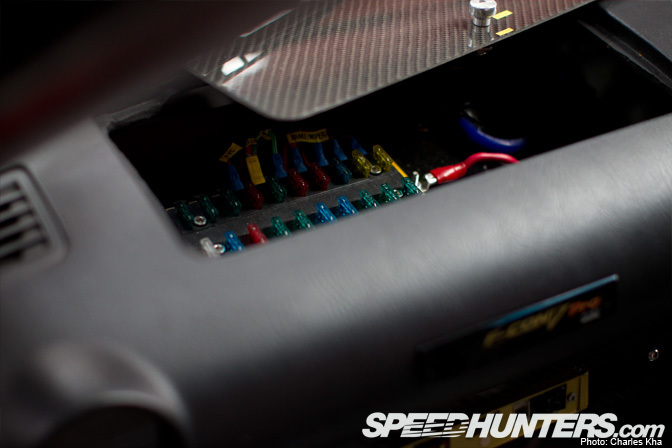 …And it unlatches, revealing the relocated fuse box. The F-Con V Pro and other electronics are mounted below, where the glovebox used to be.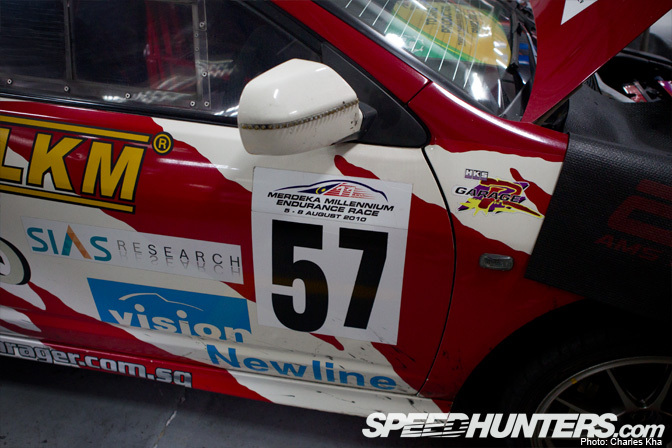 HKS Garage R regularly make the short trip to neighbouring Malaysia, where they embark on endurance racing at Sepang.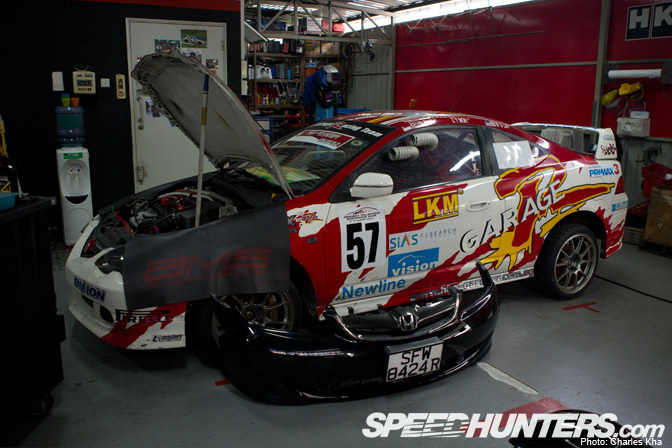 One of the vehicles they race is this DC5 Type R. It produces 265ps and weighs 1020kg.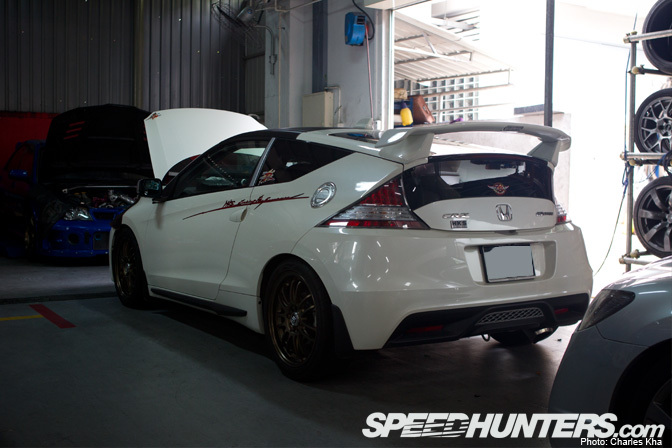 Looking like it had been plucked from an aisle in Tokyo Auto Salon was this customer CR-Z.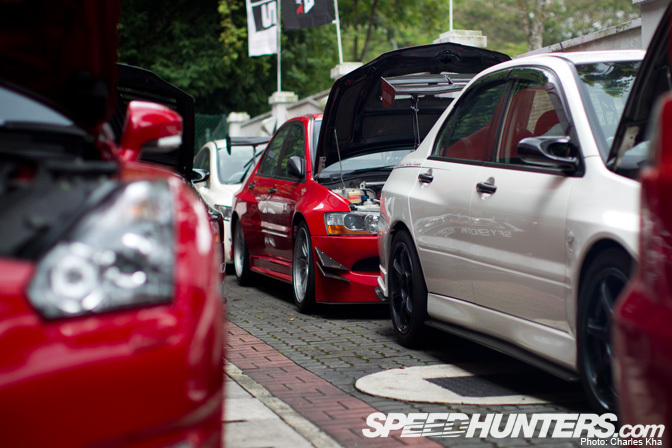 Apparently this is Singapore's first supercharged CR-Z and is fitted with the HKS GT kit and F-CON iS.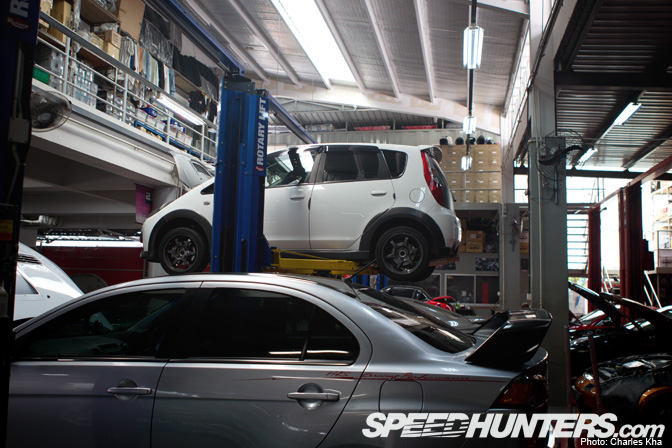 On the hoists I spotted a couple of small cars like this Colt Ralliart Version-R…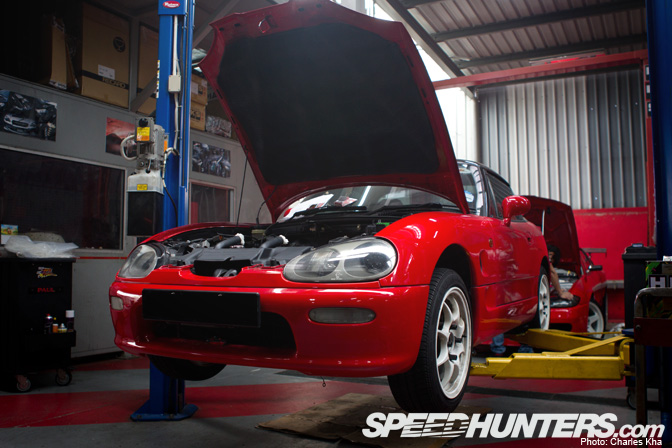 …And an old Kei favourite, the Suzuki Cappuccino.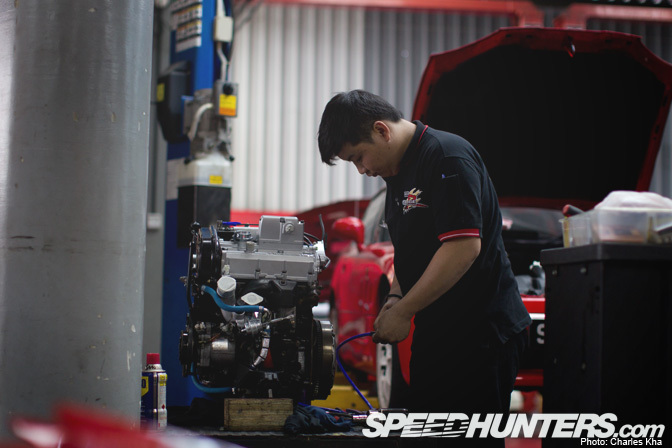 The little Cap' was about to have its tiny 3 cylinder motor put back in.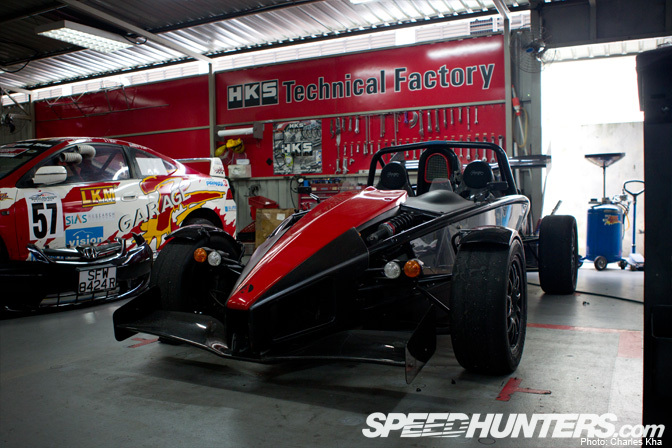 Off to one side was an Ariel Atom. Its tyres were evidence of a hard, punishing life.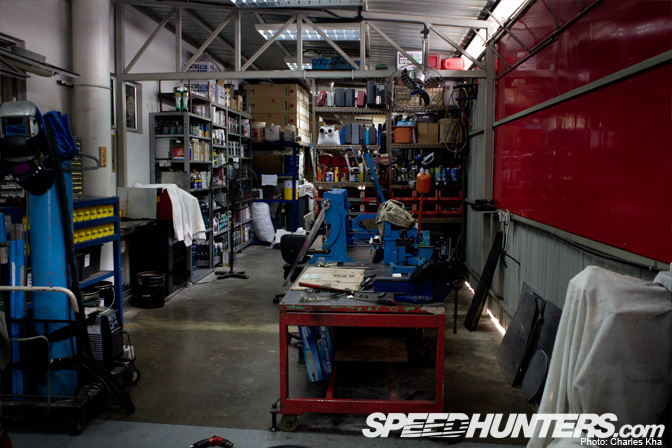 Although Garage R have an enormous parts showroom, they also fabricate many components in-house. Engine assembly is done on the second floor in a temperature-controlled room.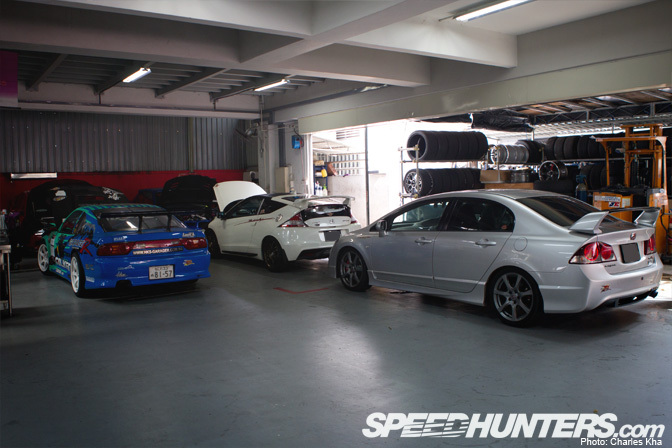 There were over 20 cars being worked on inside the garage, but there were even more in the outdoor parking area.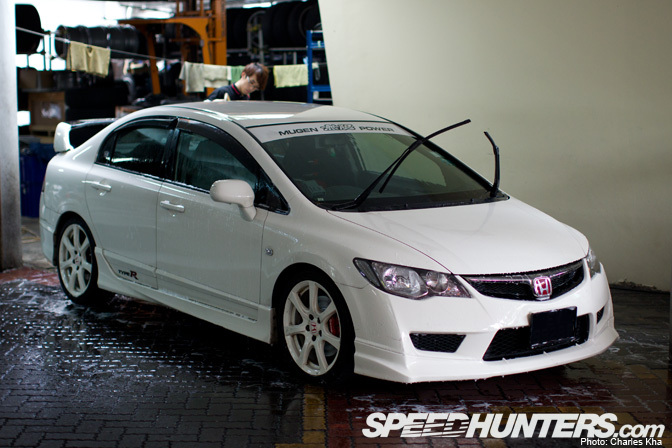 As I stepped out into the stifling humidity I spotted an FD2 CTR getting a wash before being returned to a customer.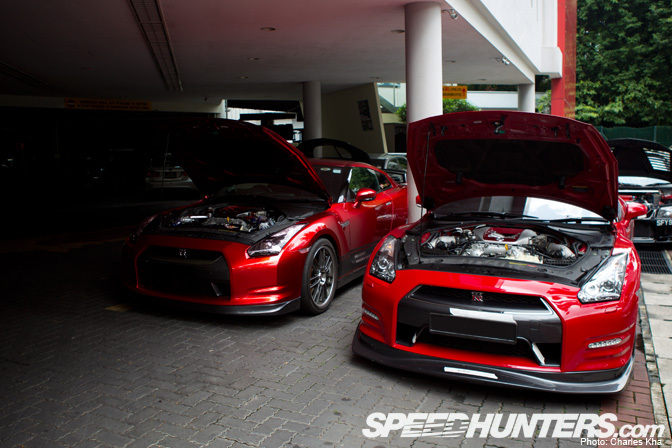 I really did lose count of how many R35s and EVOs were in the compound. At the front of the driveway they had a 2012-spec GT-R rubbing shoulders with their candy red demo car.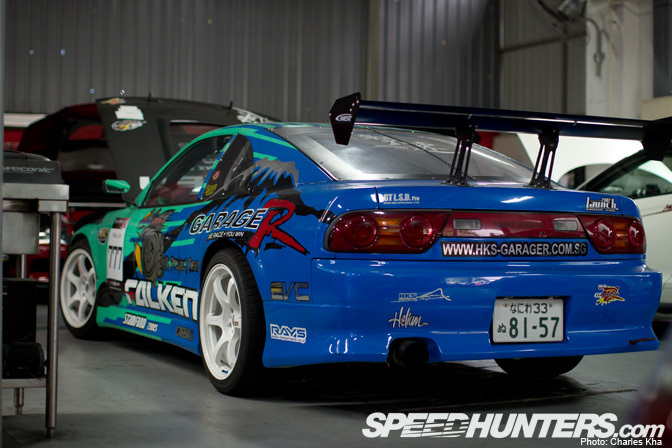 The candy red R35 pretty much features the entire HKS catalogue, including the GT800 setup. I wonder if the Garage R guys will be thinking of fitting the new GT1000 kit…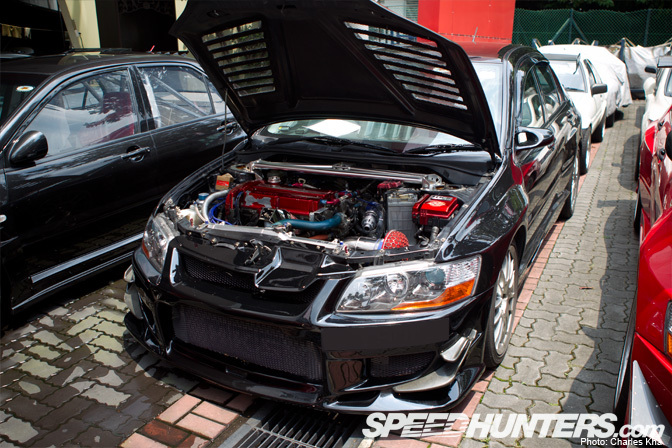 EVOs were ubiquitous, ranging from VIIs to Xs.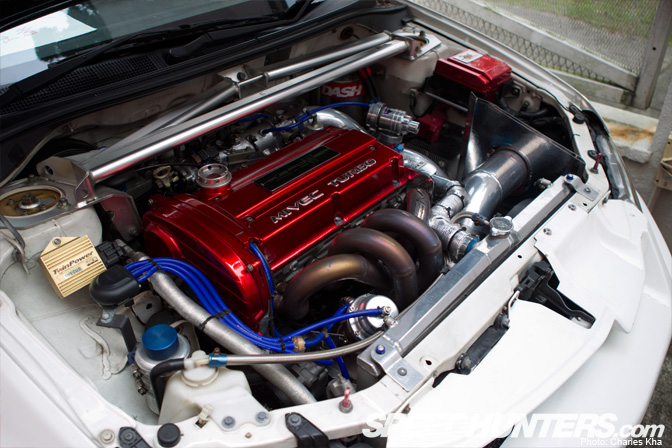 Nearly all of them had serious engine work…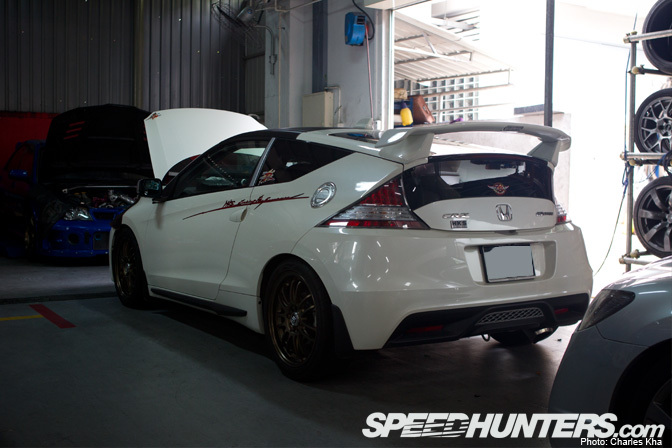 …With comprehensive modifications done to the other departments too.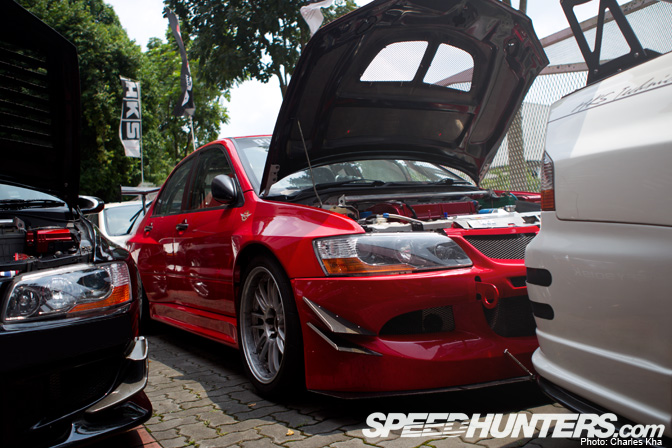 Many of the EVOs had been coverted to wide-body to allow for a wider track, such as this APR-kitted example.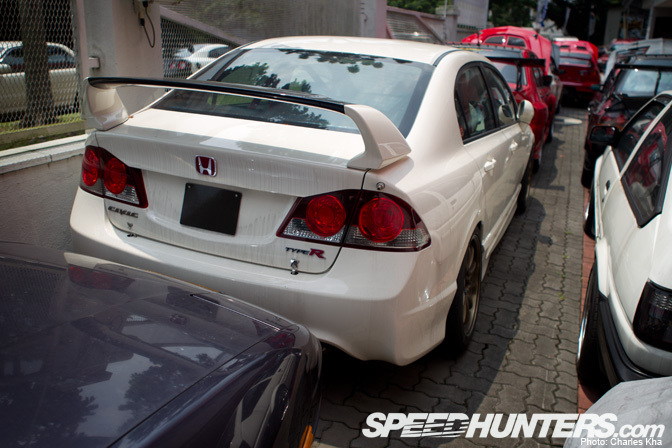 Tucked away behind the rows of EVOs was another Civic Type R…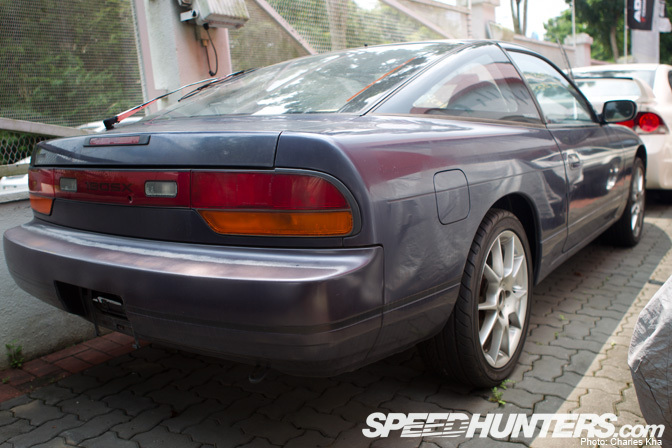 …Along with some soon to be classics. If you've ever been to Singapore, you would have noticed that most cars on the road are late-model examples. This is because of the COE system which makes older cars very expensive to own. Vehicles like this 180SX…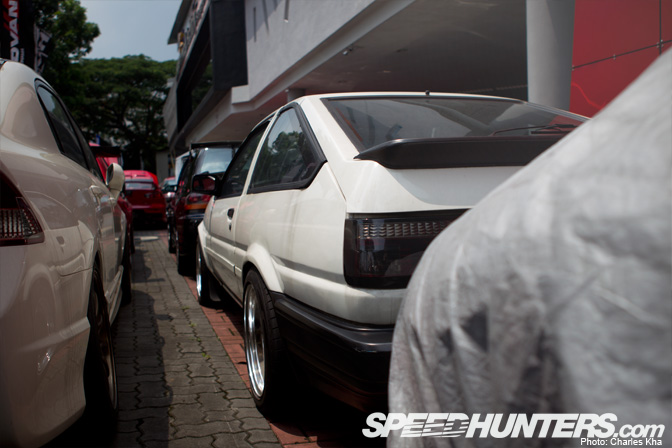 …And this AE86 are often three times more expensive to own than in other countries.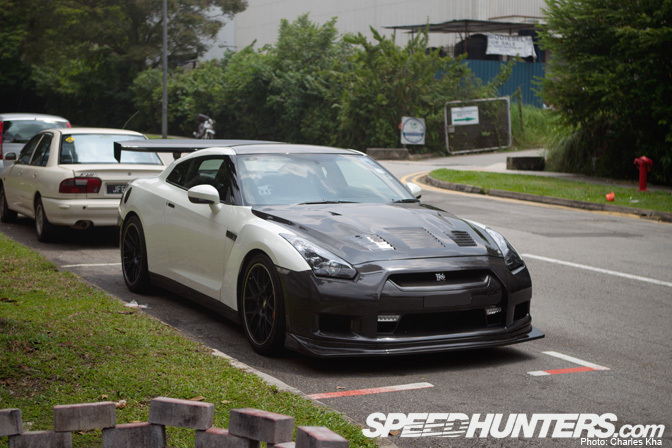 Their customer cars spilled out onto the street too. Here's a white R35 which had carbon bumpers, hood and trunk-lid…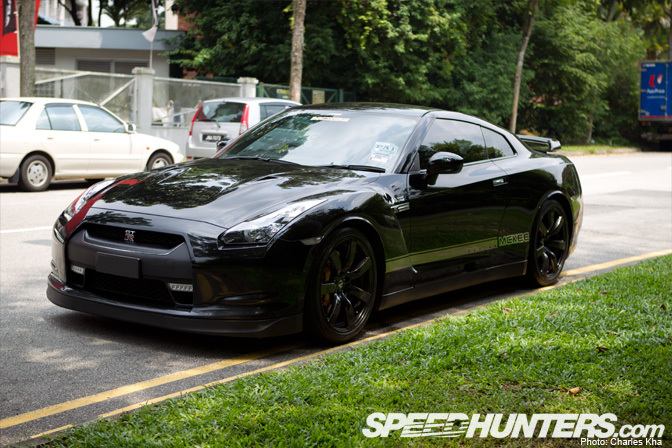 …Along with a black counterpart.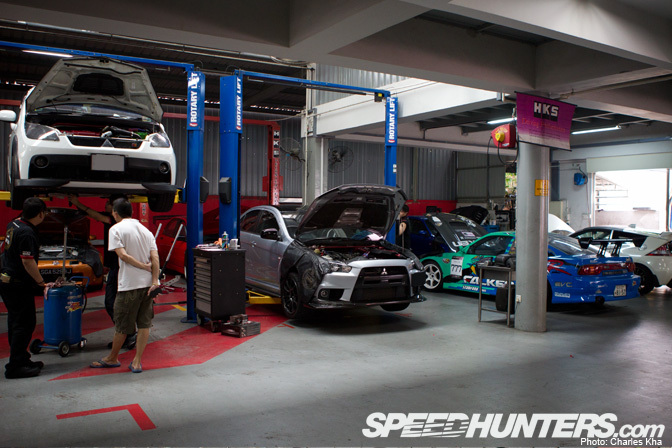 Factoring in Singapore's COE, I wouldn't be at all surprised if the cars I saw that day had a collective value well into the millions.
I can't wait to head back to South East Asia to dig deeper into the car scene. If this is what's at the surface, then I think we'd be in for a treat. 
- Charles Kha