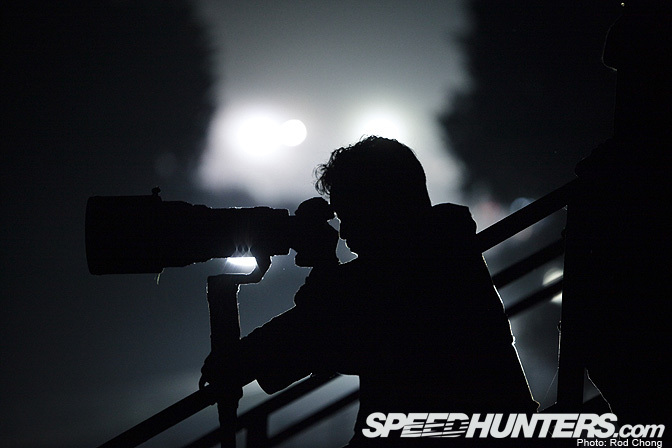 Larry Chen, Spa 24Hs, Spa-Francorchamps, Belgium 
Unless your name is Dino Dalle Carbonare and you're faced with a fully packed Japanese event schedule, the majority of the Speedhunters crew are slowing the pace down slightly and are getting ready to present our photographic year in review. So without further ado, here is my first selection of what I consider to be my best photos of the year.
The above image is a nice showcase of Larry Chen, as he shoots through the night qualifying session at the Spa 24 hours. With so little light available, I'm amazed the photograph came out as well as it did!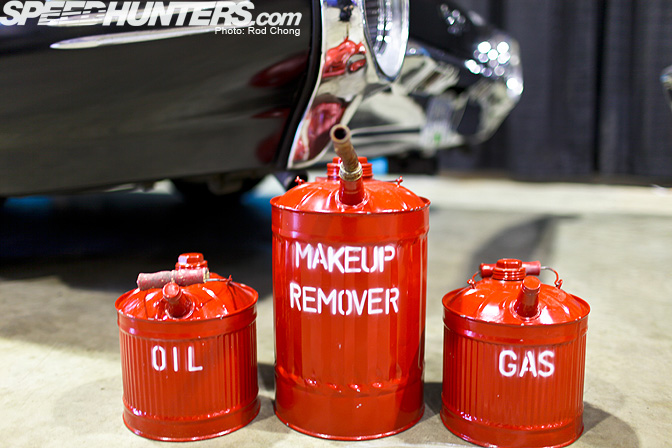 World of Wheels Show, Abbotsford, British Columbia, Canada
The Vancouver based, all girl car club, the Fender Skirts had this cool display beside their cars at the World of Wheels show this past Feb. Pretty funny.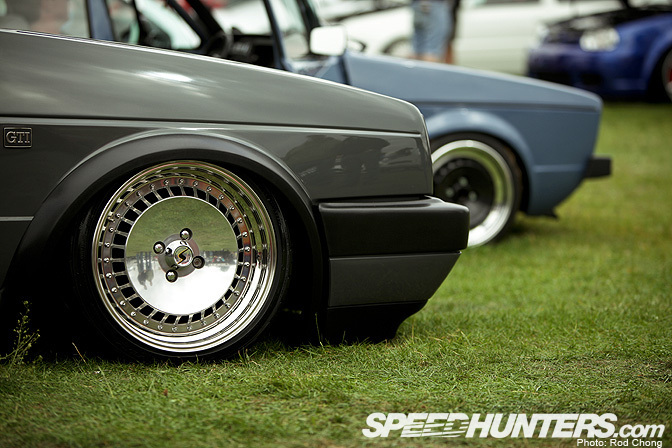 VW Golf GTI, Edition 38, Overstone Park, UK
Low and more low.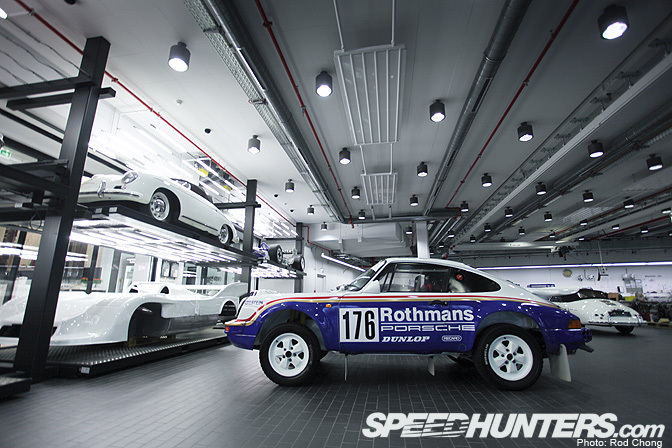 Porsche 911, Porsche Museum Workshop, Stuttgart, Germany 
Although it may look like I sucked all the colour out of this image, save for the blue-red on the 911 rally car. In fact, I have done no such thing. The shot looked more or less like this in-camera. You may also notice that I am trying a new lens out to shoot this photograph. The image utilizes an ultra wide angle lens, which is something I haven't really shot with for my short photography career.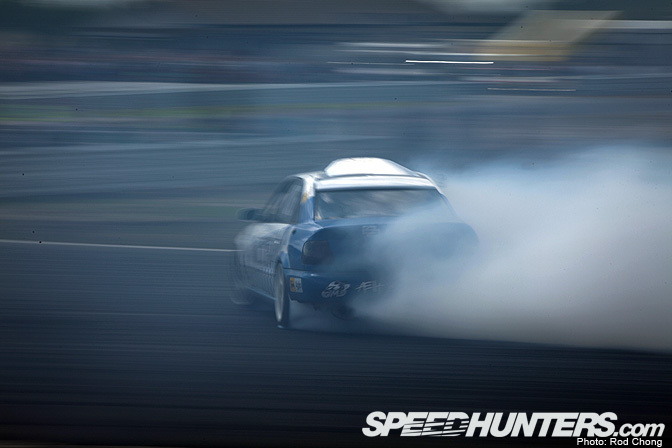 Audi A4, Gatebil Festival, Rudskogen Motorsenter, Norway
I just had to include one AWD drift car in this photo collection. Seeing these 1000 horsepower Audis rip up the Rudskogen tarmac is an image that will be burnt into my mind's eye for a very long time indeed,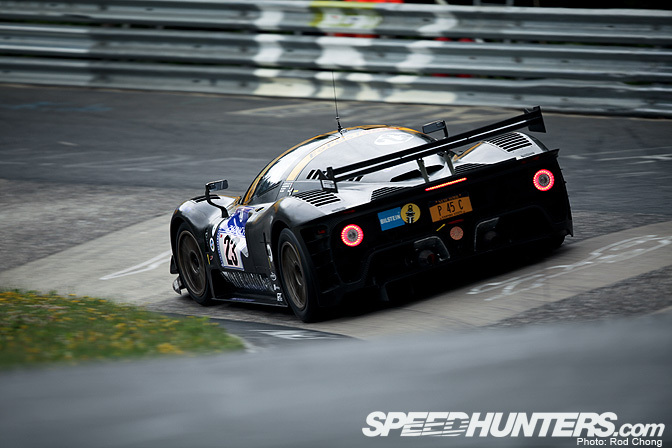 P4/5 Competizione, Nurburgring 24HR, Nurburgring Nordschliefe, Germany
If there was any one photography session which has generated a huge number of useable photos, it would have to be the one hour I spent on the outside perimeter of the Karussell, during one of the Nurburgring 24HR qualifying sessions. Again it's an automotive experience that will never be forgotten.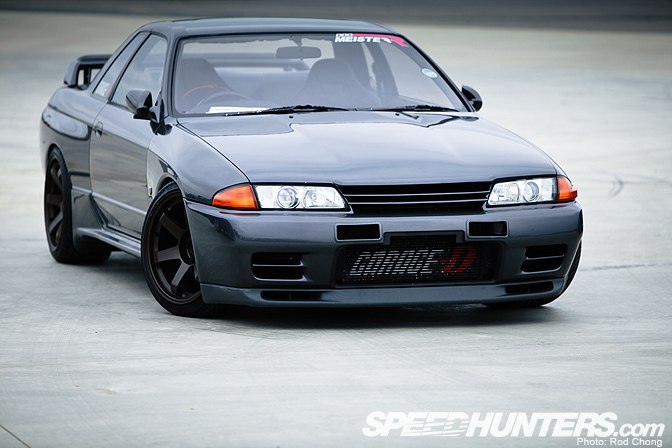 Nissan Skyline GT-R, GTROC Meet, Silverstone Circuit, UK
This past summer, Jonathan Moore and I gatecrashed a UK GT-R Owners Club meeting, at the Stowe Apron building during the GT1-GT3 race weekend at Silverstone. We even managed to get politely removed from the building too! Here is one of the member's cars.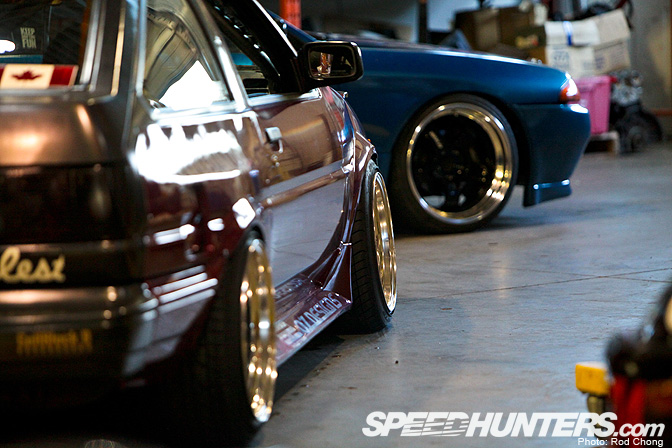 Toyota Corolla & Nissan Skyline, ForceFed Performance, Abbotsford, British Columbia, Canada
This shoot was the last photography session I conducted in Canada, before moving house to Stockholm. It feels like a long time ago now.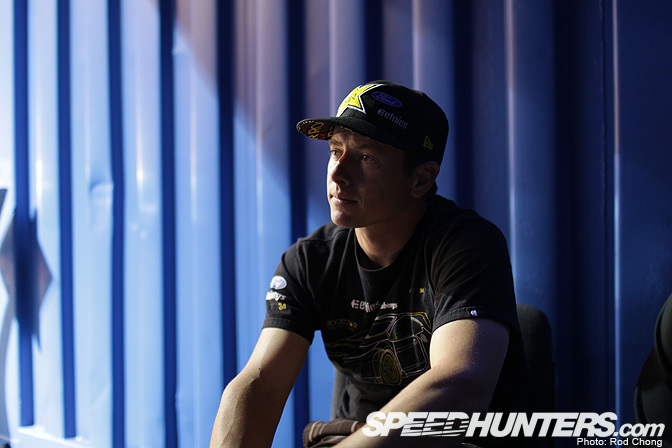 Tanner Foust, SEMA Show, Las Vegas, Nevada, USA
People must find it disconcerting when I pull out my camera in the middle of business meetings and start snapping away. Tanner Foust didn't seem to mind though.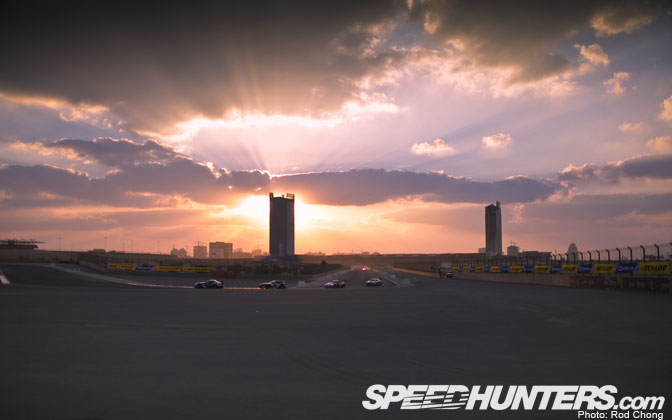 Practice Session at Sunset, Dubai 24H, Dubai Autodrome, UAE
This was one of those amazing photographic moments where all you need to do is set exposure and press the shutter.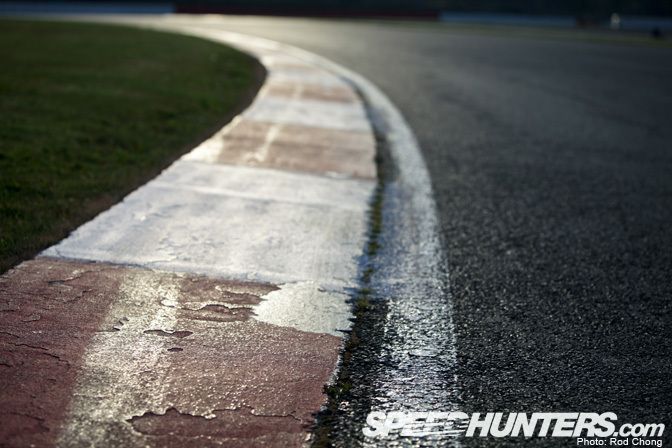 Vale Corner, Silverstone Circuit, UK
I took this photo during Paddy McGrath's photoshoot of the Team NFS Schubert BMW Z4 at Silverstone. He shot the car, I shot a… err… curb….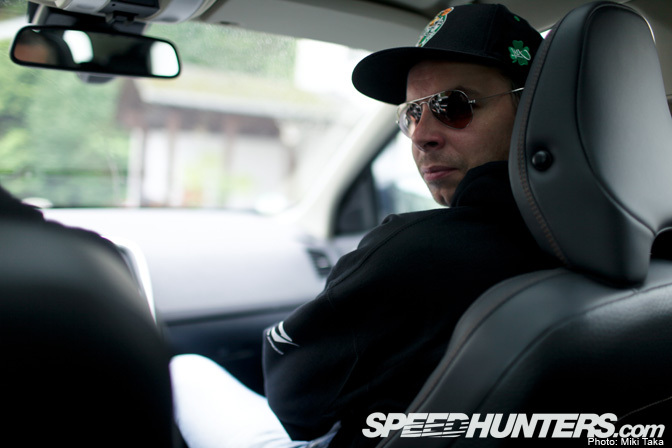 Jeroen Willemsen, Nurburgring, Germany
I quite like taking a documentary approach to our Speedhunting trips. You never know when you'll be able to capture a little moment in time, which results in a nice portrait shot. In this case I surprised fellow Speedhunter Jeroen with my camera, which resulted in a spontaneous image. It's quite different to a posed shot.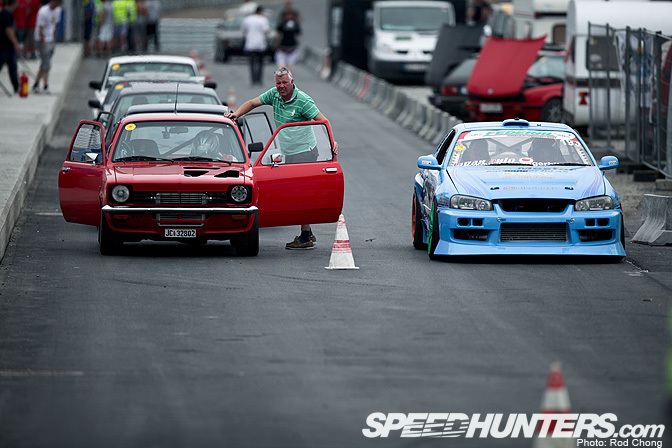 Pitlane, Gatebill Festival, Rudskogen Motorsenter, Norway
It's part of a photographer's job to see, see and see. All the time when you are at tracks, your eyes are moving around, looking for angles, setups and moments. And then boom… something happens and "click" you grab it. You could say this kind of documentary approach is my thesis for photography.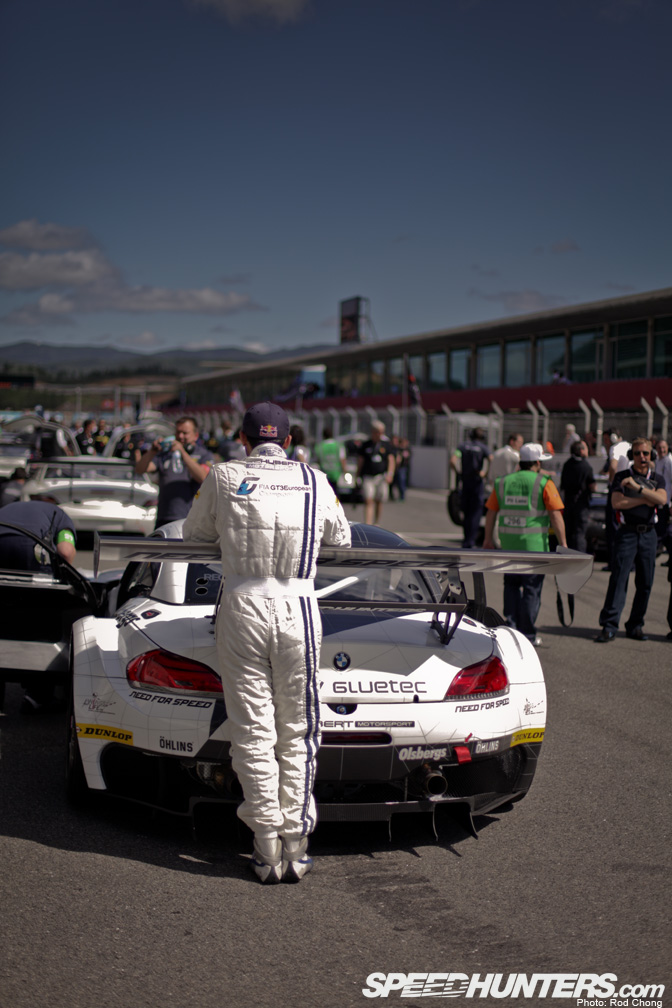 Abdulaziz Al Faisal, BMW Z4 GT3, FIA GT3 European Championship, Autódromo Internacional do Algarve, Portugal
I just like to observe and rarely impose. Here I caught Aziz pondering the upcoming race start in Portugal.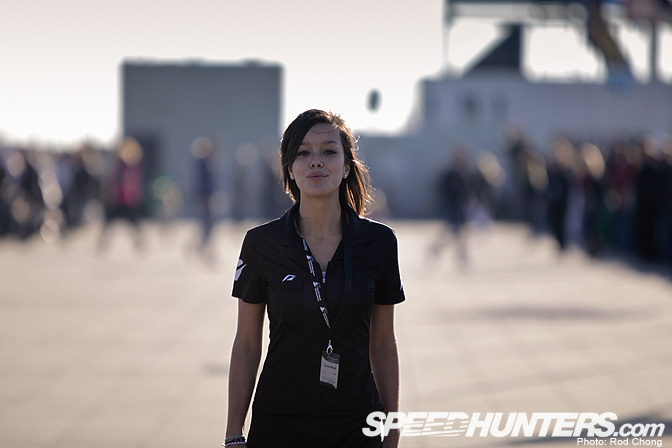 Camille Sebaoui, FIA GT3 European Championship, Circuit Park Zandvoort, Netherlands
Another photographic approach of mine is to mix up a staged shoot and put it in the middle of an event and see what happens. In this case, it was a portrait shot of the NFS Euro Spokesmodel Search co-winner Camille Sebaoui. All around her is a roaring FIA GT3 race, yet this is the exact time I wanted to shoot a portrait shot. Perhaps it's this mix of energies that led to this photo.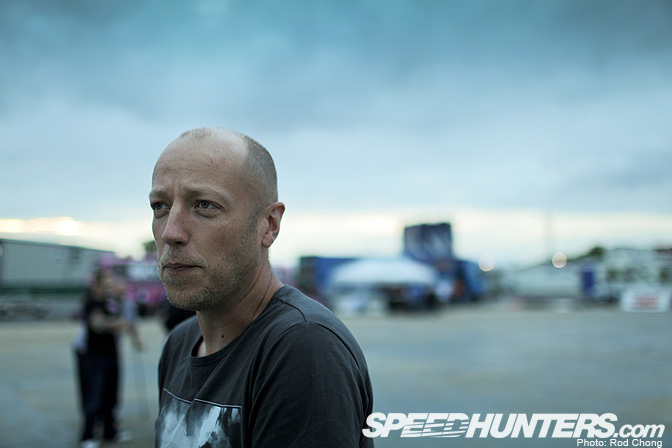 Stephen Brooks, Trax Show, Silverstone Circuit, UK
I know some of the other Speedhunters don't necessarily like sticking cameras in people's faces. I have no problem with this though. Here's a cool shot of British automotive film-maker extraordinaire, Stephen Brooks.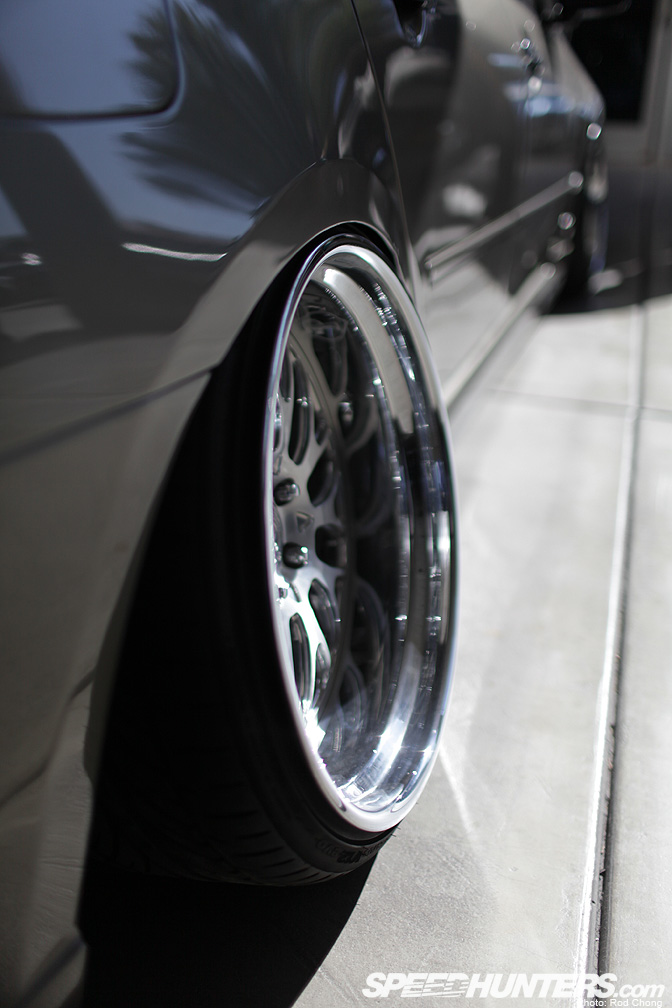 Stretch and Tilt, SEMA Show, Las Vegas, Nevada, USA
Sometimes turning the camera 90 degrees is a very rewarding thing to do.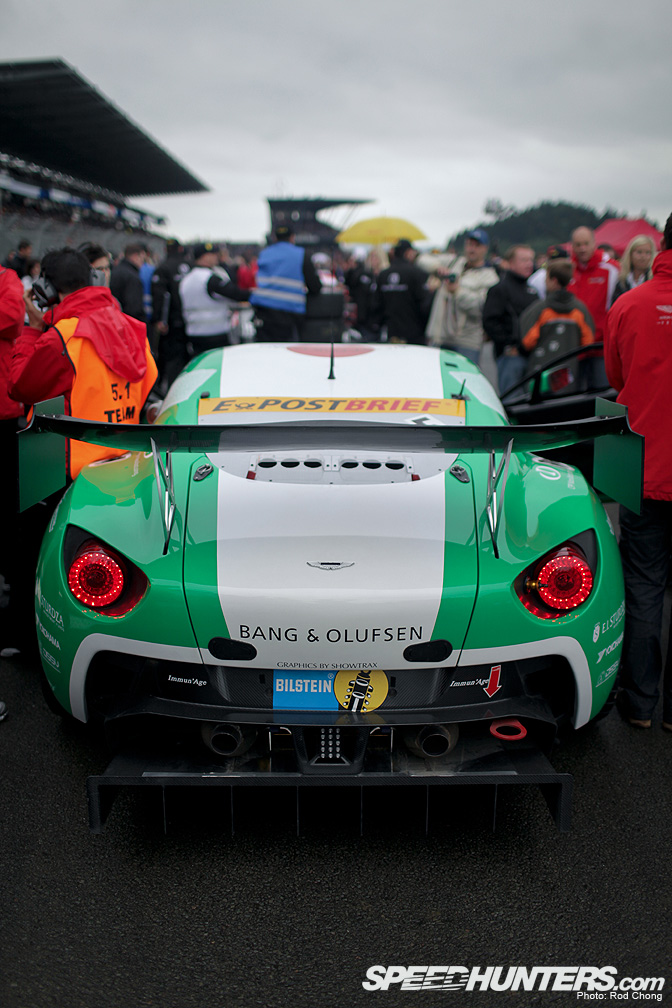 Aston Martin V12 Zagato, Nurburgring 24Hs, Nurburgring Nordeschliefe, Germany
Case in point.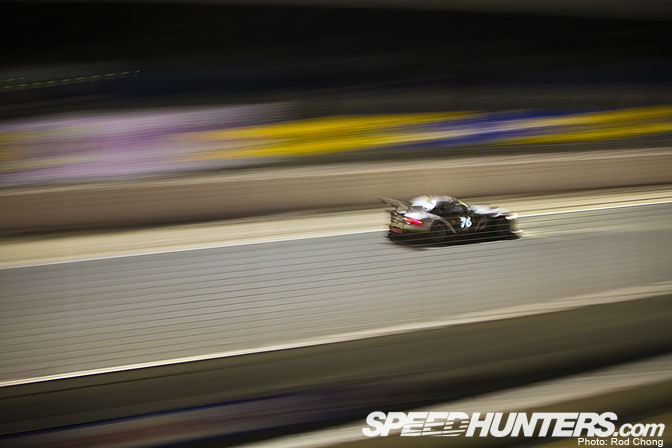 BMW Z4 GT3 at Night, Dubai 24H, Dubai Autodrome, UAE
The Dubai 24 Hours was the start of our year 11 months ago. It feels like a lifetime away doesn't it?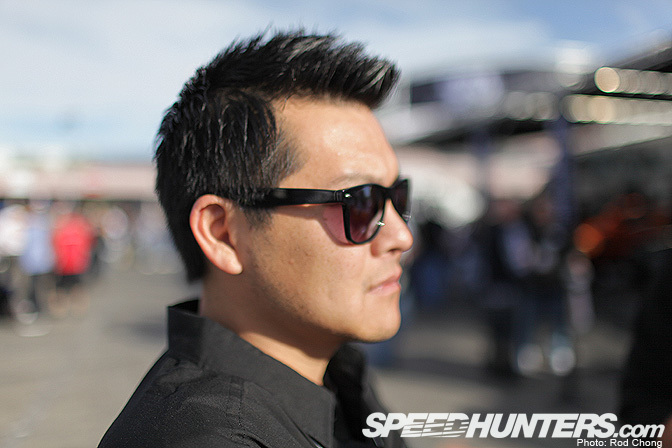 Jim Liaw, SEMA Show, Las Vegas, Nevada, USA
More recently was the SEMA show, where I grabbed this portrait shot of Jim Liaw, one of the founders of Formula D.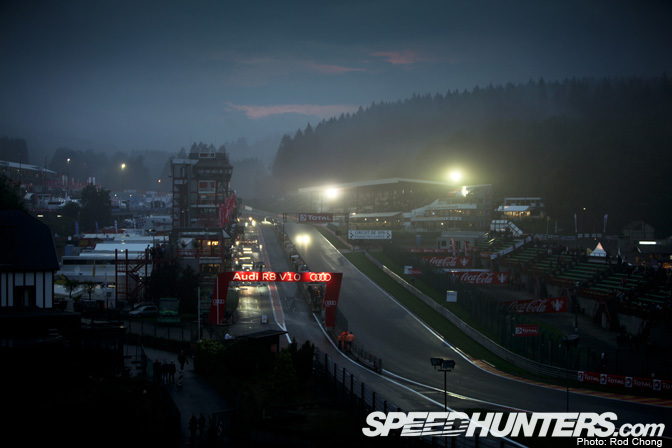 Wet Dusk, Spa 24Hs, Spa-Francorchamps, Belgium
You can almost feel the chilled, misty fresh Belgian air looking at this shot.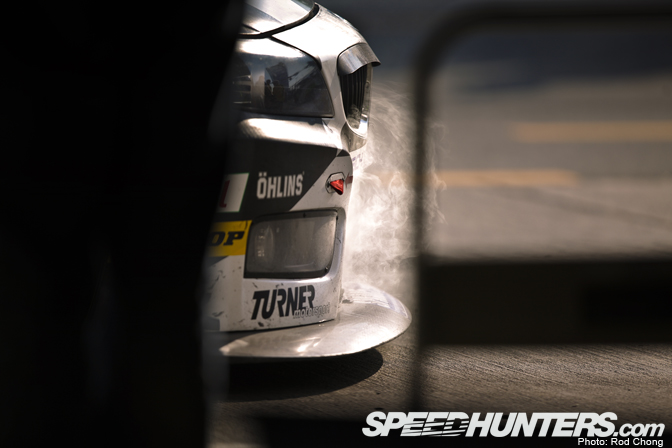 BMW Z4 GT3 Smoking Pit Stop, Dubai 24H, Dubai Autodrome, UAE
The BMW looks like it's enjoying a nice cigarette here LOL.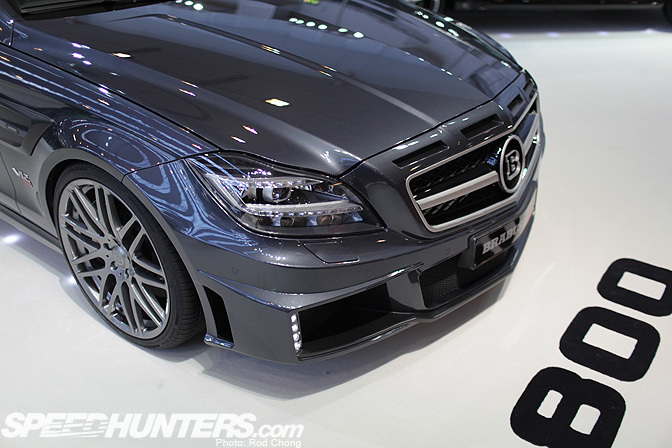 Brabus 800, Essen Motor Show, Essen, Germany
Some of the other Speedhunters have told me that my photographic style is all about composition. Perhaps this is the case. I am very formal about my photographic lines and awareness of positive-negative space.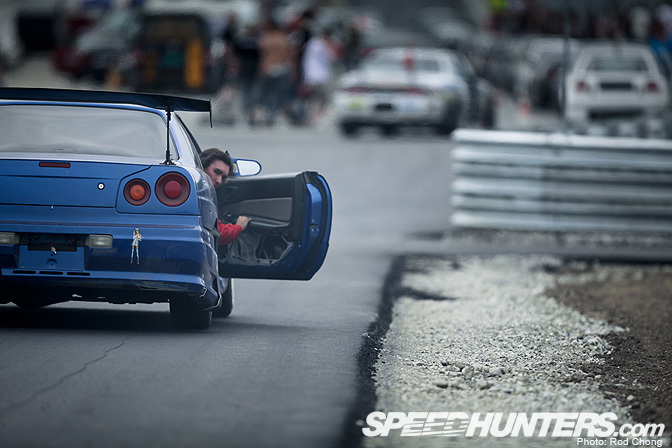 Blown Tire, Gatebill Festival, Rudskogen Motorsenter, Norway
I like my shots to have a clear sense of foreground and rearground.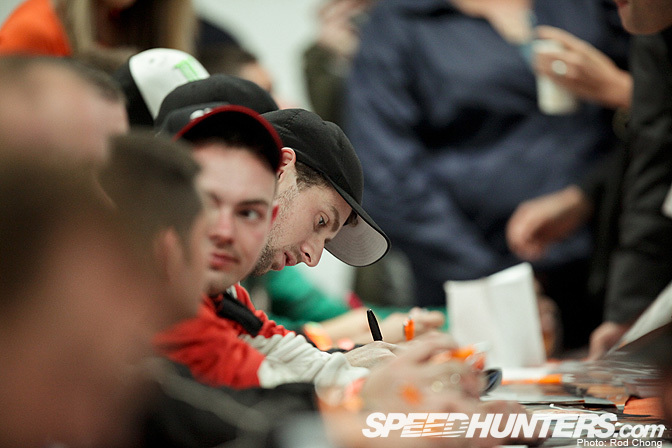 Darren McNamara, BDC Autograph Session, Trax Show, Silverstone Circuit, UK
This is one reason that I like my backgrounds to be blurry. It creates a strong sense of focus in a shot. Your eye is always drawn to the subject in a very clear fashion.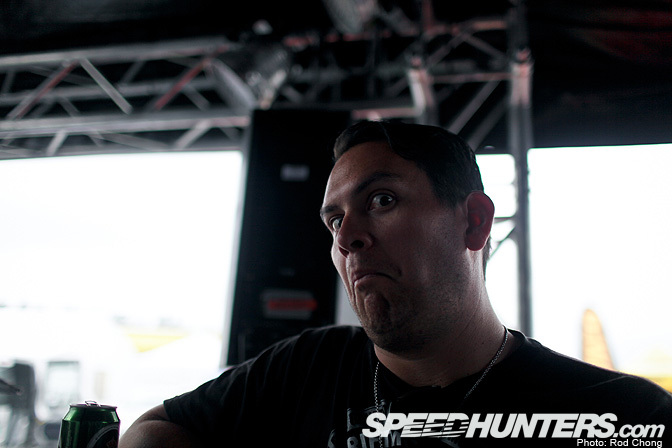 Jarod DeAnda, Gatebill Festival, Rudskogen Motorsenter, Norway
I've very much missed the Formula D community this year. It's been tough for me to just watch the events streaming over the internet. But that's how things go sometimes. It was good anyway to see a few of the US drift folks turning up at a few European events this year.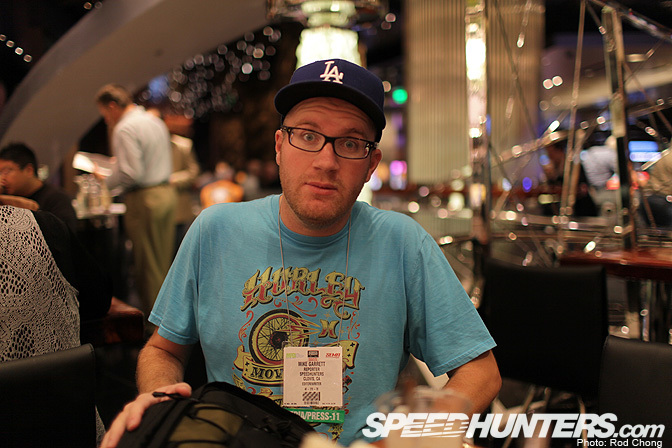 Mike Garrett, SEMA Show, Las Vegas, Nevada, USA
A funny snap shot of the original Auto-Otaku, Mike Garrett.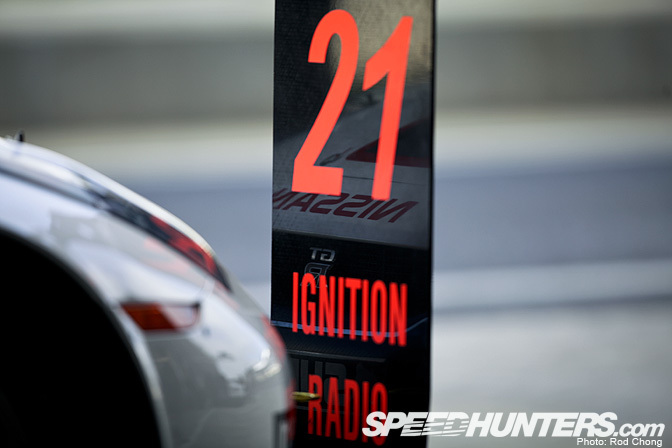 Nissan GT-R GT1, GT1 World Championship, Silverstone Circuit, UK
My 400mm lens is great for finding composed shots, especially when you use it indoors, away from its normal field of operation. While it's very cumbersome to use such a long lense like this, you will find some amazing, stylistic shots. Like so.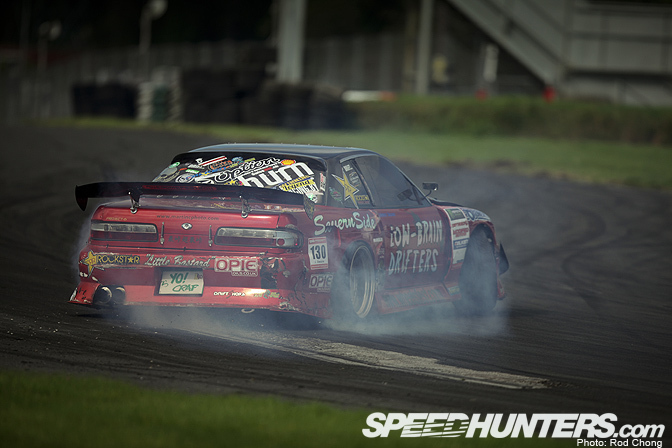 Nissan Silvia, ProDrift Japfest Ireland, Mondello Park, Ireland
I've heard that multiple drift champion, James Deane is looking for a new ride next year. Let's hope he finds a good seat to match his amazing drifting talents!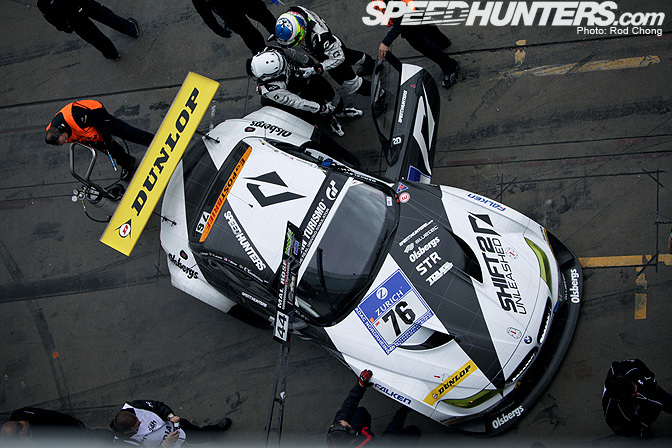 Tommy Milner, Edward Sandström, BMW Z4 GT3, Nurburgring 24Hs, Nurburgring Nordeschliefe, Germany
Sometimes hanging out on building roofs is a good idea -especially when shots like this offer themselves up. The Team NFS livery also lends itself very well to top down shooting.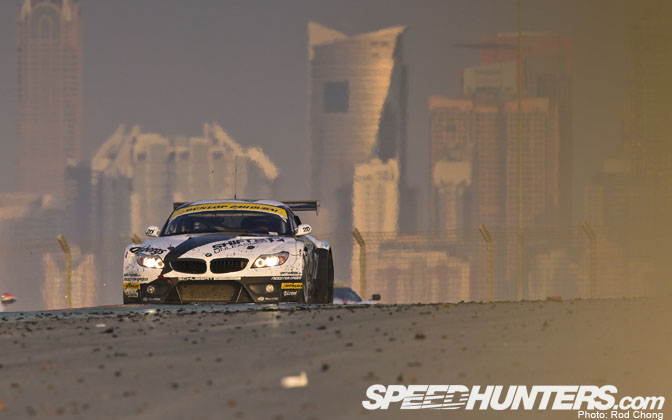 BMW Z4 GT3 at Dawn, Dubai 24H, Dubai Autodrome, UAE
I had to get up very early to get this shot of the Dubai Skyline at dawn. The sun had literally just broken over the horizon and was lighting up both the front of our BMW and the skyscrapers behind. Jonathan Moore tried to replicate the shot 2 hours later but the buildings had already vanished into the heat's haze.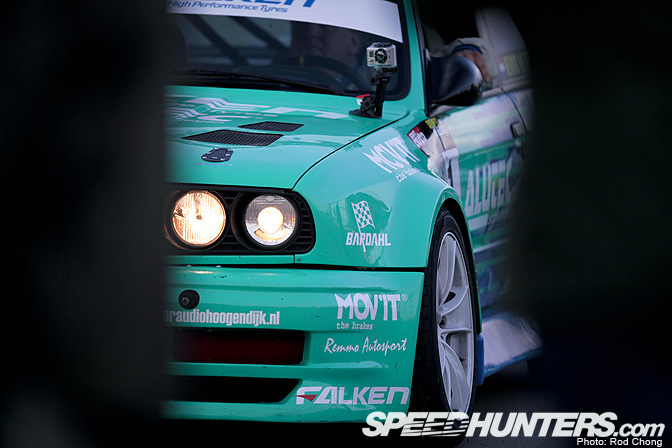 BMW E30, Demo Drift Session, Nurburgring 24Hs, Nurburgring, Germany
I was shooting with my 400mm lens in the middle of a crowd to get this shot. The people obscuring the foreground add to the compositional effect here.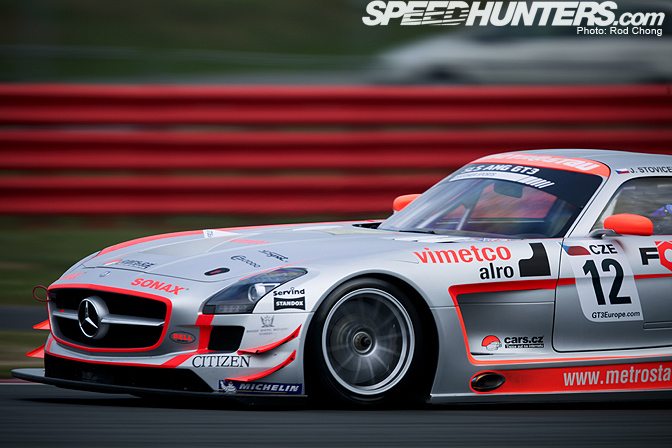 AMG Mercedes SLS GT3, FIA GT3 European Championship, Silverstone Circuit, UK
Panning a 400mm lens on the outside of a high speed corner like Stowe isn't easy. This type of camera technique is just something that you have to keep practicing over and over again. I think I pretty much nailed this shot though.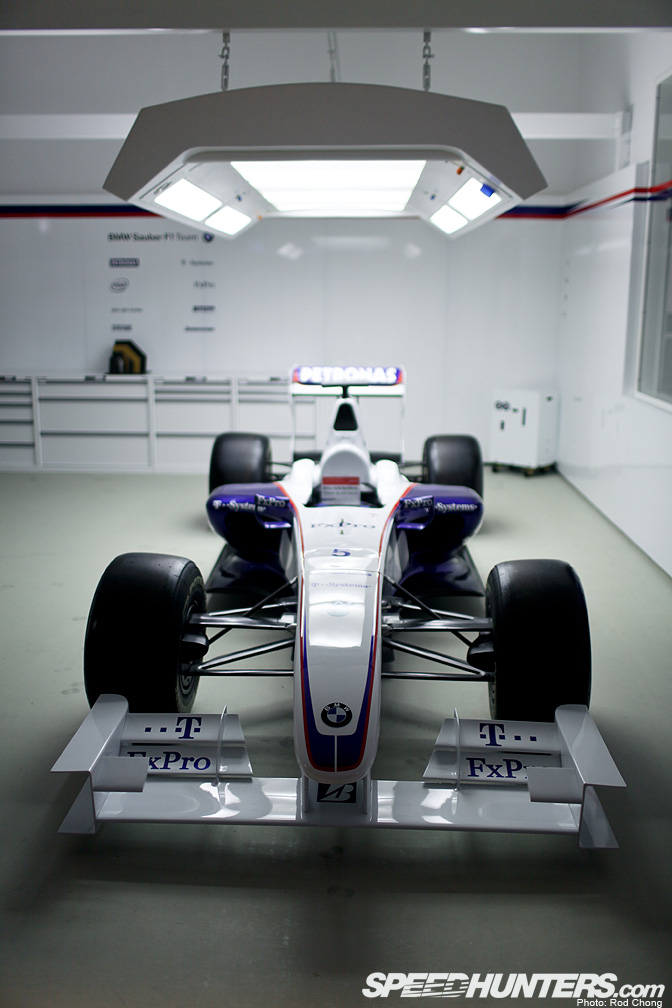 Sauber BMW F1 Car Display, Nurburgring Musuem, Nurburgring, Germany
And finally I leave you with a shot from the Nurburgring Museum.
We'll be back soon with more of our best shots from 2011.
:Rod