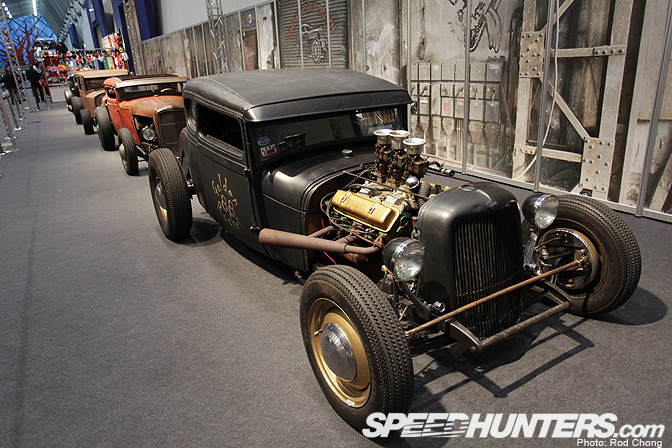 With Dino's Mooneyes Japan coverage in full swing, I thought now would be a great time to publish a contrasting story, showcasing some European Hot Rodding.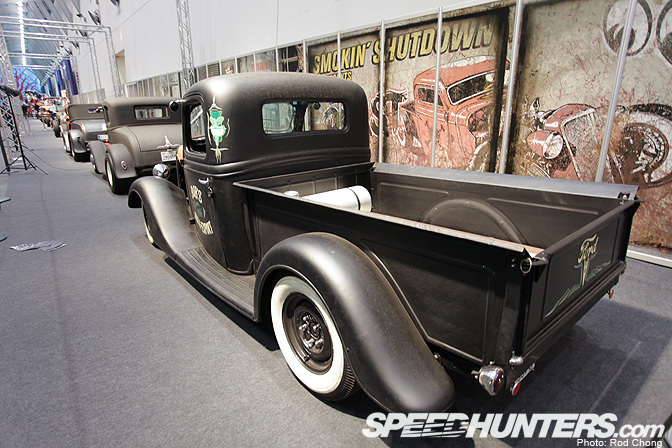 It's always interesting to see how different cultures around the world remix, rework and replicate their ideas about foreign car scenes. I'm sure any of you who live in the west but are fans of Japanese car scenes know exactly what I'm talking about. We see some type of car action in a far away land, and either draw inspiration to our local lives, or perhaps more radically, move abroad to submerge ourselves inside the source itself.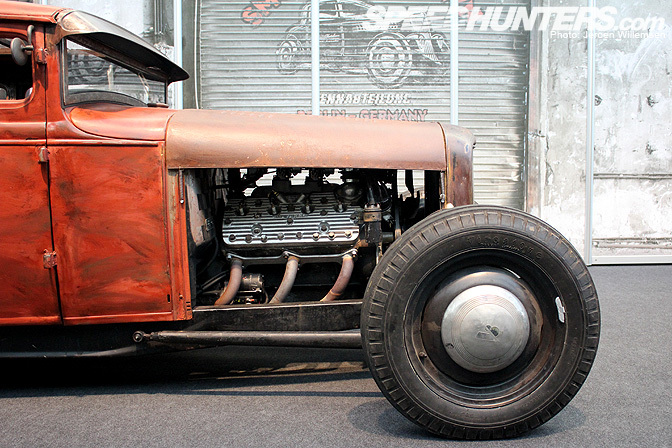 As I travel the world meeting car enthusists, I've seen this story played out time and time again. It seems like car scenes from distant countries have an exotic allure which seems to shine brightly against our local offerings..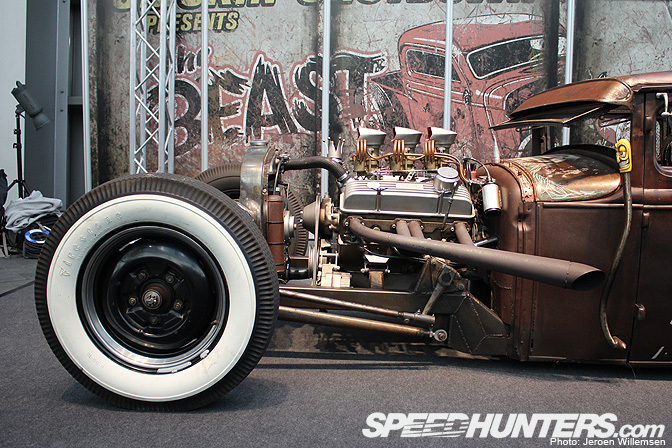 Perhaps the owners of these Hot Rods know this feeling. These are Europeans who have hooked into the lifestyle sometimes refered to as Kustom Kulture; It's a modern re-interpretation of retro American culture which mixes up old school Hot Rodding, Pinup Girls, Lowbrow Art and Rockabilly together in an all pervasive way of life.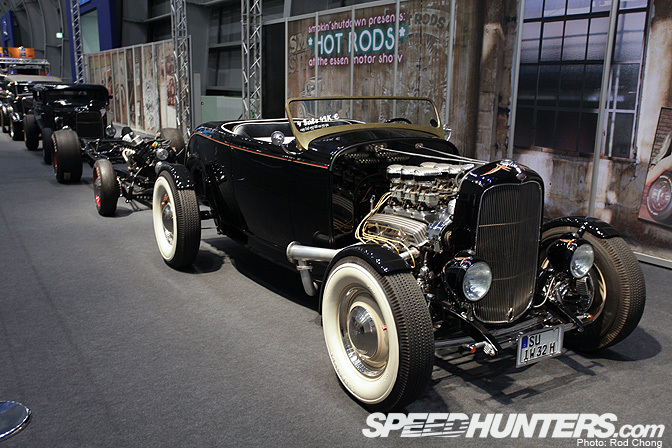 From what I can see, these are pretty hardcore devotees and were proudly showing their machines at the Essen Show in Germany last week.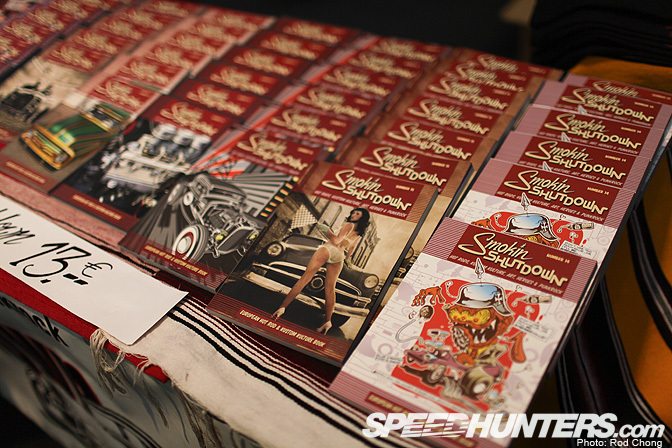 The Hot Rod display was organized by the creators of the Berlin based, Smokin' Shutdown magazine. It's a German-English language Hot Rodding magazine devoted to "Hot Rods, Kustom Kulture, Pin Ups, Heroes and Punk Rock."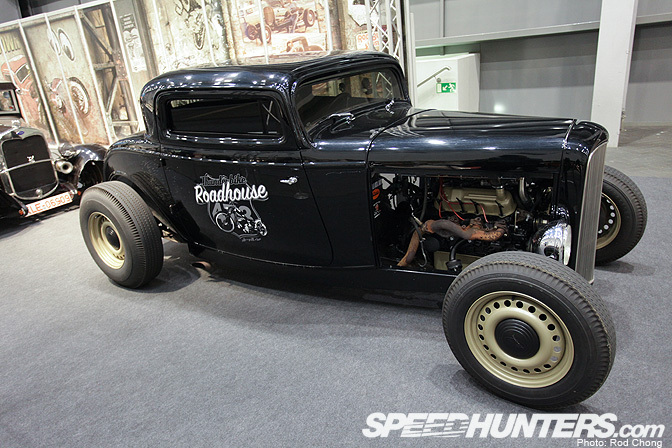 In looking at these Hot Rods they seem to be styled to utmost perfection and represent the leading edge of hot rod styling.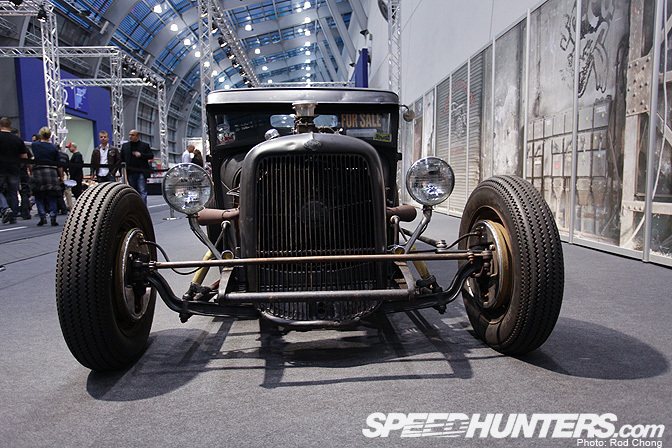 There are no out-of-fashion 1980s Street Rods or 1990s Billet Rods here.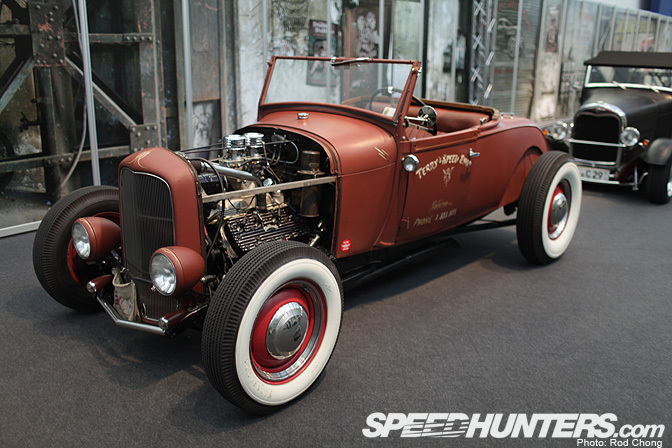 This '29 Roadster is a perfect representation of traditional style. It's exactly the type of machine you would have seen students driving to high school all across California in the early 1950s.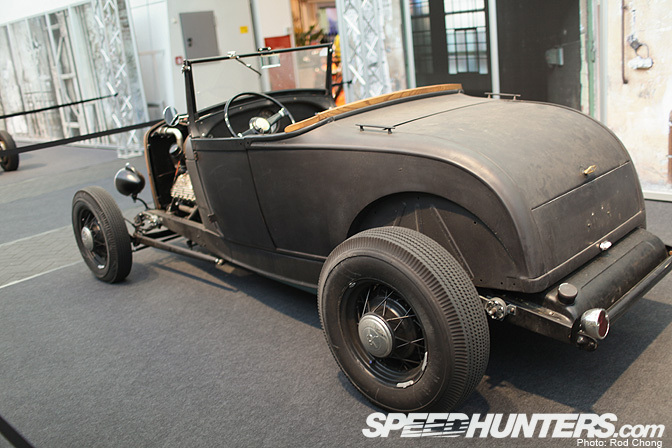 This roadster is more of a throwback to an early 1940s style. It's complete with a layer of dust for authenticity's sake.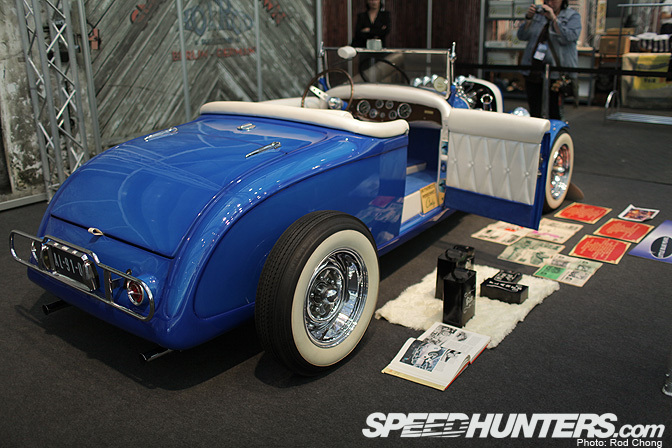 This 1932 Plymouth Roadster is an old show car from the States and was Grand National Champion in '65-'66. It sports an original Barris Kustoms paint job to boot.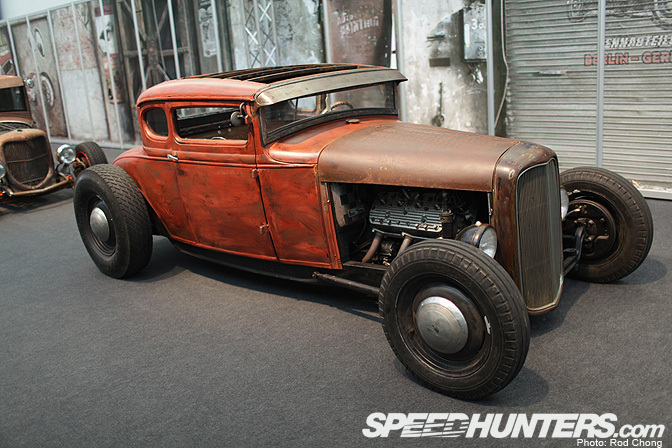 I hesitate to call this a rat rod, as it seems like too deliberate a build to be lumped into this category.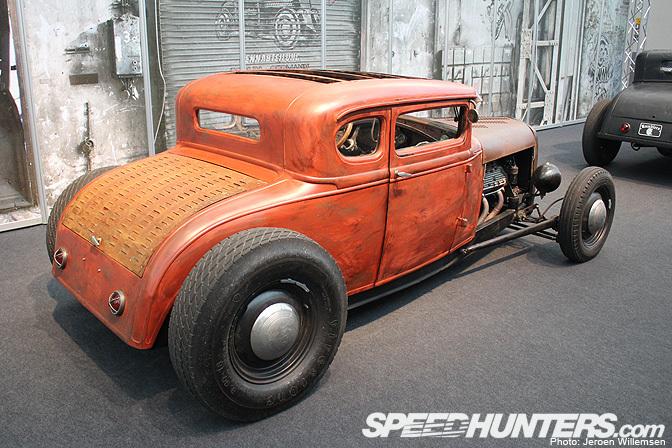 This is as good as it gets in terms of a traditionally styled psychobilly machine…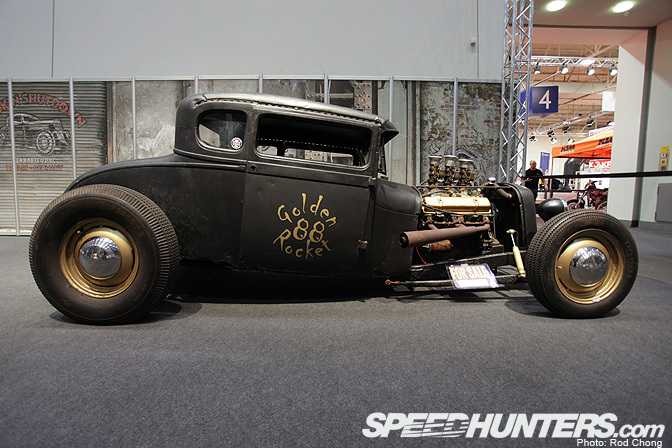 Although for me, this '29 Ford Coupe was even better. The forward rake gives more of an aggressive feeling. I also prefer the open headers and exposed engine… hmmm… perhaps I should call that number to buy it?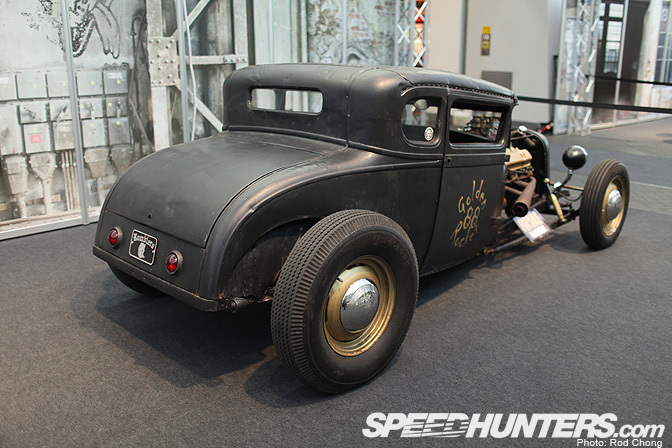 To use the proper definition of the word: the rod has great stance. Also note the Ramblers club plaque.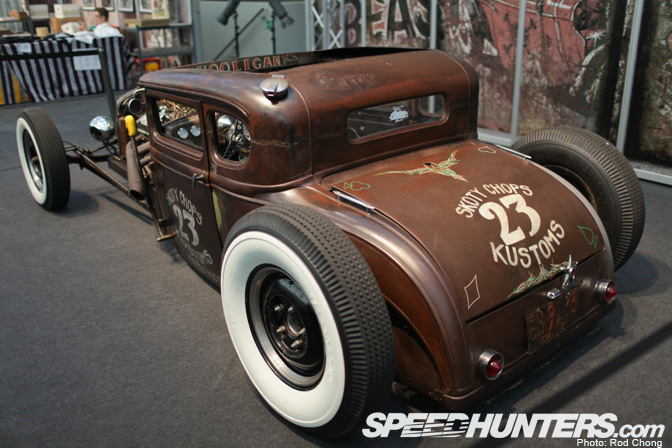 This 1930 Ford Model A was originally built by Skoty Chops Kustoms in Redwood City, California.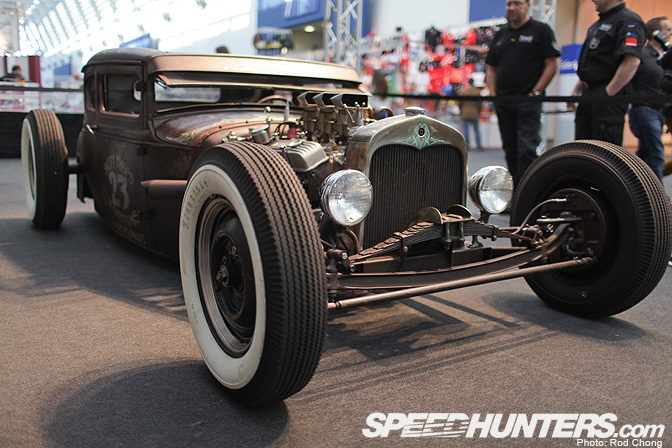 Some of you may remember that Jeroen ran a spotlight on this car last year.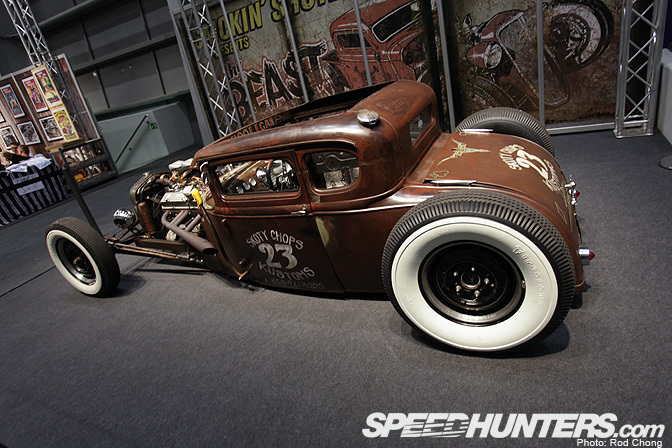 I'd love to see a car like this driving through the streets of Berlin!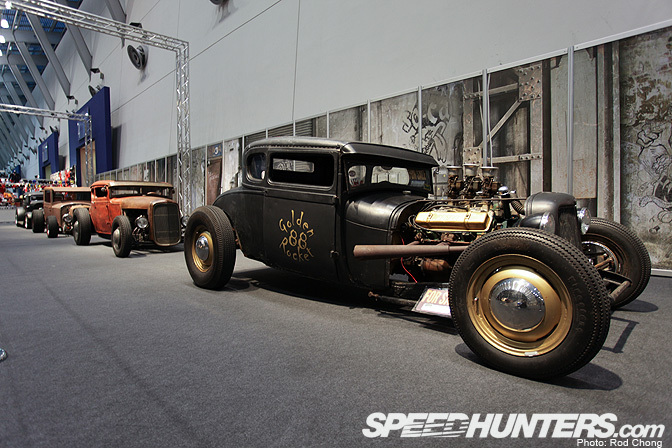 Mind you, Sweden also has a pretty strong Hot Rod scene too. I'll need to dig into this further one of these days.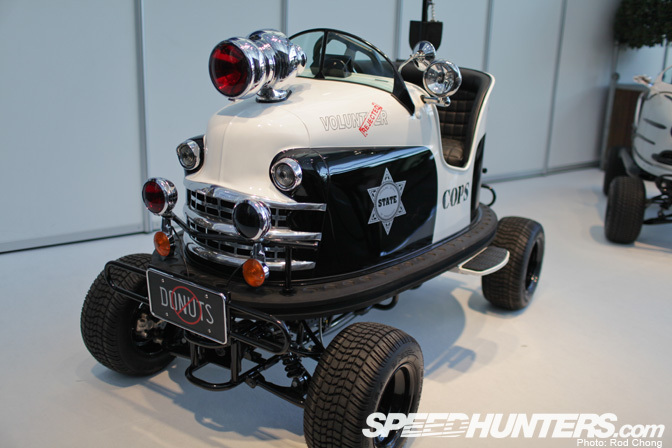 At the other end of the hall, were these cool retro Bumper cars which had been converted into ATVs of sorts. OK this isn't hot rodding as such, but a little window into Americaness appearing at the Essen show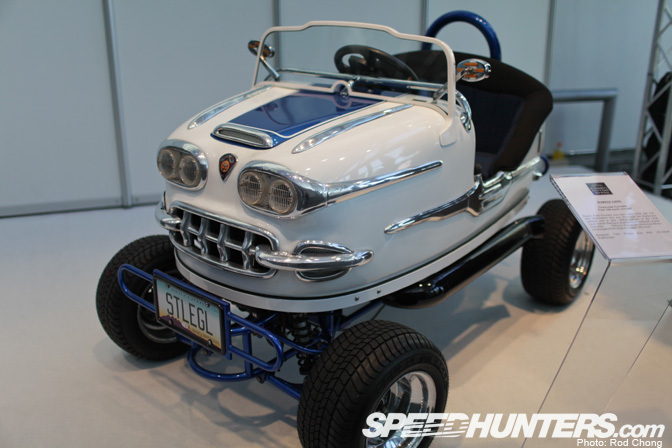 This one was based on an old Corvette. How cool is that!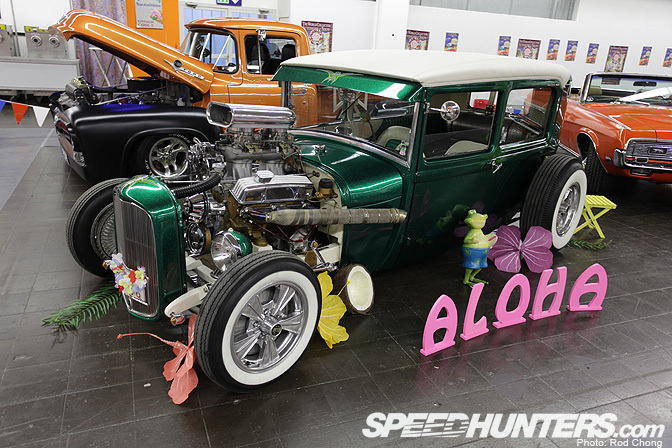 Thoughout the Essen show there were other pockets of American car culture. This East Coast style sedan gave the impression of being an original 1960s show rod, which had found it's way to Europe many decades ago.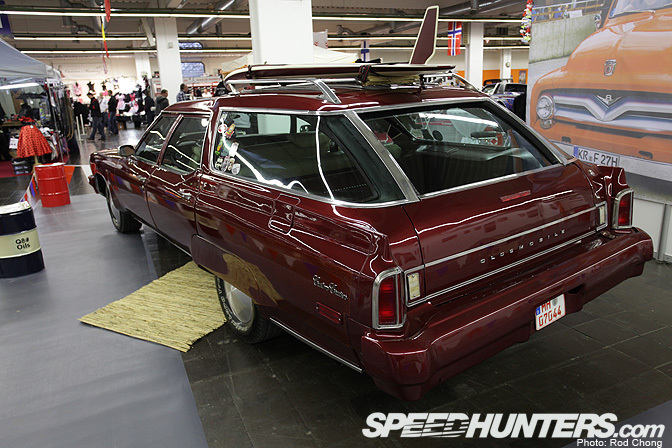 Wow check out this giant surfer themed Olds wagon. There can't be many of these left in the world.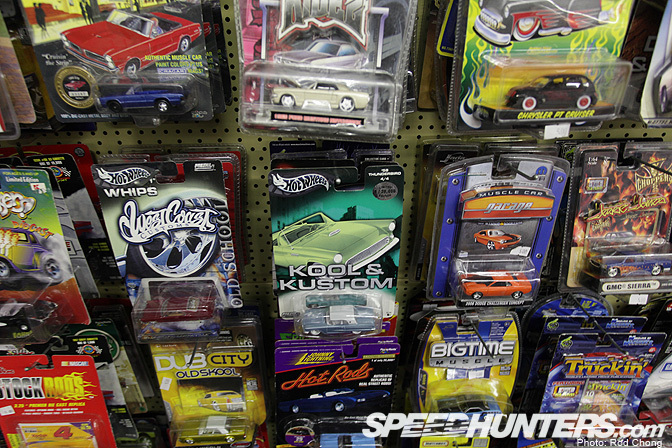 Ok that's it from me for Essen show coverage. Jeroen has a few more stories coming up before we wrap things up.
Best,
:Rod
More Hot Rodding on Speedhunters