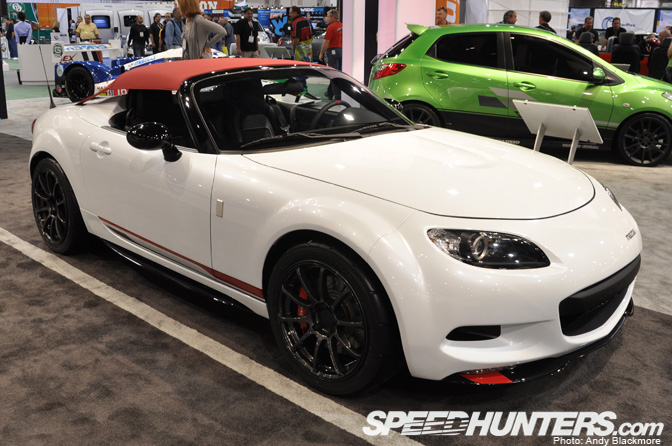 Time for our second look at the car manufacturers that were part of SEMA. You can read Part One here, where we looked at Chevrolet and Scion amongst others.
Although small, Mazda had a great line-up of cars on their stand. Tucked away from the main halls, the North American Division showed two MX-5 concepts, both of which were great executions.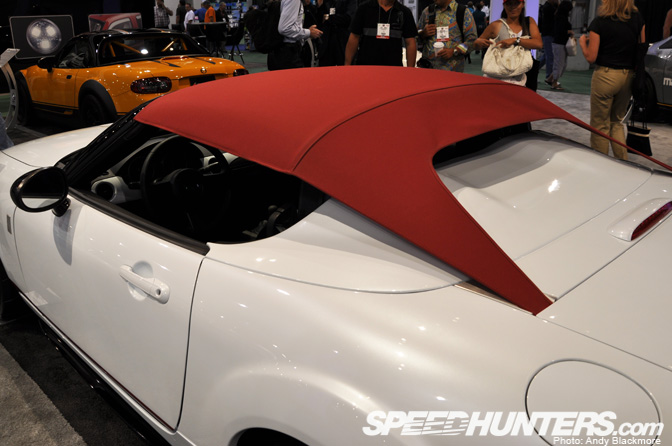 Similar in concept to the recent Porsche Boxster Spyder, the Mazda MX-5 Spyder has a simple canopy roof, which transforms the profile of the car. The new roof is complimented by new 17 inch wheels, revised suspension and aerodynamic bodykit.  This was a well resolved design.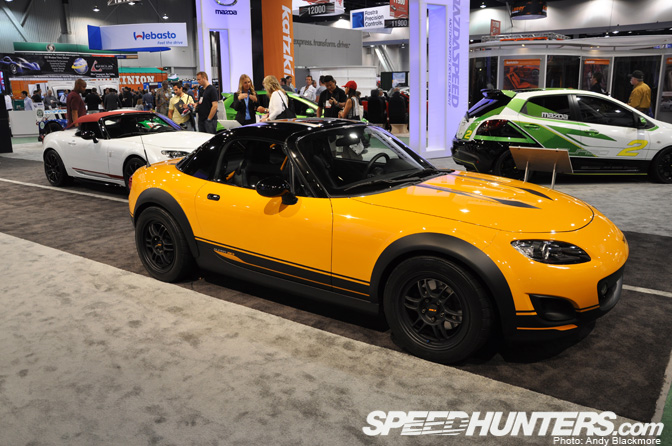 Mazda also showed the MX-5 Super20 Concept, which made its debut last year at SEMA. Packed with Mazdspeed kit – including new header, exhaust, sway bars – this is more of a fun track day car. Looks great in the two-tone yellow and black with subtle over-fenders. Mazda need to get this into production.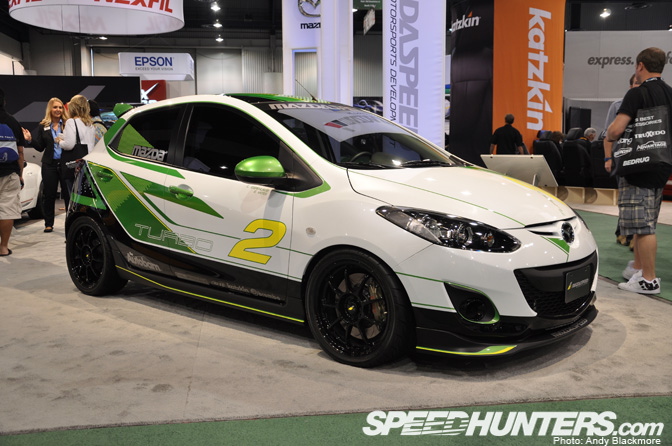 Mazda's third stunning concept was the vibrant Turbo 2 built by Autobarn. Fitted with a Mazdasped 2.3-litre turbo unit, this small compact produces 263hp, which results in a quick car, given it only weigh 2300 pounds.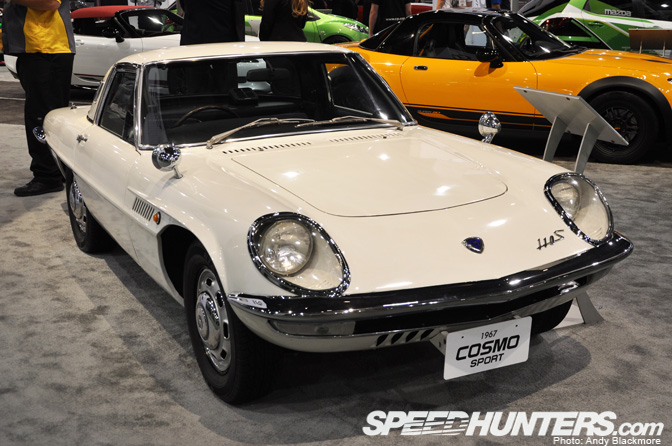 Mazda also brought out this cool 1967 Cosmo Sport.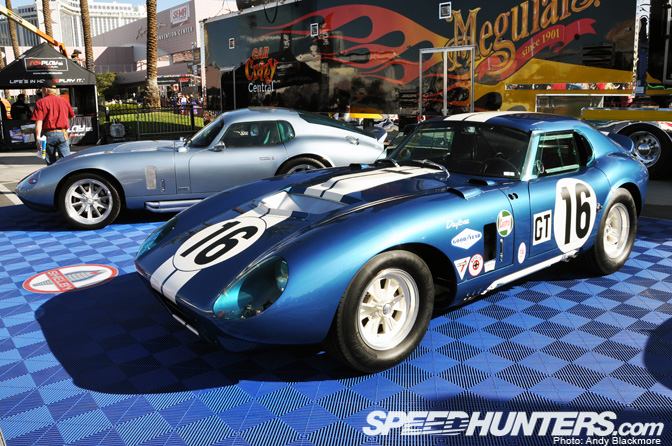 Ford always has the largest stand at the show and in recent years, has extended outside with a performance demonstration and further displays including this rare Shelby Daytona Coupe.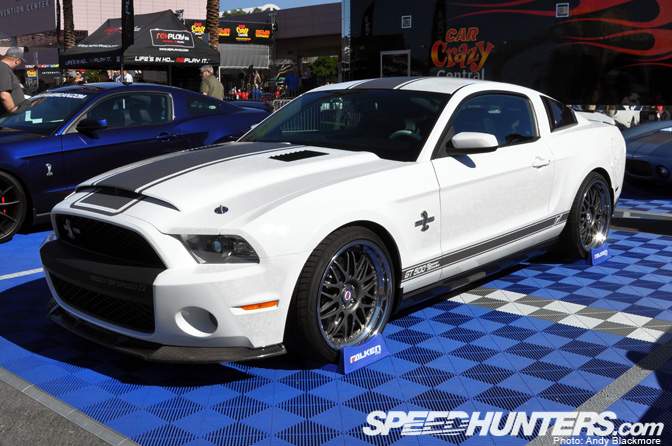 A number of Mustangs were present outside including the one-off Need for Speed Edition Shelby Super Snake GT500. This car features on the cover of the forthcoming Need for Speed The Run game. More on this car soon on Speedhunters.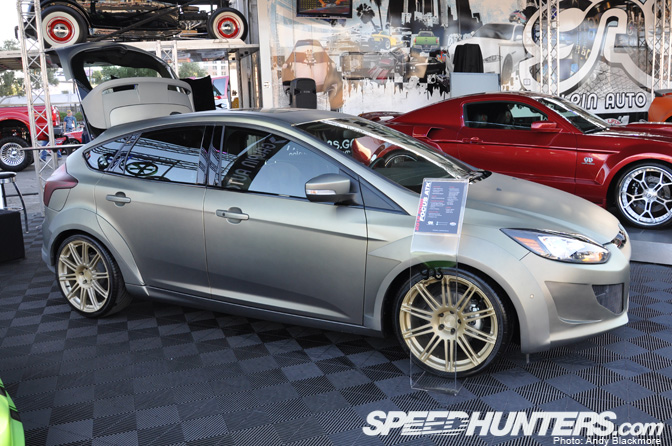 Galpin Autos partnered with Ford, with some more extreme cars. This Satin Metallic (!) Focus was one of the cleaner designs.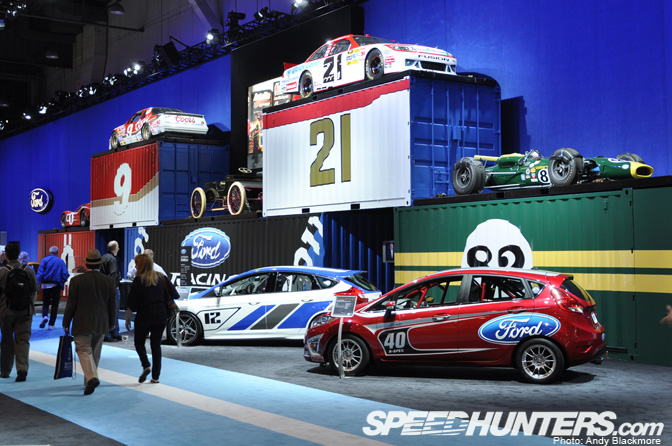 Inside, Ford were celebrating their motorsport heritage with a display featuring the Indy Lotus Cosworth Ford, NASCARs and a Ford GT Le Mans car.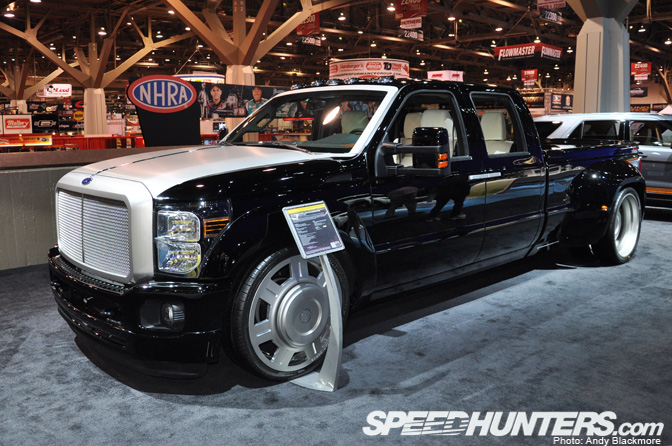 The Ford stand had a wide range of vehicles from this huge, low Ford F350 Super Duty….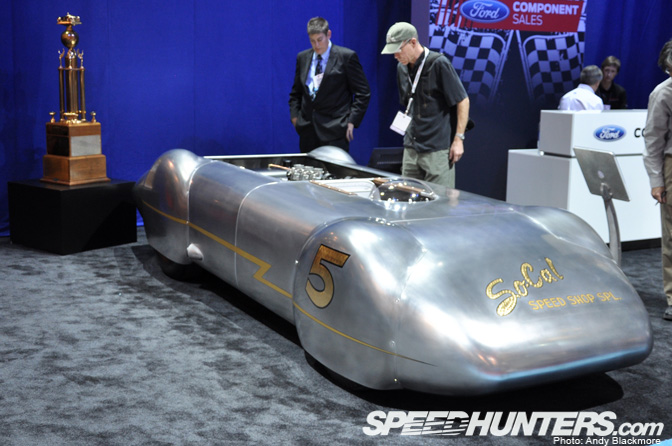 …to this amazing SoCal Streamliner replica, based on a Model T frame. The original set an astonishing 187mph record at Bonneville back in 1949!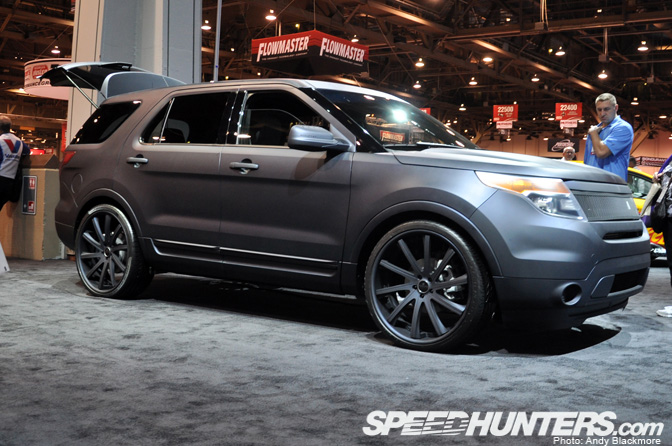 Ford also had a wide range of current vehicles. Not your usual Speedhunters fair, but the new Ford Explorer is a well resolved design and a number of these were in attendance. As you can see, matte and satin finishes are still popular on the show floor.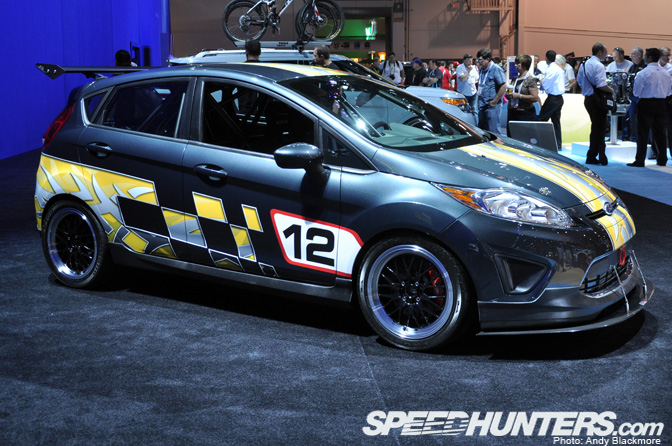 The majority of the stand was made up of countless Fiesta and Focus derivatives.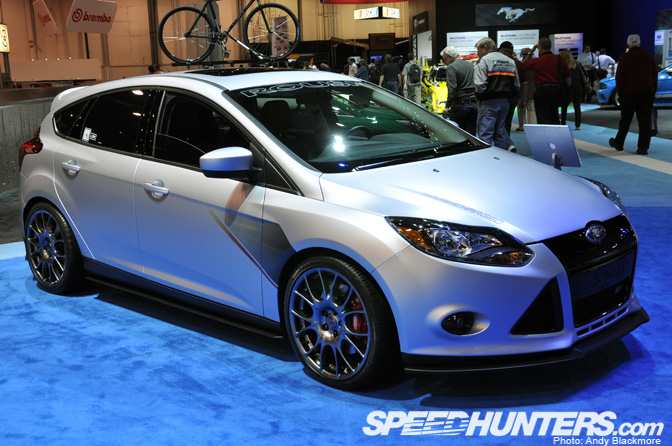 This supercharged Roush Focus had fewer graphics than most and still looked cool with its subtle lip kit, back infill panel between the grilles and aftermarket aloys.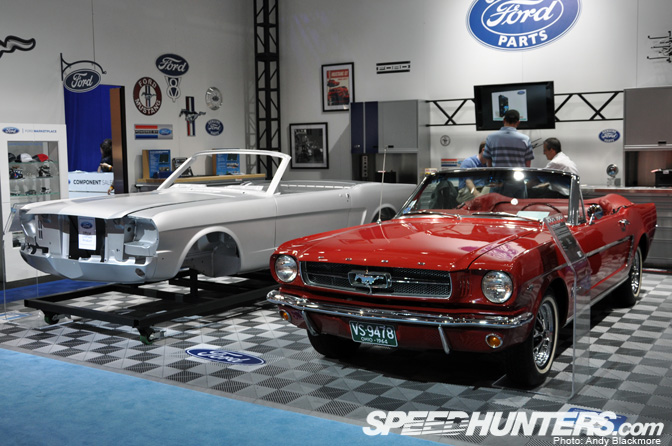 The rest of the show floor was filled with Mustangs from almost every decade.
Almost… Still a few years before the Fox chassis is cool!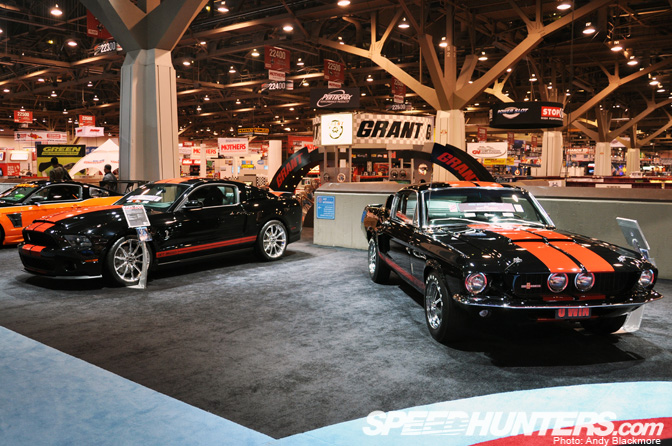 A modern day Shelby GT500 with its much older, classic counterpart. One of the many highlights on the stand.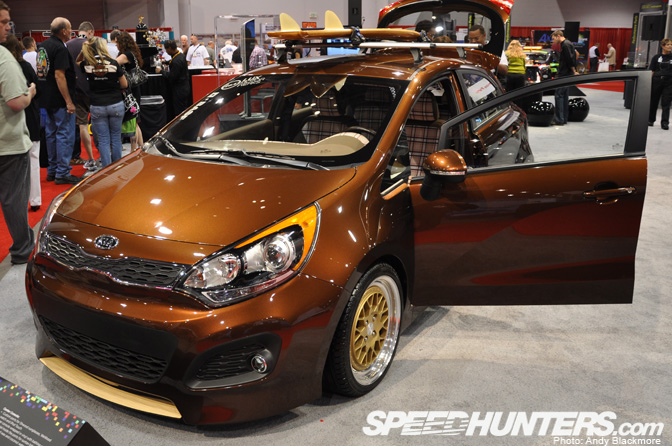 Kia had some good, strong concepts at recent SEMA shows, but I found them a little underwhelming this year. This new Rio 'RetroSurf'  concept was interesting with its wood accents and metallic brown paintwork. Influenced by modified Volkswagens perhaps?
Brown is definitely one of the emerging trends at the moment.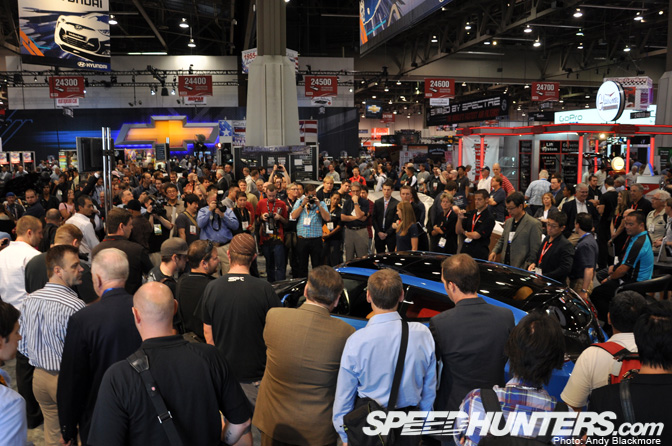 Over the years, Hyundai has gained a big following at SEMA with a variety of showcars. This year, the Korean company concentrated on the recent Veloster with a couple of Genesis coupes.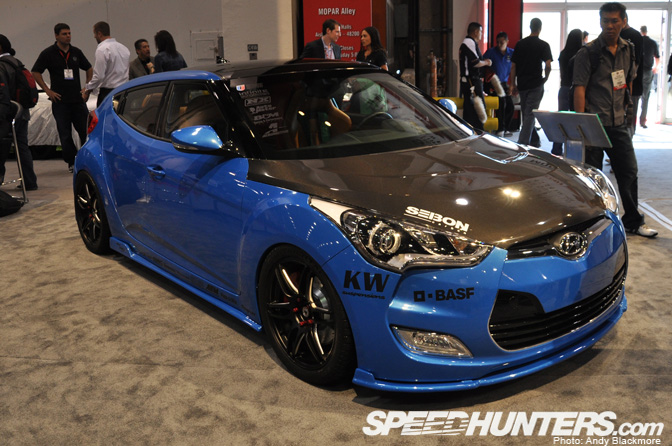 This PM Lifestyle Veloster has a carbon fiber kit, revised induction and suspension.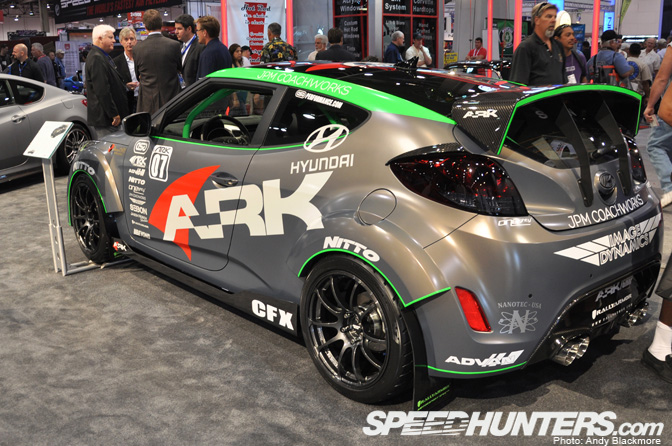 Meanwhile, this loud ARK Performance Veloster takes things to another level with a twin scroll turbocharger, new suspension, bodykit and roll cage. Power is up from 138hp to 210hp.
The graphics probably add 2-3hp…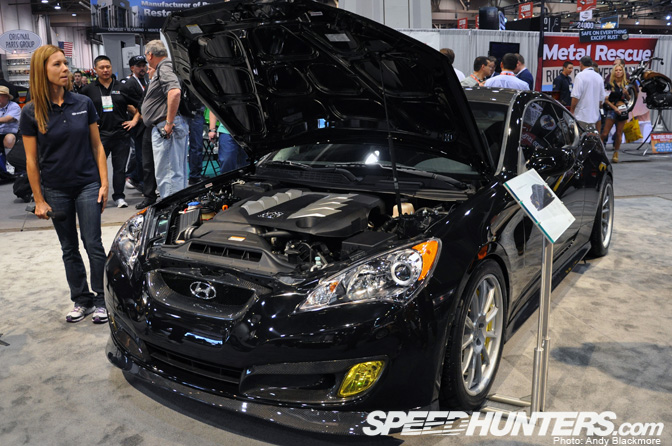 Rhys Millen Racing has been busy. Aside from Pikes Peak, Formula Drift and X-Games, the company teamed up with Hyundai for this 5.0 V8 Genesis Coupe. 450bhp. Tastefully modified with HRE wheels, subtle carbon body kit and high end interior.
The RMR500 was very popular, so it was hard to get any clear photos of it.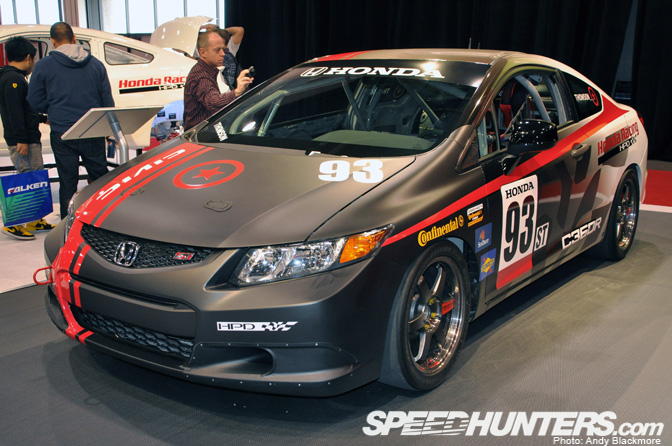 Honda had a low-key stand. Focusing on the new Civic Coupe. The HPD developed car will race in 2012 in the Continental Tires Series.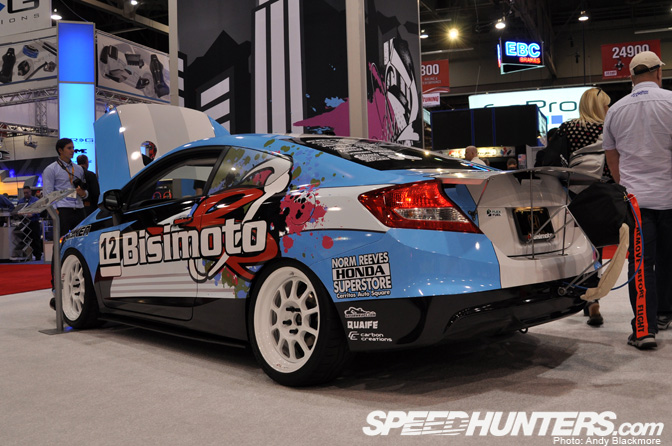 The Bisimoto Civic, which has already been featured, was a hit.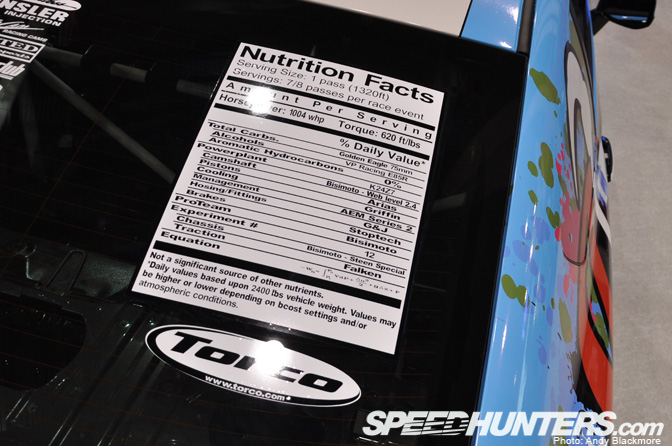 I liked the North American style nutrition panel on the rear window.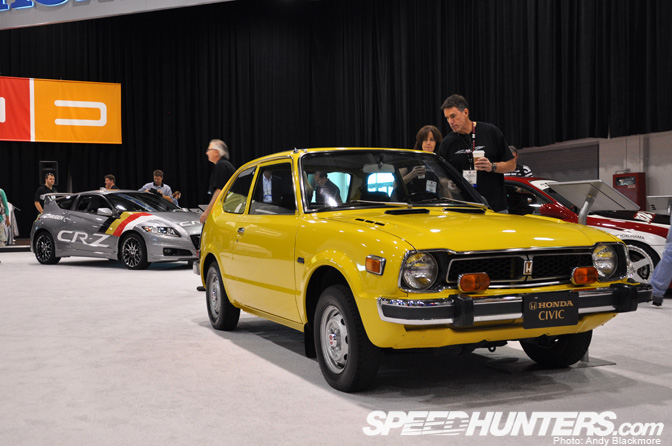 This caught my eye. An original Civic ahead of the latest CR-Z.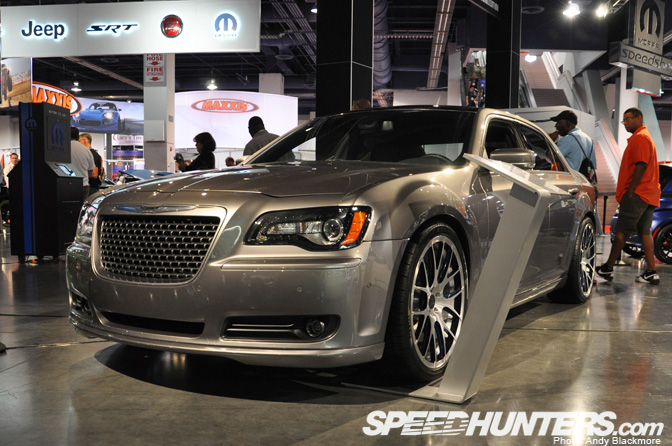 Mopar and Chrysler Dodge Jeep also had a large stand at the show. Much of this was off road, Dodge Charger or Chrysler 300 content, but we also found a couple of Fiat 500s.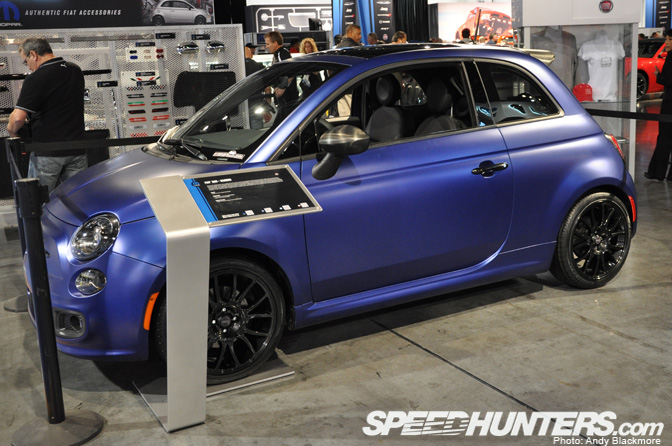 This mellic bue variant was fitted with 'Mopar Underground' parts. I was quite surprised how few 500s were at the show.  In Europe, personalization of the 500 is a big selling point and one which would feel at home at SEMA.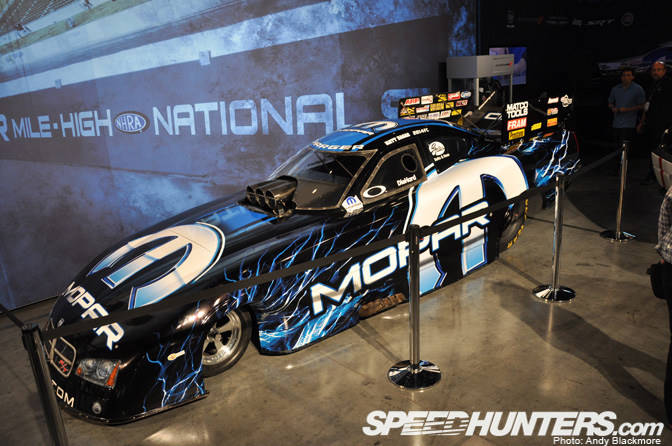 Mopar were pushing their various dag and off road teams hard.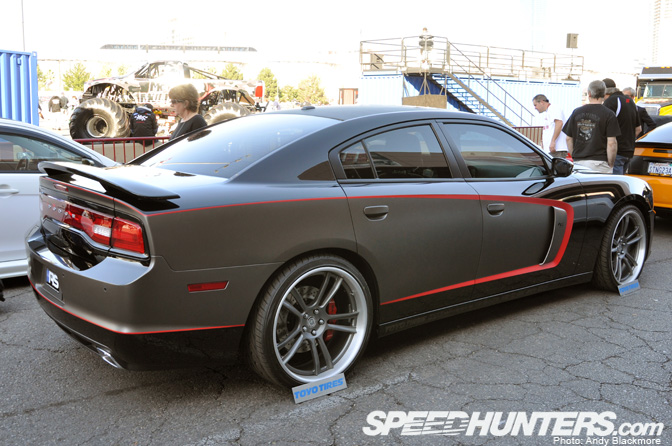 Although this wasn't on the Dodge stand, I was impressed with the new Dodge Charger SRT. Quite a step from the previous generation.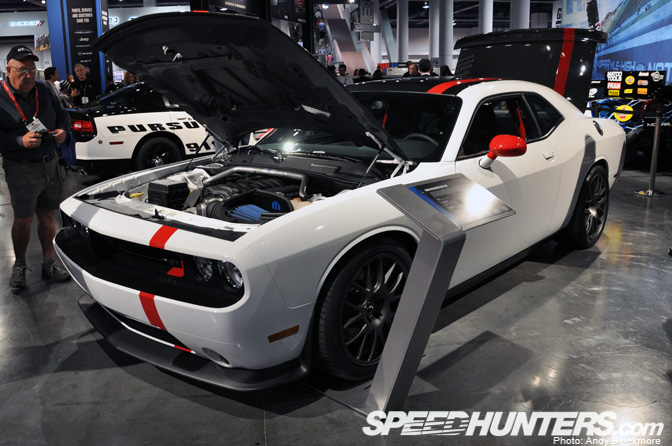 Last, but not least this Dodge Challenger SRT8 ACR. 6,4 litre HEMI producing 480hp.
– Andy Blackmore