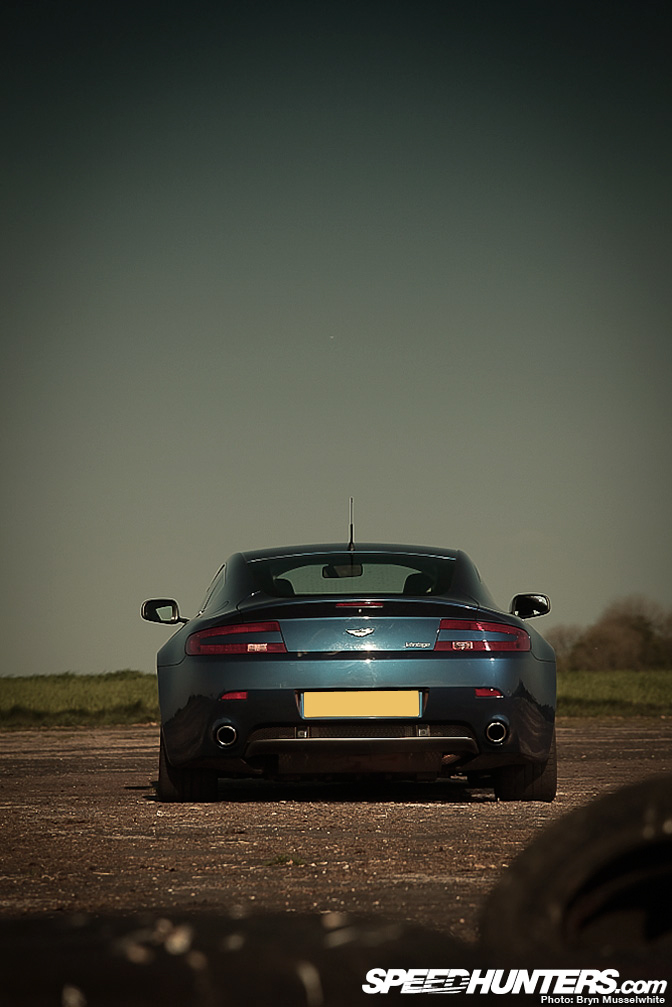 Inspiration is something that affects us on a daily basis, whether you know it or not, from perusing the posts of Speedhunters to popping down the local shop for some milk and seeing an exciting silhouette over the fence, it's never far away. For many of us our patterns are laid out in younger years, maybe a parent tooled away in the garage, or religiously watched a certain brand of racing, the posters on your bedroom wall and toys in the cupboard will have often have blueprinted a future path.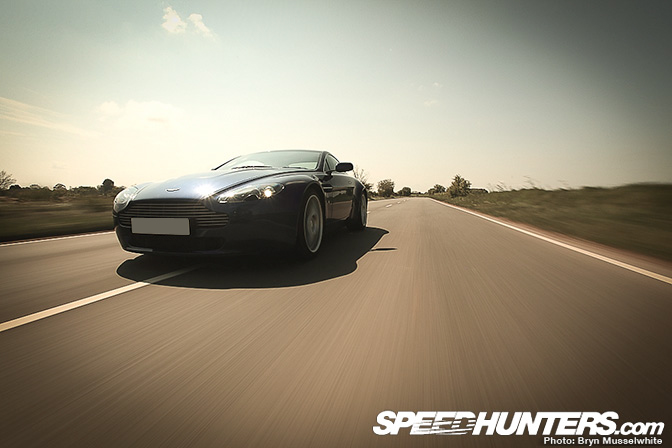 So where does Aston Martin fit in to this? For me, nowhere. James Bond drove one, but by the time I came of age Aston Martins were large, badly built and outclassed. I didn't have a poster or a toy, so I never aspired to one and I'd guess a large proportion of you might not have either.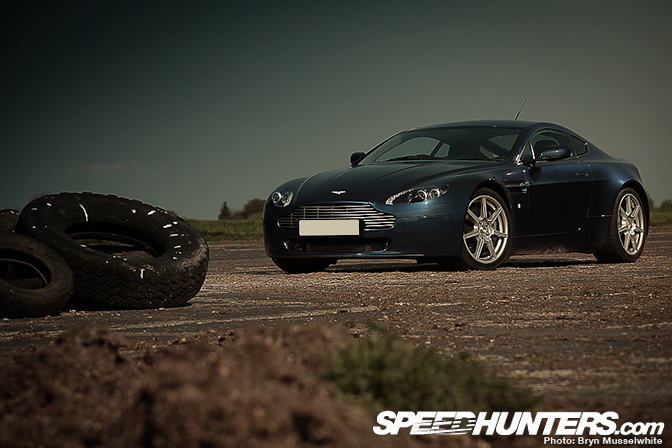 Aspiration can be linked to inspiration in many cases, if your Dad drove a Nissan maybe you wanted an S14 and aspire to a GTR. But unless you're from the British upper classes the chances of aspiring to own an Aston are pretty slim, encountering one will have been a rarefied moment. Until now that is, because Graham Heane from GMR has inspired and filled me with aspiration for his supercharged, 06MY Vantage.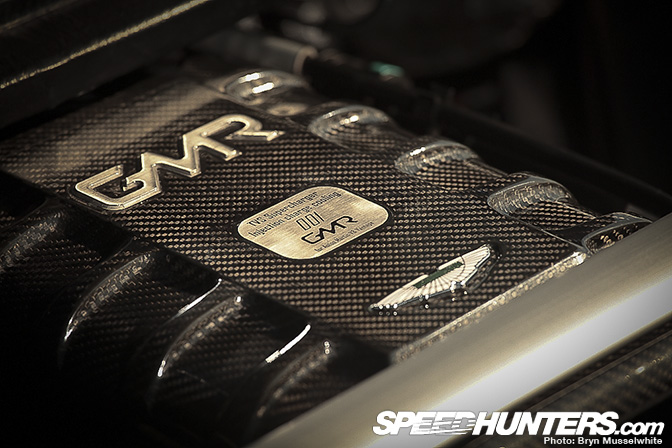 I have my preconceptions the same as the rest of you, plus this is a largely standard looking car, so here are some proven facts to keep you interested. From the 4.3ltr V8 engine, which would come from the factory with 380bhp @ 7300rpm and 302lbs ft of torque @ 5000rpm, Graham has now developed 580bhp @ 7300rpm, but more importantly 445lbs ft @3600rpm. Back in the room?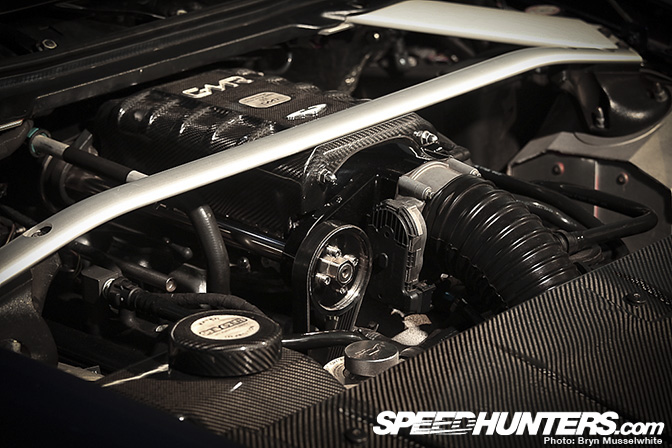 Now we're all used to big power figures here, and these might not seem so extreme to some of you, but it's the way they are generated and how effective they are that really counts. The killer thing about this conversion is that it looks and feels like a standard car, if you start with a BMW compact, you want it to feel different. But an Aston Martin Vantage is an incredibly competent car to start with, so Graham has merely complimented what was there already. In such a huge way.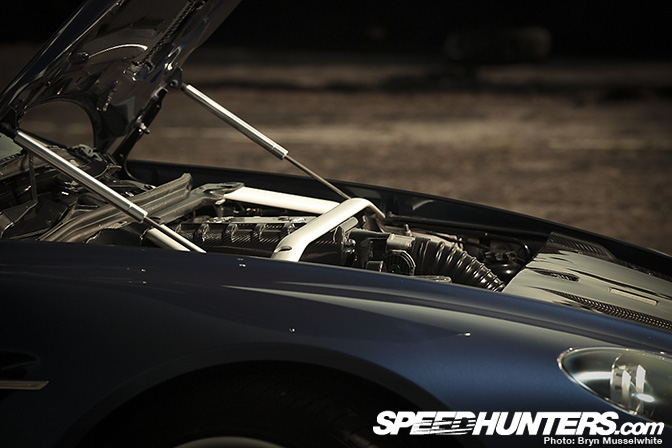 To drive it is to be seduced, there's no cage to catch yourself on, the clutch is easy on a first timer and the controls make simple sense. The fact you're wrapped in leather and Alcantara that was stitched by hand makes it all the sweeter.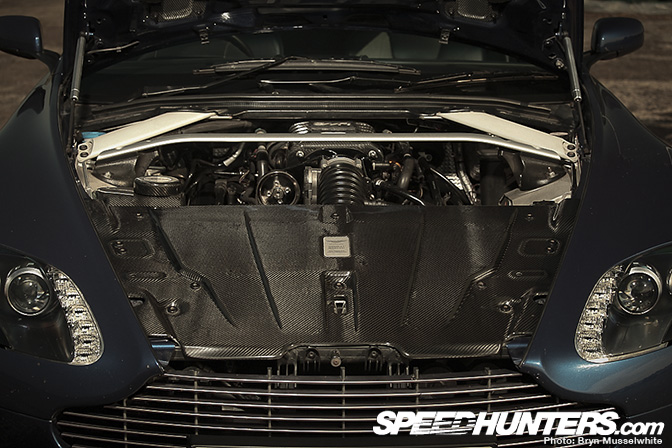 It's all about the engine though, standard internals for a start, so the kit is a day long, bolt on install with the engine looked after by a bespoke GMR engine management solution. Grahams stroke of genius is the low amount of boost he uses, just 6.5lbs produces all that power. So the whole unit is in fact lower stressed than standard, I'll let Graham explain that one, "First of all the incoming boost acts as a cushion at the top of the stroke, when the highest tensile load is being applied. The power comes from the greater air and fuel mix that continues to push down on the piston long after the NA charge would have been spent. Hence the significant increase in torque," there must be a trade off somewhere though? "Fuel economy is reasonably 25% better than the standard. The requirement to rev the engine to overtake or pass is negated by the substantial increase in torque that can be applied in the higher gears, placing a lot less stress on the engine."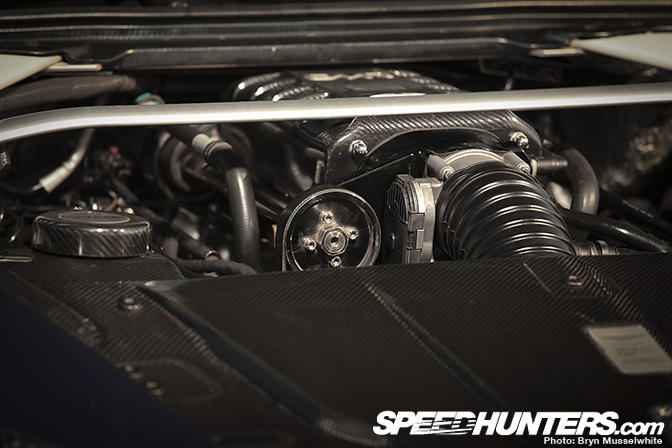 By now you'll have worked it out that Graham is a talented man, the one thing that hits me is when he mentions that the power figure was achieved on roughly the hundredth power run of the day… The day? Graham has also developed a water injection system, nothing new there but the way in which his 'Geyser' injection is sublime, running 10% methylated spirit, 'to ensure the nozzles and system remain cleansed'. If it was good enough for WW2 planes, it's good enough for us. The fact it keeps inlet, engine and exhaust temps at standard levels with a five litre fill up lasting an easy couple of tanks full on mixed driving just makes me smile.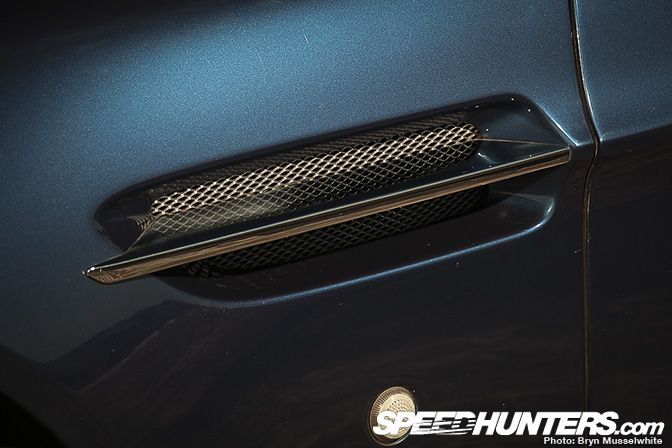 Brakes and suspension have been upgraded to match, in fact there is so much more to this Vantage that you could call it a sleeper if it wasn't for the Aston badge.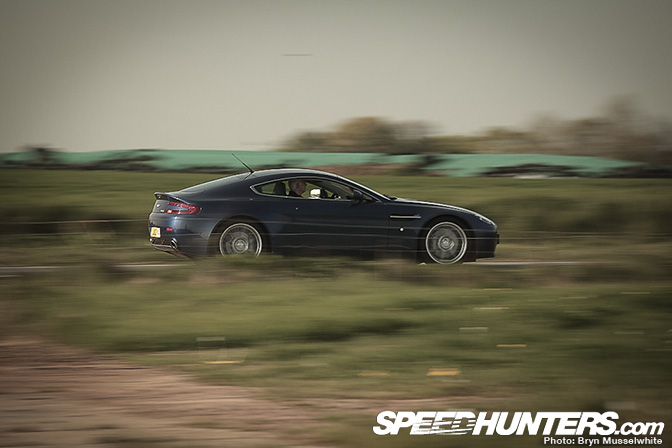 So now you've got this far, let's take a drive. If you think about the demographic of the typical Aston buyer, they don't want to shout, they want to whisper powerful secrets in your ear and watch as you try and stifle a reaction. The exhaust sounds solid, committed and ready, pulling away is easy with no dramas or anything to make you feel uneasy, but like a white gloved butler pushing you over a cliff, the boost comes in early at 1300RPM. Above 4000rpm exhaust baffles open and the game is up, they're usually opened at 3000rpm but the pressure isn't there at that rpm with the conversion. Now we're moving, I mean that in the literal sense, we're all moving, the car, myself and Graham in unison. Like a tie fighter launching from the death star, my peripheral vision just got blurry and the last time that happened I was in a 980bhp Mustang on the Silver State Classic. In short you get to concentrate on the important business of going fast, very fast, without worrying about blinking shift lights, restrictive harnesses, overly complicated driver interfaces or potentially expensive repair bills.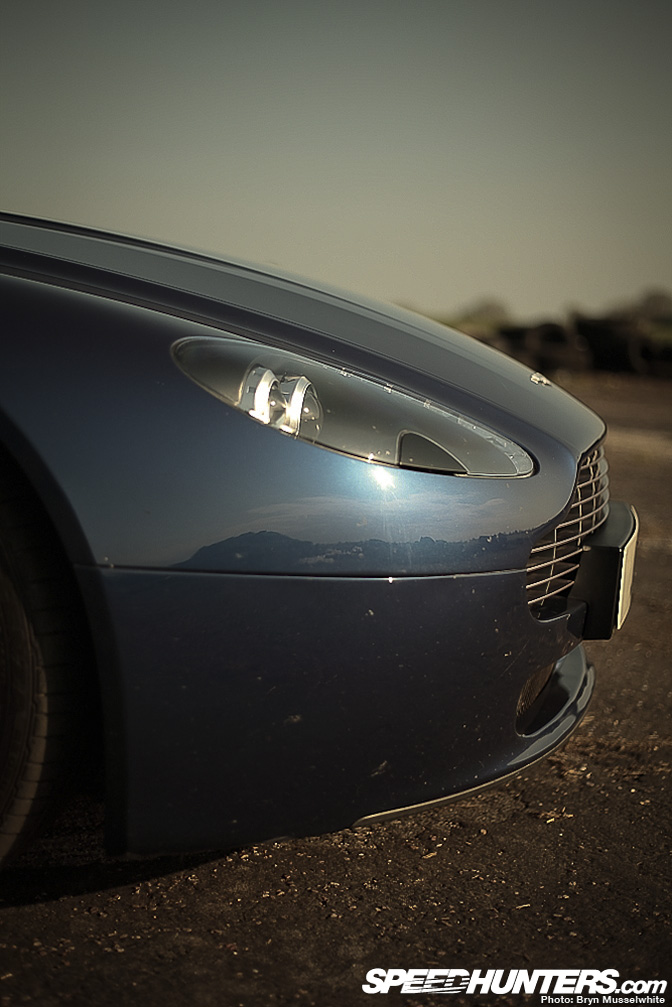 On a second attempt I achieved a 0-60mph of 3.43secs and a standing quarter mile time of 10.26secs. For somebody who had done no more than five miles in the car, that's astounding for such a novice with minimal seat time. The conversion perfectly compliments the base car, the supercharger fits neatly where the original inlet plenum sat, the bespoke carbon panels look better than factory fit and there is only a low water warning light on the dash to tell you there's only 380bhp to play with as the supercharger has been disabled for engine safety.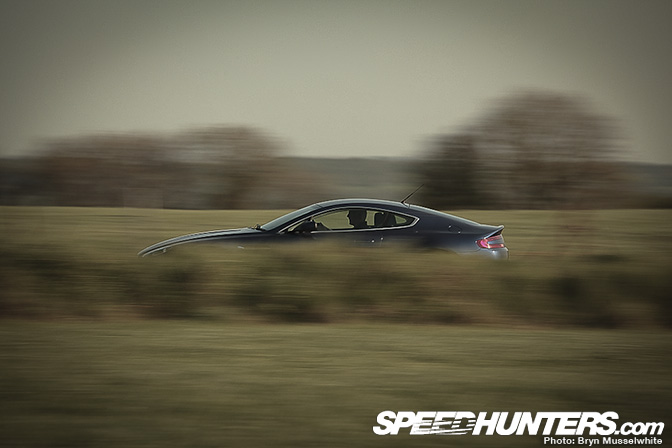 Of course the Vantage also came with a 4.7ltr V8, so this is just the baby. If you own it's bigger brother then Graham assures us you'll have somewhere comfortably north of 600bhp to enjoy, plus of course more of that lovely torque.
The fact is a Ford GT is slower to 60mph, an Audi R8 is nearly two seconds slower through the quarter mile. Oh and that R35 you lust after? Comparative 0-60, slower quarter mile by over a second and you can have this for less money, just. 
-
Words & Photos by Bryn Musselwhite