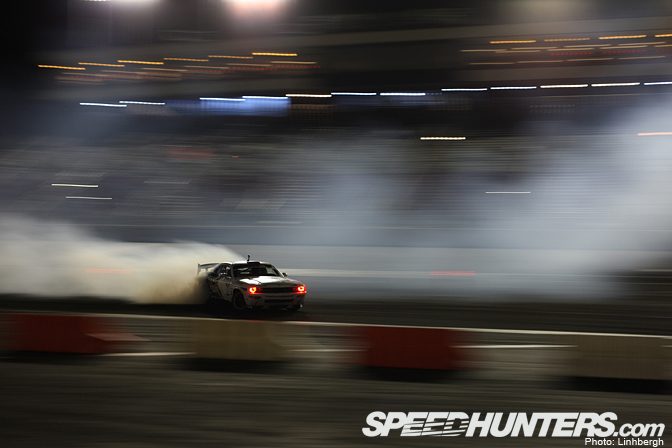 Irwindale Speedway has always been the destination for professional drifting in North America. This "House of Drift" has been the birthplace of American drifting as a mainstream sport ever since the D1GP events in the early part of the turn of the millenium. It has also been the birth place for many drifter's professional careers. Vaughn Gittin Jr. is one of those, as well as Team Need for Speed driver, Matt Powers.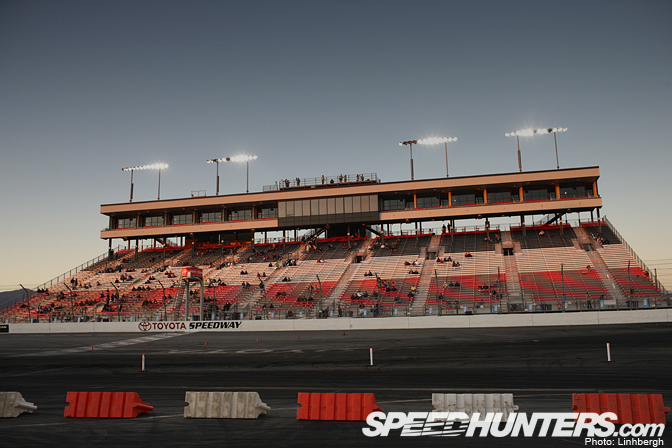 This year is Formula D's 8th year coming to Irwindale and is the perfect venue for the season's the final round. With the new track layout – which will make the show much more exciting for the spectators – and the extremely close championship battle, this year's event is looking to be a big one. As I type this, the crowds are streaming into the track and the organizers predict a record number of spectators.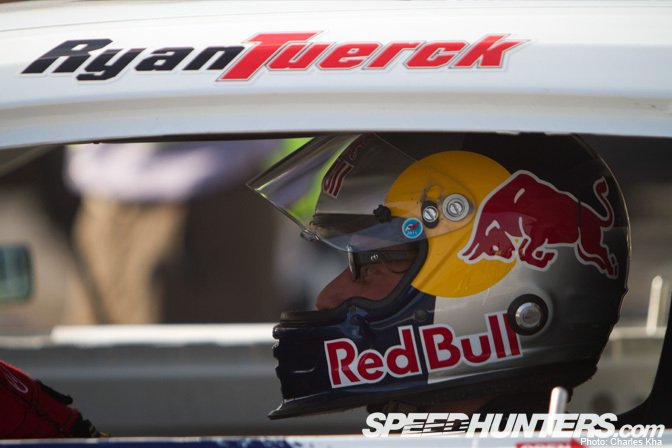 More eyes means a solid future for the drivers on the grid.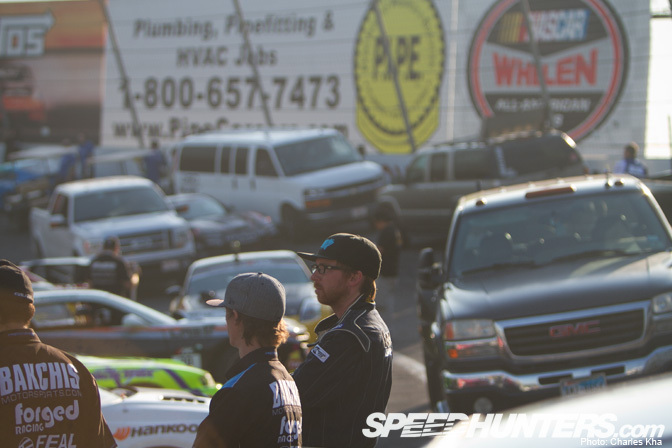 With all the excitement about the record crowds, there's still a job to be done. There's a champion to crown, and a round 7 winner to step on top of the podium.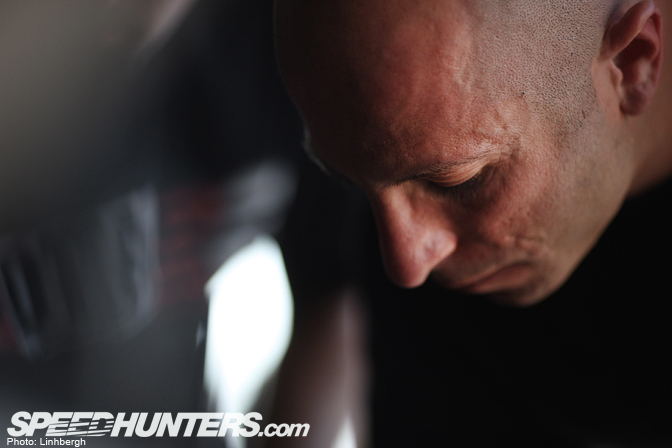 During Friday's daytime practice session, Fredric Aasbo's Scion had some engine problems.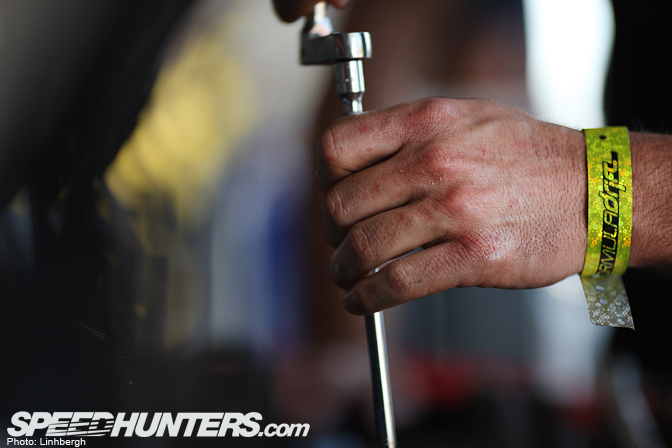 The team worked during the whole session to get the car buttoned up for qualifying.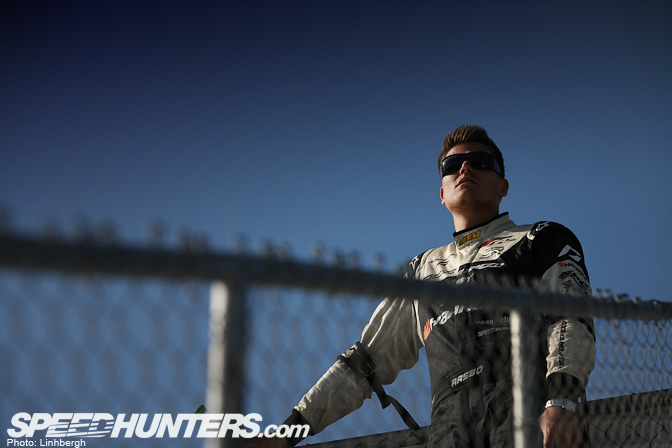 The only thing Fredric could do was to hang back and watch his fellow drifters practice.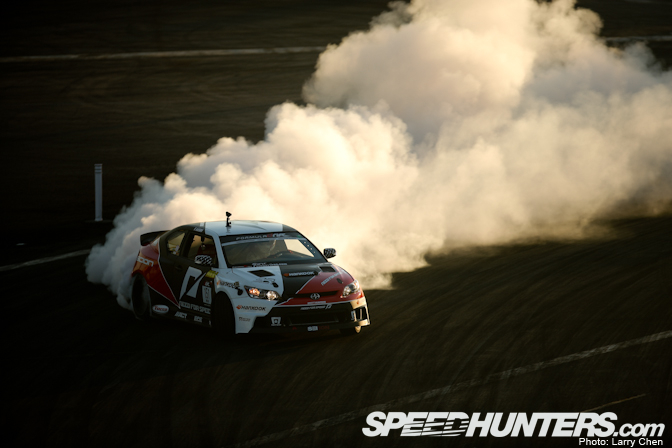 Without any practice in the rebuilt Scion tC, Fredric went out, put in two smokefest runs and sits 13th on the qualifying list. He will be going up against Kyle Mohan in the top 32.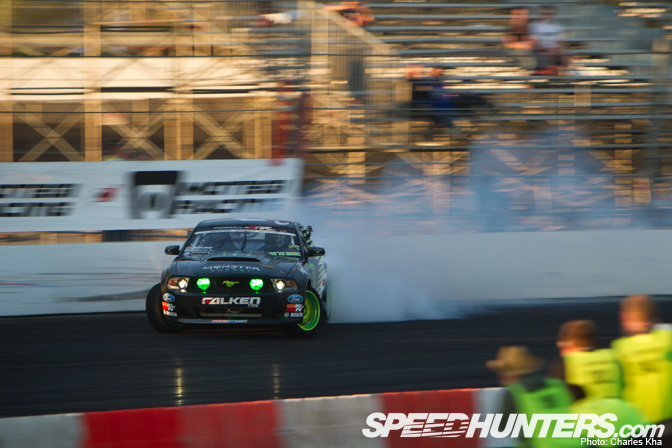 Vaughn Gittin Jr. was also battling a few gremlins throughout the day. Luckily, he was able to squeeze out two runs. He sits in 12th and will be meeting Michael Essa in the battle for 32.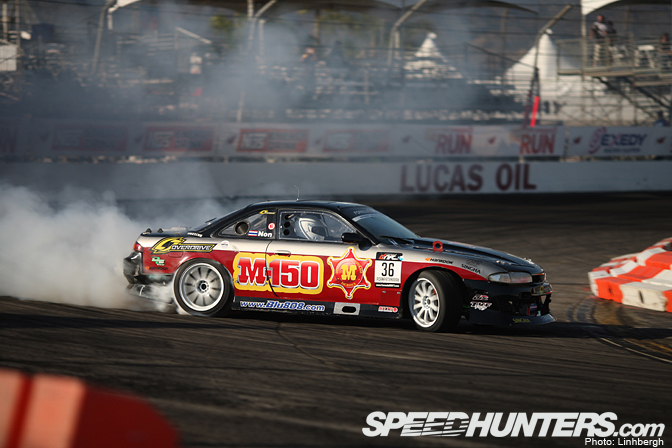 Saranon Pornpatanarak, from Thailand, put in two good qualifying runs, but unfortunately, they weren't good enough as he did not make the Top 32.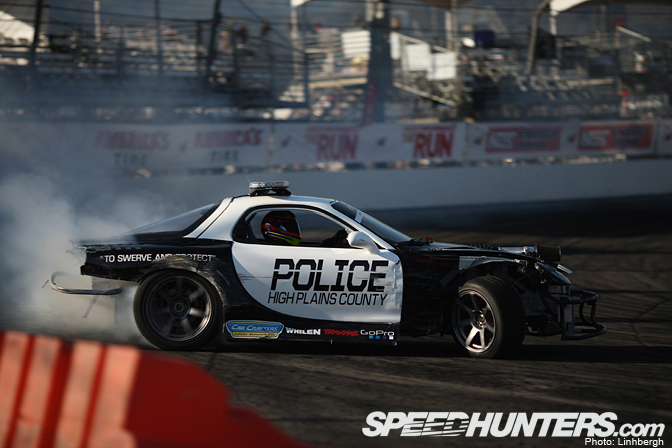 Jim Guthrie was sporting a new look coming into Irwindale. He unfortunately spun in his first run. On his second run, he hit the wall of the bank rather hard. Emergency crews carefully extracted him from his car and was transported to a hospital. Hopefully, all is well for Jim.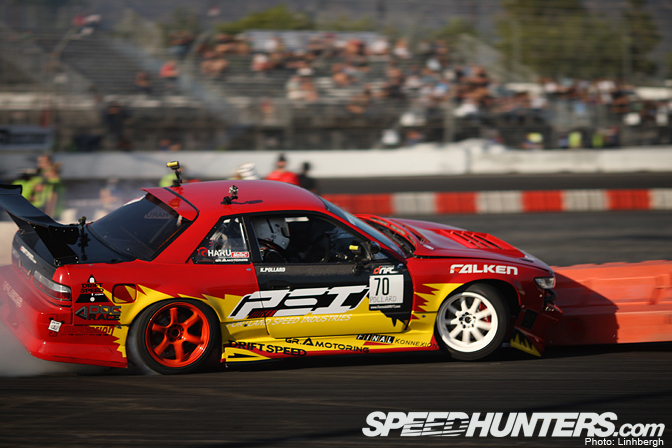 Kyle Pollard went out for a friendly run, but ended up getting a bit too friendly with one of the barriers. He wasn't able to repair his car in time for his second run and thus was unable to qualify.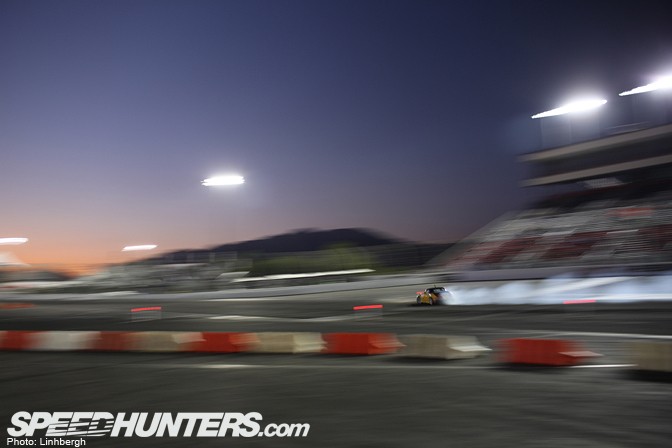 Indonesian driver, Emmanuel Armandio, qualified 24th and will be battling Conrad Grunewald in the Top 32. It's great to see so many new international faces join the FD championship.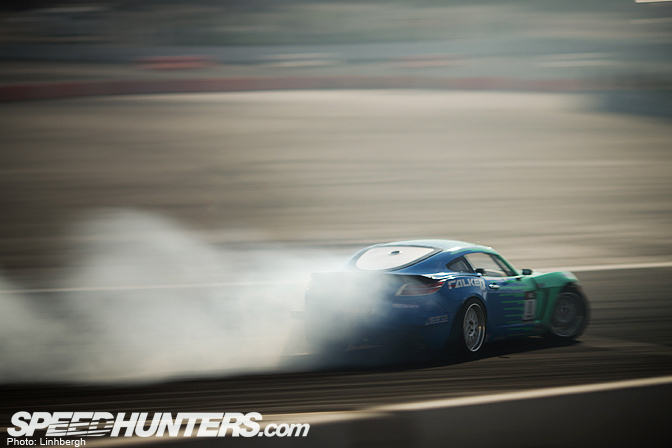 Darren McNamara was struggling with his car during qualifying and will line up a disappointing 26th.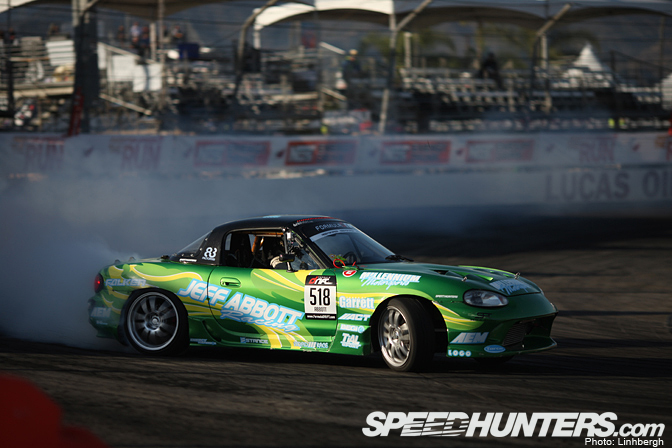 The biggest man in the smallest car, Jeff Abbott, was able to qualify 27th after putting in a solid second run.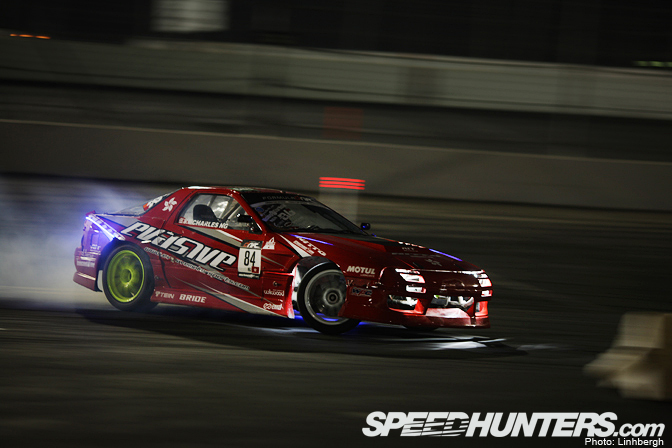 Charles Ng, with the most exciting car to shoot when the sun goes down, sits 31st on the grid. 
With that, let's take a look at the top 10 qualifiers.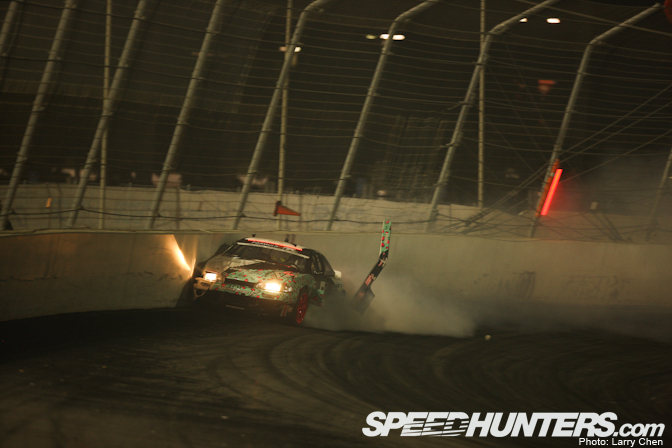 Team Need for Speed's Matt Powers scored a 79.4 on his first run. Powers crashed in practice and, on his second qualifying run, he once againt met Irwindale's notorious concrete walls. Powers was looking to better his 'banker' run but unfortunately pushed it a little too hard.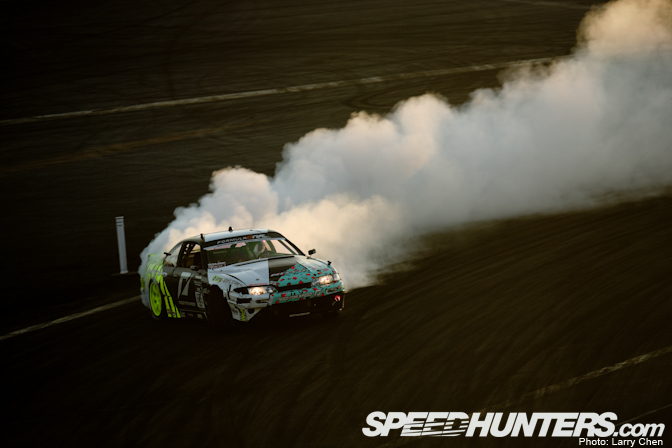 Luckily, his first run was more than good enough to qualify as he sits 10th on the grid and will be going up against Ross Petty in the top 32.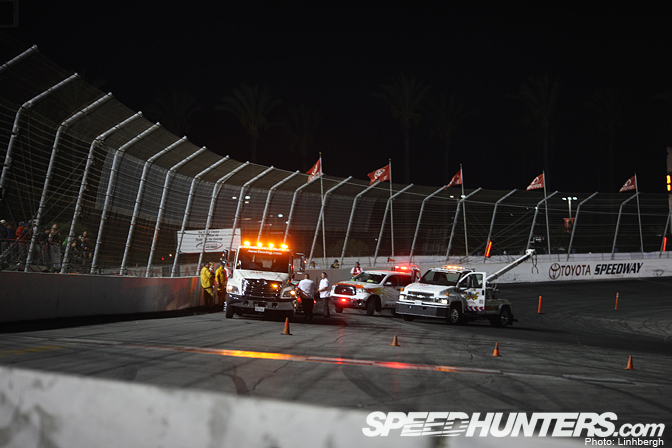 He was able to walk away from the crash last night as did the S14. His crew worked late into the night and was able to repair his car. Matt is currently fifth in the championship and will be hoping to put the bad luck behind him for today's battles.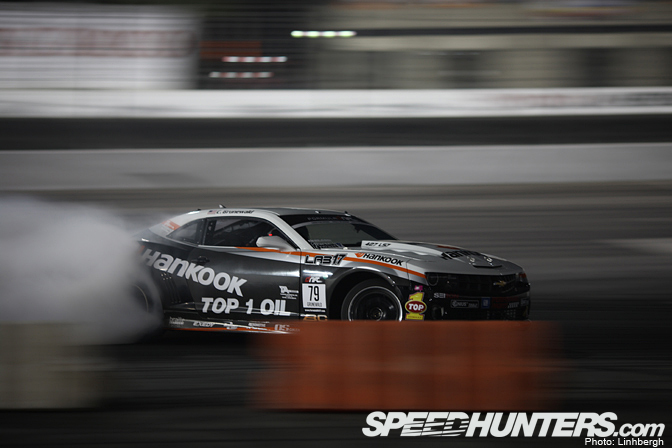 Sitting 9th is Conrad Gunewald.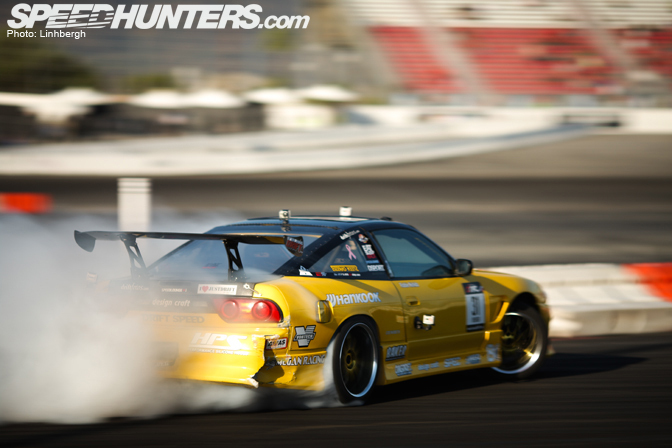 Robbie Nishida seemed like he was conjuring up some dormant Samurai warrior spirits and drove like a mad man. He qualified 8th.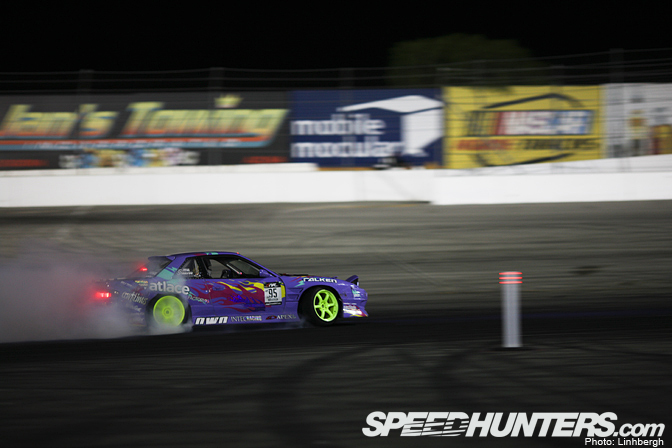 Walker Wilkerson put in an amazing run and will start in 7th. Who would have thought he's a rookie?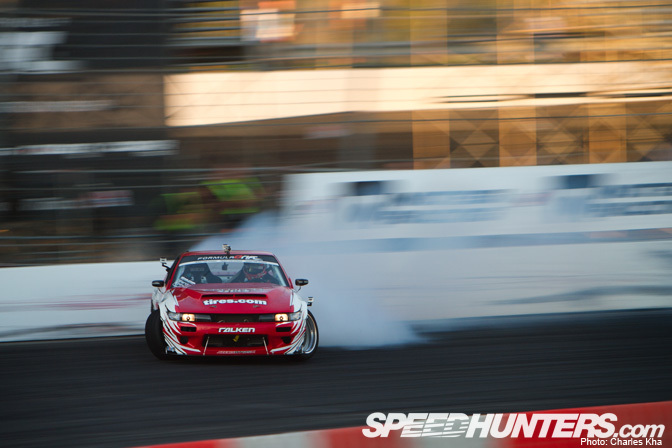 Daijiro Yoshihara, who will be hoping to take the crown tonight, drove his S13 straight into the 6th qualifying spot.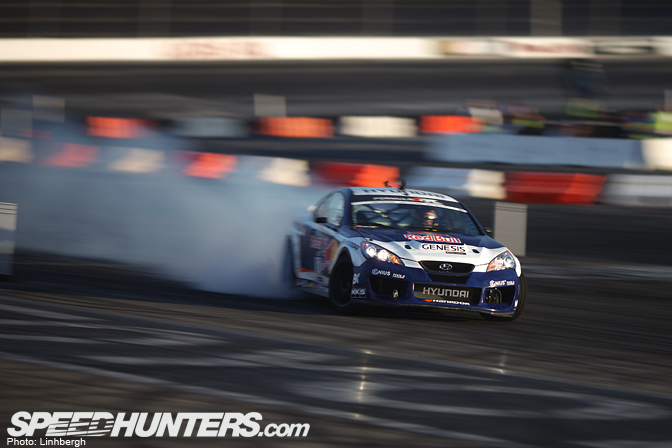 The man with nothing to lose, Rhys Millen, drove that Hyundai Genesis to 5th.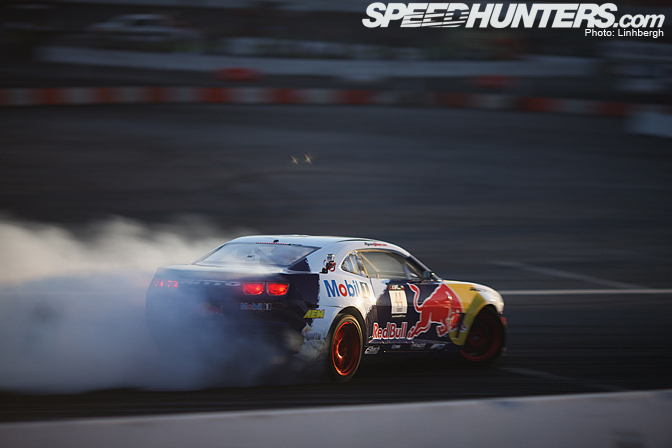 Ryan Tuerck qualified 4th.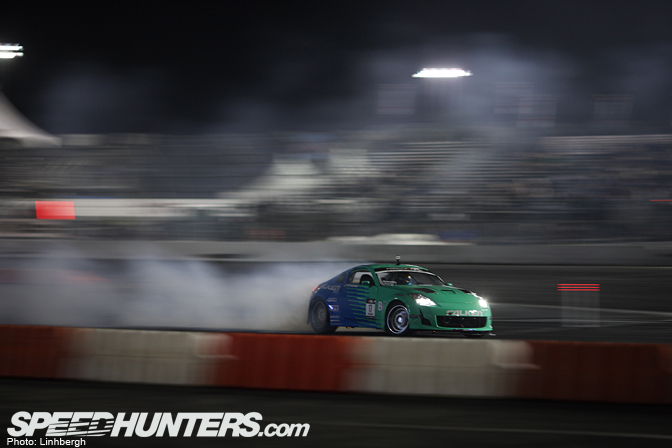 Tyler McQuarrie drove like he needed to set things right after his weekend in Las Vegas. He qualified a very respectable 3rd.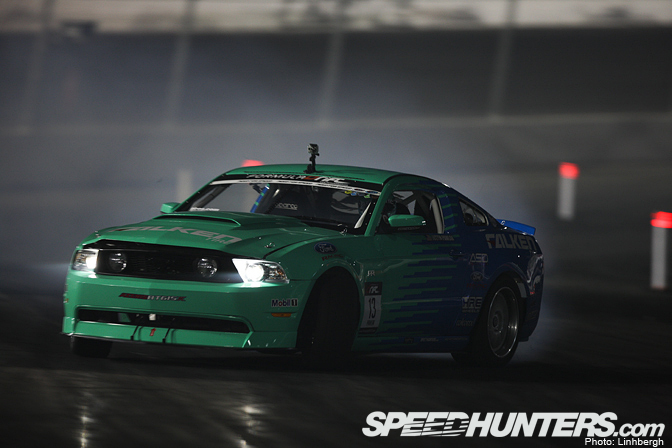 Justin Pawlak proved that he was very hungry for that championship crown and drove his Mustang to the second qualifying spot. He will be going up against Charles Ng in the top 32.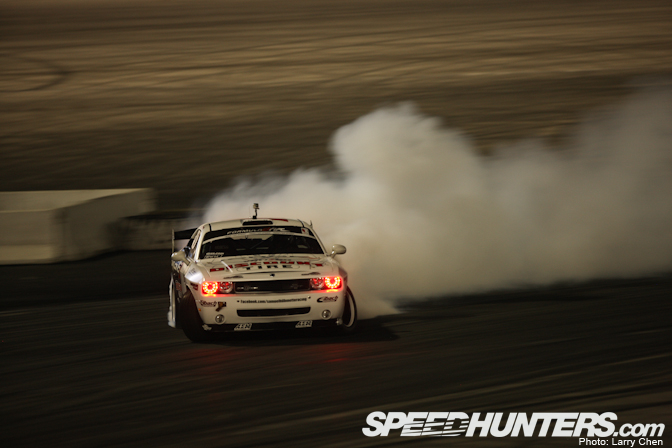 The number one qualifier at Irwindale went to Samuel Hubinette. Seeing how this just might be his last Formula D event as a driver he wanted to go out with a bang and the #1 qualifier is definitely a good start.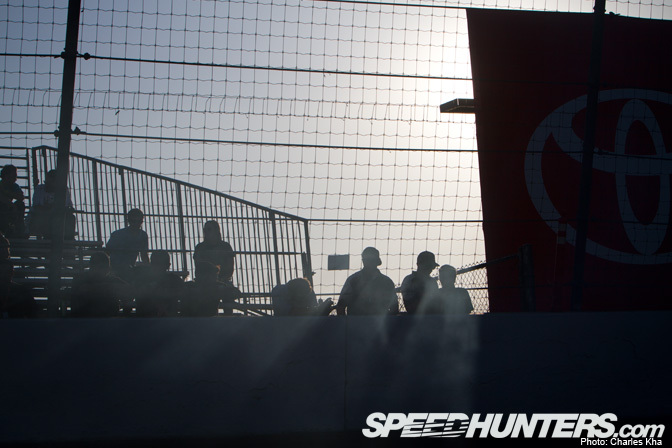 By tonight, a new Formula DRIFT champion will be crowned. There's plenty of tense faces in the pit lane and thousands of fans filling the grandstands. It's crunch time.
-Linhbergh
FD Irwindale Top 32 Qualifiers:
1.Sam Hubinette
2. Justin Pawlak
3. Tyler McQuarrie
4. Ryan Tuerck
5. Rhys Millen
6. Dai Yoshihara
7. Walker Wilkerson
8. Robbie Nishida
9. Conrad Grunewald
10. Matt Powers
11. Ken Gushi
12. Vaughn Gittin Jr.
13. Fredric Aasbo
14. Dean Kearney
15. Luke Lonberger
16. Chris Forsberg
17. Matt Field
18. Toshiki Yoshioka
19. Ryan Kado
20. Kyle Mohan
21. Michael Essa
22. Taka Aono
23. Ross Petty
24. E. Armandio "Dio"
25. Dennis Mertzanis
26. Darren McNamara
27. Jeff Abbott
28. Pat Cyr
29. Kenneth Moen
30. Cyrus Martinez
31. Charles Ng
32. Patrick Mordaunt
2011 Formula D Irwindale Stories on Speedhunters