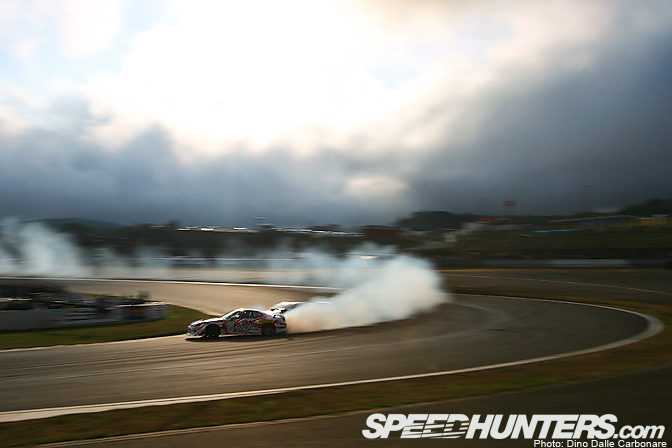 It's hard to believe that yet another year is coming to a close. Most championships in the motorsport world are either finished already or in the process of wrapping up, and yesterday was the turn of Japan's pro-drift series, the D1 Grand Prix. I haven't really attended many events this year, only the Tokyo Drift double rounder back in June, so it was quite refreshing to see some top-level action once again at an equally top-level track.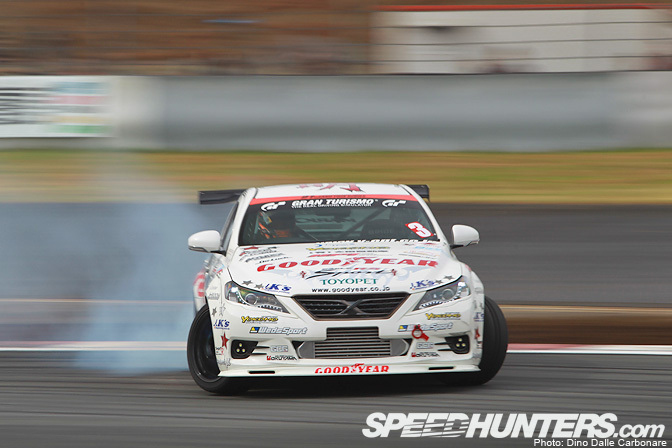 Fuji Speedway as ever provides spectators with high-speed, on-the-limit drifting thanks to the use of the in-field hairpin and the tricky section leading up to it, so I was really looking forward to seeing some of the new cars like Kunnyz's MarkX and Kumakubo's Laurel taking full advantage of all their power. I was not disappointed!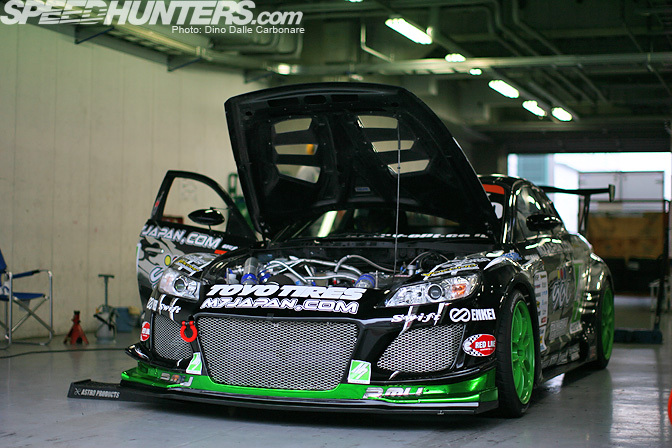 Heavy rain and thunderstorms made the whole of Saturday's qualifying session a bit of a mess, with plenty of crashes and unexpected errors from some drivers.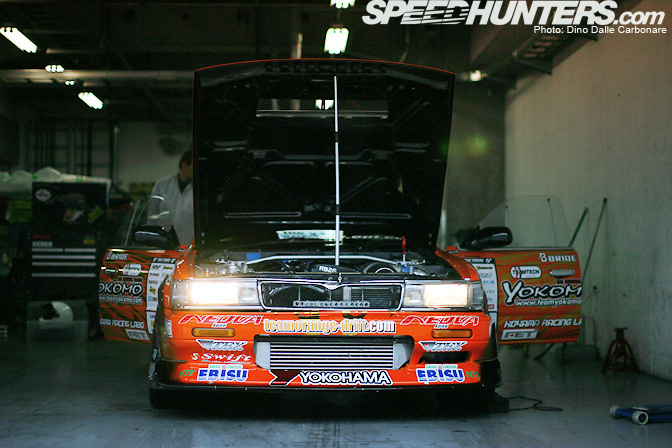 This meant that a lot would be trying to do their best during the final qualifying on Sunday, but while the rain had stopped…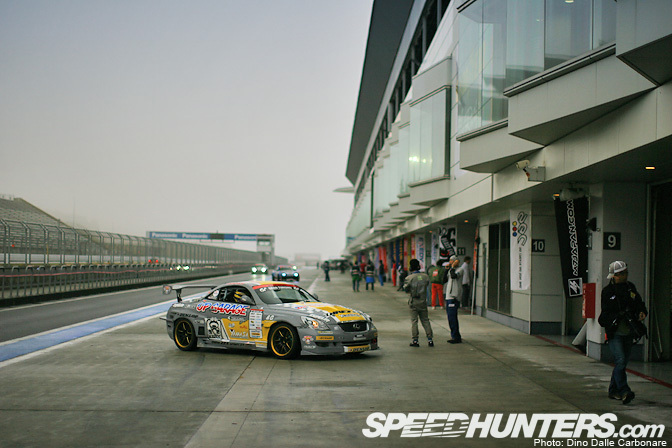 …the track was still wet with threatening low-standing clouds, giving a very eerie feeling to Fuji's pit lane early in the morning.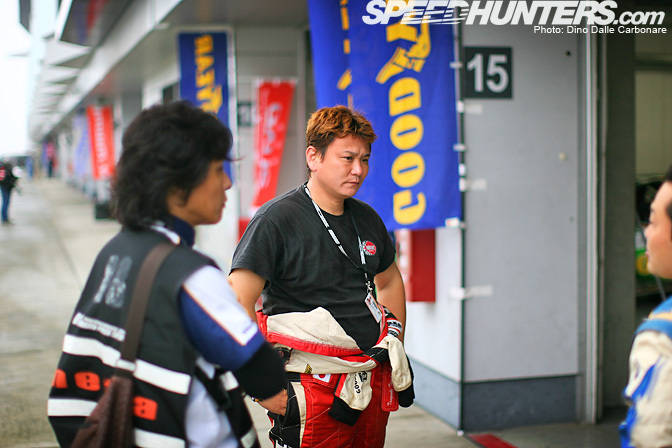 All drivers went out for a short practice session to determine what sort of grip levels they were faced with. Here is Tezuka and Tokita of Team Bee-R looking rather concerned after an outing on the slippery track.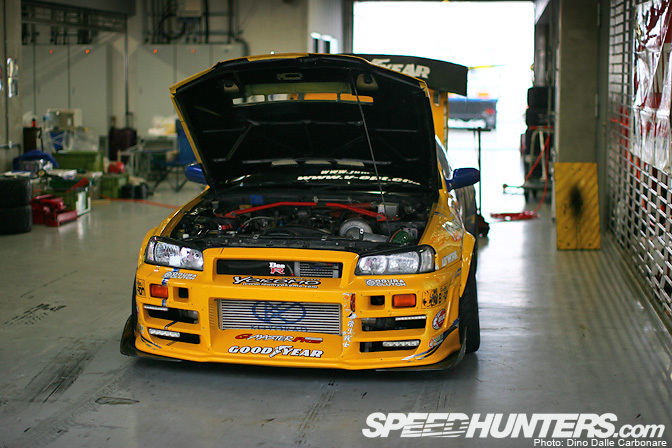 While Bee-R finishes up the new BNR34 D1 car, Tezuka is getting the most out of his old and reliable BNR32, still one of my favorite cars to see in action. The combination of a screaming RB26 and the "drive it like you stole it" style of Tezuka is always a great combination for true entertainment.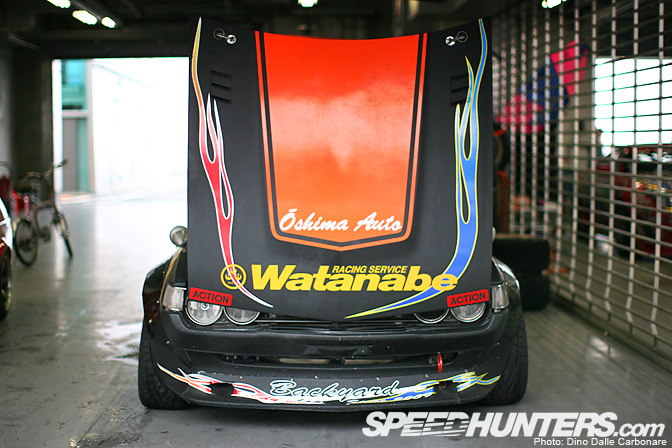 The SR20-powered RA28 of H.D.O. is looking as menacing as ever!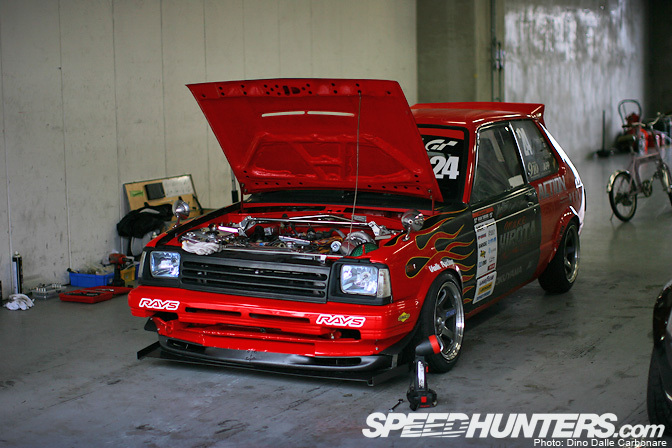 Next to it was everyone's favorite Starlet, sporting a fraction of the power of some of the other cars in the top-teams of D1, but making up for it in lightness and of course style.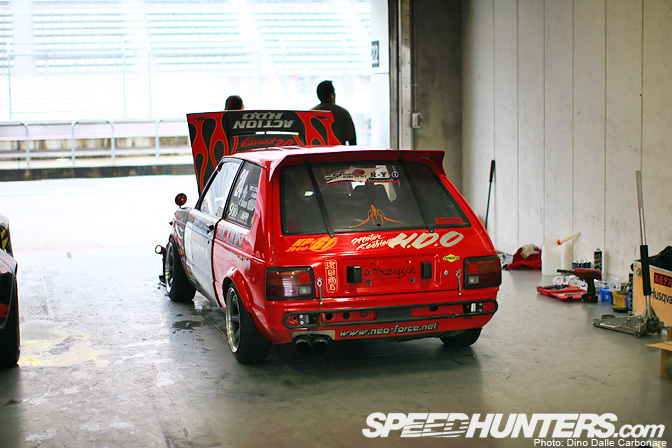 How cool!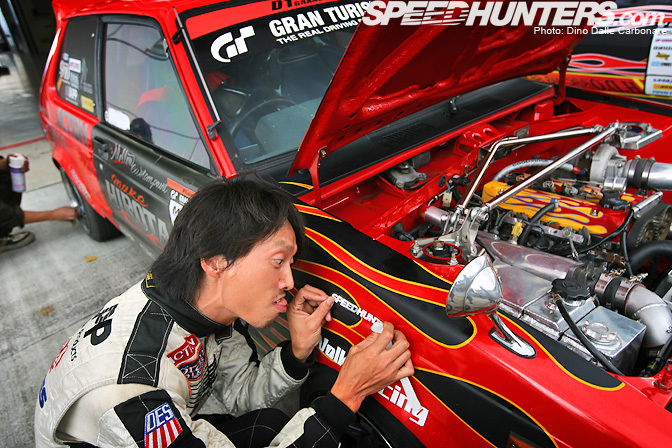 Iwai-san, driver of the little KP61 and Speedhunters reader, added a last minute modification which is said to considerably boost power! Look at the concentration on his face as he attempts perfect alignment!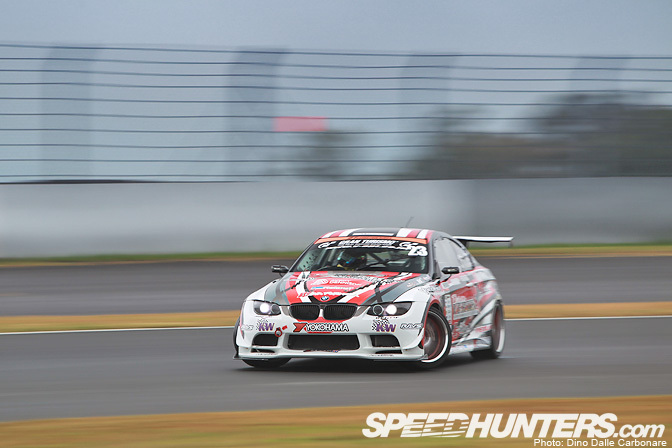 It was great to see that Ueno of T&E had made it into the second qualifying session and was really stretching the legs of his 2JZ-powered 3-series.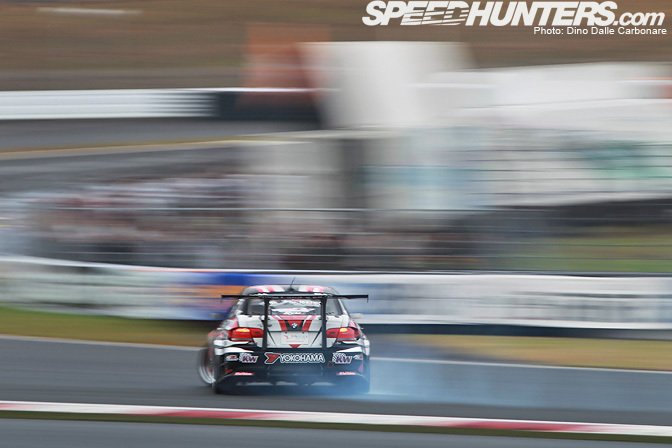 Thankfully, as the clouds began to open up, the track started drying pretty quickly, which meant plenty of tire smoke!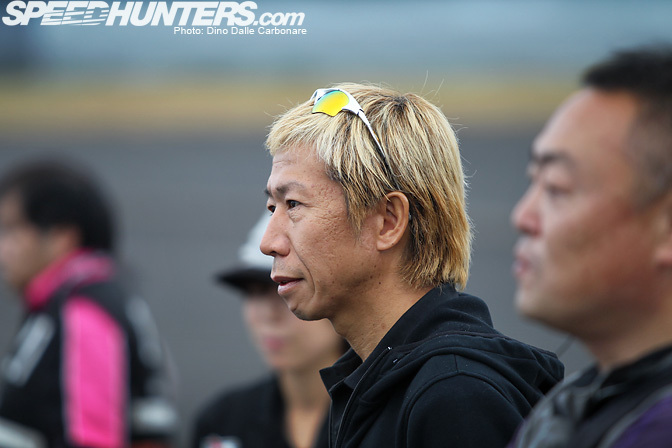 I still can't believe Tsuchiya and Inada are no longer a part of D1, but I'm happy to see that things have moved along and the series is still attracting big crowds. Of course one of the judges on the panel this year is Tarzan Yamada, who has a lot of experience in drifting from his Formula D days. It was also great to see that they have finally given him a microphone, as let's face it, you can keep the Tarzan quiet!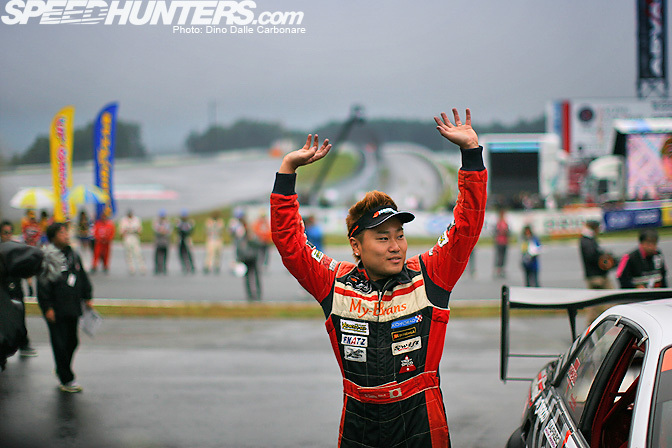 The 2011 championship title was to be decided at Fuji, with 3-times D1 champion Imamura defending his number 1 spot against Saito.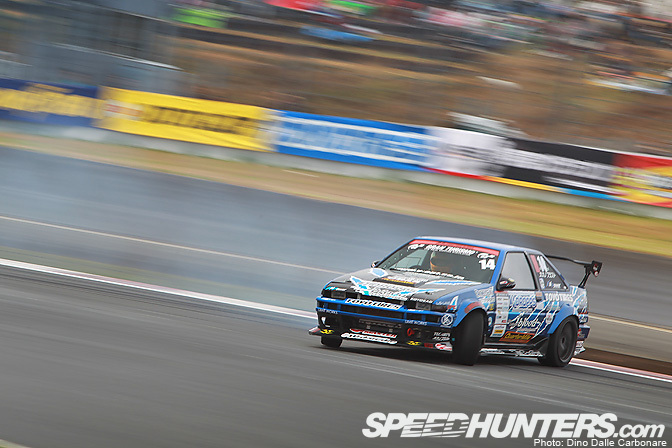 As Tadokoro in his Dropps AE86 shows us, Fuji calls for full-speed entries, some drivers managing to throw their cars sideways at close to 120 mph.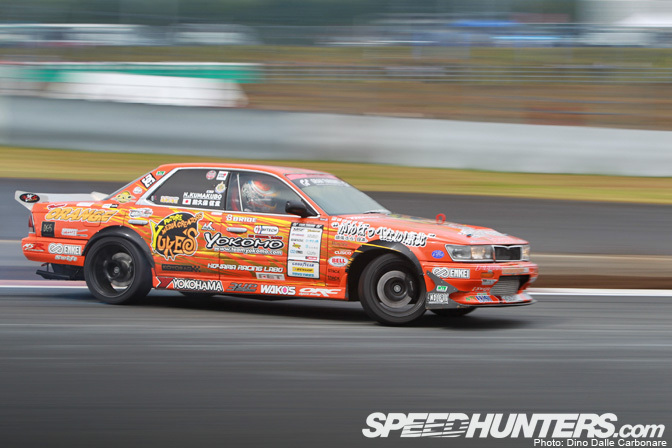 Kumamubo looked like he was loving his Laurel and it was a pleasure to hear the full fury of that dry-sumped Koyama-special RB26!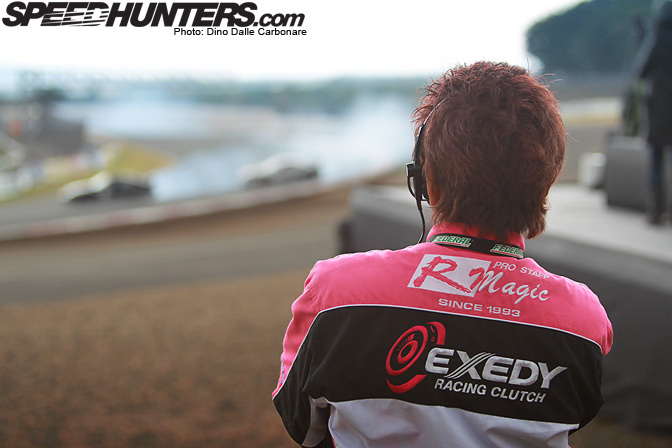 Here is Ohara-san from R-Magic checking out his driver, Takayama, attacking Fuji's hairpin.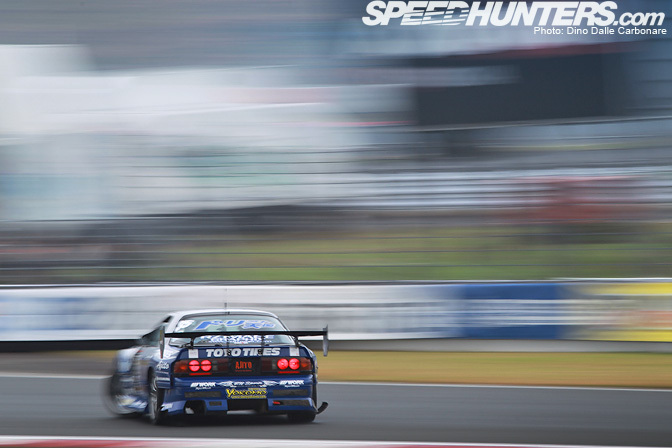 Imamura, previously known as the Drift Samurai, was looking as hot as ever with his crazy FC.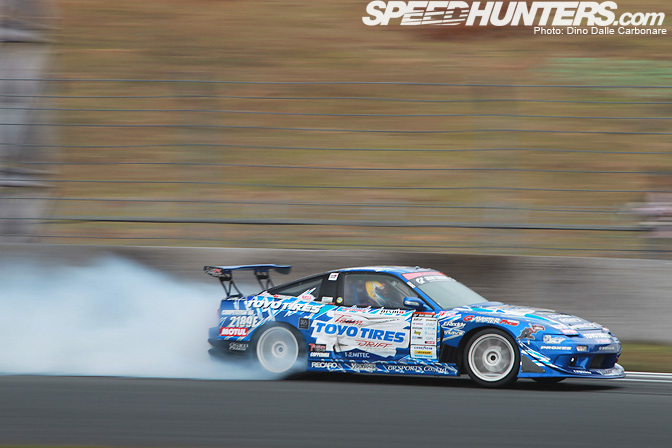 Kawabata remains one of the most entertaining drivers out there, continiuously attempting those rear-first entries that drive the crowds wild.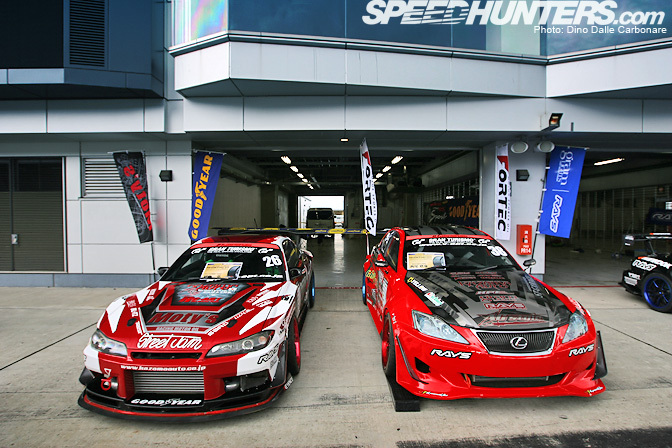 Unfortunately both of the Kazama Auto cars, Tanaka's 2JZ S15 and Nishio's 2JZ Lexus IS, didn't end up making it past Saturday's qualifying. 2012 will be the year for these guys I'm sure.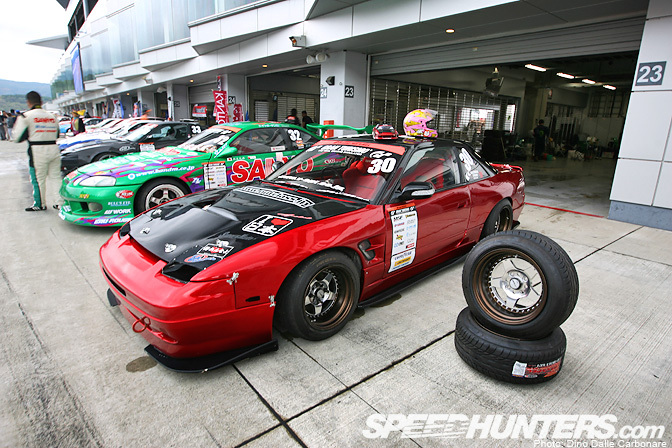 Fujikawa's Super Made Onevia now manages to look even better thanks to a new set of Work CR01s.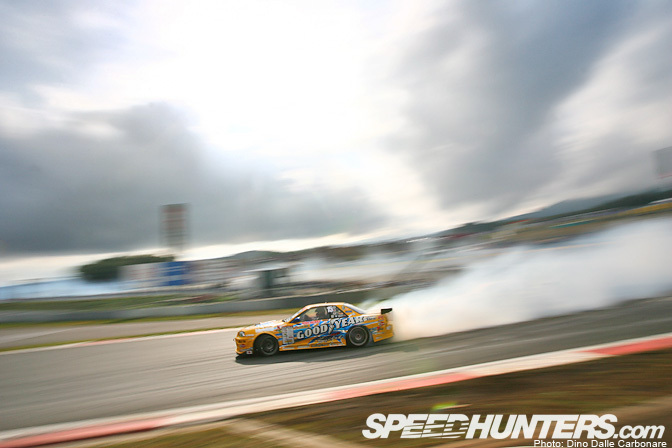 Check back soon for more drifting action from D1's final round!
-Dino Dalle Carbonare