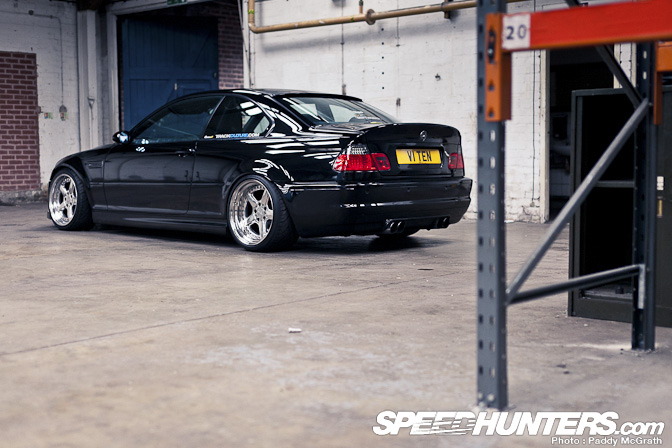 Building an aggressive street car nearly always involves making some sort of compromise along the way. As much as we would all like to think we could live with a stripped and caged daily driver, we all know that the reality would quickly wear thin. Especially in our modern motoring world where it would seem that every government is doing their utmost to remove the joy of driving from us.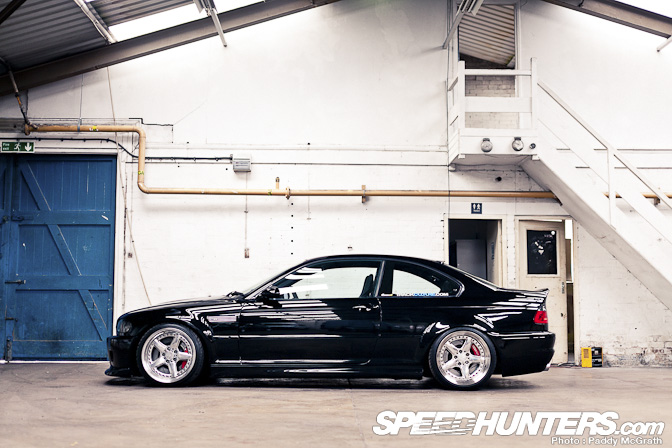 When Phil Morrison bought this E46 M3 as a daily driver he wanted to keep things simple and civilized. But when you have a 720+BHP Nissan S15 in your garage, everything else is going to feel rather tame in comparison. As some of you know, Phil is the co-founder of Driftworks, which we published a story about earlier in the week. Earlier this year, Driftworks announced a new brand, Trackculture, to appeal to track day junkies and fast road car owners.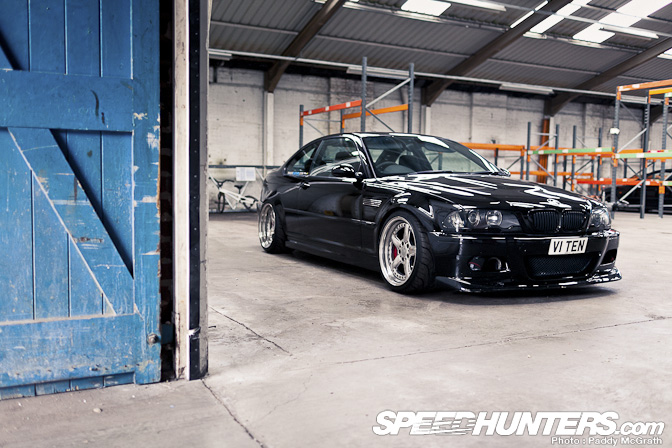 The modifications started quite soon in this E46's life once under Phil's ownership. A healthy 370 odd horsepower was extracted from the original motor but knowing Phil, this was never going to be enough.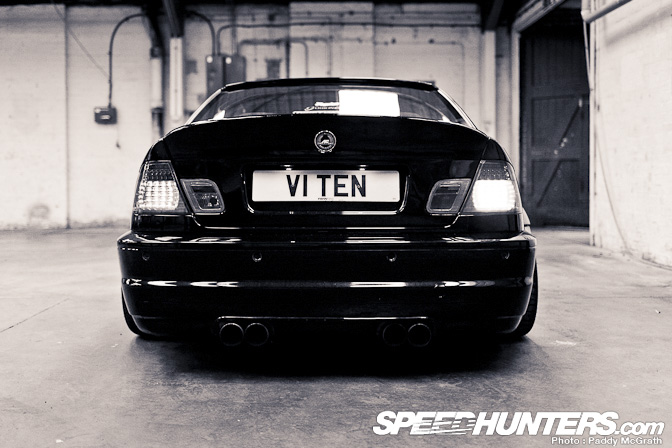 It's also worth remembering that when your sister company's flagship car is the Driftworks S15, building something tame was never going to be an option.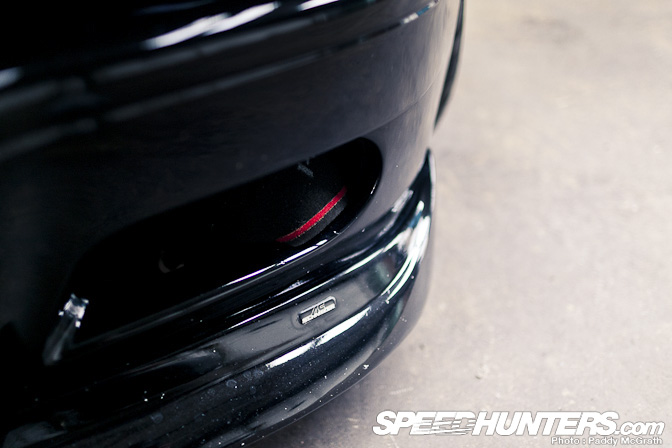 Phil's vision for his M3 was to keep it sensible and retain the everyday drivability of an M3 whilst improving power and delivery but not detrimentally affecting the weight distribution or handling of the car.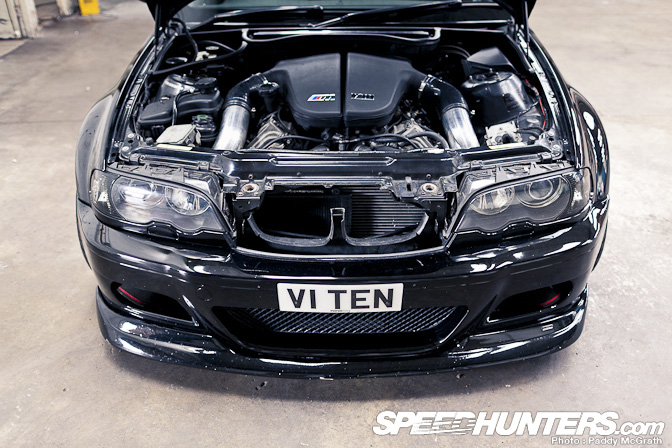 The first time I popped the bonnet, it was to be honest a sort of anti-climax but for good reason. The engine just looked like a factory install. That's no mean feat considering swapping an S85 into an E46 is not exactly the easiest of conversions.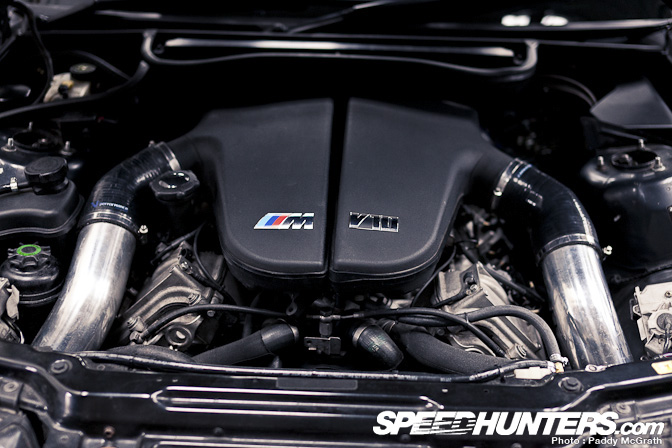 Thanks to the help of Dynotorque (one of the UK's leading LS motor swap shops), they managed to get the five litre S85 engine into the bay with the use of custom engine mounts and crossmember, an RX7 steering rack and a custom steering column.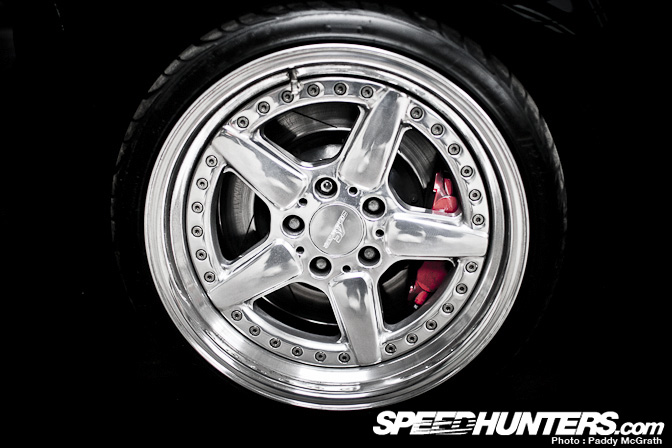 With 500+BHP now being delivered, adequate stopping power was required. Behind the three piece AC Schnitzer wheels (18×9.5 up front and 18×11.5 at the rear) …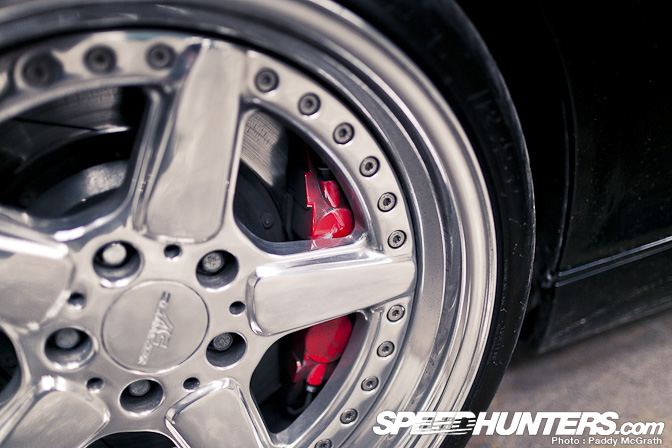 … lie 360mm discs with CA Automotive six piston calipers for the front and Stoptech four piston calipers with Stoptech pads for the rear.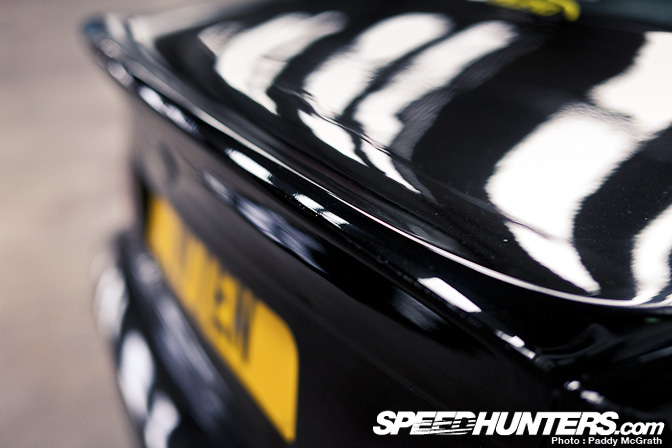 The subtleties on the outside are what really help this car shine in my book. To a regular passer-by it looks like just another E46 M3 but to a trained eye, all the details begin to reveal a much bigger picture. The rear bootlid is a carbon CSL item …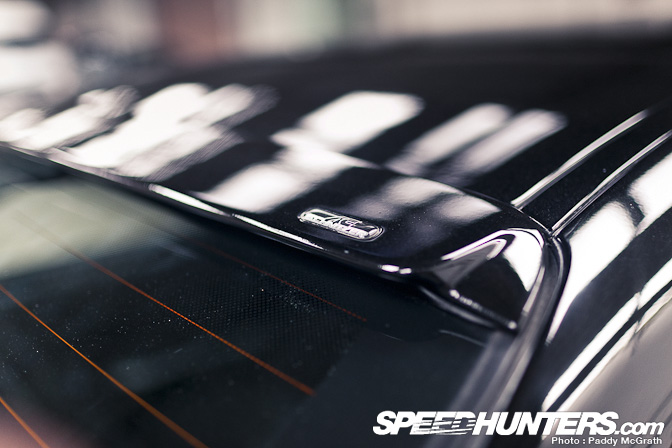 … with the addition of an AC Schnitzer roof spoiler.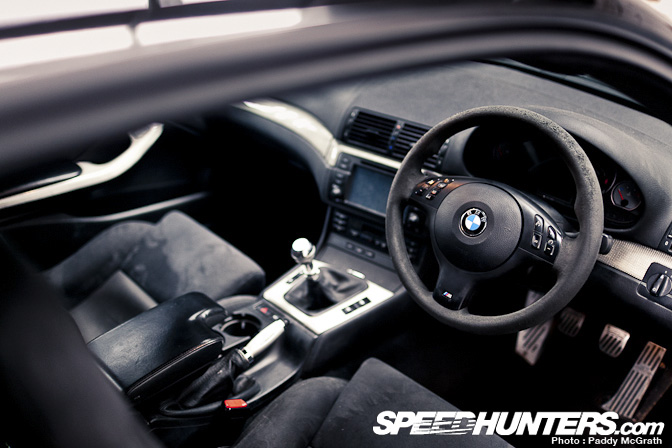 The inside has retained all the expected creature comforts of an M3.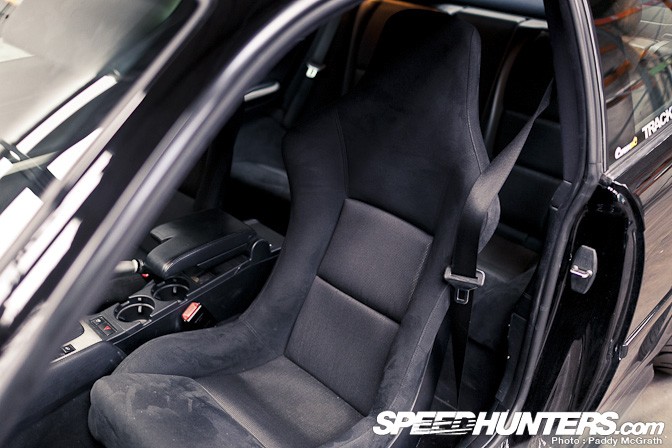 CSL front seats …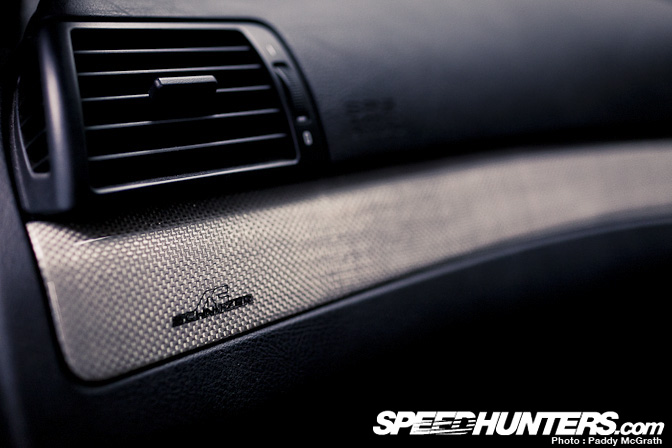 … and ACS white kevlar dash and door trim.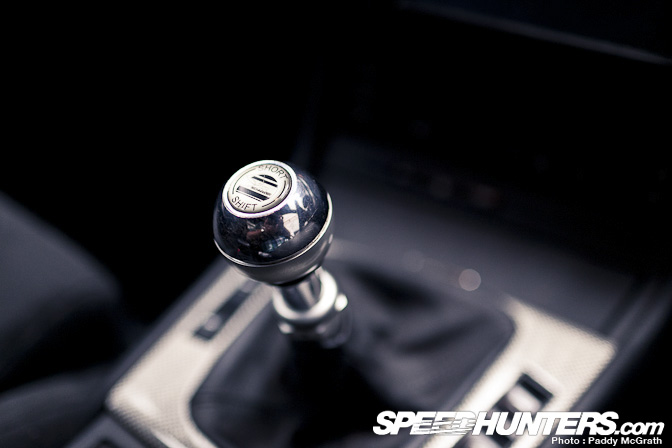 As far as I know the European E60 M5 never came with a manual gearbox – although the USDM version did – so Phil's research revealed that an E9x M3 six speed would mate perfectly to the S85 engine.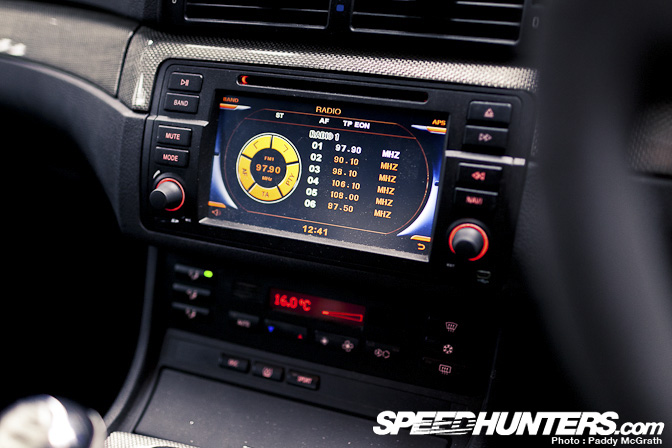 A Dynavin headunit takes up radio, TV and navigation services.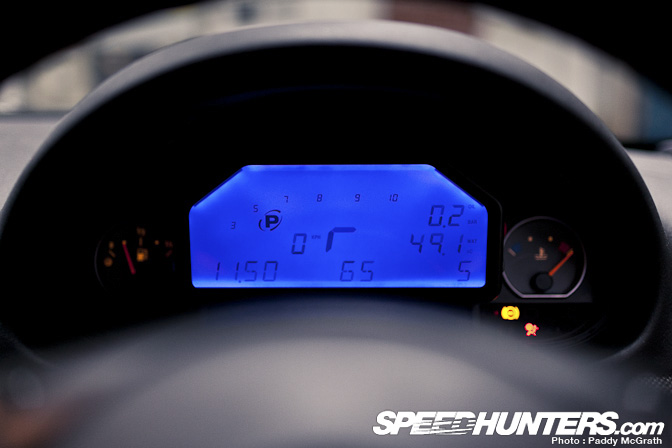 Trying to get the engine up and running with the M5's extremely complicated electronics was a going to be a big no-no. With the help of KMS Racing Engines in the Netherlands, a company with great experience in running the S85 in track cars, Phil sourced a Pectel SQ6M12 ECU and paired it with a Cosworth Motorsports engine loom which all tied into the above Cosworth Pi Omega Dash2.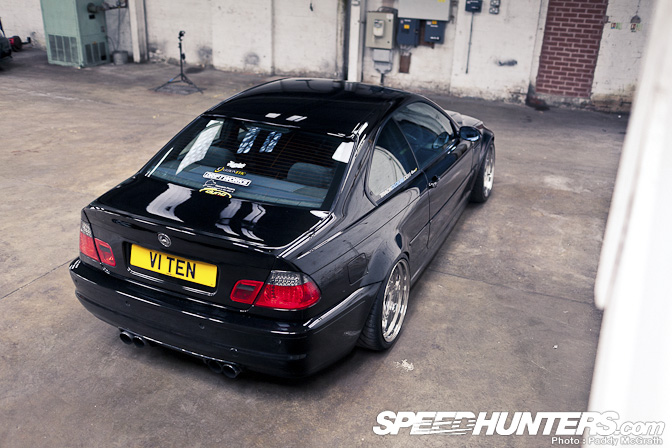 The rear arches alone required nearly 100 hours of labour to flare them for an extra 40mm of clearance whilst still retaining an OEM look.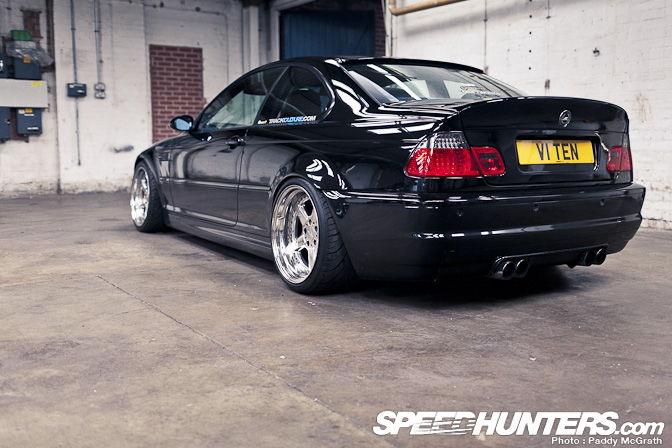 The effort was worth it however, as there are no issues whatsoever with the 285/30/18 Federal RSRs (245/35/18 at the front) fouling the bodywork or inner-arch. Remember how I'm always harping on about how you can have a fully functional track car with stance and not have issues? This is how it can and should be done.
The exhaust is a custom stainless steel item built by Dynotorque with an Eisenmann back box with a QPR Electronic Exhaust Bypass Valve. The resulting sound is something like this …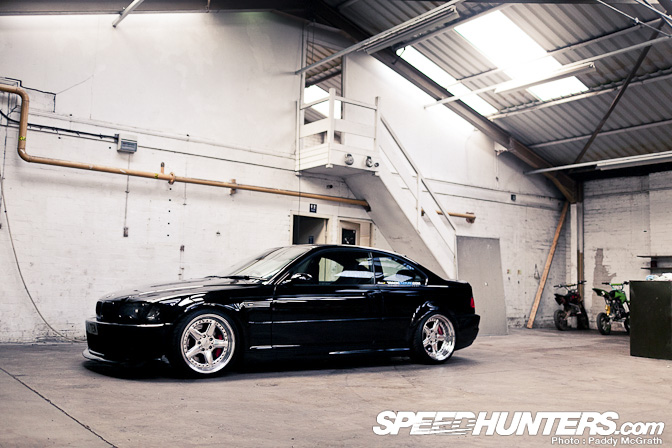 What appeals to me most about this car is that it offers the complete package – it has the power, the looks and the comfort to match.
What more could you want?
–
Paddy McGrath
Street Cars & Sleepers Special Stories on Speedhunters
Trackculture V10 M3 Build Thread
Phil would like to say a special thanks to:
Vehicle Specification
Engine:
BMW V10 S85 5.0litre
KMS Racing Engines manual cable throttle linkage assembly
KMS Racing Engines modified S85 race Alternator,
E60 M5 Water Radiator
Huge Setrab engine oil cooler
Trackculture Power steering cooler
Custom intake Snorkels
Pipercross filters in bumper.
Dynotorque custom Stainless exhaust, into Eisenmann back box with QPR Electronic Exhaust Bypass valve for those 'straight through V10′ moments
Dynotorque custom crossmember and engine mounts
Custom engine belly plate.
Custom 2 litre swirl pot and lines with new standard fuel lift pump and Bosch 044 main pump – 'Necessary because it pulls way more G's than a stock M3, and starves fuel on sweeping right handers. This solution has eliminated that.' – Phil Morrison
Electronics:
Pectel SQ6M12 ECU including configuration and engine dyno map file from KMS Racing Engines
Cosworth Motorsports Engine loom
Cosworth Pi Omega Dash2 Motorsports dashboard
All brand new Bosch engine sensors
Drivetrain:
BMW E90 M3 6 speed manual gearbox
M5 Twin plate clutch with modified fork and bearing assembly, modified S54 slave cylinder and pivot.
Carbonetics Carbon Limited Slip Differential with 3.6/1 Ring and Pinion
DaveMack custom propshaft
Driftworks Gearbox oil cooler
Dynotorque Custom shifter and linkage
Dynotorque Custom gearbox mount
Suspension & Chassis:
Nitron 3way full coilovers
Custom front anti roll bar
Rear H&R anti roll bar
Eibach adjustable rear lower arms
Tom Schirmer solid offset front lower bushes
Powerflex rear trailing and subframe bushes
Dynotorque rear load spreading turret bar – To allow use of full coilover rear suspension
Strengthened and plated rear subframe mounting points
Notched chassis rails for custom steering column and radiator
Steering:
Mazda RX7 Steering rack
Custom Steering column with extra linkage to clear manifolds
Trackculture prototype adjustable bump steer tie rod ends
Brakes:
CA Automotive 6-pot 360mm front big brake kit with Pagid blue pads
Stoptech 4-pot 360mm rear big brake kit with Stoptech pads
Goodridge braided brake hoses
ABS removed
Wheels and Tyres:
3 Piece AC Schnitzer type 2 with new barrels and stainless steel lips
18×11.5" Rear with 285/30/18 Federal RSR Track day tyre
18×9.5" Front with 245/35/18 Federal RSR Track day tyre
Fronts have 10mm AC Schnitzer spacer to clear the large front brakes
Interior:
Front and rear CSL Alcantara Seats
CSL steering wheel
AC Schnitzer White Kevlar dash and door trims
Dynavin Sat-Nav / TV / Stereo
Exterior:
Heavily flared and pulled arches front and rear
AC Schnitzer carbon fibre front lip spoiler
Carbon Fibre CSL bootlid
Custom Black paint work recently prepared by Meguiars
Clear sidelights
LED rear light clusters