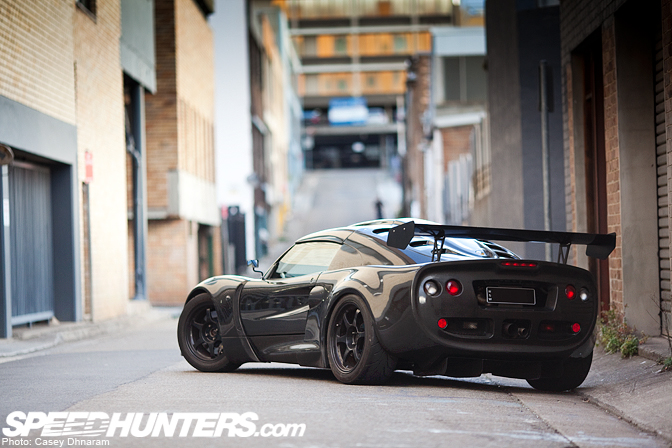 After seeing this car, the first thing I said to its owner was: "I'm guessing you need a change of underwear everytime it's raining." His response?
"Mate, you need a change of underwear even when you drive it in the dry."
And that short exchange, in my opinion, perfectly sums up this carbon-clad, turbocharged street monster.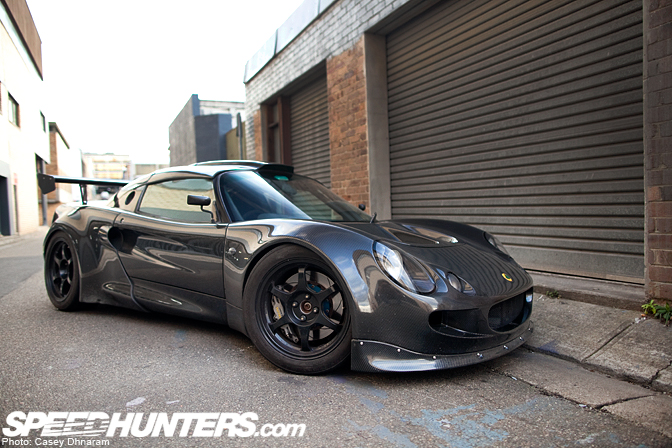 Indeed, it takes a certain type of madman – a mad madman perhaps – to turn the wick up on something like a Lotus. This car started life as a 2000 model Elise, a car that was aimed at purists. It was light weight, no frills, two seater, mid-engined and rear wheel drive. But even for purists, the Elise was at the very edge of what could be defined as a street car. For many, it was simply too raw, too unrefined, to be considered driveable on public roads.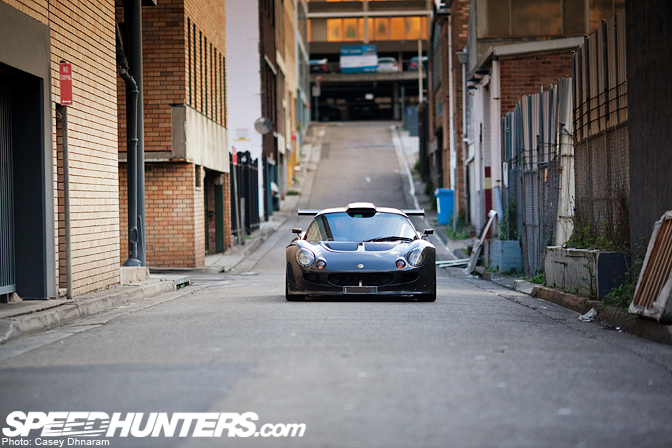 But everyone has a different perspective. And for AP, the guy who owns and drives this beast, a standard Lotus Elise was simply too… underwhelming.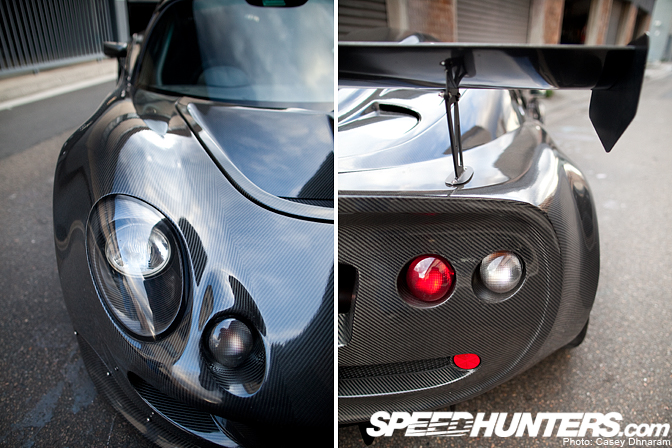 Enter City Performance Centre, the shop we profiled a few days ago. CPC's owner Alessio Iera is known for building some crazy cars, so when AP came knocking, saying that his Lotus wasn't exciting, they devised a plan to transform it into a more brutal street car.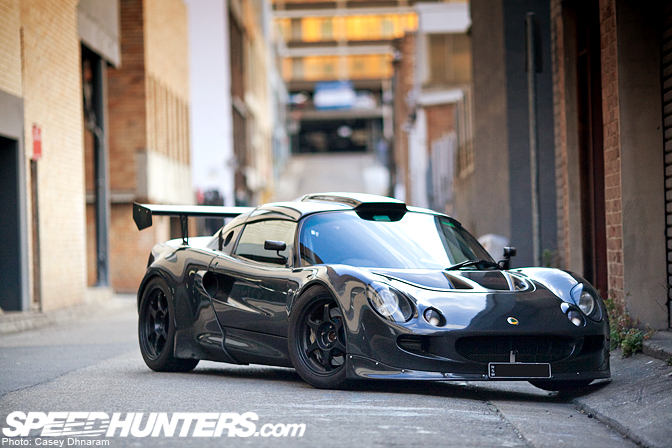 CPC's diagnosis for AP's dilemma was to take the Elise and put it through boot camp. The aim: to harden it up.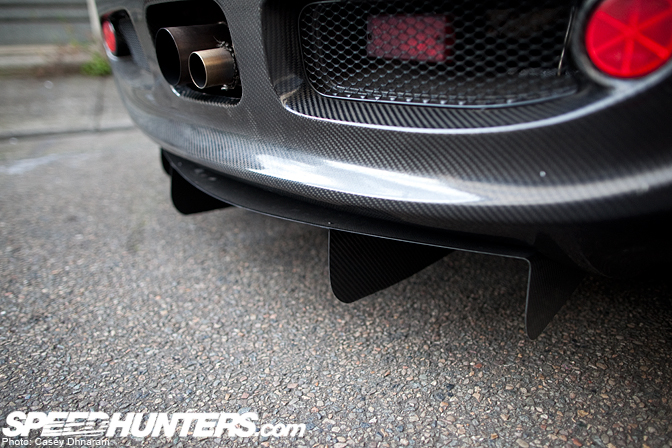 Of course, there are compromises that have to be made when things are pushed towards the performance end of the spectrum. Things like negotiating speed humps and driveways have become a bit of a pain because of the low hanging front lip and carbon rear diffuser.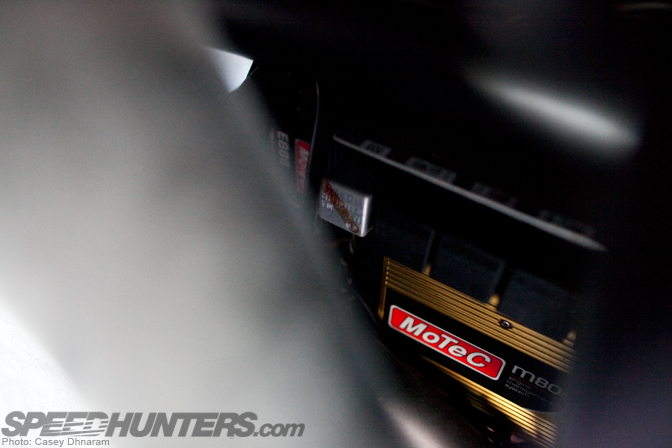 But small dilemmas like that aren't worth mentioning when you start taking note of this creation's finer details. Hidden away inside the Lotus, for example, is the golden wrapper of a MoTeC M800, which manages…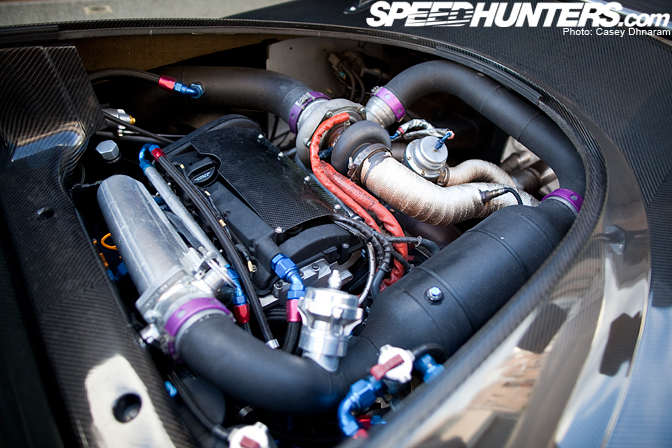 …The new engine setup. A 2.2litre 20V was dropped in and a turbo added for good measure.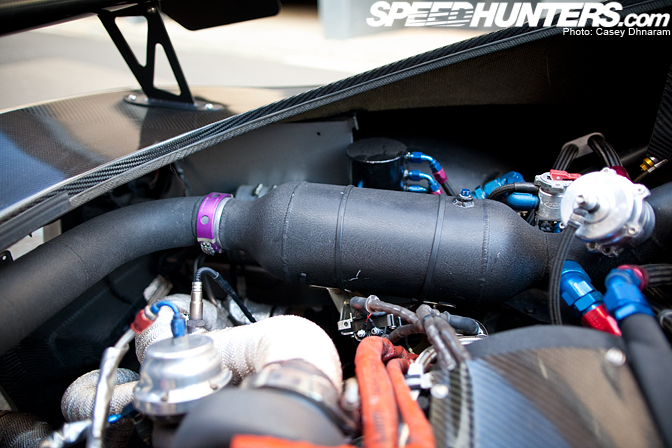 Rather than using a traditional core, a water-to-air intercooler was used, while CPC also fabricated a one-off stainless exhaust especially for the Lotus.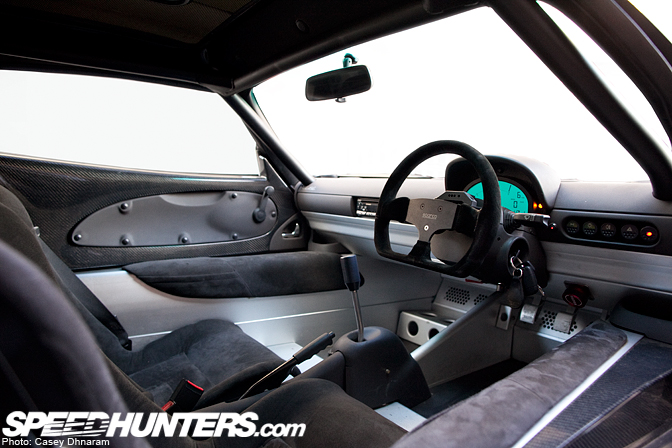 Inside, a flat-based Sparco wheel gives AP enough room to fold himself into the Lotus. If you're brave enough to join him for a ride, the tight confines mean you'll practically be rubbing shoulders as he scares the living daylights out of you.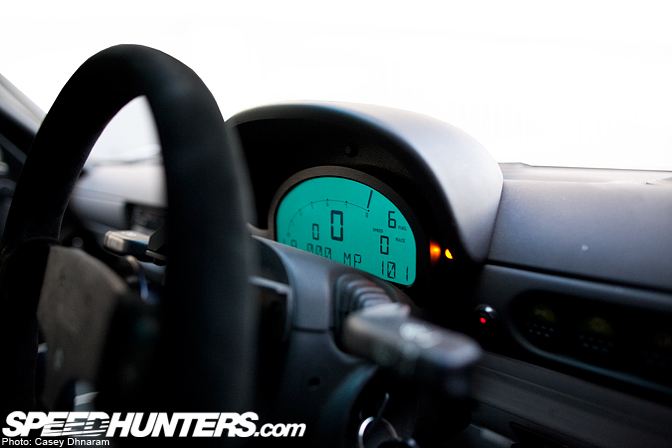 Here's something you don't expect to see in a street car: replacing the standard gauge cluster is MoTeC's ADL dash, which stands for Advanced Dash Logger. The digital dash can display a variety of data channels and various warnings can also be programmed.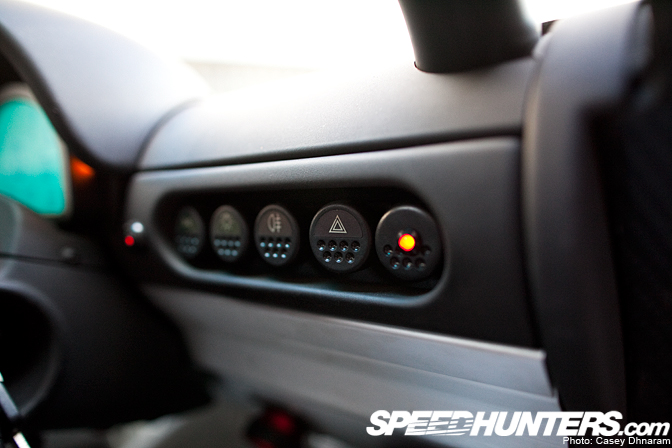 The Series 1 Lotus Elise was the perfect platform for AP. Why? Because it was already bare bones in stock form.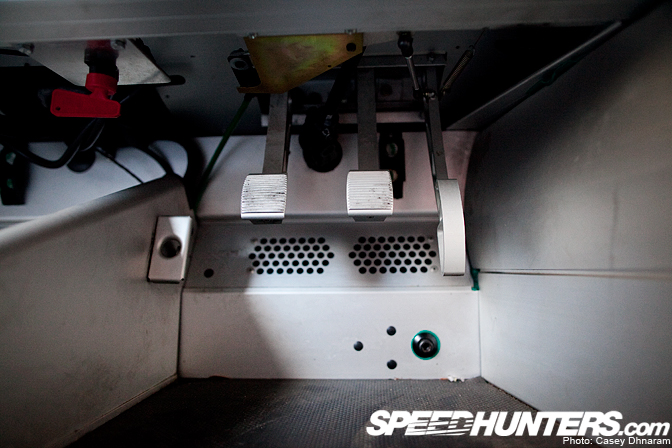 See what I mean?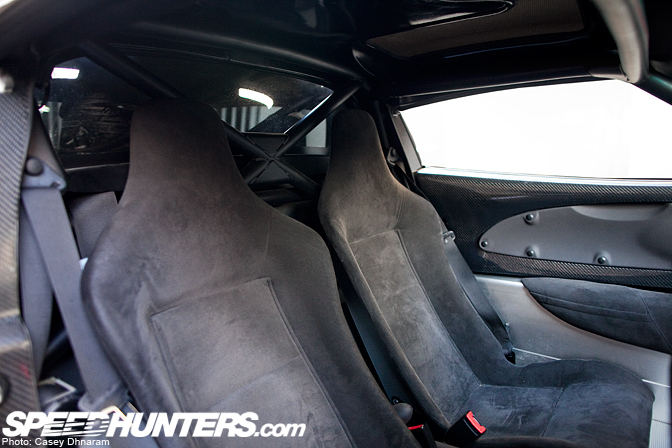 Recaro Lotus Motorsport buckets have been wedged into the tight driving quarters. Behind them you'll find a roll-cage…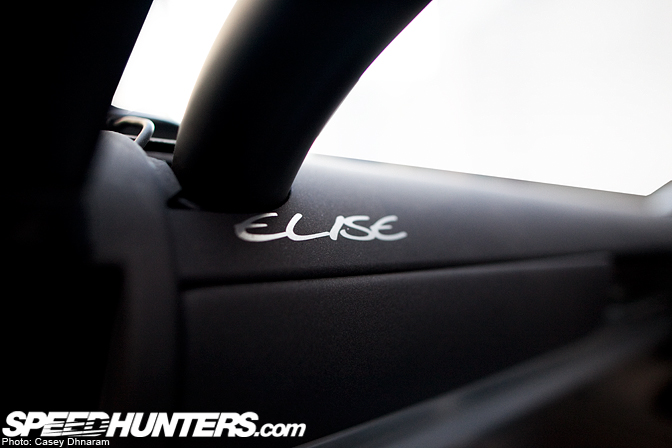 …Which extends through the dashboard.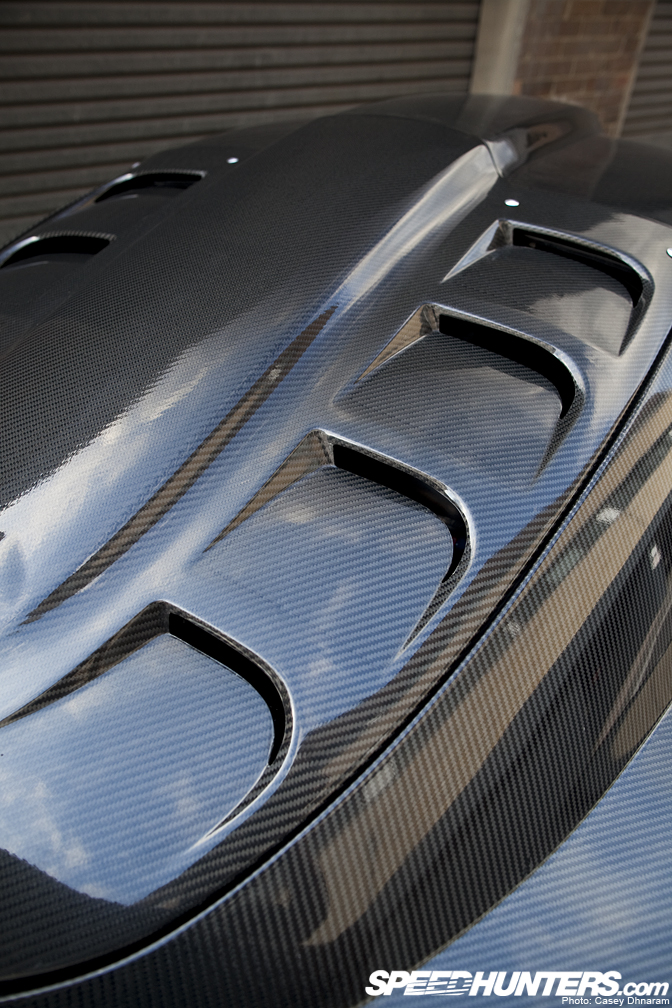 Of course, one of this Lotus' most obvious modifications has been done to its exterior. The Elise's entire body has been replaced with carbon panels intended for an Exige, which means AP's Lotus now has a fixed roof.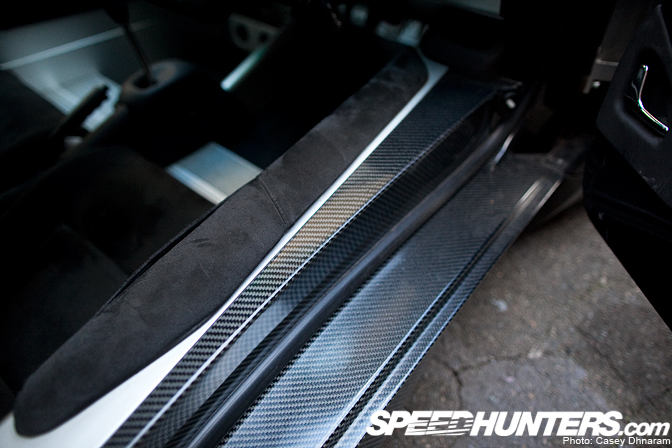 Something that I approve of is AP's decision to leave the carbon exposed. With a perfect weave like this, it would be such a shame to hide it under a coat of paint.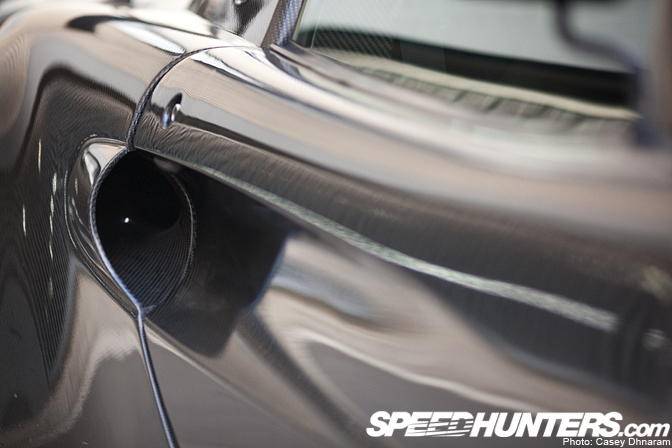 From a distance, the body takes on a flat grey hue. It's only when you get close that you spot that this Lotus' body is no longer fibreglass.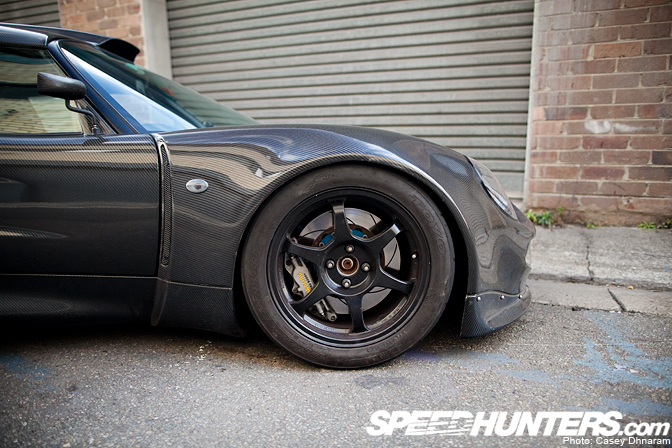 AP punishes his Lotus regularly on the track, so he raided various UK racing garages for some hardcore gear. Underneath you'll find Nitron Stage 3 competition coilovers that provide 3-way adjustment, while Pilbeam Racing uprights and A-arms have also been fitted. The new uprights use spherical bearings instead of conventional bushings.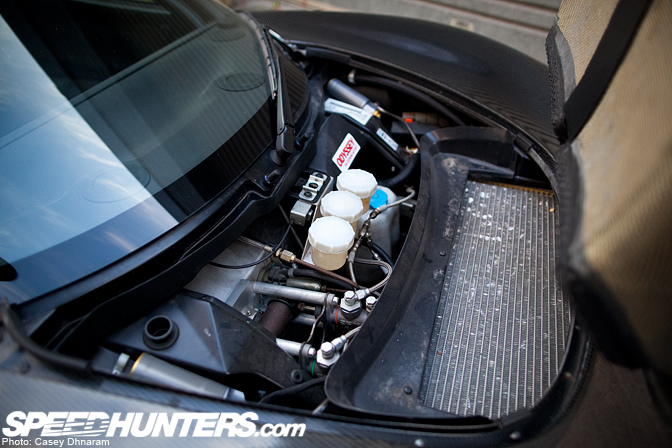 Under the hood you'll spot the remote reservoirs for the Nitron shocks.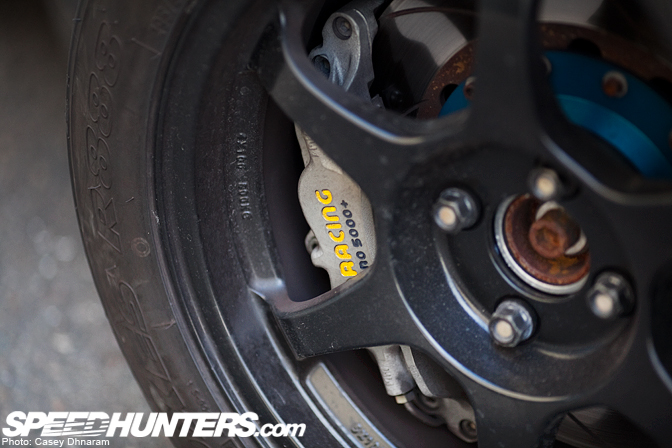 With the car weighing so little, passengers can expect to faceplant the windscreen whenever AP decides to stomp on the middle pedal. Its ferocious stopping power comes courtesy of AP Racing Pro 5000+ brakes (6-piston up front and 4-piston rears).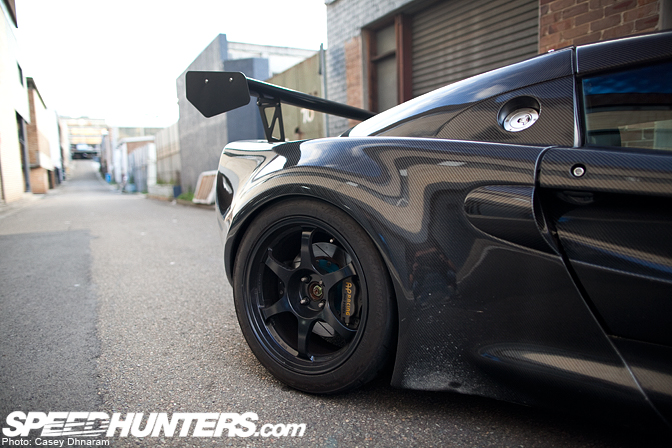 On all of AP's cars you'll notice that he isn't the type to have an allegiance to one particular aftermarket brand, a certain modifying ethos or even a specific country for that matter. The forged rims are of Japanese origin, namely SSR. Staggered sizes of 16×7 and 17×9 are used with sticky Toyo R888 semi-slicks wrapped around them.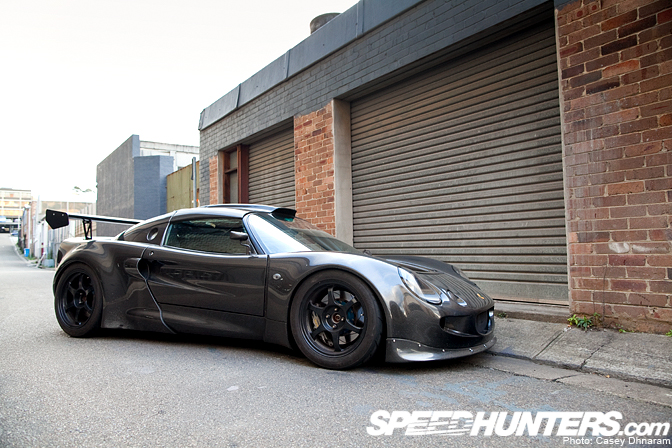 For AP, practicality simply wasn't on the agenda for this street driven monster. But that said, neither was a huge power figure.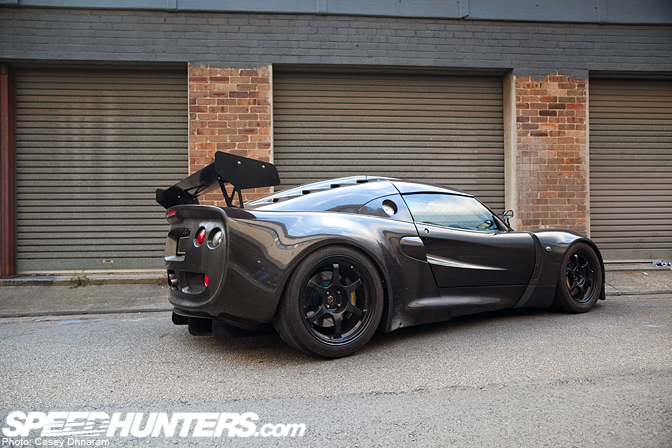 Instead, what AP instructed City Performance Centre to do was make it stronger in the three areas that mattered most to him: response, braking and handling. It's kind of what Lotus intended originally, just on a madder, more insane, level.
– Charles Kha
Photos by Casey Dhnaram
More Street Cars & Sleepers on Speedhunters