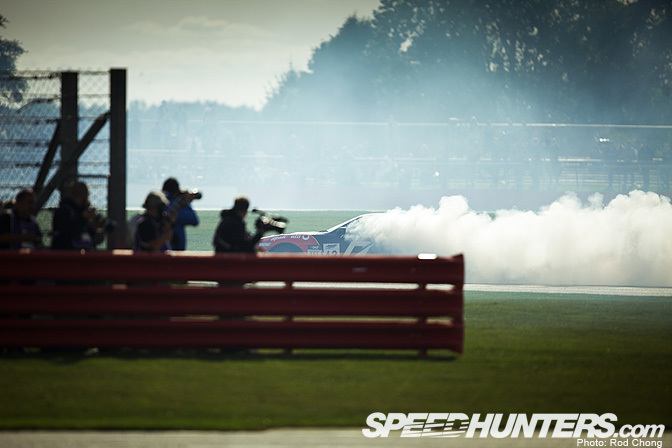 Fredric: By the time top 16 started, the track was completely dry, the sun was shining and the photographers were out in front of the several thousand spectators.  The BDC field is an impressive one, with several high profile sponsors involved, for instance with Cosworth supporting the SATS Supra. Drum roll!
Darren: It's dry, its dry, its dry, its dry. I felt like doing a dance. I knew we had no hope in the wet but i was confident we could make something work in the dry. I needed this badly.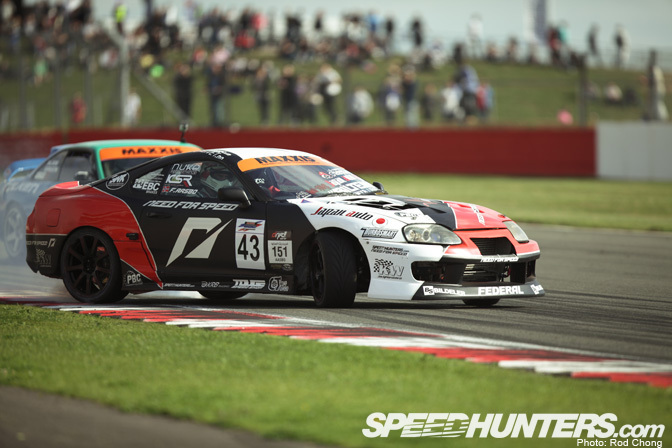 Fredric: Luckily BDC runs a warm up lap for every Top 16 battle, and with the practice and qual run in the wet I was very thankful for one dry run before it all started.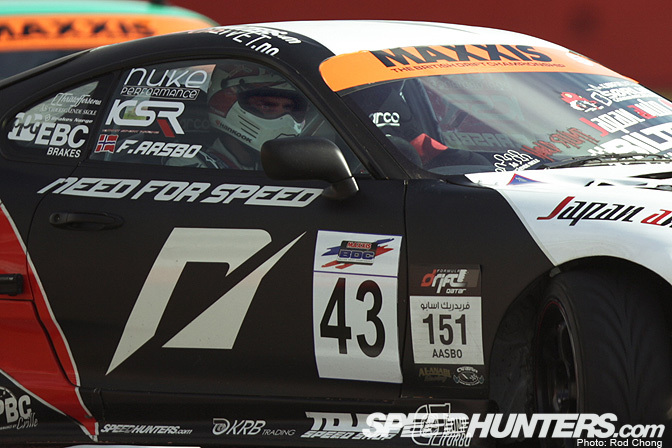 Fredric: I threw it in for the entry, but it hooked much harder than I expected. That's a good feeling as that meant one could be more aggressive!! I would like to say "that's when I decided to drop the hammer" and so forth, but to be honest it wasn't really like that! Do you like Days of Thunder?
Darren: What? Does a bear *** in the woods!?
Fredric: Haha! I'll leave it at that.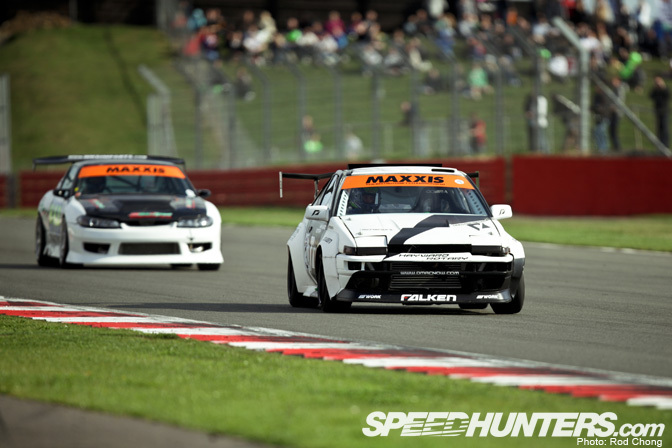 Darren: It was so nice to go back to the old school D1 style of 1 warm up run before the twin battle. It gives you a chance to check out the track and your opponent prior to the judged runs.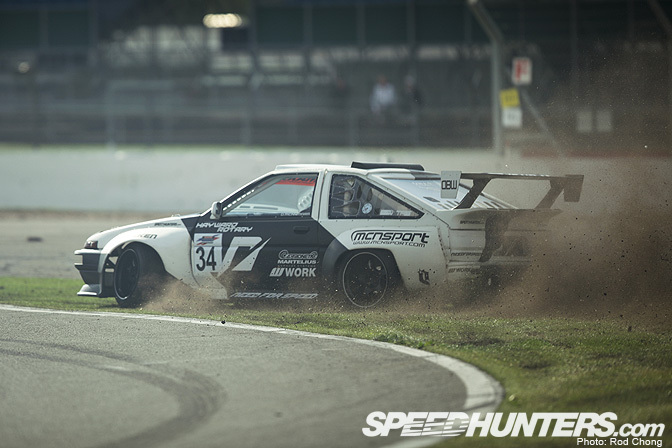 Darren: My plan was to come in really hot and push the car hard in the dry. I guess i came in a bit too hot and couldn't make the corner so i knew where the limit was for the judged runs. I still could not be as aggressive as i wanted in the new car but at least i was making some progress in the dry.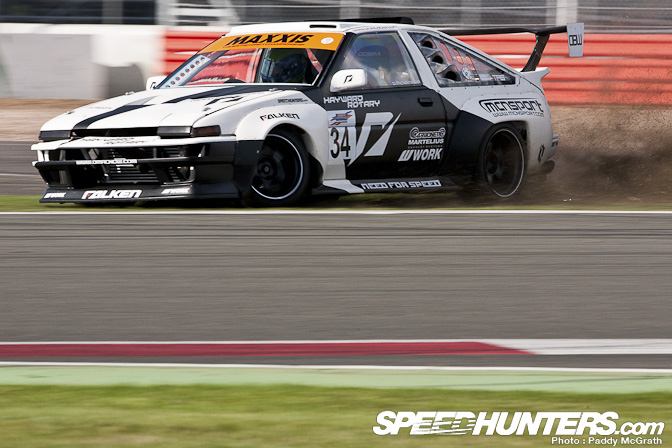 Fredric: What did you tell me again? It was something along the lines of "how hard can it be. It's a left turn and a right turn".
Seriously though, I think the way you test the limits in the warm up lap and put it all together for the actual battles is real race car driver status.
Darren: I tried to drive it like I would drive the Falken Tire Saturn Sky in the States. Sometimes to find the limit you have to go beyond it.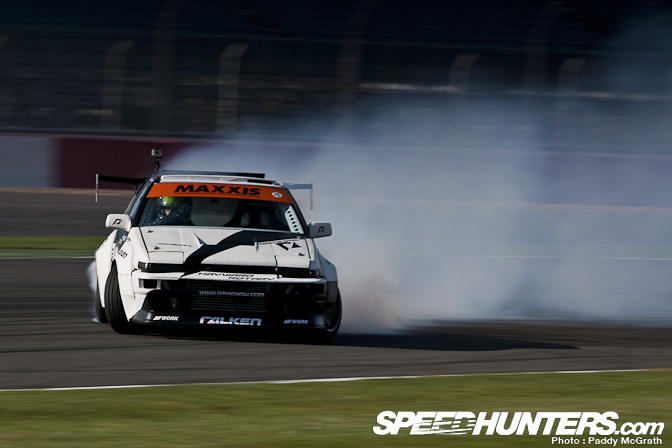 Darren: Now it was time to make sure those tires were warm enough going into the judged runs.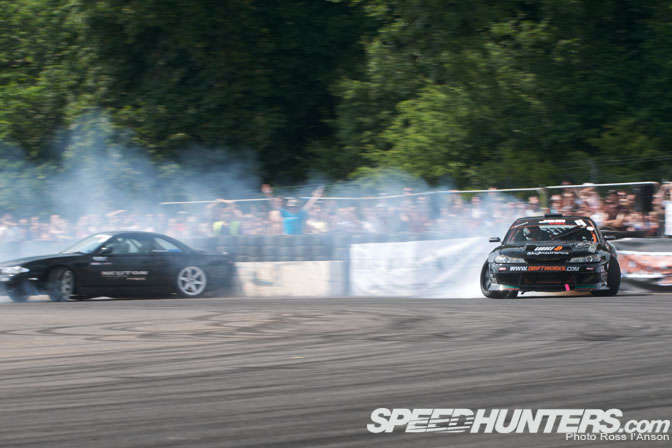 Darren: At this point i was thinking of what changes i would make for my scoring runs. I decide 5 clicks softer on both rear shocks would leave me enter fast and help the car to bite better and stay on track. Dont beat yourself!!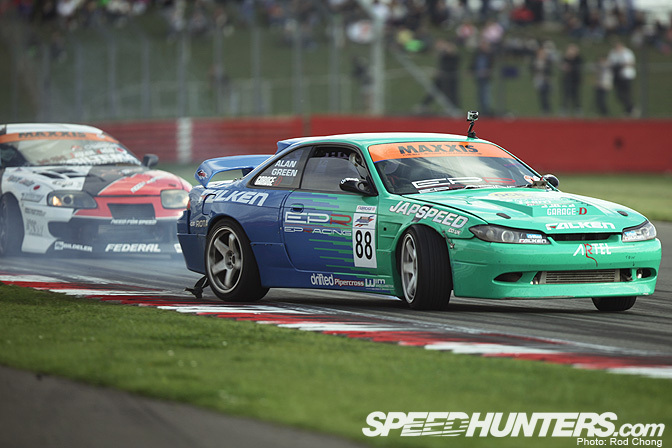 Fredric: As I got back to the start line after the warm up lap, I was battling Alan Green, who is one of the top fellas of the Falken UK drift team. For my lead run, I was able to put on an ok run and I think we had the advantage going into my chase.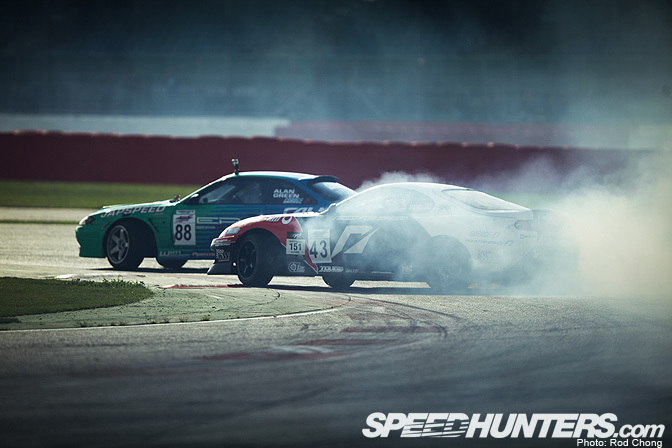 Fredric: Coming back to the start, we had an alright game plan. The goal was to not focus too much on pressuring him on the entry but rather mimic his line and get a decent, close exit.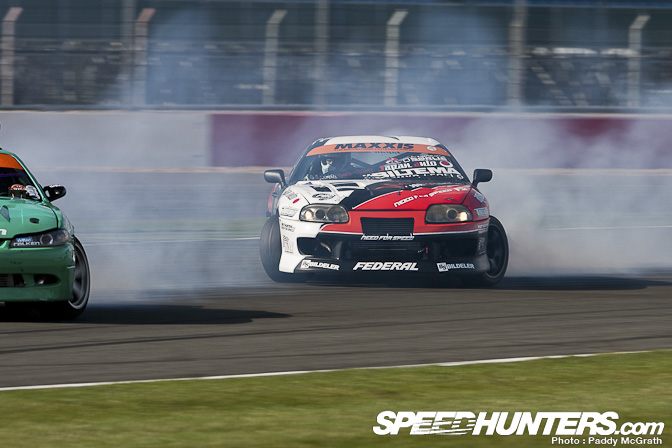 Fredric: The entry worked out okay, absolutely nothing spectacular but I was able to chase his line with slightly more flair and attack.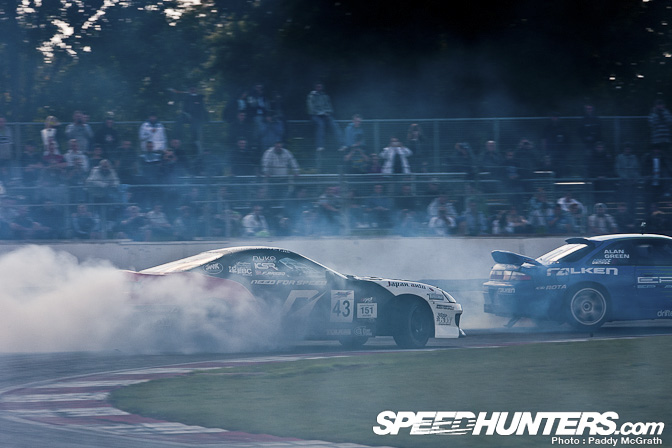 Fredric: However, after the full throttle warm up lap and lead run, my tires were starting to run hot and a good chunk was taken out of them with pressures were rising. I had significantly less grip and struggled to keep up with Alan.
But it was enough. We won the battle! YEAH!! Thanks for two good runs, Alan!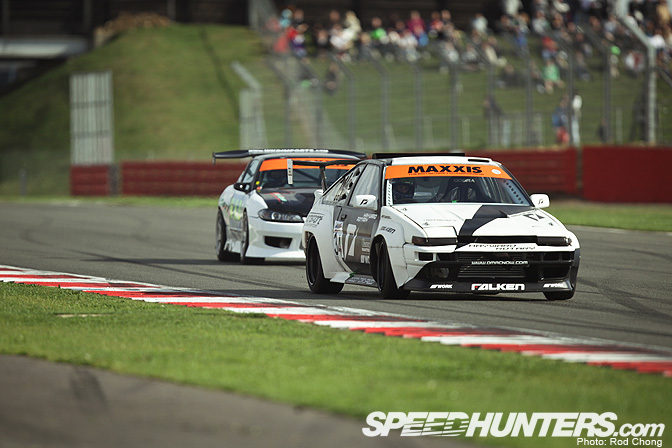 Darren: First battle was against Wesley Keating. A good friend of mine back in the IRL. It was unfortunate that one of us was going to go home and i was determined that it wasn't going to be me on my first battle for Team Need for Speed.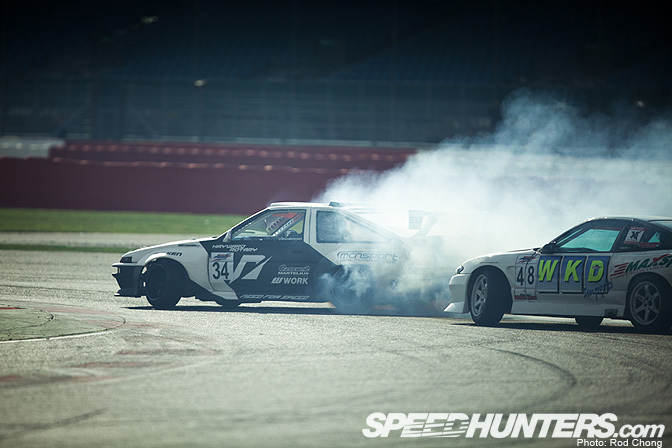 Darren: My lead run was good. I hit all my marks and the car felt pretty fast. At the end of the run i was surprised to look in my mirror and see Wes so close to me. Maybe i wasn't as fast as i thought…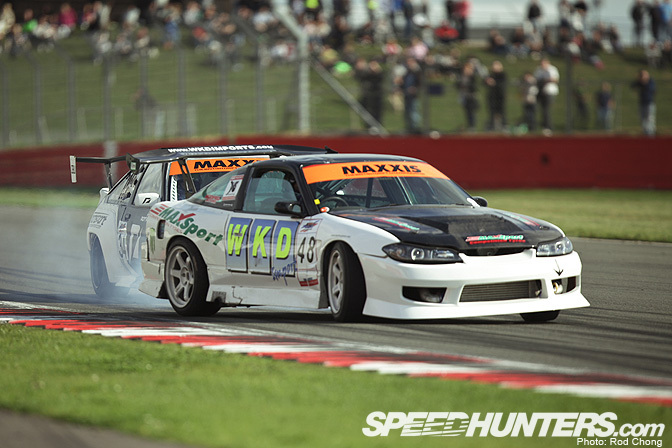 Darren: I knew i couldn't let Wes get away on my chase run. I would use the lightweight of the D-Mac86 to go on the brakes later and harder and close in on entry. But Wes went too much to the inside and I ended up being on his back bumper through turn1 rather than on his door. I'm pretty sure this is what cost Wes the battle as the judges were looking for more of a middle to outside line. It was really great to win the first battle in the new car.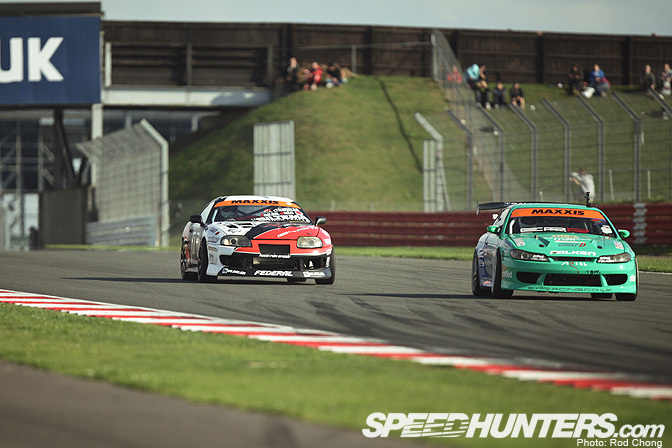 Fredric: Next up for me was Alan Green's Falken team mate Matt Carter, current points leader of the British Drift Championship. He is an absolutely top fella and I had met him a couple of days before as he was also preparing for the event at Garage D.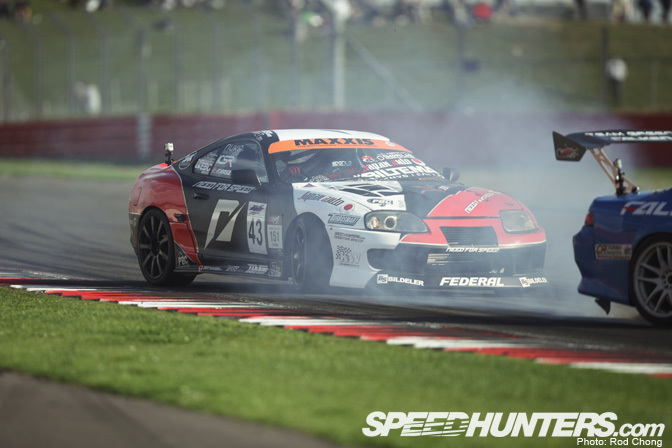 Fredric: Steffen, who was at the start line helping me with tires during the Top 16, gave me a quick rundown of Matt's runs in qualifying. Since his and Alan Green's car looked to run fairly similar on track I decided to enter the same way as the previous battle. What I would change, however, was to let off half way through the warm up to save the tires from cooking. After a couple of runs in the dry I felt that I started to learn my limits.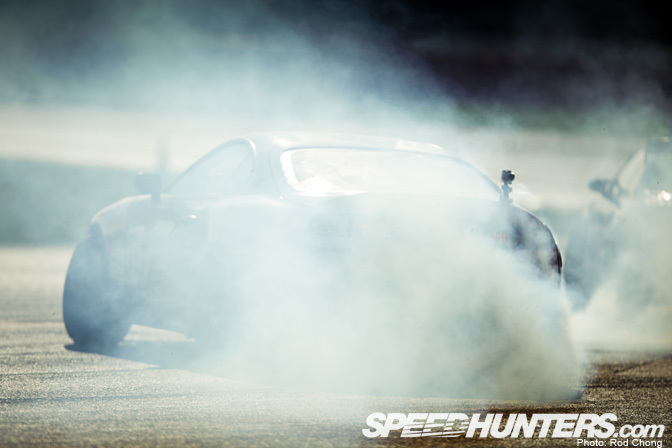 Fredric: In between the runs Steffen was on the phone with our friend Thomas, who was in the grandstands giving us the verdict of the runs. Darren's spotter Daniel also helped us out by relaying spotter info through Darren's mechanic Damian, who was at the grid. That's some incredible team spirit! Thanks, lads!!
Matt entered a little early and shot in on the infield getting a not optimal line for the transition between the two turns. That gave him a speed disadvantage and I let off to give him the room for the transition and sneaked in on the inside through Luffield – the last turn.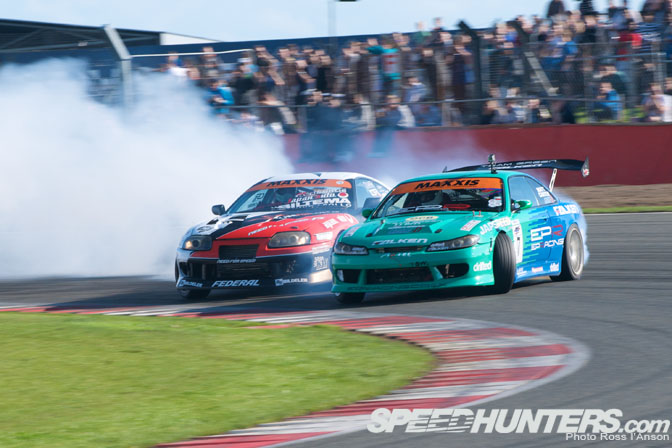 Fredric: For the last half of Luffield I was actually full throttle AND pretty much full brake at the same time not to run into him. This was my highlight of the day!!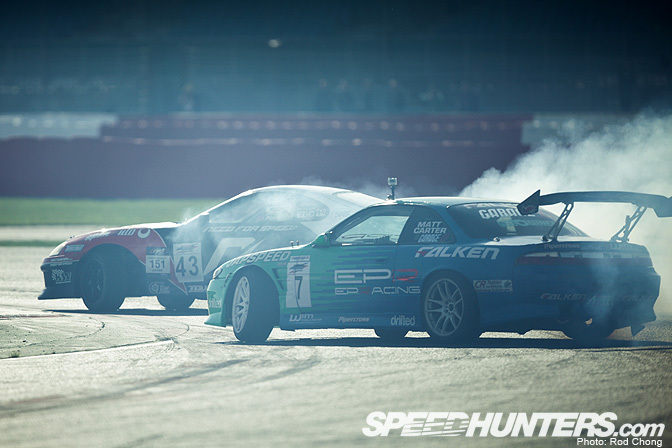 Fredric: For my lead, I charged as hard as I felt comfortable with and got a decent entry.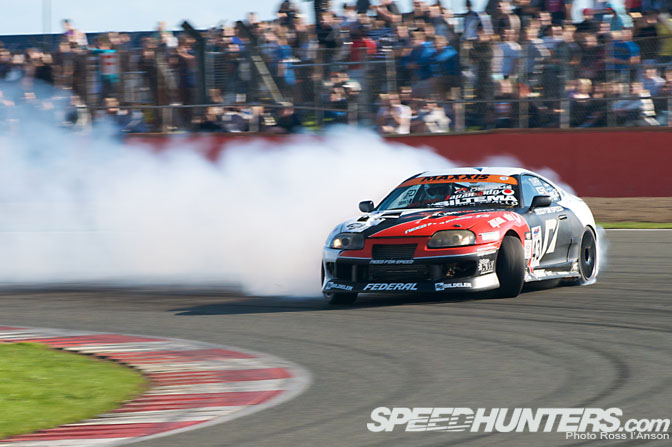 Fredric: A gap developed, I adjusted for a slightly later apex in the last turn and shot out on the Silverstone pit straight, upshifting as I passed the kink by the pit entry. The Supra felt dialed and I just wanted to go on and drift the rest of the course. I guess you've probably drifted the whole back side during your visits to Silverstone over the years?
Darren: Ya i think ive done most of the National Circuit. I remember almost binning the old SR86 at turn1 after the start finish straight. Very scary moment in 5th gear. Almost put myself out of the D1 event then. I've calmed down as I've gotten older.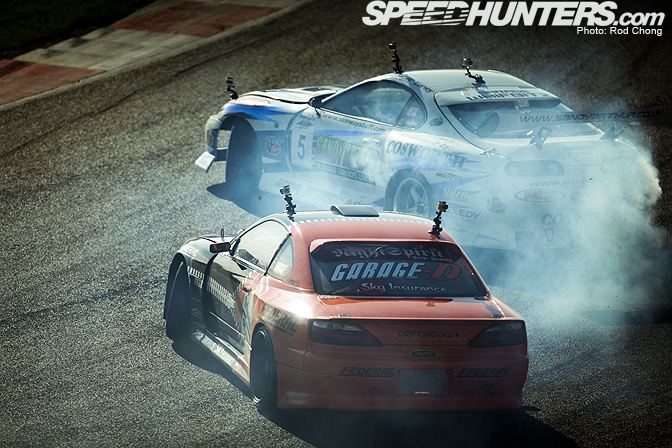 Darren: I guess these 2 were the heavy hitters that we feared the most, Luney and Morrison. It was prob too early for the 86 to come up against either of these guys so at least one of them would be eliminated at this stage. If i met the other then that meant i would have gone all the way to the final battle and that would have been an amazing result first time out.
Fredric: Yeah, Phil Morrison in the Driftworks  S15 and Mark Luney and his SATS Maxxis Cosworth Supra seems to be two of the absolutely biggest profiles in the UK scene.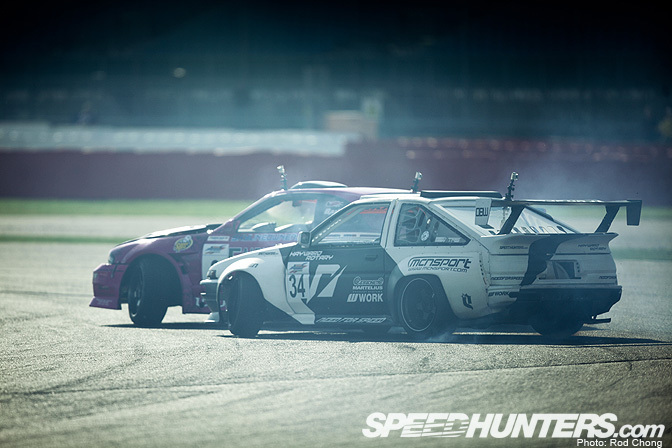 Darren: Next up for me was Simon Perry in the Top8. I ran with Simon in wet practice and knew he was very consistent but i struggled to keep up in the wet. But what a difference the dry made. As soon as we entered the lightweight 86 leaped forward and i could instantly attack .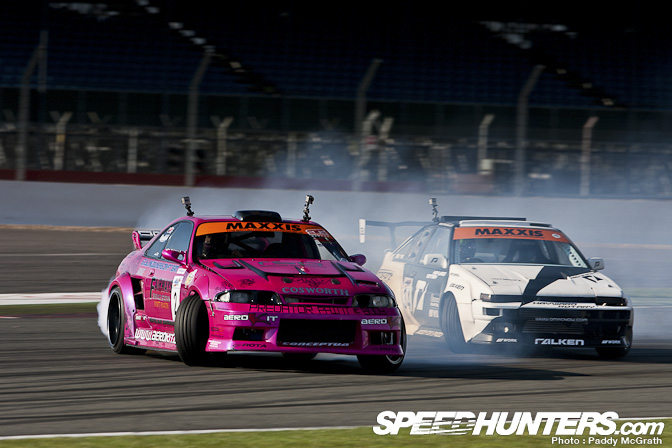 Darren: We almost touched a couple of times and i knew i would have to step back to allow the Skyline to transition but get on the power early so i could pounce again….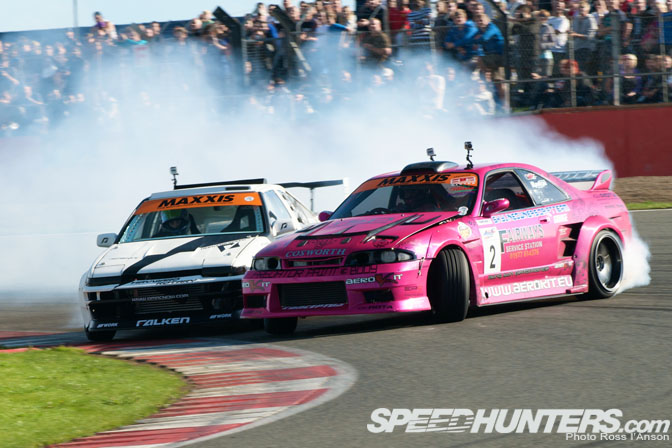 Darren: I thought about the pass for a moment on turn 2 but decided that staying back was the better option. I was a great feeling to put all this work into a car hoping it would be able to perform like this. I really did not expect to run so well first time out.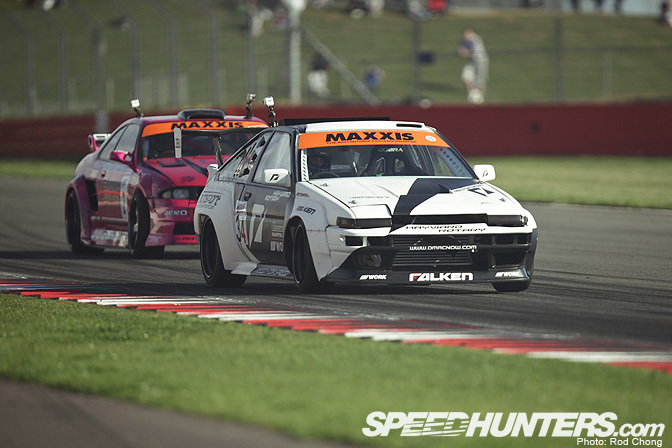 Darren: I knew i must have had a large advantage going into my lead run. I concentrated on a progressive initiation so i could get on the power early and stay full throttle for most of the course.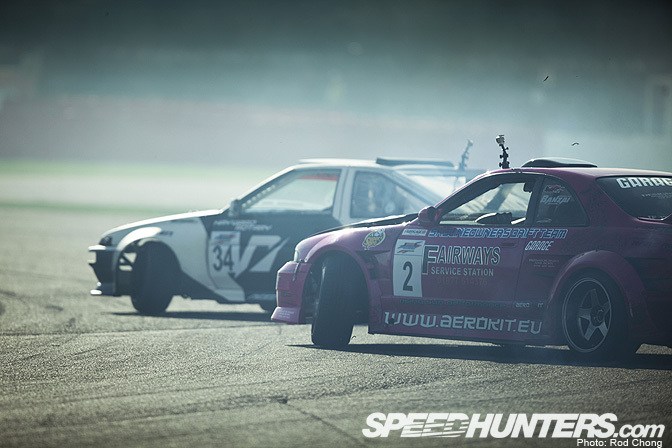 Darren: My car definitely had the speed advantage and i pulled away and into to Top4, against…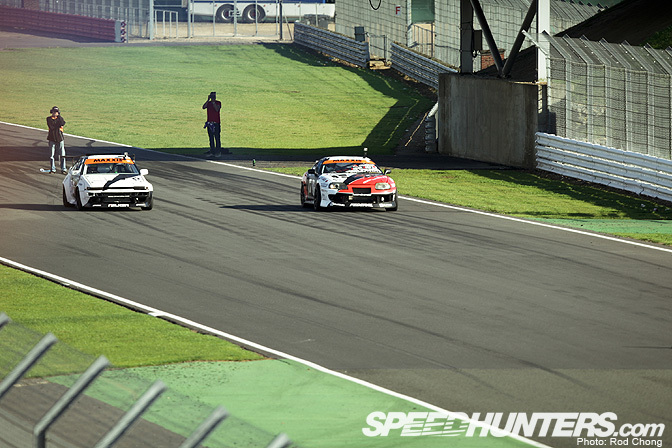 Darren: Number 1 rule of being in a team is beat your team mate. Now my team mate happens to be one of the best drifters on the planet and he is also driving his tried and tested Supra. Not good…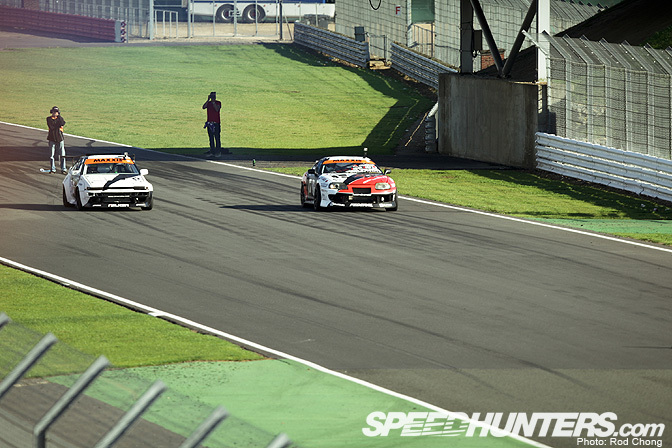 Fredric: I don't know what planet you are on, but thanks! Maybe try and think of it this way: It's good that we got to meet because that meant at least one NFS car would move on to the finals.
Thomas, via Steffen, told me your were up to your usual style: Fast, ruthless and on point. Your mechanic Happy-Darren came over to me and said you had problems getting it into second, asking me if I could feather the launch a little to make sure we made the first turn together, and so I did. Was it sufficient for you?
Darren: Ya it was, Second gear is a *** in my Supra R154 gearbox for some reason. Im not too excited about this gearbox and after using it now I might change it. Stupid Supras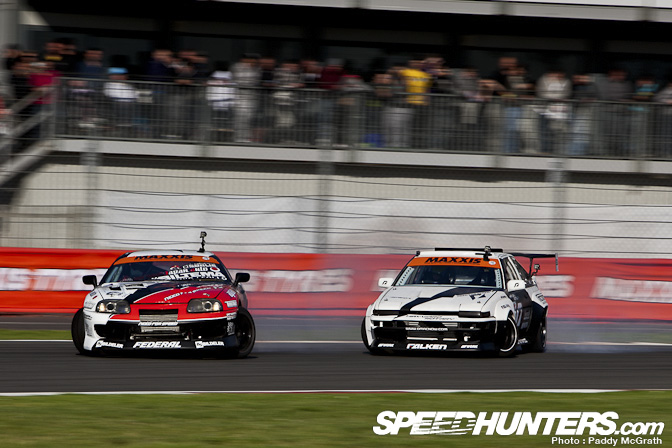 Fredric: Hehe. I entered as fast as I could and knew Darren would be right there. And was he right there? Oh yeah.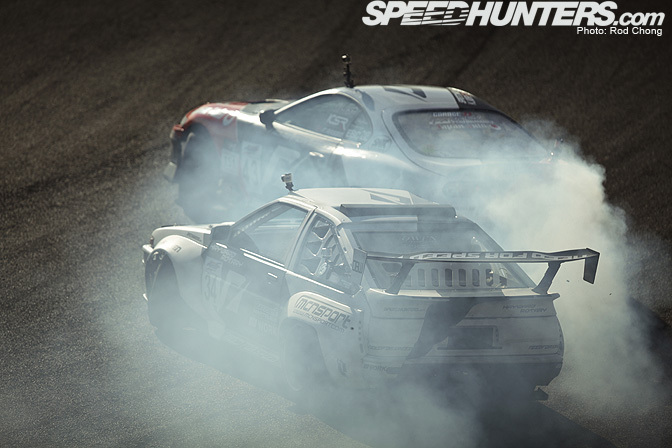 Fredric: Then, I dropped the hammer. I just had to say it!

Darren: Yes you did… I just didn't have the same forward bite when we both stepped on the power.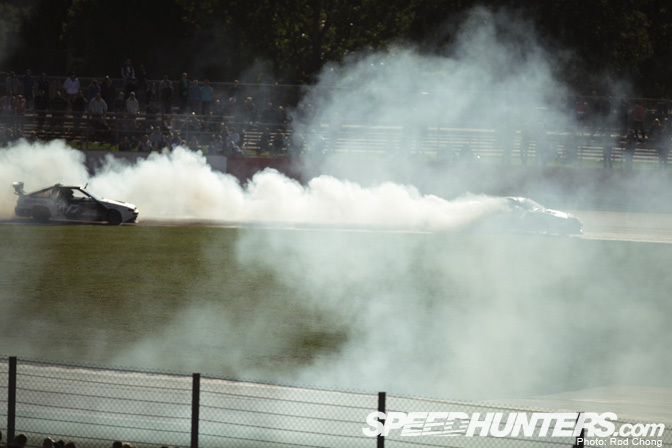 Darren: It was pretty annoying to see you open a gap like that and not really acceptable from my point of view. I think I'll be happy when i can keep up with your Supra even if it means I need more than 2 rotors. It's got to be the car and driver package to beat so I have a target on your back buddy!
Fredric: Just like I have a target on your back in Formula Drift then! I tried to run as clean and fast as possible and we seem to be pretty separated there in the picture above. If anything I am sure you were glad it was dry so you could get some data out of the weekend!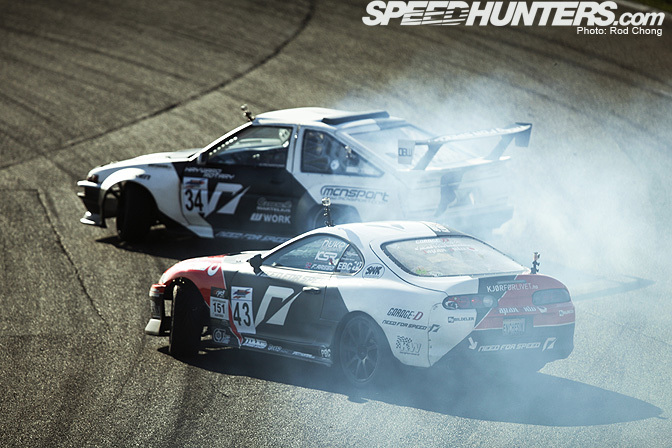 Fredric: Then Darren was to lead. He was fast down the straight and my goal was to keep close focusing on really basic, fast drifting mimicking Darren's moves. We were actually more evenly matched speed wise than I thought after the lead run.
Darren: Ya i ran pretty hard in my lead run, probably the fastest i had ran all weekend. I knew i had to try to lay something down and try to force you into a mistake after the first run.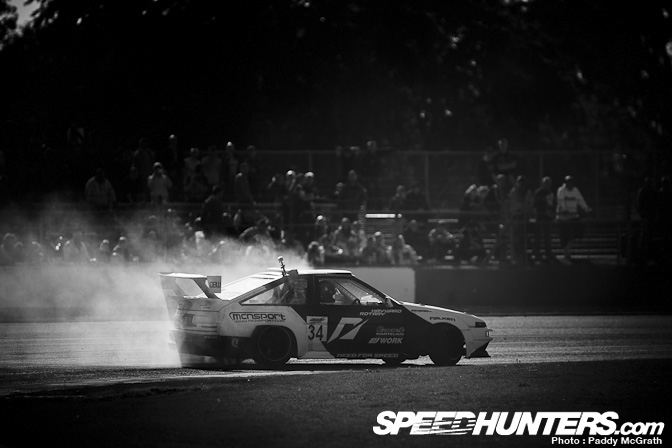 Fredric: We ended up getting the win this time. After having gotten beaten by Darren the two last times we have met, which was back in Finland in 2008 and in New Jersey this year respectively, we had the balance back a bit. Thanks for handing it to us!
You probably know even better than me how drifting is a balance between driver, team/support and car and that it takes time to figure it all out. You guys put in some amazing and extremely professional effort over the weekend, and that's just so cool to witness as it brings the whole sport forward.
Darren: Dunno about handing it to you… I wonder if we will meet again in Mondello or Irwindale??
I guess me and my guys have a lot of passion for what we do and second place is never good enough. To think that we could come and beat you this weekend would have been unrealistic so i was happy to be able to fight for third and fourth.
Unfortunately in the warm up for the third and fourth place run off we had a gearbox problem which meant we lost a lot of oil….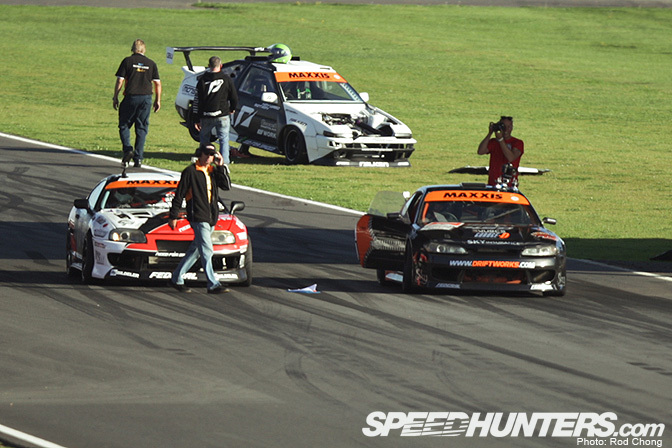 Darren: We tried to work on the car and jacked it up on track but we were told no jacking on track and we can only jack it up on the grass. Anyway, our 5 minutes quickly ran out and we had to settle for 4th place in the end. All in all not a bad start for a new program.
Fredric: I couldn't believe we were in the final!!
I would meet none other than a certain Phil Morrison. On the warm up lap I noticed the track was all patchy and oily, and coming back to the start line I learnt that it was Darren's transmission oil. The oily track would certainly put a twist on on our runs…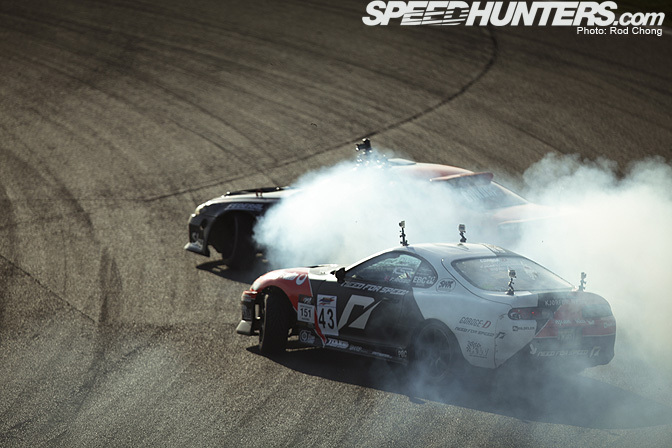 Fredric: Phil lead first, and after the thumbs up and grin we shot down the straight with guns a blazing. I was just behind him, and aimed for a slightly narrower angle to keep the speed up as much as I could.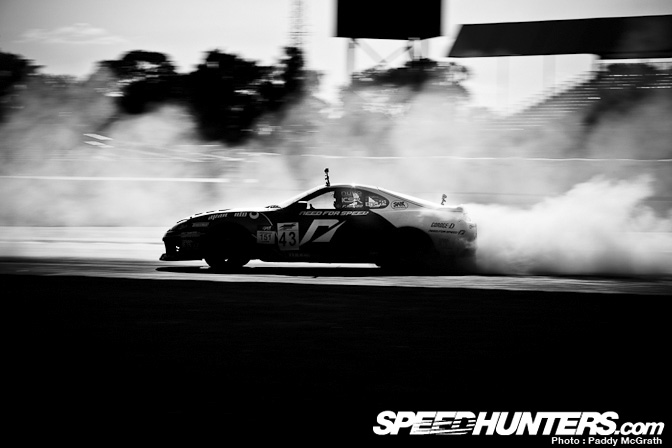 Fredric: I knew Phil ran more power, wider tires and a lighter car than we did. His package is a SERIOUS deal and after getting to know Phil a couple of years back I couldn't believe I finally got to battle him!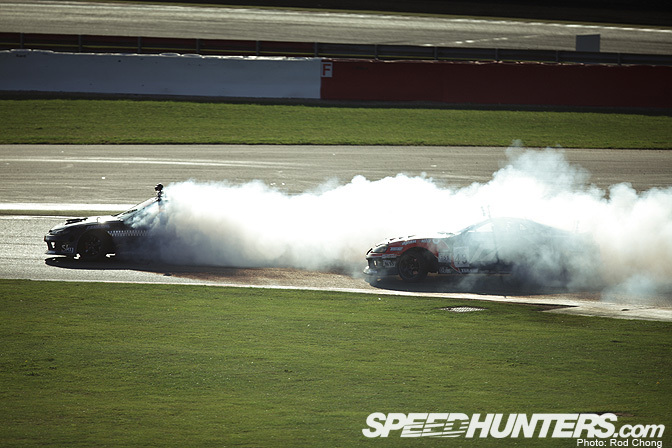 Fredric: Phil's tires lit up in a heart beat just as he initiated and from then on I couldn't see much. I saw some orange somewhere in front of me and switched to trying the run the track by memory.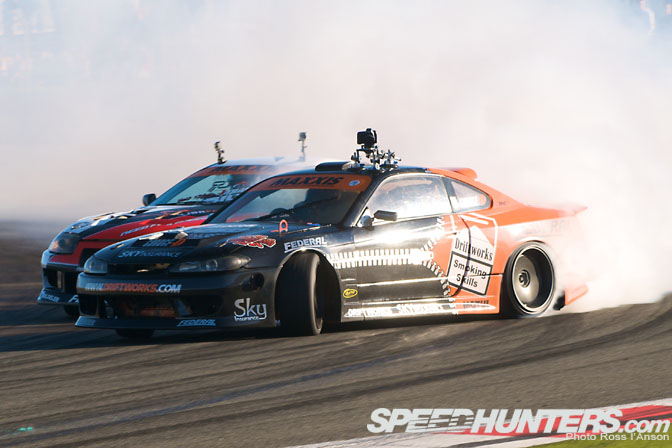 Fredric: Phil ran slightly wide as he transitioned for the last turn and I was able to run a slightly tighter line, which I think was halfways by reflex as I had to duck out of the smoke somehow. Diving in a little tighter helped my speed just that little touch as well, and I was able to put pressure on him as we laid down a pretty healthy smoke screen.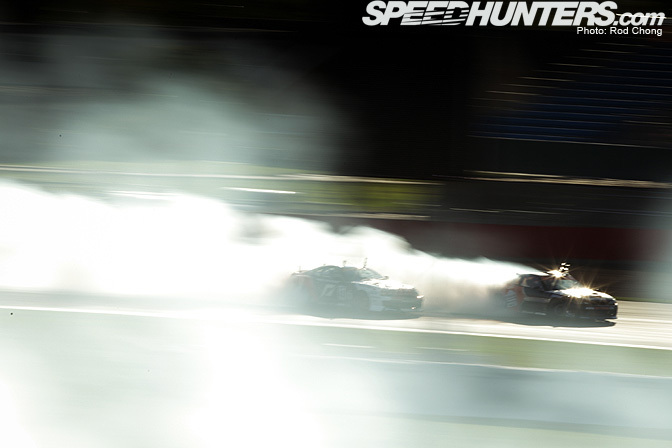 This is what close to 1500 hp and two thousand newton meters of torque stretching their legs out of Luffield looks like.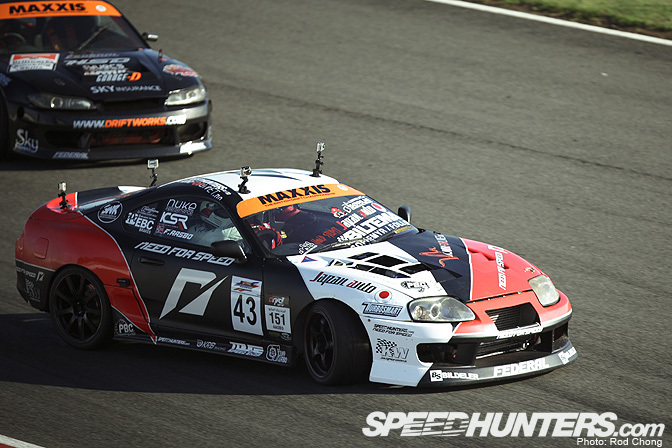 Fredric: We blasted through the back section of Silverstone to get back to the start as quickly as possible, and that actually felt equally as epic. Thanks to my friends Bjørn of Skunk Works Racing and Erik's efforts in upgrading the cooling system while we were gone for Formula Drift, I didn't have to worry over cooling issues anymore. So when Phil gave me the thumbs up and shot into the winding chicane section behind the course, I shot in there behind him trying to chase him down like a blood hound. For a second there I got a small taste of the Silverstone Formula 1 racing heritage.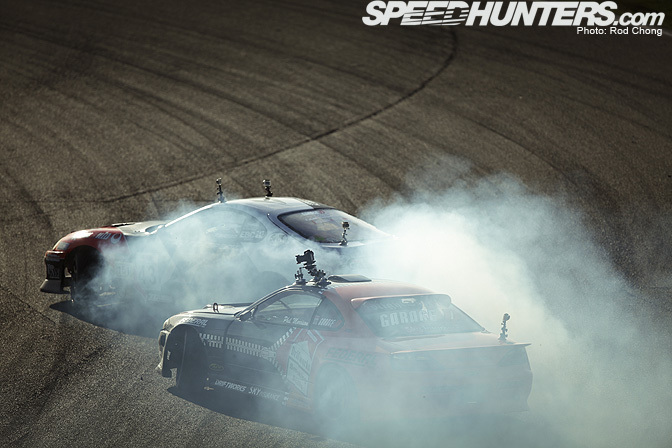 Fredric: It was my turn to lead, and had a quick look at the temperatures to make sure we were within range. The car ran amazing all weekend, and much of is thanks to the efforts my friends Skunk Work Racing back i
As Phil and I had a very similar style on track, it all came down to a speed game more than anything else. As Steffen was switching the tires I had found a way to work the tire pressures. Before I set out on my lead run against Phil I understood I had to run the absolutely tightest and fastest line I could ever dish up to have a chance as Phil was on fire out there.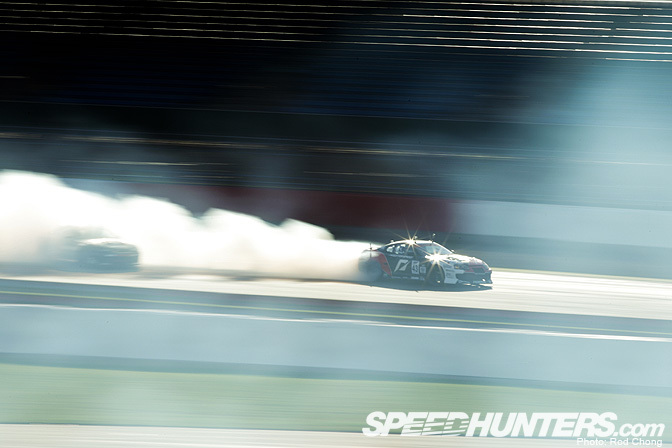 Fredric: I sacrificed some slight angle and transition for outright speed, and my entry didn't come out as hard as I wanted it to. I was real gentle and tight through the last turn in an effort  I put the tires on the inside of Darren's transmission oil. Apparently that helped me open up a gap!
We were called to the award ceremony where the winner would be announced. I was sure Phil would take it as his entry absolutely rocked. I told him straight away I wished we could just go at it again and again. Thanks for two incredibly fun battles!!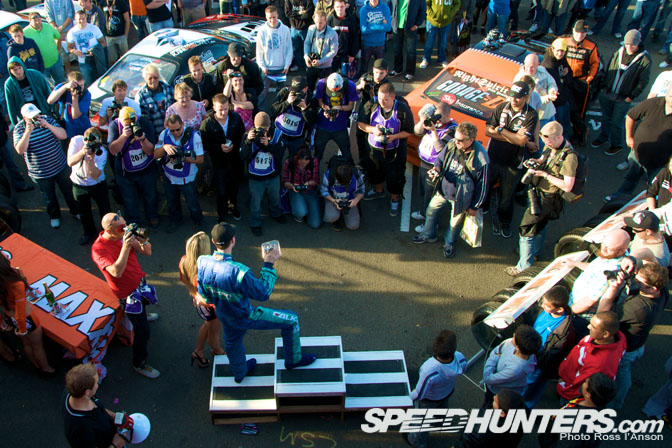 Darren: I went to the podium to support Freddy and did not expect to get an award at all but my name was called out for the "Hard Charger Award". An unexpected bonus and its always nice to get recognised as being the most aggressive or entertaining. As the pictures were taken I knew we could have been on the podium and given Need for Speed a double podium on their first event. I'll make up for it guys!!
Fredric: Congrats Darren! Very much deserved.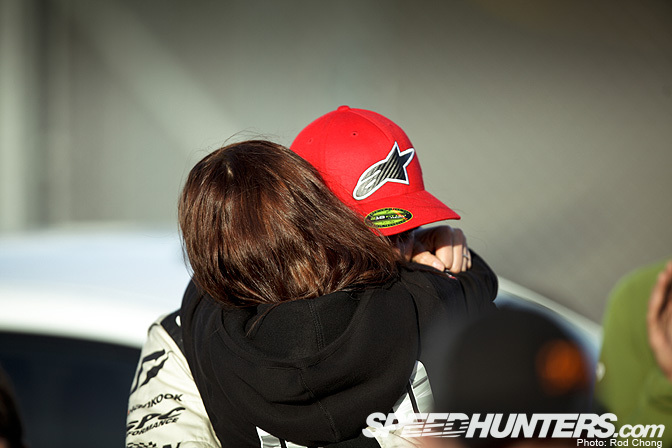 And right then, after the Scottish driver David Waterworth was called up for this third place, Phil was announced. As the second place winner…
I couldn't believe it. I was so happy!!!! It felt like an unbelievable victory for my team, sponsors and friends, and one that we had earnt. It was Wenche's first time seeing me get a podium like this live and she was just as happy. She's so patient with me travelling so far and for so long and it really touches my heart seeing her so happy on our behalf.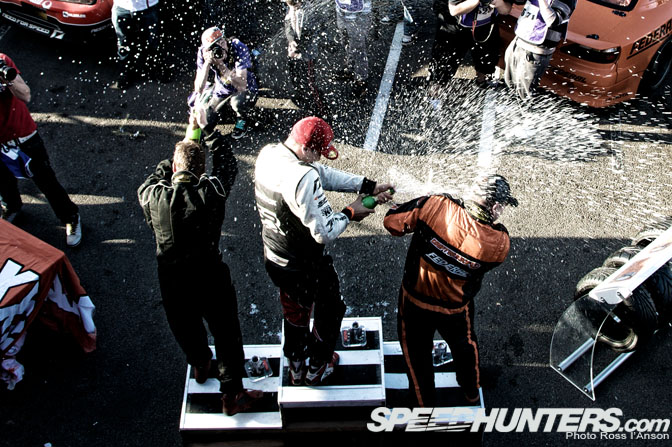 Fredric: Happy lads!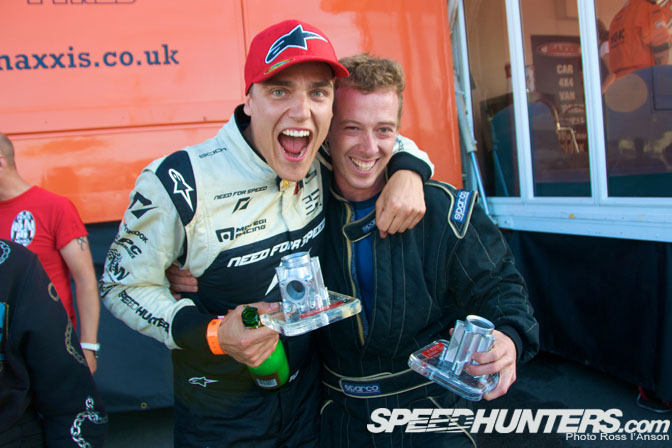 Fredric: David was just so happy and grateful too, even though I couldn't control myself and tried to strangle him!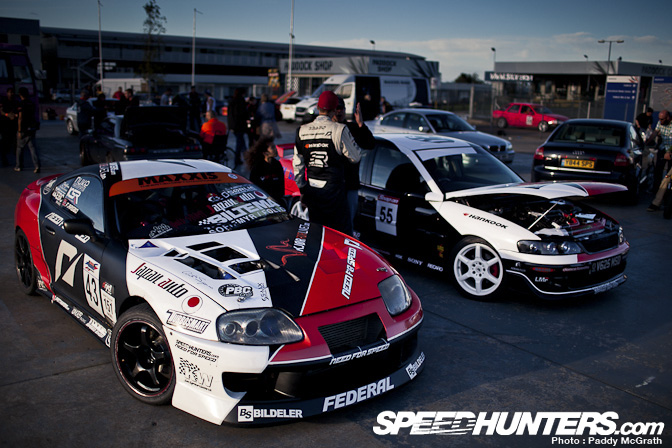 Fredric:Next up is Japfest and Prodrift Mondello this upcoming weekend. Competitively, it will be very different to what I am used to, for instance with the Superlap form of qualifying. Maybe even more important is that he Irish Prodrift championship runs a slightly different tire regulation than most other series. I think the Irish way of lightweight, super fast cars and more importantly, committed, fairless drivers is second to none. I hope I can learn from these guys and I can't wait for the weekend to come around now!
Right now we are somewhere southwest in Ireland, where Darren McNamara and his family and friends are taking extremely good care of us. It's our first time here, and Ireland is everything we thought it to be and more.
To all of you that has been involved in this project – sponsors, friends, family, Steffen, Wenche, Need for Speed, Japan Auto and all of you Brits, Ires, Scots and the rest of you – thank you so much for making this an unforgettable experience.
Drifting has taken me some amazing places, and Silverstone is definitely one of them.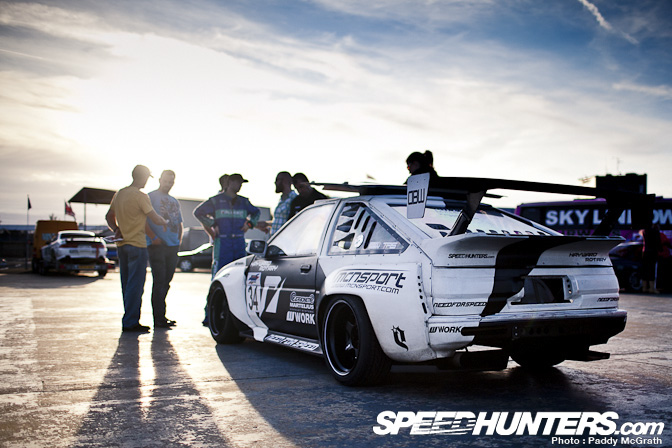 Darren: As the smoke settled around Silverstone my brain was already thinking what can be done to improve the car for Mondello only one week away. We already have plans for a radical wet setup to improve traction. I expect the competition to be much stiffer in Ireland so if we get a podium there it would be an amazing start for the new car. Huge thanks has to got to The Need for Speed and Speedhunters crew and also to mechanics and spotters on the team.
Darren & Fredric: Thanks so much for your time, and speak to you very shortly!
More Trax Coverage on Speedhunters