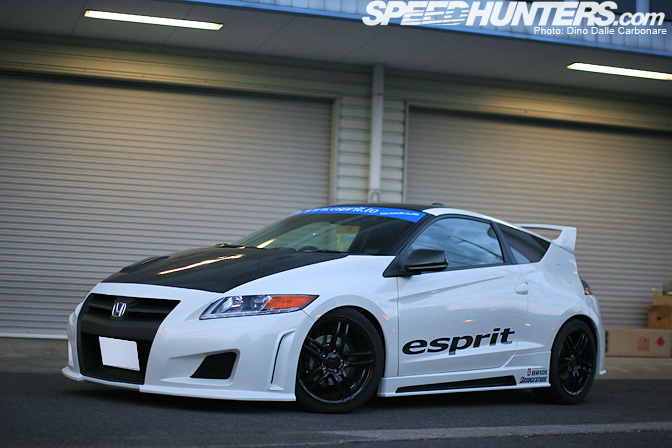 Honda always knew that the CR-Z would be well received among enthusiasts. With the current trend to go green, the little hybrid sports car offers something that no eco car out there has so far, like its sporty dynamics and the option of a 6-speed manual gearbox. Being reasonably lightweight the CR-Z has a lot of potential if any owner was thinking of upgrading a few things here and there, something a lot of Japanese shops and parts manufacturers have set out to prove. While down in Suzuka recently I stopped by one of Japans better known tuning garages, Esprit, where I took a look at their own take on Honda's throwback to the legendary CR-X.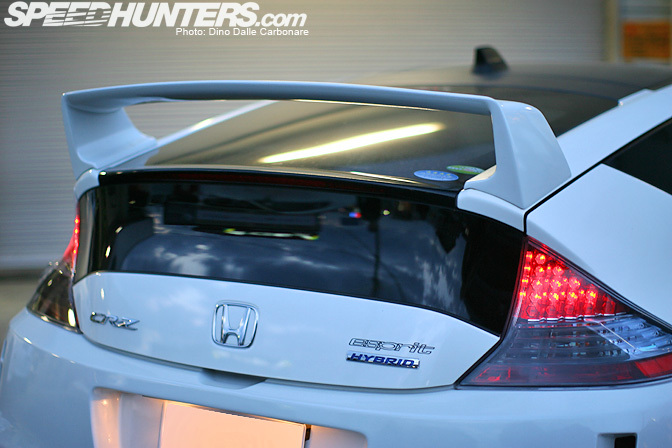 As with all of their past demo cars you can expect this CR-Z to get pretty extreme as development progresses but to start things off they have first concentrated on the exterior…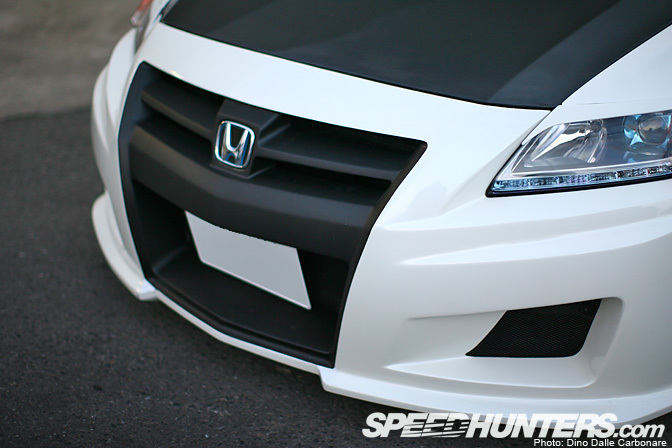 …fitting the new Route KS full "Cyber" aero kit, which completely replaces the front and rear bumpers…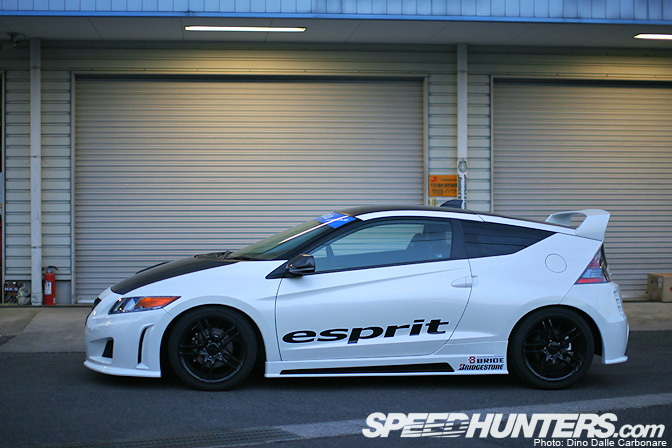 …along with the side skirts. The rear spoiler, hood and black side mirrors covers are additional little touches.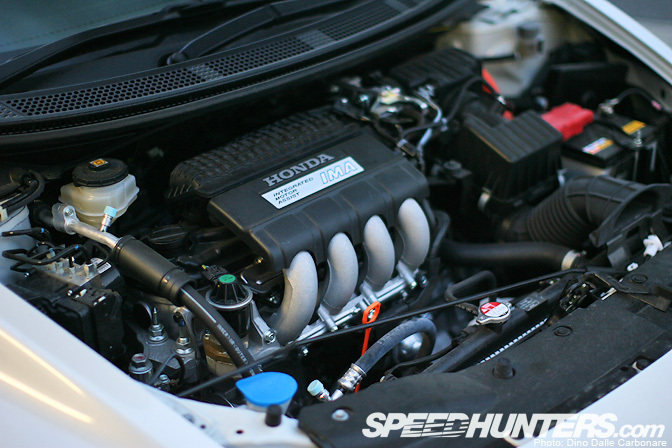 Under the hood things are still stock, but with HKS and other manufacturers having already released turbo and supercharger kits you can expect Esprit to follow suit with something of their own making.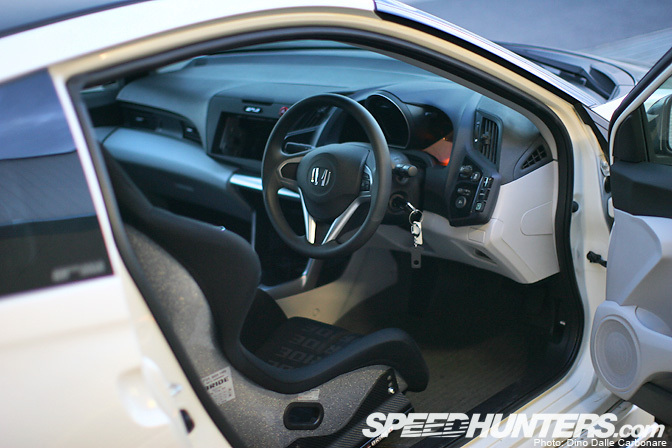 The simplistic interior gets Bride bucket seats…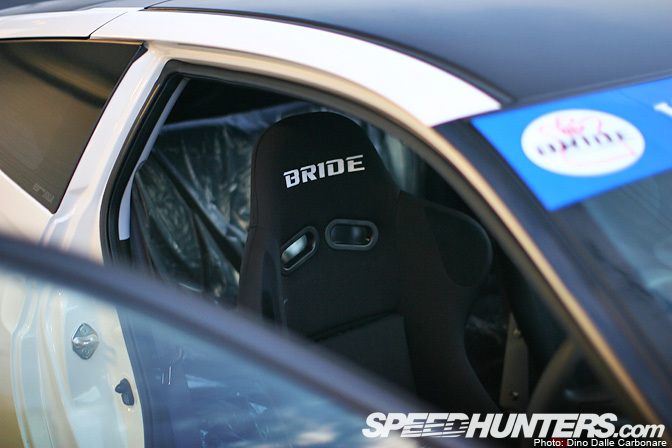 …a necessity for when the car hits the track. With the Suzuka gates a mere five minute drive from the shop the Esprit guys will definitely be spending a lot of time there fine tuning its suspension.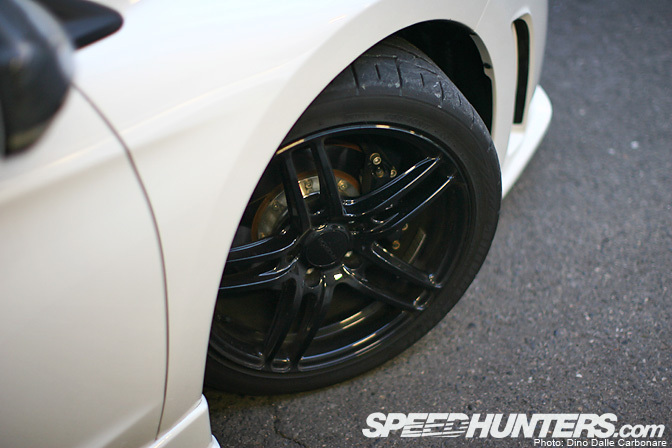 And on the subject of suspension the Esprit CR-Z runs adjustable HKS dampers, set nice and low for an aggressive stance. Black 17-inch Prodrive GC-05K add a nice contrast to the body and are fitted with Bridgestone Potenza RE-11s in 235/40ZR17 sizes all round. Braking has been upgraded with 4-pot racing calipers and 2-piece slotted rotors.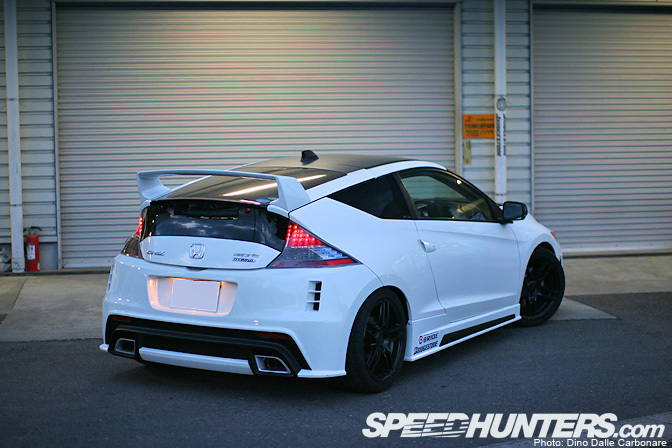 The rear bumper is just as aggressive as the front thanks to the integrated diffuser on the lower section as well as flush fitting exhaust finishers. If their crazy twin-turbo NSX is anything to go by this is one CR-Z we will have to keep an eye on! Would be cool seeing this in December for the Lap Battle event in Tsukuba Circuit.
-Dino Dalle Carbonare