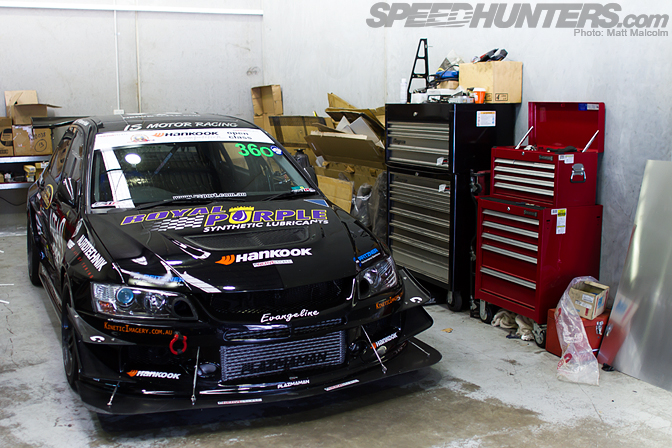 "It started as a stock street car, but once I got the racing needle in my arm the rest was history." That's a sentiment that many people around the world would have heard before. For Sydney coffee shop owner Nik Kalis, his addiction wasn't to brewed caffeine, but for time attack racing. And to ensure he could get his racing fix regularly, he decided to transform his daily driver into a street registered TA monster.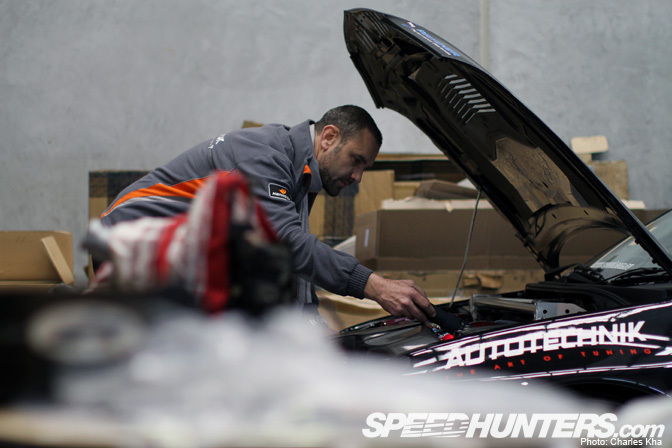 The black EVO IX that you see here is, believe it or not, still street registered. It was only in the weeks leading up to the World Time Attack Challenge that Nik toyed with the idea of making it a dedicated racer.
Since buying the EVO in 2007 with 10,000km on the clock, owner Nik Kalis had been racing it for fun in various time attack competitions such as Superlap. When WTAC was announced in 2010, Nik's original plan was to put a pro driver behind the wheel. However, the EVO's mechanic, Indy So from IS Motor Racing, gave some words of advice that changed this approach. "Indy told me 'If you've spent all of this money, then you should drive your own car!'" So Nik did exactly that.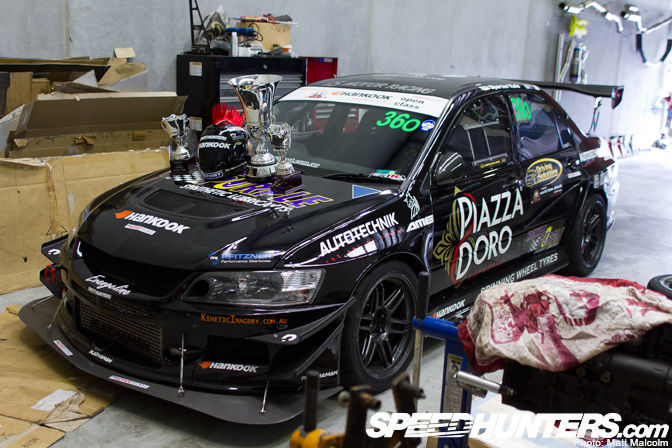 In the first WTAC event, Nik surprised everyone, including himself, by winning the Clubsprint Class. "It was fun" Nik said. "But I became addicted to winning. I've already outgrown my trophy cabinet and I want that to continue."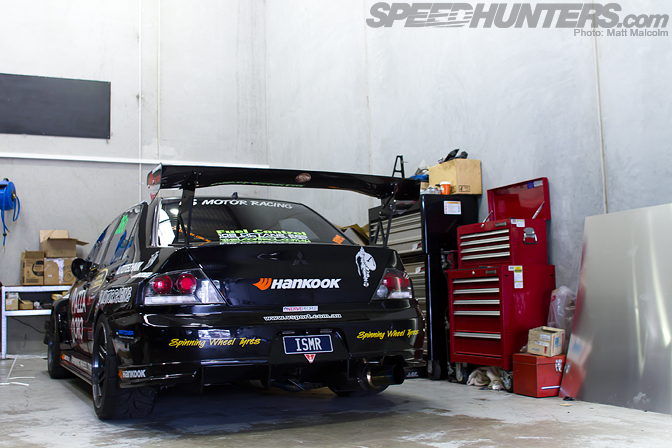 Initially, Nik's plan was to keep the EVO IX as a mild-tune street car that only saw tracks on the weekends. However that inadvertently changed when Nik decided to go wide-body to allow for bigger tyres. Upon importing and fitting the APR wide-body kit and wing, Nik learnt that he'd be ineligible to continue racing in WTAC's Clubsprint Class.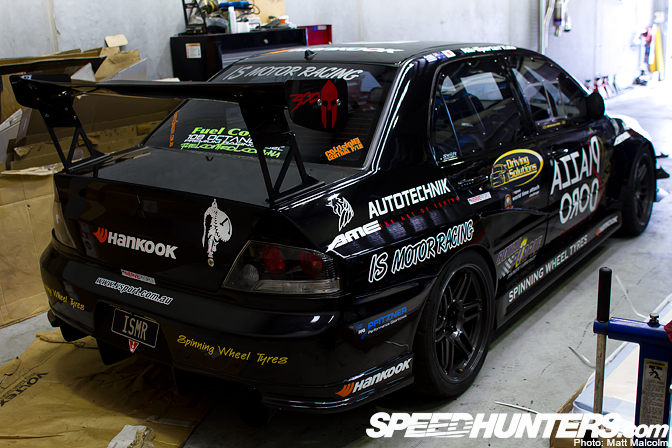 "After winning Club Class last year, I decided to widen the body while keeping the engine stock" Nik revealed. "However later I found that the Club Class rules don't really allow you to run a wide-body, so I then had less than 12 months to transform it from Club Class into Open Class." What ensued was a frantic build to get the EVO remotely competitive for Open Class on Nik's privateer budget. His plan of attack? "It was simple really: Eastern Creek has 12 corners and one straight. A higher average speed would equal quicker lap times!"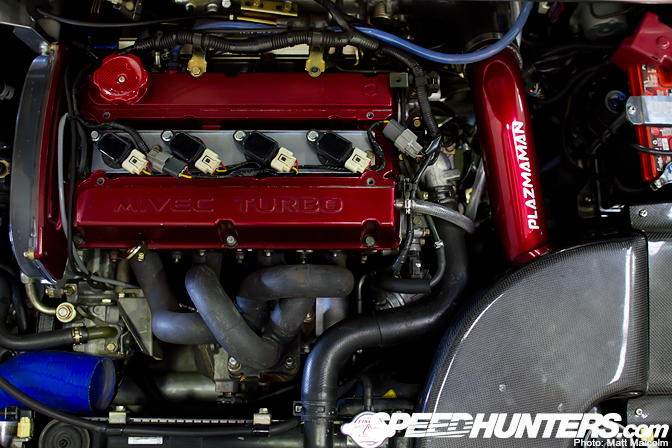 To start with, the motor was replaced with a Tomei 2.3litre short block that was brought over in a crate from Japan.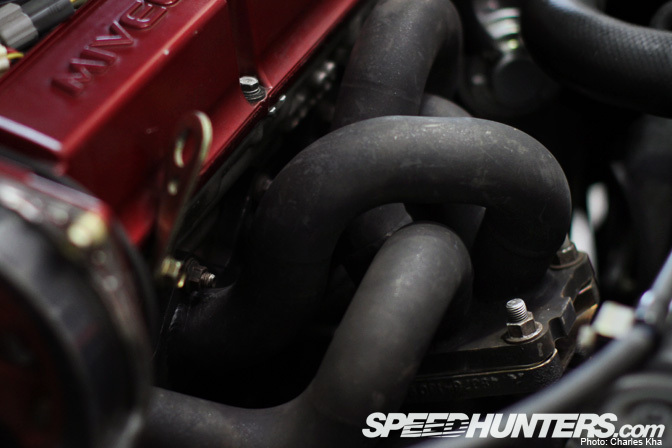 The EVO's boost comes courtesy of an FP BLACK turbo that's slung off a Full-Race pro-stock manifold.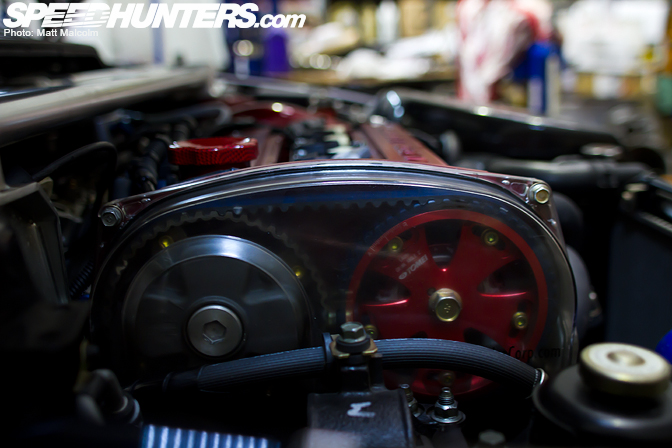 The 4G63 head has been hand ported by Indy So from IS Motor Racing, who also modified the HKS camshafts. Fuel delivery is via FIC 1450cc injectors and a pair of Walbro pumps. T.M.WORKS coil packs were brought in from Japan, with the complete package running off an IS Motor Racing reflashed ECU. The ECU has dual maps, one for 98 pump fuel for street use and an E85 map for circuit.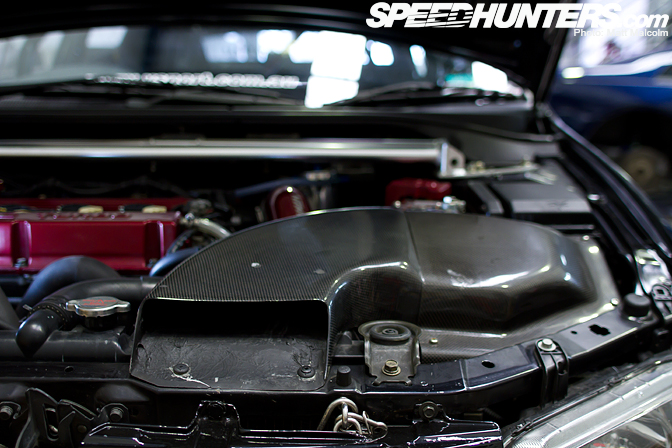 A carbon box with ducting provides a sanctuary for the air filter from the engine bay heat…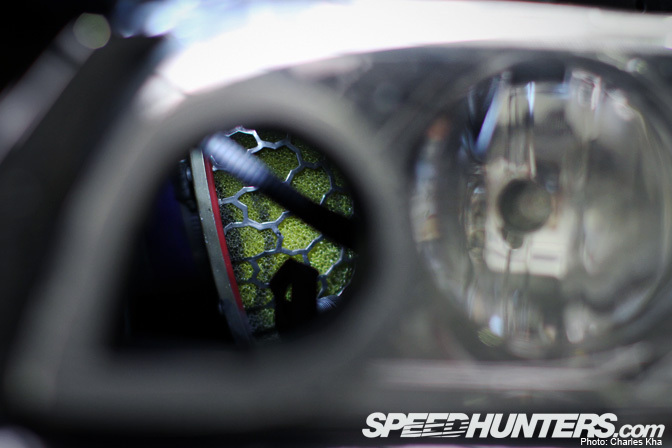 …With an opening in the headlight allowing the HKS Racing Suction filter to draw in fresh air.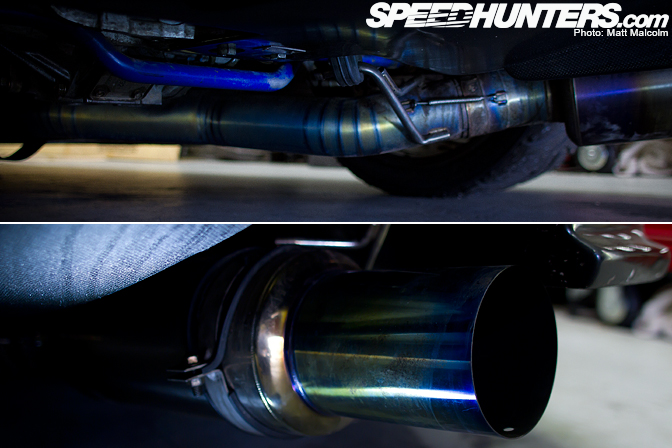 The EVO still retains a catalytic converter – albeit swapped for a high flow unit – along with a Tomei front pipe and Tomei titanium exhaust.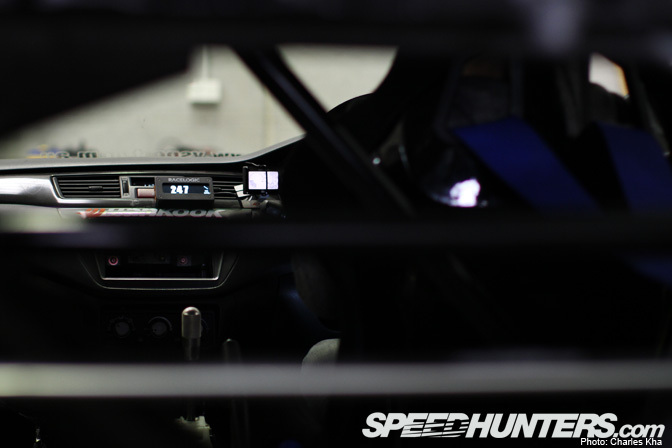 The driveline has also been beefed up considerably. A PPGearbox 5-speed dog engagement gear set has been installed, along with an Exedy Sports Organic clutch, an ISMR lightened flywheel and Ralliart bushes. The rear diff remains stock while the front LSD is a Cusco unit.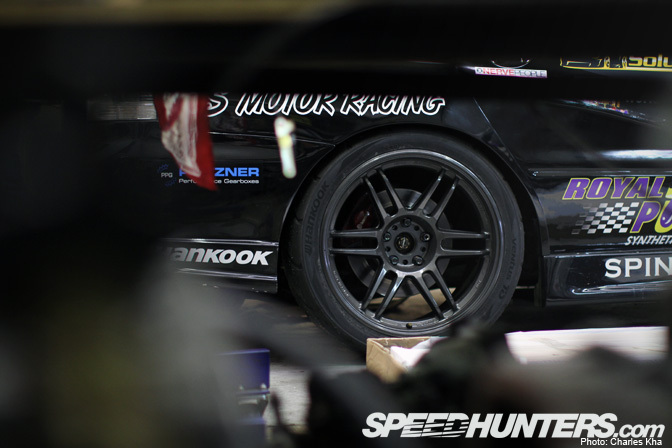 Having graduated from the Clubsprint Class – which has strict rules to suit street cars – Nik knew he would now be going up against dedicated TA race cars in Open Class and quickly realised he didn't have the performance to match them. "I spent a lot of time studying and thinking about tactics" Nik said. "I knew that the only way to be competitive on my budget would be to take my driving to the next level. I knew my power output would be fairly low compared to some of the monsters in Open Class, so instead I focused on handling, tyres and so on."
Nik opted for 18×10.5-inch AME TM-02s, the same rims that are used on the Cyber Evo. The TM-02s aren't forged; instead they are cast wheels that have been put through a spinning process that in some cases can exceed the strength of other forged rims. For this year's WTAC Nik has increased his tyre footprint to 295/30 and has opted for Hankook Ventus TD Z221 semis.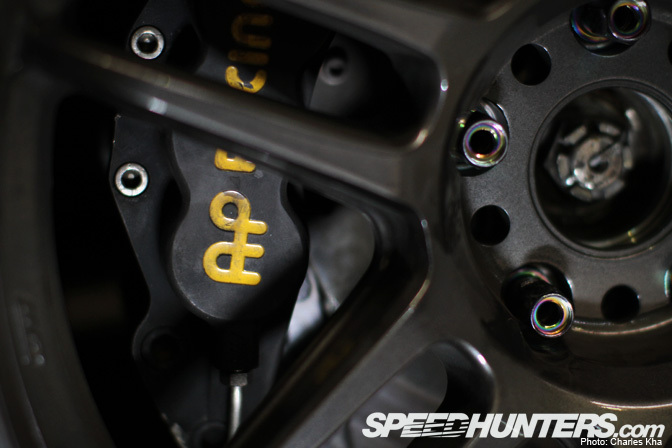 Six piston AP Racing brakes have been fitted to the front, along with Goodridge braided brake line and Ferodo DS 1.11 pads. Nik has also made up some custom ducts to aid brake cooling.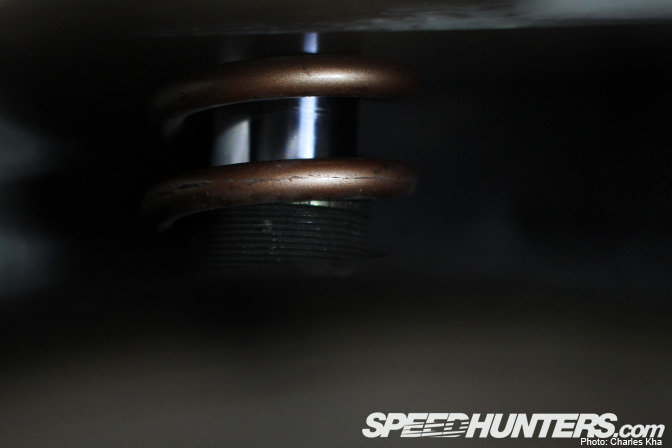 The stock springs and shocks have been replaced with Aragosta coilovers and Swift springs, with a pair of blue Cusco swaybars fitted at each end.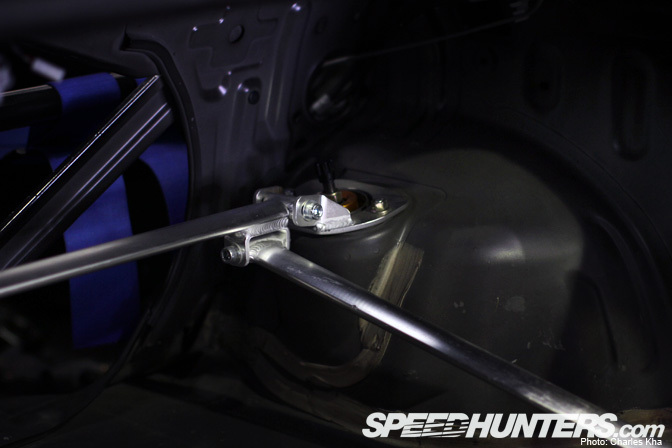 In addition to the roll-cage, Nik has also fitted Carbing front, rear, side and underbody braces.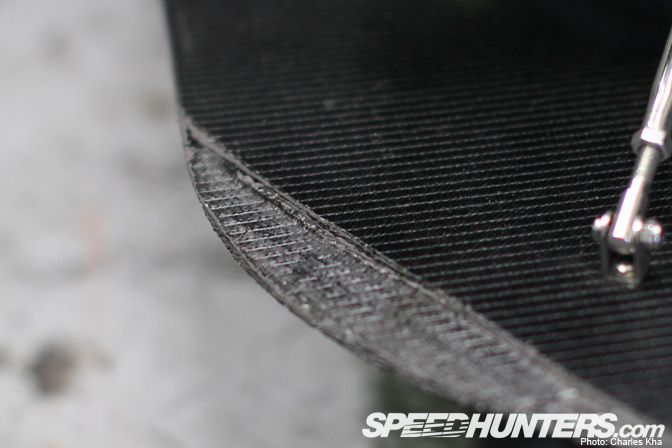 One area that Nik is planning on improving is his EVO's aero. For this year, a custom carbon splitter, canards and floor have been fabricated, but there are plans to heavily improve this area of the EVO. Here you can see some of the scars from Eastern Creek's ripple strips.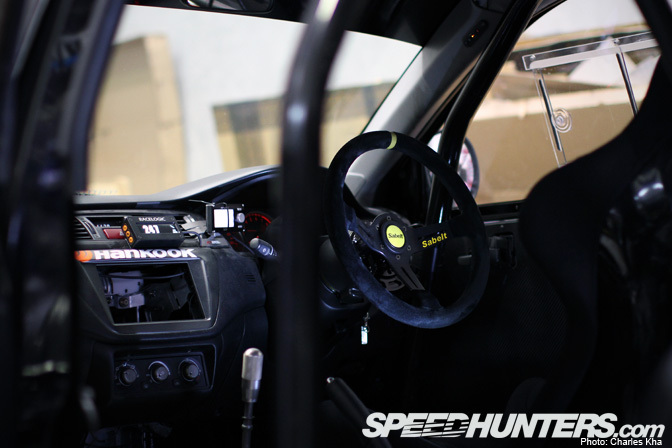 In the weeks leading up to WTAC, Nik stopped driving the EVO on the street so that the modifications could get more serious. The interior and head-unit, for example, were stripped.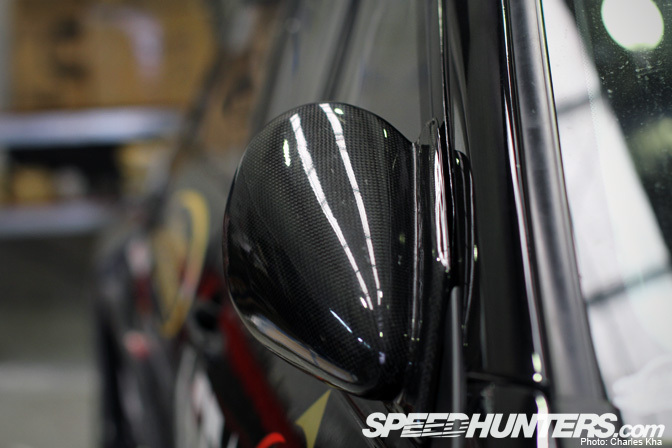 Small profile carbon mirrors were fitted…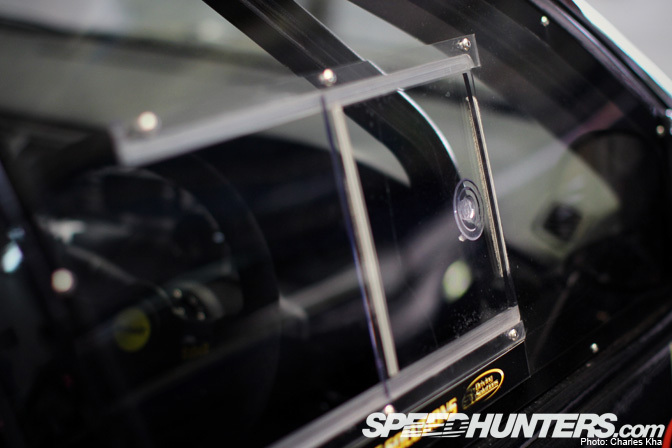 …Along with polycarbonate windows…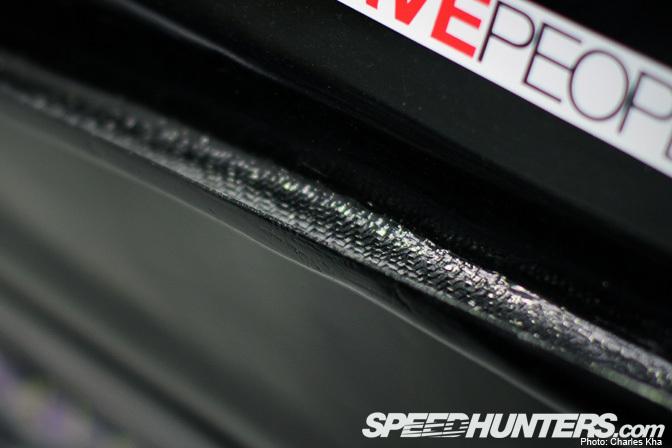 …Some more carbon aero…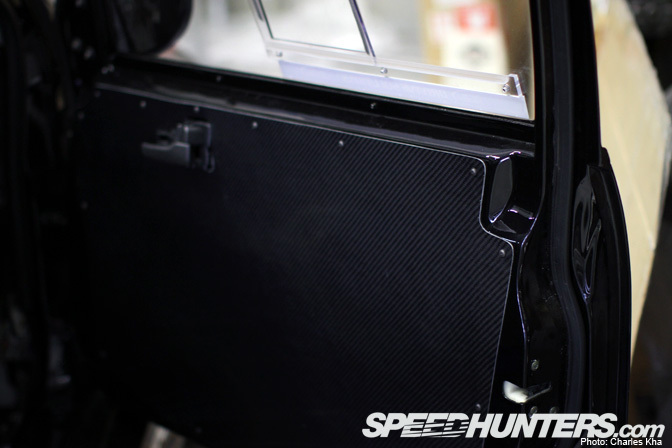 …And fibreglass doors.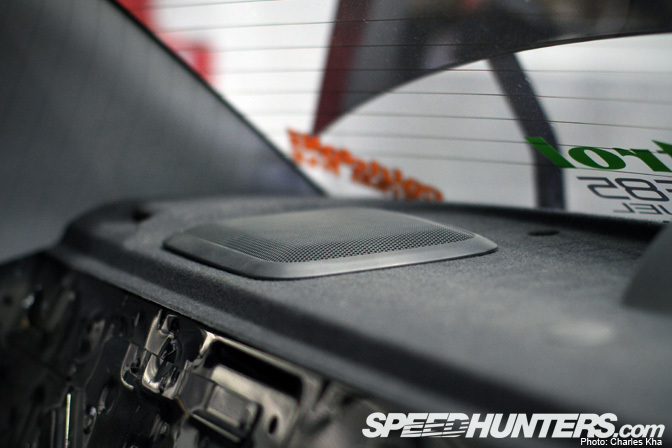 That said, there are still many areas of weight saving that Nik will be tackling. One example is the parcel shelf…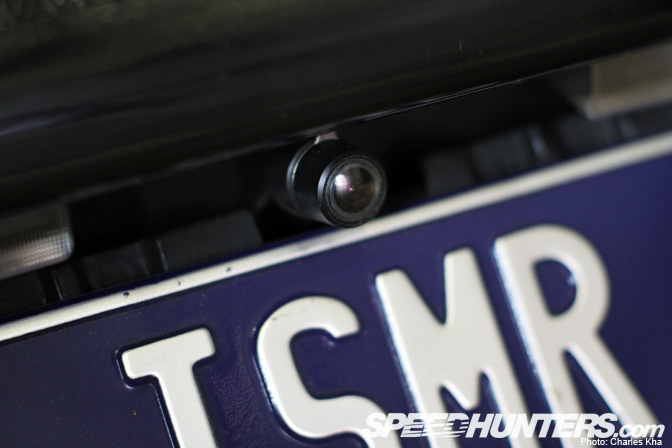 …The rear-view camera…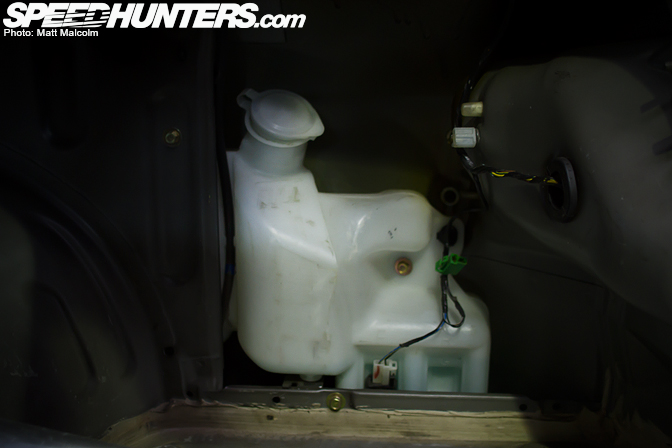 …And another is the half-full washer bottle. In spite of the extra weight, Nik was still able to take out Open Class! It will be interesting to see what sort of laptimes the EVO will be capable of once it's put on a proper race car diet.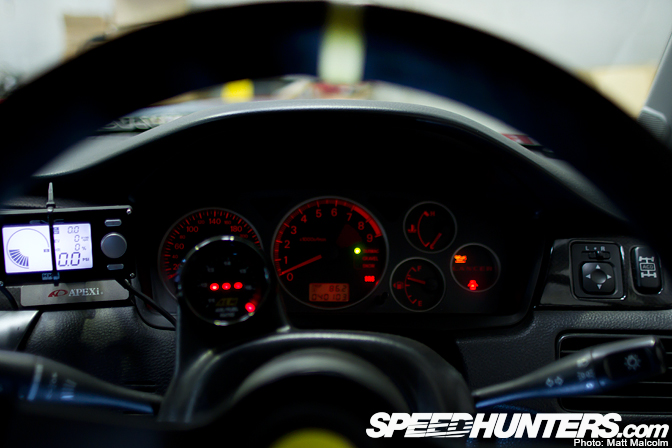 Proof that Nik's EVO has just 40,000km (25,000 miles) on the odometer.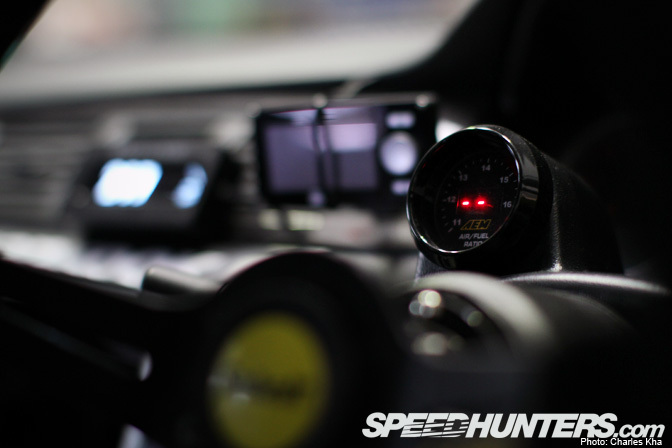 An AEM air/fuel ratio meter is mounted on the steering column…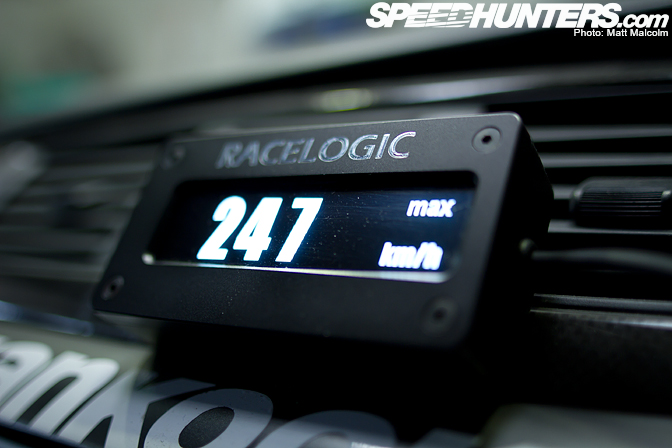 …With the Racelogic display in front of the air con vents. Here you can see the max speed that Nik recorded on the main straight of Eastern Creek.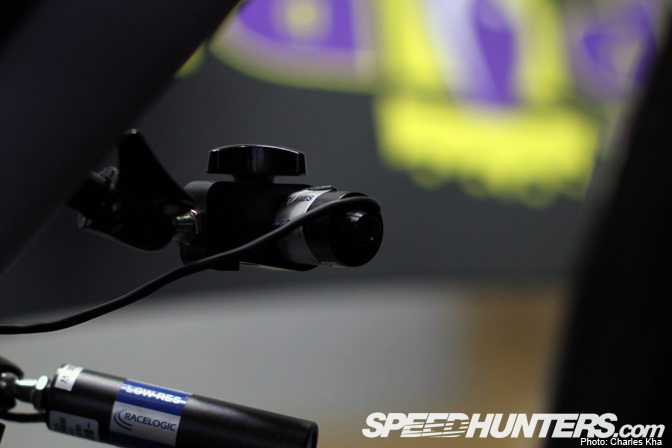 Although it's added weight to the car, one of Nik's most valuable additions is the Racelogic Video VBOX system.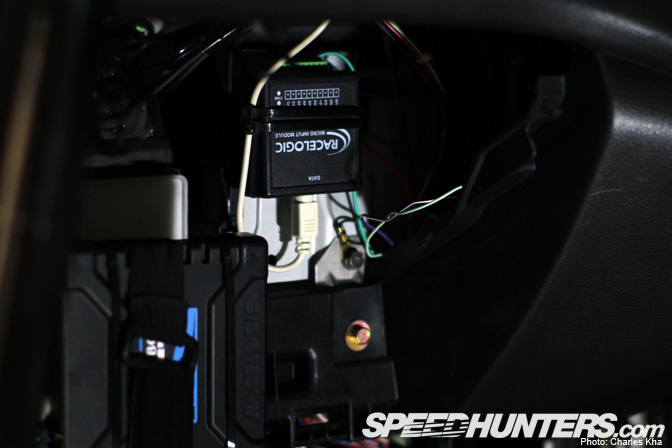 The data and video logging system allowed Nik to analyse his laps after each session to see where further improvements could be made. You can view the onboard of his fastest lap here.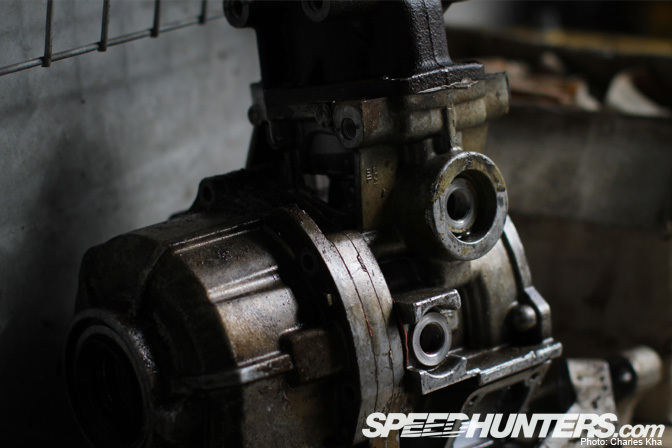 "Initially I predicted that a 1:35 laptime would be enough to win the Open Class. I accomplished that in the first session, but when I saw the timing screens I was only third. I couldn't believe it!" Nik said. To make matters worse, he blew the EVO's diff in the subsequent session. "I had to regroup for Day 2 of WTAC. We fixed the EVO overnight and I spent a lot of time visualising my lap. In the first session on Saturday I pulled a 1:34 out of the hat! I knew this would be a very hard time for the Open Class guys to beat, as it was quicker than the bottom half of the Pro Class times!"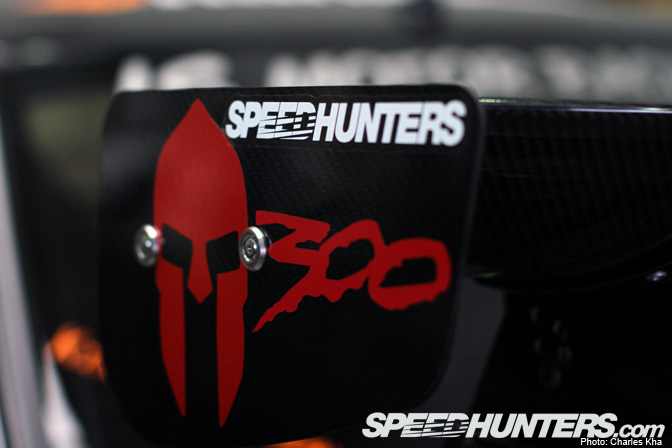 Nik got the Spartan nickname because he's from Sparta in Greece. It's a fitting moniker considering how many scalps he's claimed on the track.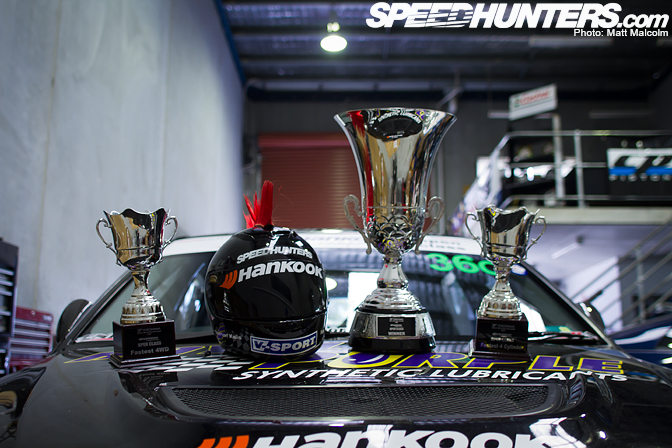 Although Nik Kalis' EVO IX has yet to shed all of its street car DNA, it still proved to be the car to beat in Open Class. His 1:34.826 laptime was almost a second clear of his nearest rival, and would have been quick enough to finish well inside the Top 15 in Pro Class. In addition to winning his class, Nik was awarded with the trophies for Fastest 4WD and Fastest 4 Cylinder. Compared to the year prior, Nik had shaved ten seconds off his PB laptime.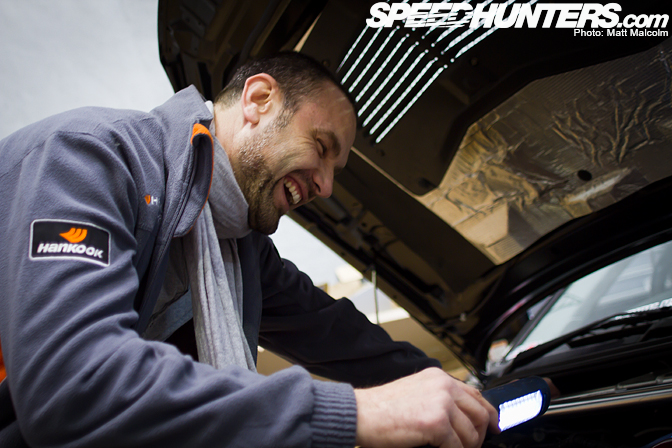 So where to from here? With a curb weight of 1350kg, there's plenty of room to put the EVO IX on a diet and make it even quicker. "For next year, I'd like to continue competing in major time attack events nationally" Nik said. "Having won in Clubsprint and now Open Class, a few people are saying I should move up to Pro Class to complete the hat-trick. But unfortunately I don't have the kind of budget needed to be competitive. There's still plenty to do in Open Class though. She's a heavy girl and I plan on reducing the weight and upping the power."
Regardless of which class Nik chooses to compete in, I'm sure this black, unassuming EVO will be formidably competitive. "To think that only a few weeks before WTAC I was dropping my daughter off to school in the EVO" Nik said. "So I wonder where it'll be in 12 months time!"
- Charles Kha
Photos by Matt Malcolm and Charles Kha