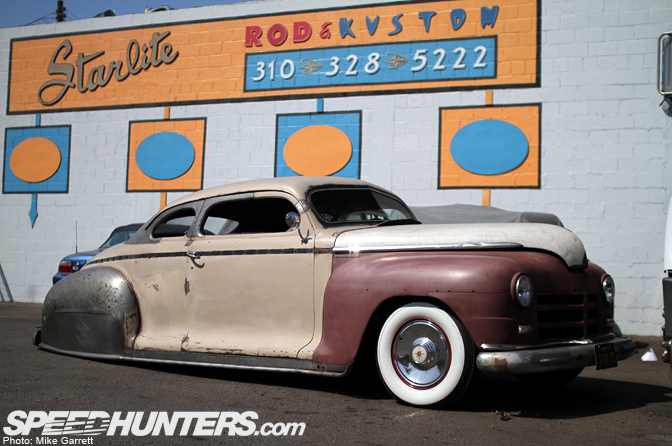 Last week before I headed to Long Beach for the Japanese Classic Car Show, I made a stop in Torrance to visit our friends at Starlite Rod & Kustom. It had been over a year and half since I'd visited Jack and Edgar and I was long overdue for a follow up.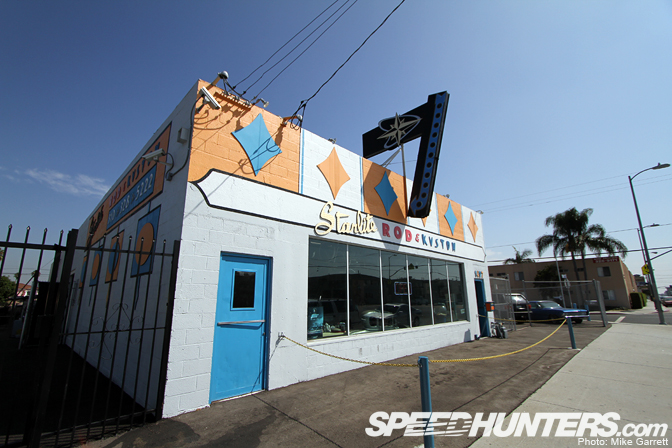 Since my last visit Starlite has relocated to a larger facility with a cool storefront on Carson Street. Needless to say I was pretty anxious to check out the new digs and get a peek at some of their current projects.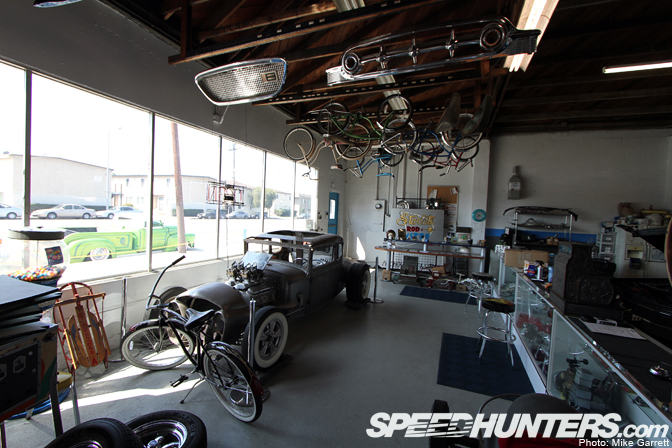 I have to say that the new facility is quite a step up from the old one. It has the vibe of a rod shop from SoCal's glory days.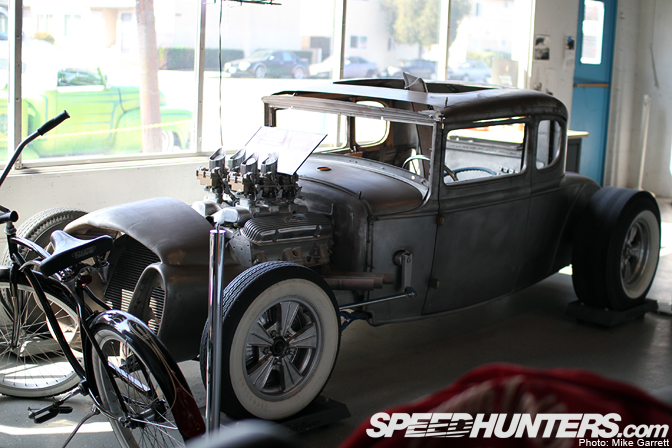 The Model A shop project that I saw last year is still around, now on display in the large showroom. Obviously with all the customer projects, there hasn't been a lot of time for progress on the Coupe.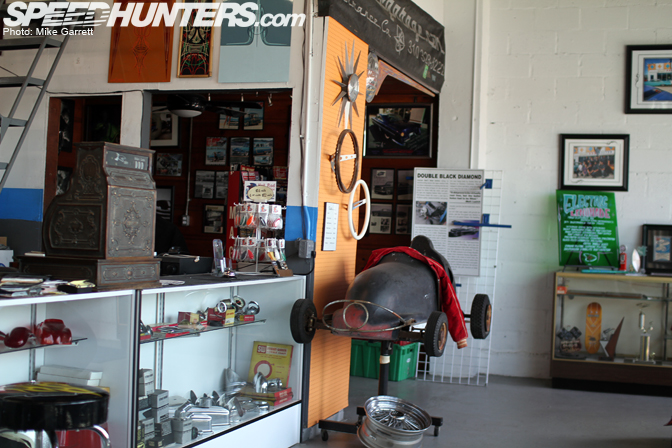 Before heading back to the garage to check out the cars, I spent some time browsing around the showroom/waiting area.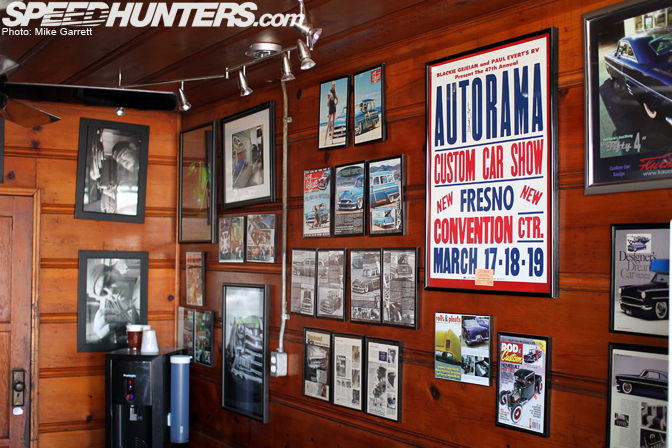 Even though Starlite has only been at this location for a little over a year, it feels as if they have been here forever. It's pretty bitchin'.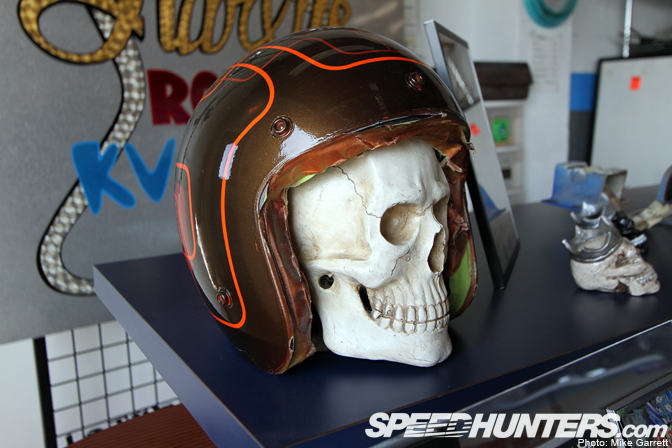 The official Starlite Rod & Kustom mascot.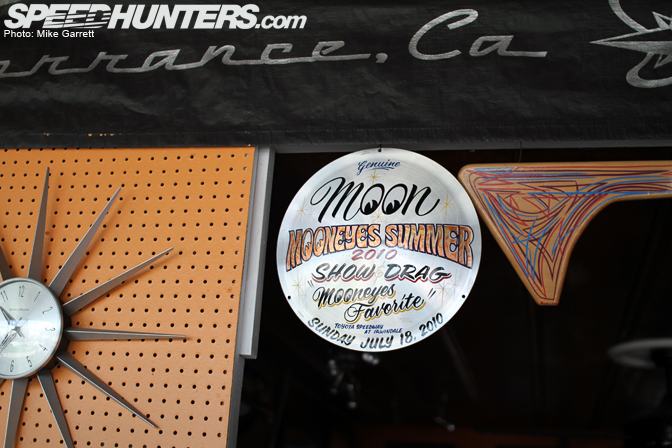 I spotted the custom painted Moon disc awarded at last year's Mooneyes Summer Show. Way better than any trophy in my opinion!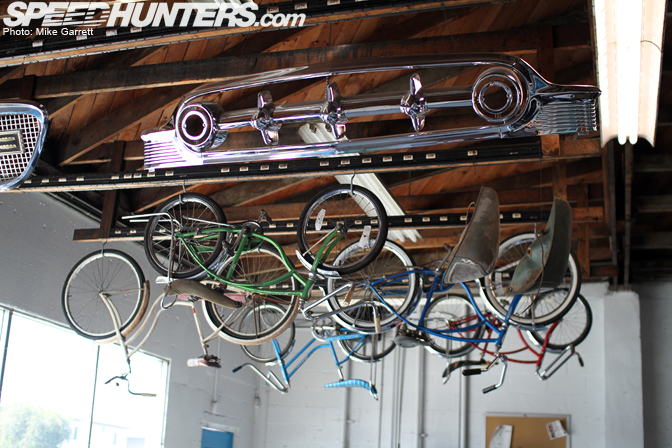 The grills and vintage bicycles hanging from the ceiling add even more character to the showroom.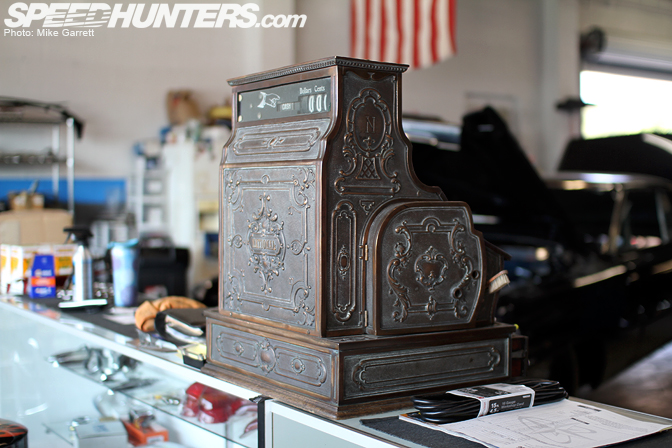 As does the retro cash register.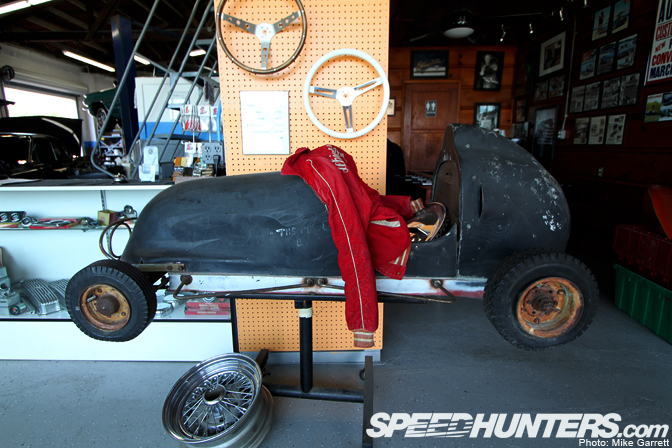 An original Quarter Midget car. Nice!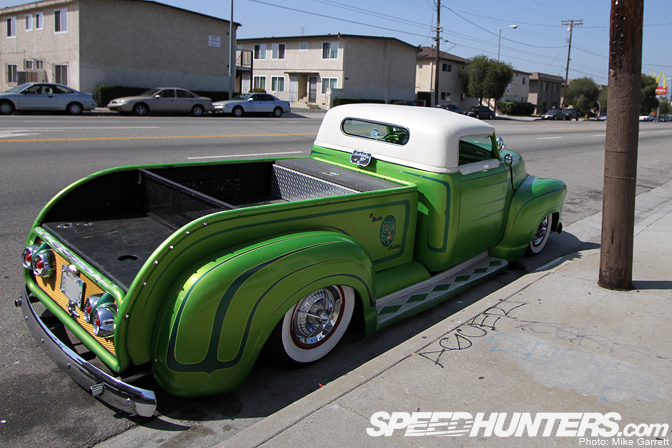 Outside I spotted Edgar's Chevy Pickup parked on the street, breaking necks by the minute I'm sure. Is this not the coolest daily driver in the world?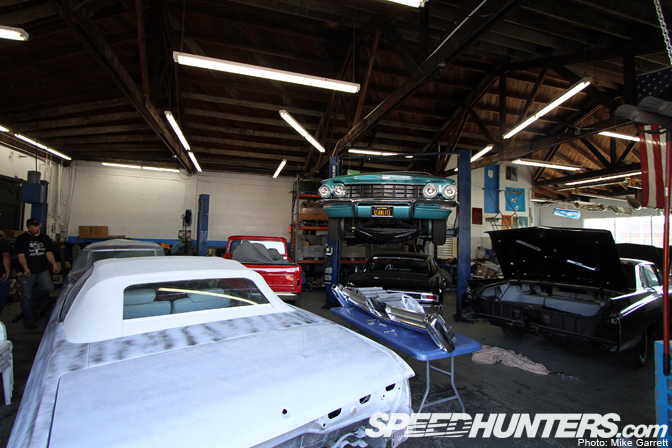 Back in the garage area, it was clear that Edgar, Jack, and the crew have their hands full with customer projects. From rods and kustoms to pro-touring builds, and even the occasional bike – business is booming at Starlite.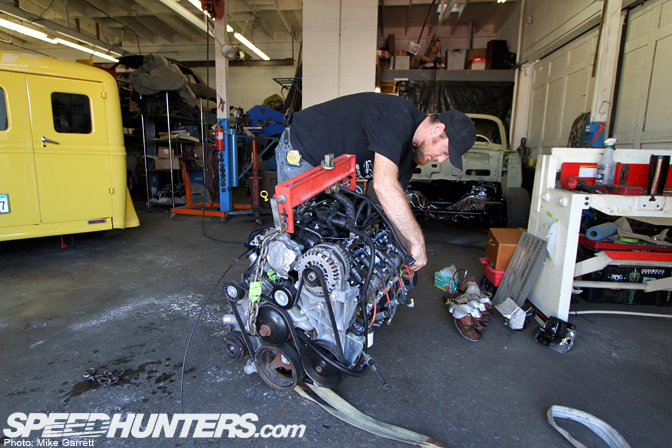 It didn't take long to find Jack. There he is prepping an LSx motor for a customer's car.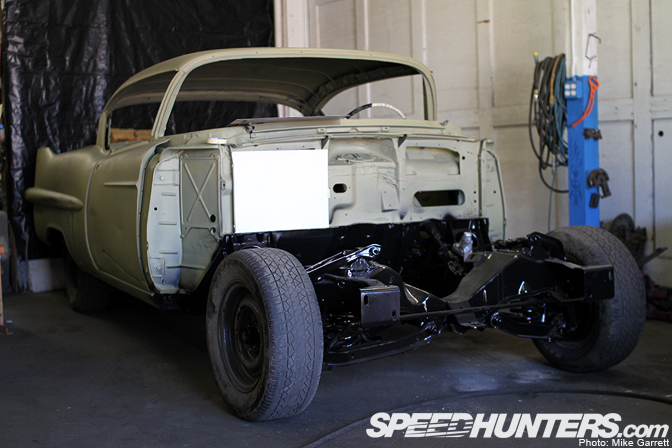 The new home for the modern V8 will be this '57 Caddy.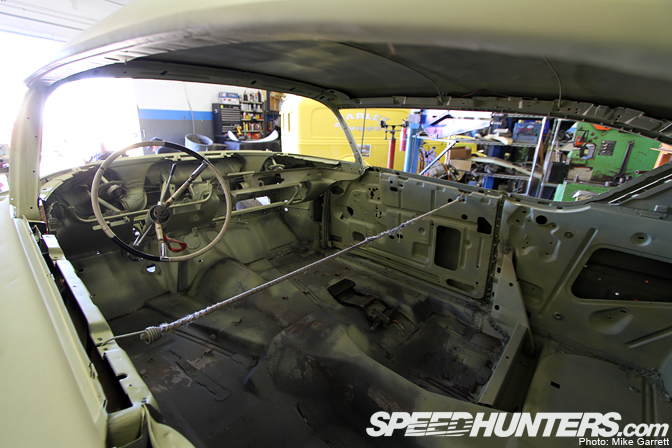 It still has a way to go, but plans call for a very mild cruiser capable of cross country road trips at the drop of a hat.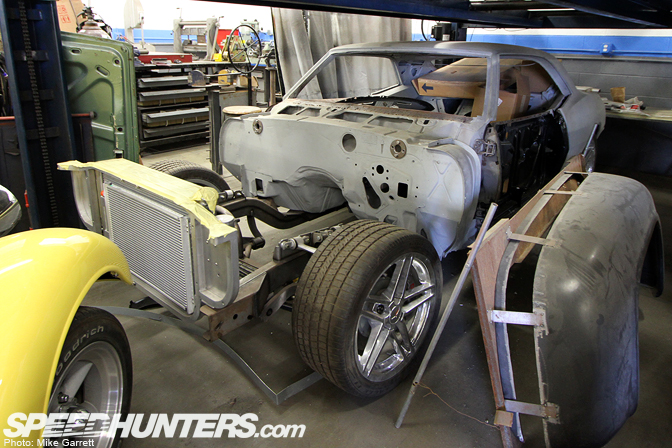 This '67 Camaro is one Starlite's Pro Touring projects…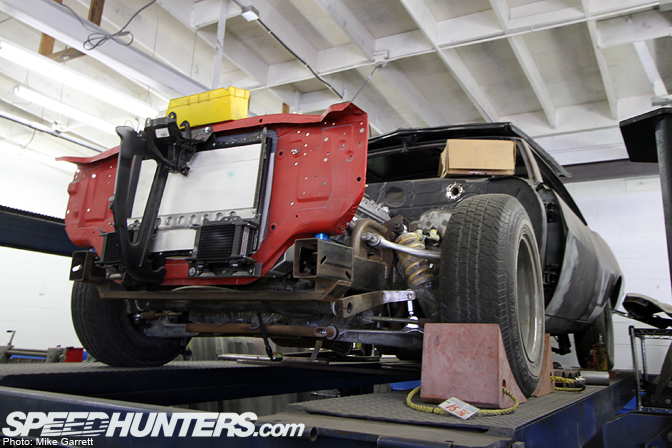 …as is this '69.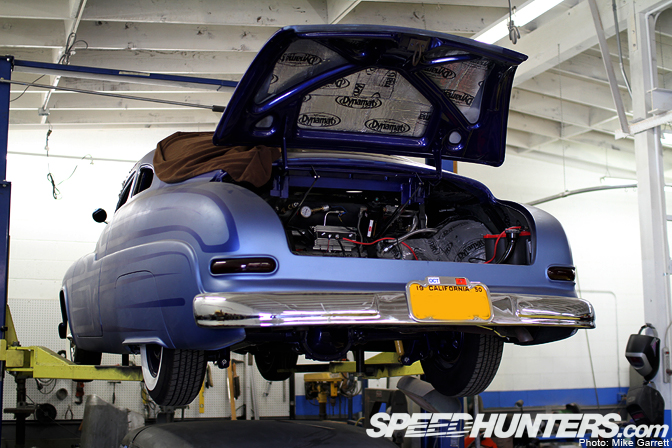 You might remember this Merc from my last visit to Starlite.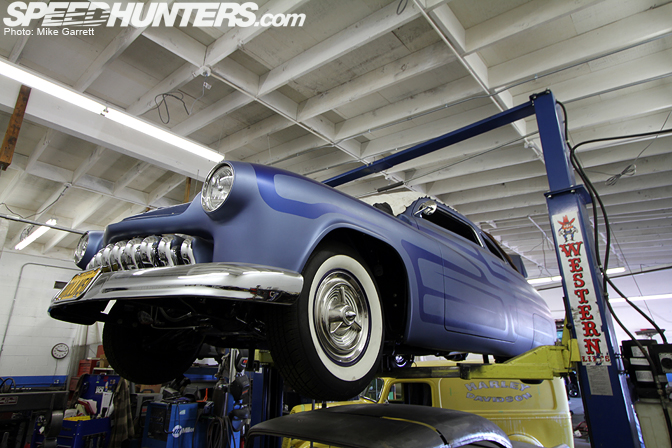 It was originally powered by a 500 cubic inch Cadillac engine, but it's been converted to a more traditional small block Chevy after overheating problems with the Caddy motor.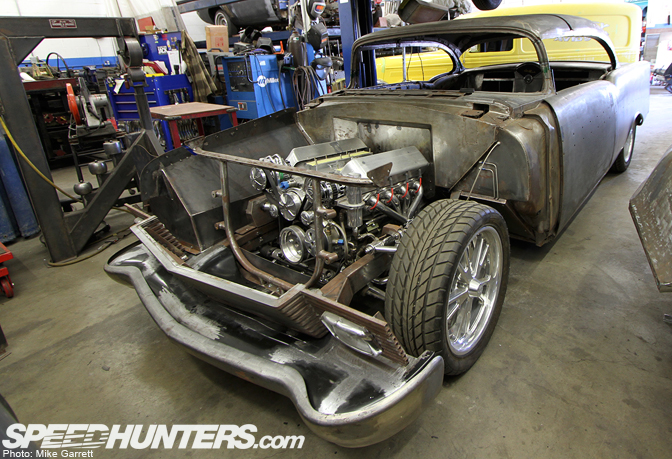 One of the more intensive projects happening at the moment is this '56 Chevy. It's got Art Morrison suspension, a massaged body, and will be running LS3 power.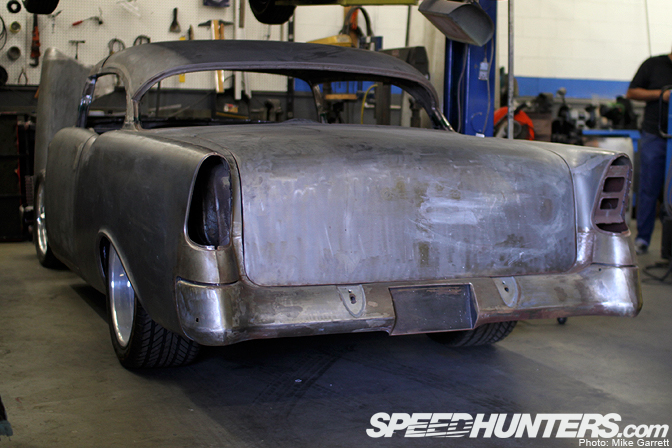 Here you can see some of the work done to flush the rear bumper. The guys are aiming to have the car completed by next year's Grand National Roadster Show.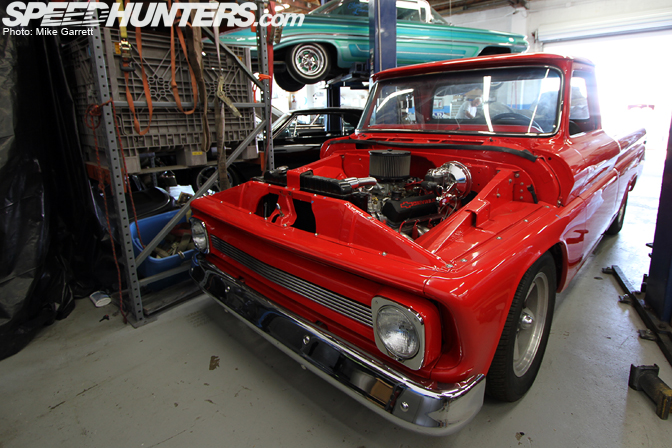 Elsewhere in the garage was this C10 Chevy pickup with a healthy looking V8 in the engine bay.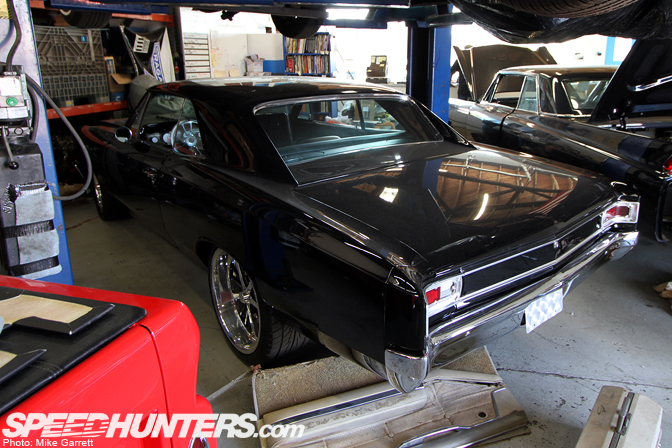 As well as this big-rimmed Chevelle.
There's Edgar's brother Erik's super cool Oldsmobile kustom.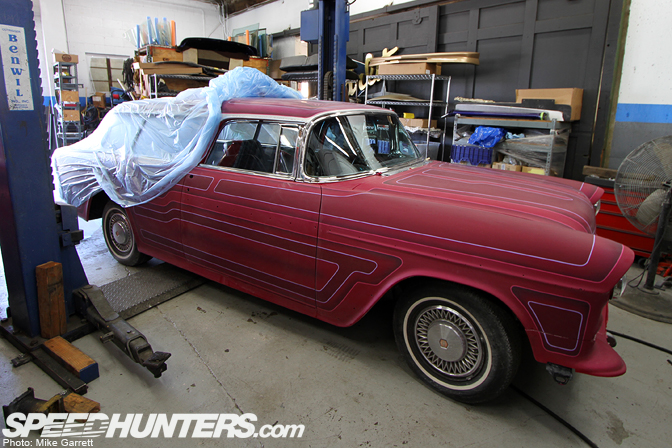 Speaking of kustoms, one of the coolest cars in the shop was this Chevy Nomad.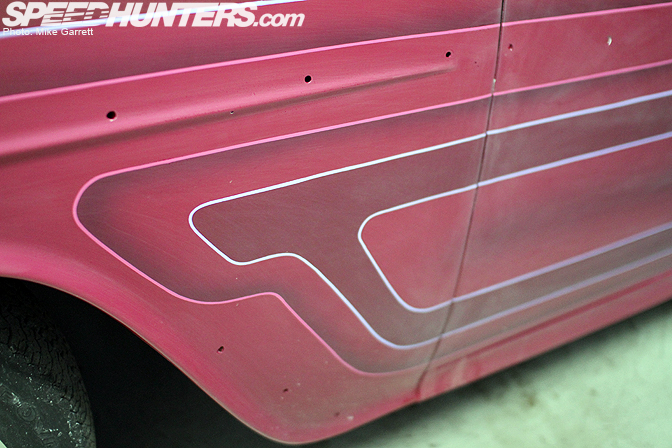 It's been done a very traditional, Larry Watson-esque style.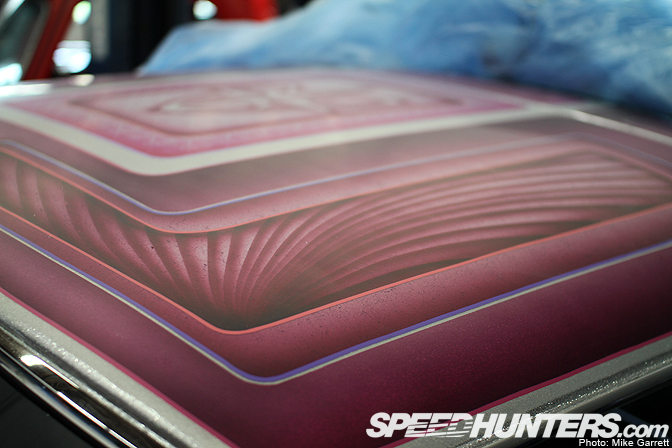 The guys are planning to debut the Nomad at the Long Beach Motorama in a couple weeks and I can't wait to see the finished product under the lights of the Long Beach Arena.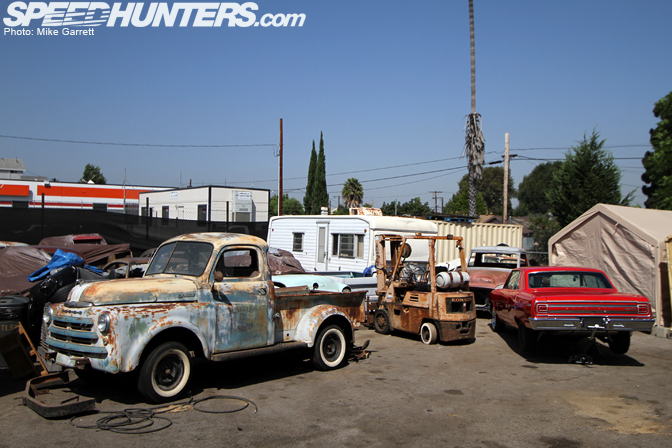 Outside there were other cool machines in the sideyard.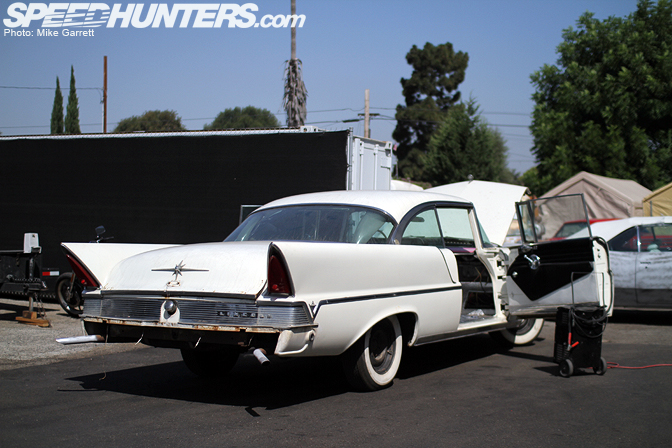 This finned Lincoln was out there getting some interior work done.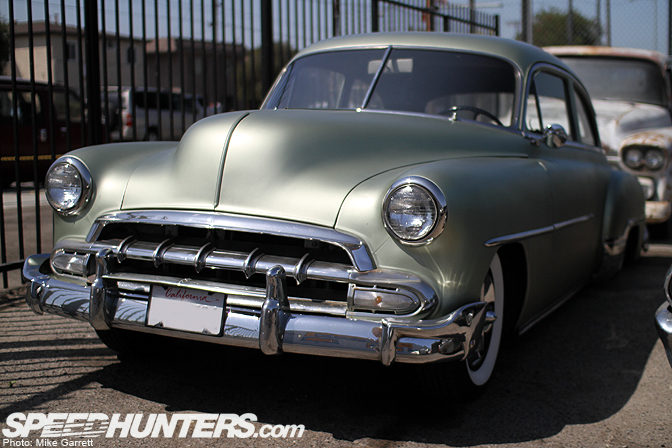 Also parked outside was this super cool mild custom Chevy Coupe.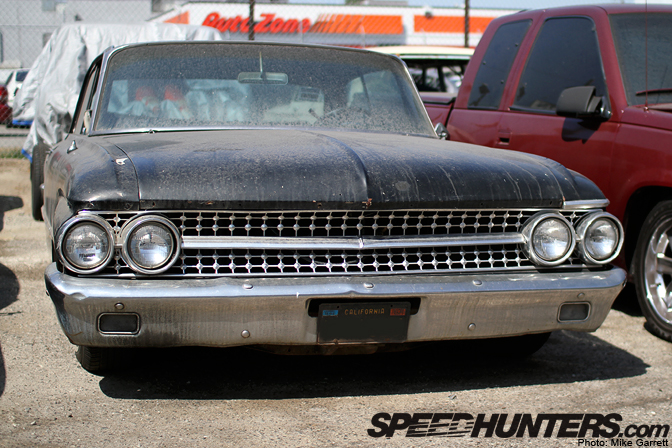 Right next to the Chevy was this lowdown Ford.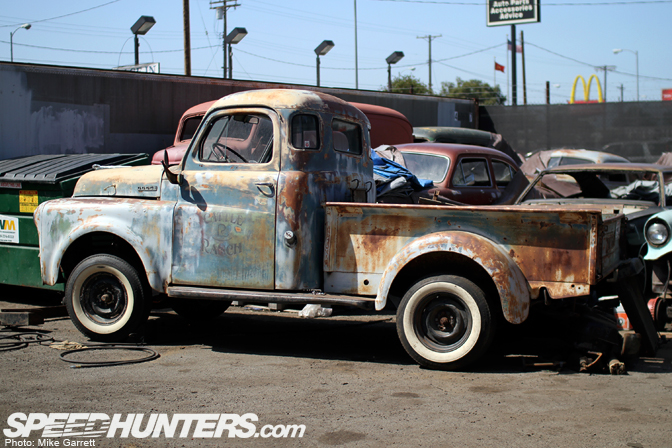 Fancy some patina? Then you'll dig this Dodge pickup.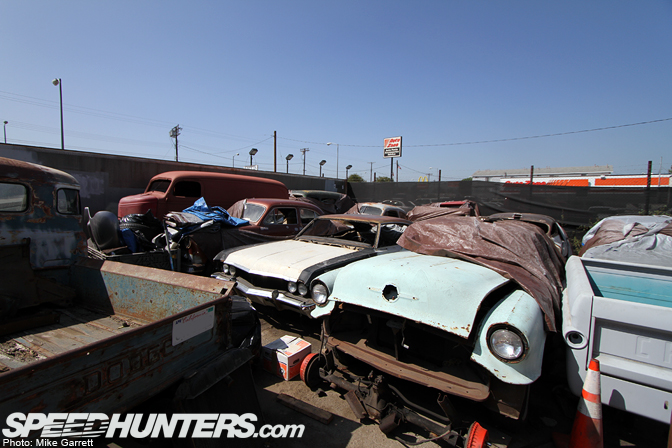 Scrap pile or future projects? You be the judge.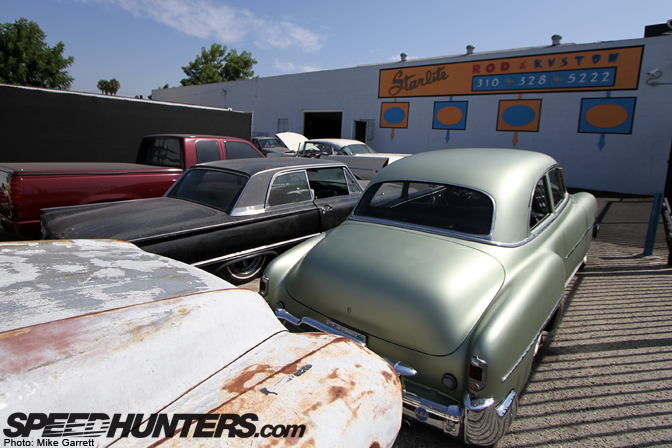 Thanks to Edgar and Jack for letting me stop by. I'll have to make sure that it's not another year and a half before I come back!
-Mike Garrett