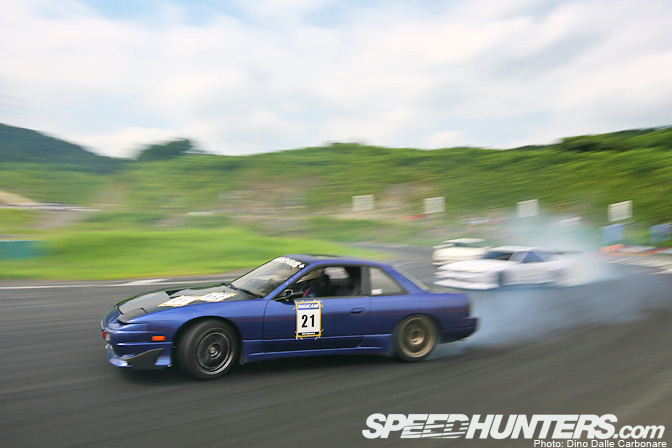 Time to continue with some more drifting coverage from this past Sunday's MSC round in Honjo Circuit. It never fails to impress me just how high the level of drifting has been getting over the last few years here in Japan. I remember back in the day at some of the Battle Magazine drift meets I covered, that the Beginner class was just that, filled up with people just learning how to get, and hold their cars sideways. These days even novices seem to have pretty impressive skills; I think I only saw about five spins during the whole day!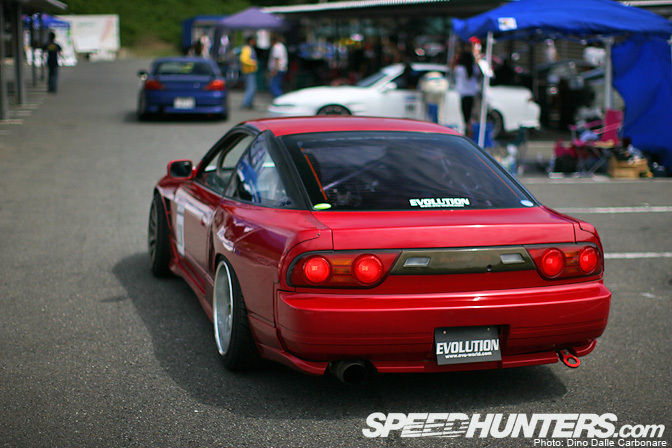 It's testament to the way the Japanese push themselves hard to learn the correct techniques and follow the advice more advanced drivers have to give.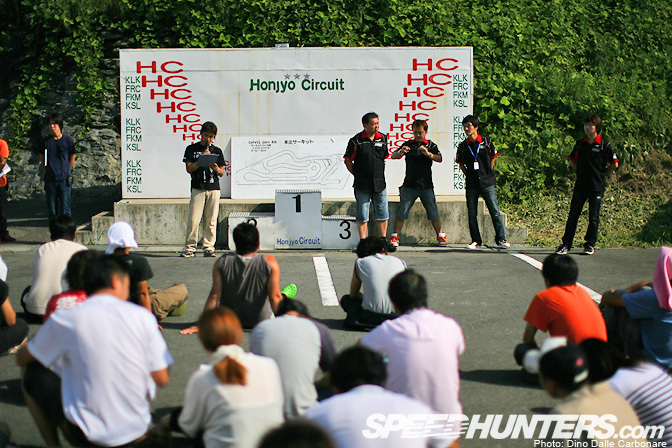 Every event begins with a driver's meeting where the judges, in this case Kawabata and Kunnyz, tell participants what they are looking for. Getting sideways and powersliding a car under full power might be fun to watch but it's always the more technical aspects that are required at competitions. Specific lines, clipping points and good use of the whole track is what makes a good drifter, juggling the car and keeping it sideways as it transitions from an e-brake or weight shift/steering input induced slide to a balanced and controlled execution.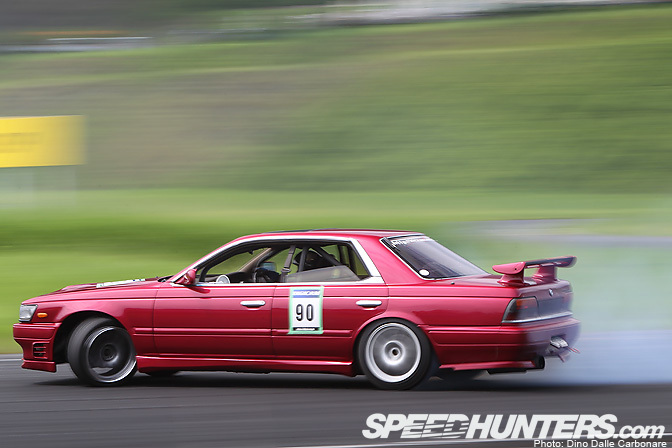 Getting plenty of angle is always a good way to impress the judges and crowds as is perfectly demonstrated here by this RB26-powered C33 Laurel.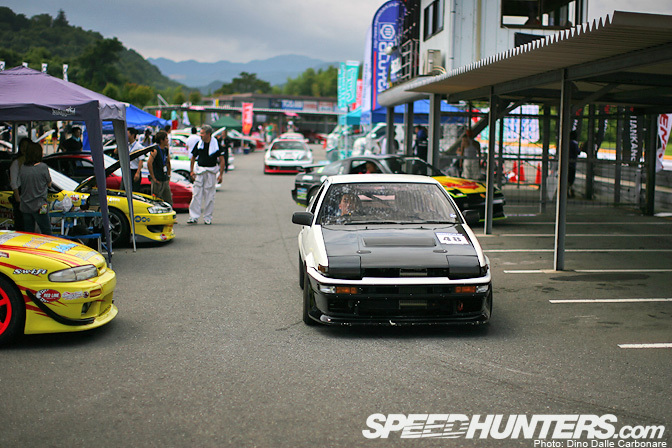 As the three different classes came in and out during the practice session I moved up on the hill looking down at the inner section of the track…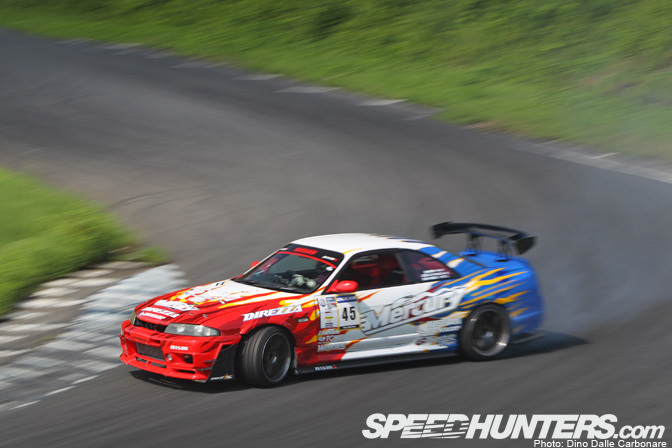 …so I could get a glimpse at some of the other hidden series of corners drivers needed to tackle before the main judged area. Here is Sugiura-san throwing his big Top Gun/Mercury ECR33 around.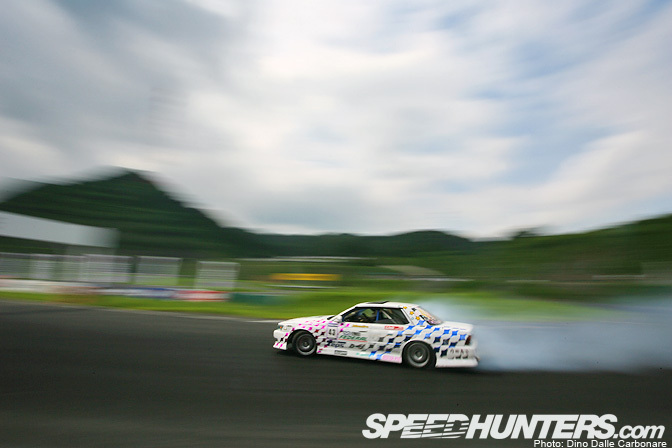 Suzuki's Silver Fox C33 in action. I remember this Laurel from Mobara, hard to forget as it sports one of the cleanest engine bays in MSC with a fully built RB25.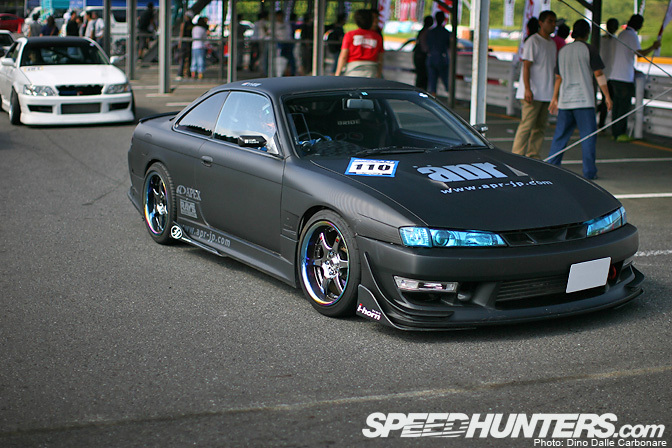 T&E Vertex and a matte black finish against the titanium-colored Gram Lights for this S14 participating in the Beginner class.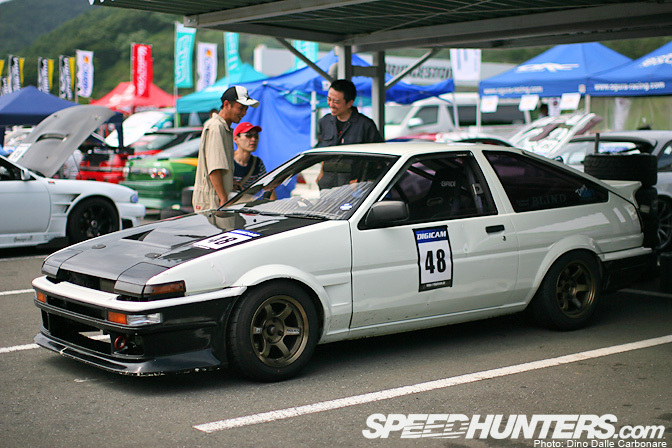 I think the majority of 86s I see these days, along with other vintage rides, are on new TE37Vs. It's become refreshing to see someone still running the deeply cupped regular 4-lug TE37s!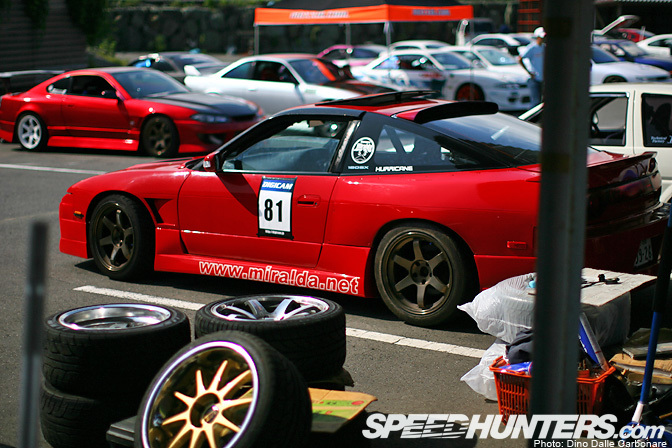 On the subject of TE37s…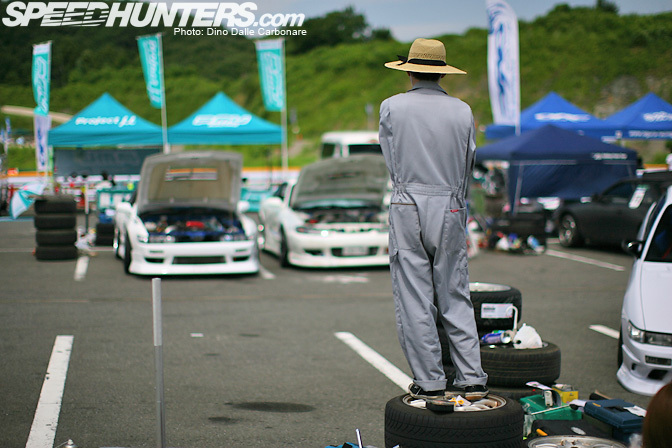 Here is one way to check out the action on track! Stack up a few wheels and voilá, a perfect platform to stand on.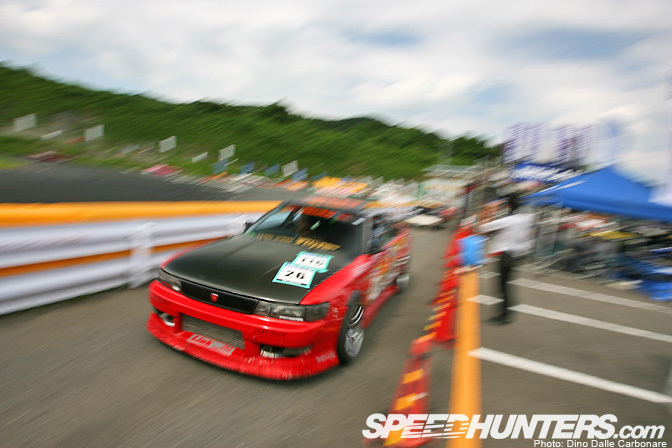 Kitagiwa-san in his JZX90, sporting Speedhunters stickers on the headlighs!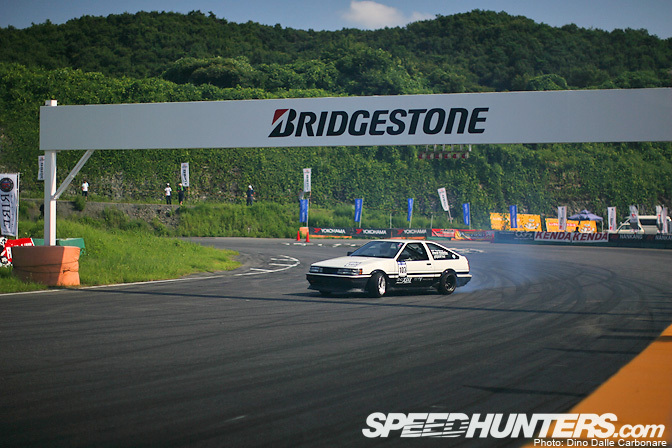 In Part 1 I touched on how difficult it is to hold a drift throughout the judged corner at Honjo, which incorporates the very short home "straight." Here is a little Levin struggling as it runs out of puff mid-way through the challenging section…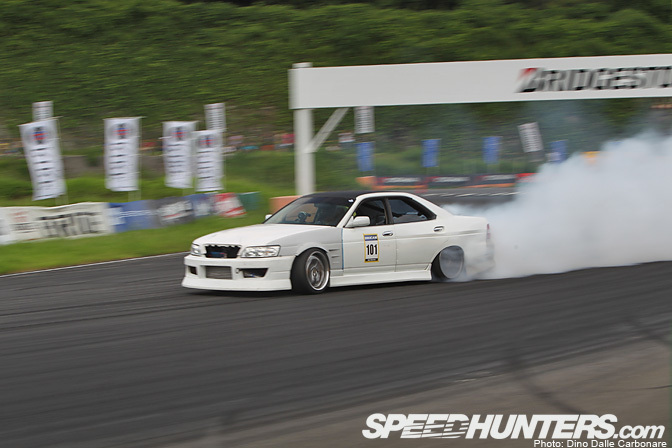 …while the widebody C34 we saw yesterday proves how easily it can be done if you pack about 500 HP!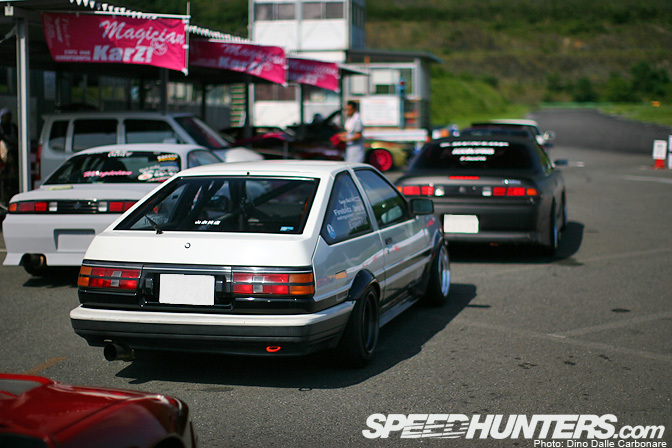 Each successive group of cars would always begin lining up at the track's entrance half way through a session, sitting under the hot sun with their engines idling.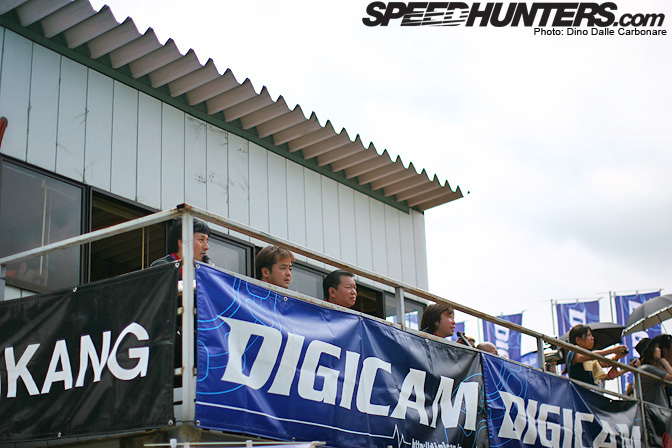 The judges had a nice vantage point over most of the track from up on the small control tower.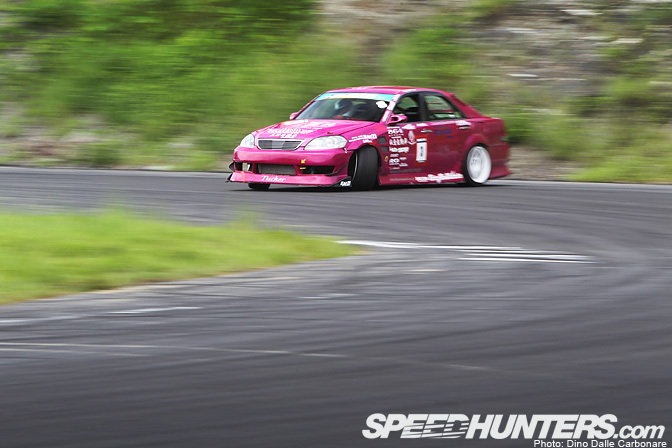 Here is Takamiya-san of Team Magician in action with his JZX110 MarkII. His style is pretty aggressive, usually throwing his big pink Toyota sedan almost rear-end first into the corner.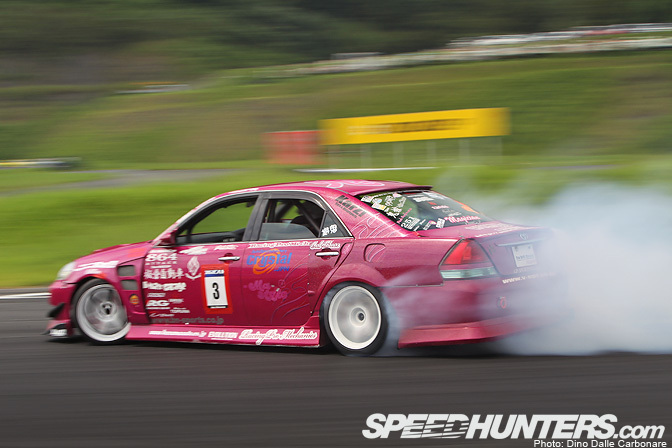 He isn't too shy with the throttle either!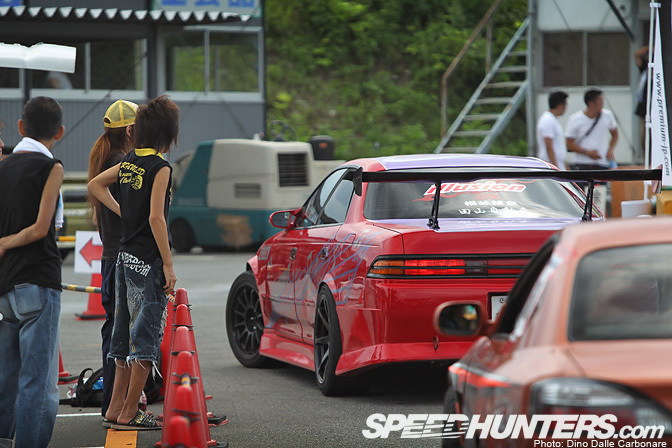 More 1JZ power with the Illusion JZX90 of Kitazawa-san.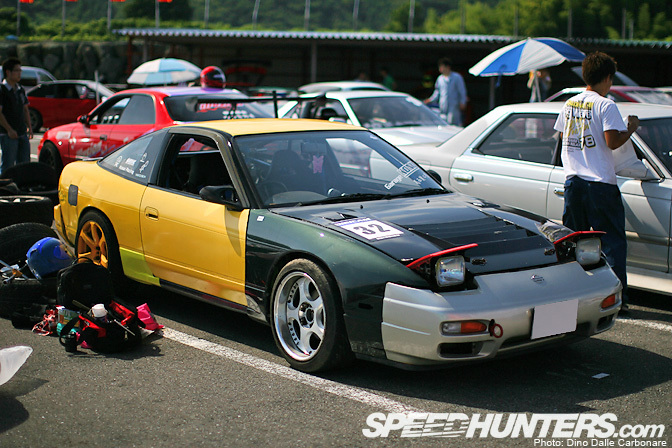 OK I'm guessing that sometime ago this once fully yellow RPS13 had a rather big frontal impact with something pretty hard. Can't beat a trip to the wrecker yard to find cheap body panels!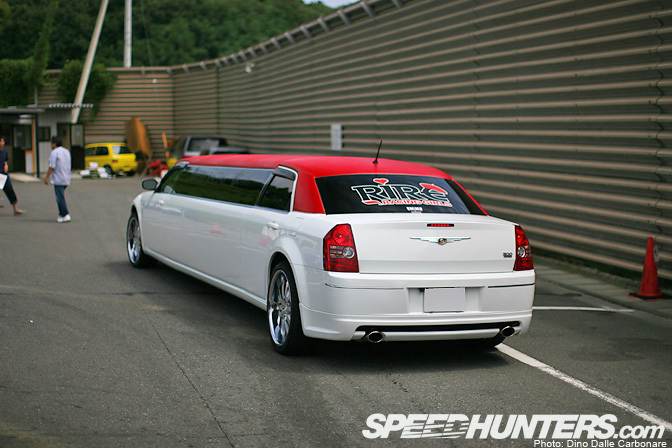 At one point this stretched 300C dropped by. Rire Racing is a sponsor of MSC so the guys behind the race team dropped by to check out some of the competition.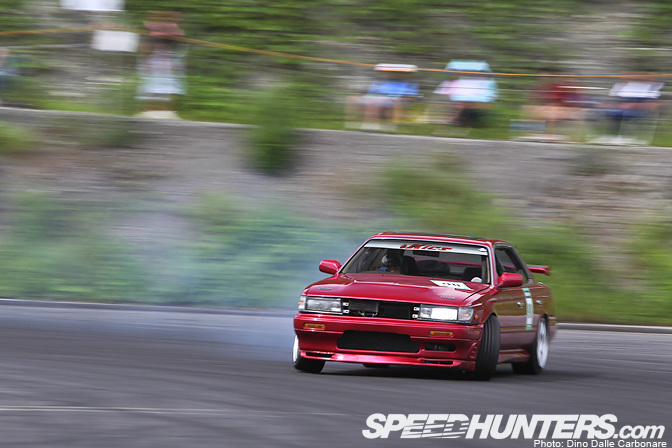 More of that crazy Laurel.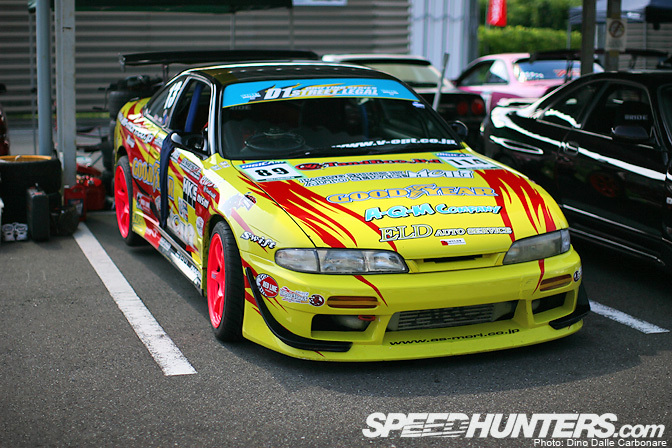 Mori-san from Auto Service Mori was participating with his faithful S14. He has only been drifting for a very short time but he is getting damn good!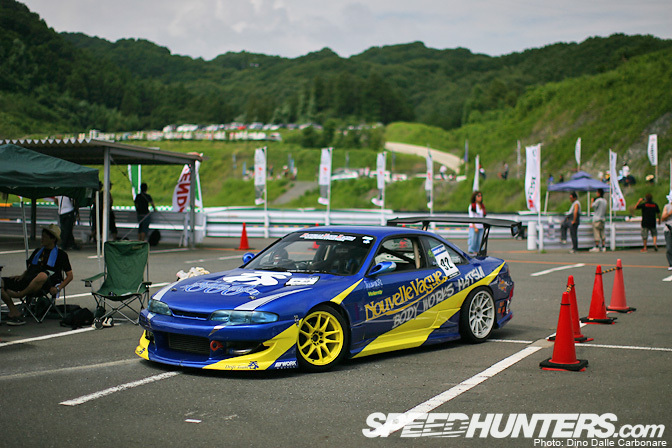 The Body Works Matsui S14 was entered into one of the four Expert groups.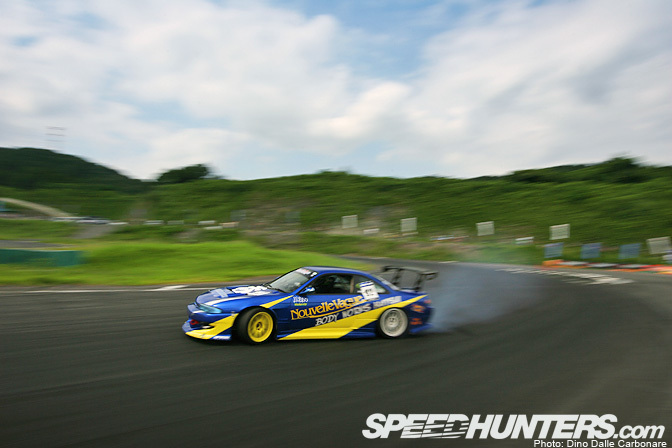 Looked great doing its thing out on the black stuff.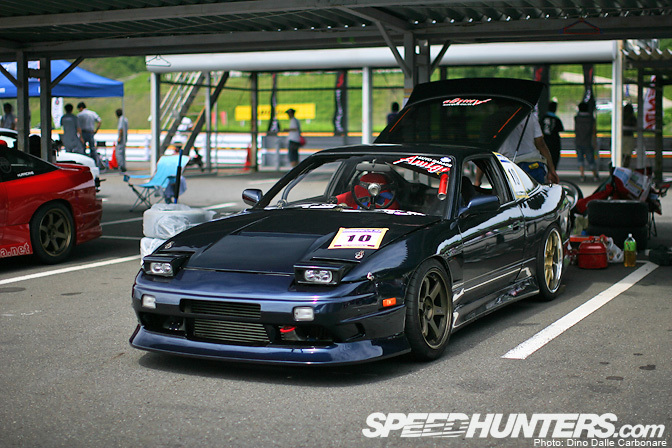 This late entry into the Super class was built by Auto Garage Amigo. Under the hood was a fully built SR20 pushing out serious power judging at how effectively it burned tires.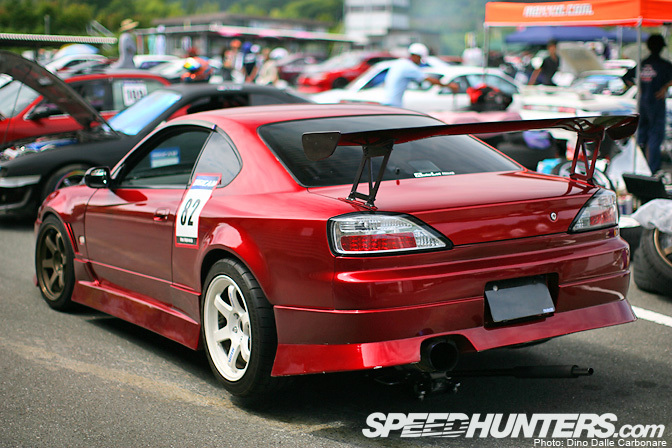 And on the subject of tires…no matter where you look you will always see drivers jacking their cars up to slap on a fresh set of rubber.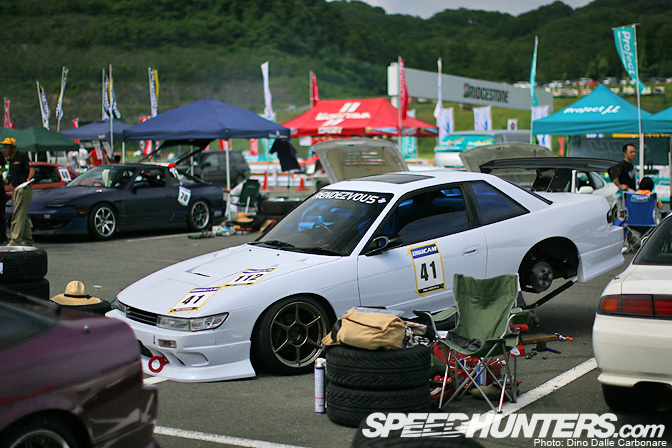 I think one more part to this MSC Honjo coverage is needed to take a look at a few more cool cars that were entered in the event. Don't miss Part 3! 
-Dino Dalle Carbonare