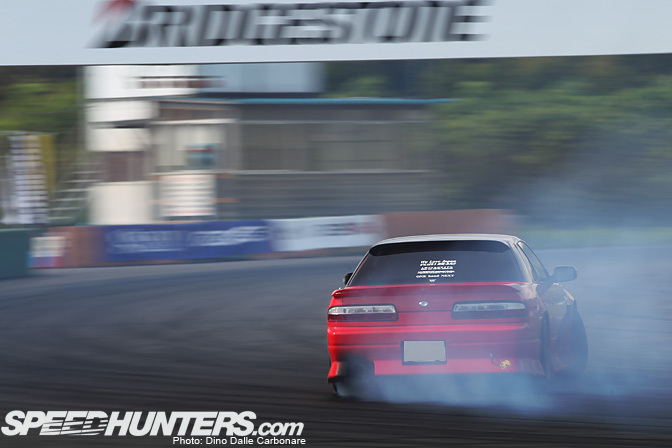 After the Time Attack frenzy that went on earlier this month in Australia I was beginning to miss some drifting, JDM style. When I checked out the Motorsportcom (MSC) website last week I noticed that their usual August pilgrimage to Honjo circuit was going to go down this past Sunday, so I decided to swing by for a while to get a few "healthy" lungfuls of freshly vaporized rubber.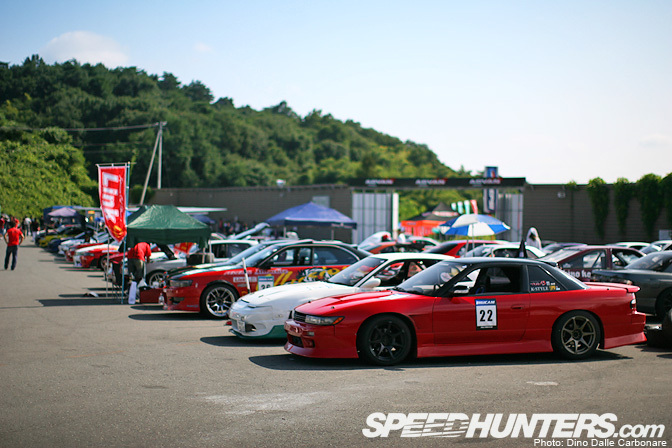 As ever I'm never disappointed at these events. The family like atmosphere and the selection of cars is always top notch and since the last round I covered in Mobara earlier this year I noticed quite a few new cars competing. While variation is great to see, I'm afraid that the majority of the paddock was filled up with Nissans, S-chassis to be more specific. It's an unavoidable aspect of drifting in Japan, so I did my best to focus on capturing some of the other cars in action…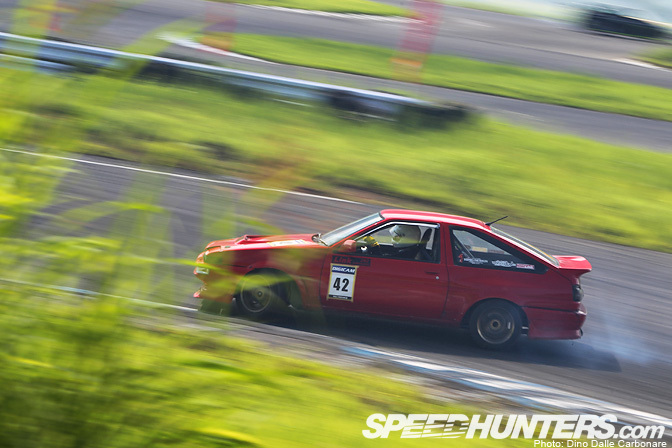 …like the odd hachiroku!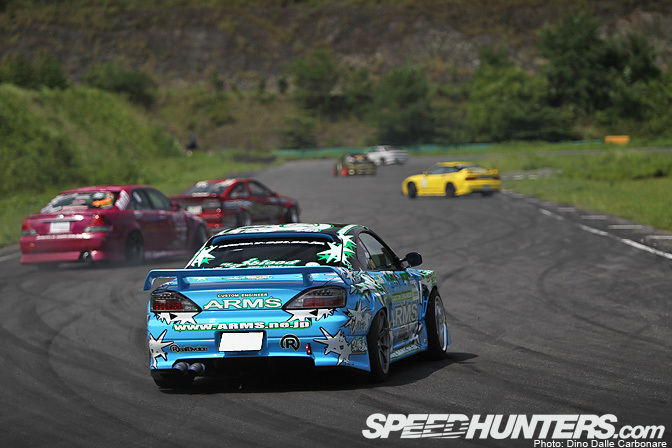 The Super Class is always the most entertaining, with some familiar cars like the Team Magician JZX110, the Run Free AE86 and the ARMS/Team 992 S15.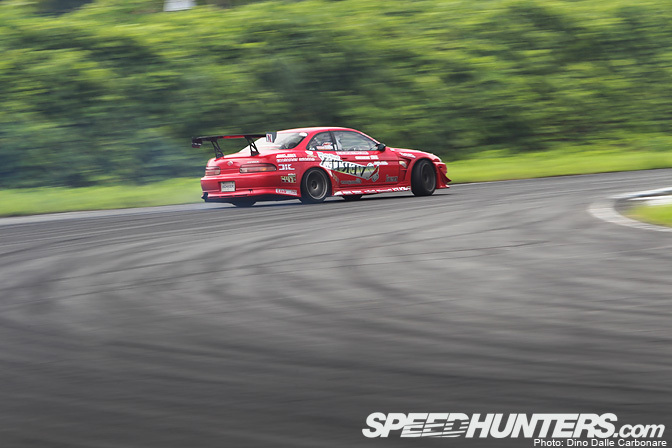 The Link/Garage Yamazaki JZZ30 is a car that you can barely see out on track as it's usually pouring out copious amounts of thick tire smoke. But it looked like it had gearbox issues yesterday, not allowing Yamazaki-san to grab a tall enough gear. The car ended up retiring early. Still with its Vertex kit its one of the nicest cars in the MSC Championship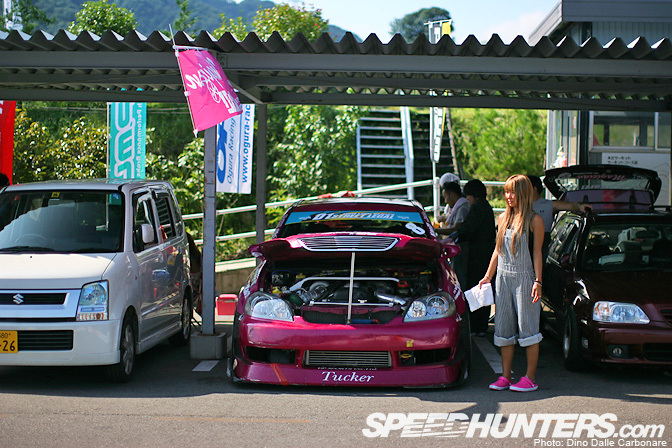 The Team Magician MarkII, one of the most easily recognizable drift cars in Japan right now. This thing is crazy loud out on track, each prod of the throttle accompanied by a massive backfire. Maybe it's running a Bee-R limiter?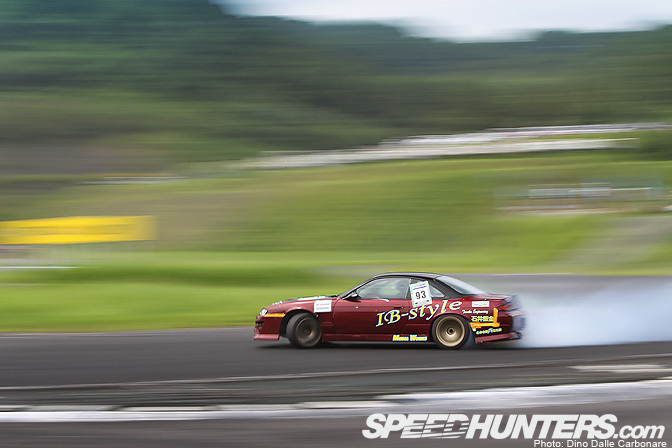 Honjo is a small circuit, very well suited to hold drift events like these. The drivers have two transitions before throwing their car in aggressively into the double radius judged corner which is actually two corners connected by a short straight. Those with power like this IB Style S14 in the Expert class have no problem keeping an aggressive enough angle through the whole turn, others with less grunt running out of puff way before the exit, straightening up and killing their drift.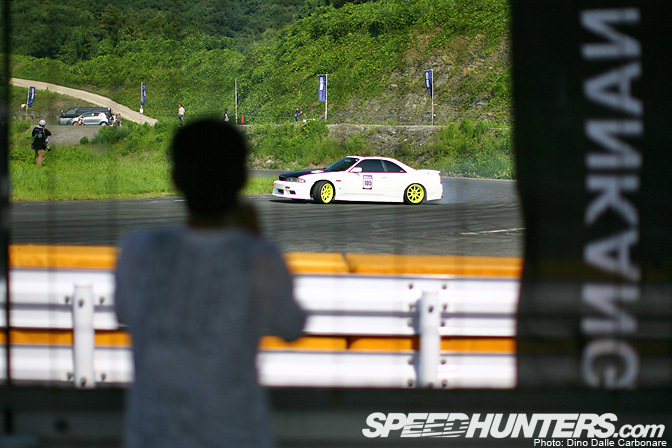 The summer heat meant most spectators tried to find a shaded area from which to enjoy the show from; the few covered pits in the paddock offered a perfect shelter.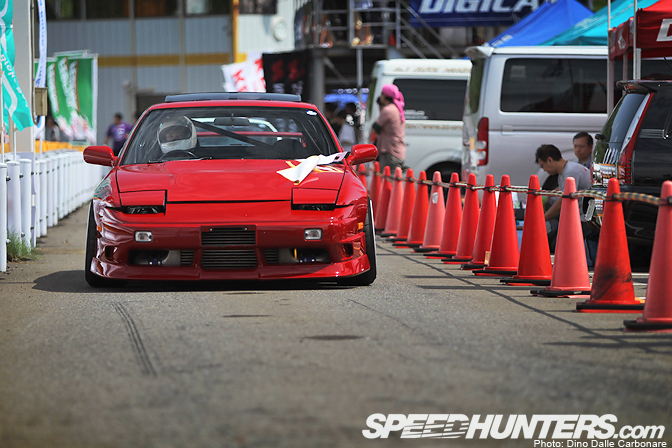 The three classes, Beginner, Expert and Super each spent most of the morning going out for free practice runs before…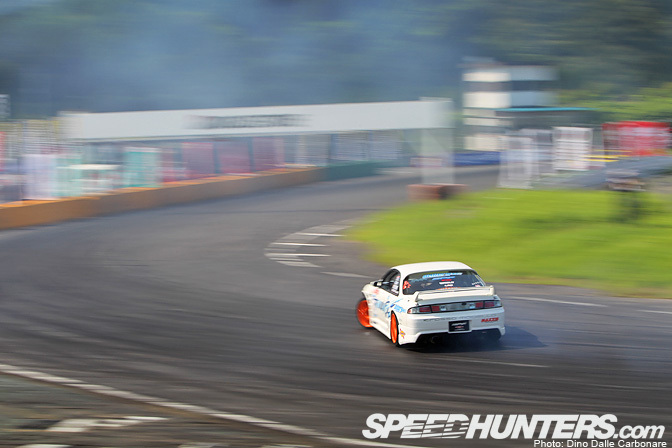 …the judged qualifying runs began. Guest judges for this round were D1 drivers Kunnyz and Kawabata, who did a great job of commentating during the whole day.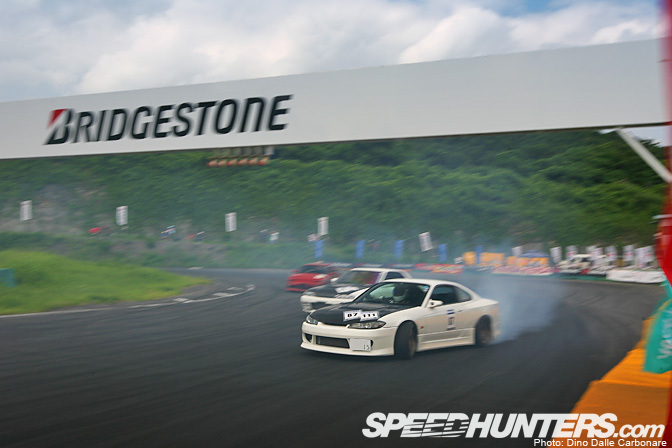 MSC is of course known for its team triple drifting comp, a great spectacle when the drivers get it all right!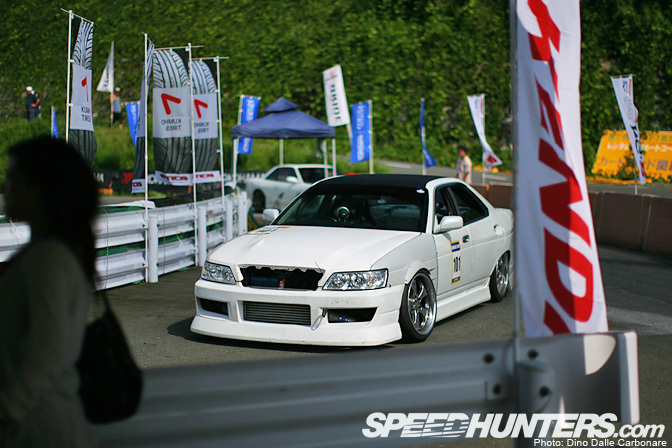 This cool wide body C35 Laurel in the Beginners class was ripping up the tarmac with its powerful RB25 screaming away. It's a yet to be completed project but is already looking pretty unique. Those rear fenders are far wider in person than this picture suggests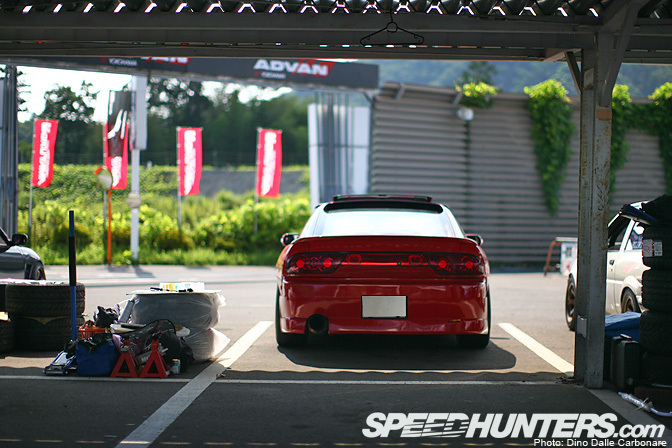 Clean 180SX.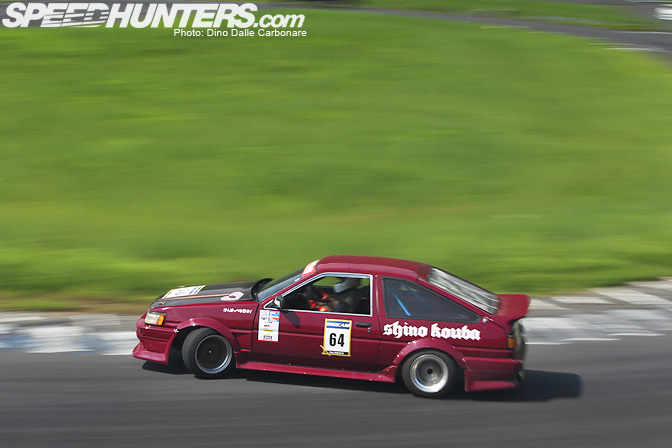 Shino from Shino Kouba, the "Drift Okasan" (Drift Mother) was at Honjo in her trusty AE86 Levin, which if you recall I did a spotlight on at Maze during the first round of the Drift Muscle.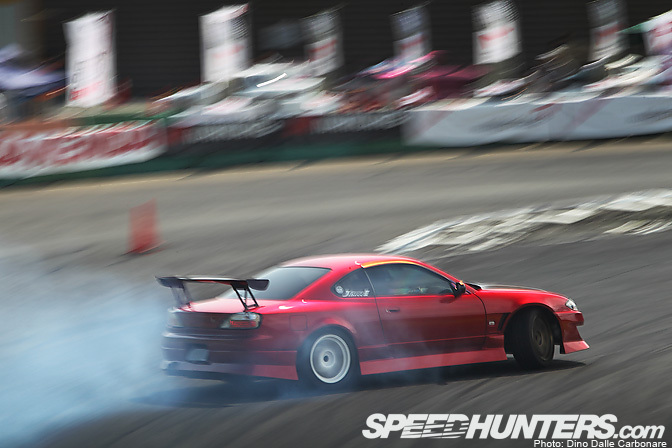 S15s are getting so affordable these days that they are beginning to make up an ever increasing slice of the paddocks at most drift events.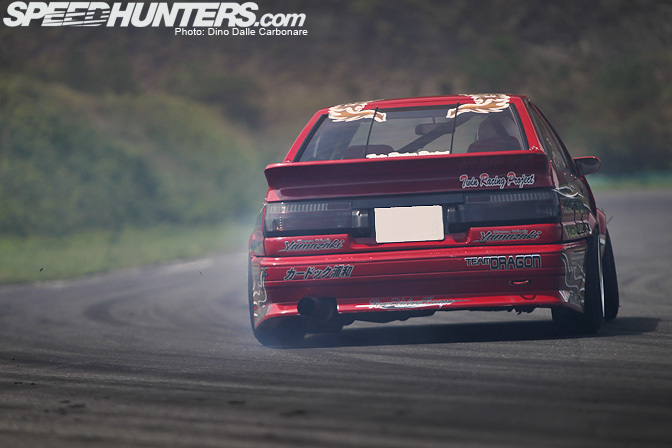 Sugawara-san in his Run Free AE86 was as aggressive as ever and despite the obvious lack of power compared to all the turbocharged cars, he managed to keep his little Toyota nice and sideways until the exit of the first corner.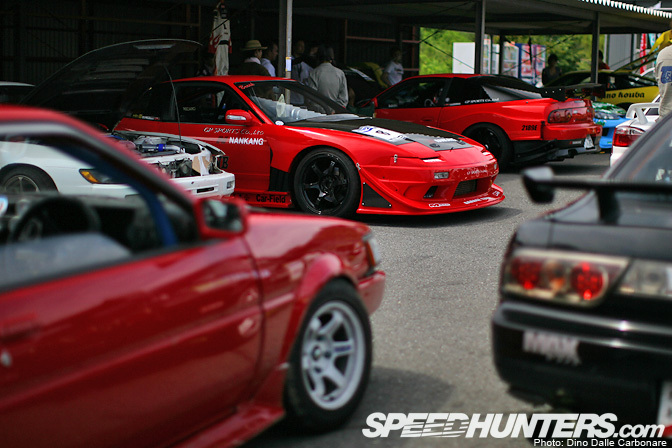 Komagata-san from GP Sports over in Niigata came all the way down to Honjo to participate at the event. He was joined by Tsunekawa-san in an identical red RPS13.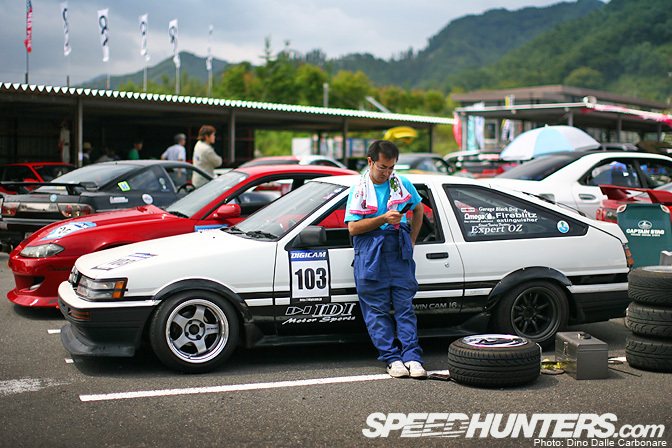 Catching up on some e-mails after a session?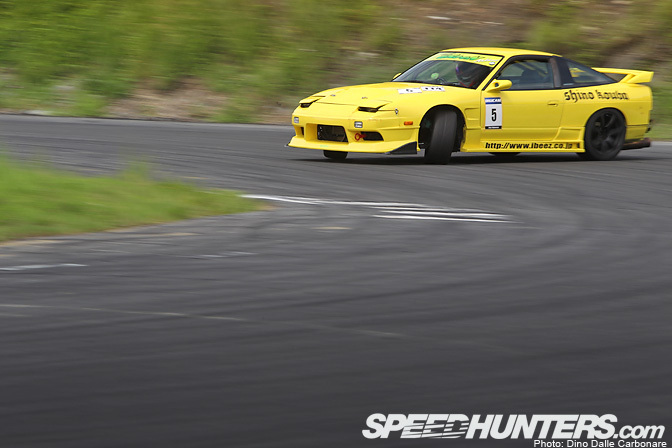 There were a few Shino Kouba cars at the event and I particularly liked this yellow 180SX, now sporting a few Speedhunters stickers!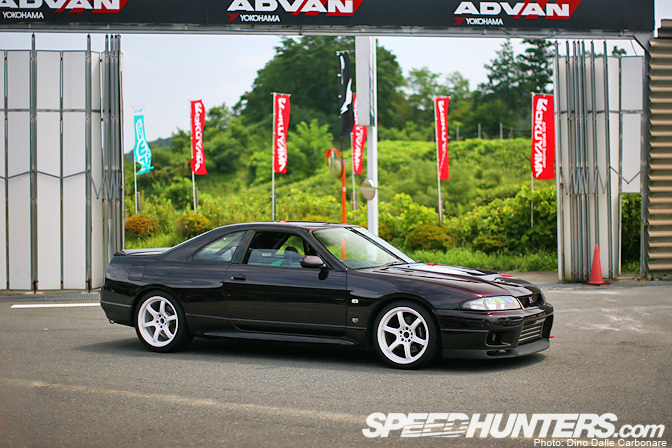 This is the same Midnight Purple BCNR33 that was at Mobara back in March. Who said GT-R's can't drift properly! And this wasn't the only one there…
I've got a lot more coming from this chilled out Sunday drift comp, so check back soon for Part 2!
-Dino Dalle Carbonare