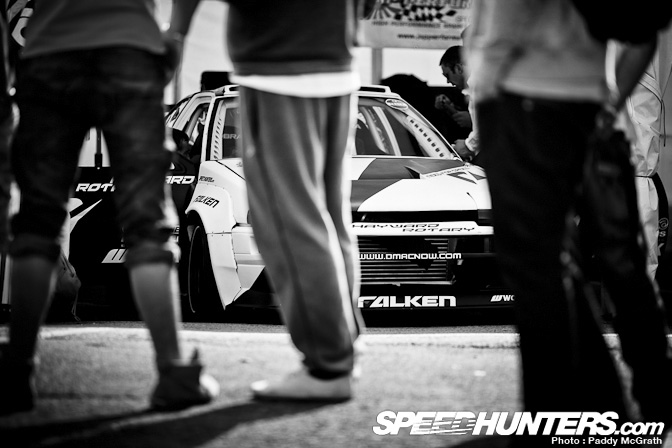 Hello Speedhunters, it has been a while! Just over a week ago myself and the crew headed over to Mallory Park for Awesomefest with the D-Mac86. Awesomefest was to be a pretty laid back four wheeled / two wheeled / music festival so it was an ideal opportunity to do some high speed testing in a car that we still hadn't properly driven in anger.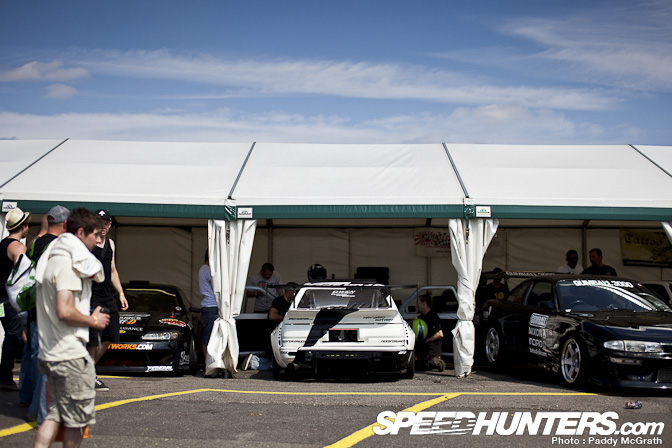 All cars would be pitted together so the fans could see them all in one place. It was nice to see some old faces from back in the day. It has been a long time since my old D1 days in the SR86.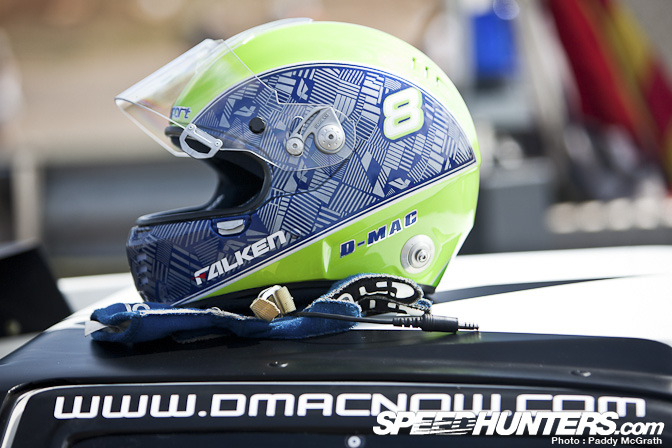 This is my current lid from Sparco. It's a work in progress at the moment but should be pretty cool once we add the finishing touches.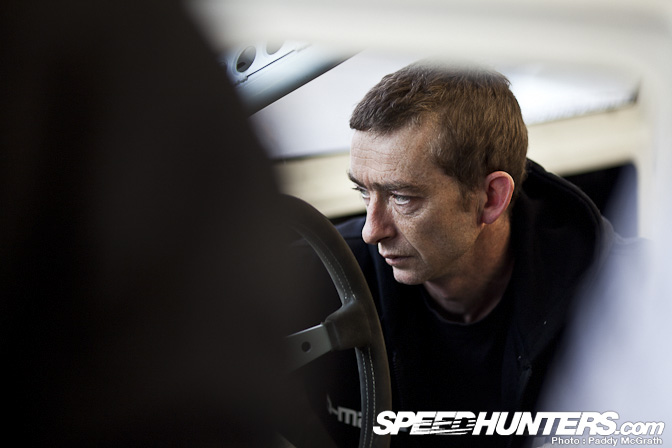 Everyone say hello to "Happy" Darren. Happy is chief mechanic on the D-Mac86 and is responsible for keeping the car going as I do my best to destroy it

 Without this man there would be no car so he is an integral part of the team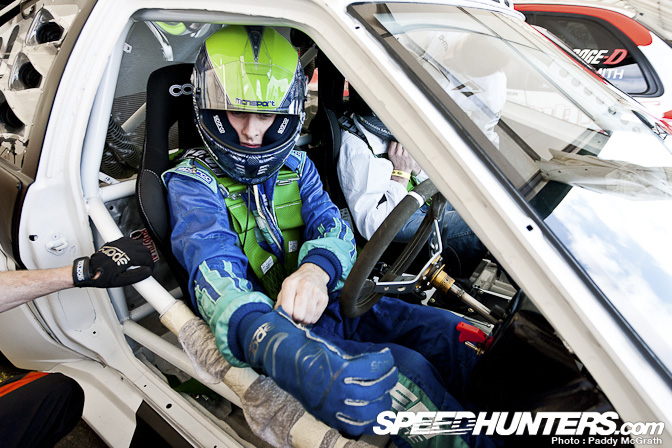 As we warmed the car up and I strapped myself in, I had no idea what to expect of it. We had spent so much time on her and done so many modifications. All my ideas of how to make it as competitive as possible, I wondered would it work?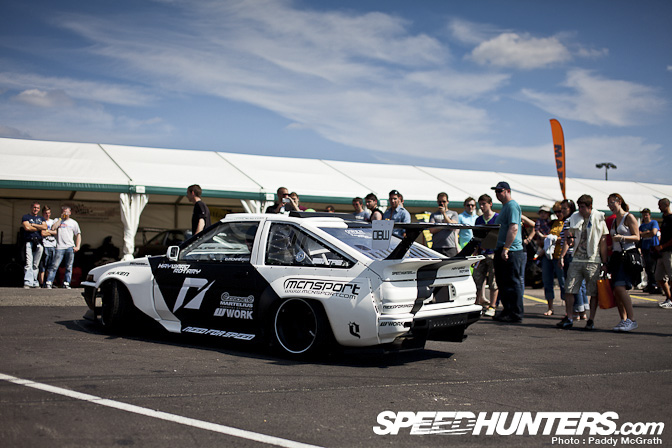 The car received an unbelievable amount of attention. It really has a presence about it and is just different to anything else. Once it's fired up the "brap" from the bridgeported 13B is unmistakeable.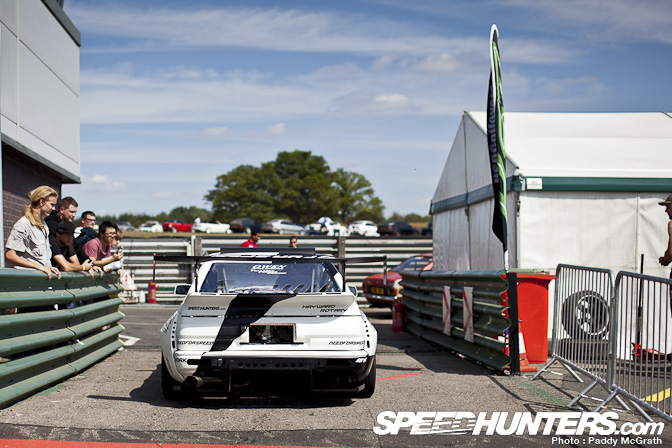 I had a mixture of nerves and anticipation as we lined up to go on track.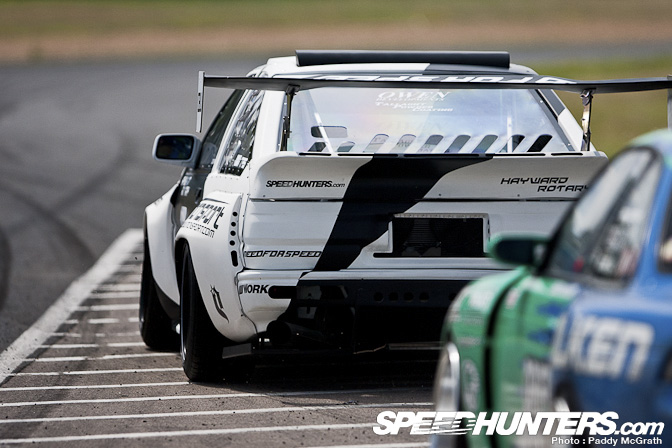 One of the crew would ride with me as we had quite a few things to monitor as we took to the track for the first time.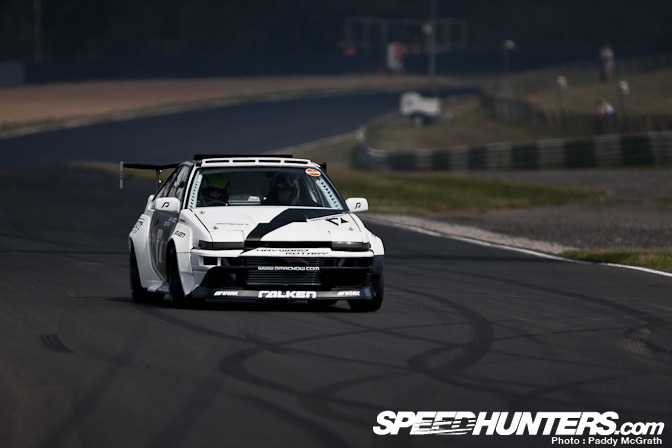 We would do a couple of out laps. The roof scoop and side ducting was all new, as was the boost controller. My passenger would monitor the boost level and I would keep an eye on water temps as well as feel the current alignment settings.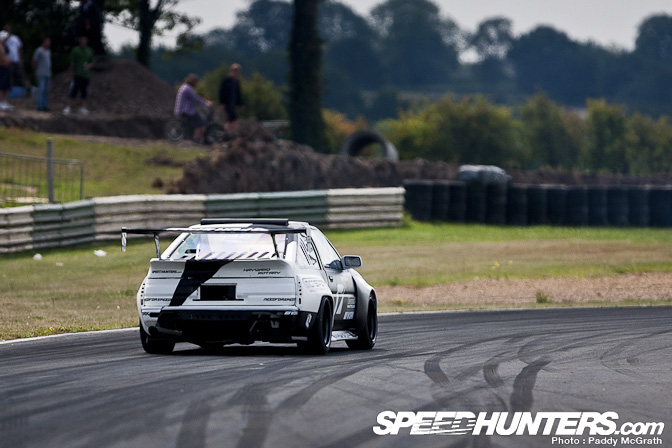 First impressions were really good. The car is scary fast – which is always a good thing – and the level of grip was amazing. All our suspension settings, angles and our Falken Tires were working extremely well. In fact we have way too much rear end grip. Which was quite surprising as we are only using 245 width rear tires.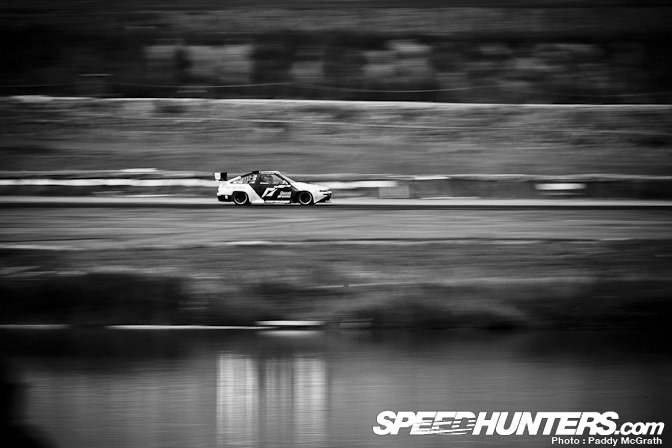 As we adjusted the boost controller we could start to really stretch its legs and see what we had but everything didn't go quite according to plan…
For a drift car you might notice a distinct lack of pictures with the *** end out. Well we were having a few problems – the main culprit was our electronic power steering. We were using a column mounted electric motor like many modern city cars and it just would not return the steering wheel fast enough for us.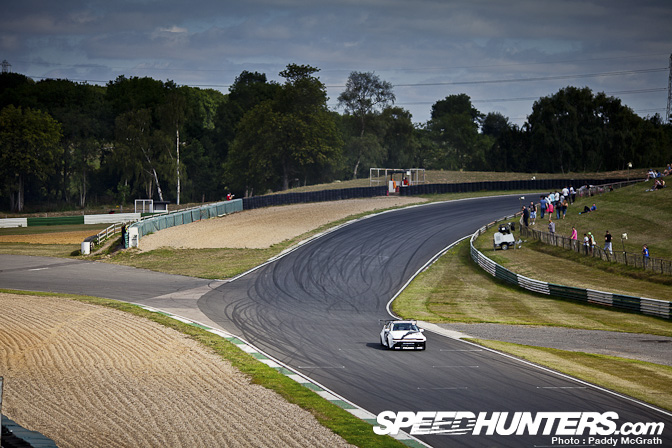 Mallory Park was a nice track but a bit too much start / stop. It has long straights leading into very tight corners with no real flowing sections and required a lot of braking.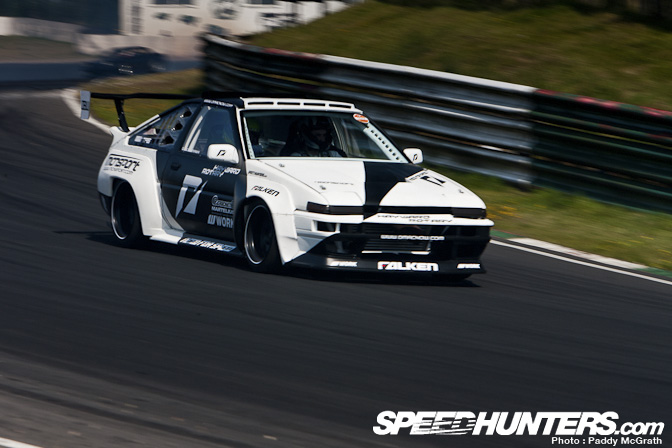 So after a few hairy moments with the steering I decided that drifting was not going to be an option and with the high speeds we were pulling, crashing the car would be a very silly thing to happen. So we went into time attack mode so we could run the car, push it hard and give it a good mechanical test.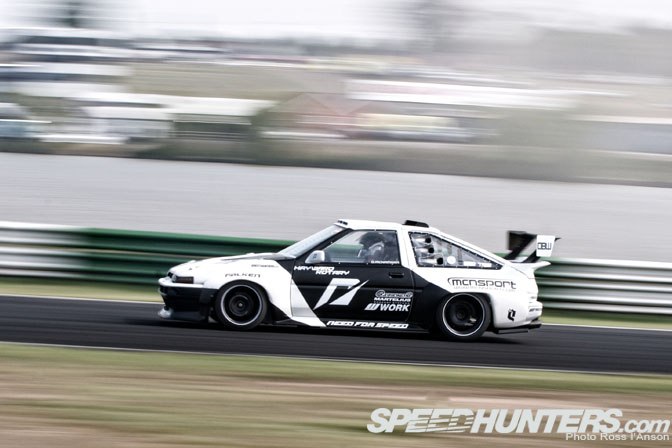 As I got used to the car and the track, we were starting to reach some silly speeds. Stay tuned to Speedhunters for some in-car footage and you will see just how quick this thing is and how much of a handful the electric steering made it!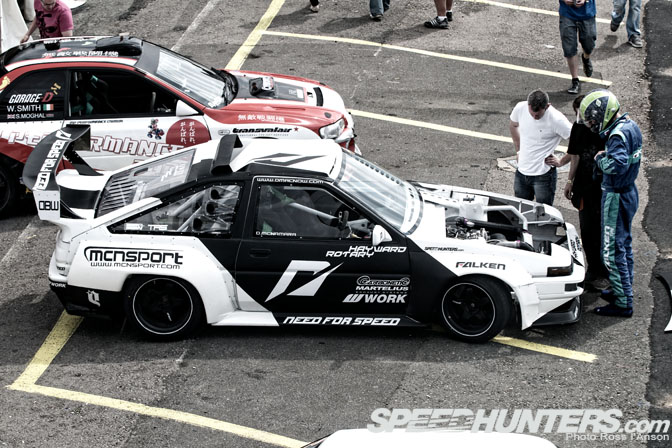 The speed of the car was causing another problem in time attack mode which was total brake fade after two laps. Brake fade is extremely annoying and quite dangerous to be honest, but at least we know we have built one very fast car

 A major brake upgrade may be seen as a bit of an oversight but in a lightweight drift car like this proper disks and pads work really well as drift runs tend to be pretty short. I plan to do a major upgrade anyway so we can do a little time attack in the future. I think it might be pretty fast. We also had a spigot bearing collapse on us towards the end causing the clutch to go all funny with the input shaft moving around.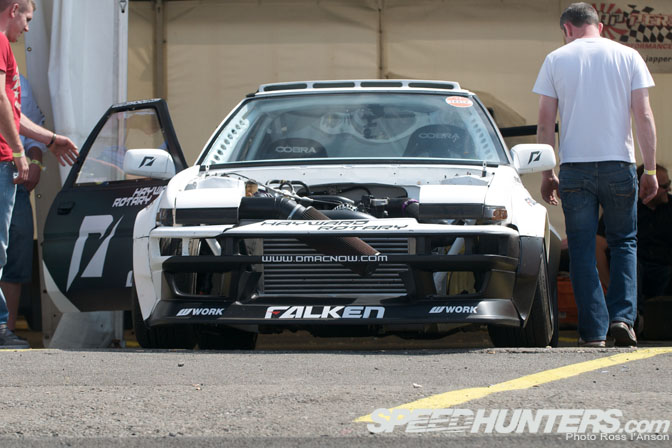 All in all we had a great weekend meeting up with old friends and finally running the car in anger. We have the car back at the shop now, stripped and making changes before our next test day. We will be fitting electro-hydraulic steering and an electric water pump for our next test. You can keep up to date with the build on our facebook page www.facebook.com/mcnsport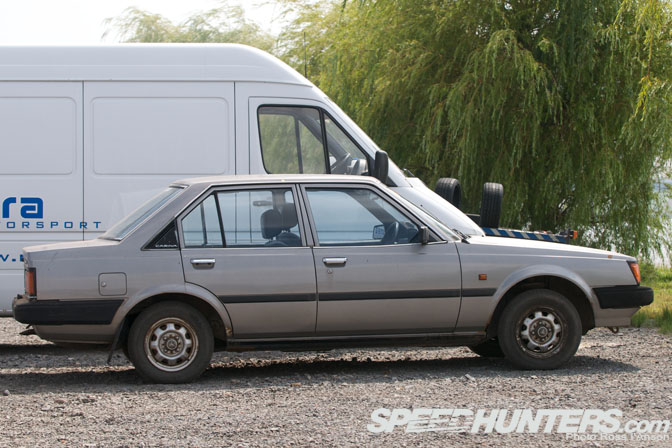 On a side note we picked up a 1982 RWD Toyota Carina in Wales along the way with 55,000 miles on the clock. Looks like this will become a little side project for us. We had eight people in it at one stage on our 'tours' through the campsites.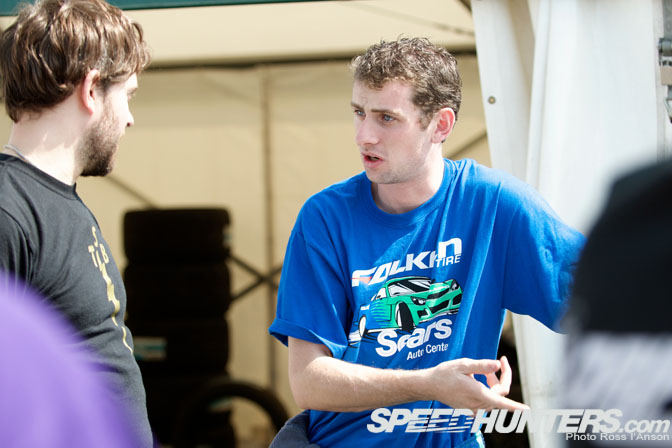 It was a shame we could not drift the car like we wanted as we had met so many people who had followed the build and were looking forward to seeing it run. I felt like we were leaving them down but I know all too well that new cars are never right straight out of the box and the most important thing is for us to get it right for when competition time comes around. We have team mate Freddie Aasbo coming in his tried and tested Supra and we need to be able to put up a good fight. Freddie will remember my last '86 and hopefully he goes back home remembering this one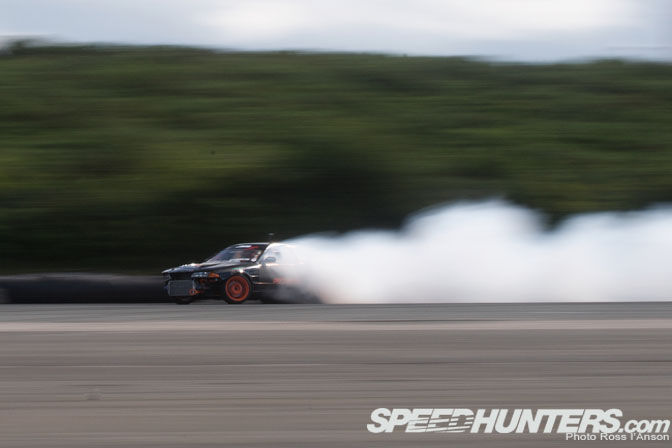 Another important piece of information we gathered is that our diffuser will break our cable ties at around 150mph. Further rear cable ties will be required on tracks exceeding this speed !
See you soon Speedhunters and stay tuned for some in car footage 
-
D-Mac