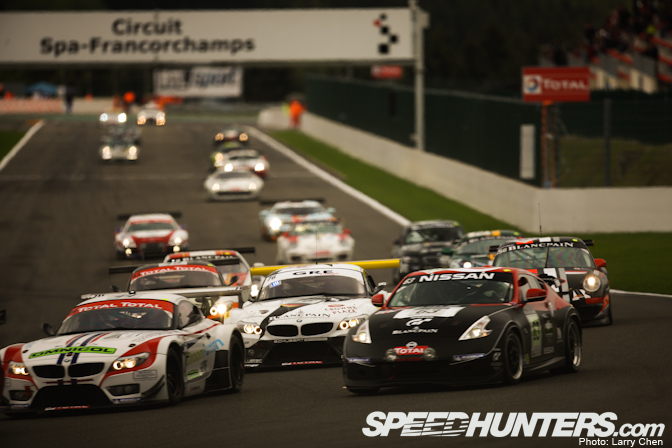 Hello again Speedhunters fans. After being totally dehydrated and pushed to my limits of human endurance, I'm now back in shape and will tell you the story behind the Spa 24 hours.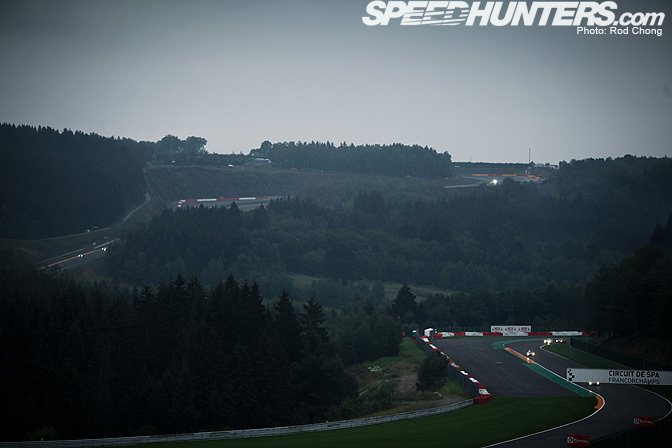 It takes place at most magical and lovely Grand Prix track you can find: Spa Francorchamps. The landscape is beautiful and the corners are awesome – I don't think you can find something more exciting. Maybe if you just have the chance to try the Nordschleife, but it's not an ordinary GP track, right? That's just what Spa Francorchamps is – a pure bred GP track – and yet so much more.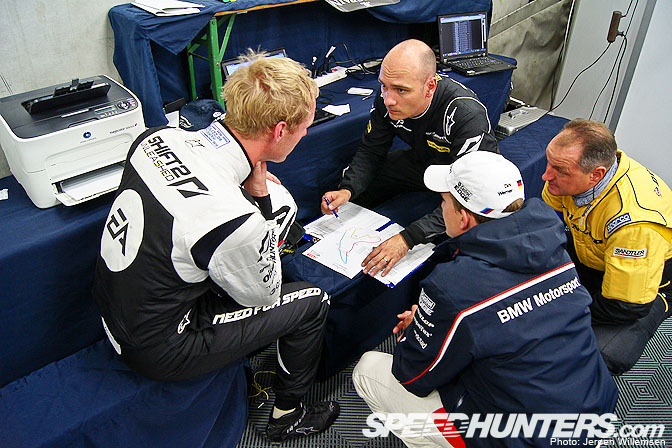 It was early check-in for administrations, so I had to be at Spa on Tuesday afternoon. I had only just flown back from the American Le Mans Series race at Mosport in Canada, so it was a splash and dash at home to wash some clothes and then time to jump on another plane again.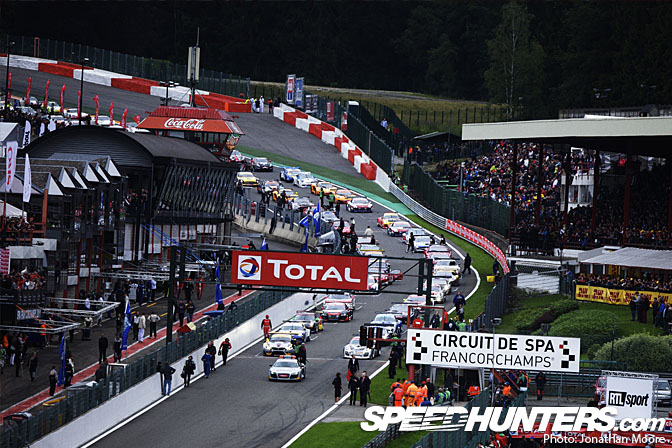 But this time I left for something special that was already in my mind: 54 GT3 cars would be lining up and going for the victory at Spa: incredible and really impressive. It feels like GT3 is like a bomb that's about to explode all over the racing world very soon.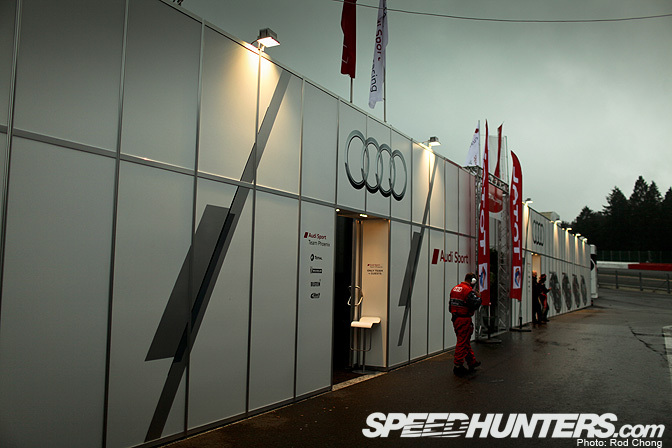 When walking through the paddock you could easy see one brand had been putting some extra attention to this race: Audi.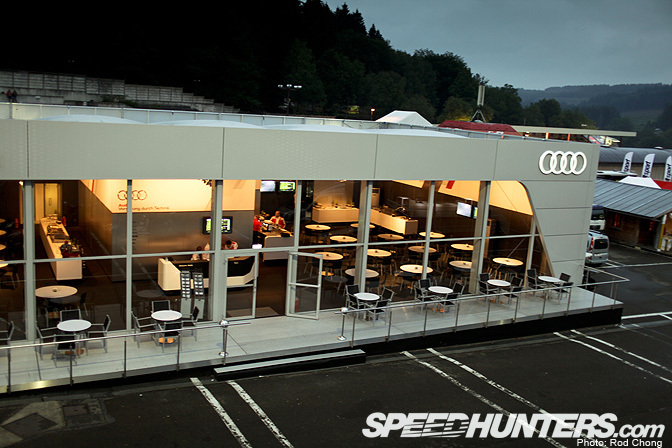 They had built up a village where the drivers could sleep and take a shower if needed. In combination they had several very big hospitality units.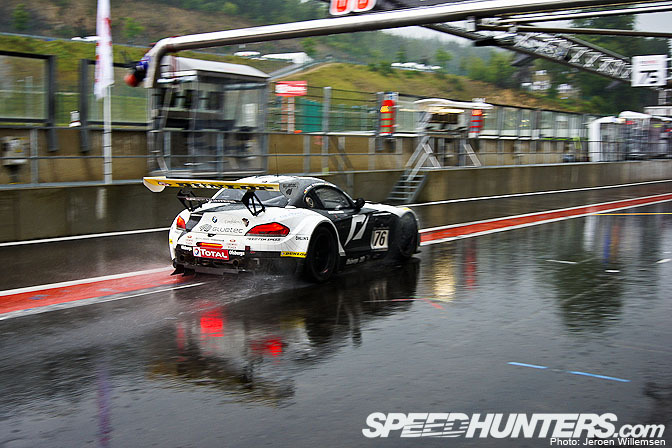 Okay, we didn't have this, but Team Need for Speed had a newly built BMW Z4 GT3, straight from the factory: it's always good to know the machinery is fresh!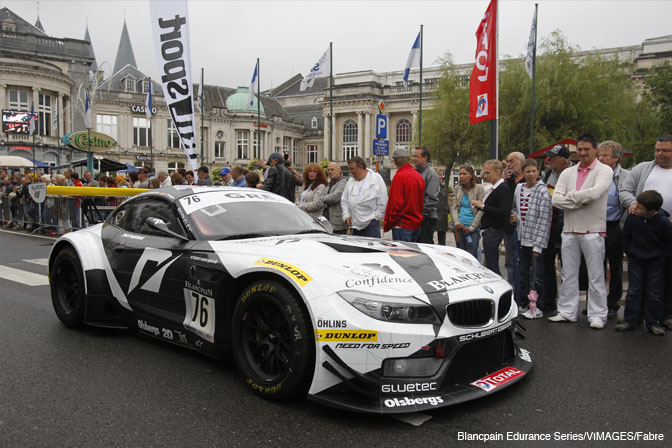 It was unusual for us to drive on a normal road with the race car, but all cars did to go to the driver parade in the small village of Spa. There was a big crowd of fans lining the streets and it was a super cool feeling when the small village was filled up with more then 80 race cars We were completely out of autograph cards when everything was over. At the same time we had the official driver briefing in the theatre. The only new thing for me was the speed limit of 100km/h during safety car. This was a rule to make it safer for the marshals during night when they are working on the track.
?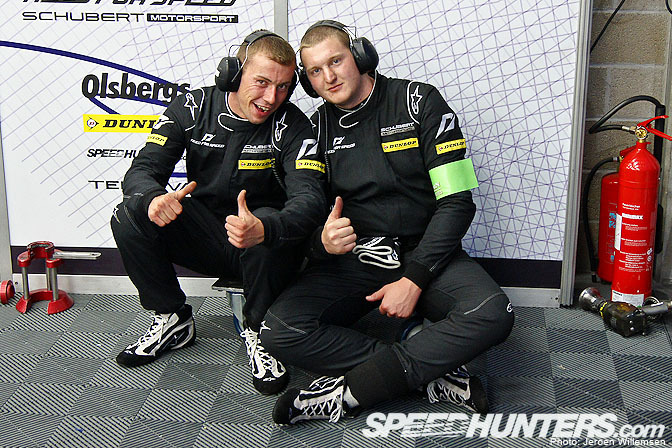 At this race the pit crew would play a very crucial role. The tyre changes at Nurburgring 24 Hours isn't that stressed because refuelling takes a lot of time and you are allowed to do tire change at the same time. Here you aren't. Which means the quicker you can do it as less time you spend in the pit.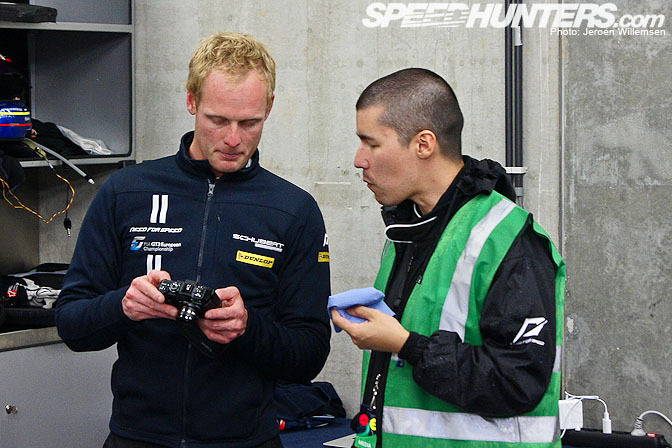 In this photo I'm showing Rod some pics from my ALMS adventure in Canada taken with my new camera. Maybe he can give me some advise to do better as he doesn't look that impressed, hahaha.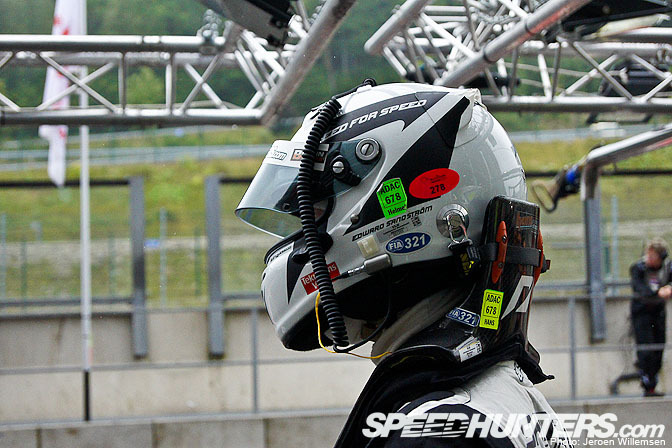 I'm startingt to get more labels on my helmet: ADAC, FIA, and now SPA 24 hour. I better change to a new one soon.
I think maybe we are doing some driver change practice in this shot.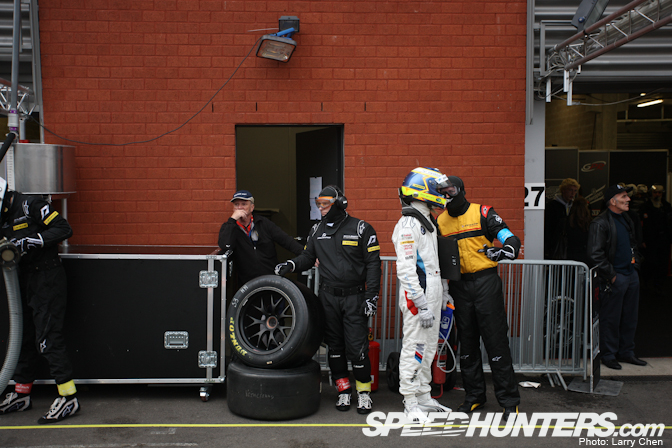 I haven't met Dirk Werner before, but as all factory drivers from BMW, so far, he as very easy to work with.  And he did play a very important role to our success at Spa this year.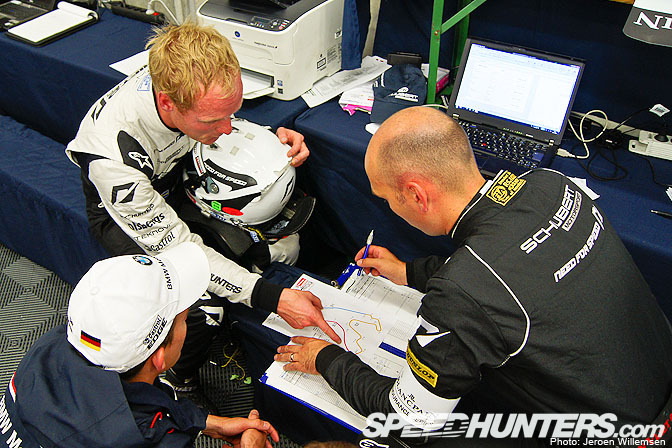 It wasn't that much time so the feedback played an important role. We tried to figure out things as fast as possible. An easy way is to write your comments on the track map and then discuss around that. When you share the car with someone else you also have to find a good balance for them.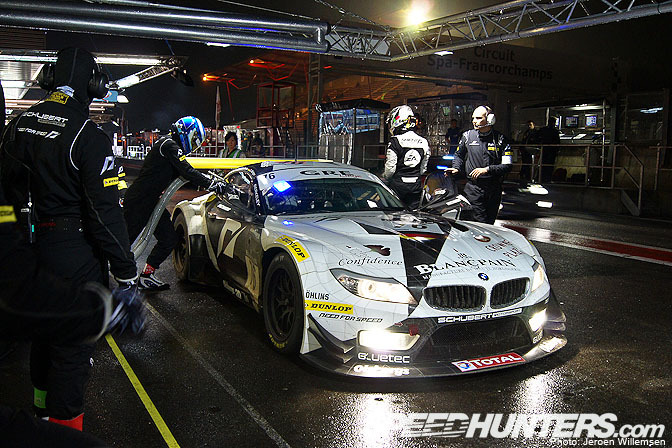 When the car stops at the box refuelling begins and at the same time we can change drivers. This we do in around 23-30 seconds depending on if we need to change drink bottles and other small stuff. The refuelling itself takes around 40 seconds. Because of this, Schubert Motorsport have been investing in some new pit equipment. But as always, equipment isn't enough to make anything fast – you have to practice in order to save precious seconds in the pit lane.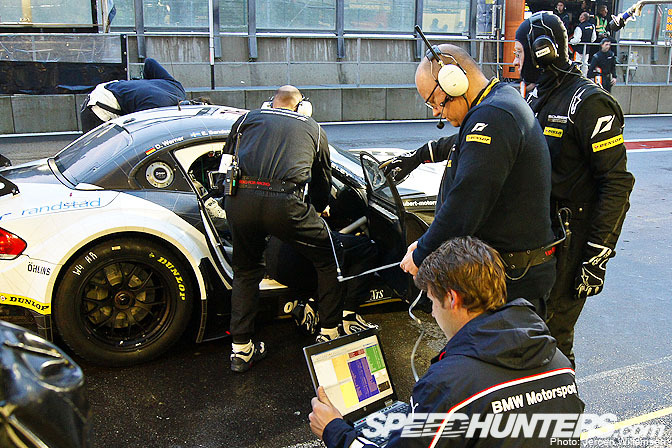 The whole tyre change on the car is just made by two mechanics. And no tires are allowed to be in the pitlane before the car arrives. It means they have to carry them around and then fix them on the car and at the same time get the old ones back behind the yellow inner line. It's actually not a work for weak guys. You have to be fast and strong, but as well doing it without stress to avoid mistakes.
?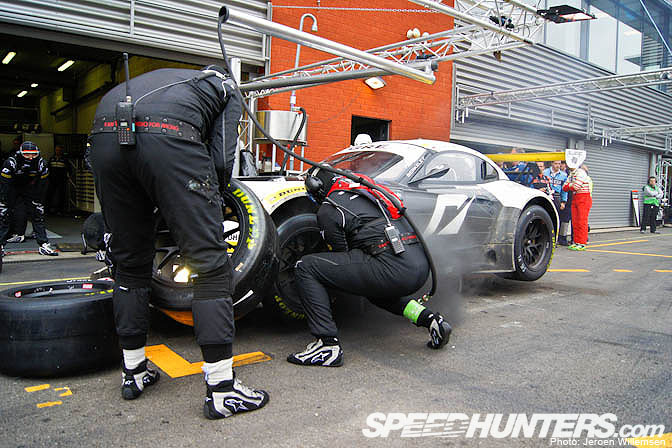 Since the race in Paul Ricard, they have been practicing and the result was great: all tyre changes were completed in around 28-30 seconds and they managed all the stops without any mistakes during the 24 hours. The Schubert pit crew are my heroes!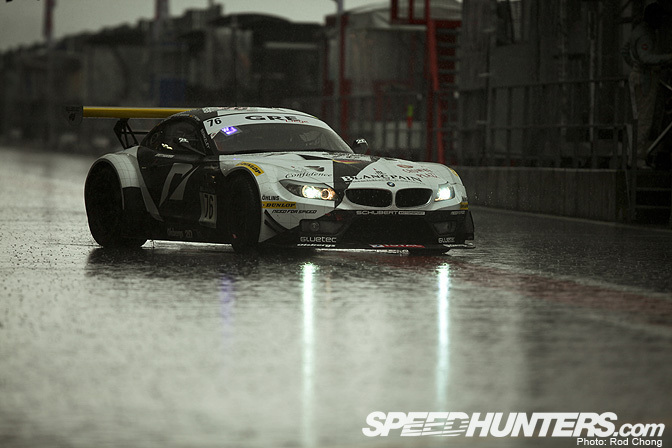 Hmm, we had a lot of work to do in practice. But the traditional Spa weather put us into no-man's land. We had a new Dunlop slick tyre compound to use at Spa this year but were unable to try them out due to the rain. Off course we had a good base from all other races, but still you want to check and fine-tune everything. The softer tire was something we looked forward to use, but would it work? At least we had gathered some info about the rain tyres, and they seemed to be okay and even last a bit better then expected on a damp track.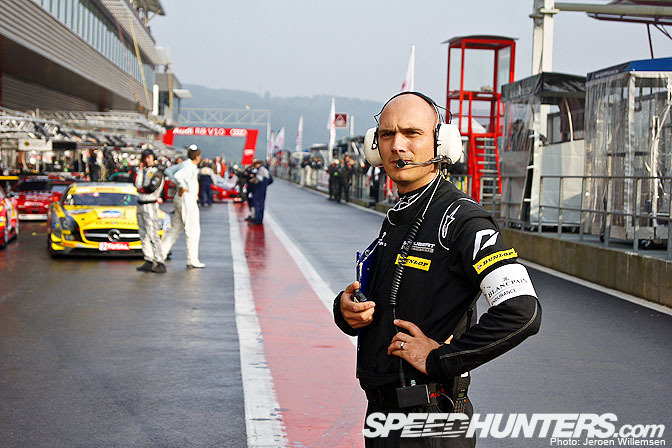 Our team manager, Stefan Wendel was doing more than just clocking our own pitstops. We also had his eye on the competition too.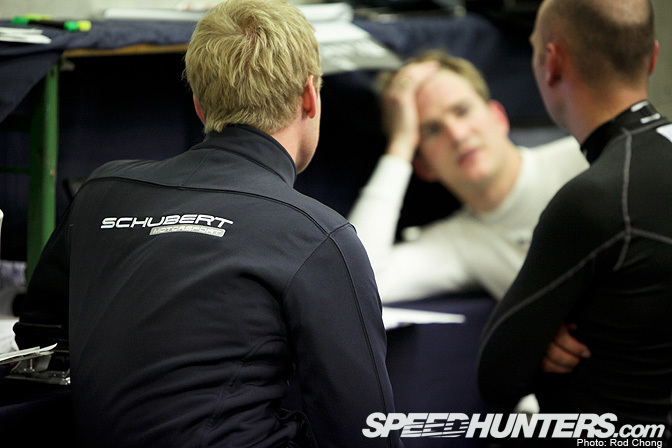 Here's a shot from our technical meeting, just before qualifying started. I think we were looking at the weather radar more then anything. Our plan was for Dirk to do the first run and me the second one. I mean if it was dry you had to be ready and do a good time directly because in a second it could start rain again. This was the case.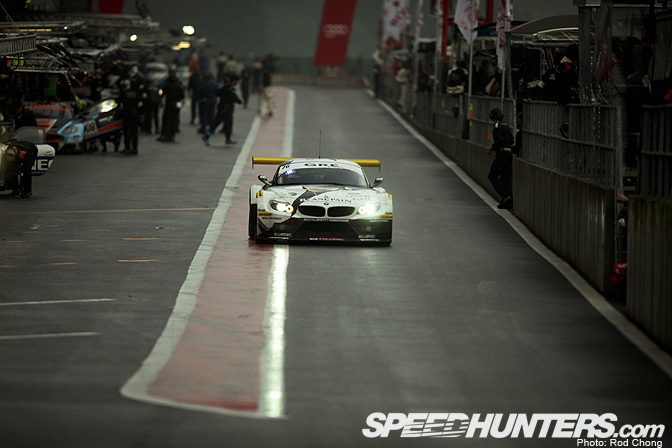 When Dirk headed out for the first qualifying session it was still very wet, so there was no big chances for a dry line.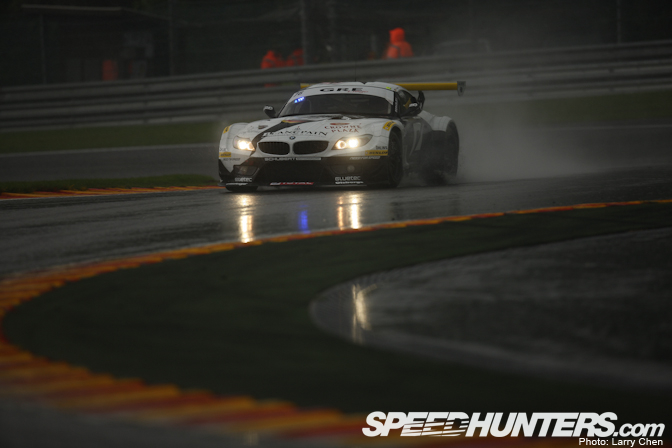 Instead the rain increased. Sometimes more rain is better then a greasy track because it creates more grip even if it's more water on it. Of course just until a certain level.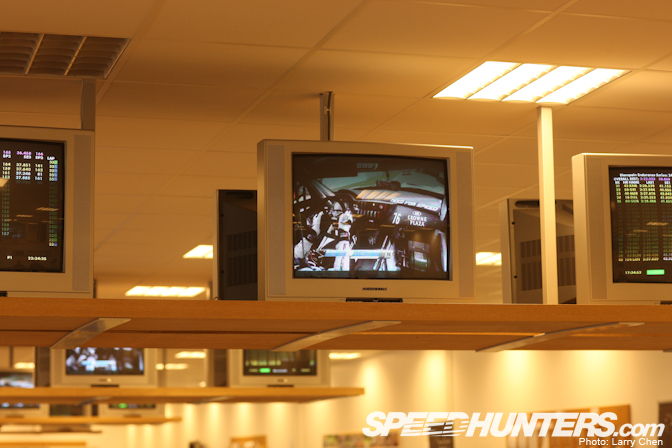 I heard the on board tv coverage was with me for nearly 10 minutes during the qualifying session. ? Cool coverage.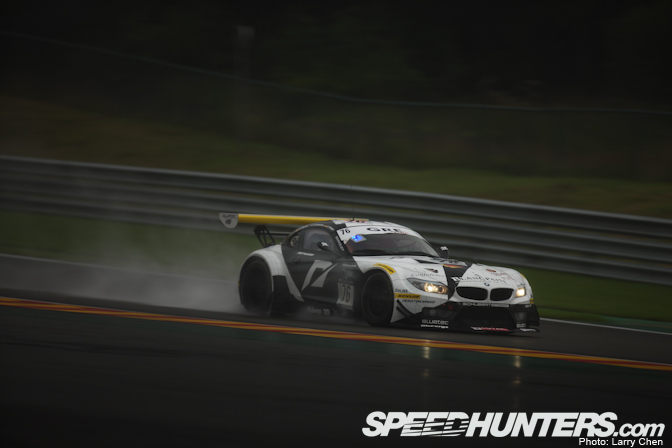 The first qualifying session was okay. Dirk was driving, and despite the rain put in decent lap-times – we held position 12 after this session. Next it was my turn to have a try. I just had a lot of problems with the electronics due to an issue with the traction control and I wasn't able to set a proper time. The problem seemed to be with the ECU.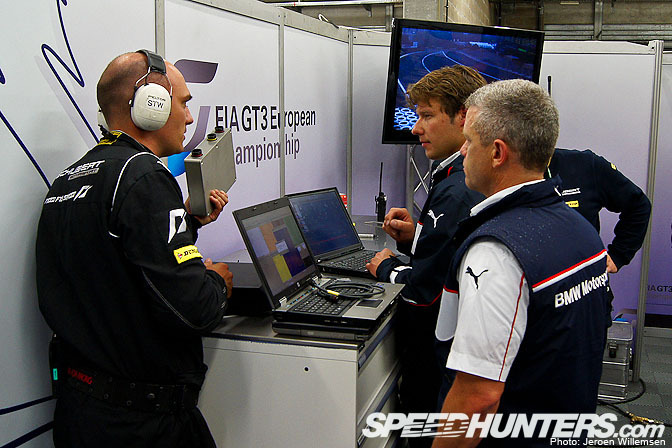 It isn't easy to fix problems when you're in a hurry. Sebastian from BMW was immediately there to work on the ECU issue.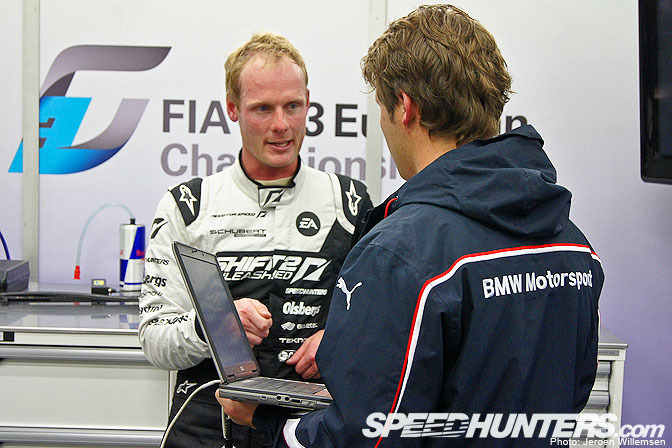 First we had to try and just change the ECU, but then we had some problems with that one and couldn't use it. We changed back. First I thought it was misfire from the engine because it happened directly when I left the pit and was on a straight. In the end we found out it was the anti spin regulation that caused the problem. Because of wrong data regarding the circumference of the tires this problem happened. Easy to get it wrong when one team using Dunlop and another team is using Michelin. They don't have the same circumference.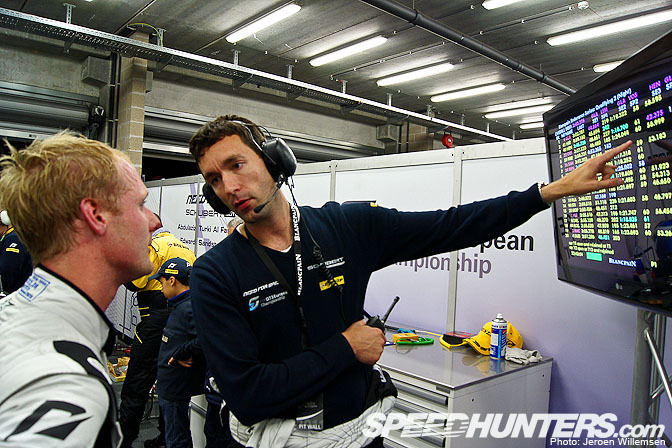 I was pleased the car was fixed so we could start pushing again. But I was aware the track was starting to dry up.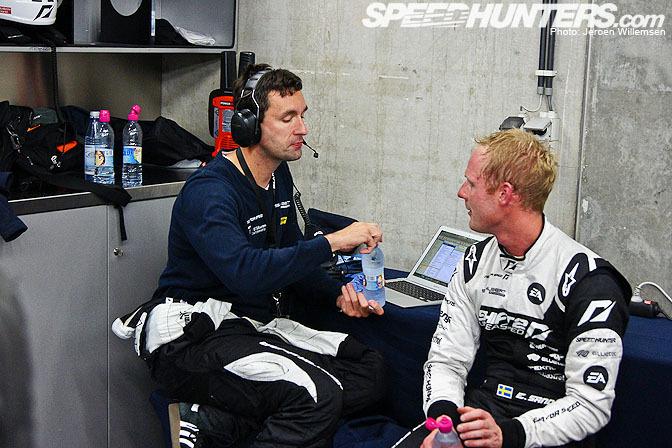 Always good to have a chat with Patrick Soderlund, as he always has a clear opinion of what's going on. And at this stage he was mastering the radar system to see if it would stop raining at any point during the qualifying.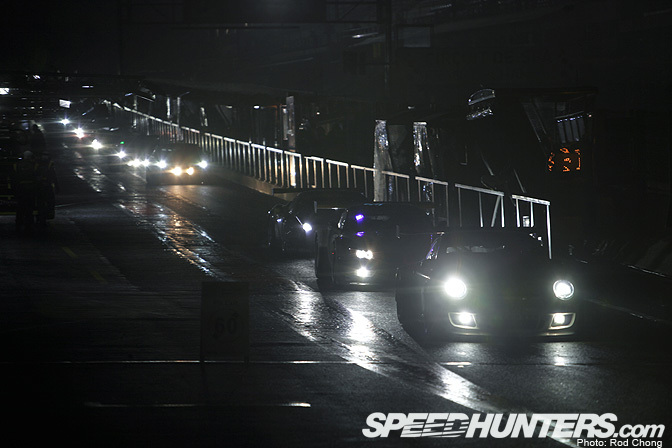 I was out at the start of the night session to verify everything worked again. Later Claudia did two mandatory laps in dark and at the same time bedded in some new pads and discs for the race. After that we where in a hurry to get Dirk out due to the fact that the track dried up and all teams improved their fastest times each lap round.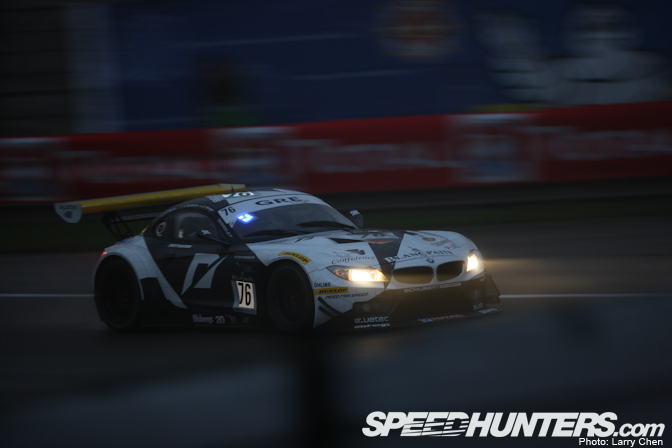 At this point a marshall had been around the pit mentioning we had been refuelling. Strange I thought. But Dirk kept on pushing, but there was so much traffic, plus several red flags. After three sessions this qualifying would end up being decided in the very last four minutes. The fact was that the Marc VDS BMW Z4 GT3 had the best chance due to their position right at the end of the pit-lane. They could easily leave the pit without traffic. Dirk went out but was in the middle of the pack. Anyway he set a time that put us in position 24. Not very good, but it could have been worse.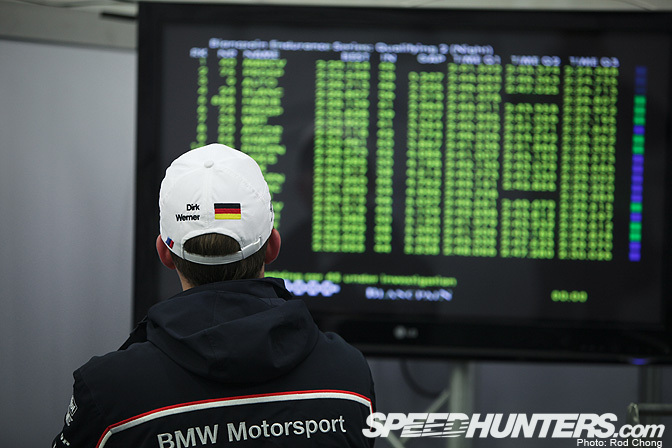 Later we got informed the refuelling was forbidden and that we had been disqualified from the last session. It meant we had to start in position 49. BAD, but does that mean give up – I don't think so?!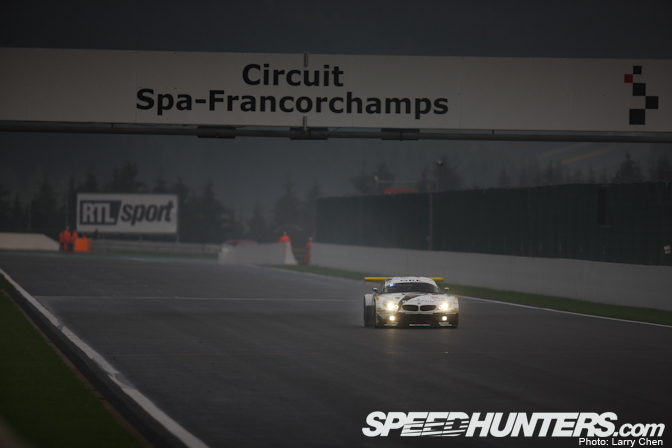 In the warm-up there was more rain. Claudia was behind the wheel of the Z4. She was happy with the balance on rain tyres and we felt optimistic about the performance in those conditions. I actually spent the morning in the bed trying to collect as many hours sleeping as possible. In the end this was a very good choice. I was staying at the Hotel la Source next to the track. It's awesome when you can walk from the paddock to the hotel room.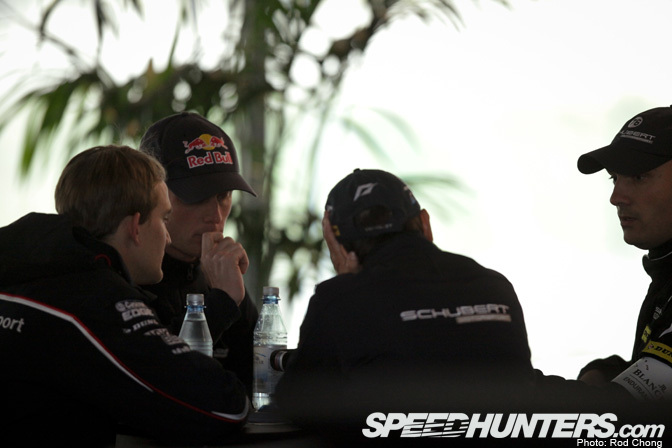 Just before the pre-grid opened on Saturday afternoon, us three drivers met with Stefan to go through different scenarios. At this point we didn't know if we would use soft or hard tires but all of us were committed to start doing double stints. The forecast was telling much more chance of a dry race.
When you share by three it's perfect with double stints. Then you have time to relax and sleep between the stints.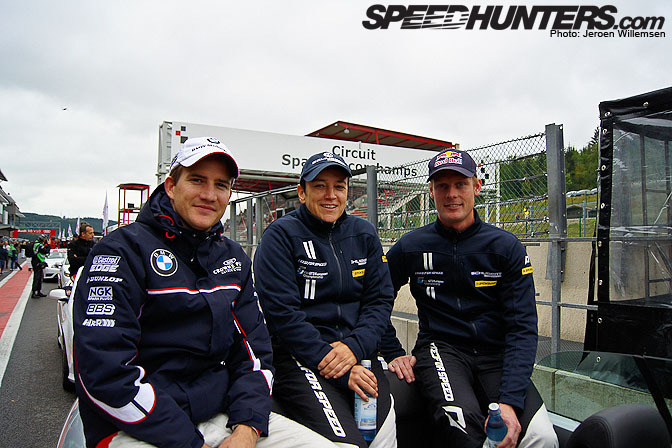 Before the grid ceremony started, we first had a driver parade around the track in SAAB convertible cars. Awesome to see all spectators that had prepared for the night with setting up tents around the track. Thx for coming!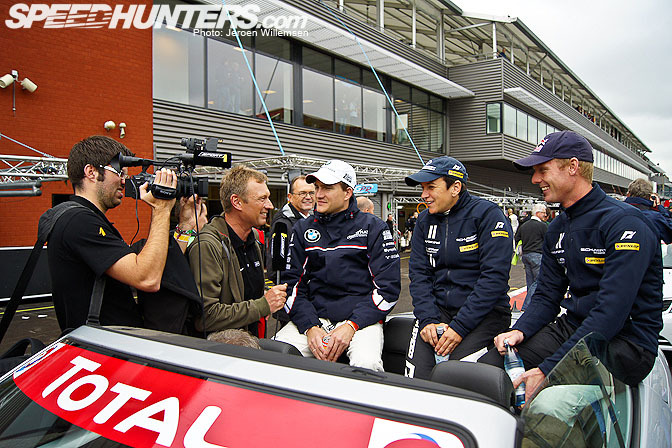 Claudia and Dirk interviewed by German television. Ich verstehe ein bisschen…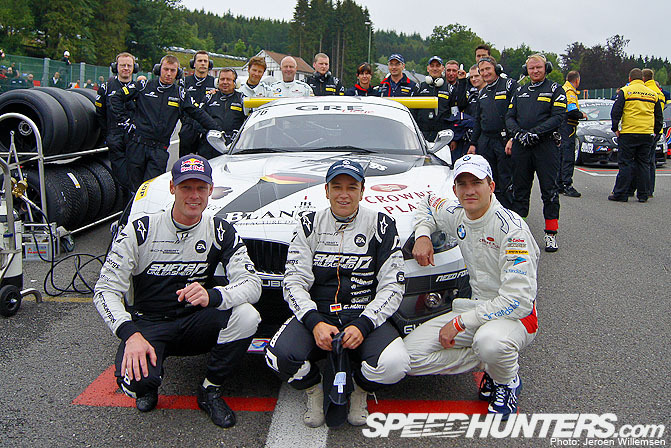 Claudia was chosen to start the race. Maybe she didn't expect to start from 49th, but even then she did a brilliant first lap and must have passed over 10 cars. She went on and was running in position 32 in the end of her stint. Actually Daniel Schmidt from BMW Motorsport was joking with us and did a race plan on a serviette during a coffee break. A bit optimistic was my thought, but I have to admit he was very close to what happened. I will talk you trough the first hours: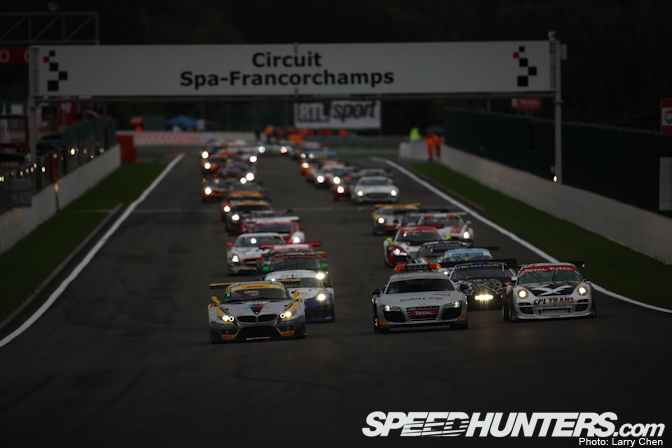 I'm sorry we aren't at the front at this point, but this looks awesome. I haven't ever raced such a huge competitive field before. I can't wait to do it again.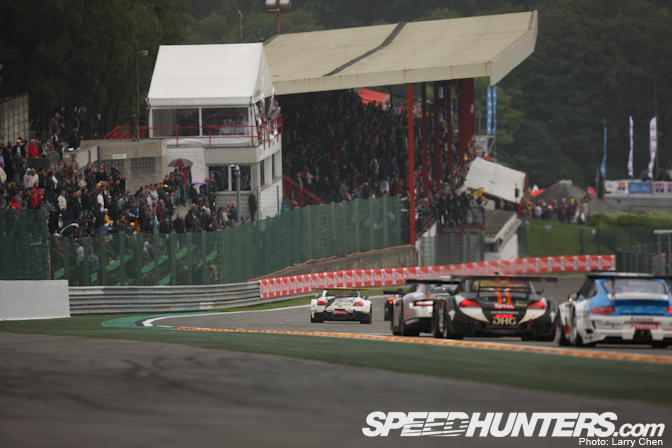 I'm nearly more nervous to stand outside the car in this sort of situations. I mean it's 23 hours and 59 minutes to go and it's 54 cars battling about every centimetre.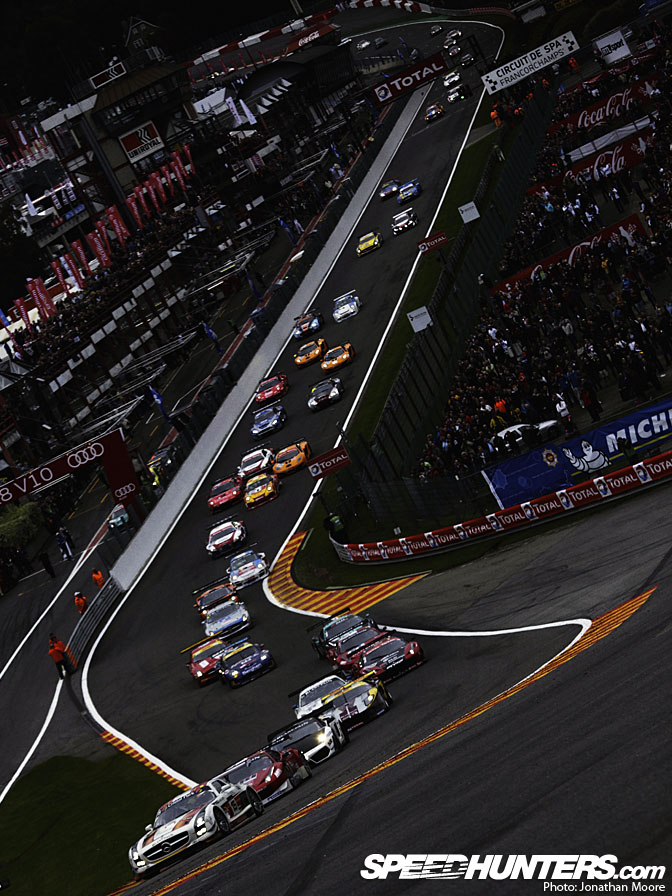 You can be unlucky in this moment and it can destroy everything. Keep calm…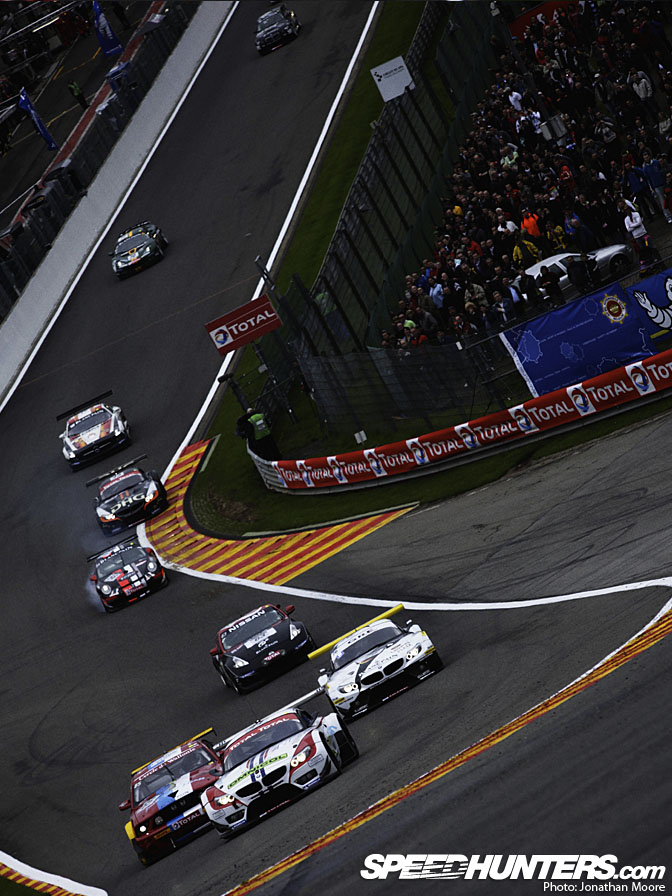 Claudia make up some ground and follows the Dutch BMW.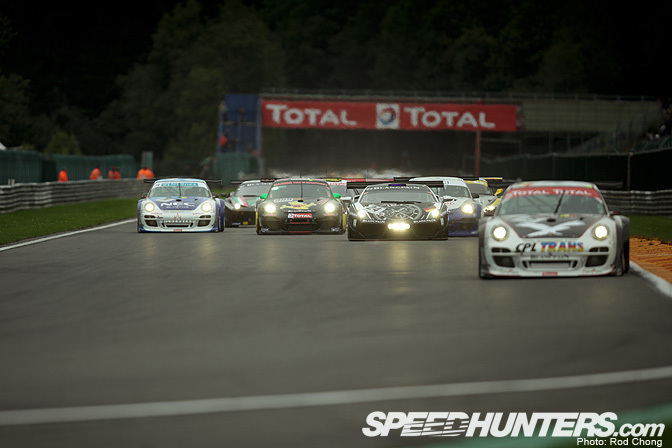 Into Les Combes on lap one. If I could choose I would be in the Porsche and leave the others that have lined up in three rows. I can remember watching the Haribo Porsche which was so fast on the straight on the first lap. But that wasn't the only part in this race luckily… In these situations you've have to make sure to not move to much and have a clear look in the mirrors of what's going on around you. So easy that somebody moves without having a look before…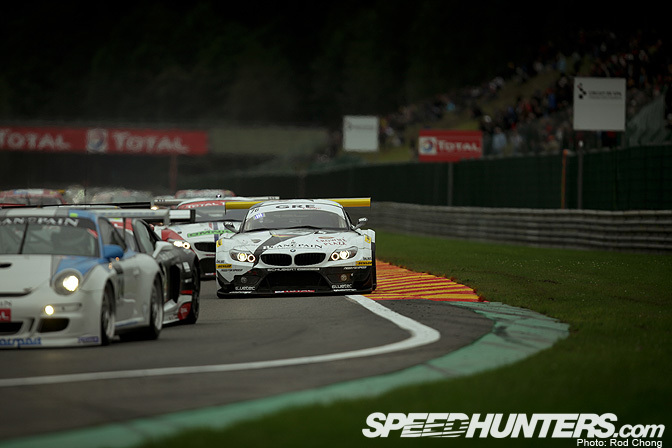 Claudia drives hard but safe and keeps some distance to the cars on the inside.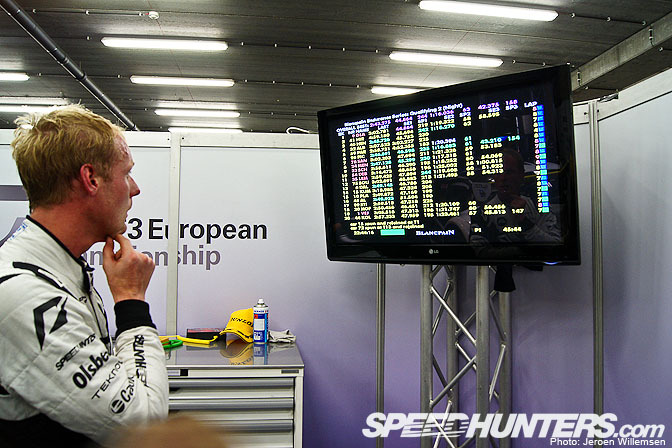 I was really pleased to see her moving up in the list. I wonder how many hours I've spent in front of these tv monitors during 24 hour races!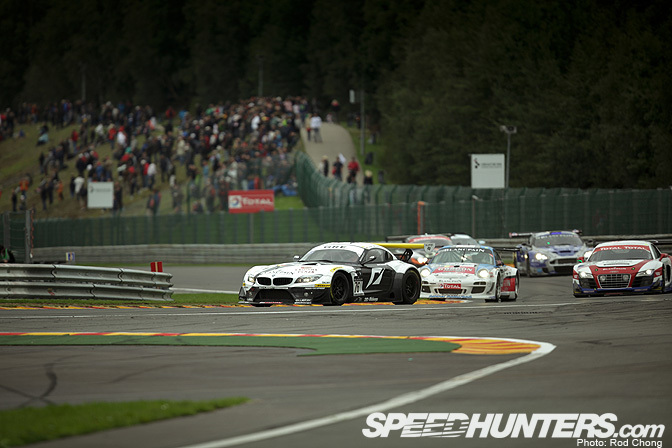 Clearly we had a good car otherwise you don't pass 15 cars on three laps.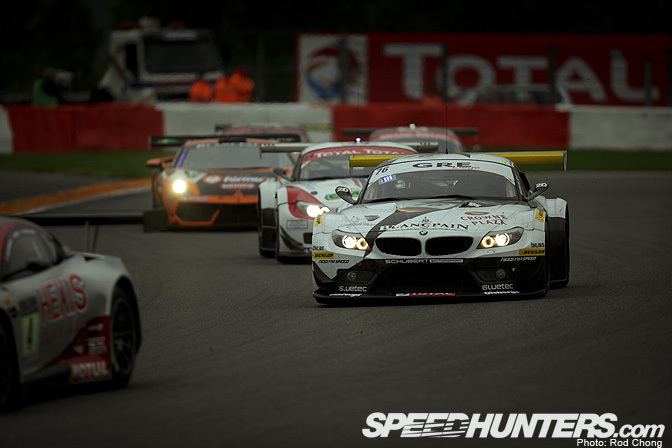 Claudia on her way up to top 30.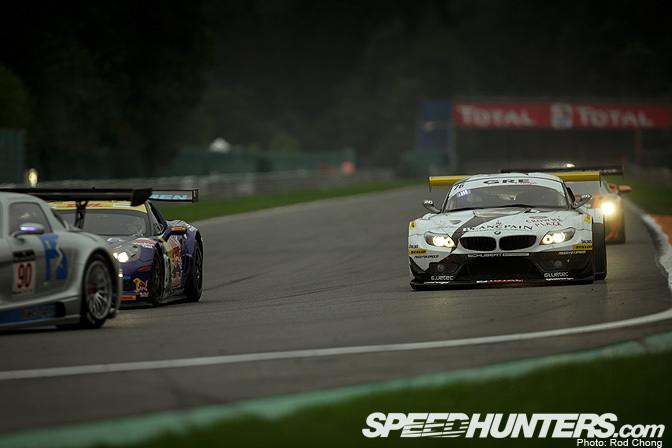 First I watched the race in front of a TV and I was more or less choked to see the intense risks being taking out there. People seemed to think it was a ten-lap race! The worst thing was when a Prospeed Porsche missed out on a braking point and hit the sister car on lap three when they where running first and third. I agreed with Dirk Werner when he said, "I don't wish anyone to be in his position now".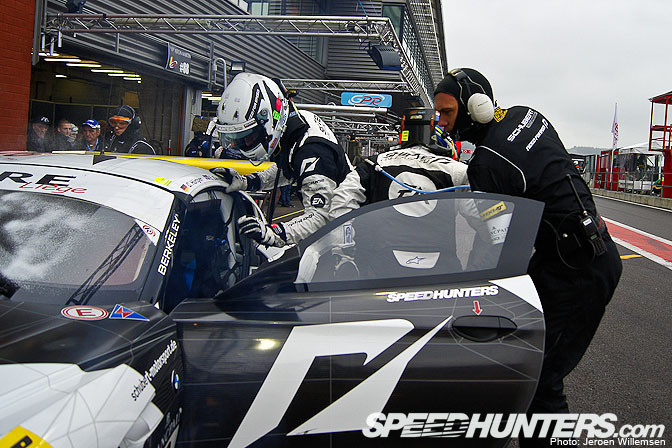 Later Claudia handed over the car to me. She had been complaining of oversteer with the soft tyres so we decided to go for the hard ones we knew from FIA GT3.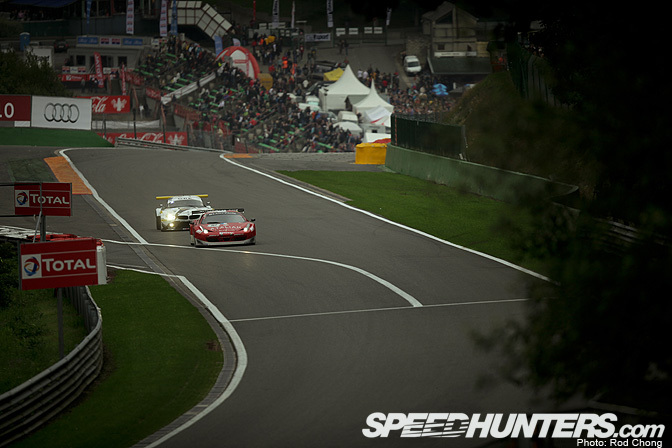 More or less these would be my first laps in the dry since the start of the race weekend.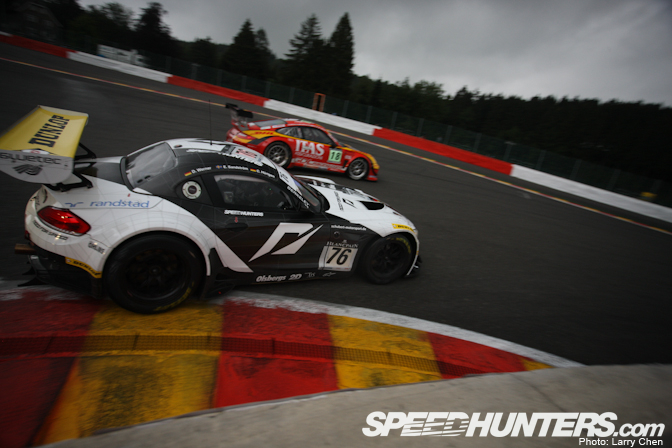 It was wonderful to be able to fly through Eau Rouge and have the real flowing feeling Spa generates. I had to push and keep on passing cars. It's easy to miss out on the leader lap when you're starting in the back. Anyway we were on a mission and rapidly moved up into the top 25. The balance was really good and I was actually reasonably happy that the team had been able to give us a good balance for the car without any real testing in the dry. It was a great job, and they'd had to work through the night to get it done.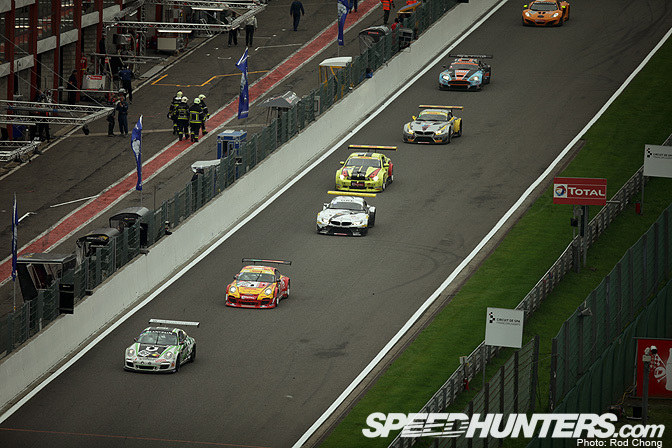 The safety car came out just as I was about to finish my first double stint (2.5 hours). I tried to dive into the pit directly but it was blocked by a Lamborghini that was lying on the side! That looked crazy. Later on I heard that Niki in the Lambo had suffered from a blocked throttle and hit the pit-wall hard.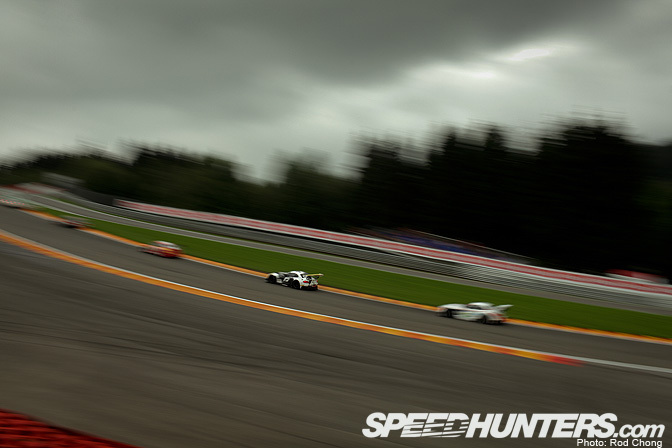 After some safety car it was time to go again. Then you need to know you have kept some heat in the tires and can start push immediately.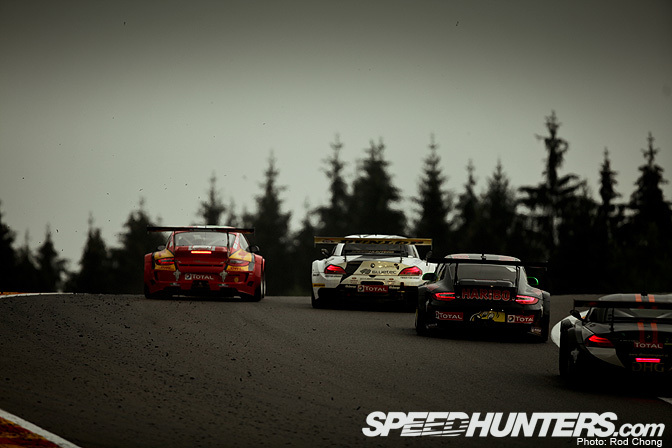 I actually remember being irritated to not be able to pass this guy directly. He was holding me up in the corners, but was flying on the straights. This is the worst thing, because you doesn't want to dive into your opponent's door too be able to pass. Luckily he did a mistake right here at the top of Eau Rouge.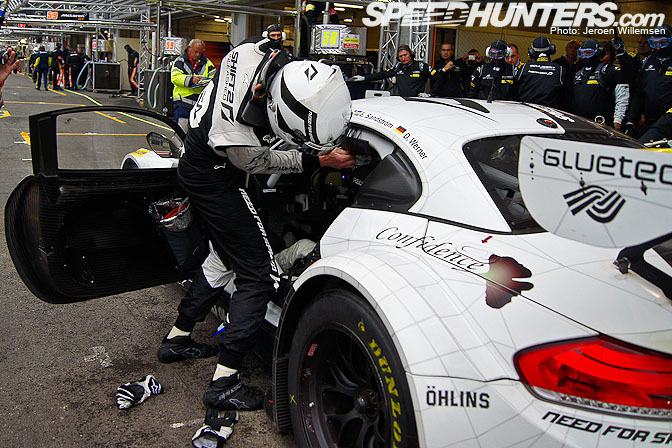 First driver-change. I had to connect the radio and the drink tube. Dirk mounted all belts by himself.  
?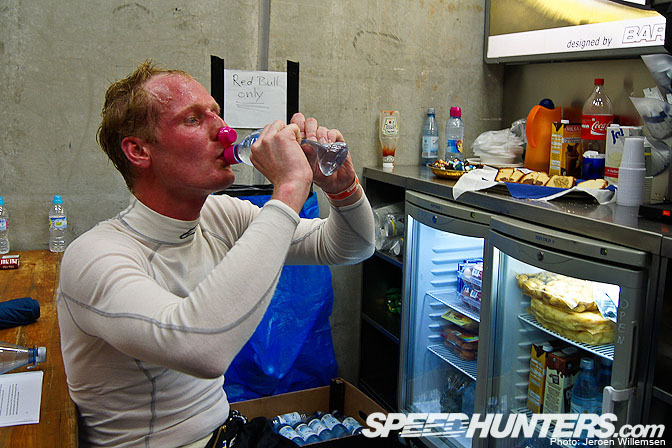 I handed over to Dirk and then started my normal routine of taking on water before going to the changing room. I get dehydrated very easily because I sweat a lot when I'm driving, but I have learned to drink a lot and also fill up with salt, and other things that's needed when losing body fluid. I lose a minimum of three litres on a two-hour stint, so it's really important for me to oversee my drink status all the time.
?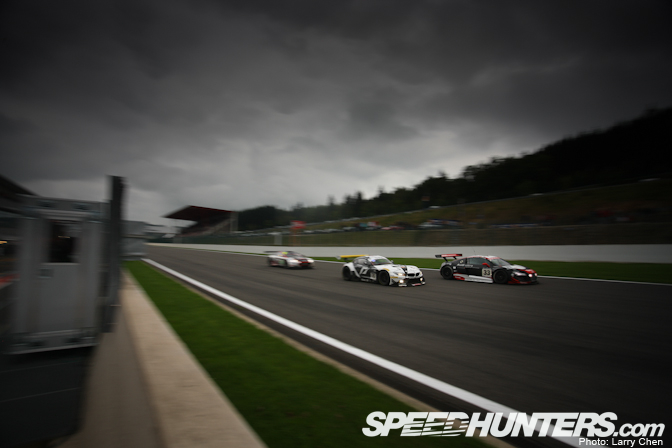 Dirk was continuing our battle up in the field and it was impressive how efficient the first five hours went for us.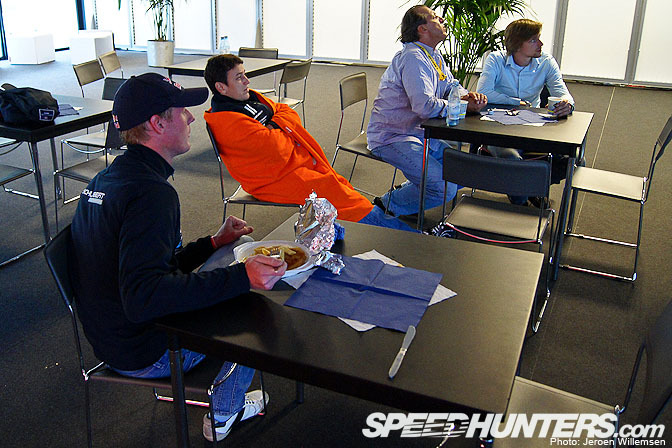 Claudia was next to jump in as the darkness was drawing in. But soon we realised she wasn't in a good shape and was starting to feel sick. She had to cut short her double-stint halfway through during a refuelling stop, and I took over.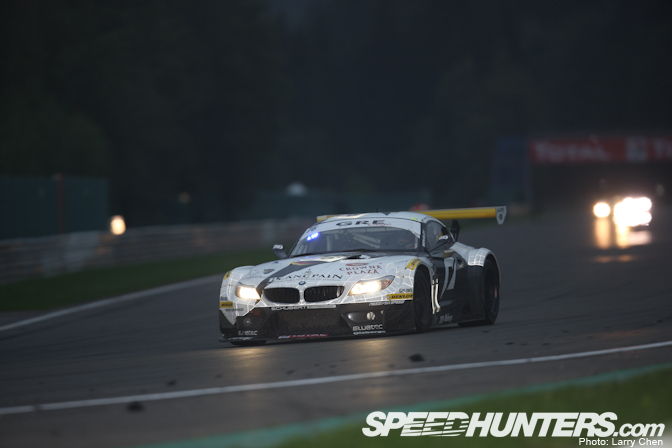 It would be down to Dirk and me to share all the night-time stints between each other: the marathon started. I continued to progress up the field and we were in seventh place after seven hours of racing.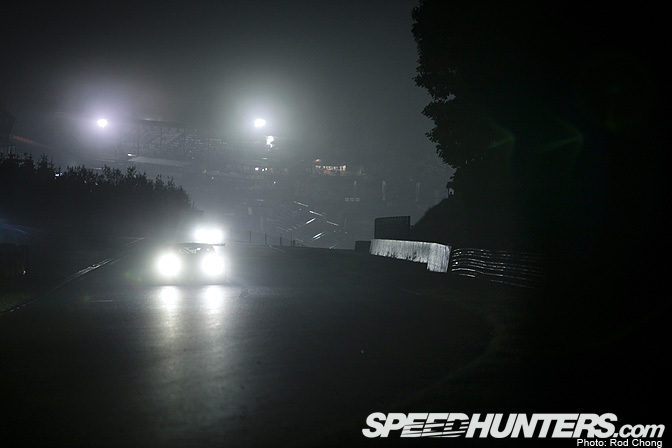 I had some crazy moments during the night! I Was about to overtake one of the KRK Mercedes in the last chicane but he didn't see me. Luckily I was fully up on the inside and could touch him without destroying the car. Normally it isn't easy to get clean out from a fight with a tank! Anyway, it was a wake-up call – it's easy to ruin a race in one second in this sort of situation. You have to make sure your opponents have seen you!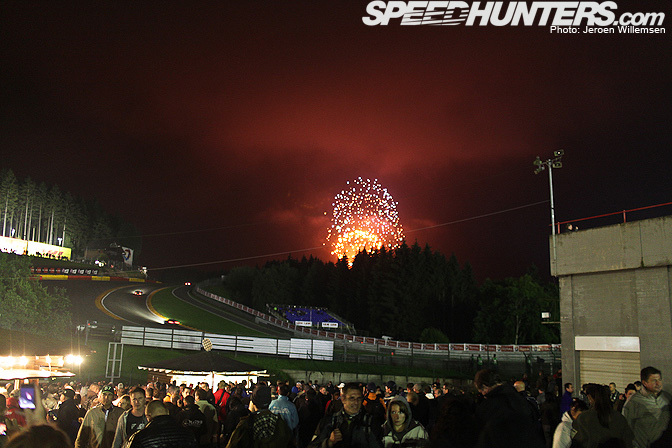 Later I was passing through Rivage corner when suddenly a big fireworks display started going up. Going from dark to pretty light in a second. It was good to now the audience was awake at least, but it was a bit of a shock! Next lap the track was covered of left-overs from the fireworks.
?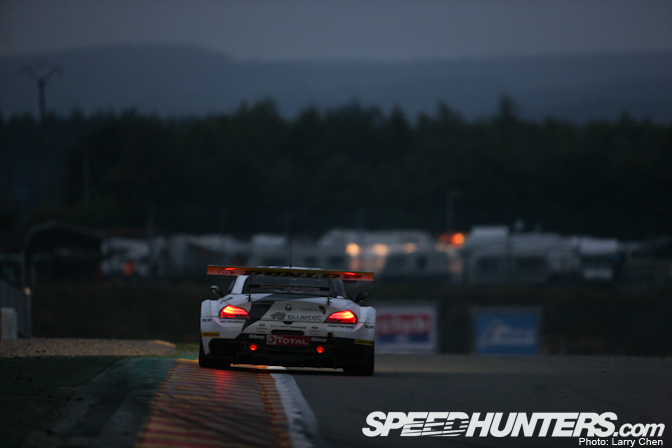 My next double-stint was the most demanding one. Not from physical side, no it was mentally. 10-20 minutes before the end of my stint on slicks it started to drizzle and the track got super slippery. Cars went all over the place and banged into the barriers. I was hit by a Mercedes down to Eau Rouge when he had to make way for cars that where like ping-pong balls between the armco. He didn't see me, but luckily I was on the brakes before he touched me otherwise I also had been in the table tennis game…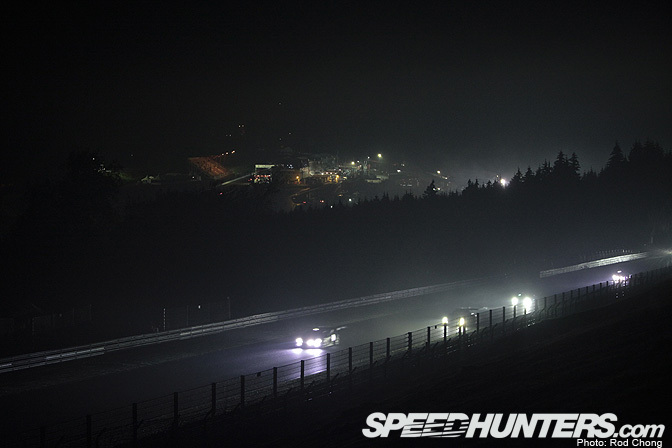 It's really hard to keep up a rhythm when the car is sliding as soon as you are too fast with the throttle. The darkness makes the visibility really bad. You feel alone. In those situations I'm pleased to that I grew up on dark, ice-covered roads in Sweden! I actually feel I knew how to do it. Be smooth and try to feel the grip and don't exceed it. Braking is normally the most difficult part, but with ABS life is much easier. Not hitting exit kerbs is also a golden rule. They get mega slippery. I stayed on my slicks and felt the right choice for Dirk would be to continue on a new pre-heated set. When the drizzle stopped it wouldn't take long before a dry line appeared. Dirk went out and did a perfect job and six to seven laps later the dry line was there. The Phoenix car that had changed to rain-tyres and been lapping 10 seconds quicker was now in trouble and had to pit again. Yes, the right strategy was to stay on slicks, even if it was hard for the driver. ?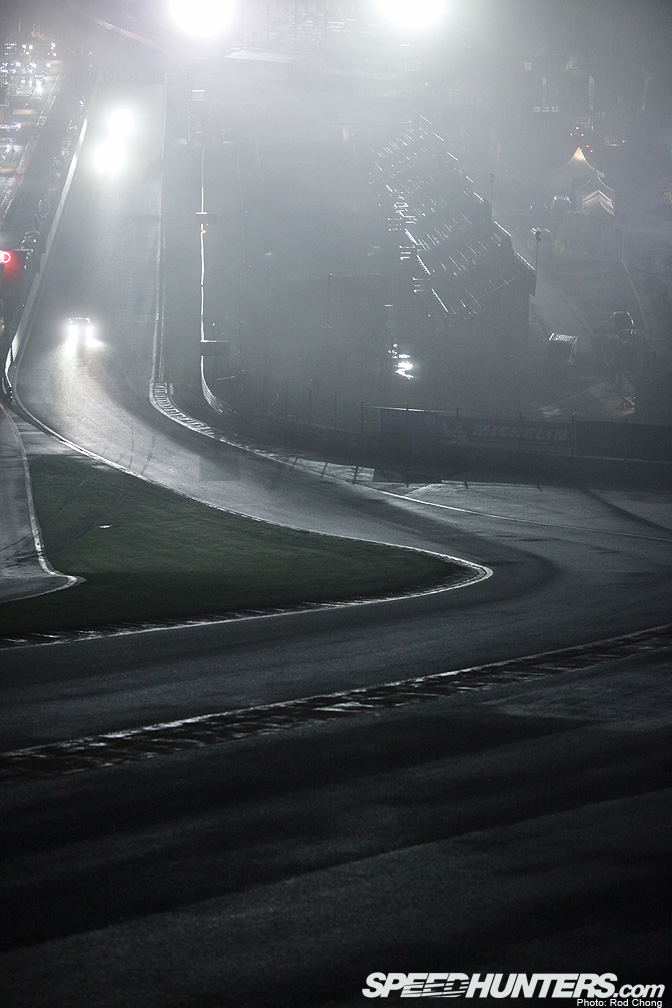 Driving in the darkness is something which takes amazing concentration. You have to know where to turn in at some places when your references are simply not there any more. You always appreciate if the car has strong lights. We didn't really have the strongest ones, but enough to have good visibility. The double left-hander was actually the corner I found most challenging to get perfect in the darkness. But also remember you can have some really bad laps if you go wide and hit the debris outside the racing line. The tyres pick that up immediately and you suffer grip problems straight away. The only way to get rid of the debris is to go harder and push the car until it starts to drift, then you hear when the pick-up is thrown off and hits the inside of the wheel wells. So overtaking on the dirt can give you a hard time. This is also something that turns up different from tyres to tyres and track temperatures. The colder it is, the more problems you get.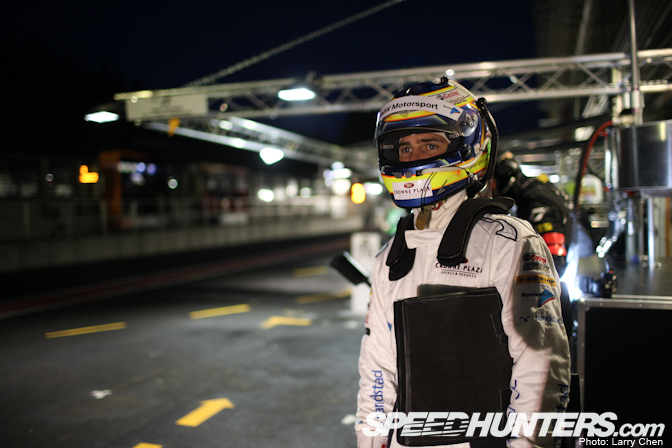 Fighting face of Dirk. With only two of us driving, it was a very long night.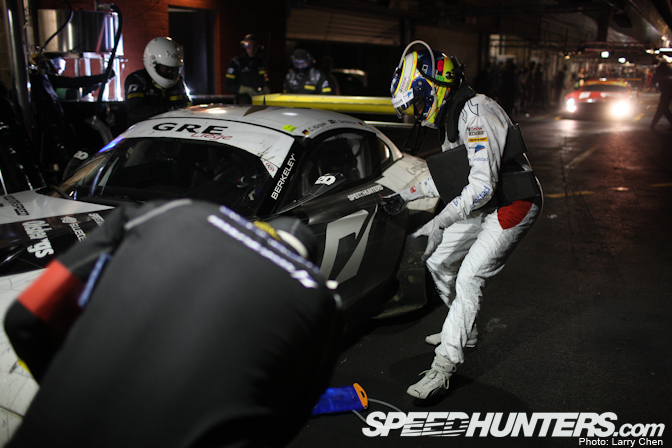 You have to start behind the yellow line and then run around the car once it's stopped in the box. Refuelling is ongoing.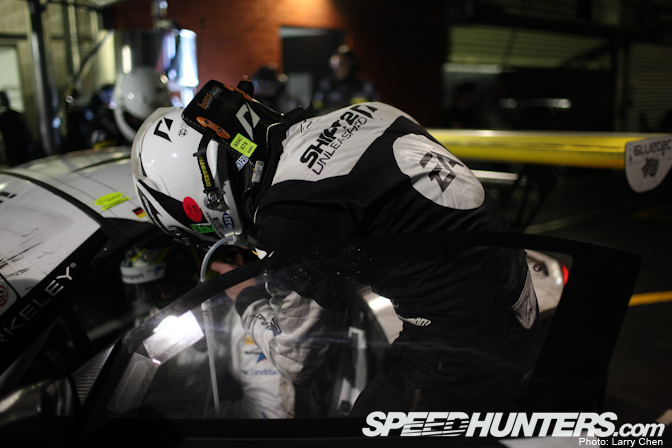 I'm always throwing my gloves. I much faster connecting all things without them.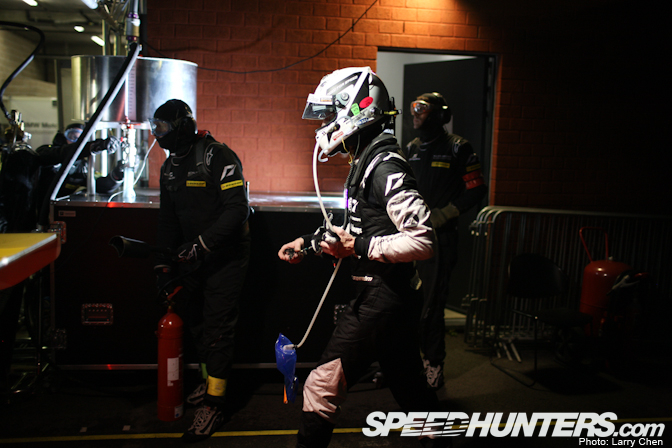 I think my first thoughts after a stint are mostly are to get some water quick!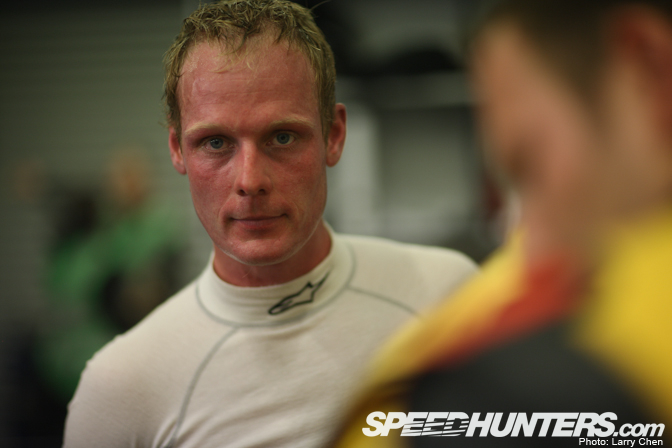 My last double stint was between 4.30am to 6am. I just was ready to change when the light was starting to appear. At this point I was totally empty. Nine hours behind the steering wheel and no water for the last 20 minutes in this stint had been a challenge and now I was really dehydrated. Team manager Stefan Wendl could see it and was on a mission to get Claudia in shape to drive again. The Audi doctor was actually our rescuer. He gave Claudia some pills that made her a bit better. She had been able to sleep and was in shape to drive again. It would have been on the limit for us to do the race on our own without Claudia. I got some pills from the Vita4one doctor that helped to sort out my dehydration problems.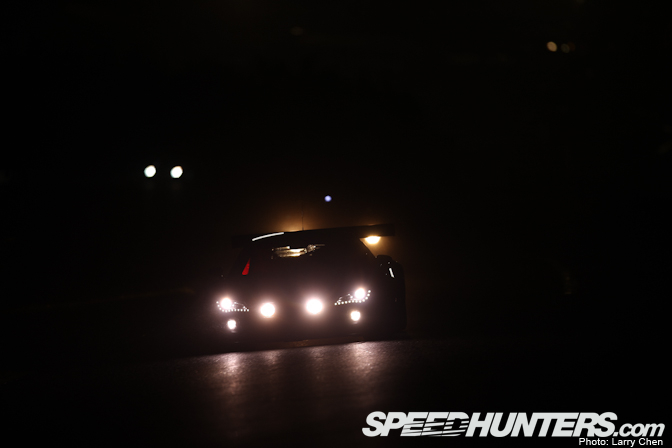 In Dirk's morning stint he had a contact with another Mercedes and unluckily our front suspension got a bit bent. This made it impossible for us to triple-stint the Dunlop tires. And this was actually the point where we had to stop the charge against the leading #33 Audi with Ekström, Scheider and Franchi. The front tyres didn't last more than a double-stint from then on due to more wear. Anyway, you have to bear in mind Audi only did two double-stints on their Michelin tires, so their strategy was very different from ours.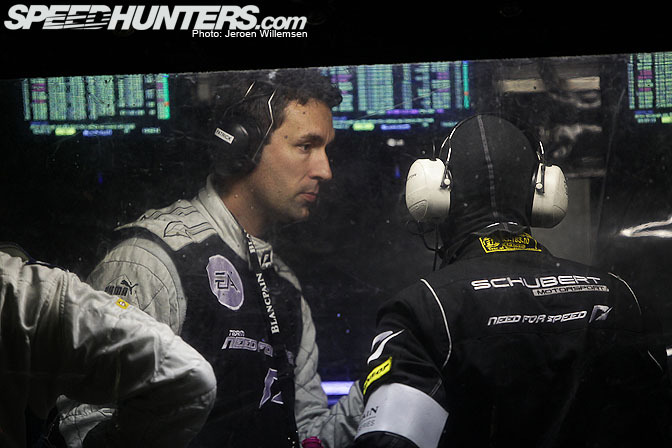 In the night we had been climbing back into the leader-lap by great strategy work from Patrick Söderlund and Stefan Wendl in the pit-stand. I think Audi at this point felt a certain threat from the Team Need for Speed car.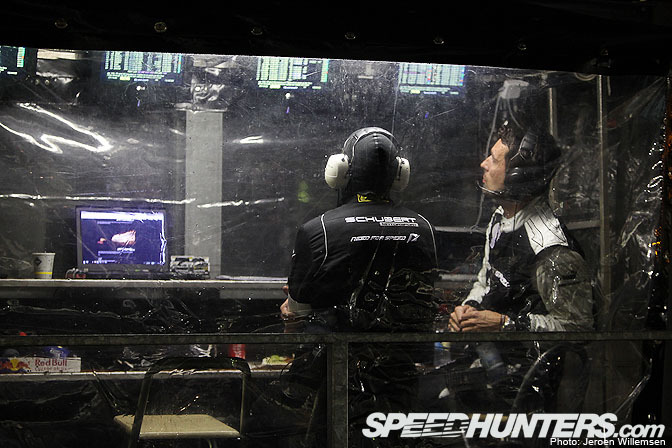 They keep on tracking all our competitors and their stops. We want to get into the lead lap. So all safety car periods they had to be fully focused to make the right call.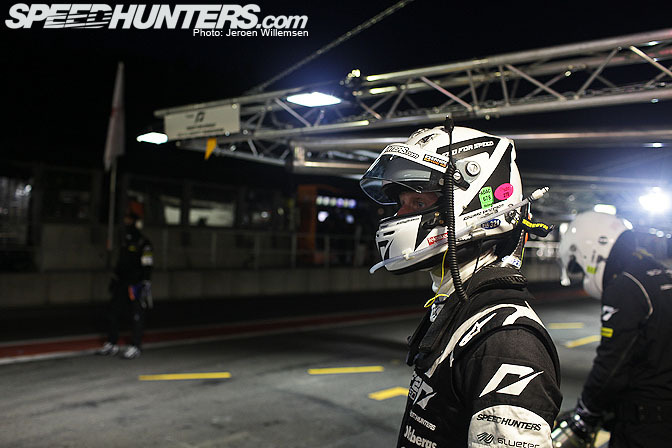 I'm back in shape after some food, water and a relax. Helmet have been on the dryer and the rest is changed. Focus, focus, focus. That's the word I use most.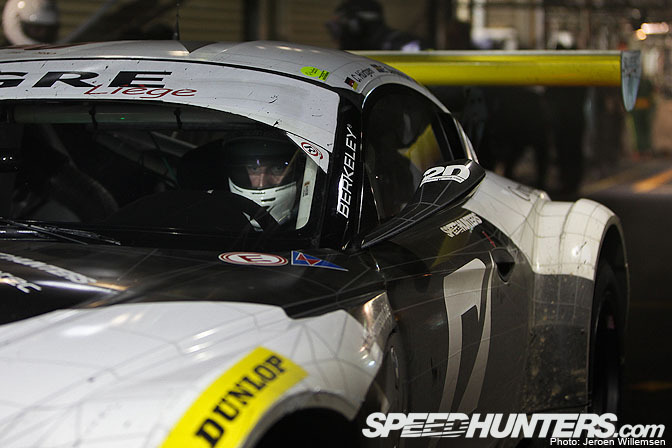 As you can see…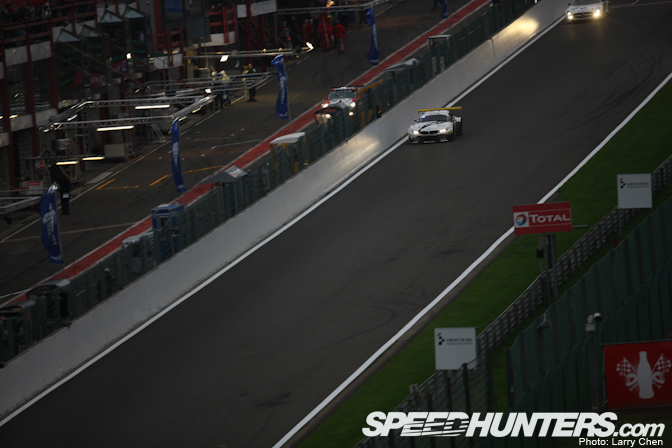 Eau Rouge is the corner of all corners I think. When you go through the La Source hairpin it's like a skateboard ramp down to Eau Rouge. You try to reach the highest speed possible and then you need to be both brave but at the same time sensitive – you actually disturb the car more if you don't commit and brake into the corner.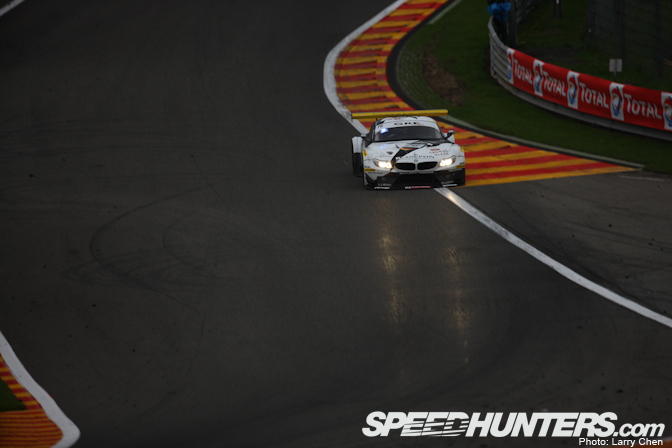 The first thing is get the entrance right, which means you have to cross the kerb without unbalancing the car.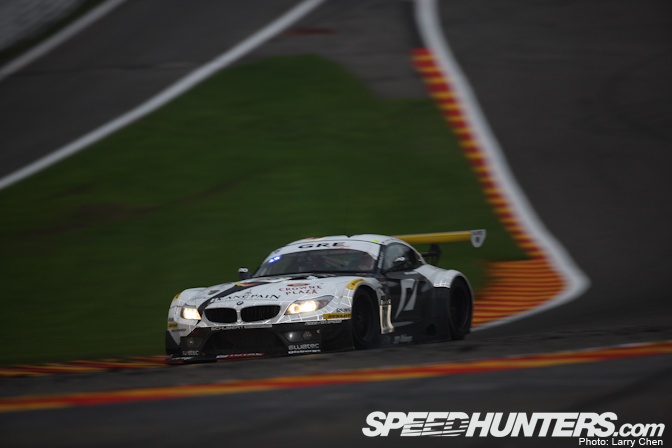 Next step is to let the car compress and just before that lift of the throttle a bit to get the car steering better. When it's down in the compression you can steer as much as you want for a short, short while and you have tons of grip.
?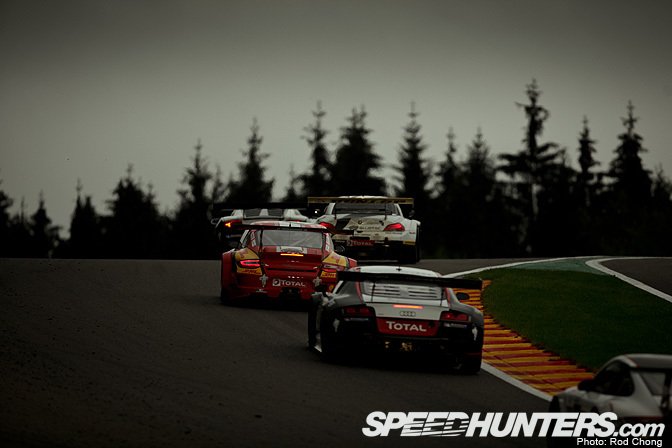 Then it's like being thrown out of the rollercoaster! You just try to put your sight on the small hole at the top. The car goes light and if you have the wrong direction it's just too late to do anything about it. If everything has been going according to plan you're on full power and hit the left kerb a bit as you sweep out on the long straight up to Les Combes.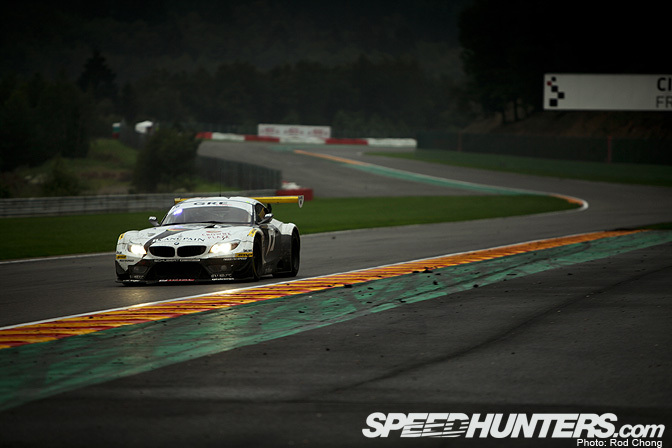 As always everything feels easier when the light comes back. But this time I must admit I was more tired then usual.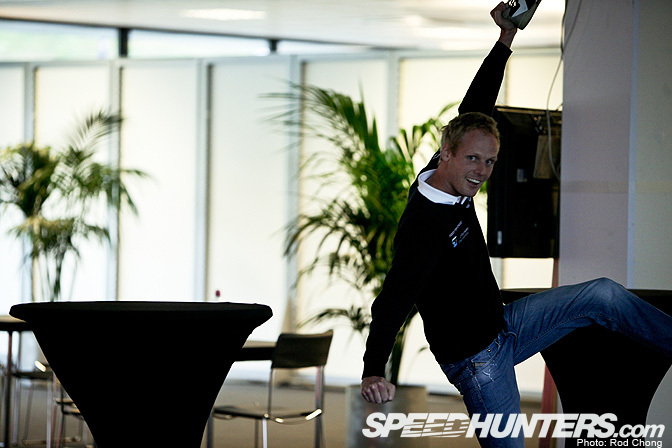 But after some rest and look on the result list I was on power again.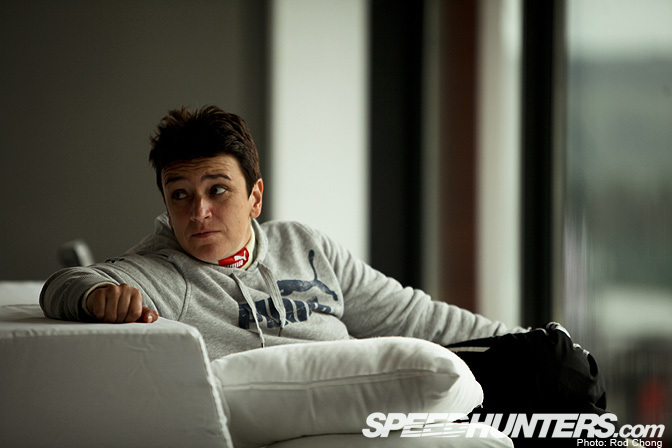 Hmm, Claudia was better but not great. Anyway she could finish the race and that was really important.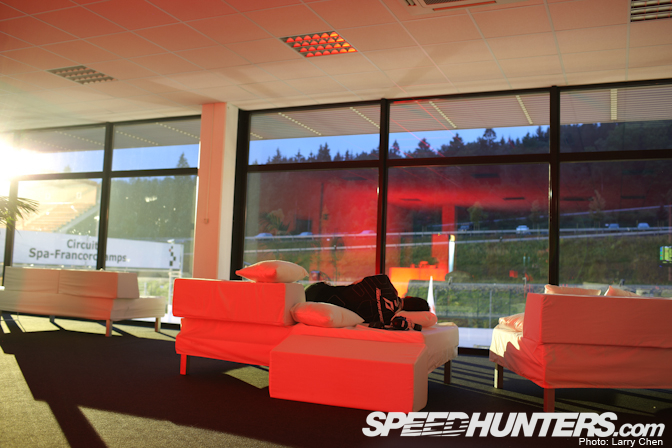 Patrick take a short rest from the pit stand.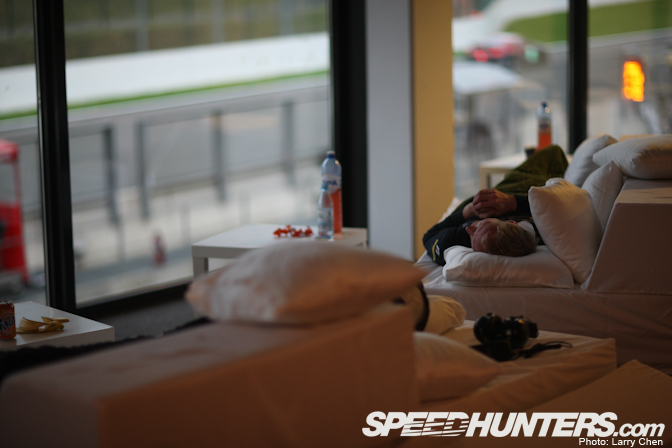 I try to sleep, and think I got half an hour in the end.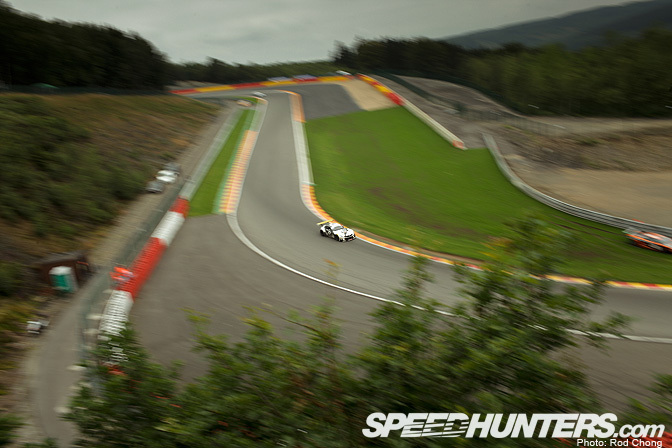 ?Since Claudia was back in business we stopped doing double stints and changed actually both tyres and drivers each hour through to the end. We were two laps behind and choose to go for second this time. If they where running into any problems we would anyway be right on them. The car in third place was never close enough to put any pressure. Now it was all about to bring the Z4 to the flag.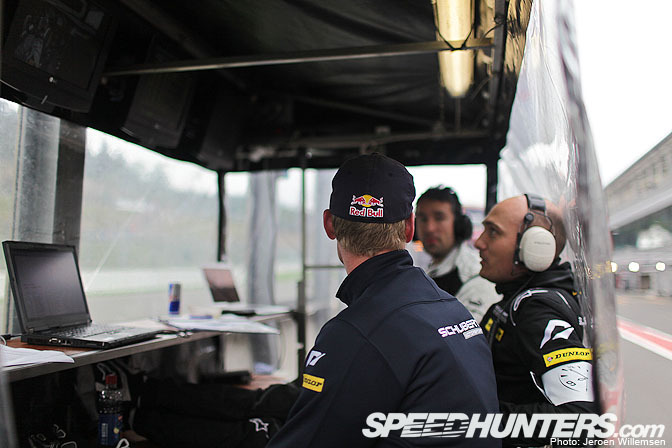 At this point we started to slow down a bit. I discussed how to do and got some instructions from Stefan and Patrick.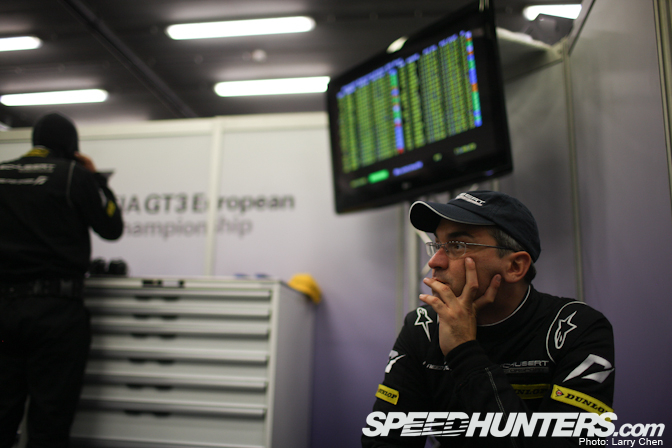 Dr Kaj was serving the drivers with food and all things needed to keep in good shape.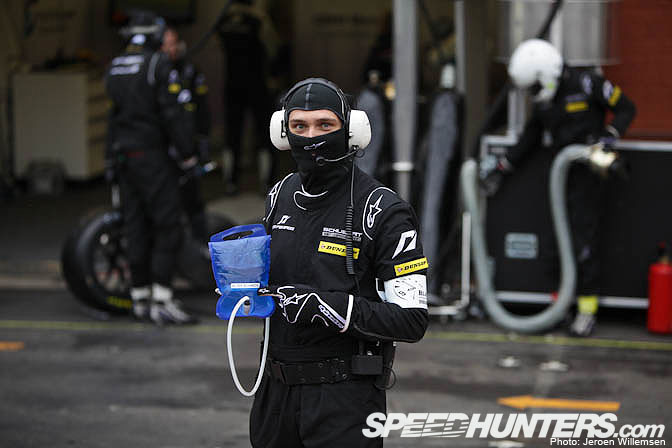 Stefan ready to change camelback during the pitstop.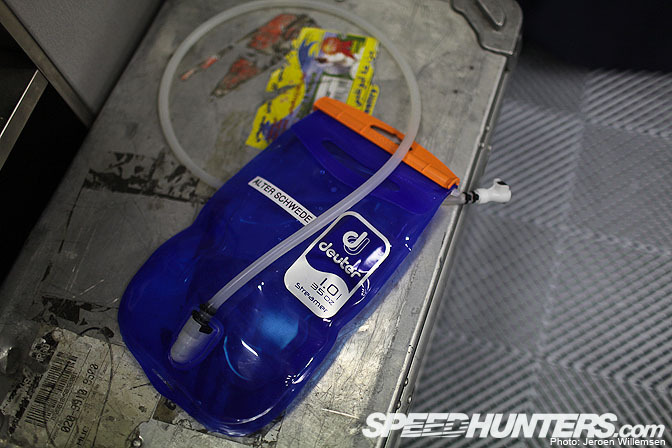 The special Alter Schwede camelback. Should be served in 5 plus degree and is very strong.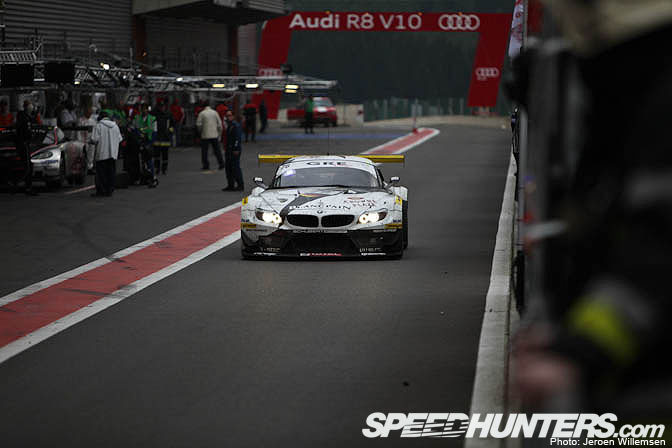 Claudia back for the final stop.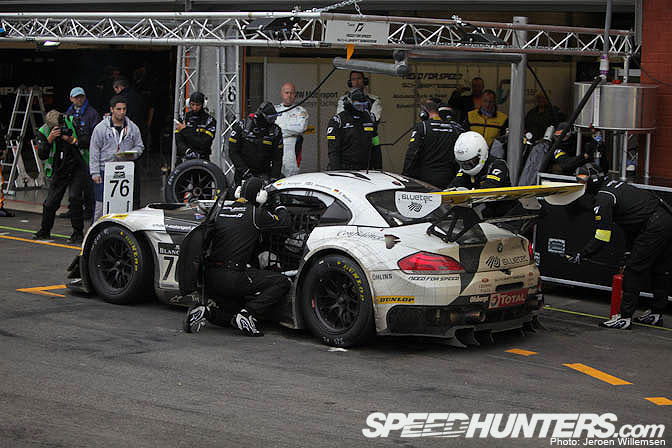 Last time I jump in. Nothing special. I knew I would keep a speed that was okay to keep the concentration up and nothing more. Stay away from problems and just drive.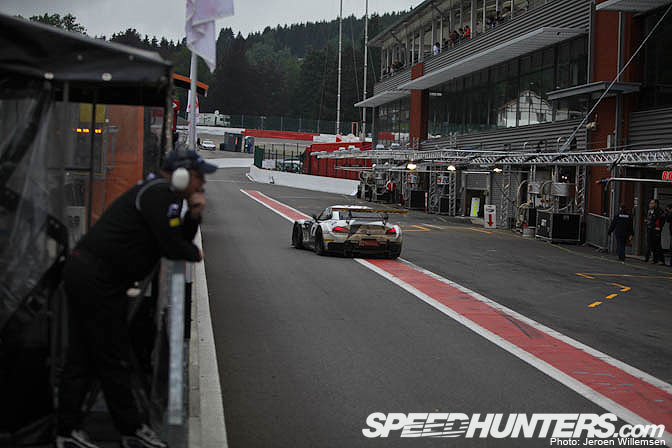 I had the opportunity to go for the last stint and I wasn't especially nervous. I just kept on telling myself to keep concentrating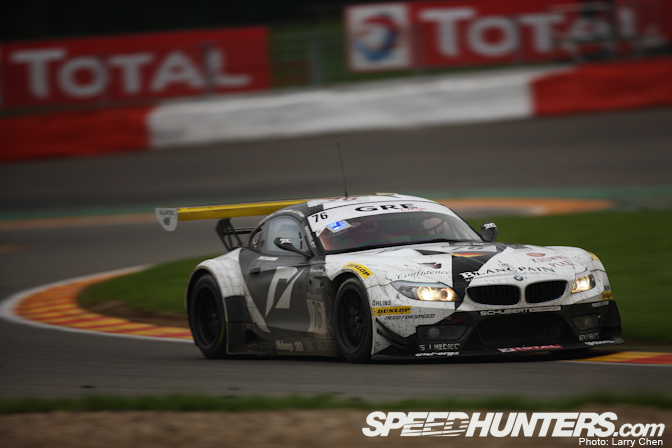 But I will be honest to say I looked forward to see it rather soon. I didn't have too much energy in reserve. The seat was like a swimming pool every time you changed. I wanted to spray champagne on the podium now! And actually I had a smooth run to the finish.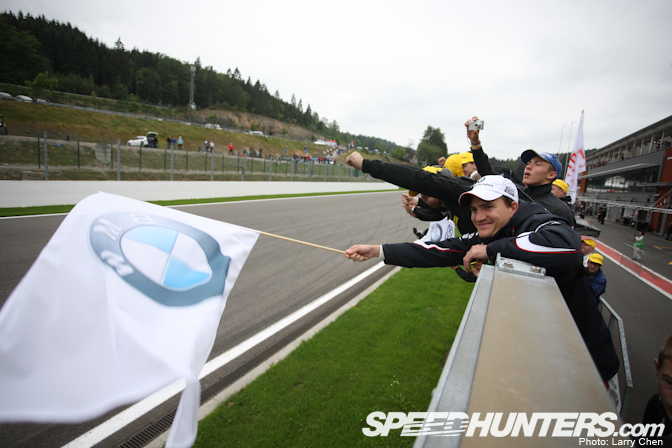 Normally you scream and thank the team on the radio. I was empty. And Stefan asked me on the in-lap, "Where are you Edward?". I was there in the car on my way to a more then well deserved podium for Team Need for Speed, Schubert Motorsport and BMW Motorsport – and especially Sebastian Golz, who has meant a lot for the project.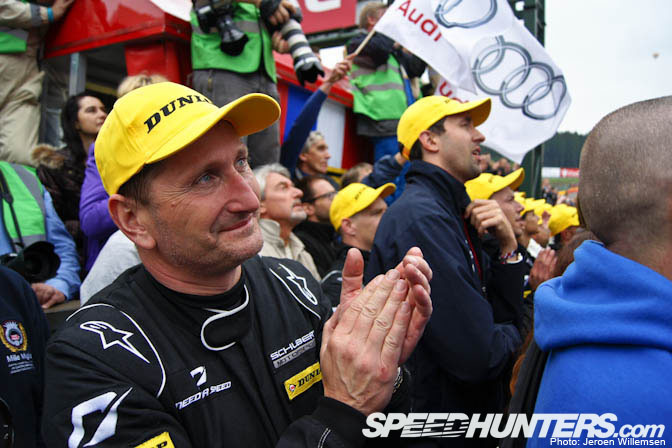 Torsten is the man and a very worthy team owner to have the car on the podium.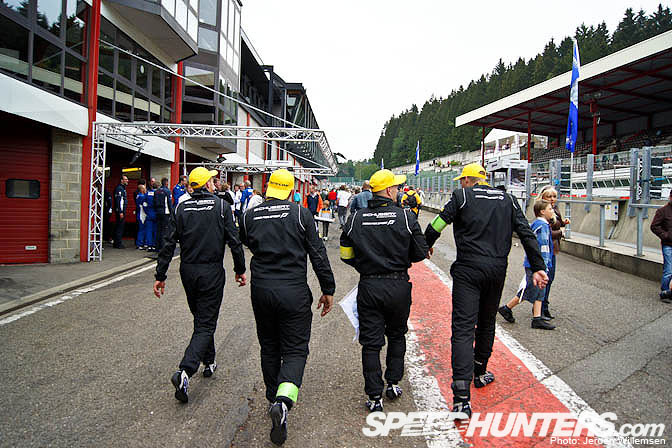 Hard working guys that deserved some Champagne as well.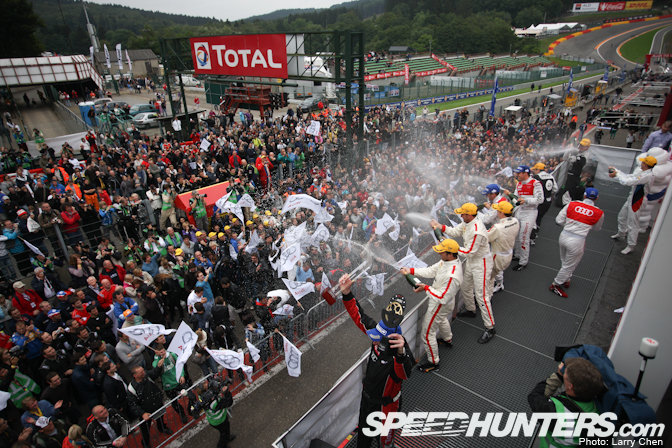 You get some new energy when it's time for spraying some Champagne.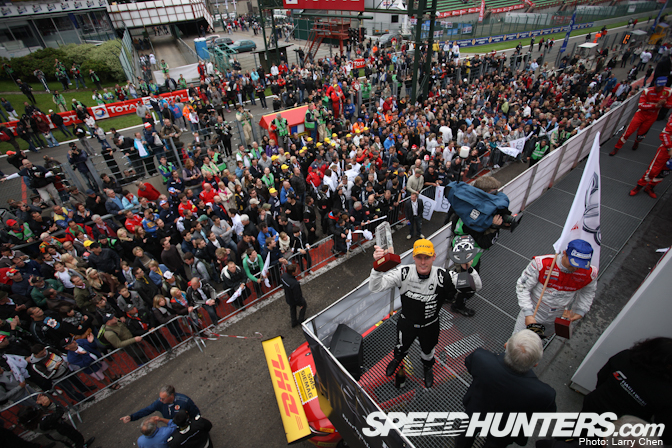 I think Dirk, Claudia and I also had done something very special to bring this result. This was a big strike back from the crash we had at Nurburgring when running second. YEAAHH!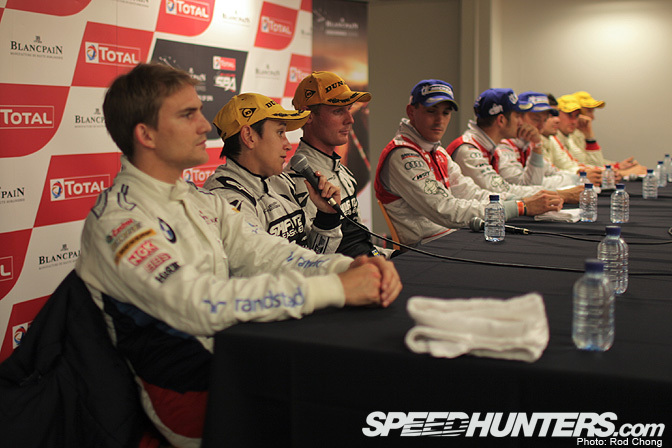 Since I started racing 1995 after some years in karting I met Mattias Ekström and since then he has become one of my best friends. Actually we have been on a podium together when we both raced in the Renault 5 Junior Cup. Even then we were spending all our time making different adjustments to make our cars faster, and that's how we became friends: 16-year-olds spending hours on the telephone discussing setups. Anyway it felt great to share the podium with a good friend. Nevertheless, next time I want us to change position!
-Edward
Royal Automobile Club Of Belgium