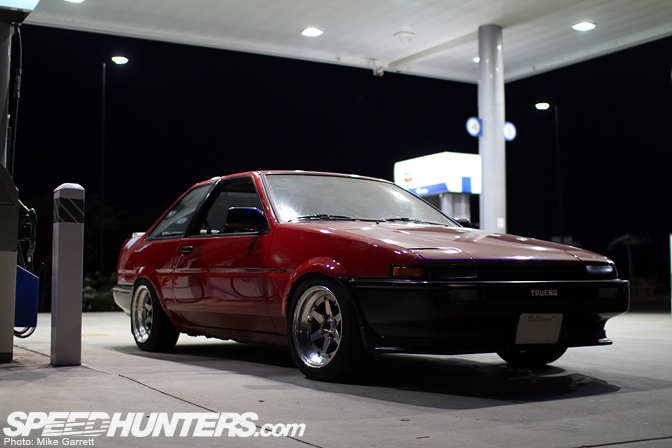 For my 86 Day features this year, I have something a little bit different to share with you guys. Something personal. That would be my own newly acquired AE86.
So, how did I go from driving a burly Mustang GT to a 1980s Toyota Corolla? Let's find out.
As I documented in my last Car Life post, I parted ways with the Mustang GT after taking on a '72 Datsun 240Z project. While most of my efforts will be spent on building the Z, I figured I'd hunt around for an inexpensive replacement for the Mustang as a fun weekend cruiser and perhaps something that might see a little track use in the future.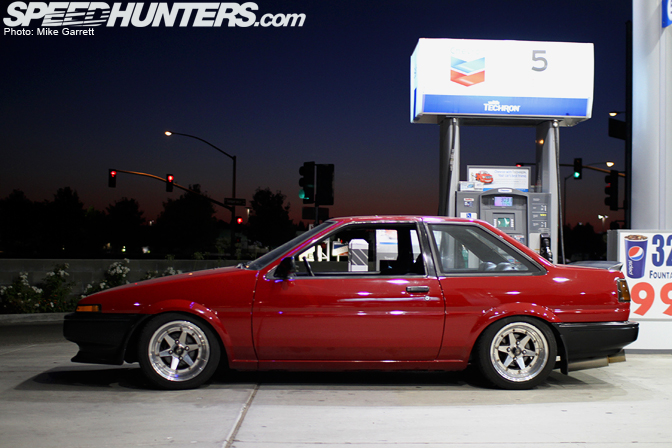 With the words "fun" and "affordable" being the key, my search naturally brought me back to the Mazda Miata. Mazda's open-top sports car is hard to beat for the dollar/fun ratio, but I also decided to take a look into AE86s to see what was available.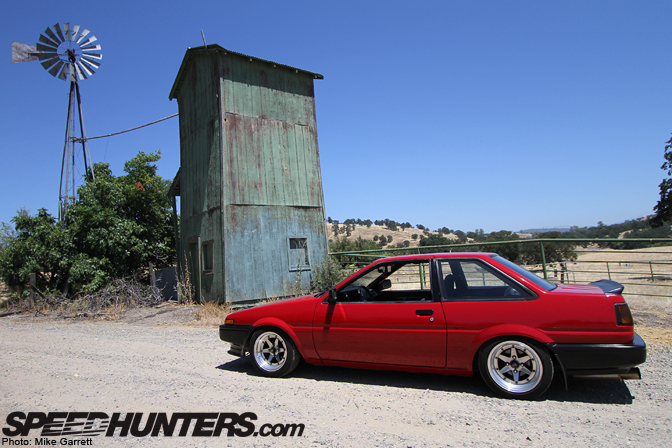 That's when I found this 1985 Corolla GT-S Coupe for sale in the LA area. It was in good cosmetic condition, had a few tasteful upgrades and was priced reasonably. Just what I was looking for.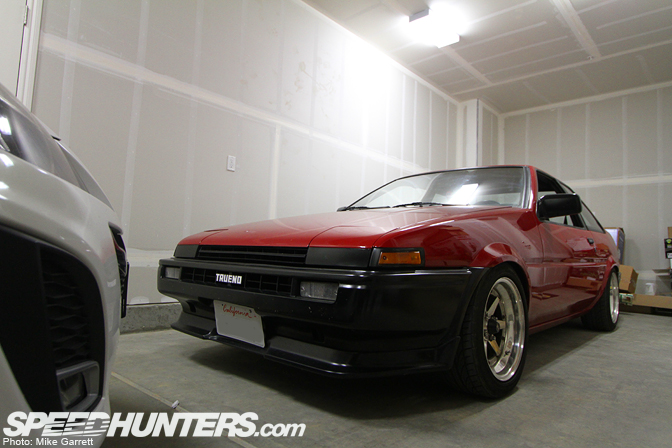 After a few days of talking with the seller, I took a road trip to SoCal and brought her home.This isn't my first venture into 86 ownership though. I had another GT-S coupe when I was in college although that car was much more of a beater than this one.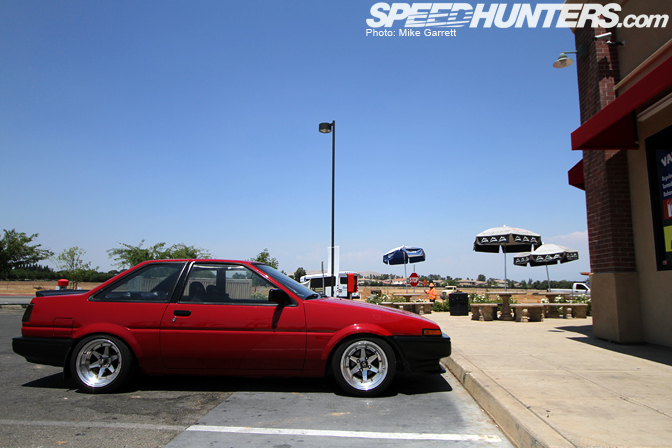 If you are familiar with 86s, then you can probably spot some of the changes that have bee done to the car. First of all, JDM Zenki Trueno bumpers have replaced the large USDM bumpers. The stock taillights were also replaced with Zenki Trueno Coupe tails.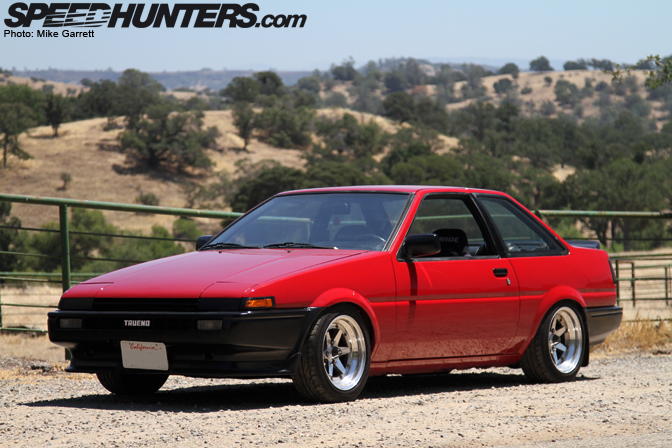 Elsewhere, the suspension has been upgraded to a full coilover setup, along with an adjustable lateral rod, front tower bar, and roll center adjusters. The limited slip differential is also in good working condition. Wink.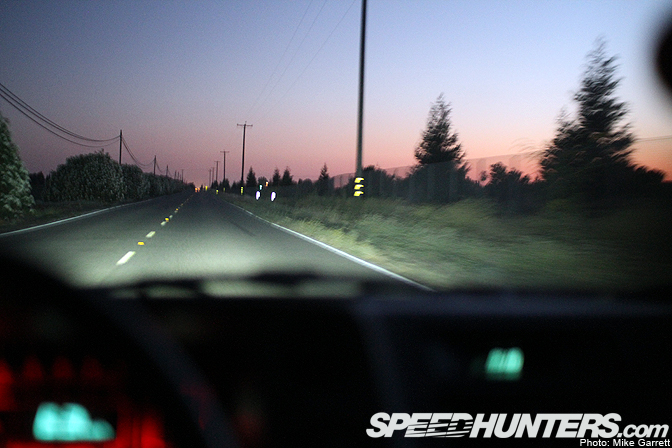 Under the hood is a normal 16-valve 4AGE – stock with the exception of an intake and an HKS exhaust system. Yes it's quite a step down power-wise from the Mustang and its V8, but the go kart-like handling helps even up the fun factor.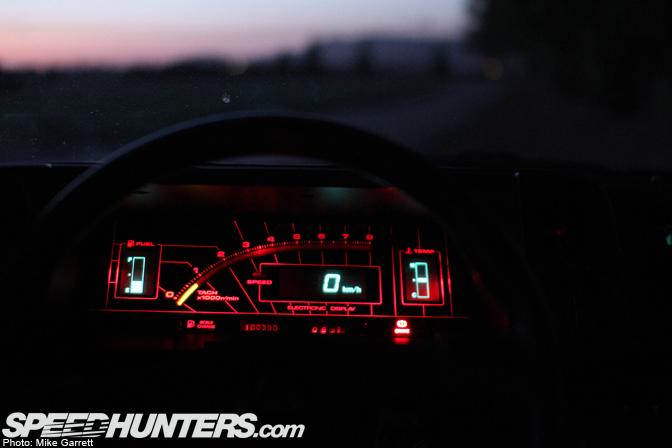 At one point the stock gauge cluster was swapped out for digital JDM unit. While I'm still getting used to the MPH/KMPH conversion, I do feel like Michael Knight behind the wheel. Unfortunately the 86 has yet to talk to me…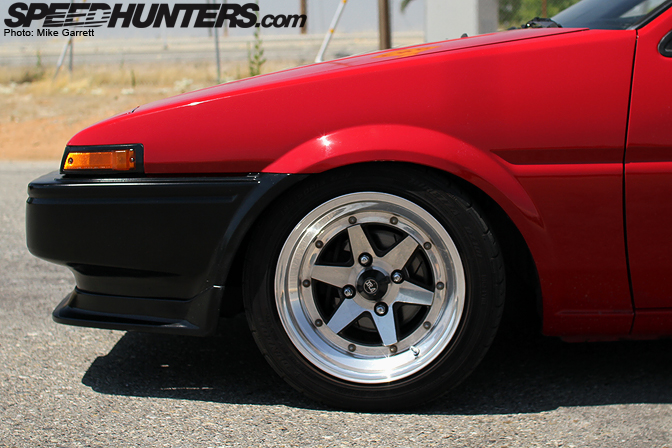 As a bonus the car even came equipped with a legit set of wheels. 15×7 and 15×7.5 Longchamp XR-4s. PersonallyI'm partial to the look of 14s on an 86, but these will certainly do for the moment. The fact the AE86 and the S30 share similar wheel specs means lots of potential for wheel swapping antics.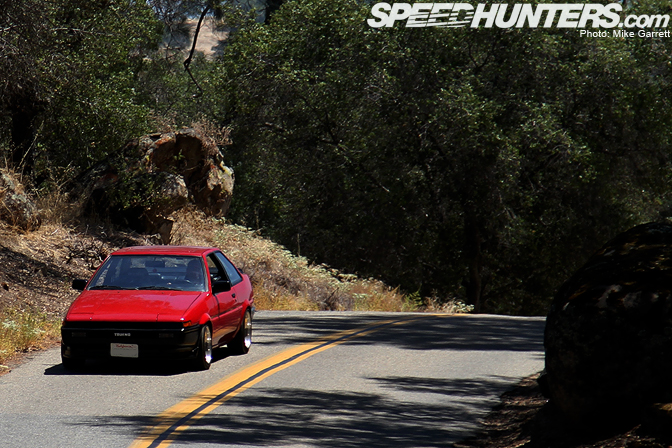 Since I picked up the car, I've been reacquainting myself with the AE86. A recent drive through the local foothills was like meeting up with an old friend.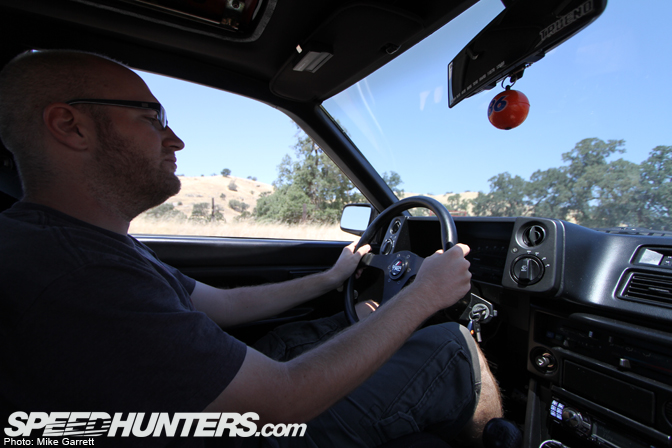 There's a lot that's been said about the driving characteristics of the 86, but until you've spent some time behind the wheel – those are just words on a page or screen.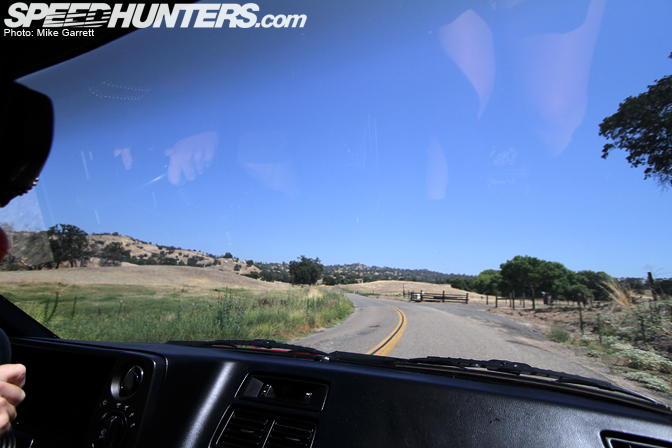 The sound, the feel, the personality – there's just something special about this car.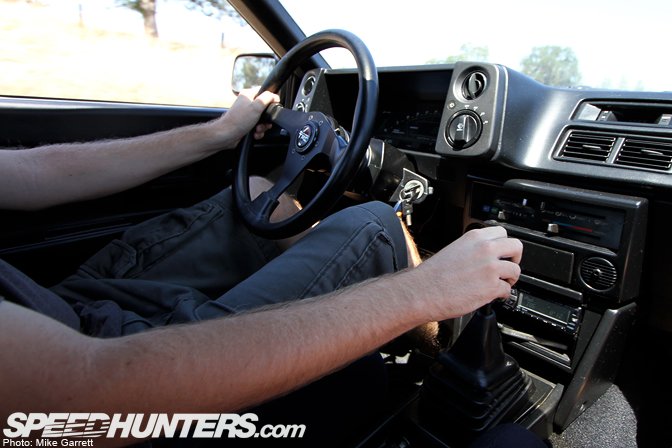 Everything in the 86 is laid out perfectly for driving – from the simple control layout to the easy reach of the shifter.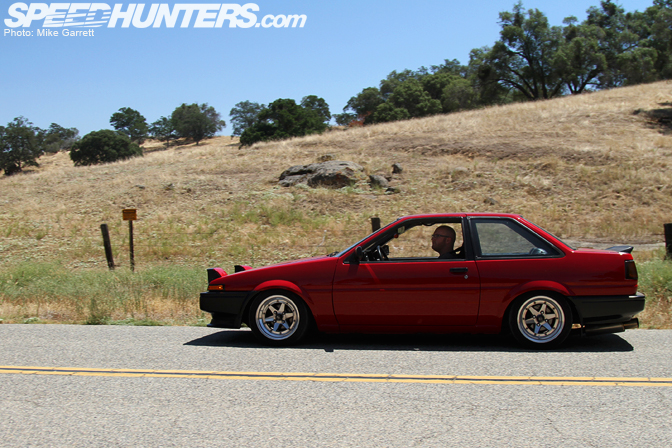 The AE86 doesn't impress with big horsepower, through outrageous amounts of grip, or with high tech chassis and suspension design.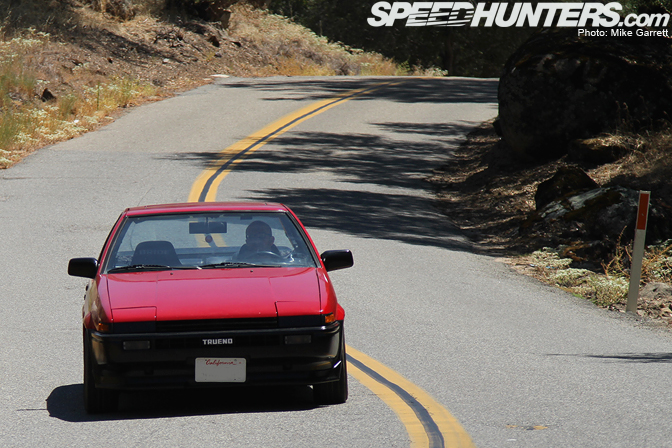 To me it's an overall playfulness that truly sets the AE86 apart from other cars.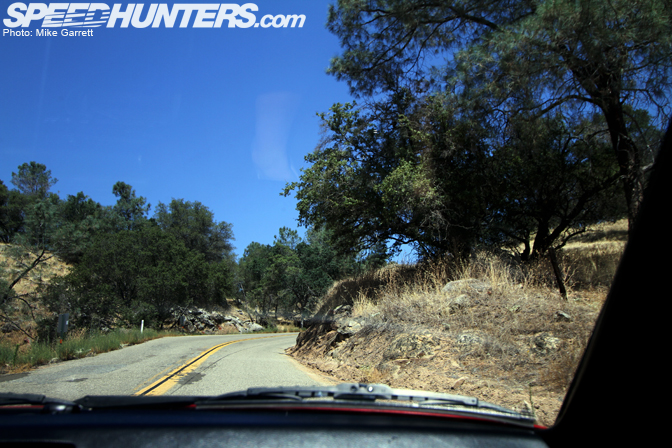 A few miles down a twisty piece of road and you'll know why this car is loved by so many around the world.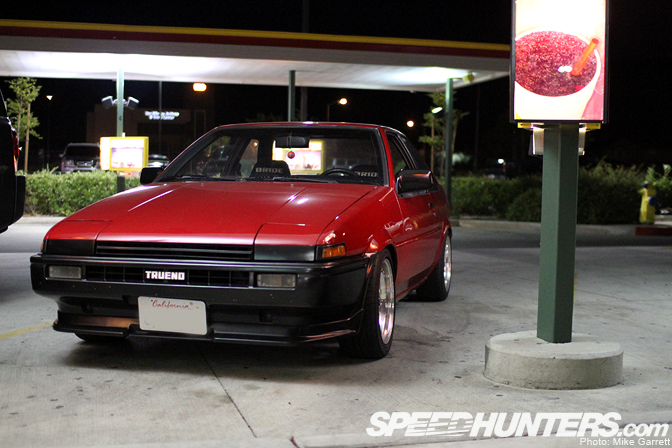 But the charm doesn't wear off in the city either. Even at over a quarter century old, the 86 still serves as economical, practical transportation.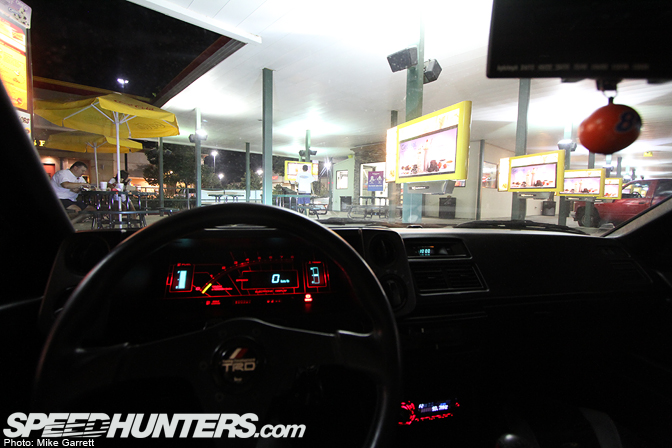 Here I am doing the most American of things, cruising into the Sonic Drive-In for a couple hot dogs.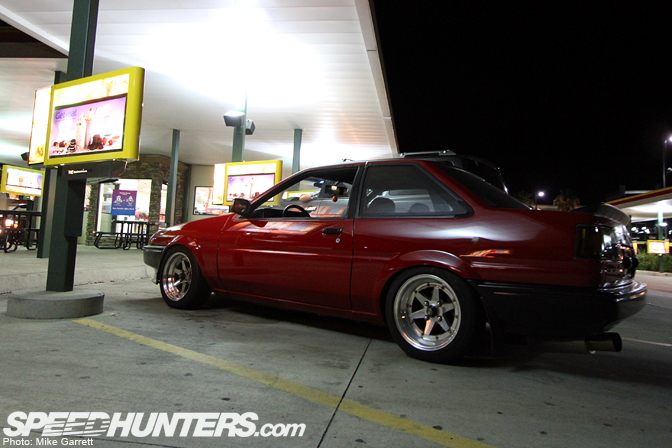 One of the other customers who was picking up food even gave me some compliments. "Hey, nice Hachi Roku!".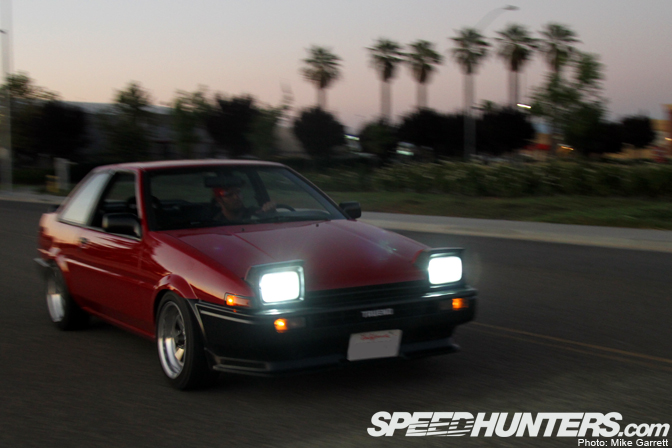 There's my younger brother having a go behind the wheel.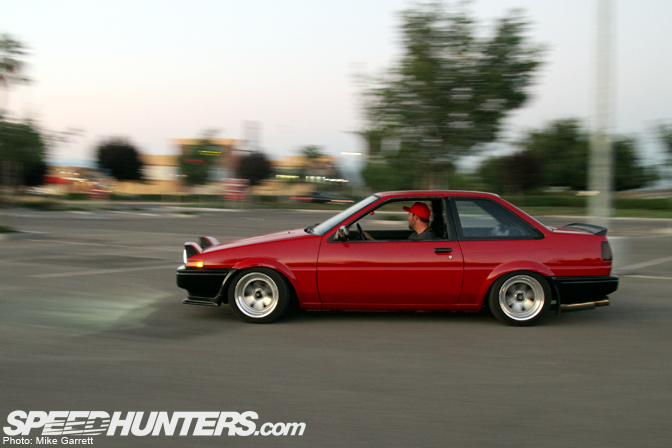 I always recommend tossing your keys to a buddy and letting them take a spin in your car. It gives you the chance to check to see if it looks cool going down the road. What do you think?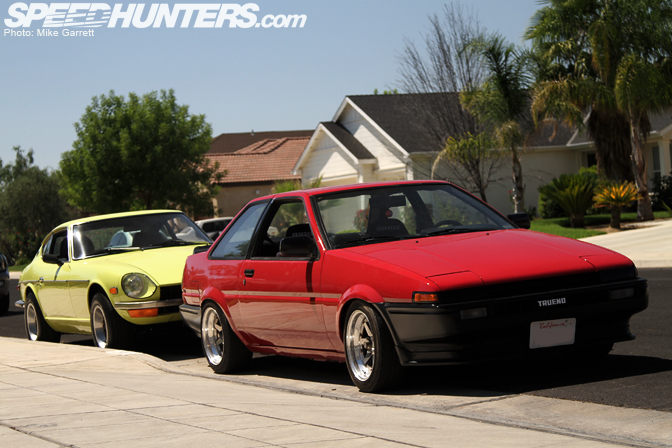 S30 plus 86. I can't help but grin when I see these two cars together.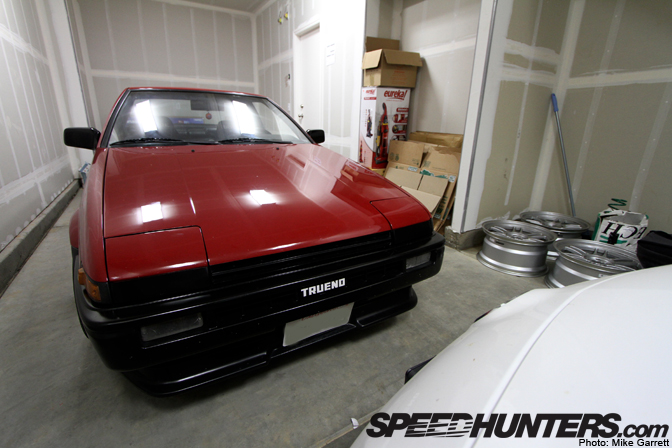 Safe and sound in its new garage spot. As you can see I still have some cleaning and painting to do out here…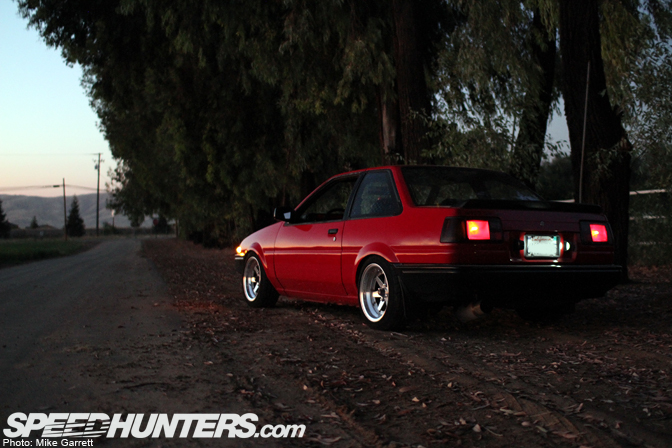 Now If you'll excuse me, I'm feeling the urge to hop in and go for a drive.
If I can just remember where I put those Super Eurobeat CDs…
-Mike Garrett