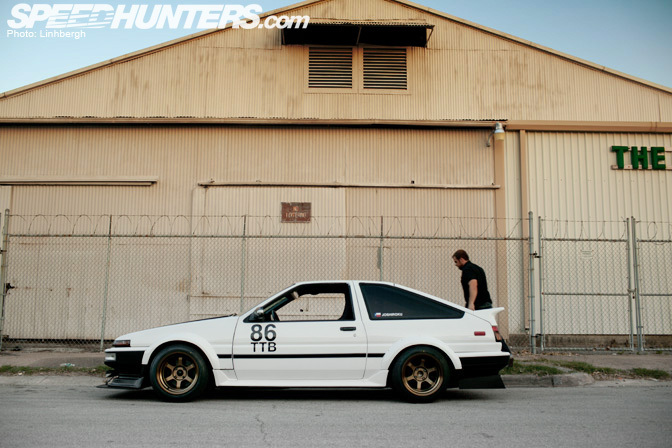 Back in March, I had the opportunity to spend a bit of time in Houston, Texas to check out the car scene out there. The culmination of my Speedhunting adventures in that city was a very special street meet which centered on the nostalgic automobile offerings from Japan. There many cars that caught my eye when I was out there, but the one that stood out the most was this 1985 Toyota Corolla owned and built by Joshua Garcia.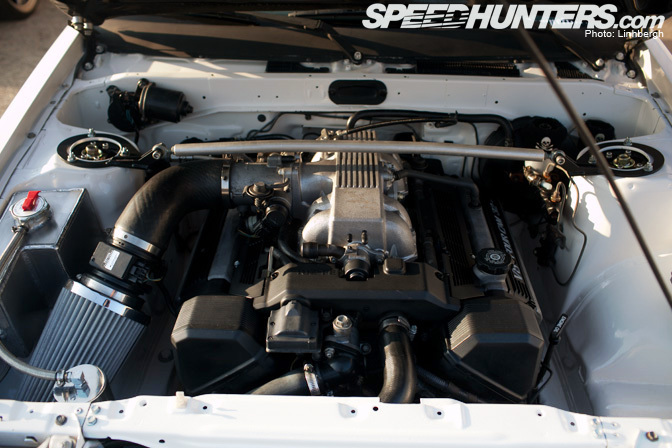 The single most important thing that makes this '85 Corolla so special is what's underneath the hood. The car saw quite a bit of horsepower gain from a quad cam, 32 valve, Lexus 1UZFE 4.0L V8, coupled with a Toyota W58 transmission, swapped in. The headers were custom built and was ceramic coated by Rowdy Flanagan from Flanagan's Mufflers in Corpus Cristi, Texas.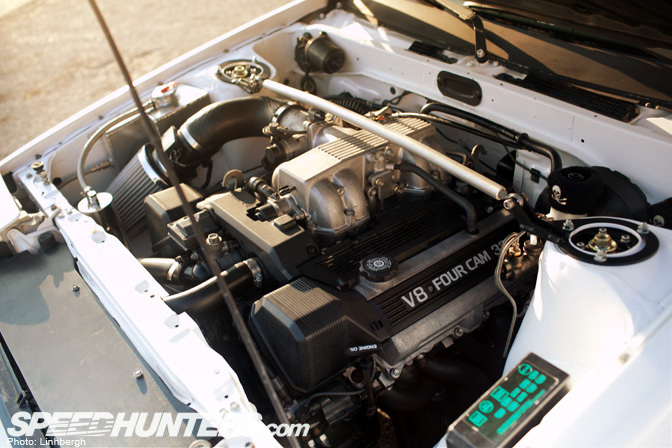 The engine is managed by the stock Lexus LS400 ECU. The motor mounts designed and crafted by Joshua himself!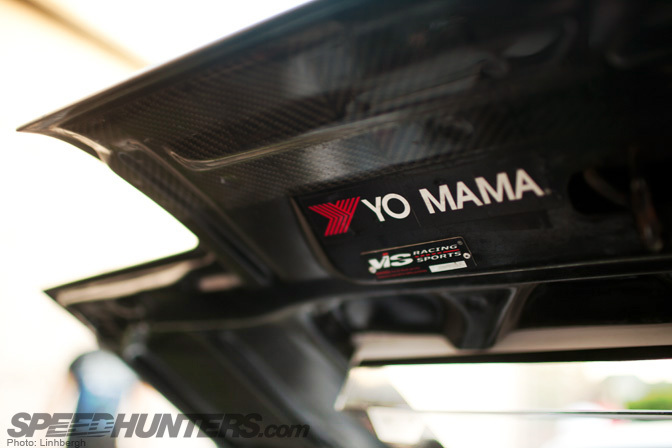 I thought this modified Yokohama sticker, found under the hood, was a nice personal touch to the car.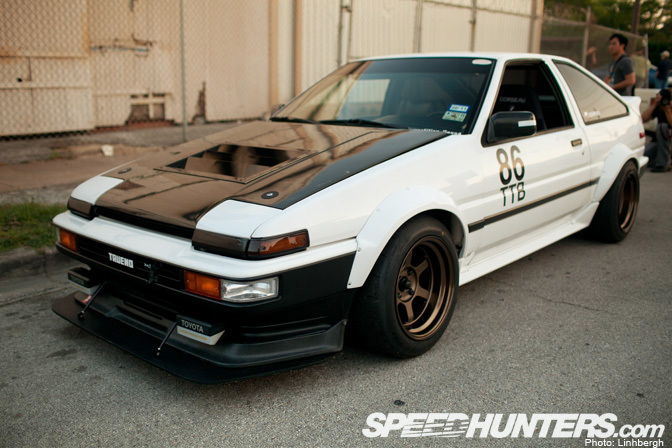 The car's exterior styling has been beef up with a set of kouki front and rear bumpers, a zenki lip, OEM side skirts, Shine Auto TRD wing, Redline tail lights, CBY fender flares, Hibino mod fenders and a VIS carbon fiber hood. The front splitter was home brewed by Joshua as well as the, brake cooling ducting, oil cooler ducting, hood drop vent…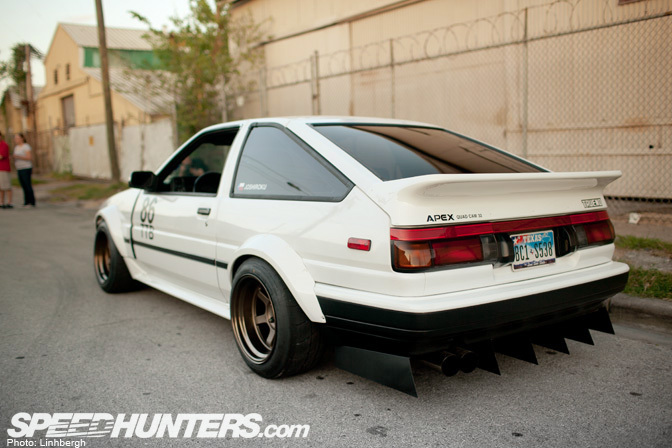 …and the rear diffuser.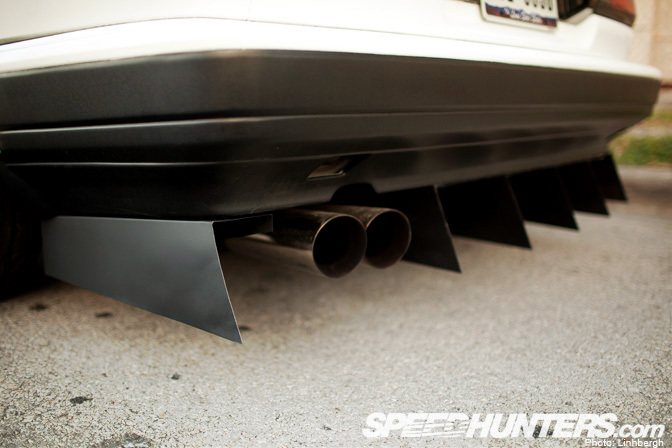 Here's a close up of Joshua's home brew rear diffuser. The exhaust is a dual 3" mandrel bent exhaust which was modified to a Magna Flow muffler and terminated to Greddy DD style tips.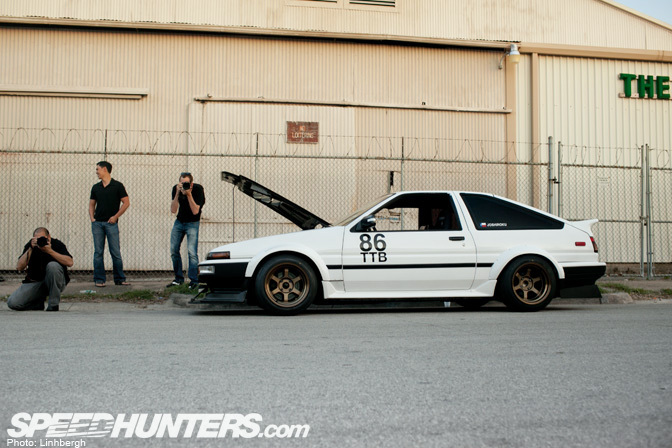 Joshua went with a set of Stance GR+ coil overs with camber plates and pillow ball mounts as his suspension of choice. He also has a slew of Techno Toy products which include adjustable front lower control arms, front strut brace and a rear triangulated strut brace. When it came to the sway bars, Joshua chose a Cusco for the front and stock GT-S sway bar for the rear.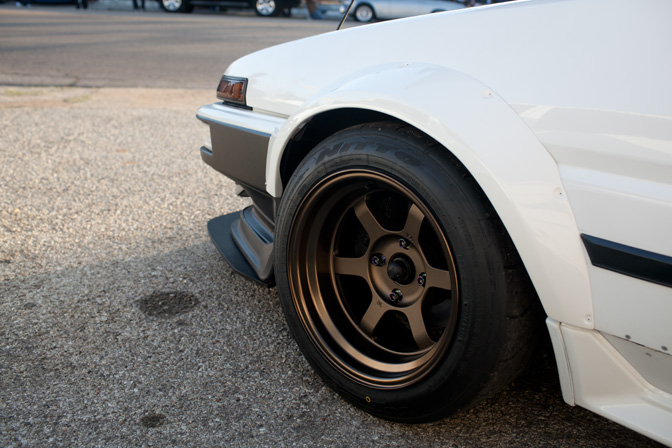 Bronze Volks TE37V were the obvious wheel choice. They've got a great sporty look and a good range of size and offsets to pick from. Joshua went with 15×9" -16 for the front, which were wrapped in a set of Nitto NT01 205/50/15 tires.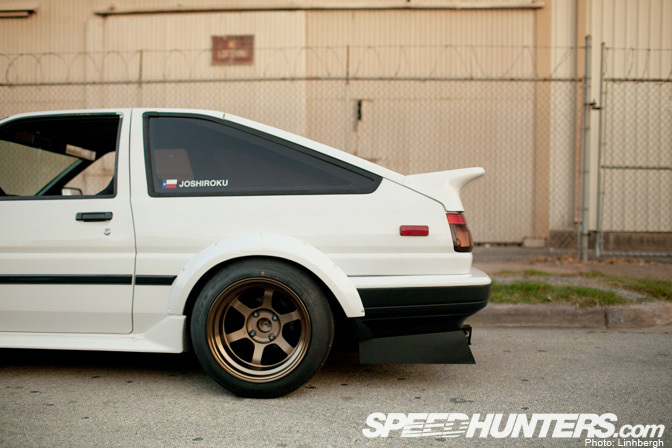 The rear wheels are 15×10" -25 (with 25mm spacer) and wrapped with 225/45/15 tires.
With rather significant upgrade in power, the stopping power of the car also needed to be upgraded. Joshua went for a set of FC RX-7 calipers, with Hawk HP plus pads front and rear, and were installed thanks to some custom caliper adapters from Hondarue at 86garage.com. The axle also saw a bit of an upgrade thanks to Weir Performance. The actual LSD itself is a modified KAAZ two way.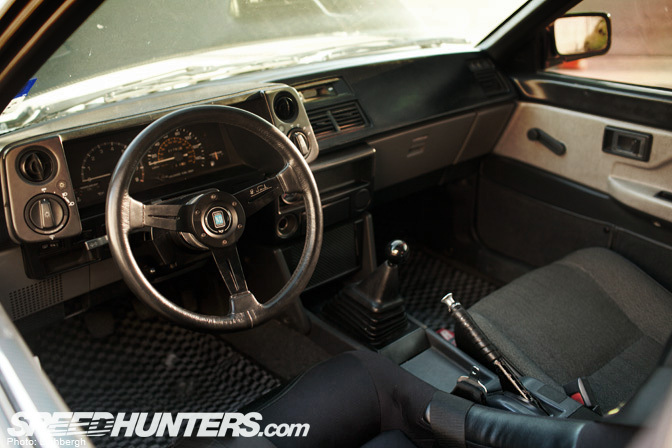 The interior is a mostly stock and fully intact interior. The few additions Joshua did make to it, like the Razo shift knob, Corbeau racing seat and the Schroth Clubman harness were to enhance the driving experience of the car.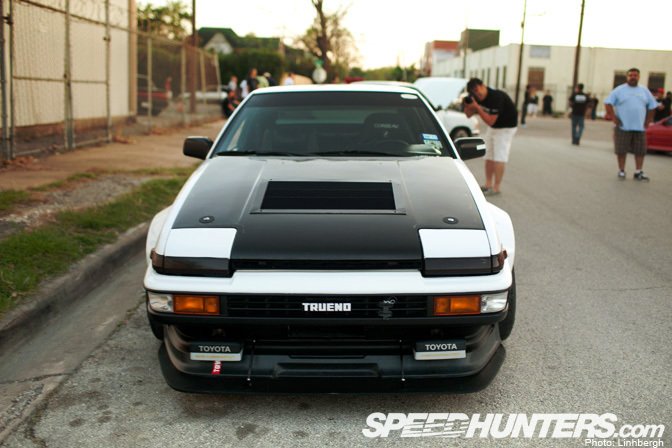 One of the coolest features of the car are the motorized OEM fog lights. Here they are in the resting "off" position…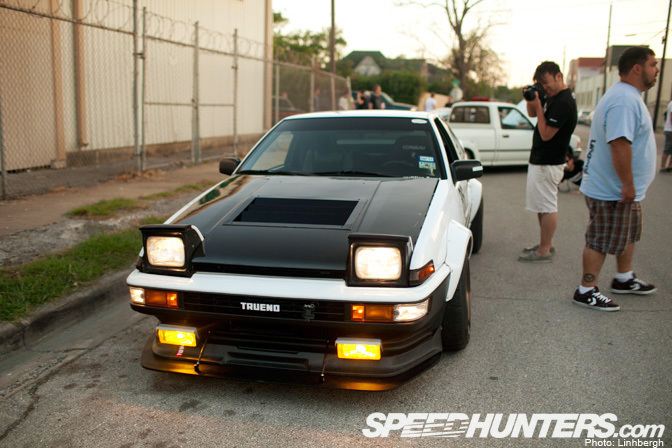 …and here they are in the "on" position. Pop up lights and motorized fog lights? Quite the killer combination.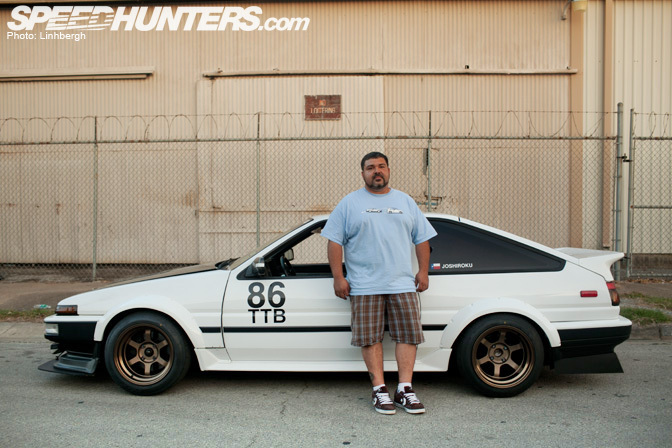 A cleanly modified AE86 with an engine capable of lots of low end torque? That sounds like a recipe for tons of fun.
I've been holding off on this feature to showcase during our 86 day celebrations, but since then Joshua's Corolla has seen quite a few changes. I hope to back to Texas soon to see exactly what Joshua has up his sleeves now. 
-Linhbergh