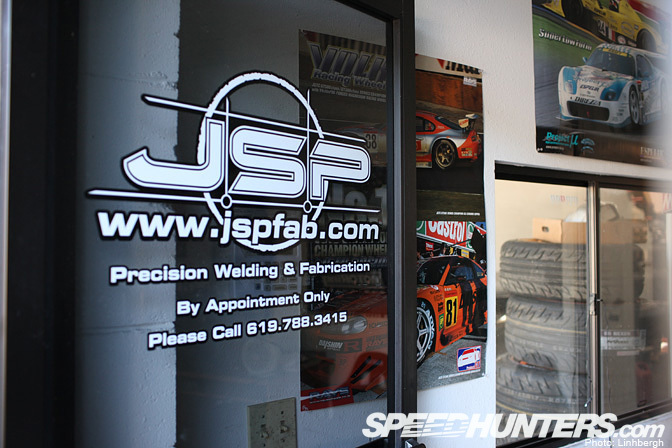 I was in the San Diego, California area the other day, when I heard that John Russakoff's shop, JSP Fab, was right around the corner.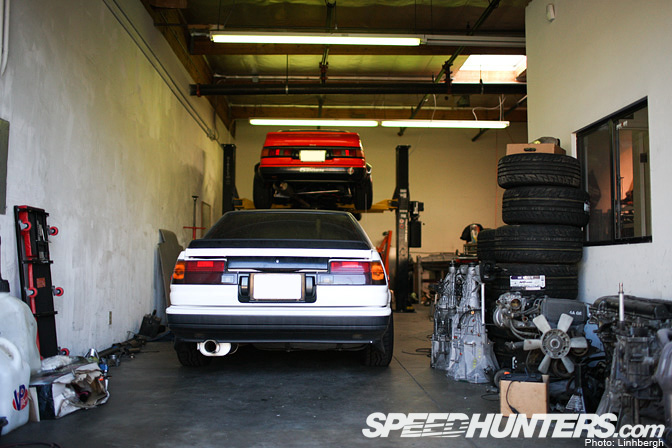 Seeing how 86 was right around the corner, I knew I had to make a stop.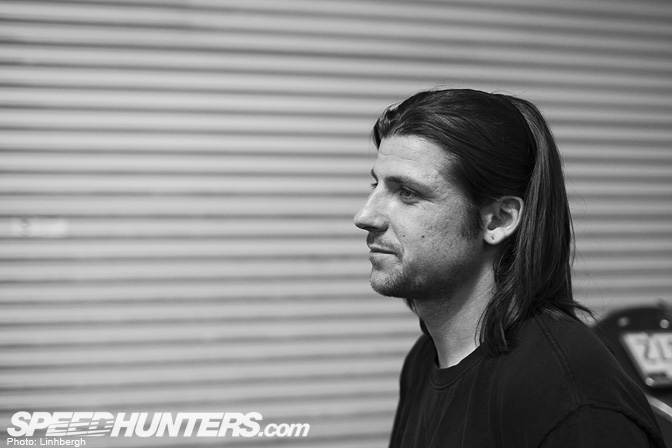 And here' Mr. Corolla himself, John Russakoff.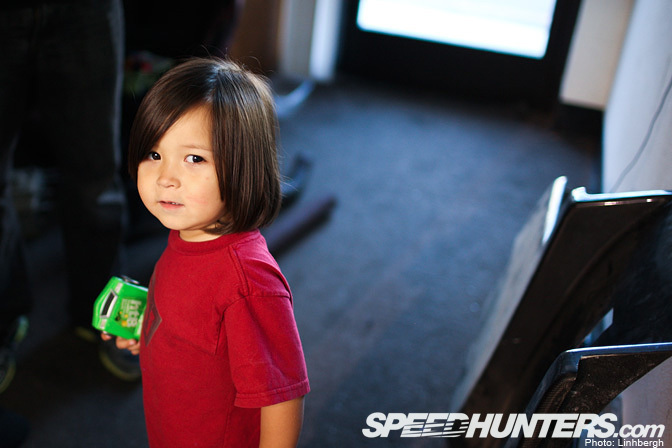 John also had a visitor with him when I popped by his shop. He was flanked by his son, Levin (yes, he named his son after a Corolla!), who is a very avid car enthusiast for being so young.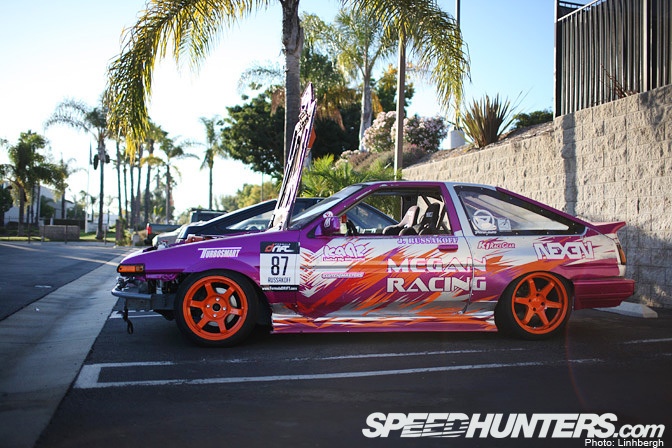 John is most known for his exploits at Formula D with his Megan Racing…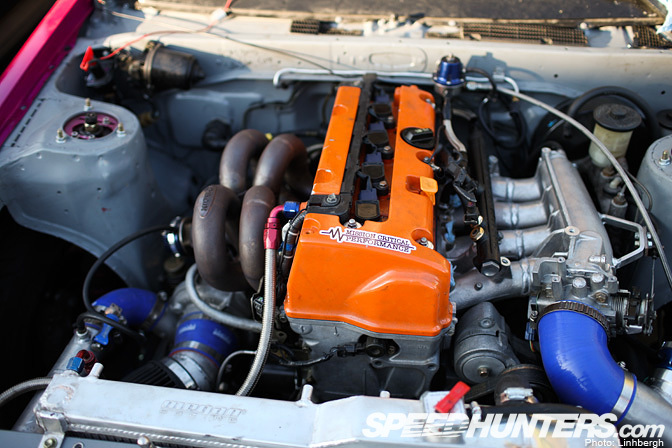 …K24 powered Corolla. His current race car is a completely new chassis, which he put together in 10 days, after his hard crash in New Jersey at Wall Stadium.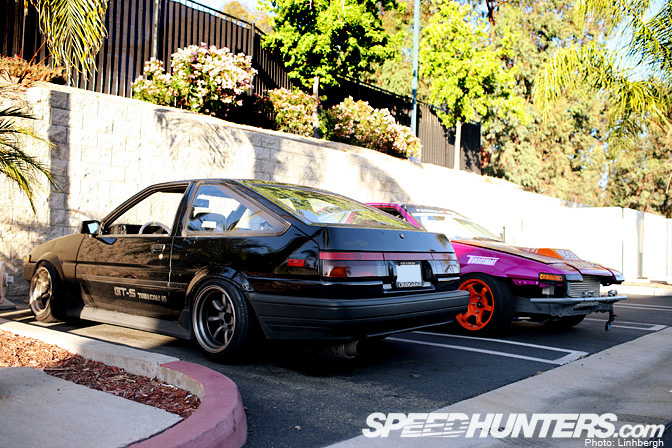 Parked right next to his race car was his street AE86.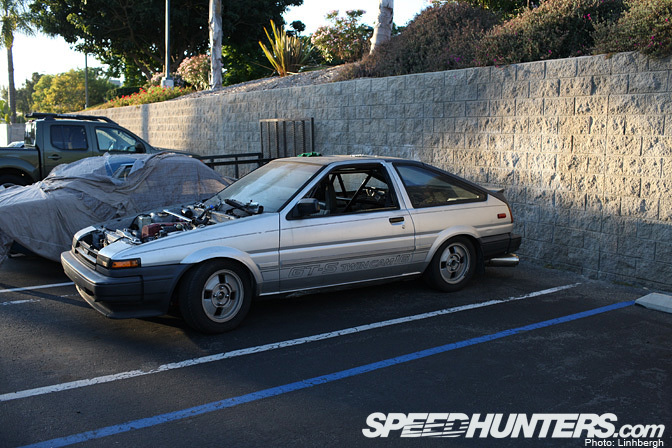 John is known as the man that can put any motor into a Corolla. This rather unassuming looking Corolla packs the punch of a Honda S2000.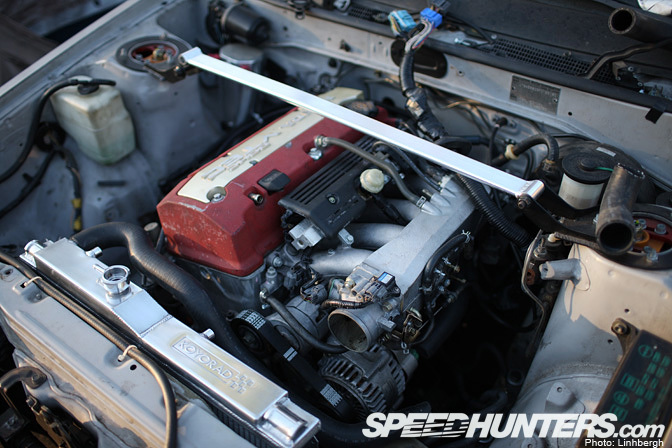 And when I say that it packs an S2000 punch, I mean it quite literally.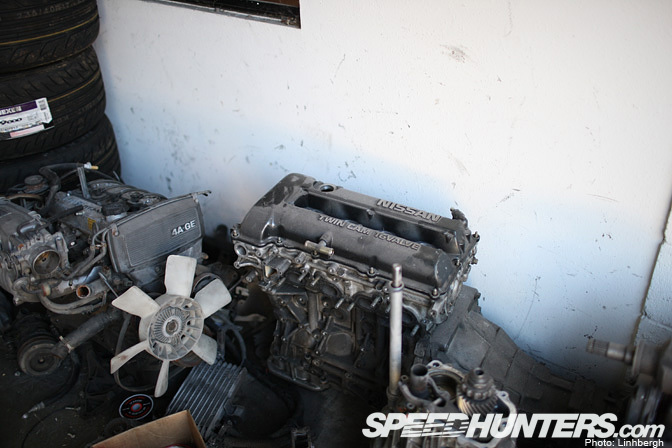 Upon entering John's shop, you wouldn't think it was a Corolla dedicated shop as there are Honda and Nissan engines sitting all around.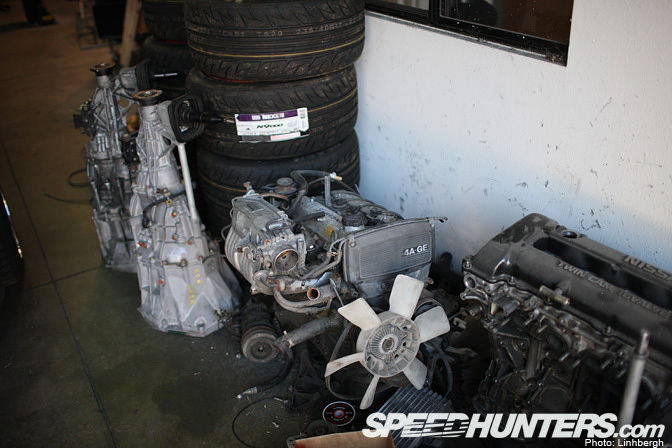 Why hello there lonely looking, 4A-GE!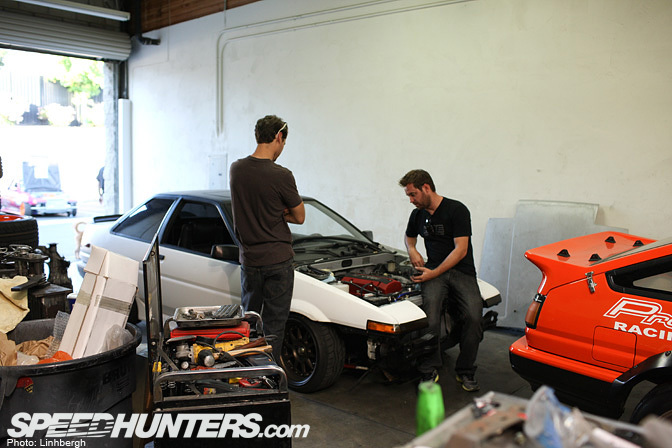 For weeks now, HRE wheel's motorsports marketing guy, Mickey Andrade, kept telling me about his Corolla. It was finally good to see what he's been talking about for so long in the flesh.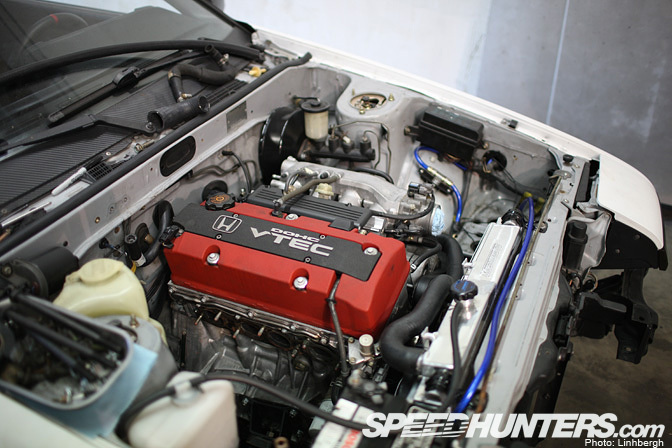 He is currently in the process of swapping an S2000 motor into his car. And from the looks of it, he'll be finished very soon.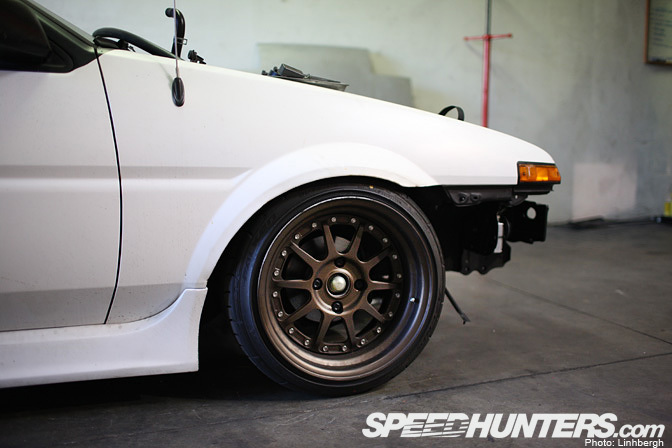 Mickey is the owner of the first set of the custom 16″ HREs (I am lucky enough to have second set).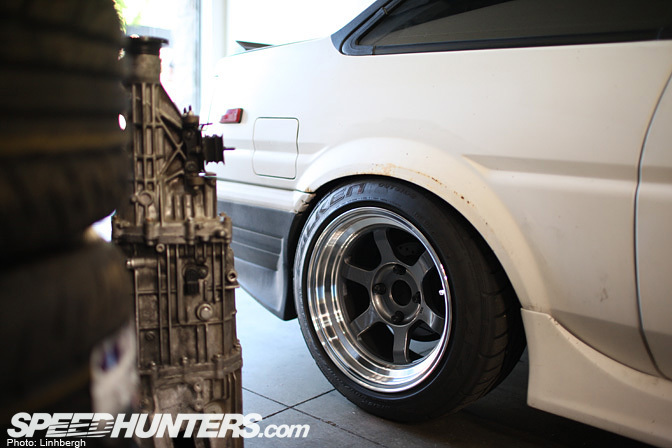 But before the HREs, he had a set of Volk TE37-Vs on the car.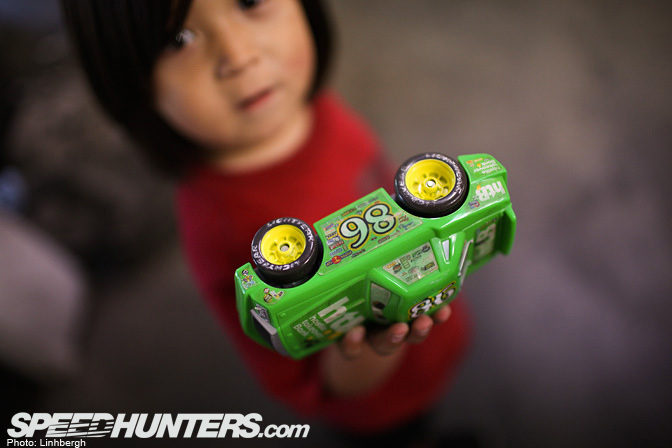 Levin was keen on showing off how deep his 86 fever goes.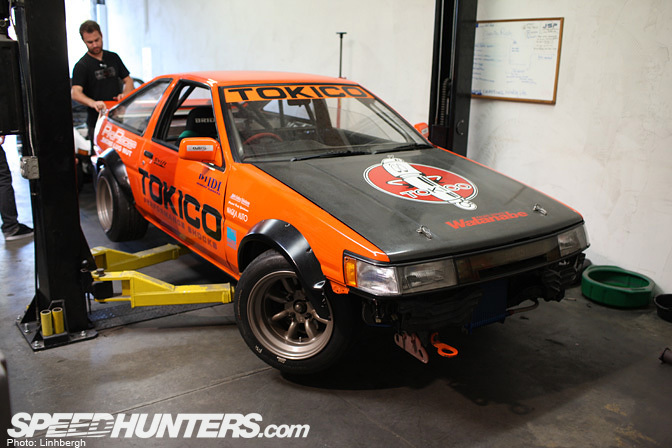 When I visited the shop, he had this orange grip-spec Levin on the rack.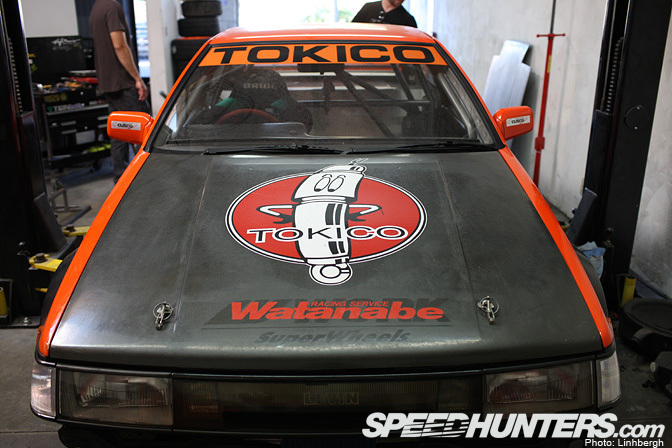 I do have to mention that the Tokico logo on the hood is absolutely amazing.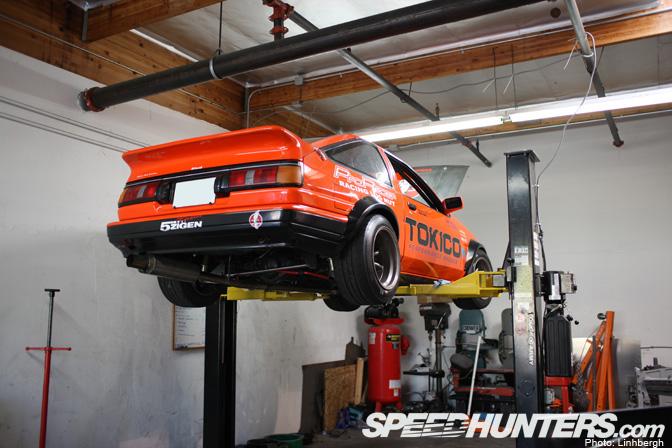 The car was lifted up so I had the opportunity to take a peek under the car.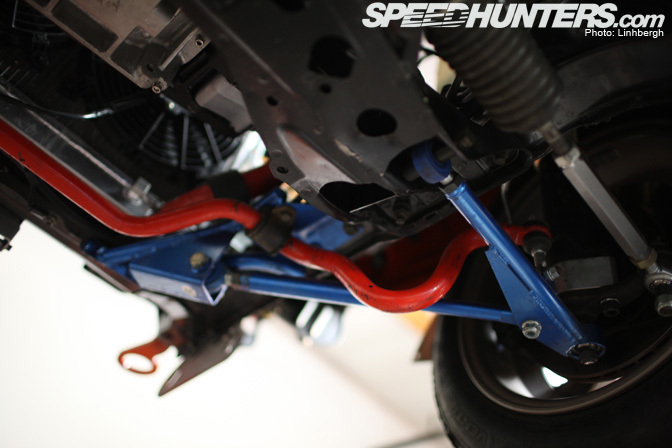 The front suspension has been completely over hauled with the whole assortment of Cusco parts.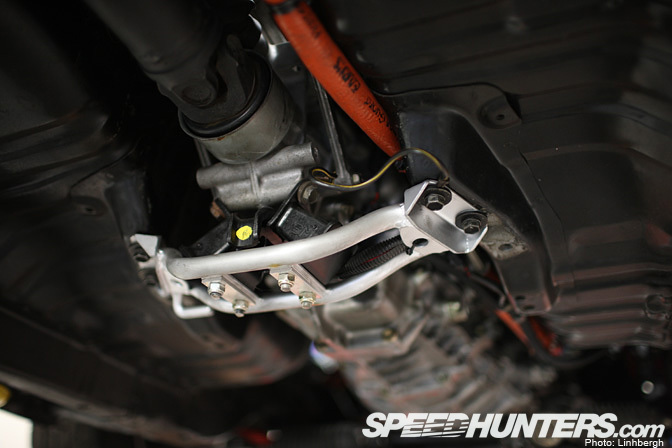 This car has been completely done up from the bottom up.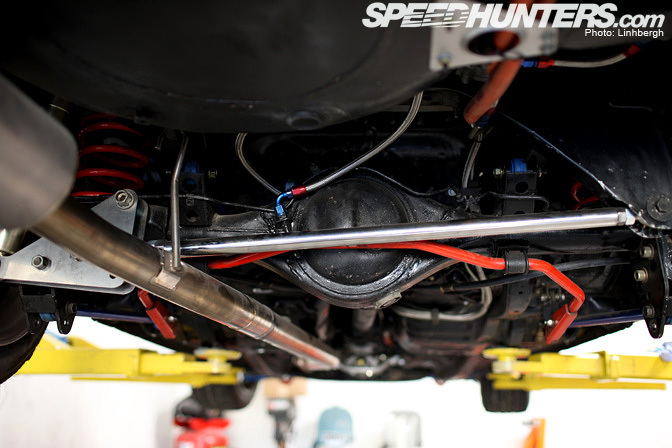 The differential axel housing up and re-welded it back together at a slight angle to give the rear wheels a bit more camber.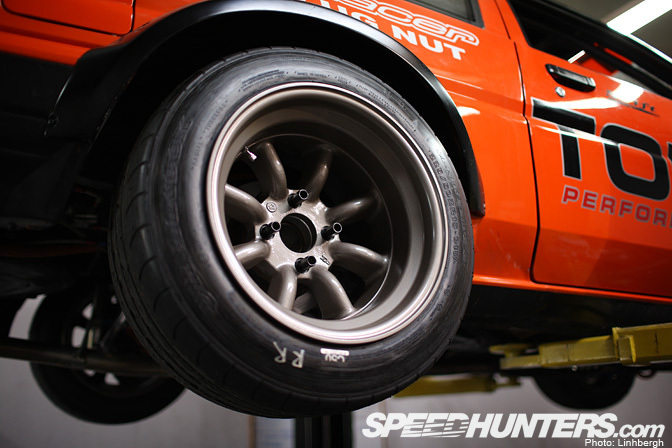 Watanabes and an AE86 go together like Formula D and V8s.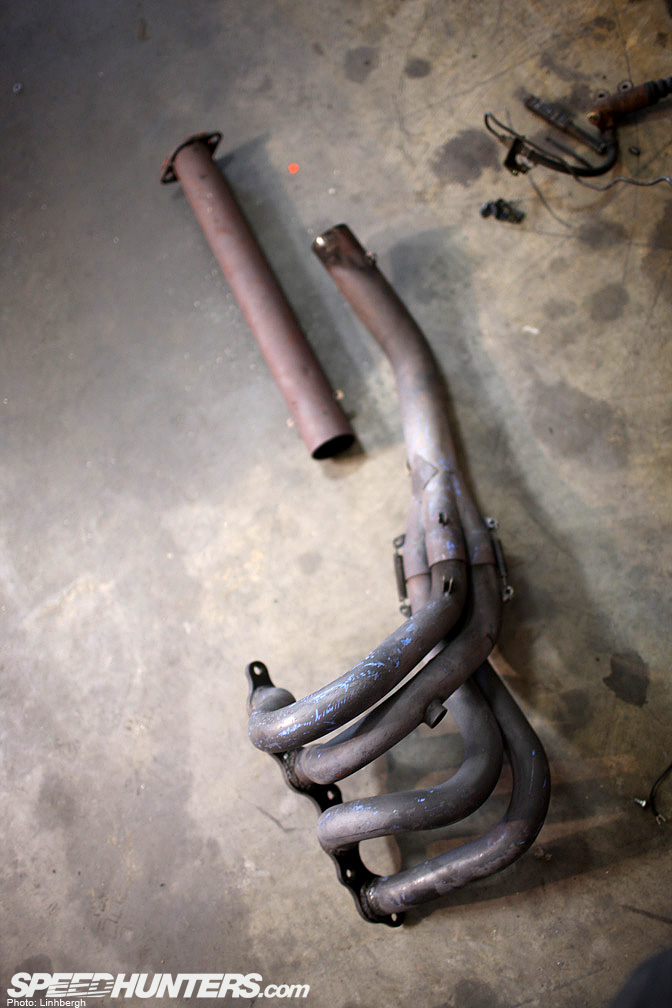 The car originally had a TRD header but was taken out to be replaced by a JSP header which John fabricated himself.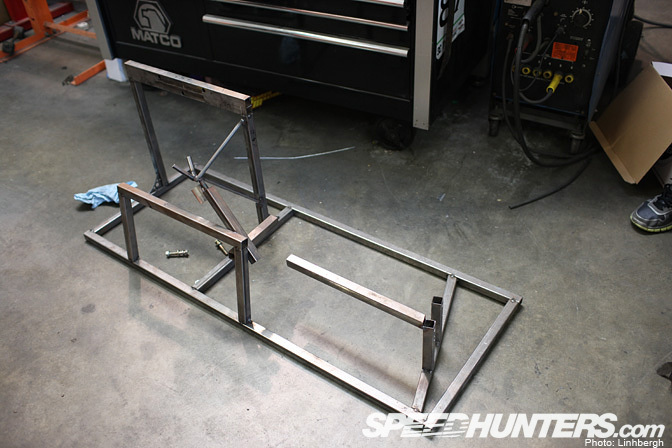 This is his home brewed header template for the fabrication.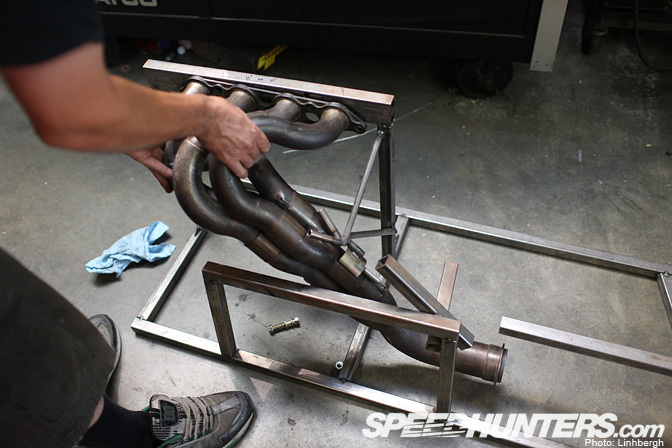 John mocked up how the a header is mounted on the template.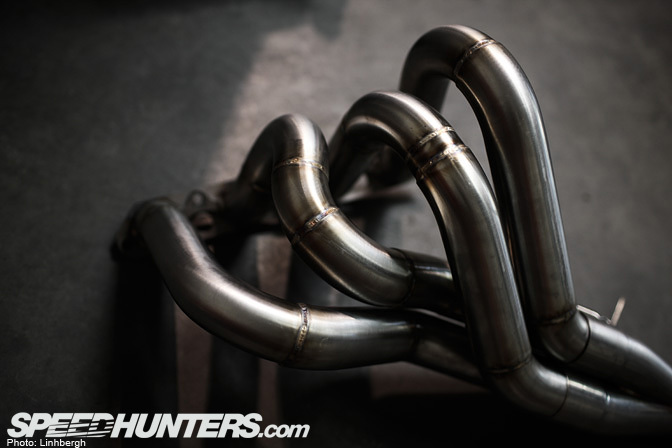 And here's the John's JSP header. It's rather beautiful piece.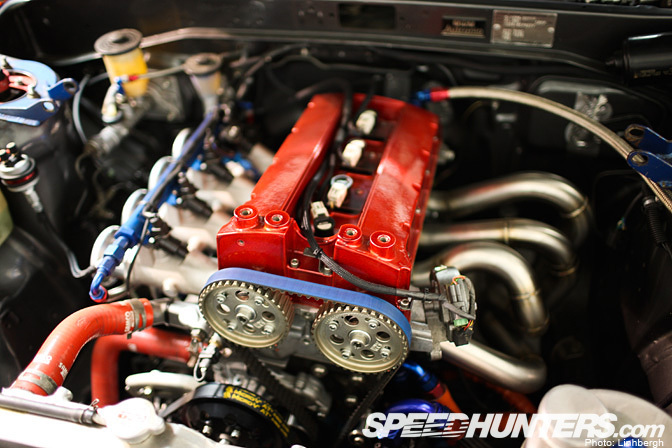 While I was at the shop, John installed the header onto the engine. Under the hood of this AE86 is a Formula Atlantic 4AGE!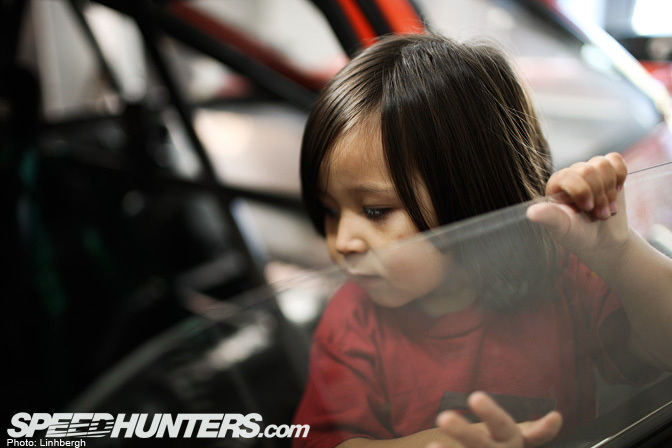 While John went over all the details of the car with me, his son, Levin, couldn't help but to climb in and imagine he was driving the car himself.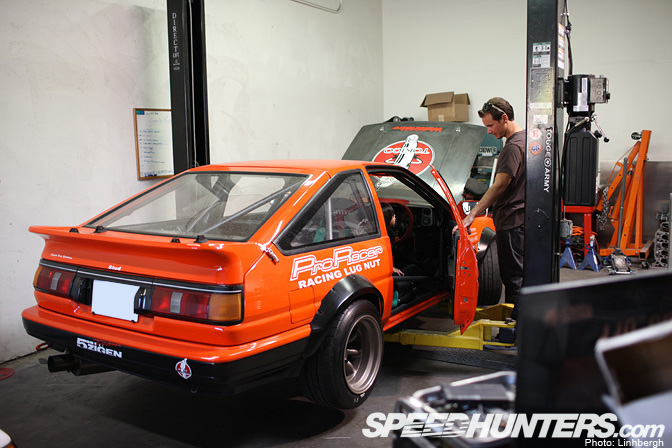 A Levin in a Levin.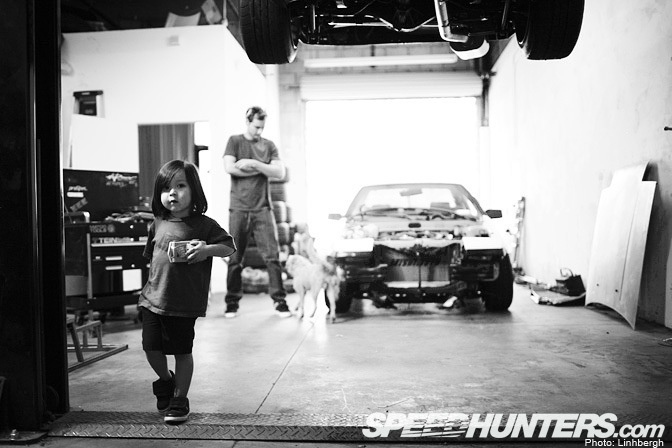 It must be like visiting Disneyland everyday if you were a kid and this was part of your day-to-day.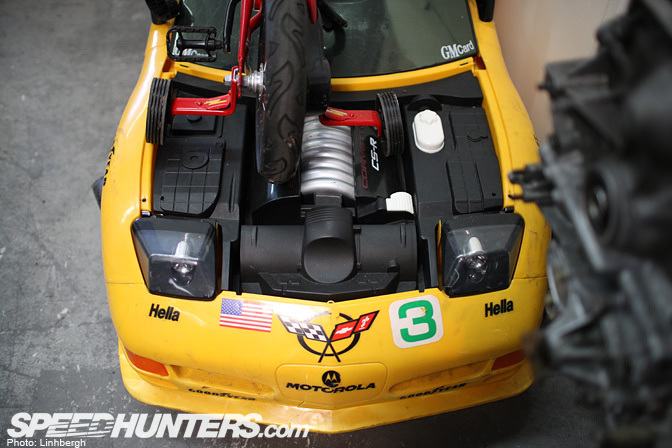 This is Levin's own car, a "V8″ powered ALMS spec power wheel. It look as though it hasn't seen much attention lately. If I was him and was surrounded by so many Corollas, I wouldn't give the yellow Corvette much time of day. Sorry, Tommy Milner!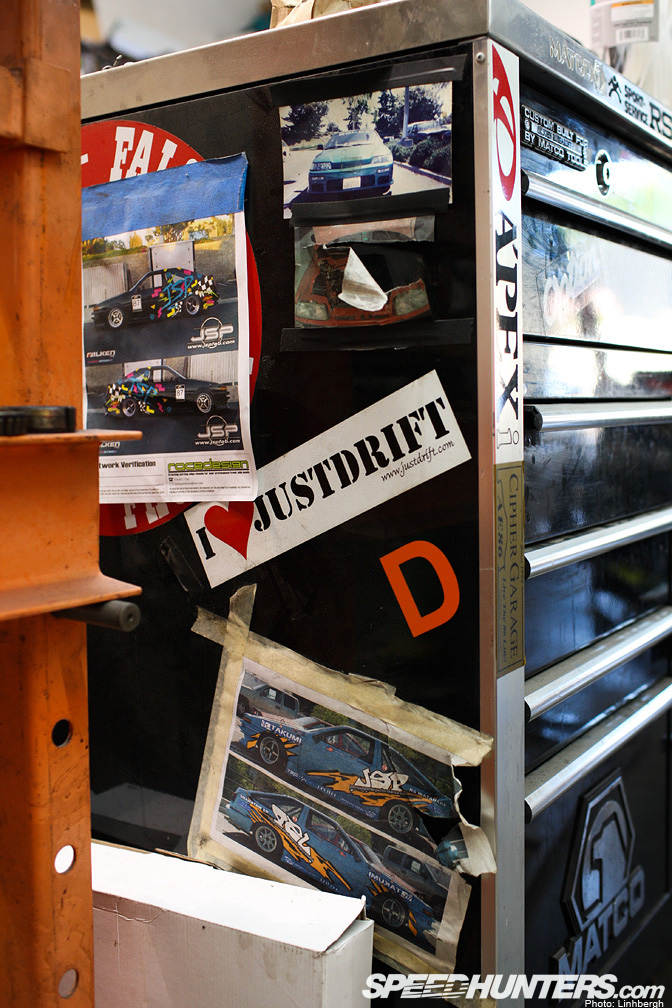 The side of John's tool box is filled with photos of all his previous liveries of the race car.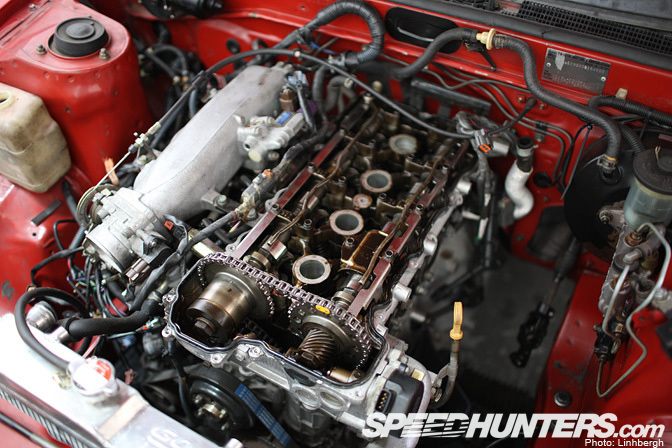 In another corner of the shop was this Corolla coupe with an S15 SR20 engine swap currently in the works.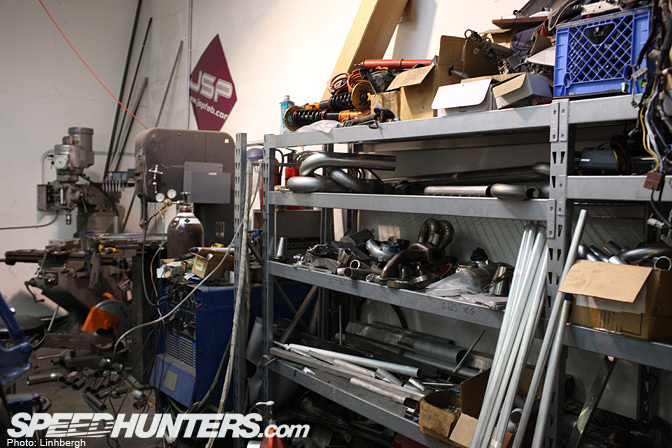 The shop is a treasure trove of Corolla parts.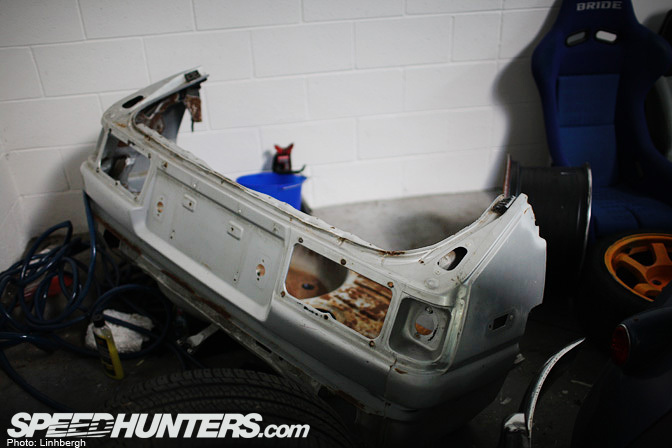 In one corner, you can find a rear clip and in another corner, you can find the front.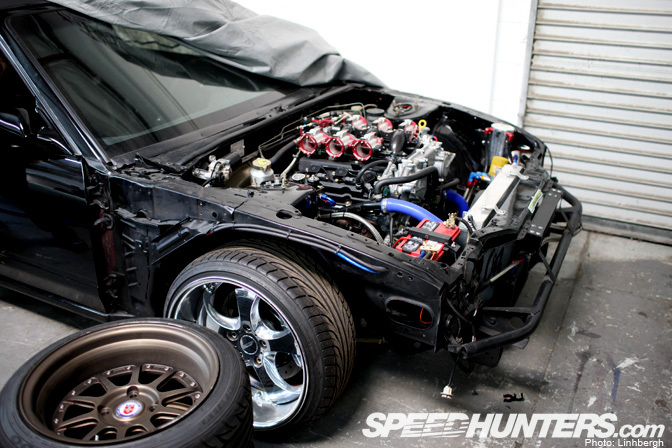 Though John focuses a good deal on Corollas, it's not the only thing he works on. This S13 Convertible is another of Mickey Andrade's cars.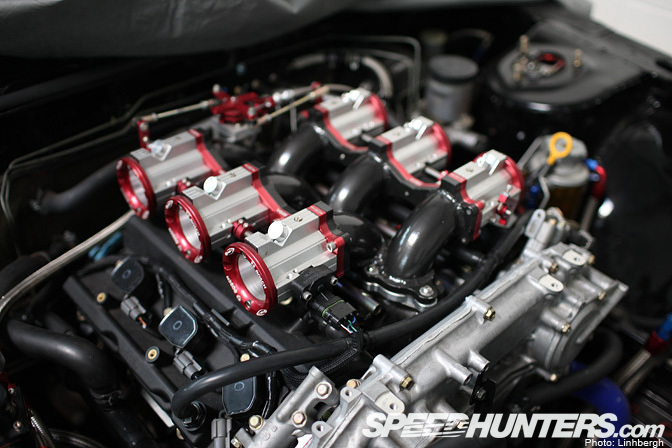 The S13 is powered by a VQ35 from a Nissan 350Z and features these absolutely gorgeous throttle bodies.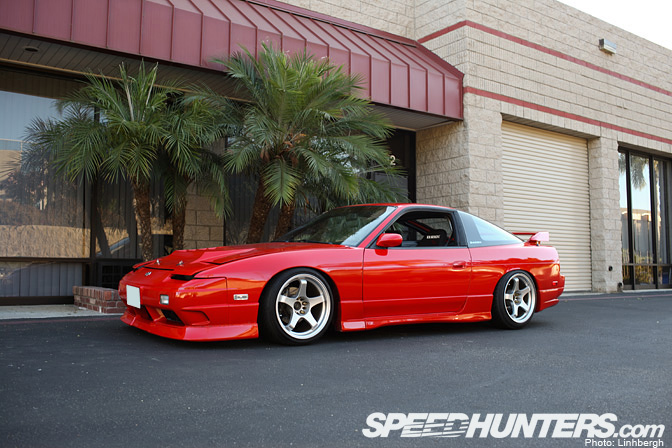 Outside the shop sat this amazing example of a clean, daily driven S13 hatch.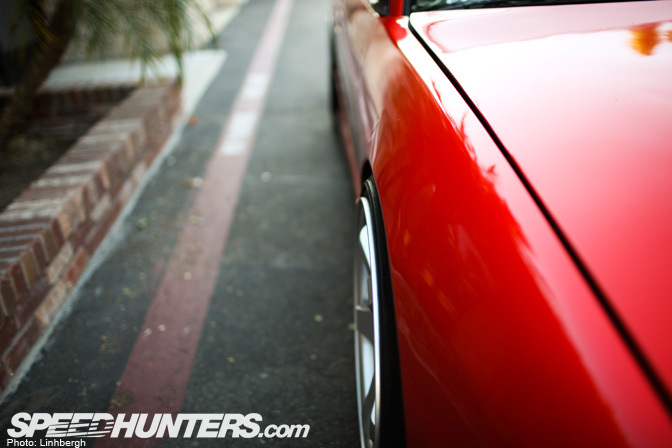 You can't get anymore perfect flush than that.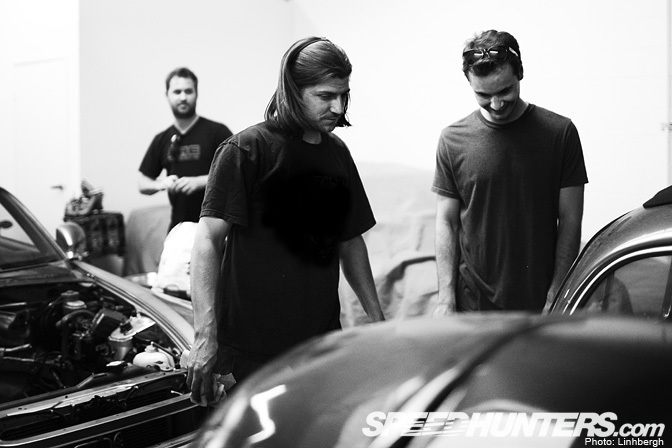 A special thanks to John Russakoff for letting me stop by the shop so last minute!
-Linhbergh