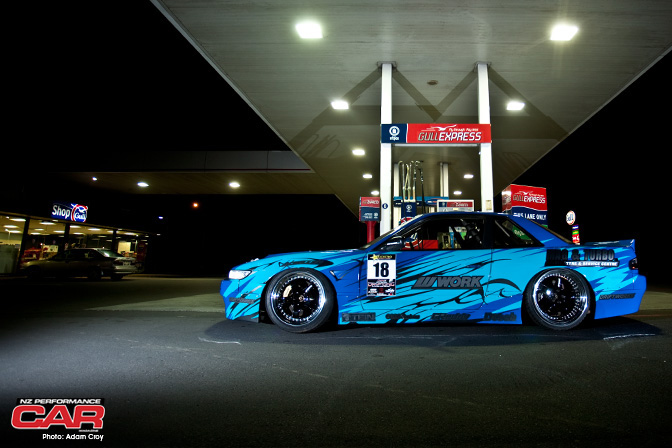 It's three o'clock in the morning. While people with normal jobs are in bed fast asleep or looking at increasingly weird sh*t on the internet and clearing their browser-history afterwards (don't pretend like you don't know what we're talking about), we, however, are instead standing underneath the bright white lights of a Gull service station, cursing our earlier enthusiasm for our cover-shoot idea.
"We should shoot the Silvia as a tribute to the famous Rocket Bunny photos," one of us had said earlier in the week. Much to our current regret, we all excitedly agreed and the Performance Car team was decided.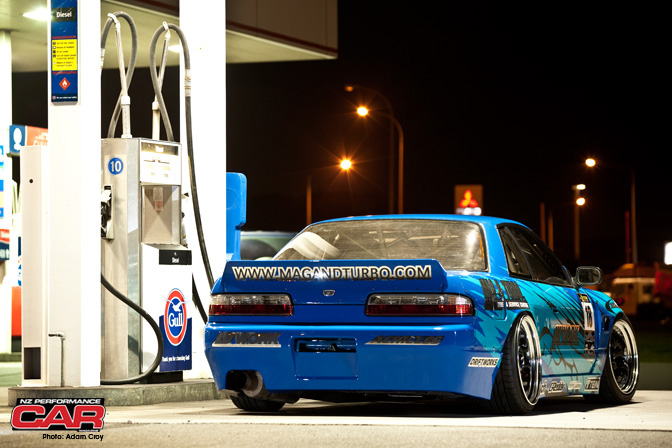 Those inspiring shots are probably some of the best known Silvia photos in the world, and are what made Japanese body-specialist 6666 Customs and it's Rocket Bunny-look so lusted after.
So here we are, shivering uncontrollably, silently willing photographer Adam Croy to snap the shots of Bruce Tannock's full Rocket Bunny 1989 Nissan Silvia as quickly as possible, while at the same time still being undeniably impressed by the car's staunch looks and aggressive stance.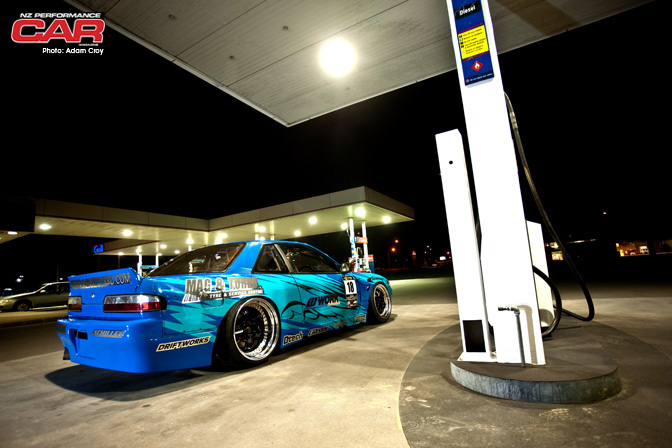 After developing his previous drifter for the last few years – an immaculate A31 Cefiro – into a fire-breathing, street-legal monster of car, Bruce felt he had reached its limits, and went looking for a more competitive chassis. He found it in friend and ex-Kiwi drift champ Victor Chapman's S13 Silvia. "I don't regret having started in the Cefiro," Bruce tells us, "most of the top guys started off in either a Cef or a Laurel, so it was a good base and still is. Once I decided to start competing though, I wanted to have a competitive platform and build on that, not start with something that wasn't quite right, then decide to swap and change later down the track, so I bought Victor's old S13 shell."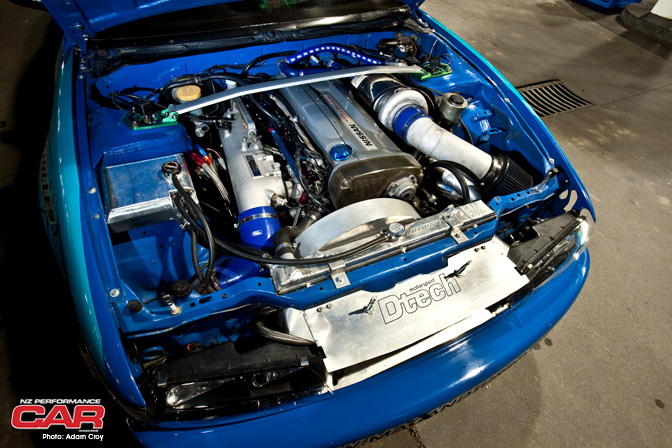 Work quickly began on the new platform, which, with its history as a top drifter, was a perfect starting point, already sporting a full homologated cage and some other goodies. Soon, Bruce's monster RB26DET motor was pulled from the Cefiro and transplanted into the lighter, smaller Silvia. Built up using a host of the finest GReddy gear available, the 2.6 litre straight six is an absolute weapon when combined with a big Garrett GT3582 turbo, making a very healthy 362 kilowatts at the wheels, as tuned by Dave at D-Tech Motorsport using a Link G4 Extreme computer.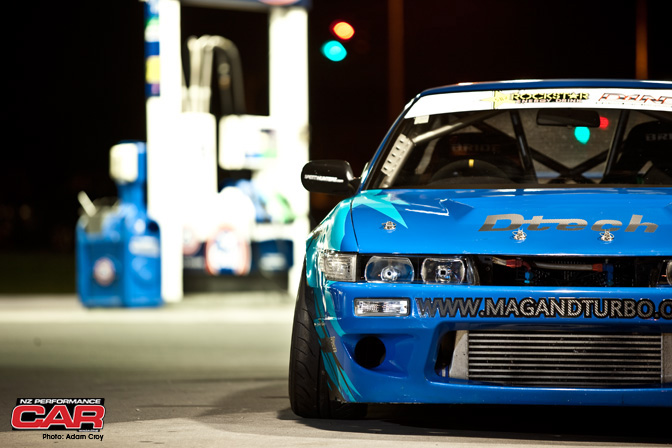 When it came to the look of the car, Bruce always had a plan – and it certainly wasn't going to be something we'd seen in New Zealand before. He explains: "Victor (Chapman) showed me the 6666 Customs website about four years ago. It was well before anyone had really seen the Rocket Bunny kits. He had always wanted to get the kit for his S13 Silvia one day, and as it turned out, I ended up with his car when he retired, so there was always only one kit I wanted."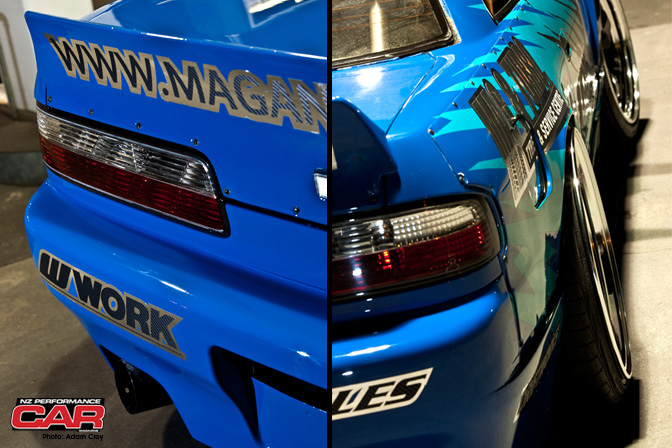 With help from Soichi at ST Hi-Tec, Bruce got hold of 6666 Customs and ordered a full – wait for it – 'TRA Kyoto 6666 Customs GT Rodeo Special Rocket Bunny' kit – phew. The kit includes a front bumper, rear bumper, front and rear guards, skirts and that beautiful ducktail wing. We can't get enough of the tough, almost Nascar-style look it gives the Silvia. It's incredibly aggressive and muscular looking, yet shies well away from the very common BN and Vertex style of kit. The uniqueness and exclusivity didn't come cheap, however.  "6666 Customs make the kit to order, so it took about two months to get here, and it wasn't exactly cheap, either," Bruce tells us.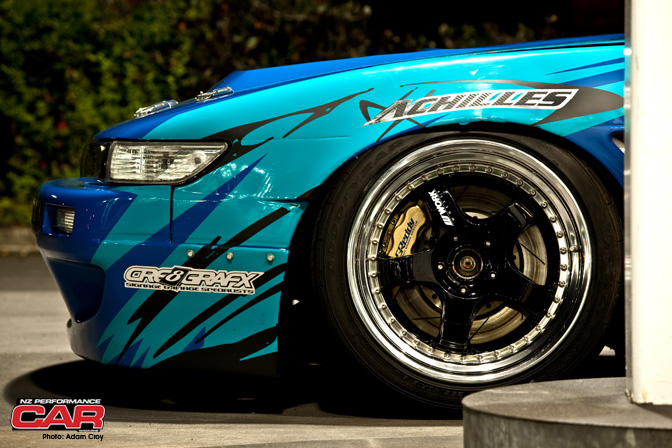 As the director of Mag & Turbo Hamilton, Bruce knew exactly what he wanted his car to look like when it came out of the paint booth.
"The colour scheme was borrowed from Team Falken USA," says Bruce. "Mag & Turbo have always used the Falken colours, and the livery itself is a copy of Dai Yoshihara's (American pro and owner of one of the only other Rocket Bunny Silvia's outside of Japan) Formula Drift car."  When it came to applying the graphics, Bruce knew exactly who to turn to – Mad Mike Whiddett and his company CRE8GRPHX. Mike is not only a talented signwriter, but he has also spent a lot of time with Dai's S13 Stateside when competing in Formula D.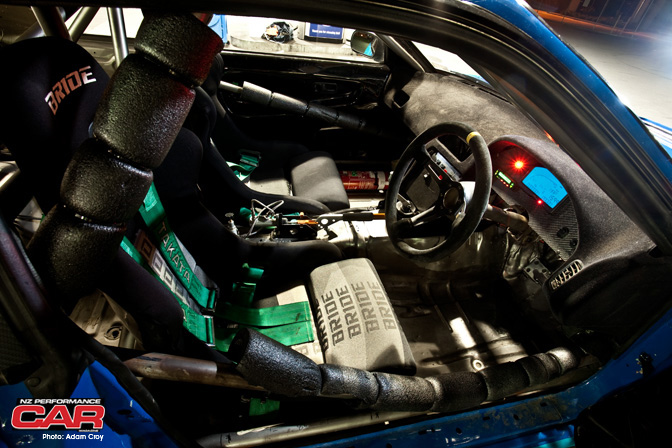 That wasn't all Bruce's Stateside brethren helped out with either. Dai's chief engineer Mike Kojima has been very helpful, assisting Bruce with all the advice he needed on how to set up the car correctly. With the engine, fuelling, interior and exterior all set up and ready to go, all that was left to do for the rest of the season was to learn the Silvia. "I spent most of this season setting the car up and getting my head around it. It's a lot lighter, faster and grippier than my last car – but I think I've finally got most of the gremlins sorted out."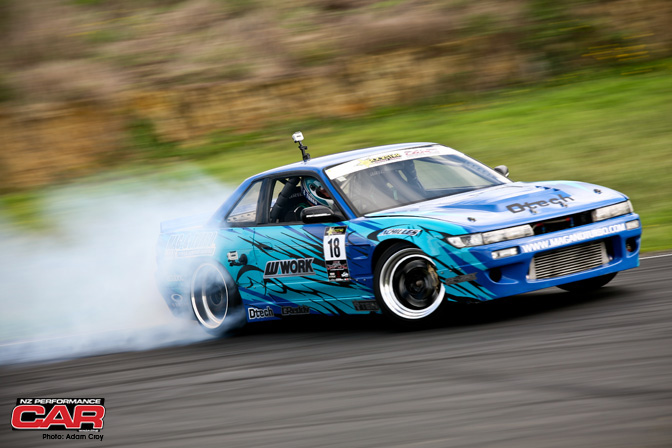 After sitting shotgun for a few laps at Hampton Downs Motorsport Park, we'd tend to agree. The Silvia is wickedly quick in a straight line, and when Bruce chucks it sideways at high speed, there's nothing but smoke, big angle and plenty of pace.  Bruce told us exactly why he does it: "I've been into the sport for a long time now," he says. "Drifting is about as much fun as you can have in a car, really. It combines speed, skids, precision driving, style and competition. But probably the best thing is the group of people involved – it's just a really laid-back environment and everyone's willing to help each other out."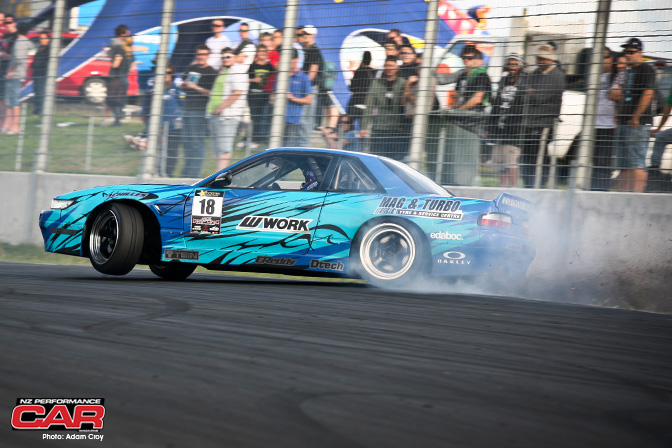 Now that the unique car is finally set up right and Bruce has become accustomed to being behind the wheel, it seems a bit of a pity that the season is over for the year, but that doesn't bother him.
"I think the car is competitive now, it's just the driver that needs more improvement. That said, I'm sure all the top guys will be making big improvements in the off-season, so I'll see how it goes."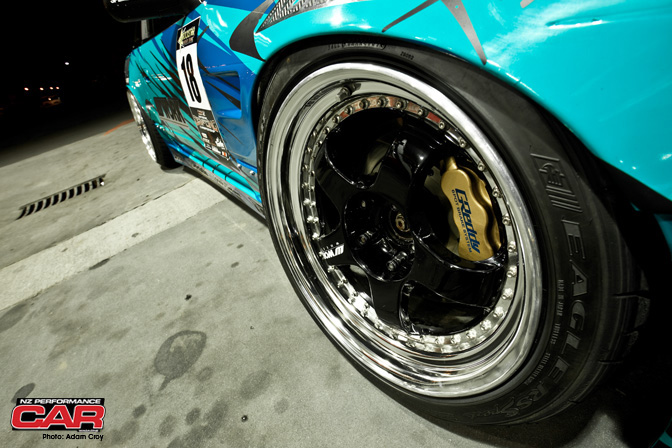 Bruce says. "Eventually I'd like to re-power it with a Nascar V8 – to be honest I probably would have gone that way in the first place, but at the time Fanga and Andrew hadn't shown just how effective they could be yet."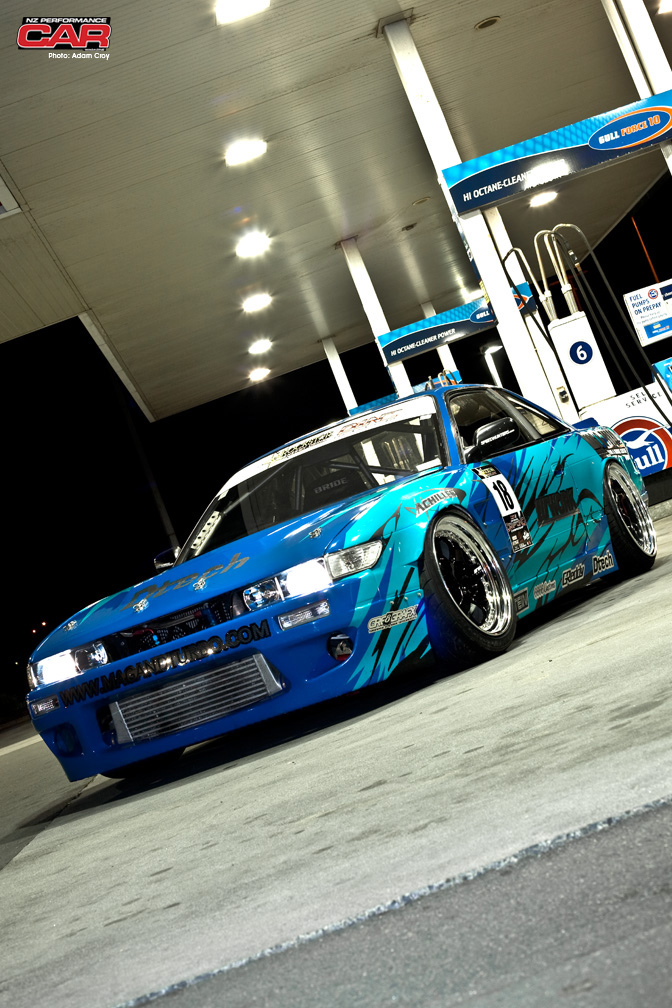 A Nascar V8 to match the Nascar-style looks would indeed be very cool, but you can't deny the appeal of one of Japan's best motors bolted into one of Japan's best drift chassis, enhanced by one of Japan's best-looking body kits. JDM at its best.
Tuning menu
1989 Nissan Silvia (S13)
Heart
:ENGINE: Nissan RB26DET 2600cc straight six cylinder
:
BLOCK: GReddy pistons, GReddy rods, GReddy rod bolts, polished crank, GReddy timing belt, Race bearings, ATI engine dampener, Nitto oil pump
:
HEAD: Ported and polished RB26, GReddy 264 cams, GReddy cam gears, GReddy pulleys, ARP head studs, HKS head gasket
:
INTAKE: 4-inch custom piping, pod filter, GReddy Plenum, GReddy intercooler
:TURBO: Garrett GT3582, .84 exhaust housing
:
EXHAUST: X-Force stainless manifold, custom D-Tech 3-inch exhaust system
:WASTEGATE: Synapse 50mm
:BOV: Synapse 50mm
:
FUEL: Nismo 550cc injectors, x2 Bosch 044 pumps,
Sard regulator
:ECU: Link G4, Race Technologies electronic dash
:
COOLING: Mishimoto alloy radiator, GReddy oil cooler,
2x electric fans
:
OTHER: D-Tech catch can, D-Tech radiator expansion, GReddy clear cam cover
:POWER: 363kW at the wheels on 18psi
Drive
:
Drive: Tremec TKO600 5-speed gearbox, custom bellhousing and adapter plate
:CLUTCH: Autoclutch custom single plate, billet flywheel
:DIFF: Kaaz 1.5-way
:OTHER: Custom driveshaft
Support
:STRUTS: Tein Super Drift adjustable coilovers
:
OTHER: Whiteline front sway bar, GT-R rear sway bar, S15 solid-mounted rear subframe, Tein strut braces, Tein castor arms, Nagisa Auto toe and camber arms, Driftworks rear knuckles
:
BRAKES: (F) GReddy 6-pot calipers, GReddy 355mm vented/slotted rotors, (R) Wilwood 4-pot calipers Wilwood vented rotors, K-Sport Hydraulic handbrake
Shoes
:
WHEELS: (F) 18×9-inch +15 Work Meister S1 3-piece, (R) 19×10.5-inch +10 Work Meister S1 3-piece
:
TYRES: (F) Goodyear Eagle RS Sport 235/40R18, (R) Achilles ATR 235/35R19
Exterior
:PAINT: Mag & Turbo Blue
:
ENHANCEMENTS: Full TRA Kyoto 6666 Customs GT Rodeo Special Rocket Bunny kit (front bumper, rear bumper, guards, skirts, wing), X-Racing tail lights, clear head lights, clear side repeaters, Team Falken livery
Interior
:SEATS: Bride replicas, Takata harnesses
:STEERING WHEEL: Momo suede deep dish
:GEAR KNOB: GReddy
:INSTRUMENTATION: Race Technologies digital dash, Tein EDFC controller
:ROLLCAGE: Cage FX 6-point
:OTHER: Flocked dash, passenger kick pad
Performance
:0-400: 11.4 @ 204 kph
Driver profile
Bruce Tannock
:Age: 38
:Location: Hamilton
:Occupation: Director
:Build time: 4 months
:Length of ownership: 1 year
:
Thanks: Dave, Paul & Jade @ D-Tech Motorsport, David @ Work Wheels NZ, Mike @ CRE8GRAFX, Bevan @ YHI, Dave Matehaere, James Macdonald, Victor Chapman, Darren MacDonald, Soichi @ ST Hitech, Kyle Jackways, Craig @ Mag & Turbo, Cookie, Mike Kojima
Words: Peter Kelly
Photos: Adam Croy