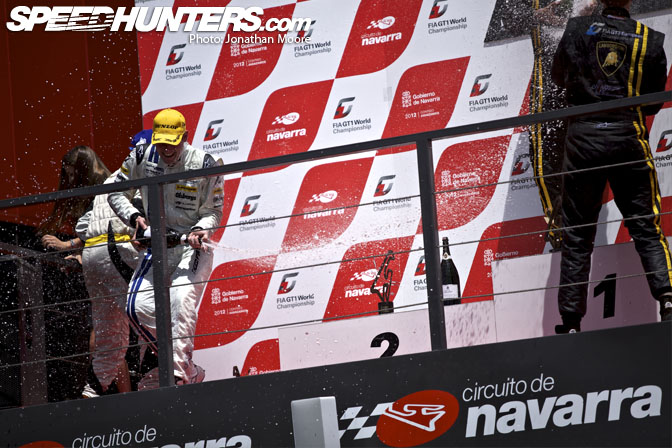 Edward Sandstrom and Abdulaziz Al Faisal came home a strong second in the first FIA GT3 race here at Navarra, chasing the winning Reiter Lamborghini Gallardo LP600 all the way to the flag. It was a great way to bounce back from the disappointments of the Nurburgring – and means another trophy for Team Need For Speed and Schubert Motorsport. And a little champagne is always welcome.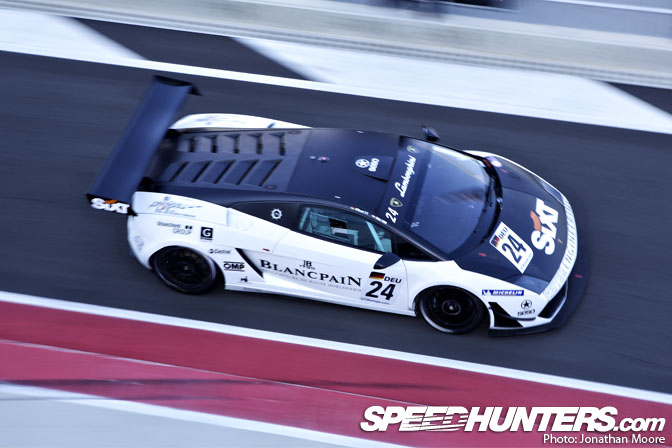 The Lamborghini led from the moment the green lights came on at the start of the race: initially it was closely pursued by the #50 AF Corse Ferrari 458 and the fast-starting Belgian Audi Club R8 LMS, along with Edward in #6. But by the chequered flag the Ferrari had dropped back following spins by both its drivers and the Audi faded at the end of the race – they were overtaken by the championship-leading #35 BMW Z4 of Faster Racing and the two Heico Mercedes SLS GT3s in the dying laps.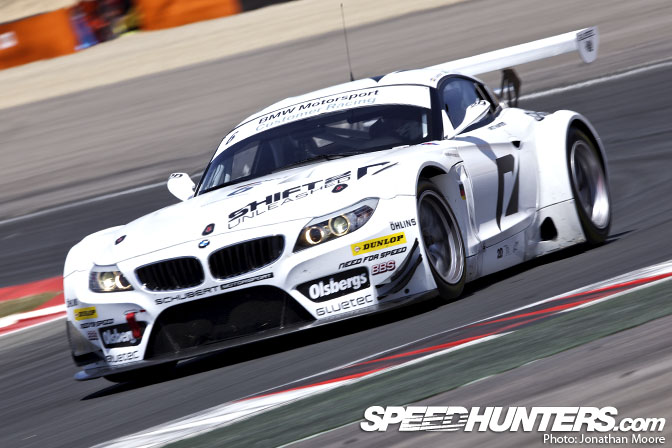 Edward had an exciting opening stint: he had been worried about the lack of speed of the Z4 on the straights compared to the other front-running cars, but he managed to keep third place at the rolling start despite being attacked by the Belgian Audi. He also managed to avoid the first spin by the #50 AF Corse Ferrari, before coming in right at the end of the pit window to hand over the #6 Z4 in second place to ATF. A puncture for the #7 Team NFS sister car dropped them back, and Claudia Hurtgen could only bring the car home in 15th. 
ATF began his stint with a 10 second gap to the first-place Lamborghini, but he chipped away at the Lamborghini's lead and inexorably closed up. Lap after lap he reduced the time to the #24 Gallardo – by the last tour just 0.8s separated them! It was another great drive from both Edward and ATF. Tomorrow is going to be a lot tougher though, as both Team NFS BMWs are starting in the lower reaches of the grid. However, overtaking is not something Edward or ATF are afraid of… Make sure you check out the races on the live web stream!
Jonathan Moore
Team Need For Speed FIA GT3 stories