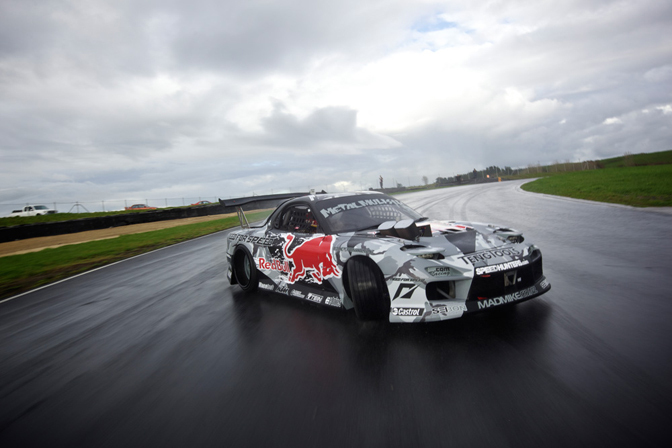 The Red Bull World Drift Championship, in 2008, was a real eye opener for me personally. Us kiwi boys were still newbies to the world of drift. Our drift development has not evolved past a few adjustments to steering lock, the odd hydraulic hand brake and of course suspension wound to the floor! We were still lost in the smoke, fun and fascination that drifting brought with it. I remember walking through the paddock and seeing the cars our RX7 was up against.
After that trip, I knew we needed to step up and develop the RX7. I just haven't had time between event commitments and with the car traveling the world to get it done. Well, that is until now….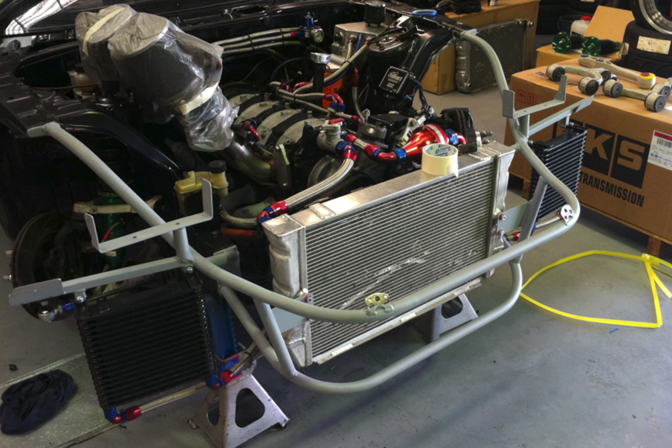 The first thing I wanted to do was cut off the wrecked and bent front and rear from all the wall tapping over the years. The wide body has done a great job hiding it all. Prior to cutting into it, I had Prima Panel beaters, which was around the corner from my shop, strap the MADBUL to their chassis machine to pull it all straight. Then it was back to my shop and straight up on stands. After blasting through a few cut off disks, the front from the towers forward was now gone. I placed everything where I wanted to ensure we had clearance with the extra steering lock and ground clearance we were aiming for. I then set to bending the tube and fabricated the main hoop.
Once the main hoop was in, it was just a matter of making extra brackets to hold the lights, which now have the V-LED's highway patrol kit installed, radiator, new Redline Performance oil coolers and the new BN sports Blister kit.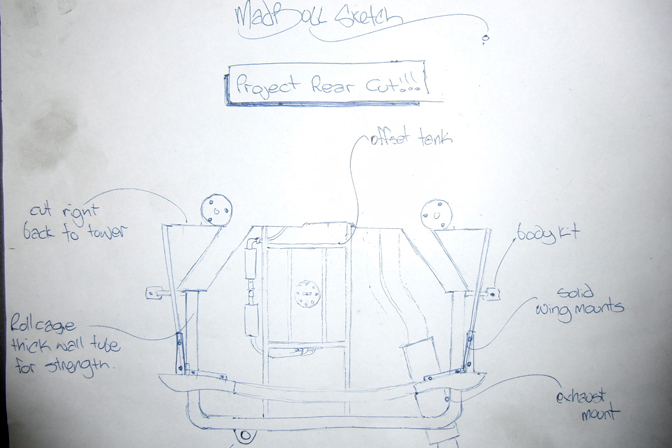 It all started with an idea. Here's my sketch for the rear.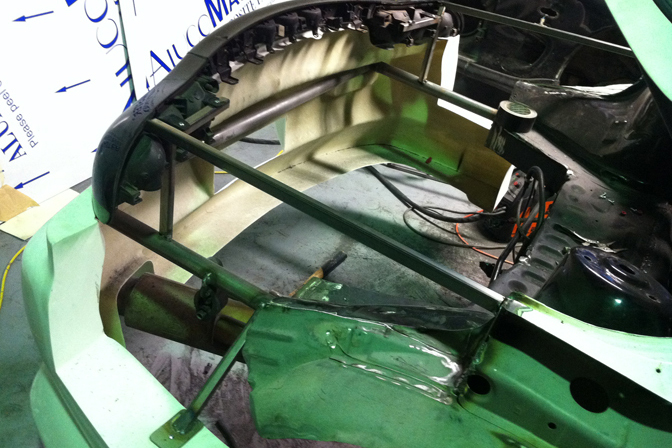 The rear was going to be the biggest job. What really inspired me was Daijiro Yoshihara's Formula D S13. Not just because of the weight loss advantages, ease to get to everything and strength, but because it just looks freakin cool! So without further adieu I would find myself lying under the RX7 with a large section of RX7 chassis and body crashing down onto me after the final cut to the rails. A lot of weight was lost instantly.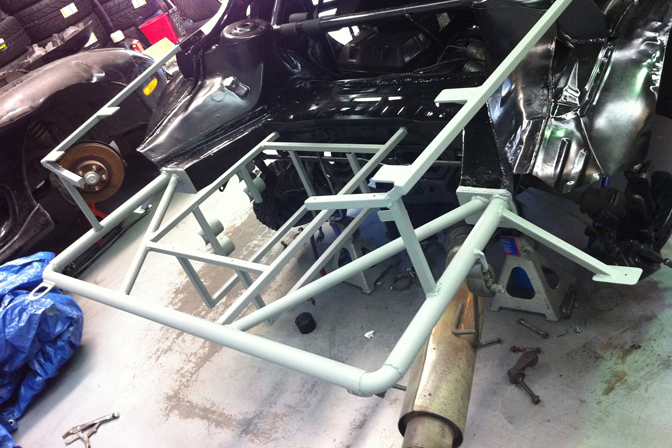 Again, I fabricated the main hoop then would make everything else to suit.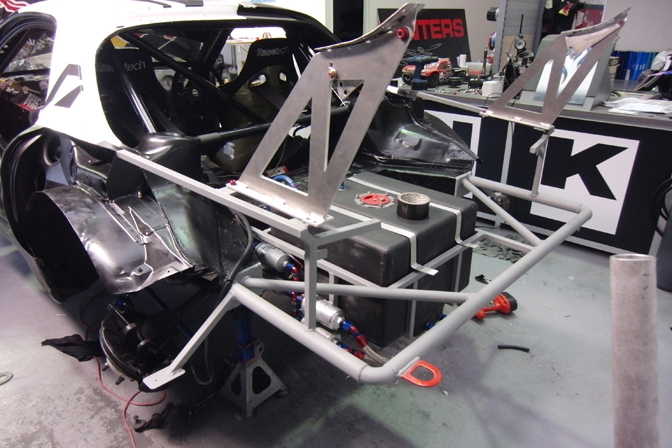 I fitted a 60 litre fuel cell with twin Bosch 044 fuel pumps to ensure the new flame spittin' 4rotor wasn't going to starve. My old wing stays were mounted to the heavy stock trunk lid and they were never rigid. They would bend the lid at high speed. So I made mounts for them off the chassis and made the hatch lid totally remove-able. This will now make aero down force much more effective with adjusting wing angles.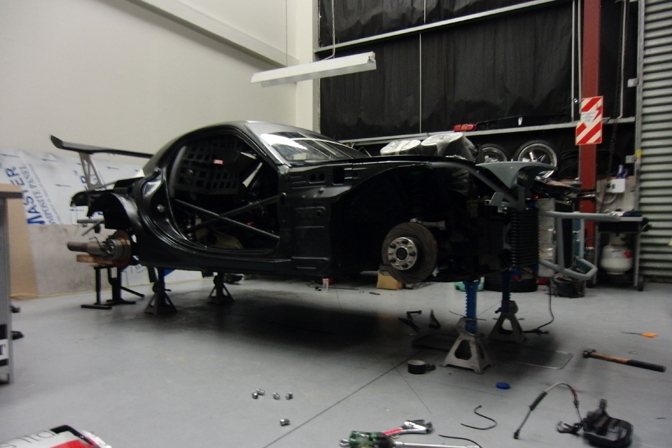 Fitting the front and rear bumpers is now so simple with just a couple of zeus fasteners. I also cut all the factory body skins off the car.  
I am stoked to now have the leader in carbon products Seibon onboard for my cars. For the MADBUL we have doors, hatch and hood on their way from USA however I cut the factory items down to a single layer skin of steel for now until the carbon products arrive for fitting.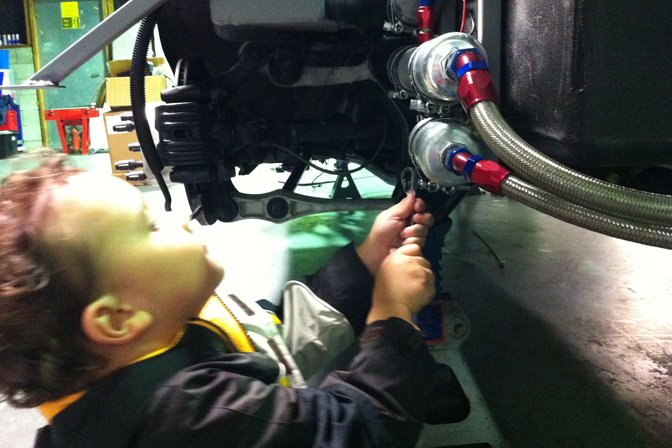 The youngest member of my team, my 3 year old son, Lincoln, chips in and tightens up my fuel pumps.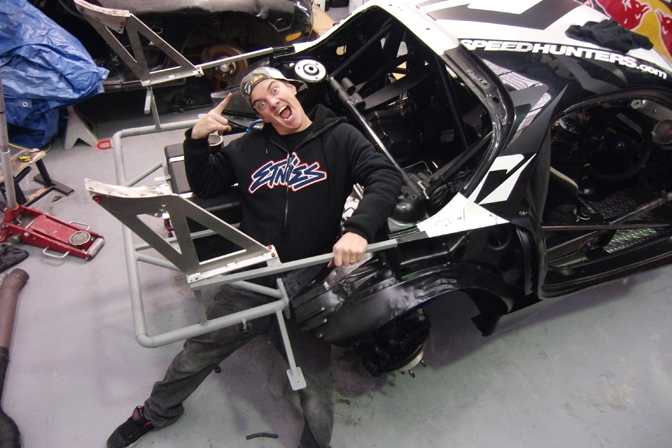 It's not at all that serious in my shop.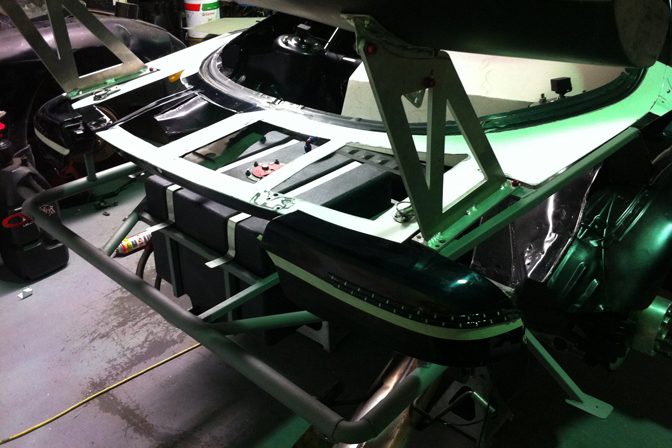 I removed all the glass, replaced the rear by cutting a window from polycarb lexan and decided to run stadium truck window nets to complete the new look. On the hatch, I cut large holes and covered with mesh for another escape route for smoke to bellow from.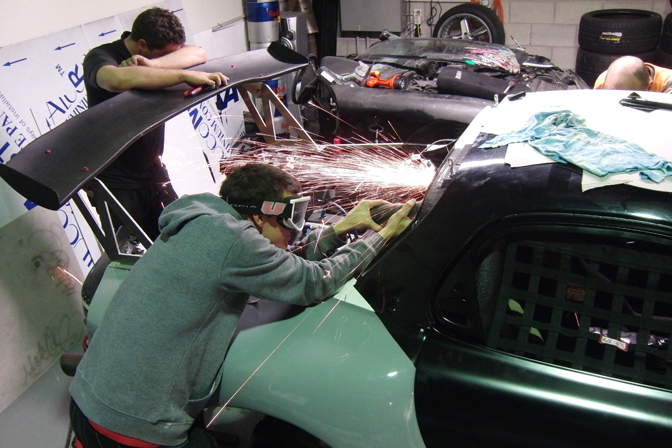 I wanted my new carbon Kevlar Racetech seats as low as possible so Damion modified the mounts so I could now sit at floor height.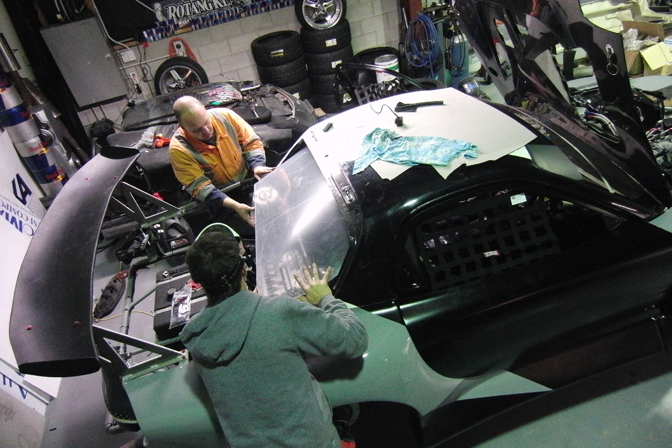 I cut a piece of Polycarb I had left over to make a partition wall to separate my cockpit from the fuel system keeping inline with the rules. Safety first.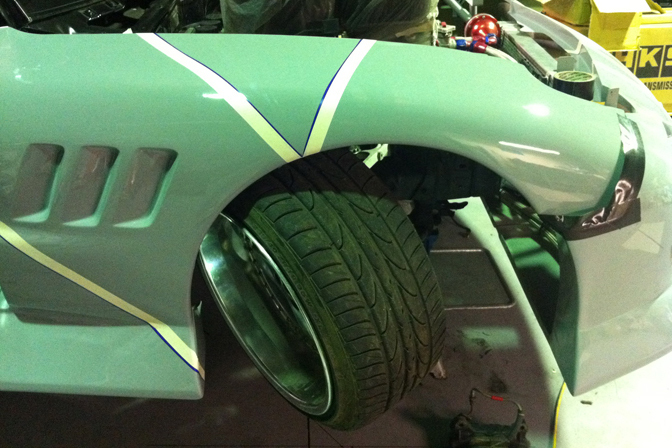 Whilst in fabrication mode, I got in contact with Jesse Streeter, who was originally from Australia but is now living in Japan to order some goodies.
For the steering, I had him send over URAS tie-rods and spacers. Kawato San, of Magic Total Car Produce, who built the crazy MADBUL replica snow drifter, kindly sent me over a couple of sets of his custom knuckles. Autolign custom made arms and offset bushes giving up increased adjustment in our alignment, castor and camber. Rhey also rebuilt and tested our Tein Superdrift suspension kit. We fitted also Megan racing rod ends and spacers with super*now rose joints. I cut the steering column shorter for a perfect driving position and fitted a Redline Performance quick release hub. This is kinda cool as the RX7 is such a tight fit to climb into and this makes life easier for my chubby crew members to be able to climb in and out with ease! Ha jokes guys!
With the rear of the car Diffs R Us rebuilt a 4:7 full spool locker final drive and again fitted the custom Autolign arms and bushes along with Megan racing trailing and toe arms. It also sports an Origin roof wing to finish off the bodywork.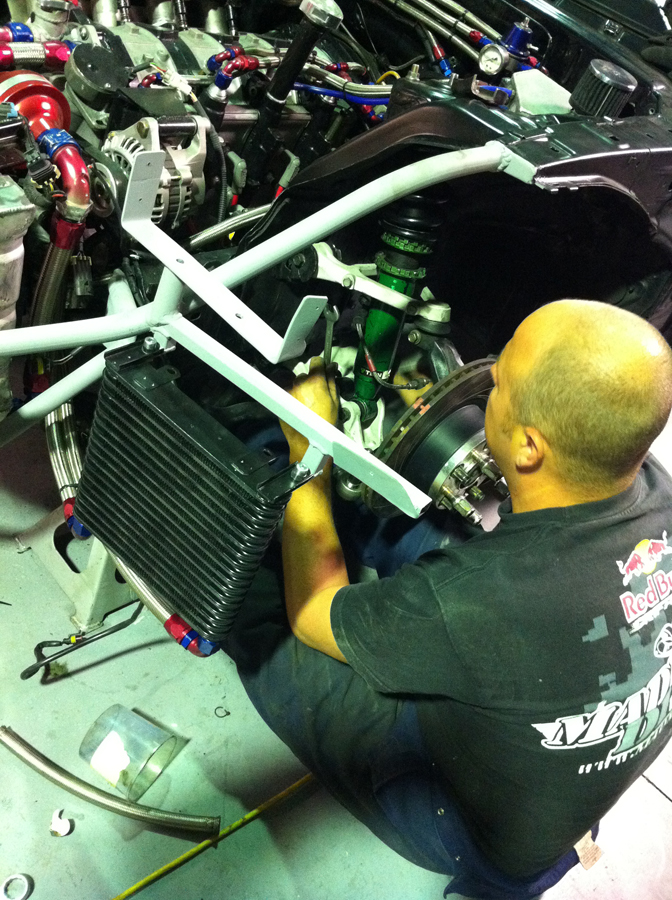 Alec Bell, of Kiwi-RE, rebuilt the 26b 4rotor adding his ammunition of custom parts and knowledge. He changed the induction set-up to match the new Kiwi-RE huge Peripheral Ports. An Injection Perfection throttle body set-up was ordered and Burns stainless tube from USA for Brent of CBR to fabricate the intake manifold. Much bigger exhaust ports, Redline Performance injectors, modified oil pick up and alloy sump, new 4 into 1 collector, K&N filters, lightened rotors are just some of the extras the engine bay received.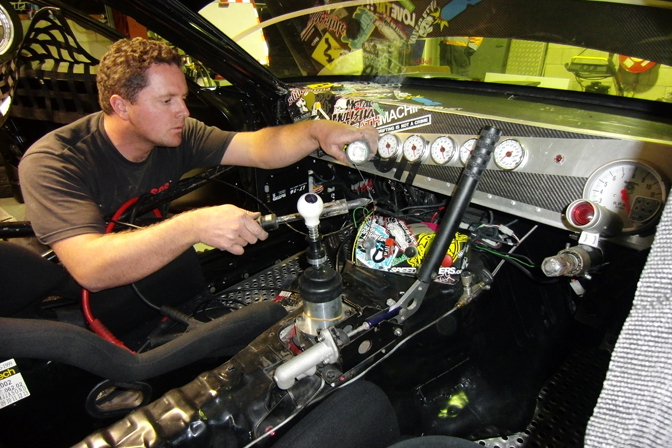 Thanks to Matty B who stripped out the entire wiring (birds nest) and started from scratch rewiring the entire car and also new Microtech LT16s and Bosch coils.
Toni think's he looks a little like Cody Parkhouse. Could be his Kiwi twin?!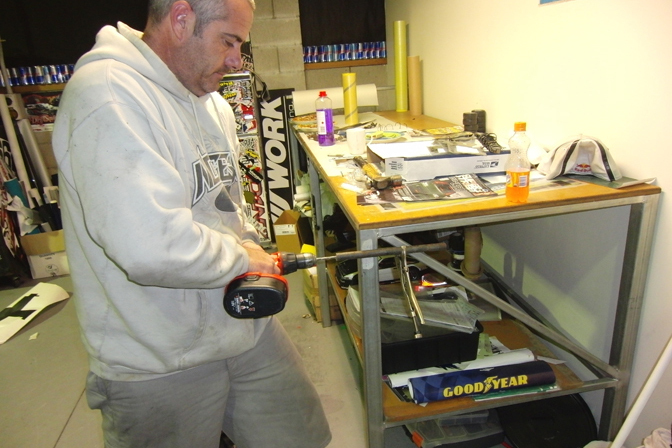 We received our HKS sequential back from Japan after its service and fitted it with the HKS Pro2 twin plate clutch and flywheel set-up. Cromey and Damion fitted the Wilwood pedal box and changed the hydraulic hand brake around. My shop is somewhat limited so we make do with what we have. Here Cromey uses my sign cutting bench as a DIY vice grip.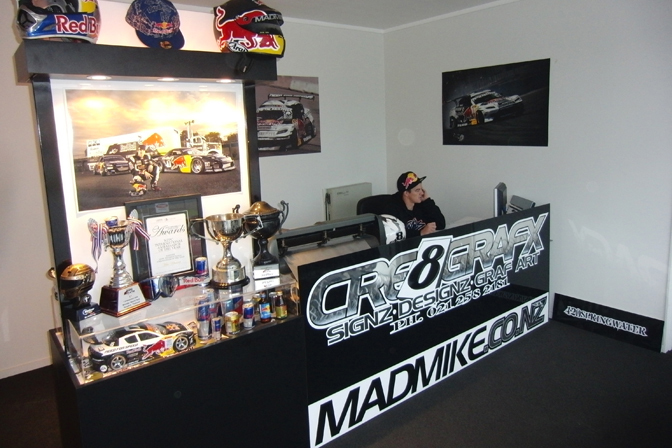 Now for the aesthetics of the car and the overall look which is my favorite part! Designing the livery.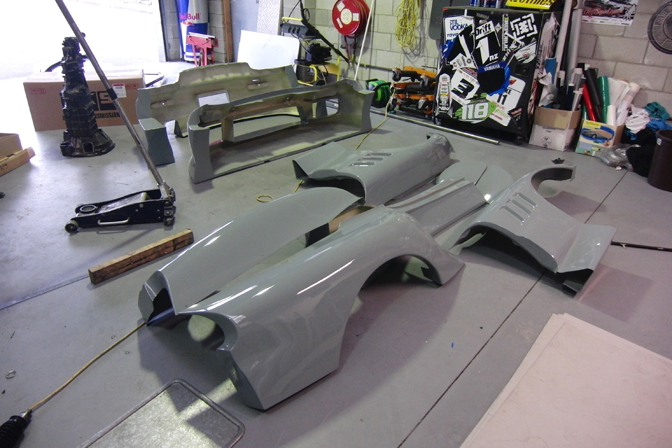 The goal I had set for myself was to build a competitive car that still sat low and had a staunch presence about it. Street Pro Kits supplied me with a new BN-Blister kit which I fitted then masked up and dropped to Independent Truck Spray painters for a fresh coat of grey and matt black.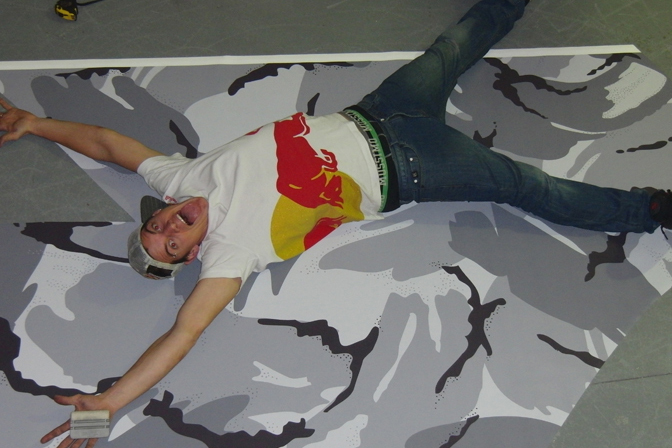 Ever since day zero, my liveries have incorporated a camouflage effect.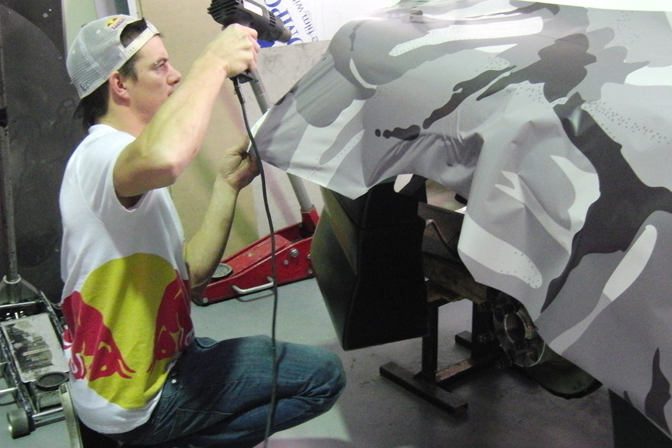 I wanted to bring back the snow camo theme so decided on adding a new generation of this look, it was digitally printed on a massive roll then laminated with matte and I set to wrapping the entire car. Camo is effective but it's just as easy to get it wrong, you have to be careful about what section of the camo goes where. 
As far as I know and from what I've been told, I am the only Red Bull athlete that designs their own graphics. Red Bull is always blown away with what we come up with and that means a lot to me. I'd like to thank Red Bull for allowing me to do this. I personally think this is the best the car has ever looked.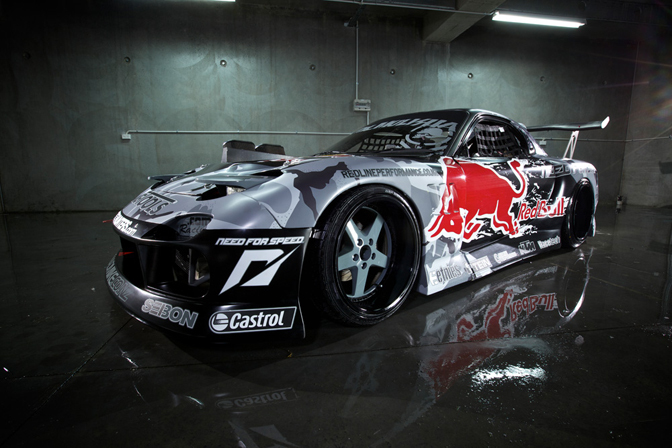 Wheels can definitely make or break a car, a few sets of oldskool WORK equips and S1 Meisters were sitting about my shop but I wanted something different again. I wanted to shift from dish to huge concaved spokes on this build but the TE37 as cool as the rim is just wasn't pulling it off. travelling I also needed a 110mm spacer to only bring it flush with the guard. I decided to paint the WORK rims I had with the same color way as the livery. I was blown away with he finished product.  
The MADBUL is now ready and set for a container to float to Australia for the international drift comp held in junction with the World Time Attack Challenge on the 5-6th August at Eastern Creek Sydney.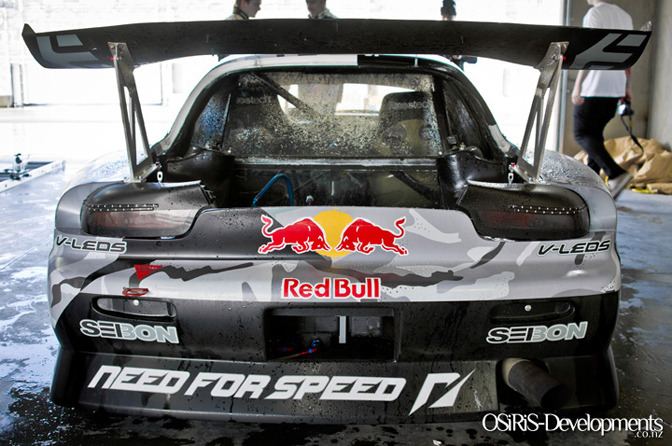 I had a quick test sliding it while filming for the new season of Red Bull Chronicles. I can tell you it is more fun than ever with over 650hp and a chassis that now swings into corners fully backwards!!!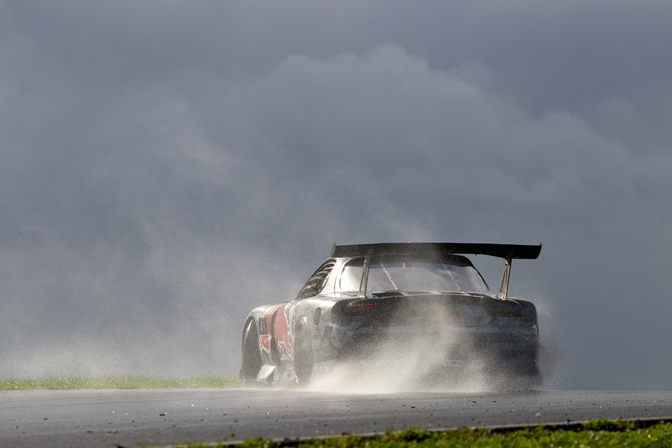 I really can't wait to showcase this beast to the world! 
Shout out to Damion and Cromey for all your help! Braaaaaaaaaaaap!
-MM