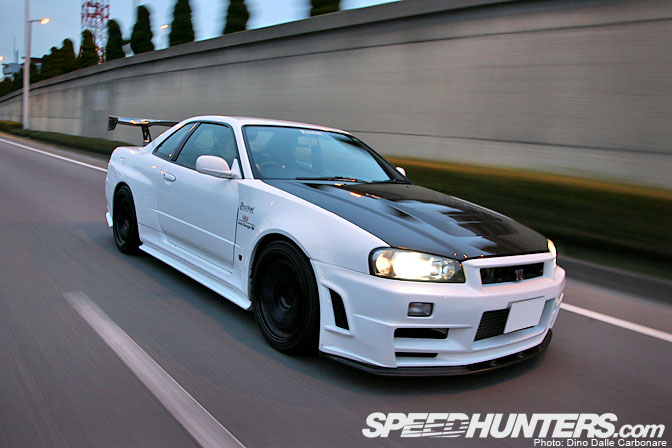 For how great the R35 GT-R is out of the box and when fettled with, you can't ignore the continuous interest that the older generation of "R's" generate. On the tuning front part makers not only continue to churn out performance upgrades to enhance every aspect of the car but there is still a great deal of R&D going on and new products coming out all the time. Kitabayashi-san at Pentroof may have dedicated a lot of his time to the creation of R35-specific upgrades over the last couple of years, but with his current customer base staying extremely loyal to the much loved second-gen Skyline GT-R (BNR32, BCNR33 & BNR34), the need to improve the mighty RB26 is something he spends the majority of his days on. And I'll tell you, this effort has paid off, something I realized after spending 20 minutes or so riding shotgun with him in this particular R34 GT-R.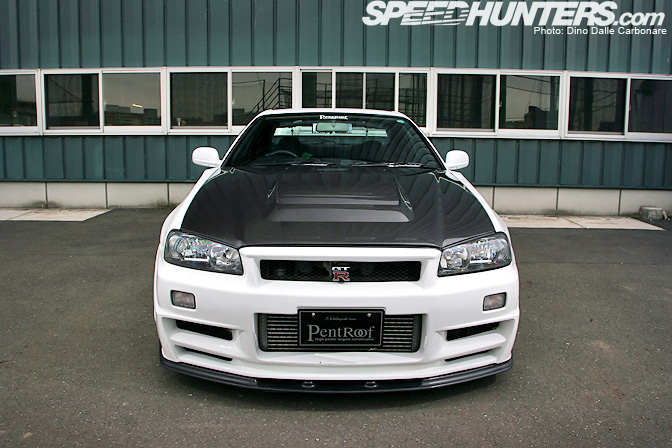 We have seen a few Pentroof-tuned cars on Speedhunters before, like the legendary orange Z32 I had the pleasure of sampling a few yeas back as well as Ryo's Acura NSX I saw down in Daikoku once. What sets Kitabayashi's cars apart from many others out there is the unique way in which they are set up. In the tuning world you will always find someone that boasts custom ECU maps and uniquely reprogrammed engine management systems, but out of the many cars I've had the pleasure of driving or riding in…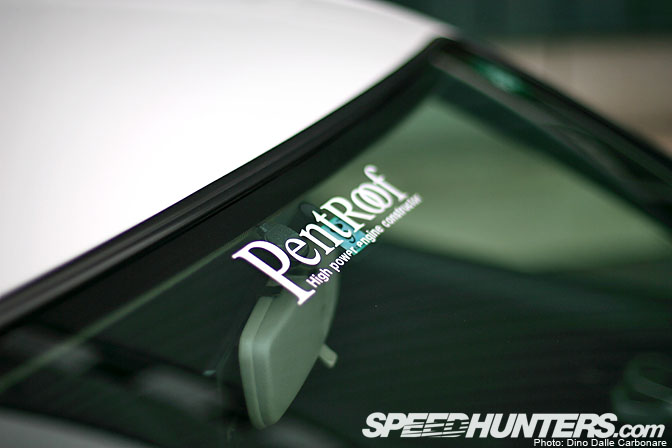 …Pentroof ones have always impressed me for their smoothness, linear delivery and unparalleled response. You won't find Kitabayashi-san bragging about his obvious knack for understanding the complexities of fuel and ignition maps…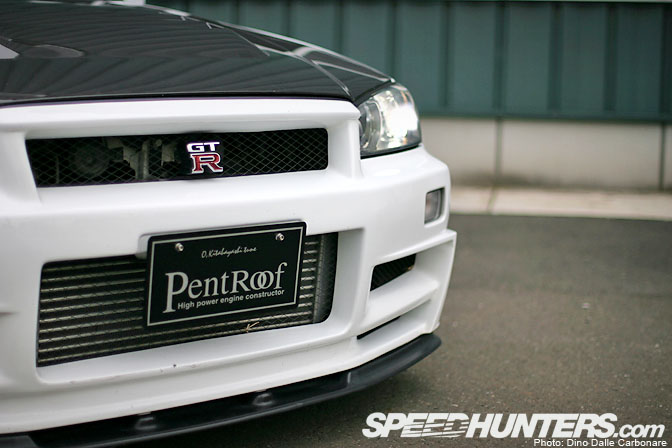 …because his cars simply speak for themselves. Take this san-yon for example. The owner wanted to create a powerful and explosive performance car, one that would blow away pretty much anything it would come across on the Wangan but at the same time not forgo the necessary compliance a daily driven street car should offer.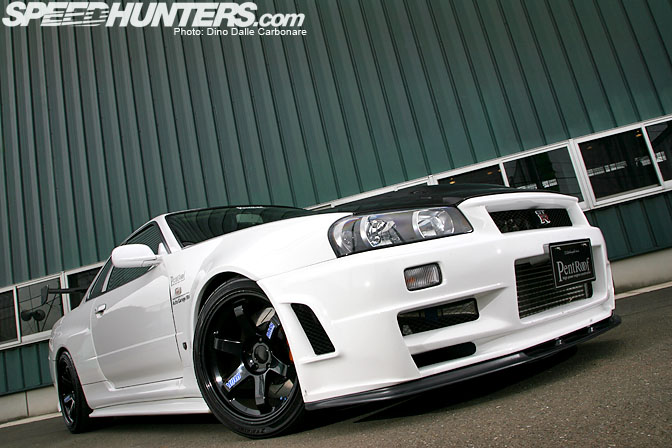 Combining this with some killer Nismo Z-tune inspired looks, has helped give way to one of the most impressive GT-Rs I've come across.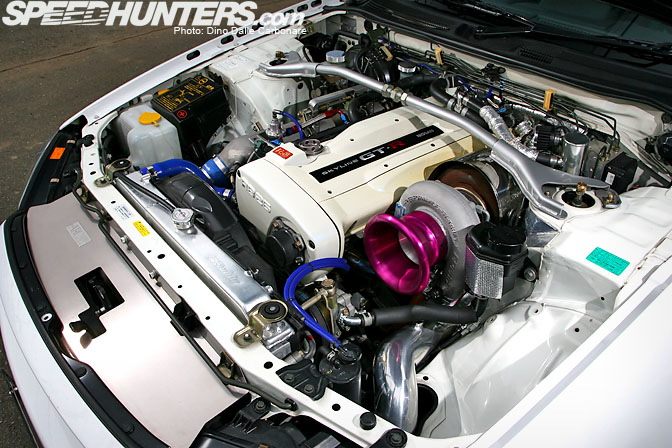 Years ago ditching the twin-turbo set-up on an RB26 pretty much threw drivability and low end response out the window. Developing tons of power was never the real issue; it was taming the resulting beast that proved the biggest challenge. Due to the lack of technology, as well as knowledge, there wasn't much that could really be done. Like with the white-topped RB you see here the biggest concern was always guaranteeing the bottom end would be up to the job, something that for this particular build Kitabayashi-san did by boring and honing out the block to accept the HKS ø87 mm forged pistons and to balance the stock crank.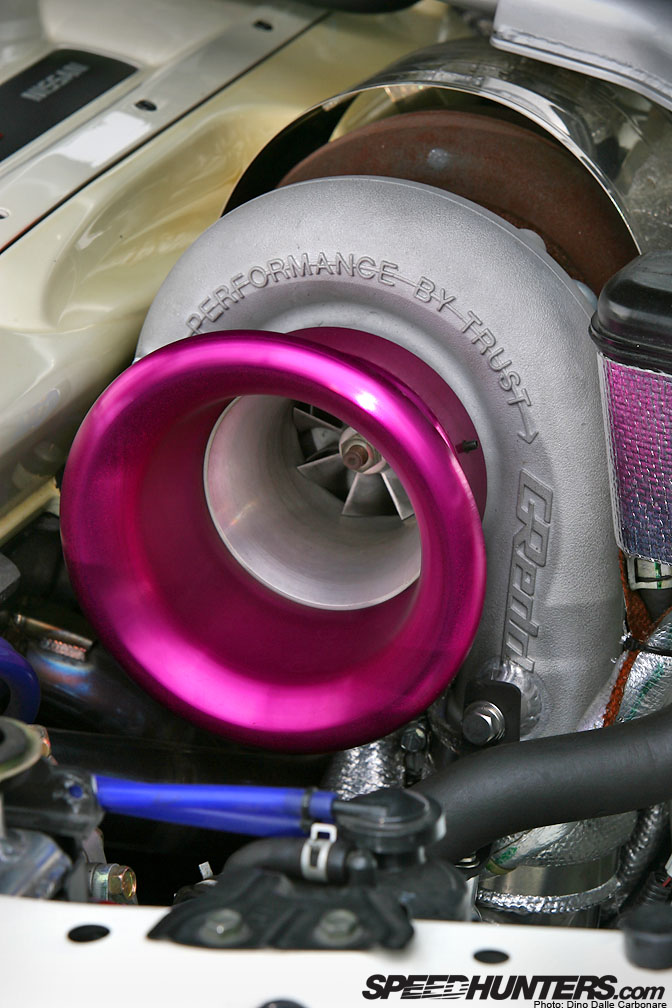 Turbo choice is always important and Kitabayashi decided to go with a Trust T78-33D, not the biggest of blowers but one that would be just right for the goals in mind. A Trust external wastegate screams away while keeping boost pinned to the preset 1.5 bar max and dumps gasses into a Trust titanium exhaust system. An Apex catalyst makes sure the car satisfies emission limits.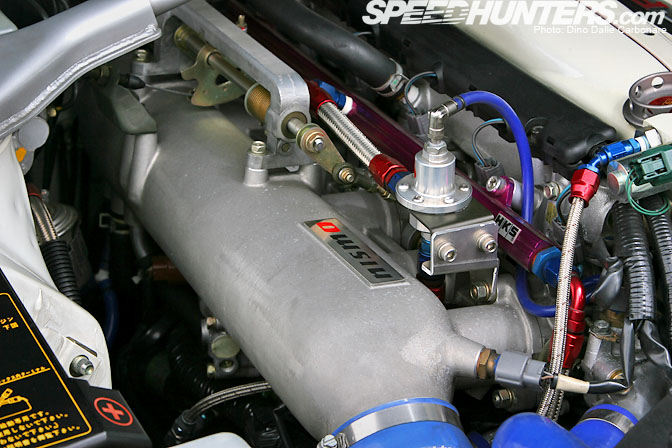 Once air is sucked in tough the T78s filter-less gaping mouth it's compressed and cooled through a large core Trust intercooler before making its way into the Nismo GT plenum. When looking at maximizing throttle response and pick up on an RB, this is one of those parts that you can't be without, it not only has a bigger volume than the stock plenum but is designed to equalize air-flow into each of the six cylinders. It was developed and used on the GT500 JGTC Skyline GT-Rs back in the day, so you know it isn't just a dress-up part!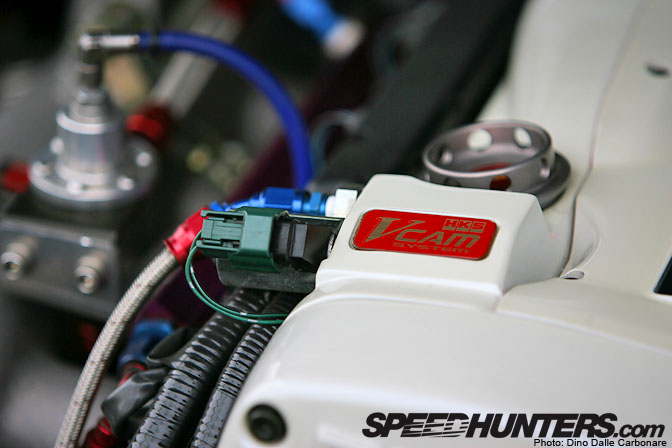 Here is a gadget that tuners would have killed for back in the nineties. The variable valve timing HKS V-Cam system is a prohibitively expensive intake cam upgrade but a necessity if you are looking to create the fullest torque curve possible. Since its introduction back in 2005 it's become a must-have for anyone running single turbos. This Step 1 Type B V-Cam joins a more aggressively profiled exhaust cam, a set of HKS valve springs and special Pentroof bronze valve guides. Porting and polishing was performed on the head to really get the most out of the set-up.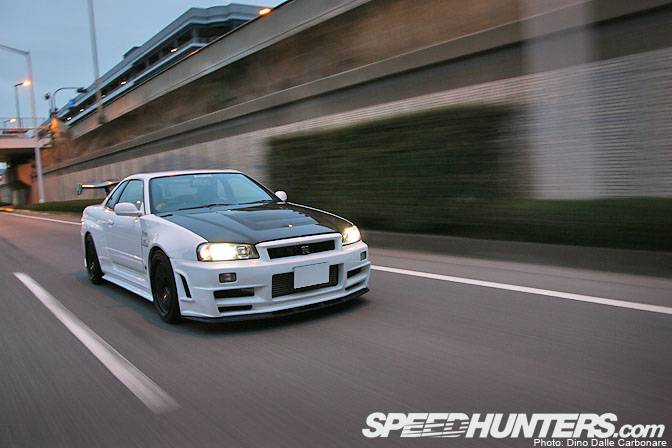 The results speak for themselves, 680 HP and a usable and square torque curve, which tops out with a towering 506 lb/ft at 5,800 rpm. The driveline needed some obvious beefing up so a soft-action ATS triple plate carbon clutch was fitted along with a lighter flywheel.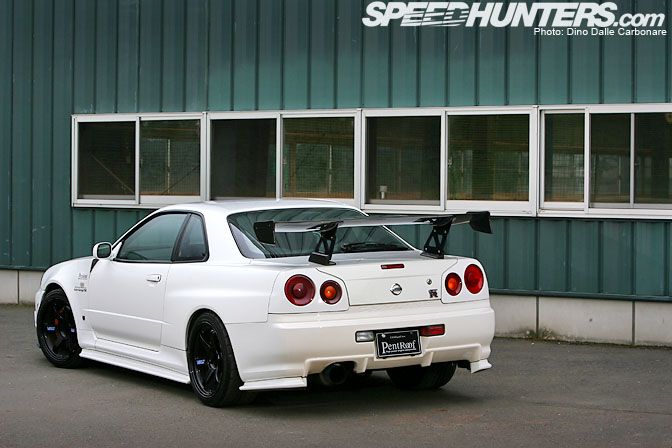 While there is nothing subtle about the Top Secret carbon GT wing, the rest of the body is upgraded with tasteful Nismo items taken straight from the Z-tune parts list.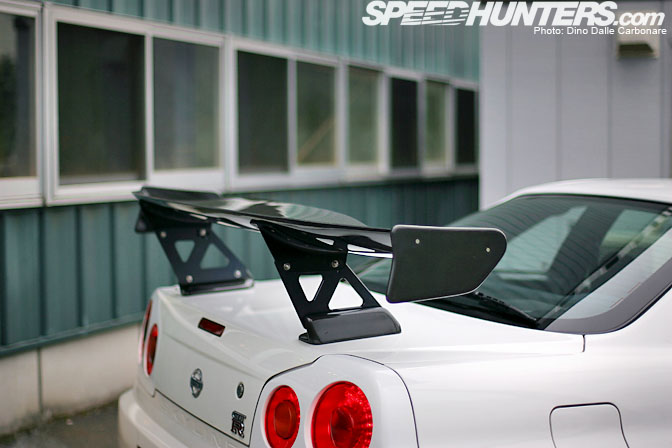 Downforce is of course the main reason this brute sits atop the trunk lid.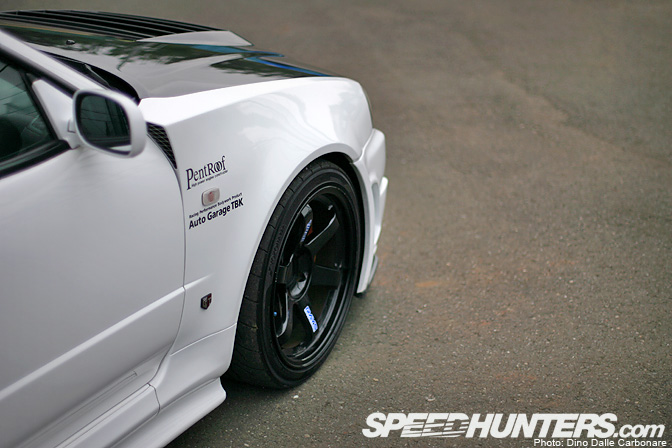 Up front it's pure Z-tune goodness with the unmistakable wider aero fenders, the bumper and the Nismo R-tune dry-carbon hood, which has to be felt and fondled to truly appreciate its high quality and light weight construction.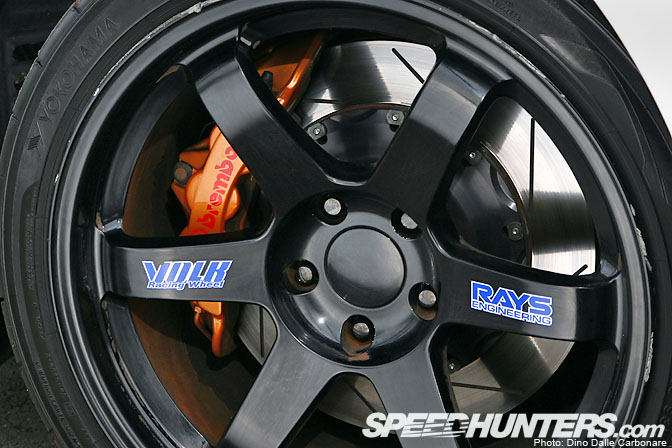 Black 9.5J by 18-inch TE37s are mated to Yokohama Advan Neova AD08s in typical 265/35R18 "GT-R size" and barely contain the massive Rdd Brembo monobloc 6-pot brake kit. Suspension is handled by advanced Öhlins PCV adjustable dampers as well as Cusco upper arms and tension rods.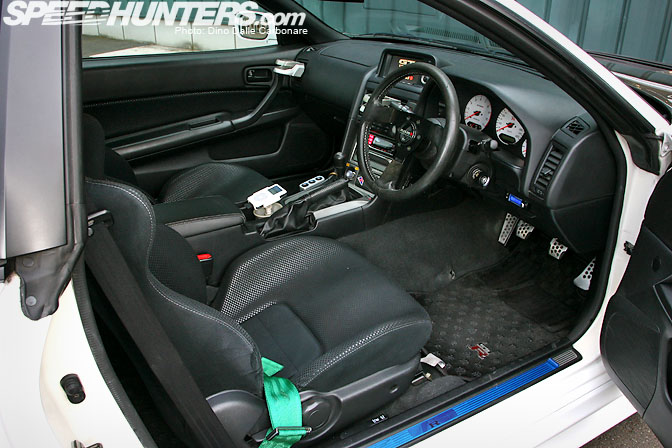 The kouki black interior has been left untouched, the comfortable stock seats joined by Takata harnesses. Check out the GT-R kick plates, still covered in the blue protective film they come with from the factory!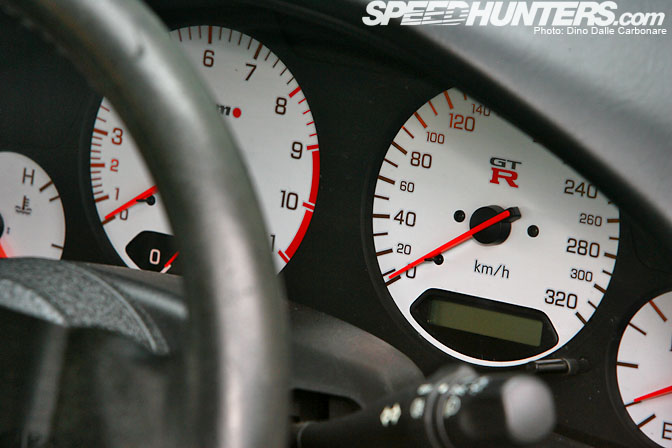 More Nismo goodies in the inside like this white 320 km/h and 11,000 rpm combination meter set and a Ver. 2 upgrade for the Multi Function Display.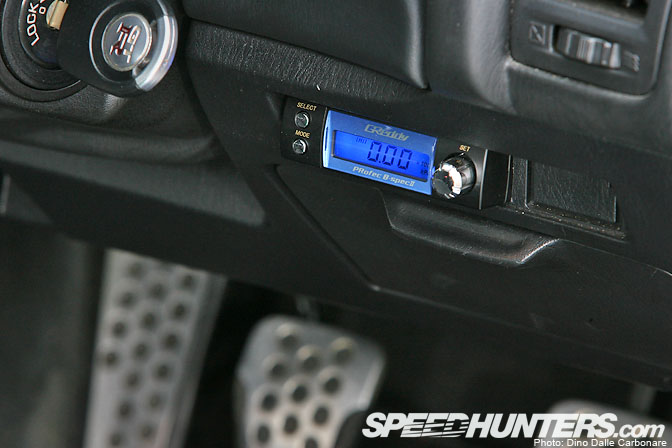 I always appreciate when modules like this GReddy Profec B boost controller are subtly hidden away. Not a cable or loose wire to be seen anywhere…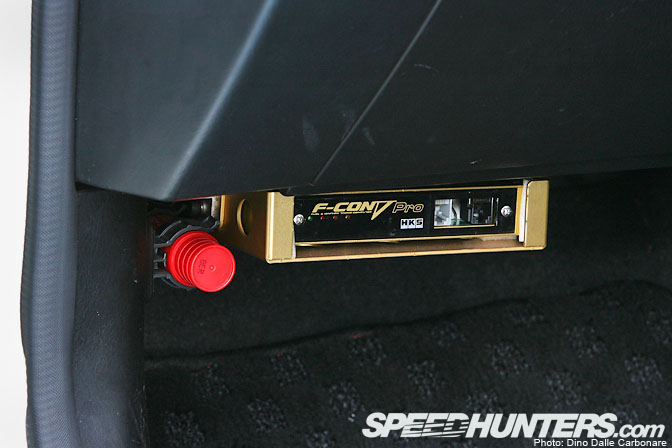 …even around the F-Con V Pro piggy-back ECU mounted in the passenger side foot well.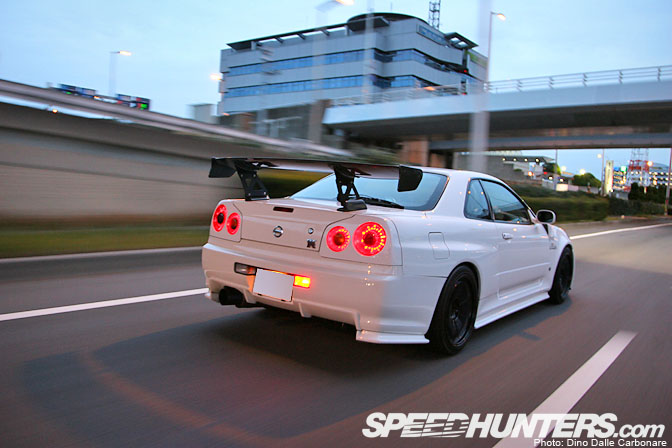 Out on the streets around Haneda airport this R34 was shockingly fast, building up boost instantly at each prod of the accelerator. The way in which it supplied its aggressive power delivery was very similar to an upgraded twin turbo set up, Kitabayashi's ECU settings maximizing the tractability of the car while on and off the throttle and most importantly at half throttle.  It was hard to believe there are six big 1000 cc/min injectors supplying the fuel, no hunting or coughing, smooth all the way. As a GT-R owner it makes me very happy to see the progress tuners like Pentroof continue to make with the RB, along with the support of part makers like HKS. The RB26 is one engine that will be screaming away for a very long time…
-Dino Dalle Carbonare