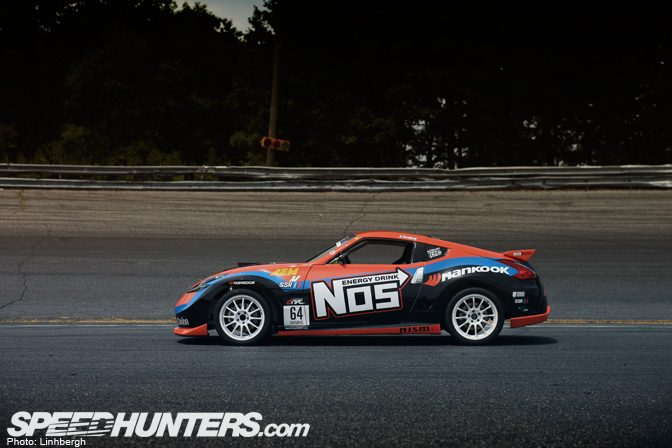 As a photographer, I find myself drawn to cars that look great when captured in still photographs. This is apparent in any motorsport discipline I find myself photographing –be it ALMS, FIA GT, Land Speed Racing, or pro drifting. In Formula D, I have a personal list of cars I find myself shooting all the time as they look great on and off camera. Chris Forsberg's NOS Energy Drink Nissan 370Z is one of those cars.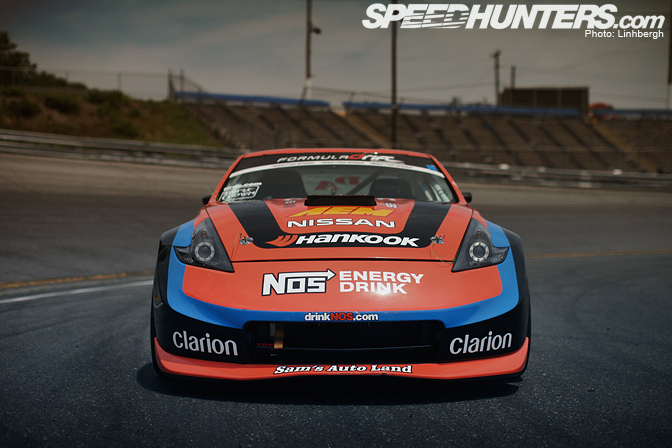 The original 370Z's body was upgraded to a complete Nismo 370Z body kit. It improves the look of the car ten fold.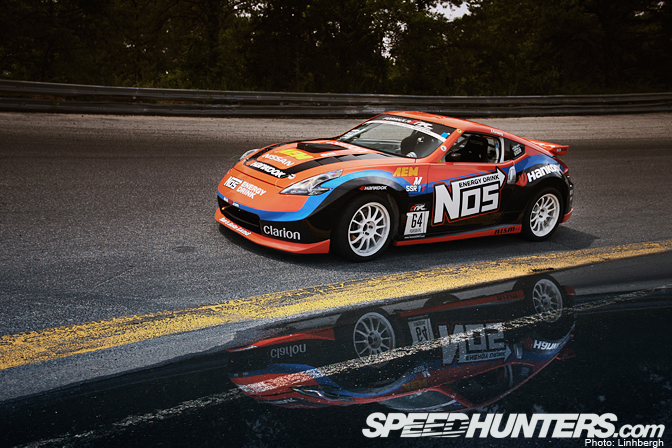 The hood, doors, trunk, wing, and front fenders are all from Seibon and are made of carbon fiber.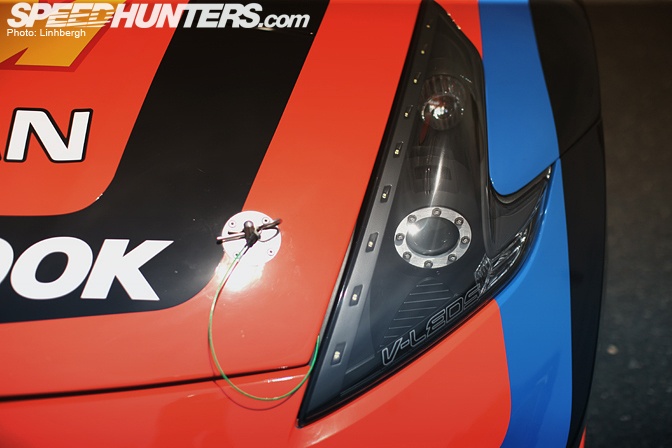 The stock headlamps were replaced with a whole new HID projector system with LED accents from VLEDs. What this car needs now is a set of underglow for the upcoming Las Vegas and Irwindale night events….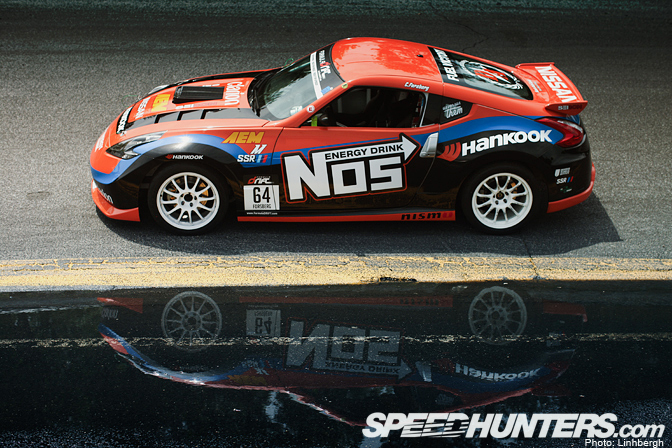 One of the most important components to any drift car is its suspension. And for this very 370Z, they opted for a set of DG5 coilovers. Kevin Wells, from LS Auto, also did quite a bit of custom suspension work for the car. This custom work gave them more than 50 degrees of steering angle and was accomplished with custom front spindles.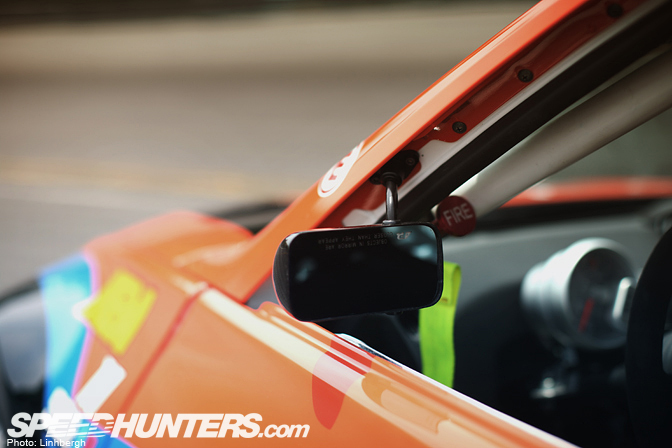 I thought it was rather clever how the wing mirrors were attached to the car. Who would've thought to mount them directly onto the A pillar?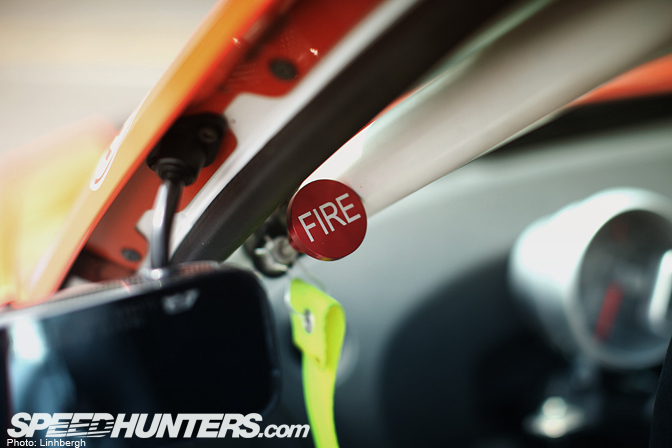 Just next to to the wing mirrors is the activation for the fire suppression system that is mandatory on all Formula D cars.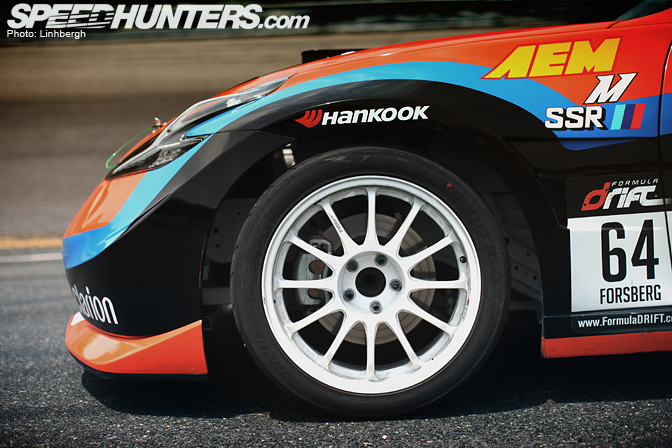 Chris' wheels of choice? SSR Type Fs. The fronts are 18×8.5 +30, wrapped with 245/35/18 Hankook RS3s, and the rears are 18×9.5 +12 wrapped with 285/35/18.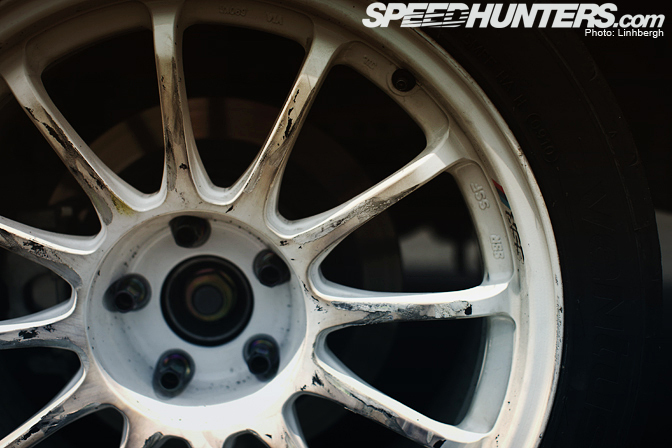 These SSRs aren't for hard parking. They've seen a lot of action in their short life span.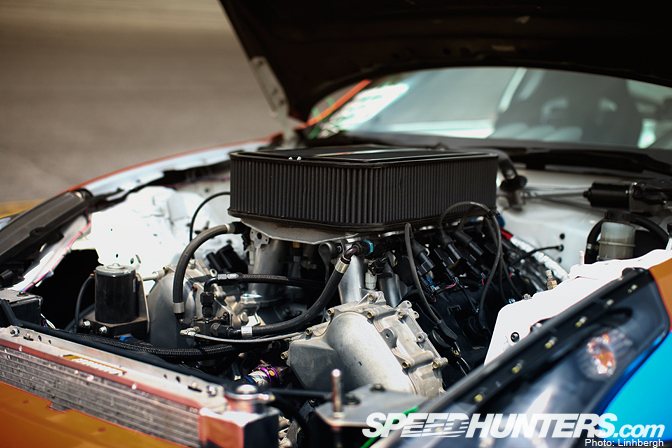 As with all top tier Formula D cars at this point, Forsberg's 370Z is powered by V8. There's no bowtie or blue oval to be found here! Instead, the team has stayed true to the Nissan brand and went with a VK56 Titan from a Nissan Titan, using BigStuff3 fuel injection, which was provided to them by Nissan Motorsports USA.
When you attend an FD event and stop by the NOS/CFR rig, you're more than likely to see the engine as it is now with the giant filter on top of it.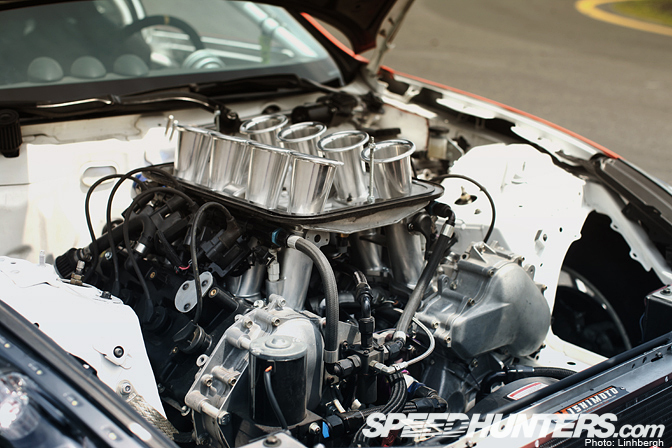 What you normally don't see are these 8 beautifully polished trumpets underneath.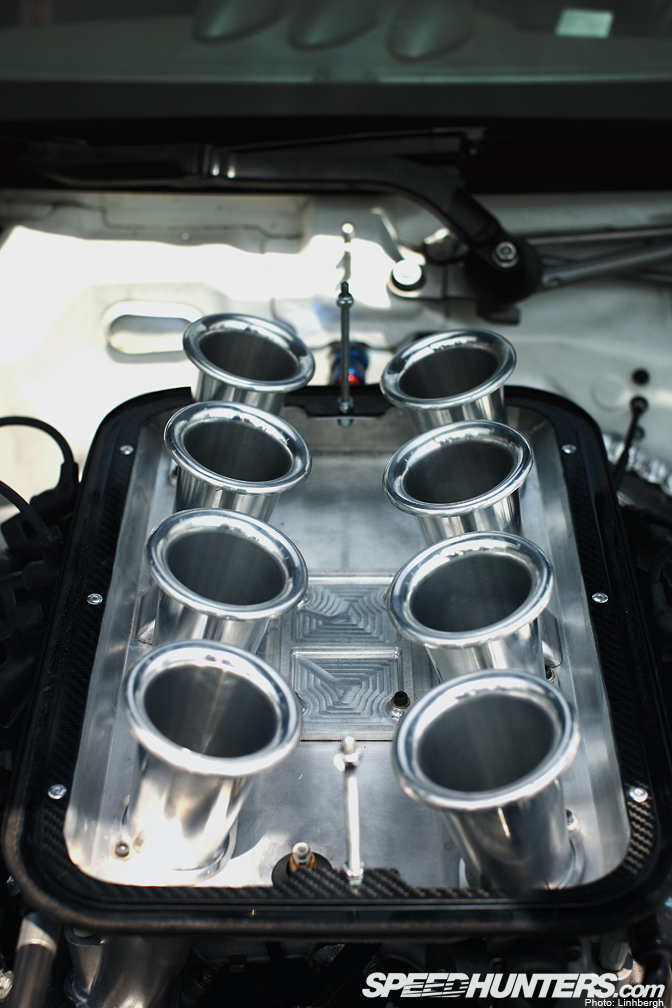 These individual throttle bodies gives the 590 WHP Titan motor the instant throttle response that is required to stay competitive.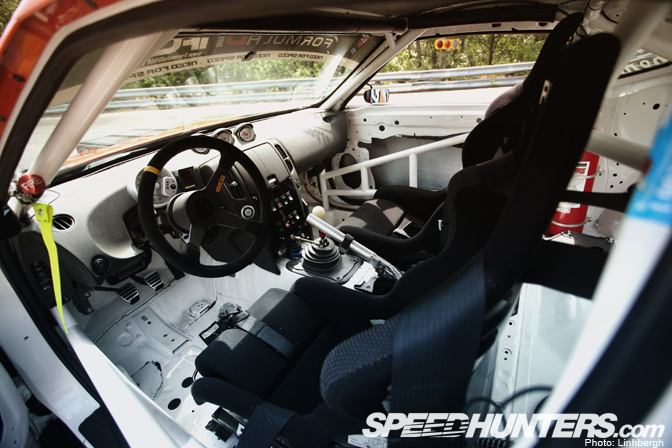 The interior is business as usual for any race car. All the factory creature comforts have been expelled for the sake of weight savings.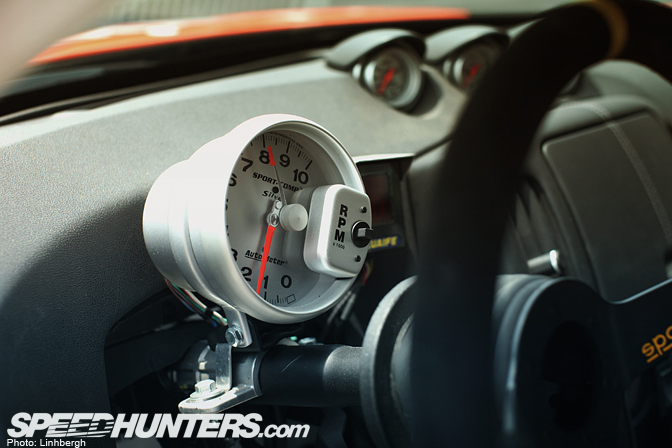 In the professional drifting scene, the cars have lost the need for a speedometer. What is more important than a speedometer is an RPM gauge. Forsberg's car features a giant RPM gauge from Autometer.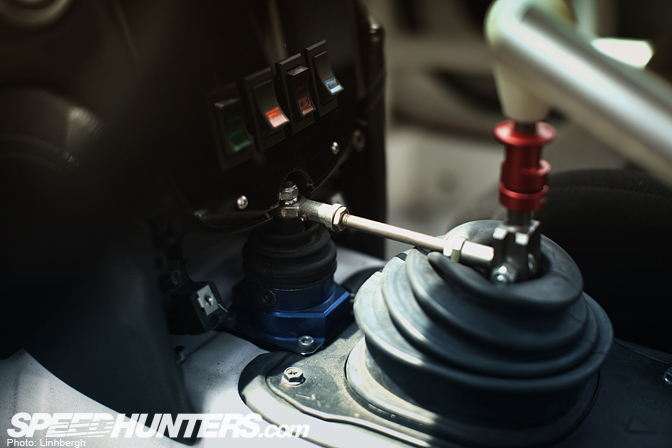 As most cars are going for the 4 speed dog box transmissions these days, Forsberg and his team instead went with a straight cut Quaife 60G sequential 6 speed. The 60G's shifter came out of the transmission tunnel a bit further ahead than the stock shift location. So the team crafted up this shift linkage system so teh car retains its original shift position.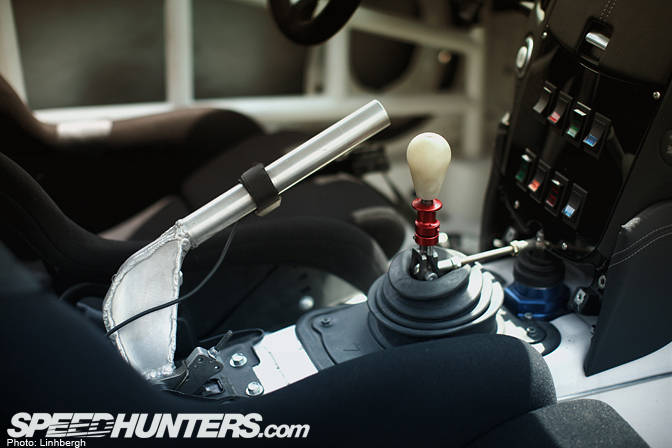 Even the e-brake handle was hand made!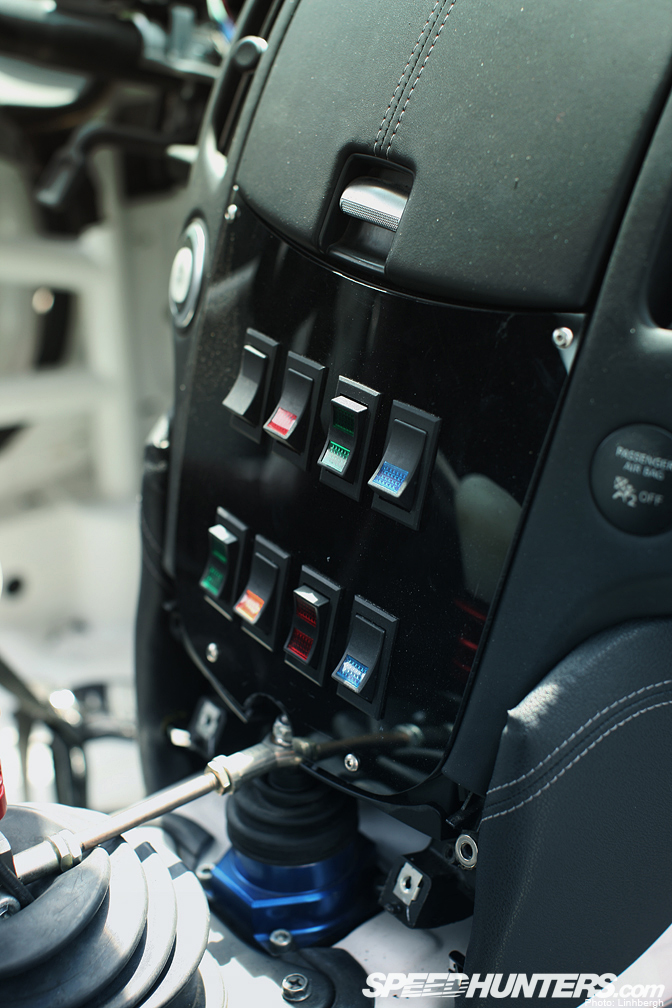 Every little boy dreams of one day piloting some sort of vehicle with a bunch of buttons to press. Chris Forsberg is living that dream with his 370Z.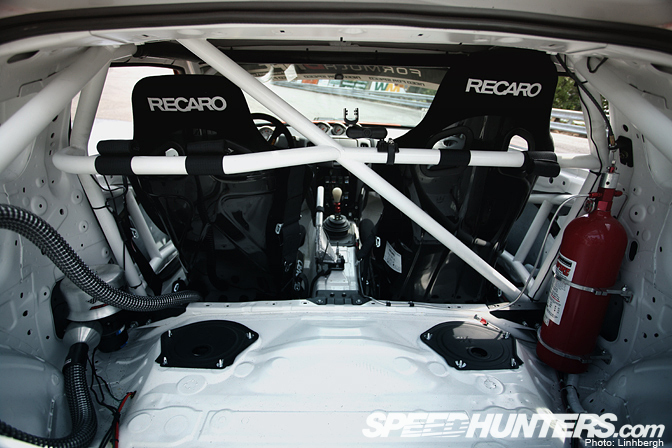 Nothing but the best for this car –Recaro bucket seats!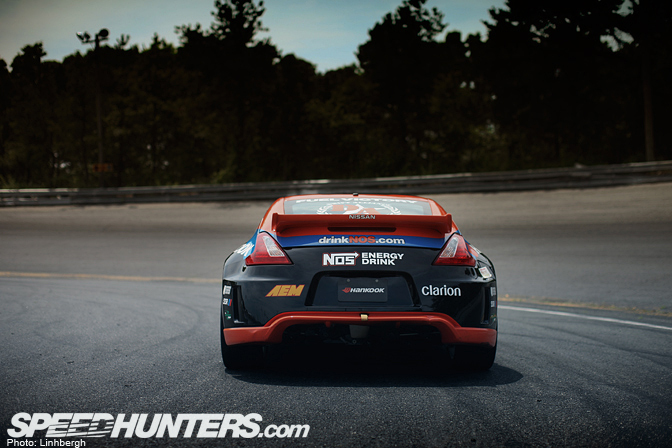 Of the top tier Formula D cars we've looked at, like Ryan Tuerck's Chevy Camaro, Chris Forsberg's 370Z is by far the most tame of builds yet it remains competitive. And he has proven its competitiveness with his 2nd place finish at Formula D Seattle and now sitting in 3rd place on the driver's Championship.
We're excited to see just how Chris and his 370Z will perform for the rest of the season. Only two rounds left!
-Linhbergh