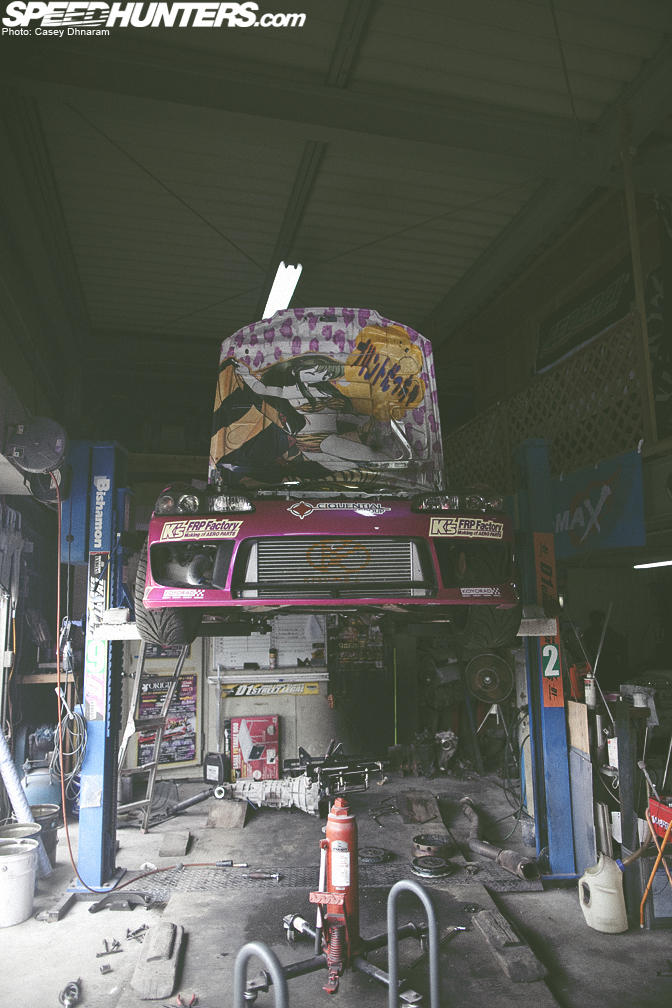 During Japan's Golden Week we took a scenic drive through Royu which goes over Rokko mountain. Our destination? The M-Bros garage located in Miki city, Hyogo prefecture. While few people will have heard of M-Bros, I'm sure many do know of drifter Naoki Nakamura. And if you ever wondered where his cars are built and come to life, the answer is right here in the tiny M-Bros workshop.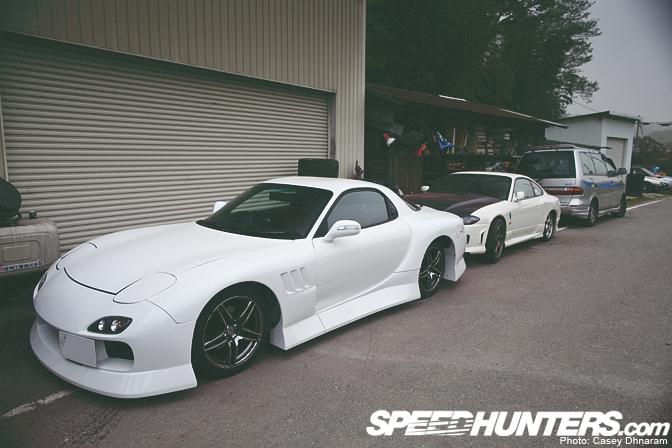 The garage is run by Takamasa Kuroi, and it's predominantly used to work on their D1 cars. These were some of the cars sitting out the front of the garage; the FD3S RX-7 sported quite a fat body kit and what look like temporary Model 5s.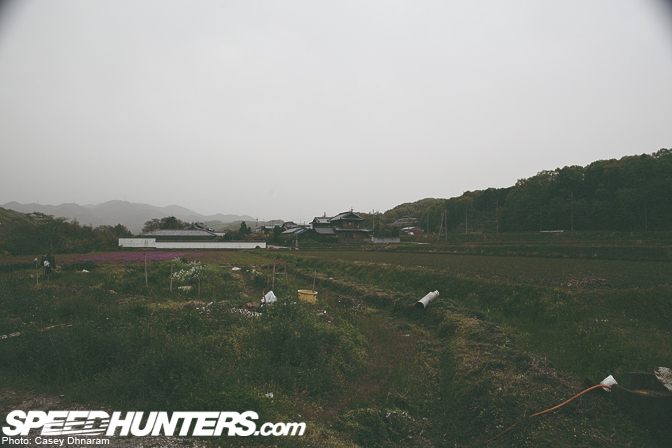 Who would think that three D1 cars – driven bu Nakamura, Kuroi and Jikuya – would come out of a shop in the middle of nowhere, surrounded by rice fields?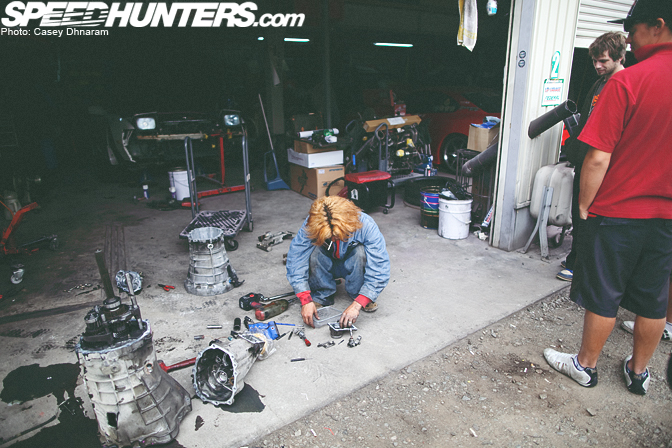 With only a few days until the Meihan day we arrived at M-Bros to find Kuroi squatting down working on the gearbox for his D1 S15. This was yet another 6-speed gearbox that had broken, which is why he was making the change to a 5-speed S14 'box.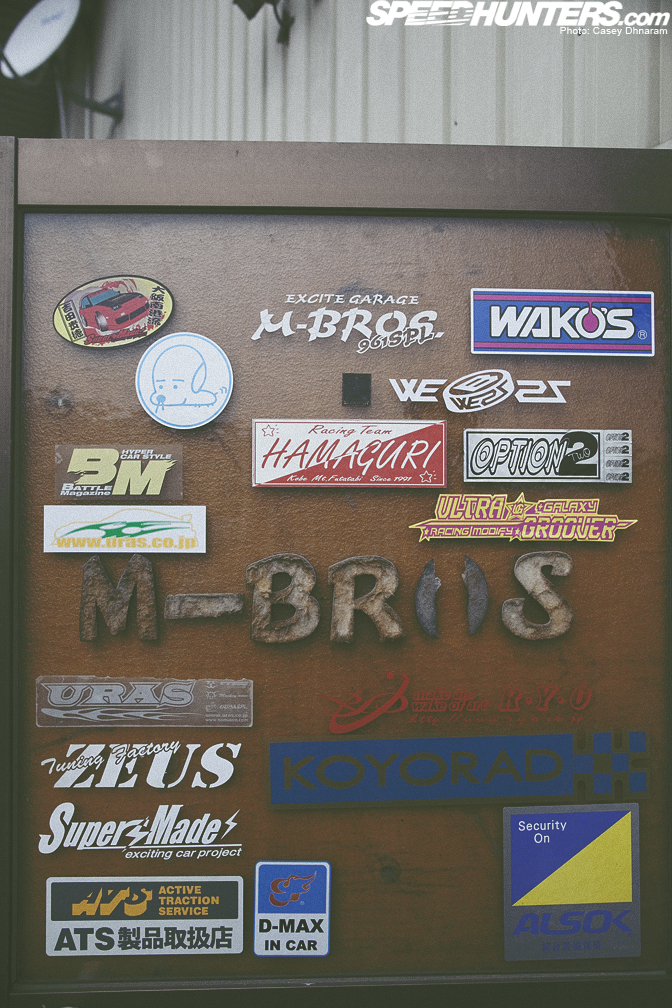 One thing I find very interesting at shops is their front door, normally they're covered in stickers just like this one.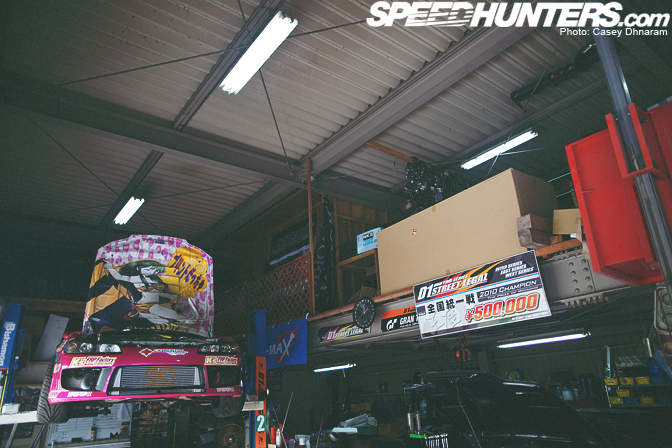 Walking into the workshop I saw Kuroi's S15 up on the hoist. Over to the right is the 2010 D1 Street Legal Champion cheque. The cheque looked quite familiar as I attended the D1SL at the Tsukuba 1000 course where Nakamura took out the championship.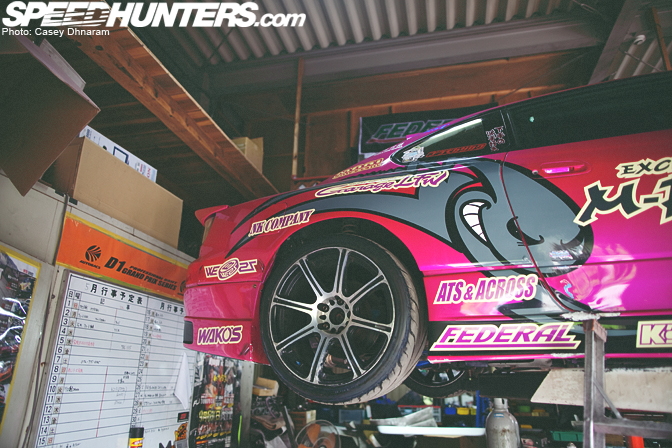 Kuroi's S15 is now candy pink. Trainspotters will know that at last year's Meihan it was white.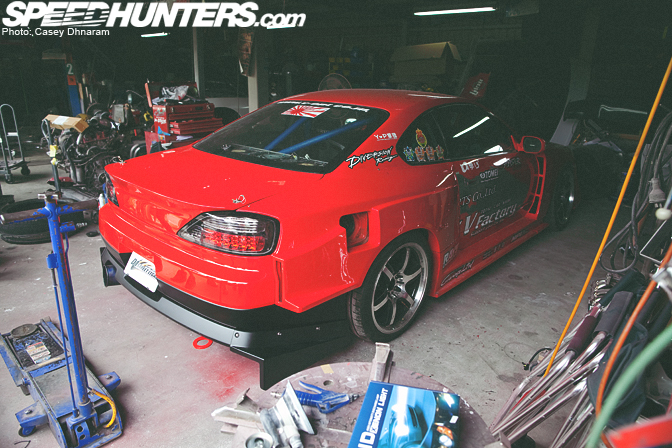 Sitting over in the corner was a car I was very familiar with, Jikuya Kiyofumi's D1-SL V-Factory S15…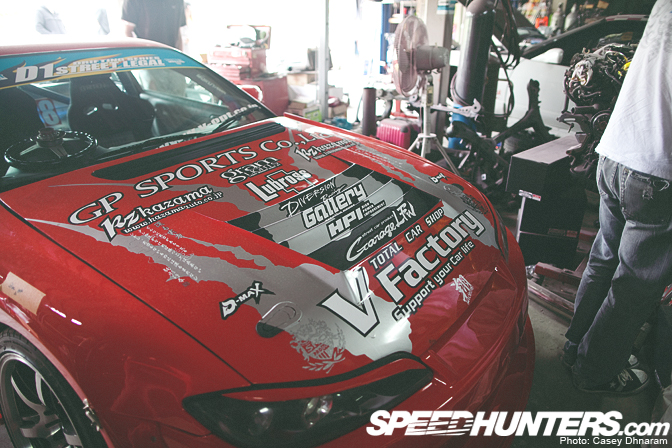 …which came in second place at the concluding round of D1-SL last year.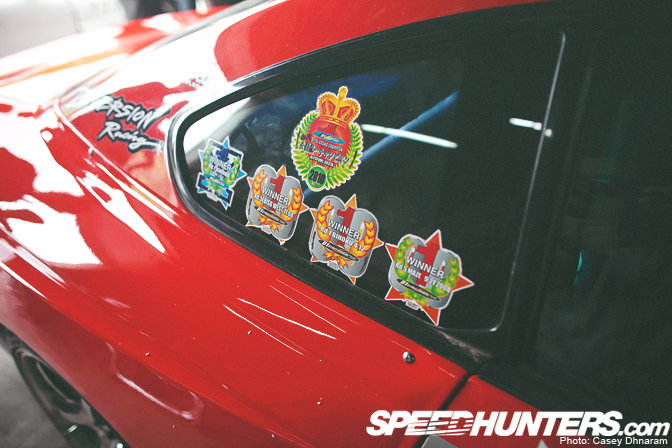 By the looks of things he's been very successful in the D1 division. The car is looking great now with a much fresher approach at Nikko Circuit last week.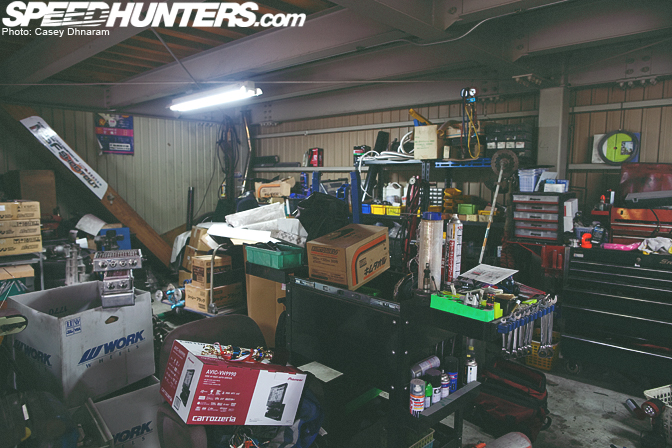 As you can see here the workshop is full of spare parts, wheels and tools. Kuroi doesn't just work on his cars, he also builds custom drift-specific suspension parts. He is the one responsible for fine tuning the Burst cars, so we can thank Kuroi for the crazy backwards entries that many of the Japanese drifters are doing.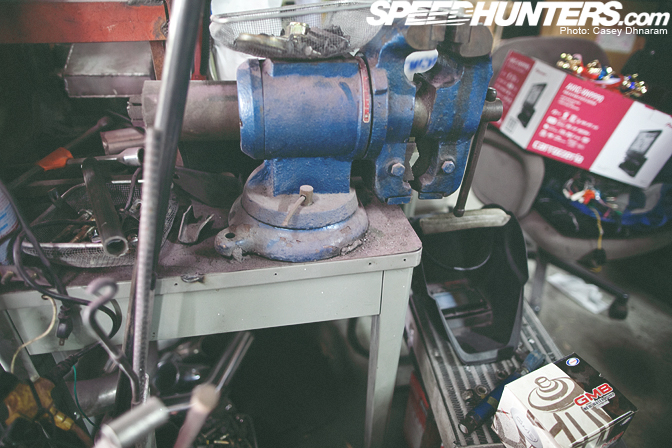 Taking a closer look at some of the workshop tools and machines I noticed a fine layer of paint scattered everywhere from when the S15 and Nakamura's cars were re-painted.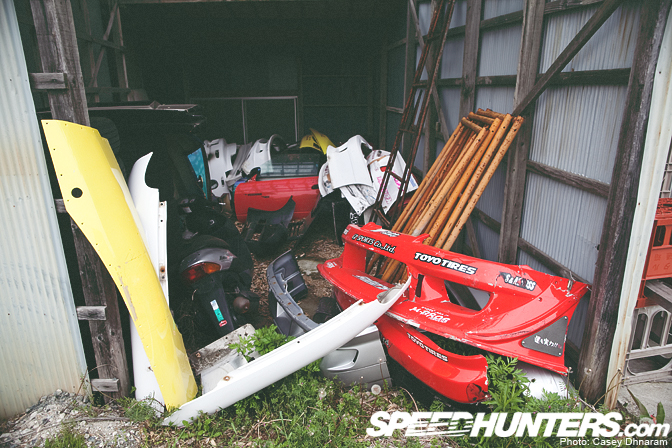 I thought I'd take a walk back down the driveway and see what other interesting things I could find. A few metres away from the garage I found this little storage area which was full of aero parts, mostly from previous D1 cars…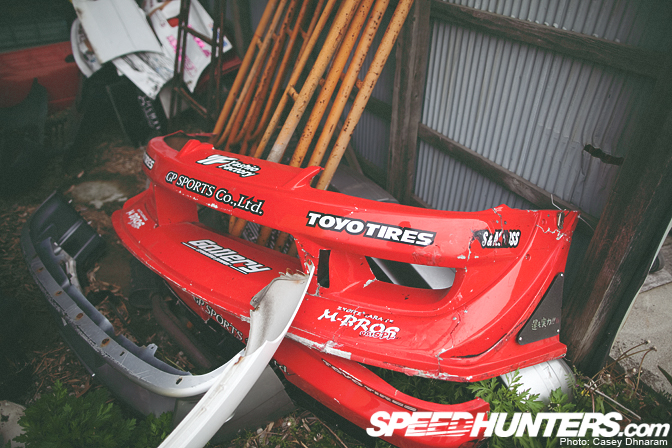 …just like these front and rear bars off Jikuya's S15.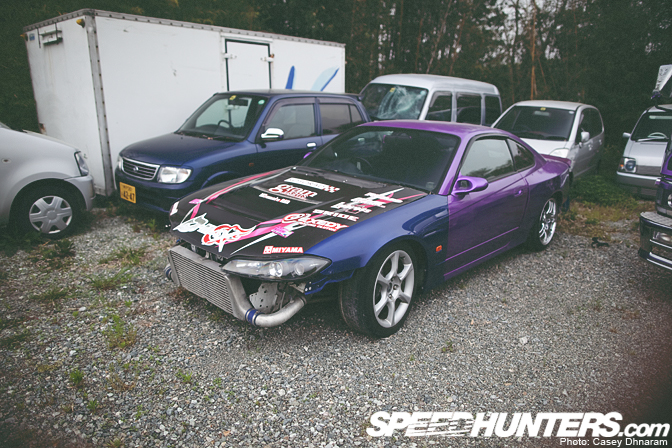 Sitting in a little parking area I spotted this sad looking S15 surrounded by Kei vans.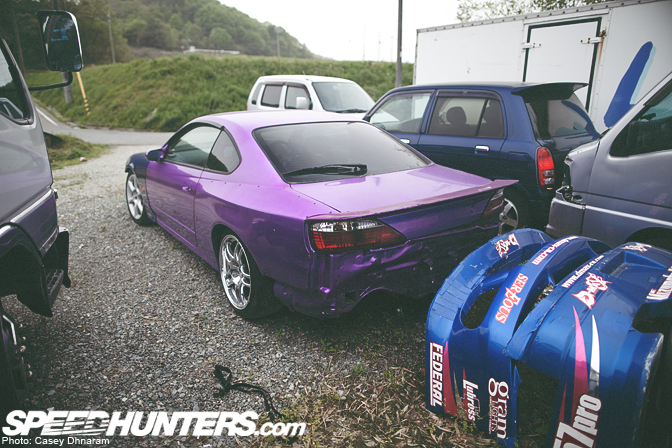 It's sad to see an S15 in such good condition parked collecting dust. Perhaps it's a project car waiting to be put into action.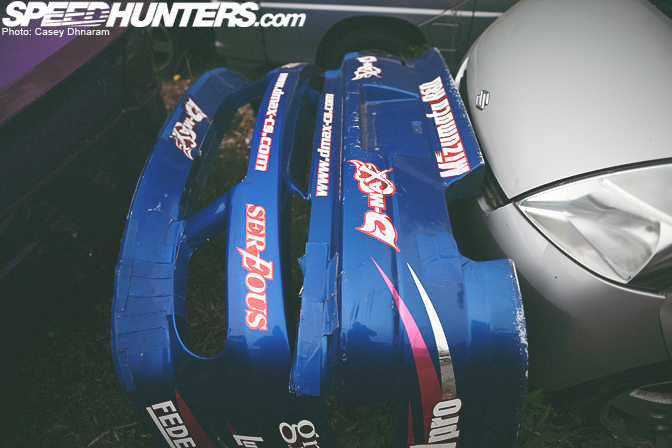 More aero was found, this time Nakamura's front and rear bars off his D1GP D-Max S15. I would have loved to take these home and hang them in my room!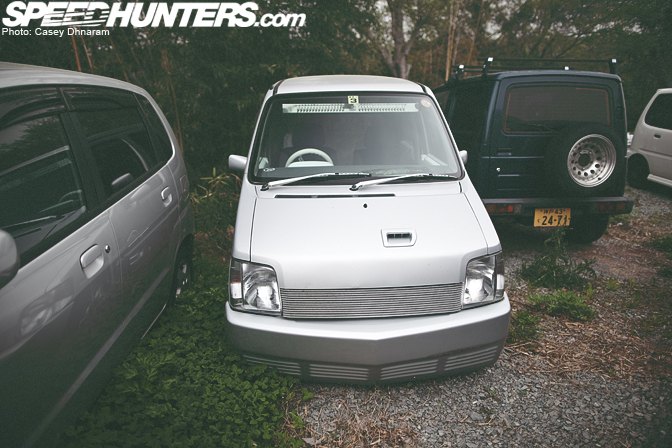 Sitting behind the S15 was this slammed Kei car with some front grill replacements, along with a super wide rear vision mirror.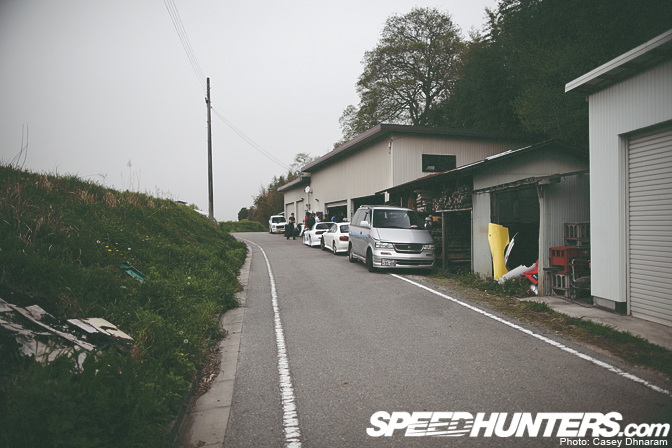 The road to the garage is rather tight. One thing for sure is that space in Japan is at a premium…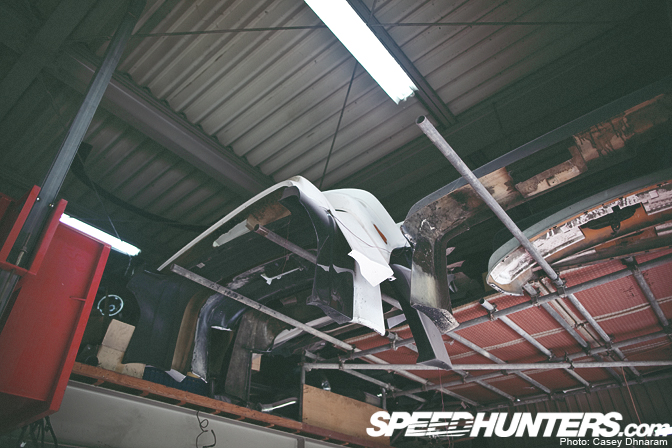 …so to store car parts you have to be creative, such as hanging aero from the ceiling.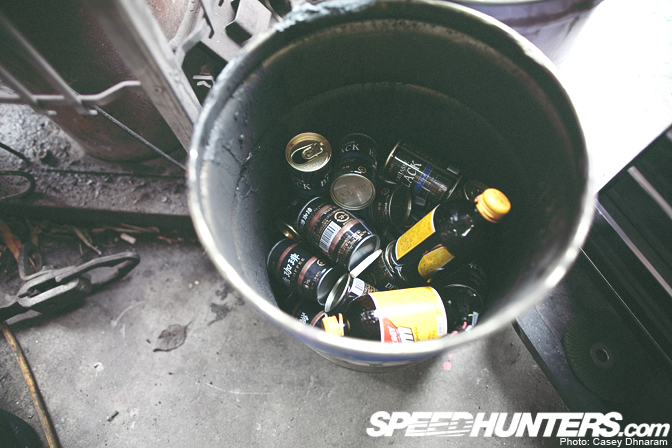 With all the outstanding cars that have come out of this very workshop it goes to show a lot of hours have been spent here, all day and all night. Taking a look in the rubbish bin it seems caffeine is what keeps the boys on their feet.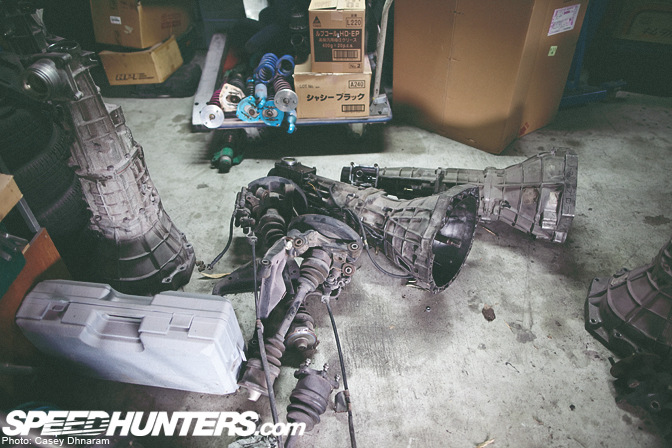 More car parts such as gearboxes and a whole bunch of coilovers…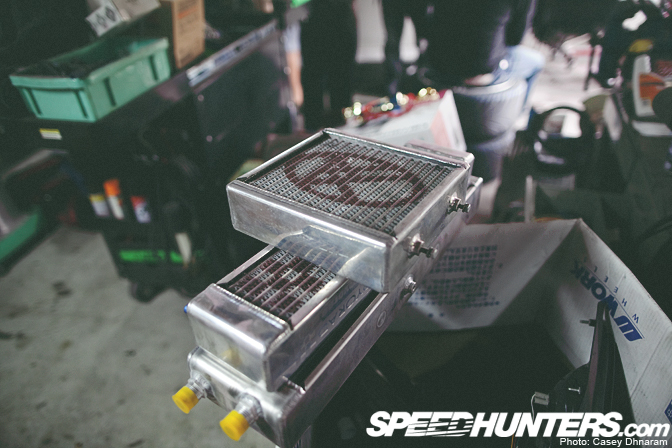 …also a pile of coolers from Keloid.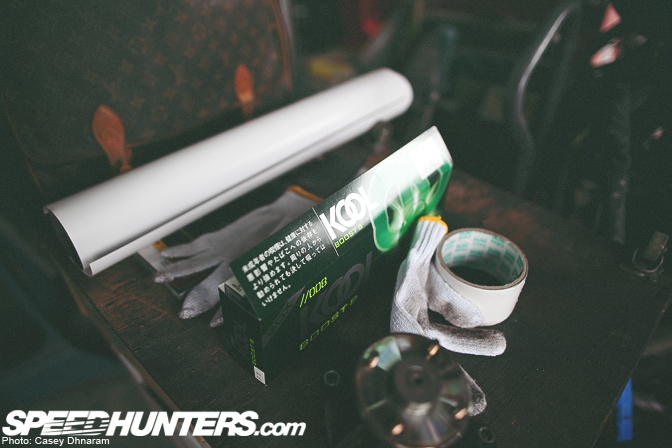 Kuroi's breakfast.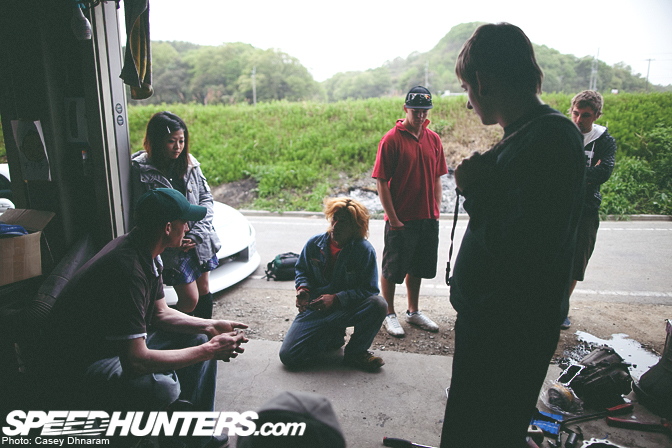 Kuroi was extremely open, and was willing to answer any question we threw at him. He gave us so many fantastic tips that I will remember and take with me for the rest of my life.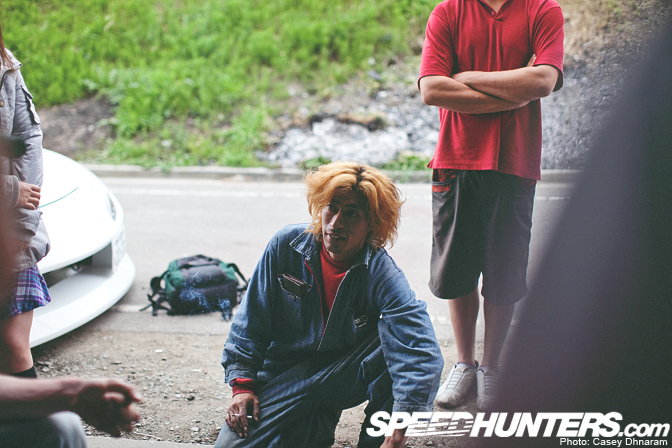 In conclusion I'd like to thank Takamasa Kuroi for taking the time to allow us into his garage. Seeing where some of my favourite cars came to life was truly unbelievable and something I won't be forgetting any time soon.
-Casey