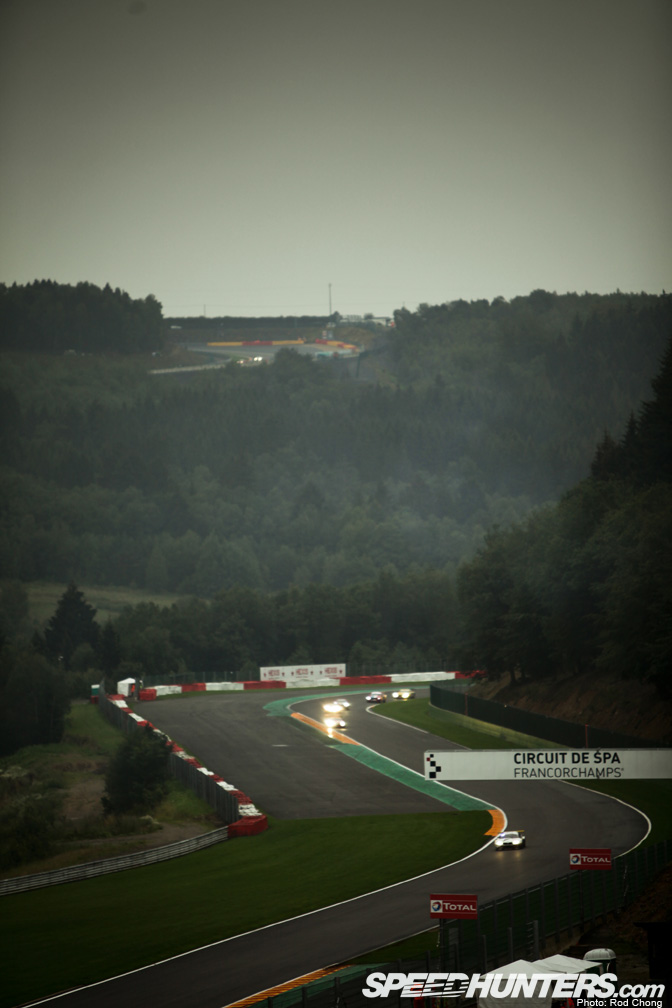 I'm feeling pretty grimy right now. I really need to eat something, wash my face, and change my clothes.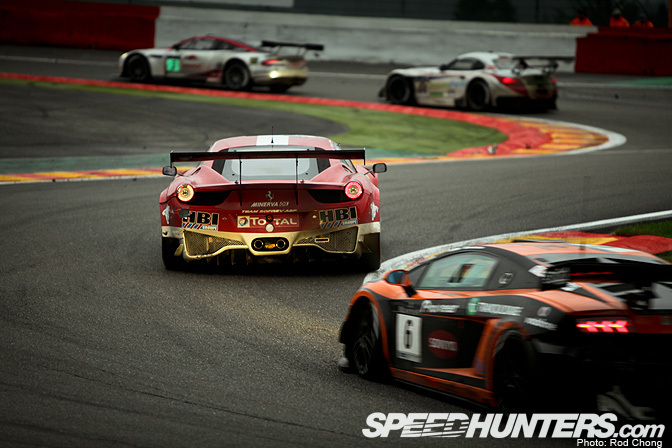 More importantly I could really use a shower right now… and sleep… lots of it.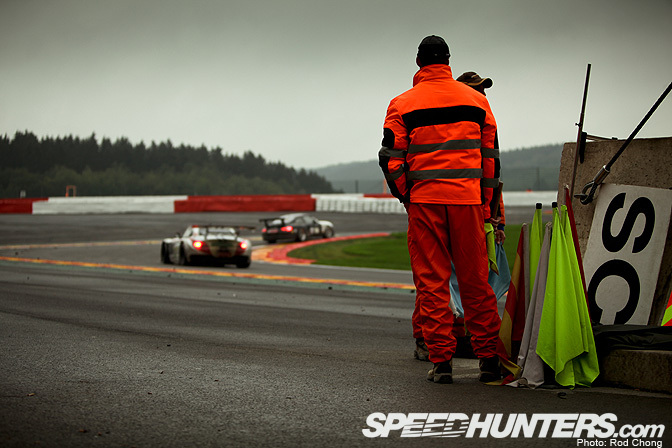 But like the teams who are currently pushing themselves to last the 1 and a half odd hours to the finish of the Spa 24 hours, I just need to crack on and keep working.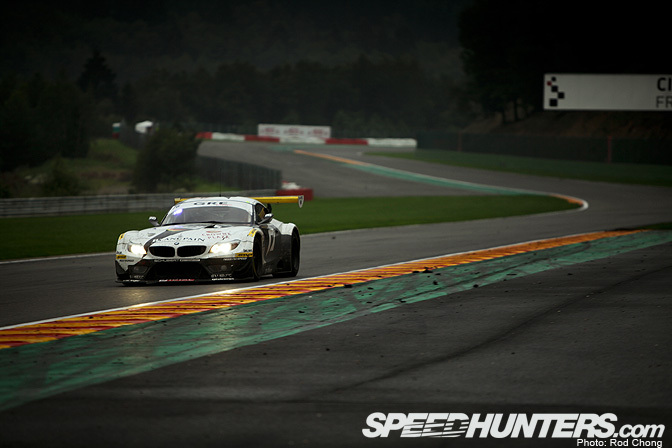 We have a story to tell after all.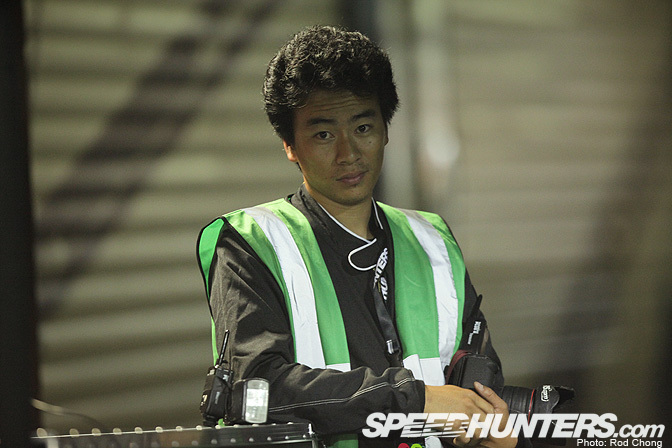 Just as the night was starting to think about fading away, Larry and I ventured down to the pitlane.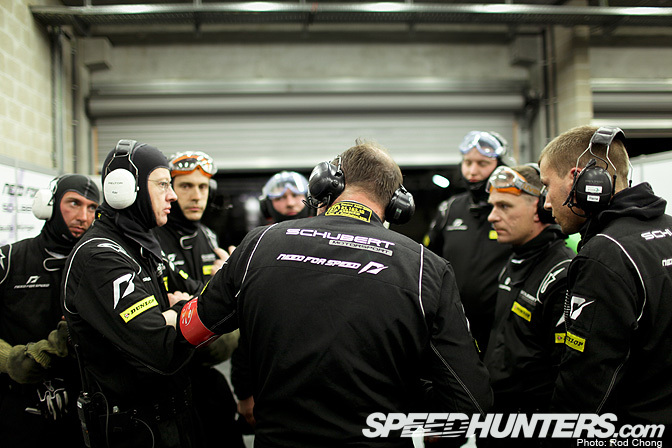 And checked in with the Schubert crew who were in a team meeting.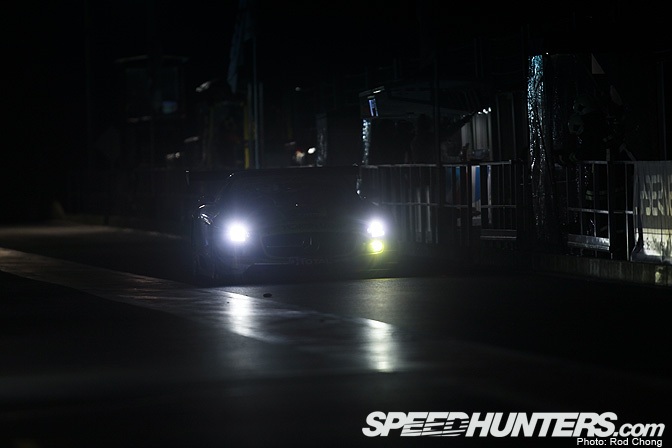 There was talk of changing the brake pads and discs so Larry and I decided to stick around.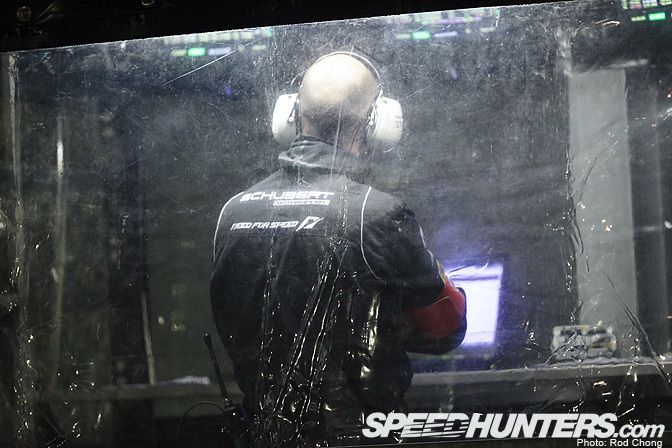 I decided to start shooting the locale… Here's the Schubert Team Manager, Stefan Wendl in his kiosk on the pit wall. He has barely left this spot for the entire race!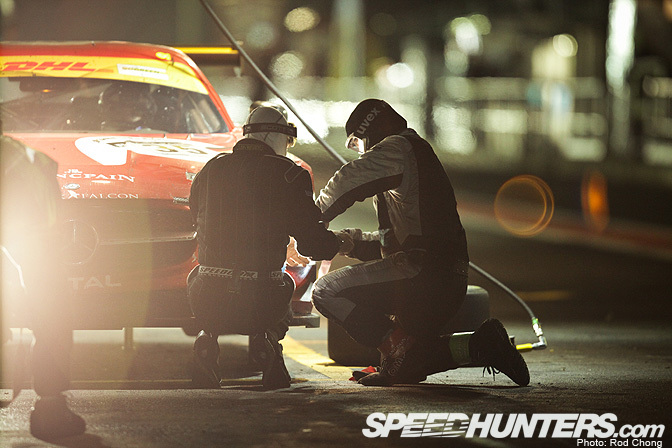 One of the Mercedes SLS's was in for some body work repairs.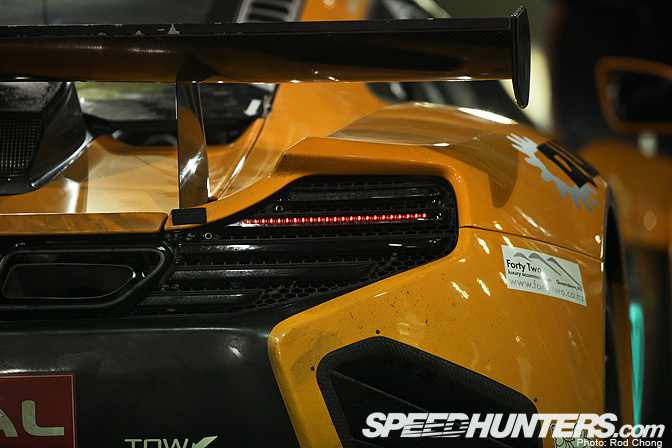 The sole remaining McLaren was also in for servicing. Check out that cool tail light LED setup!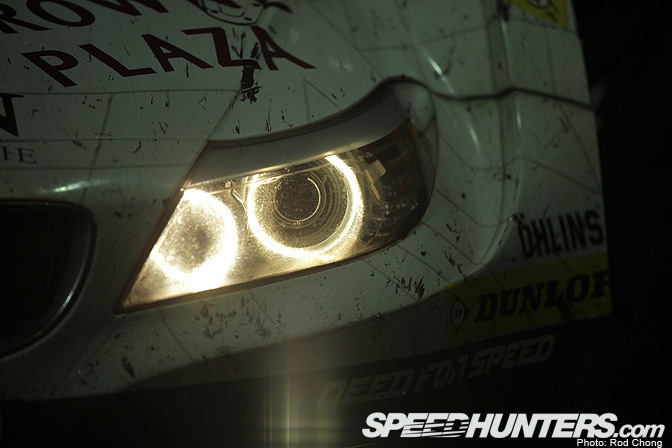 Finally Edward arrived.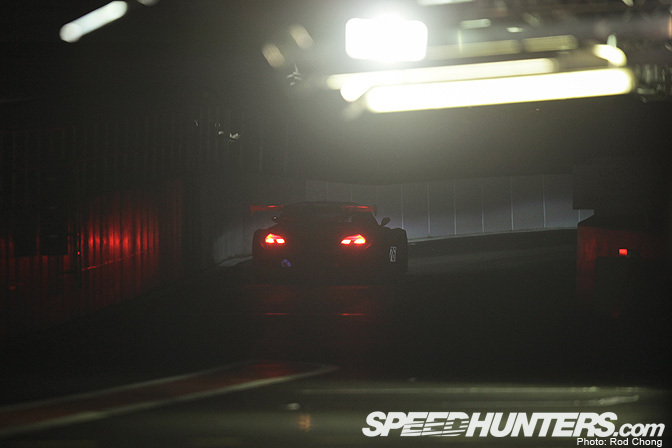 But there was no change of brakes and before I knew it, Dirk was in the car and off into the blackness.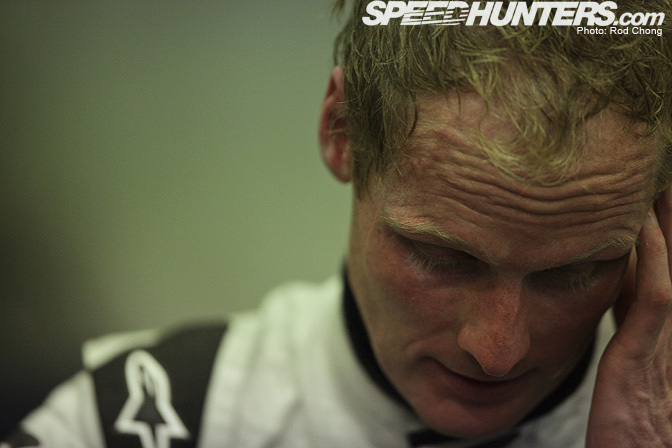 Edward loses 4kg of water each time he drives the car. I can't imagine what this could be like to experience. What's amazing is that after say 10 minutes, he's completely normal and seems recovered.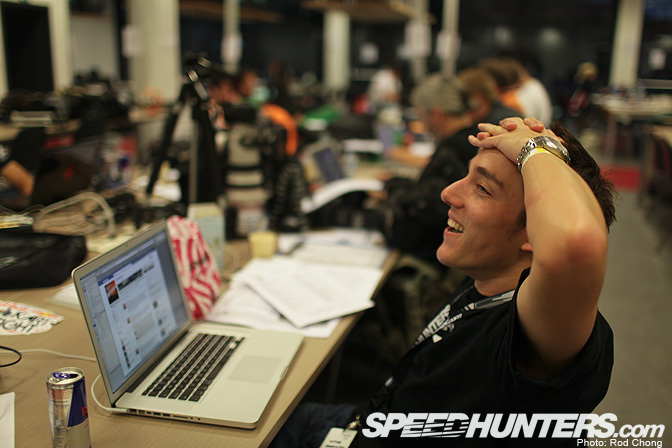 We hope you've been enjoying the detailed Twitter and Facebook feeds from the race. This is the man whose doing the updates, Andy Manches, from our EA UK office.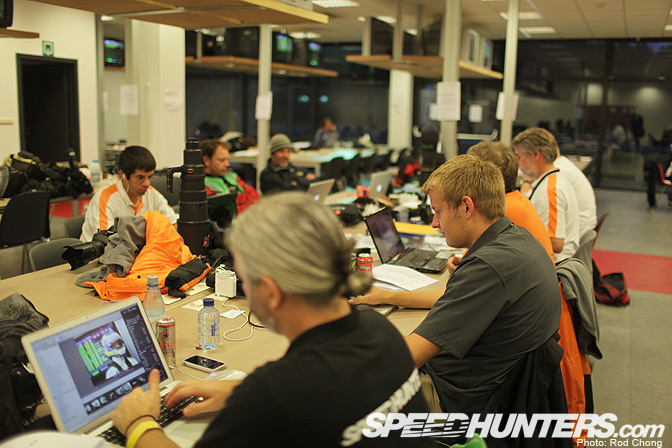 We've been sharing a table with the Dailysportscar web team. The combined brain power of these guys is quite stunning. I've enjoyed listening to some of their group discussions.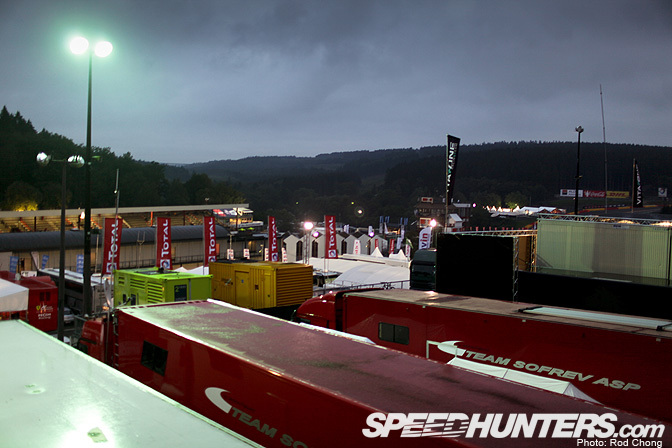 Time to get some fresh air! You can see the night has ended here although I would hesitate to call this dawn.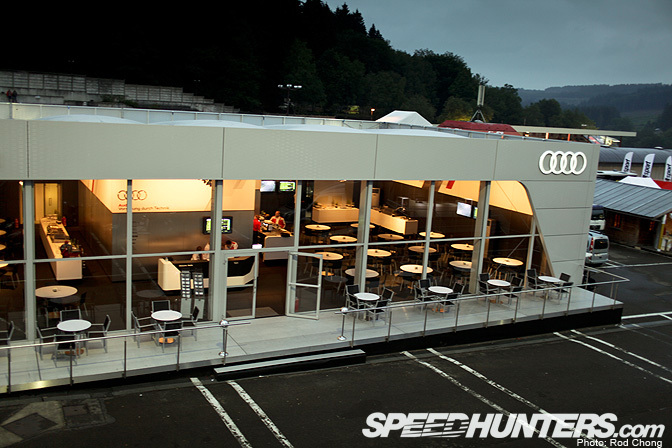 I decided to head out trackside and started to make tracks through the paddock. Check out this huge Audi hospitality area! Now if I only had a pass, that would have been spectacular.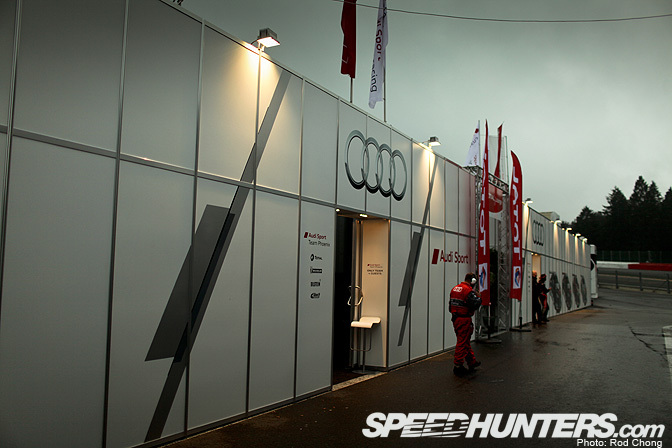 Audi had also set up this imposing facade in front of their trucks. It has quite the presence! Imagine something like this at our Formula D NFS Electro Lounge setup!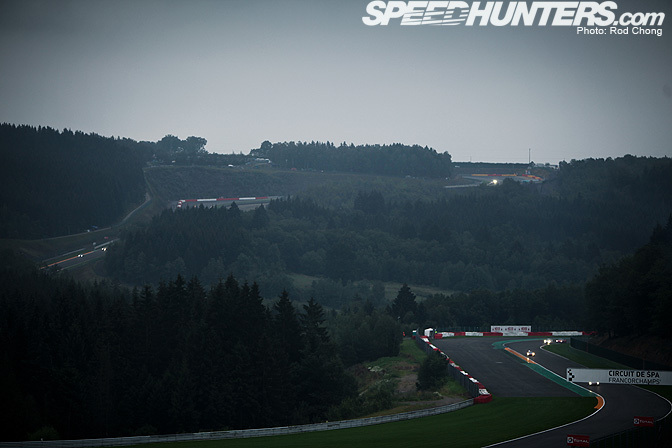 I decided to head out over to the area around the Bus Stop chicane. From the grand stands here you can see all the way up to the Bruxelles corner down to Blanchimont and the approach to the Bus Stop Chicane.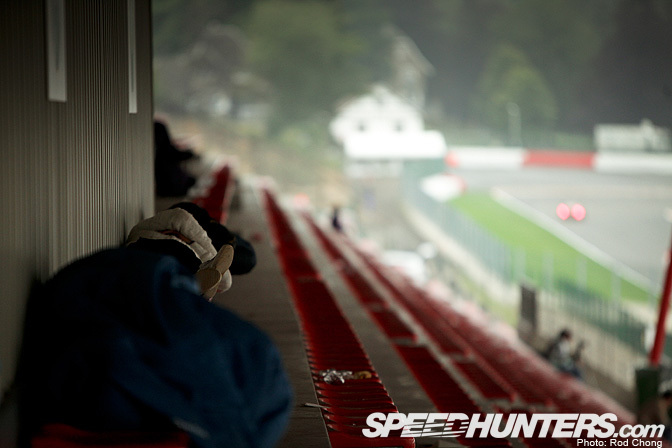 You can see some of the hardcore fans were sleeping in the grandstands. Never leave the circuit! That's right!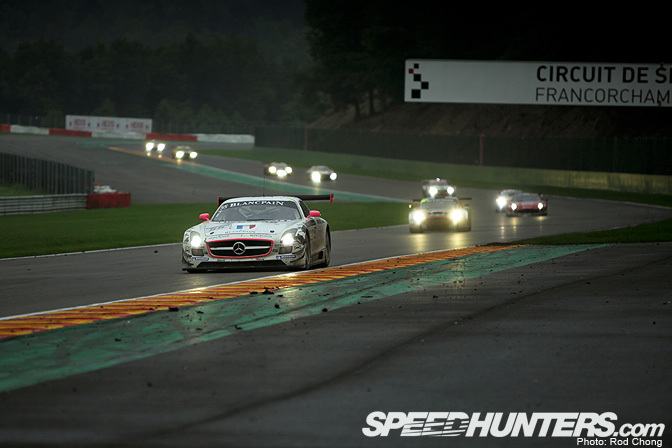 The GT battles continued to rage all the way down the field. Even though over 30 cars have now retired this field of GT3s must have been one of the most significant gathering of pure GT machines in the last decade.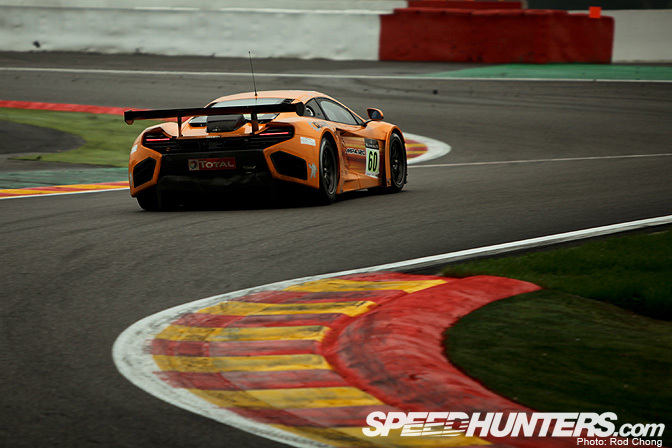 I am still in my honeymoon phase with the McLaren MP4-12C GT3. This machine is a perfect work of art! I do wonder how the street car translates though, as I've never spent any time with one previously.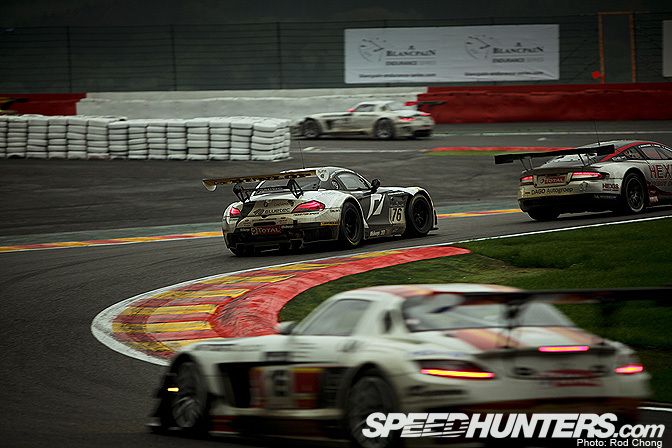 I stayed on at the Bus Stop chicane, to get some good snaps of the Team NFS machine as it continued to hold down an amazing second place overall. If you consider we started the race in 49th, this must be one of the greatest comeback drives of recent times. Let's hope we reach 4 o'clock without any dramas!
Ok that's all from me from Spa. Larry will be along soon with some desktop images for you.
And now I will change into a fresh set of clothes… YES!
:Rod