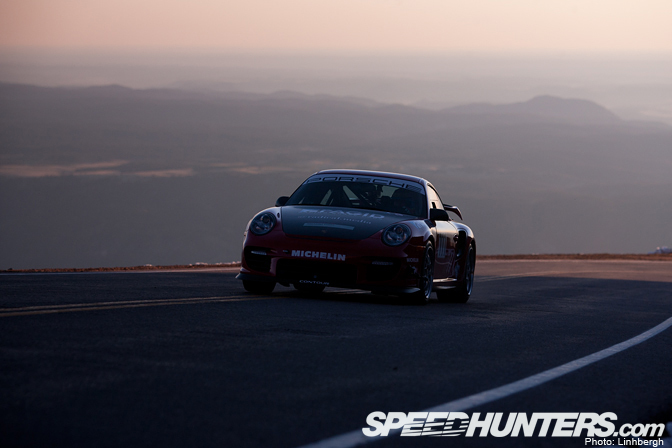 The Pikes Peak Hill Climb is an motorsport event like no other. You get one shot at it and that's it. If you mess up, tough luck. There are no redos. This week is the start of the 89th running of the Hill Climb event and it is single handily my favorite event to attend to all year. You can take away Formula D, American Le Mans or even Bonneville. I will choose this very hill climb over any other of those motorsport events. No other event I've attended makes you feel more alive when you walk away from your experience.
The top of Pikes Peak sits at 14,110 feet. There you have only 60% of the usual oxygen you'd breathe at sea level. Every motion is physically taxing at this altitude: walking, talking or even crouching to tie your shoes. You'll be wheezing for air in no time if you don't take things slow. This sense of physical and mental accomplishment at Pikes Peak is the reason why it's one of my things to do before you die.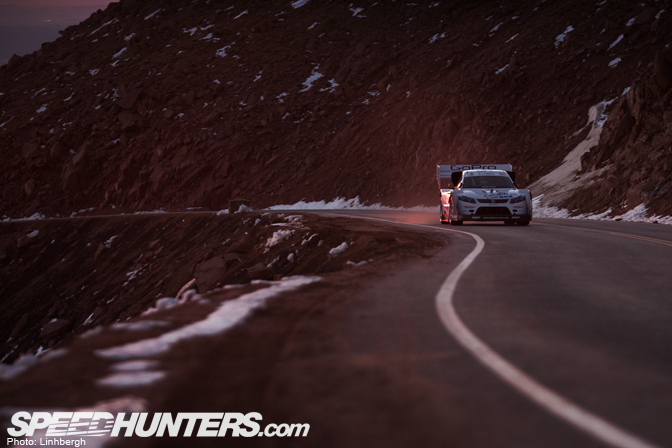 This year, there are 134 total competitors spanning multiple classes including four different motorcycle classes. But all eyes are on this man and his highly modified Suzuki SX4, Nobuhiro "Monster" Tajima…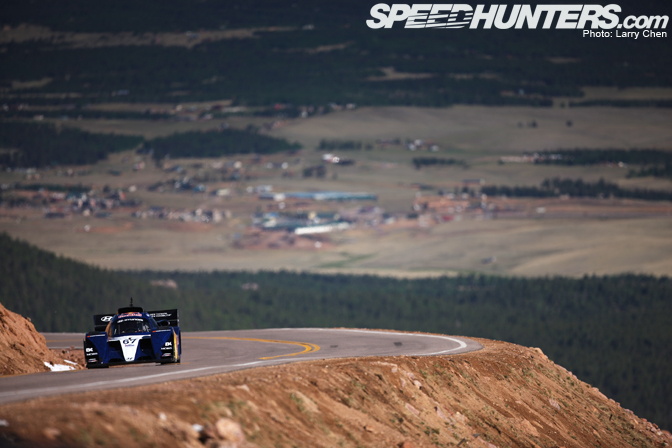 …and this man, Rhys Millen and his Hyundai Genesis RMR PM580 (say that five times fast!). Either one of these two are hoping to break the long standing 10 minute barrier this year.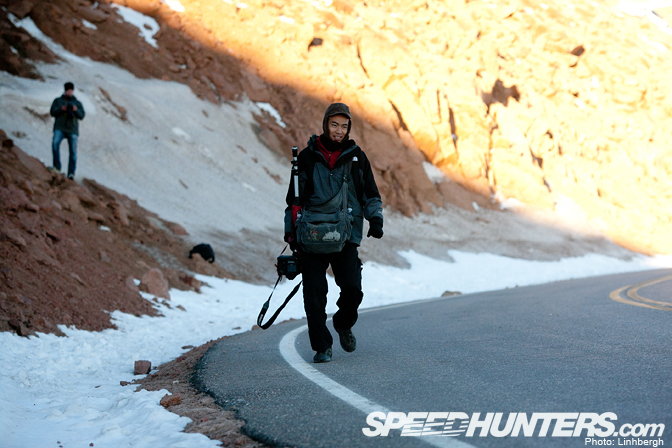 Pikes Peak is a gigantic mountain and hosts a just as massive hill climb event. For the last two years, I've trekked to the second oldest motor race in America with just one camera. But this year, I've been graced with the presence of Larry Chen. It is his first time on the mountain and he has already taken quite a beating with the lack of sleep and the altitude.
The rest of the week should definitely prove to be a challenge for this Pikes Peak greenhorn.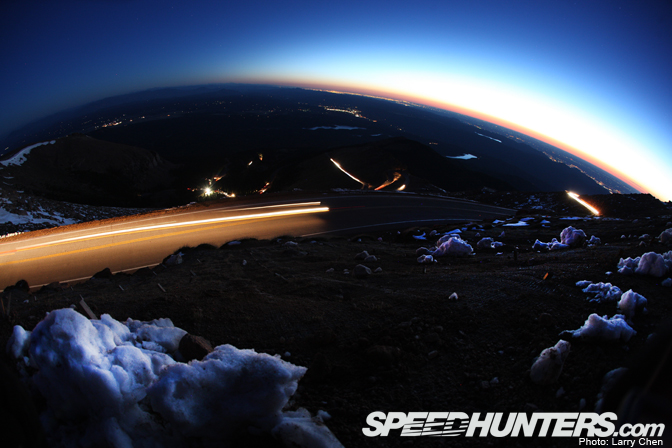 Practice sessions are split up into three days and the mountain split to three different sections of the mountain: the bottom, the middle and the top. Each section is split for certain classes. Since I was following the unlimited class and the two wheel time attack class, the day one's practice session takes place in the middle section of the mountain –my personal favorite section as I find it to be the most beautiful.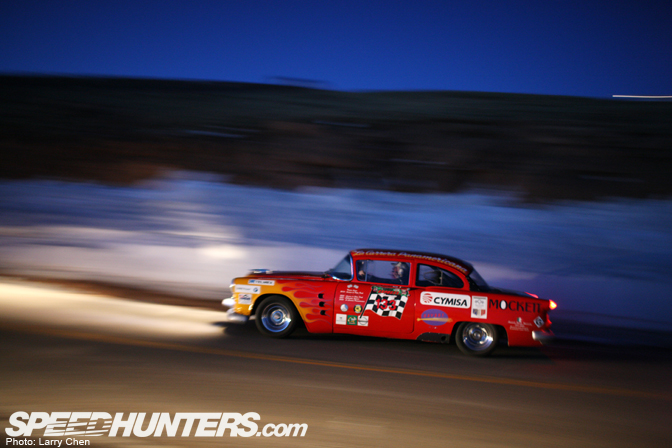 It's hard to tell just how beautiful the mountain is when it is completely dark.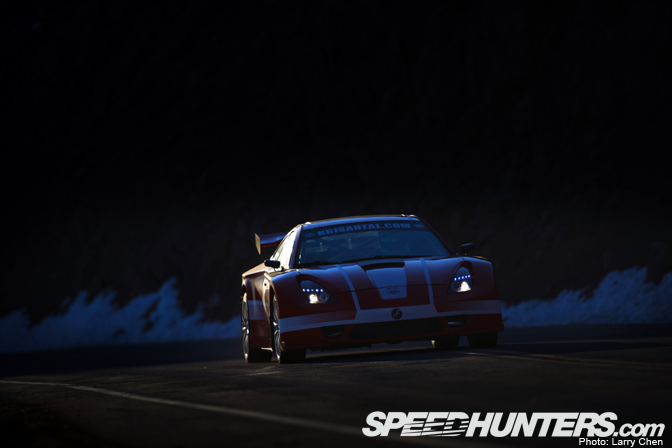 But once the slightest hint of sunlight arrives, the cars are launched for practice.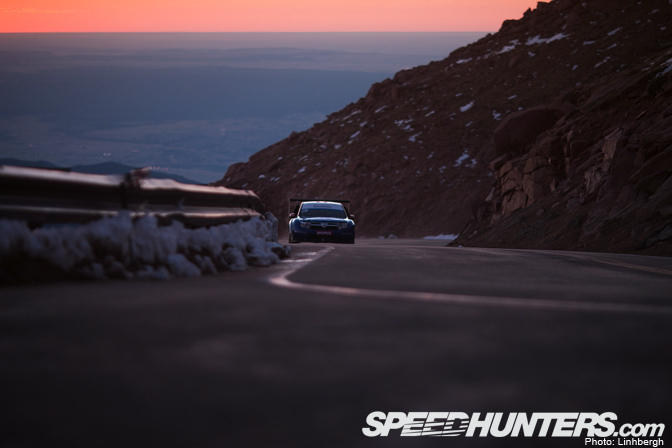 One of the most striking of the new unlimited classed cars is the 850hp Dacia Duster powered by the new GTR engine.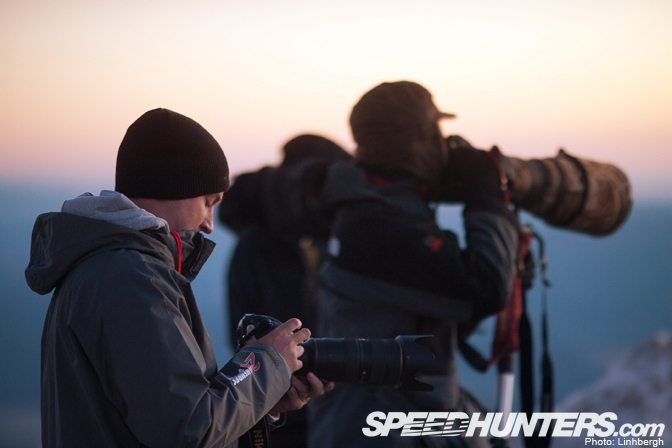 In the pre-dawn hours, I was graced with the presence of Autoblog.com's in house photographer, Drew Phillips.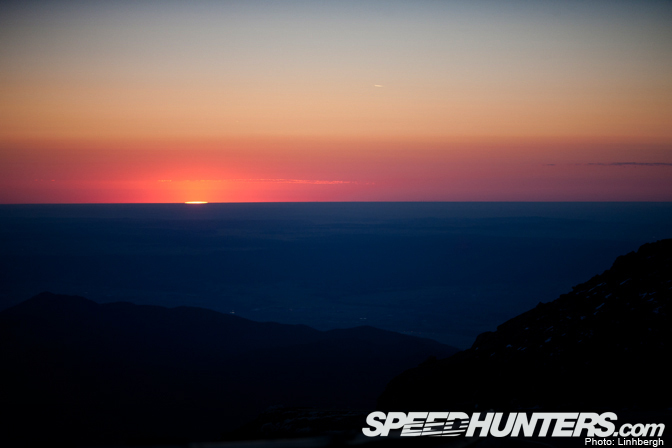 Documenting a week of Pikes Peak isn't the easiest thing to do. It's 4 straight days of getting up at 2:30 in the morning, battling the (sometimes) bitter cold and the altitude. It is physically and mentally draining to any person that takes part in the week's festivities.
But once the sun bubbles up from the horizon, all your early morning grogginess is instantly wiped away.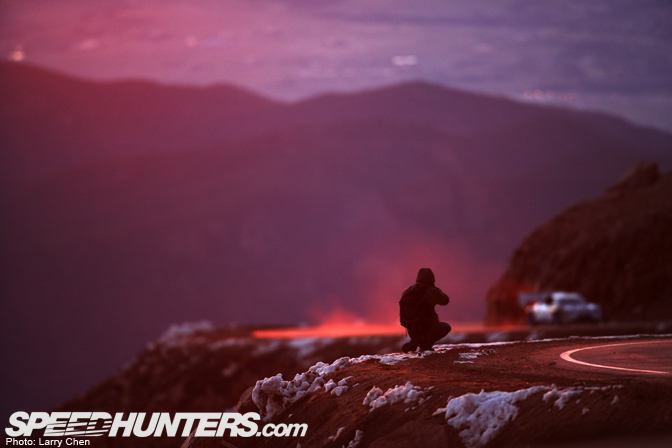 When the sun crests over the horizon in the middle section, the sky turns a bright shade of violet and is contrasted by the sun's yellows and oranges. This violet colored world can only be seen in the middle section during sunrise. No where else on the mountain is there this eerie yet beautiful glow.
Larry grabbed this amazing photo of me shooting Tajima's car as it flies around the mountain side.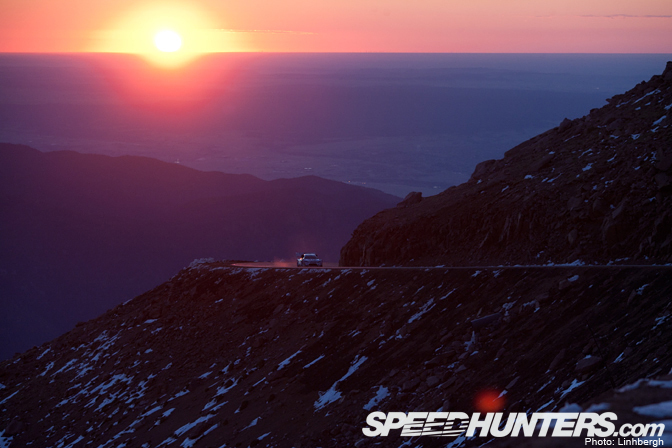 And this is my resulting shot.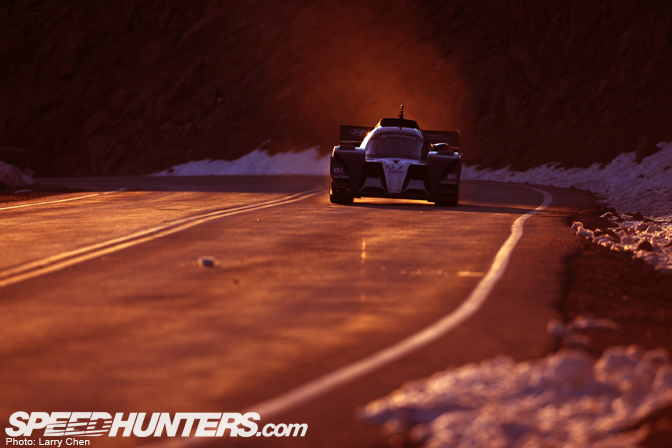 Rhys Millen's Le Mans prototype-esque Hyundai was looking to be much more dialed in than in years previous. It took corners at lighting speed and shot out of them with a blink of an eye.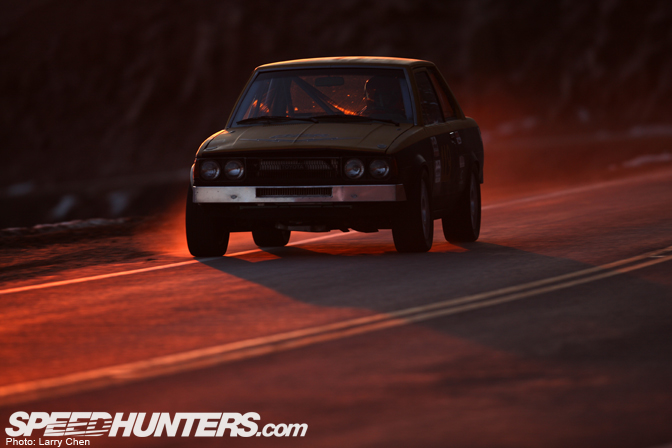 Not every car was a state-of-the-art hill climb space ship. For example, there is this humble little Toyota Corolla.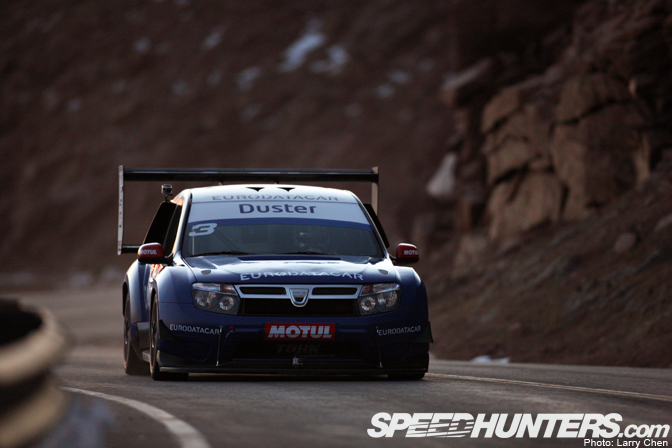 The Dacia Duster caught the eye of both Larry and myself. It's just a great looking car to shoot.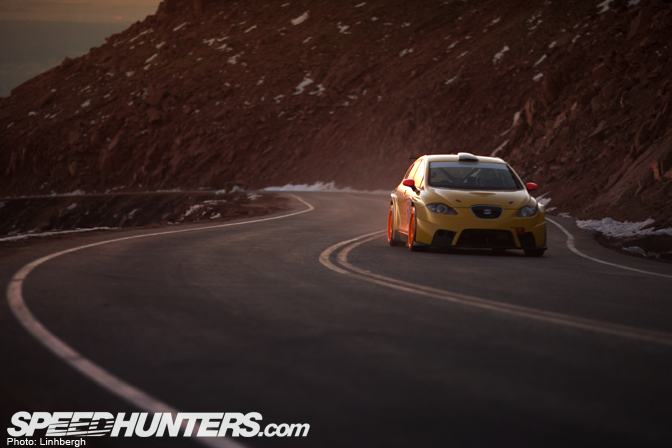 This SEAT León Supercopa became one of my new favorite cars. It is competing in the two-wheel drive time attack class.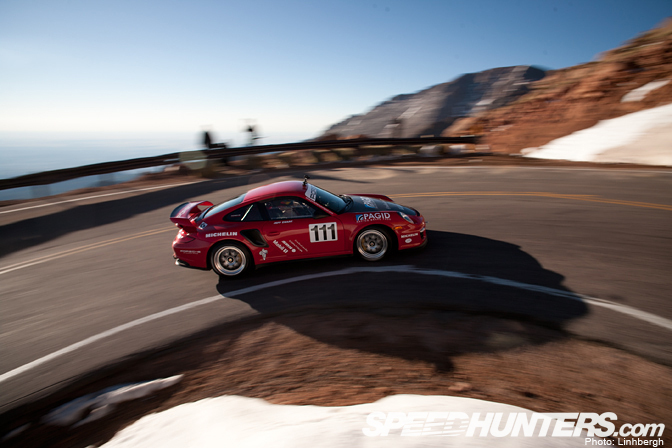 Last year, Jeff Zwart took the 2WD Time Attack class record with a Porsche GT3 Cup car. This year, he has returned with a much more powerful Porsche GT2. The amazing extra little tidbit about this car is that Jeff drove it from Southern California to Pikes Peak, all 1,100 miles of it.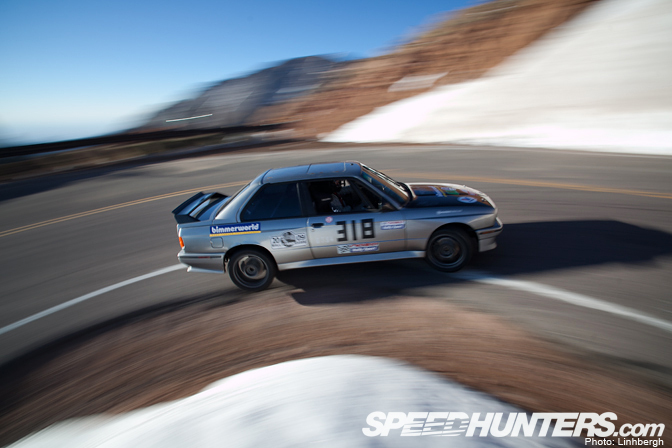 Automotive internet legend, Bill Caswell also makes a return to the hill. Not in his tried and true E30, but instead an E30 M3 powered with a Euro S50 B32!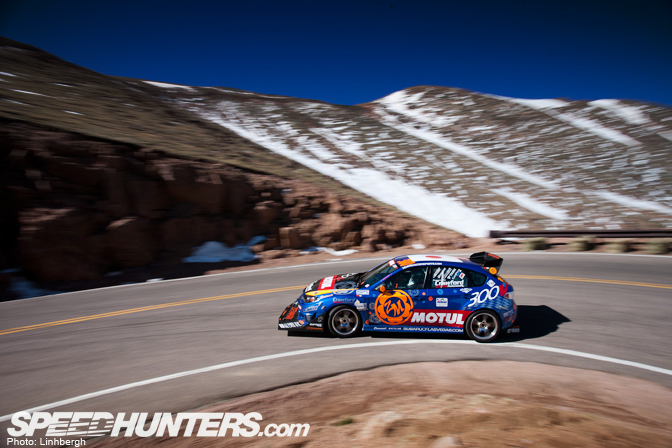 Formula D veteran, Stephen Verdier, is present on the mountain and can be found piloting this Crawford Performance Subaru Impreza WRX STI.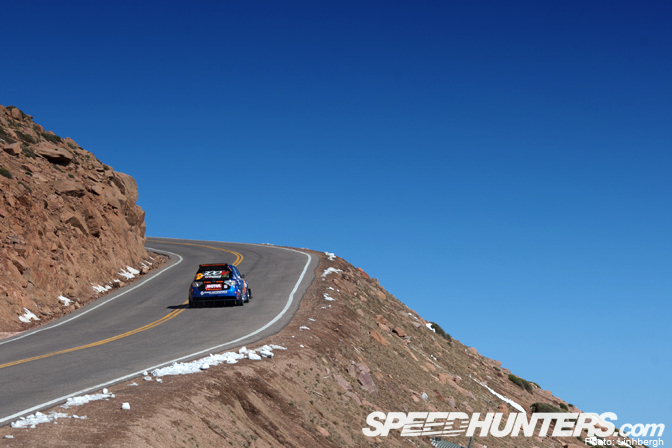 The Crawford Performance Subaru is quickly becoming another favorite of mine to aim my lens at with its striking livery and gigantic front splitter.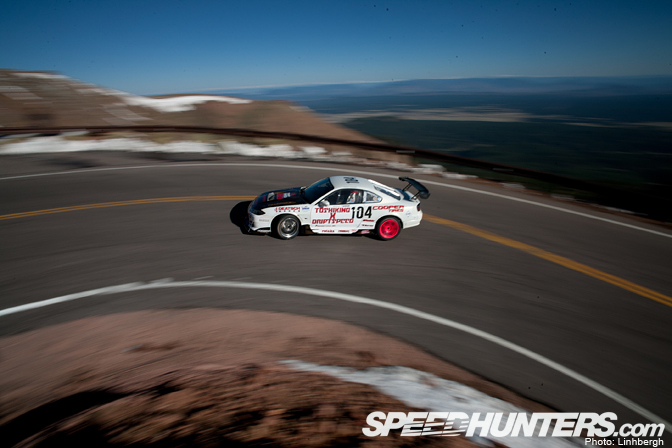 Pikes Peak seemed to be filled with Formula D drivers. Toshiki Yoshioka was attacking the mountain with the Drift Speed S15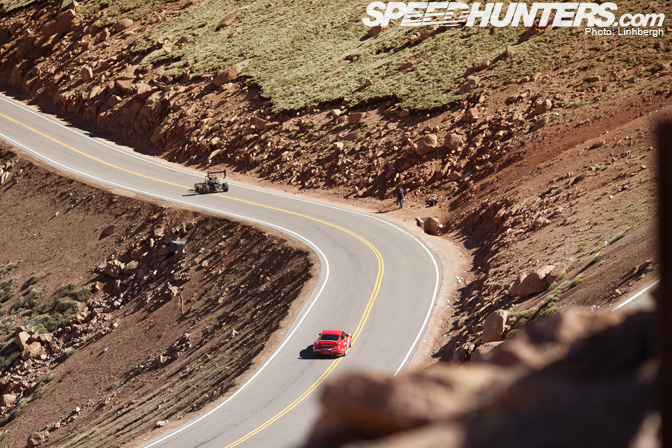 Practice starts from sun up (usually 5am) till 9:30 in the morning. In that small time frame, they try to get in as many practice runs as possible. Once everyone has made their practice run, they all head back down to the section starting line to start again. On day one of practice on the hill, they were able to make 5 different runs.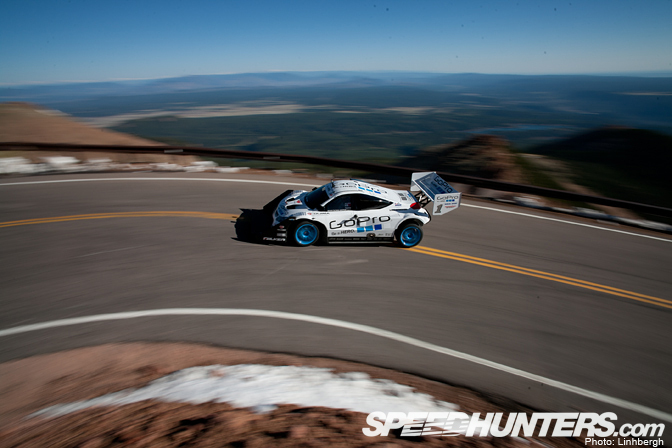 Monster Tajima was looking solid all morning. He drove inches from the edge and took the best lines out of anyone.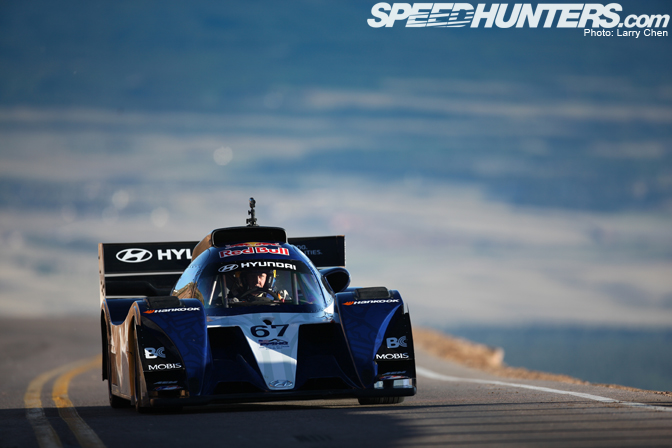 But on the other hand, Rhys was also looking solid. Though he didn't have the consistent and aggressive line that Tajima takes, he has a car that shoots around corners at lightning speed and exits out of them in the blink of an eye. Sunday is shaping up to be quite the title fight!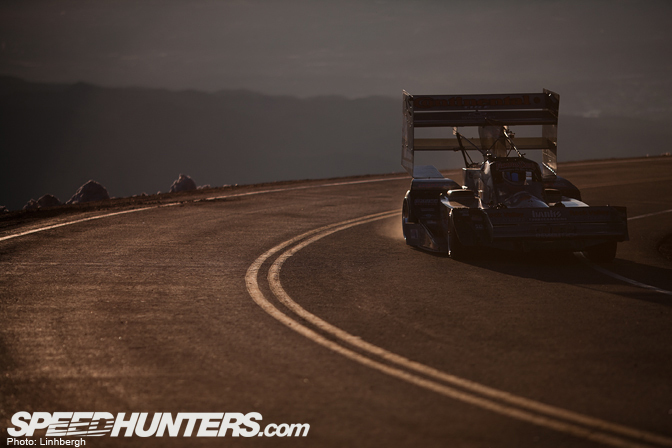 Another unlimited class car to look for this year is Paul Dallenbach's 1307 hp open wheel monstrosity.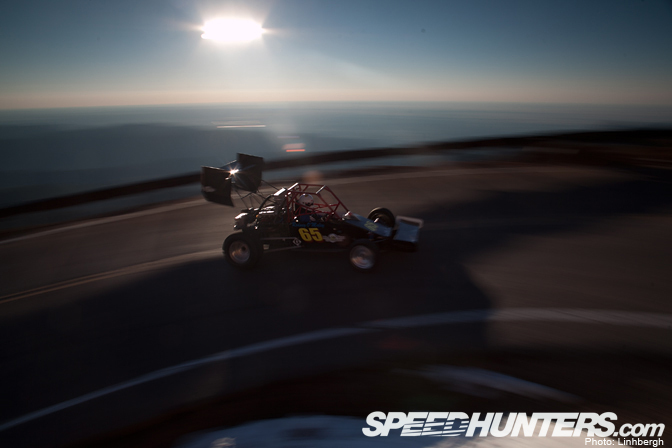 Dallenbach's unlimited car may be the king of the open wheel hill climb machines, but that doesn't mean it was the only one…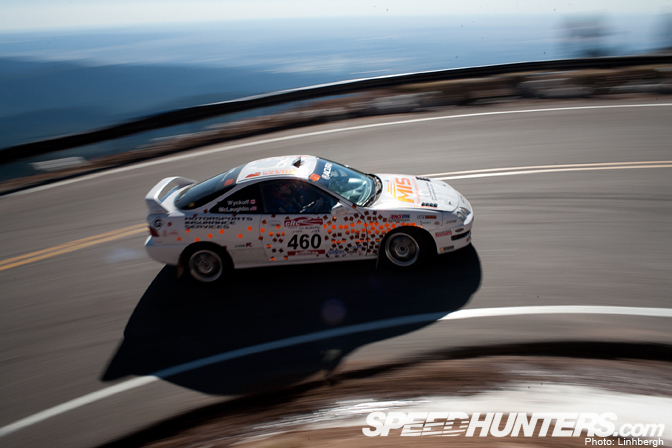 There was even this Integra attacking the hill.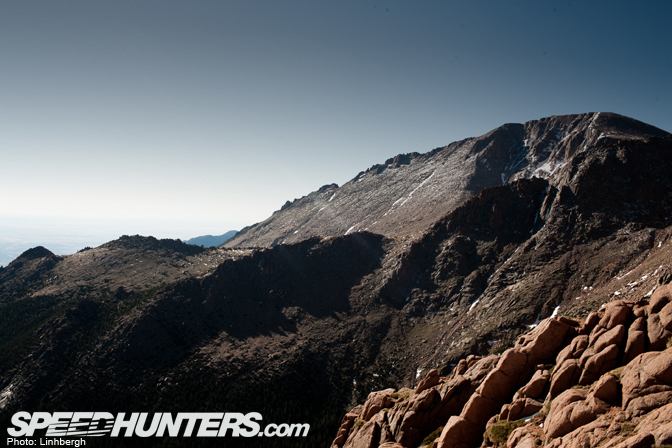 Only in the Pikes Peak middle section are you treated to vistas like this.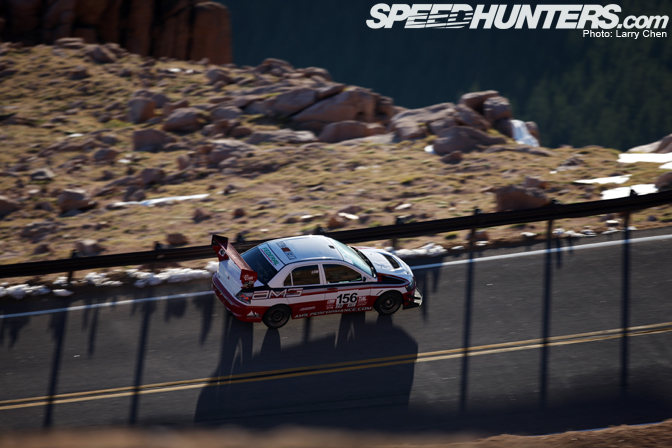 This shot of the AMS Evo, which Larry shot, is an optical illusion. It totally looks like it's floating….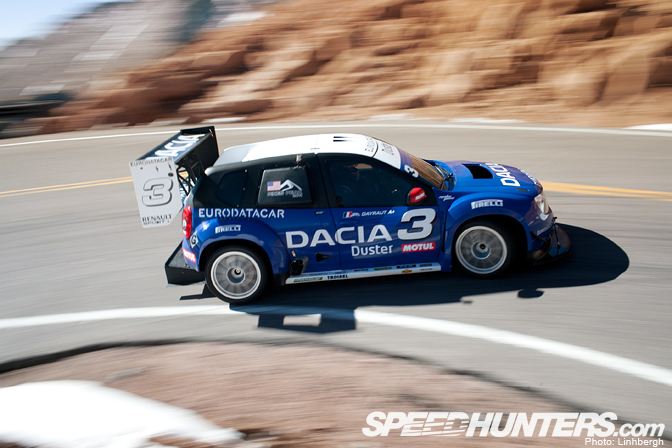 My shutter couldn't get enough of the Dacia Duster.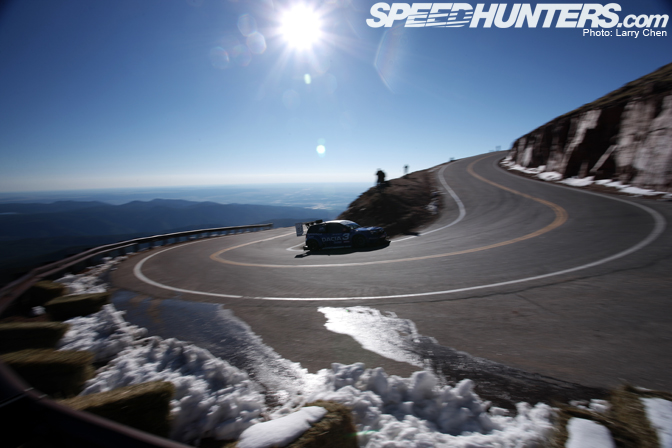 Even Larry couldn't get enough of the Dacia. I'm sure James May is taking a keen eye to all this Dacia loving.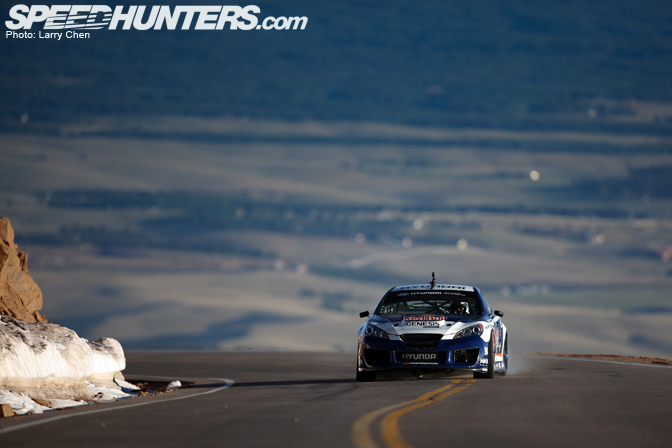 The legendary Rod Millen was looking very comfortable in his son's drift car.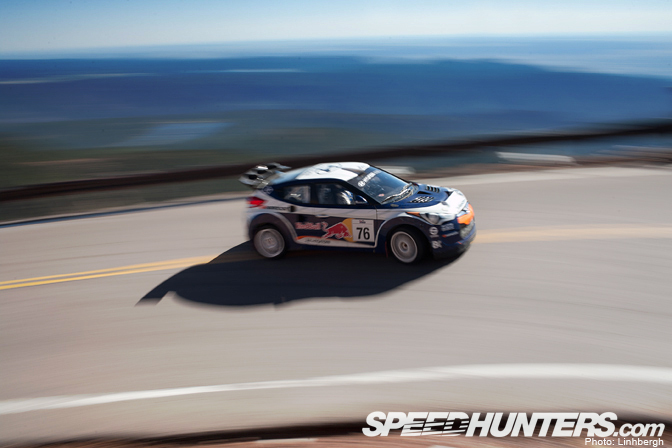 Rhys' Global Rally Cross Hyundai Velsor was also present with Lauchlin O'Sullivan behind the wheel.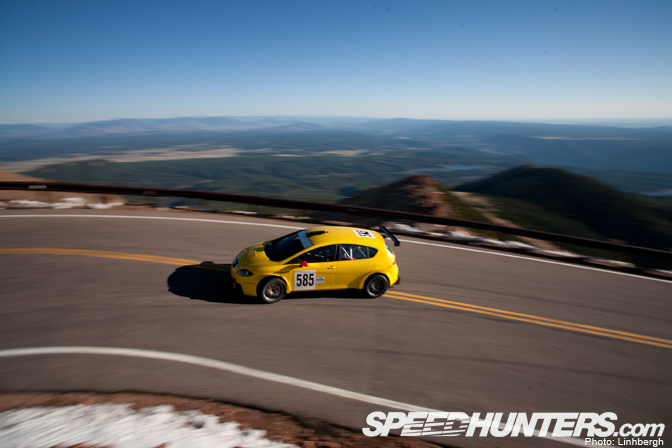 Another shot of the SEAT looking stunning.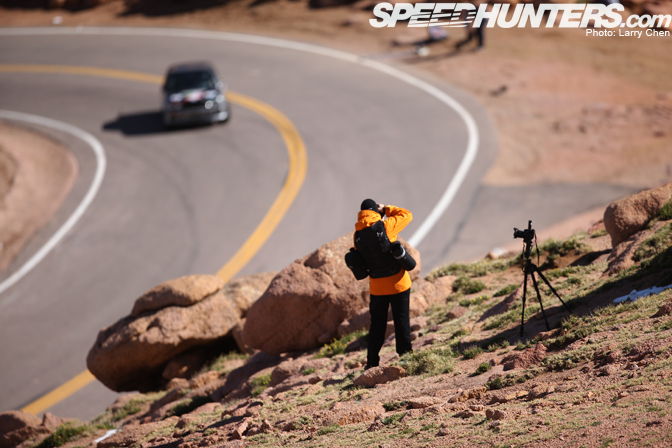 There was no shortage of media throughout the sidelines.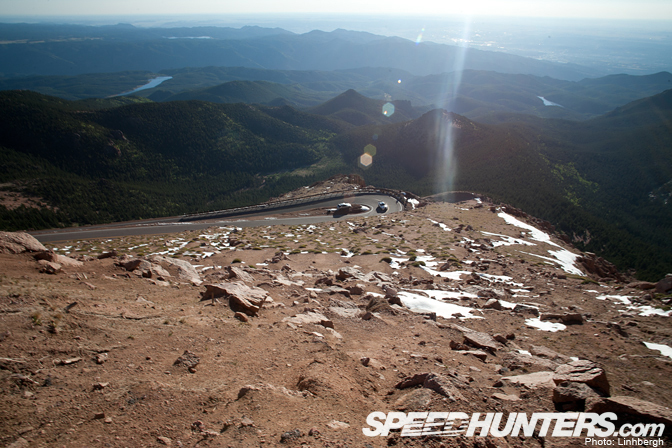 The great thing about the middle is the grandiose views, the shear drops, and at certain spots on the road, you can look down and see the whole course.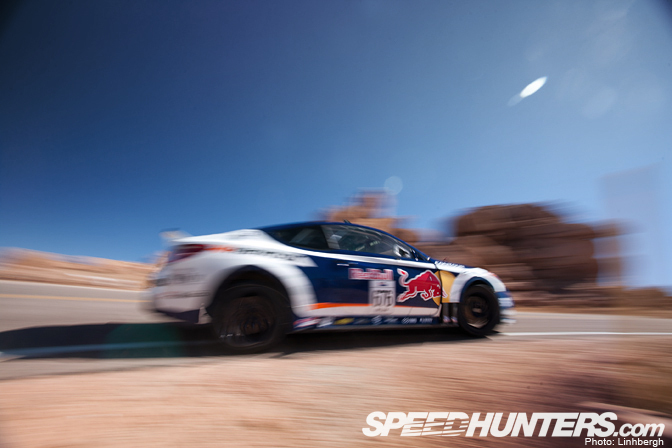 There's a lot of special little things that make the middle section rather magical that the other two sections cannot even match up to.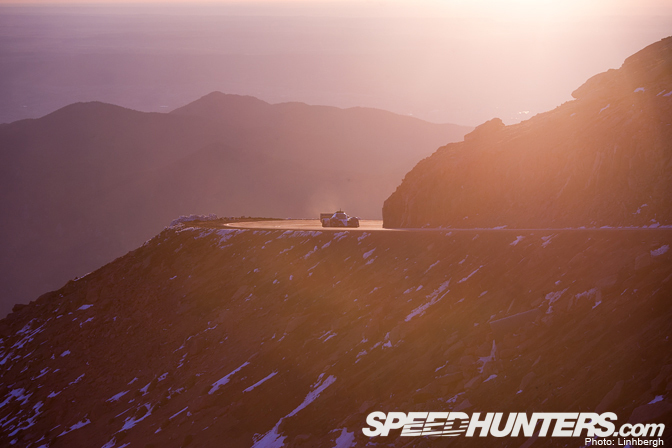 But for me, it's the purple sunrises win me over.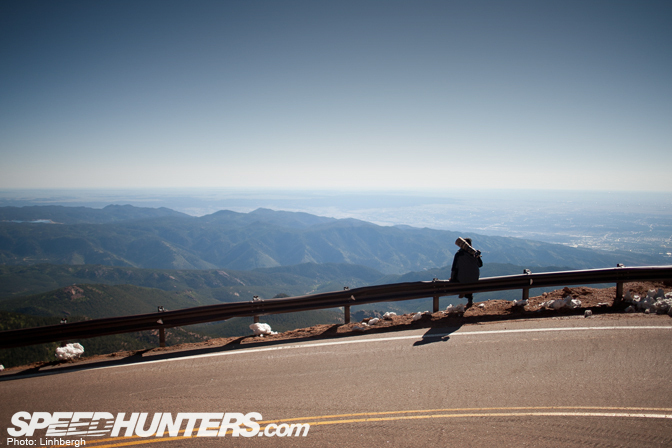 The first day of practice will probably be the last time I will be visiting the middle section. Day two's practice will be taking place in the top section, day three's will be at the bottom and on race day, I plan to be in the top section again (a place I have not yet been to on race day).
Now, if you'll excuse me, I have to head to bed to get as much sleep as I can before that 2:30am alarm starts blaring and it is already 11:30pm –crud.
-Linhbergh