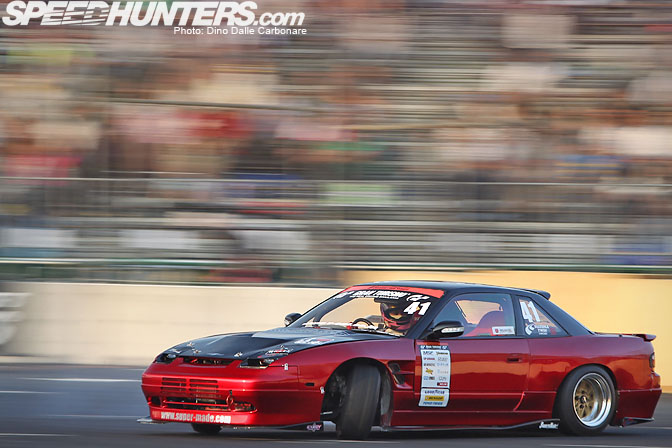 Time to return to Odaiba now for the final coverage of D1-GP's Round 1. After attending these Tokyo Drift events for so many years it never fails to amaze me just how damn good these pro drivers really are. To fling a car completely sideways at high speed, in what is essentially a very small makeshift track with little other than thinly padded concrete walls marking its extremities, is nothing short of insane. The car control these guys have is something we really forget at times, just take a look at the angle Fujikawa is getting on the opening shot with the Super Made Onevia! Backward entry all the way!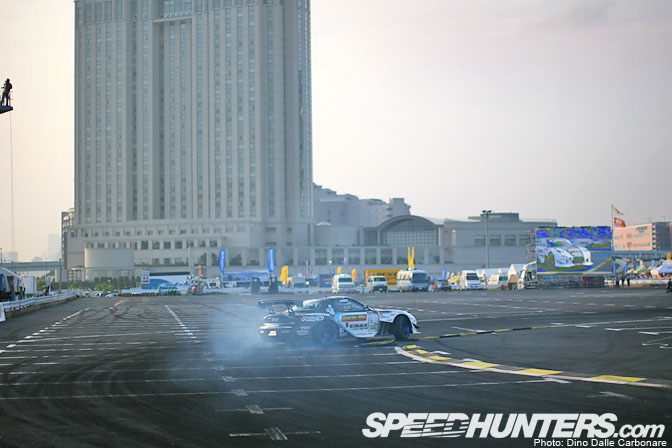 We left off yesterday after checking out some of the First Stage battles.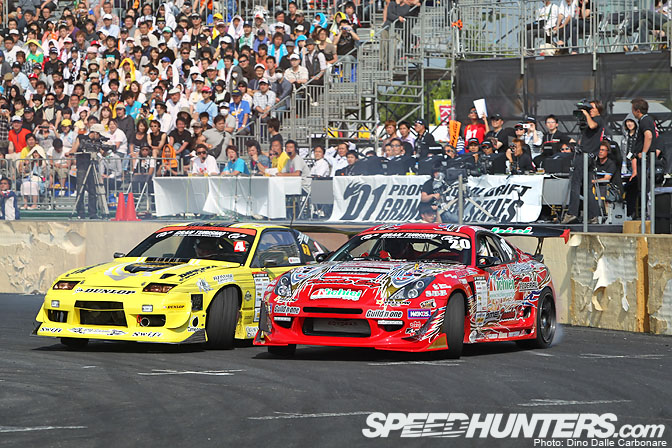 With the new way the competition is organized there are a lot more tsuiso runs to watch. I guess after running things in the same way for 10 years the now restructured D1 Corporation wanted to try and create an even more interesting viewing experience for the spectators.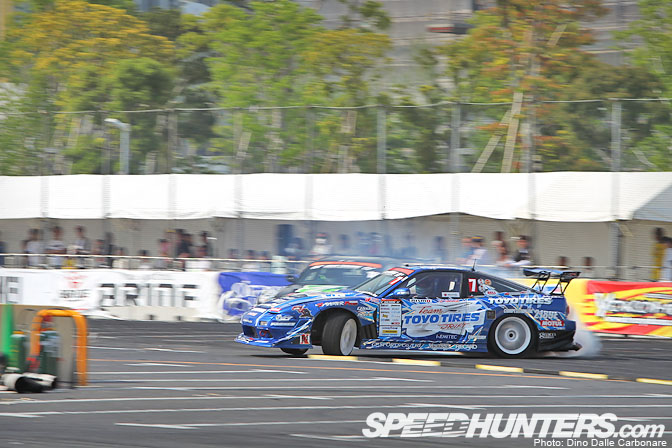 And with such a tight layout as in Odaiba there's always something unexpected that is going to happen, be it crashes or mistakes like we see here, when Kawabata initiated his drift way too early when going against Suenaga in the RX8, ending his hopes of moving past the Best 16.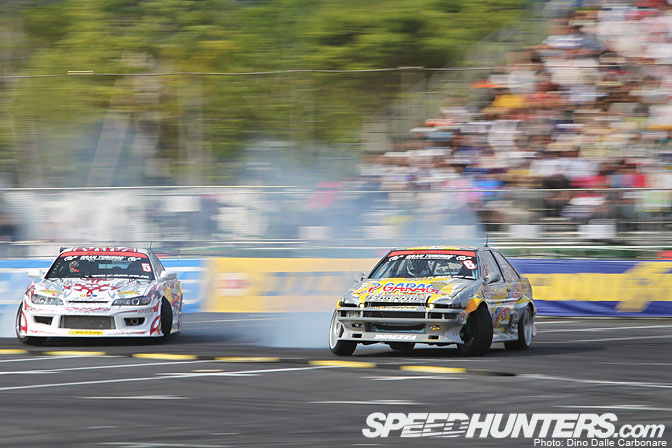 Two of the best battles of the Second Stage (Best 8) were between Imamura and Hibino…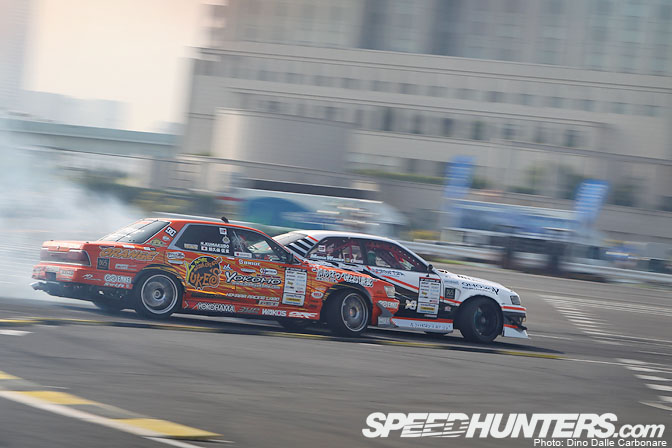 …as well as Kumakubo and Saito. Hibino gave it 110% as he always does with his 500 HP 3S-powered AE86, but Imamura kept glued to him as they entered the main judged corner, his power advantage helping him to keep enough distance in his lead run. It was a pleasure to see Kumakubo and Saito go for it. In the quest to find more response for Odaiba the Team Orange mechanics swapped out the Trust T88 turbine on the Laurel for a smaller T78, lowering power to around 800 HP but rewarding with more drivability. They were glued to each other but it was Kuma that managed to make it into the "Final Stage," which in old D1-talk would be the Best 4, Semis and Finals.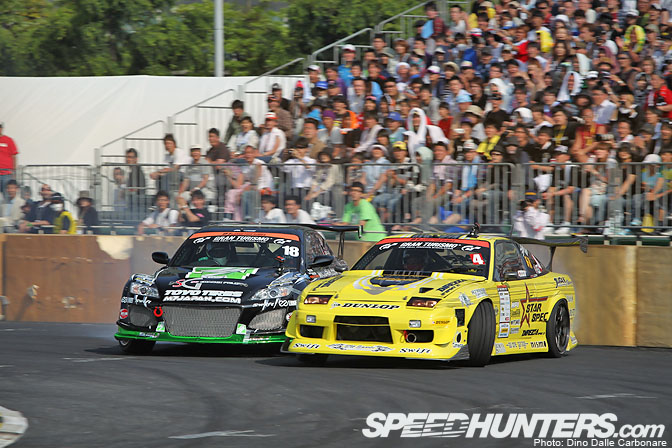 After unleashing all his 650 horses, Koguchi beat Suenaga in the Second Stage…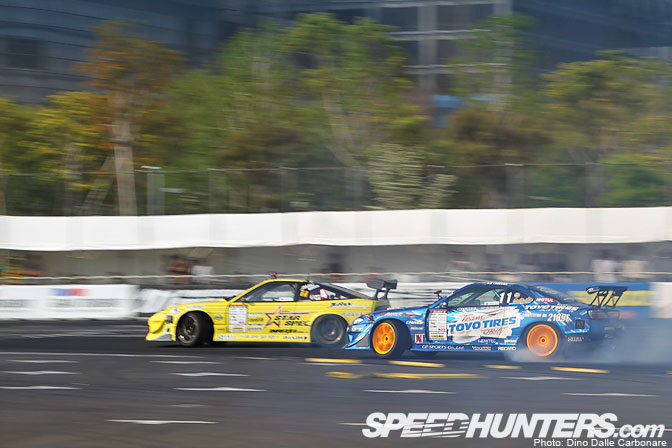 …but was unable to better Kumakubo who had moved up into the Final against Imamura. Koguchi had a last chance to grab a few more points in the fight for third place against Sakuma's Team Toyo GP Sports RPS13, but it wasn't going to be. Sakuma took the win.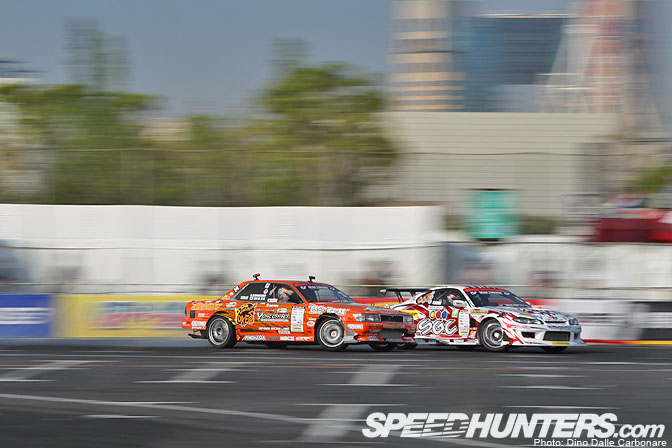 The final was nothing short of epic, Kumakubo has obviously found whatever was lacking in his Evo X in his this new Laurel. Impressive driving from both..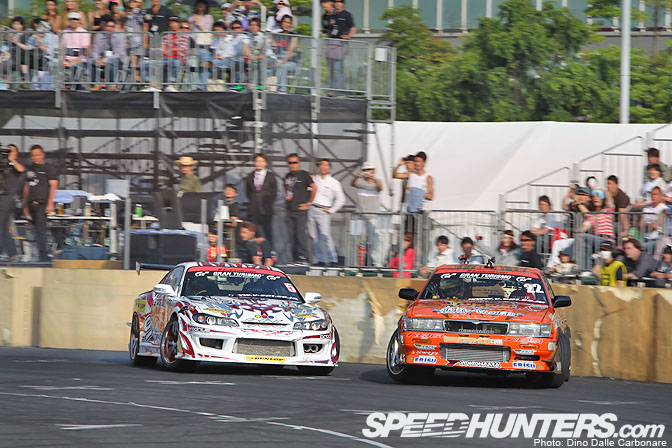 …so good that the judges called for a "Sudden Death," or a One More Time if you prefer old D1 lingo.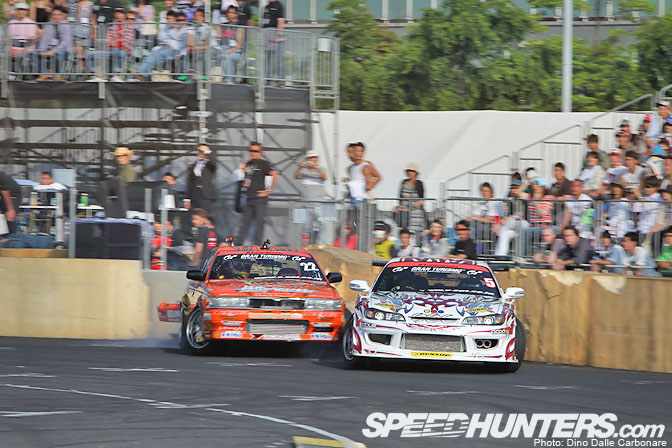 But it all went wrong for Kumakubo when chasing Imamura. He came in just a little too hot wanting to stay as close as possible to the Auto Produce Boss S15…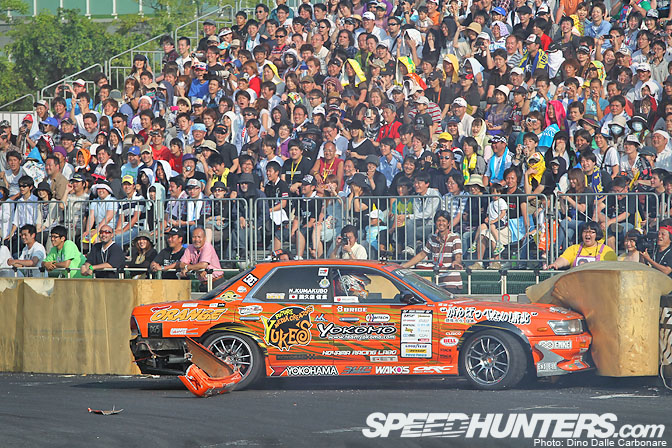 …when the rear of the big Nissan went into the barriers, spinning the front of the car around and ending his hopes for a victory.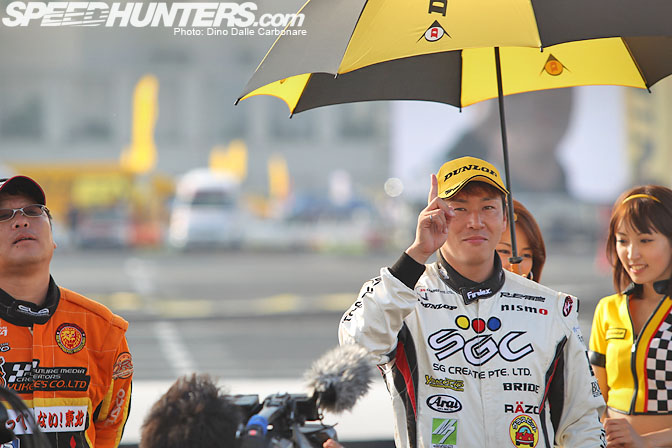 Imamura took his first win for 2011 in his usual calm and conservative way. Kumakubo on the other hand was a little disappointed, as he knew he could have been the winner on the day.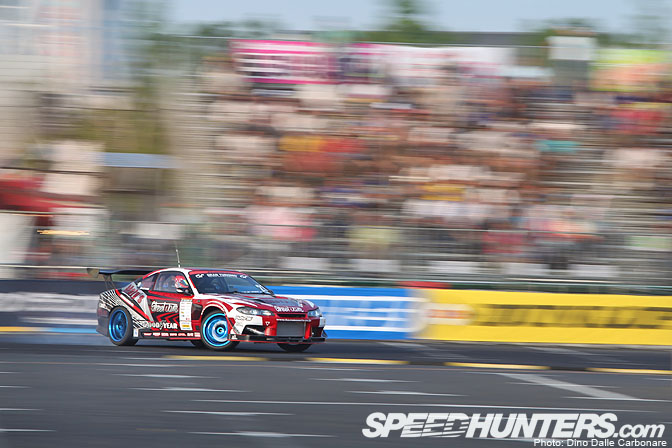 With Round 1 over and done with it was on to the first qualifying session for Sunday's competition…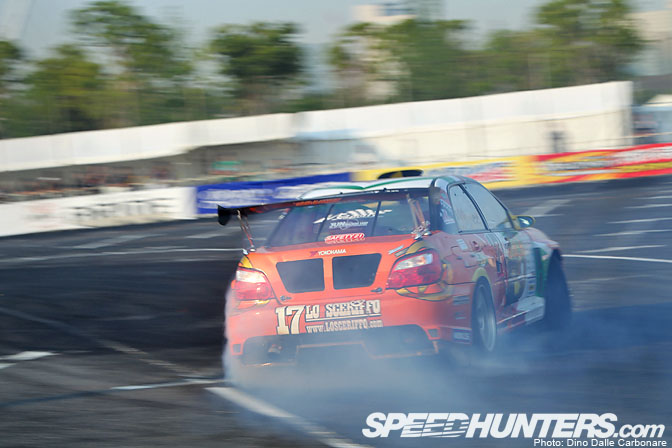 …where drivers had another chance to show what they were made of. Federico Sceriffo, the only non-Japanese driver at this D1 weekend, managed a 9th place finish which gave him hope for Round 2.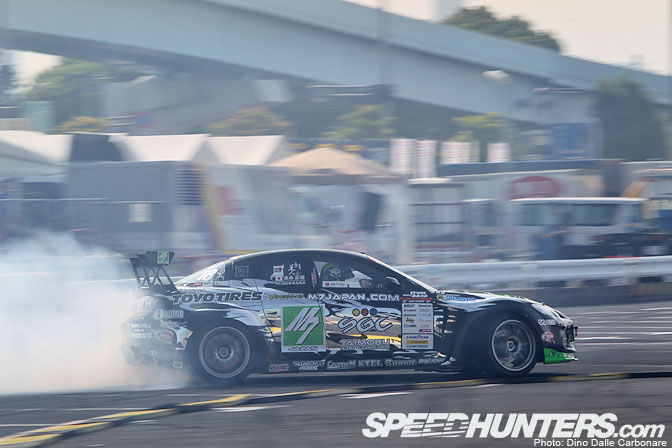 Sueganga unleashing some 13B power!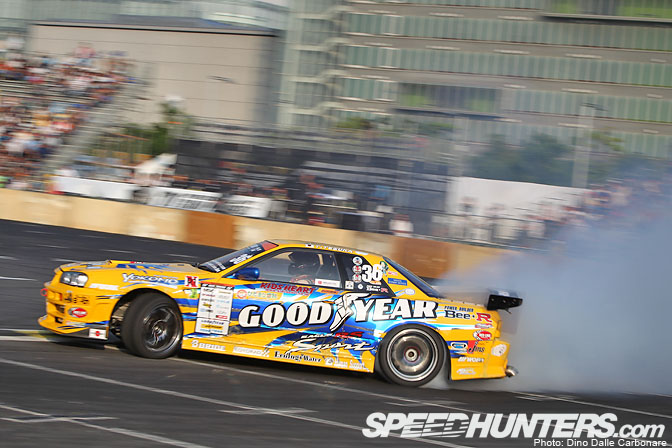 I was hoping to see Tezuka's new R34 in action at Odaiba but it looks like the old trusty R32 GT-R was the weapon of choice.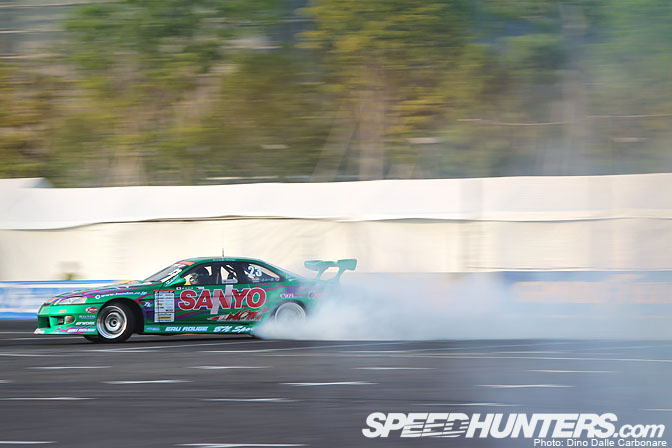 Jinushi's 700 HP 4 Real Works Soarer always looks great when vaporizing tires.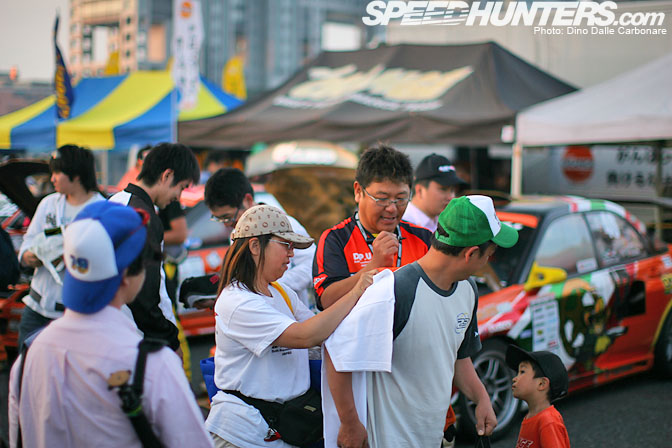 The day ended with an open pit, where spectators were allowed to spend some time checking out their favorite cars…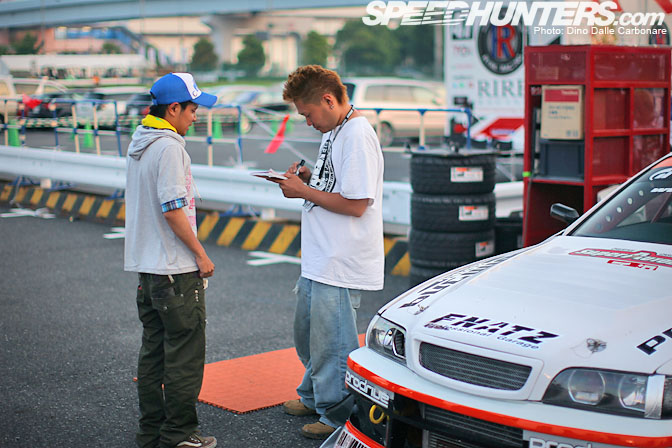 …and of course pick up as many autographs as possible.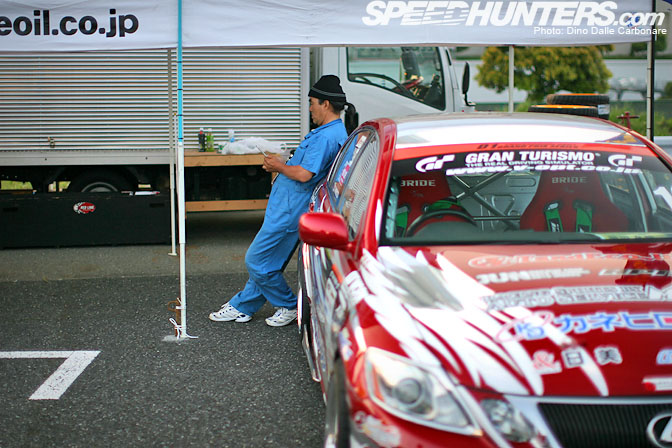 Mori-san taking a breather after a hard day's work.
The drifting coverage isn't quite over yet, I've got much more to show you from Sunday's Round 2 as well as a few more spotlights. Back soon with more.
-Dino Dalle Carbonare