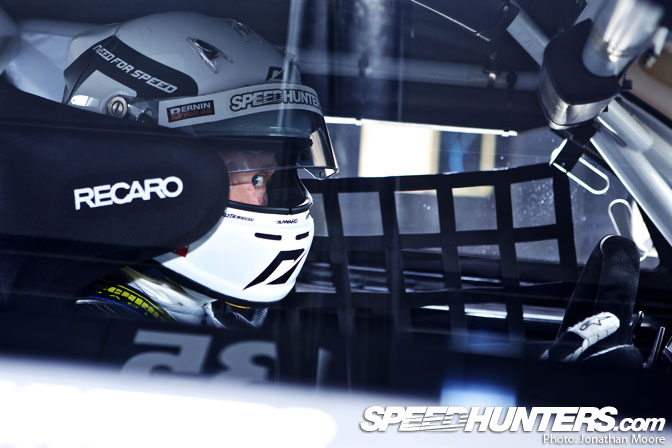 What's up Speedhunters! It's me Edward, typing away on my computer again to report on my recent race in the FIA GT3 European Championship at Silverstone.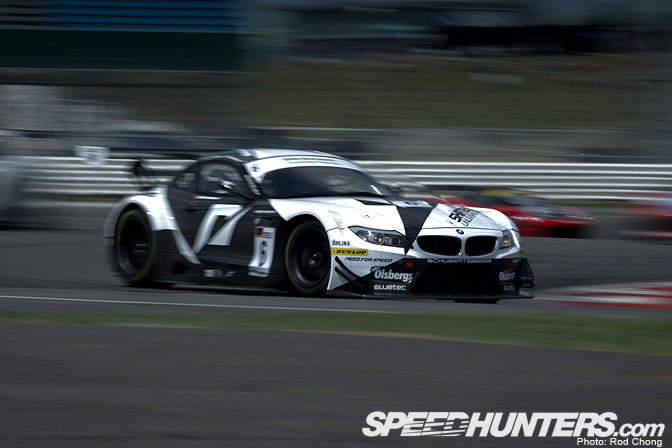 Time is as always flying and at the moment I'm visiting a sunny Sweden, but will soon pack my bags and head over to Germany. This Friday I will spend some time in the workshop with my team, Schubert Motorsport, to prepare things for the Nurburgring 24HR. At the same time, I will visit my good friend friend Mattias Ekström at Lausitzring where DTM have their fourth race of the year. So what happened in Silverstone? Let's take a look back at this weekend of racing.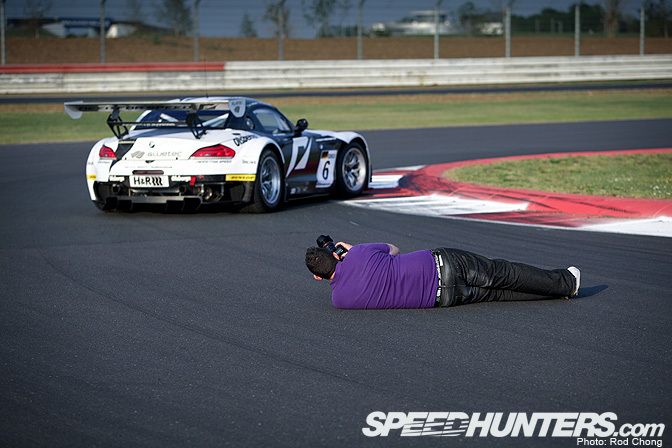 My UK adventure started on Thursday evening. Just Like last year at Silverstone, the Speedhunters crew wanted to create some magic photos of our race car. During the shoot, my mechanics could take some well deserved rest whilst Paddy was creating his usual brilliance.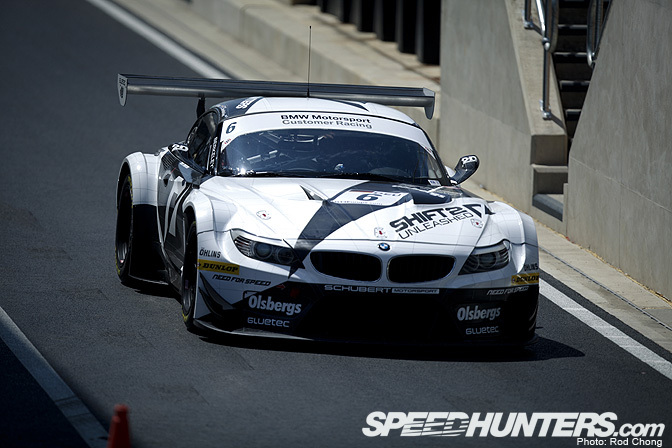 I actually visited Silverstone three times as a spectator before I did my first race here last year. I remember when I watched Hakkinen from the pit wall taking the then first corner flat in a McLaren during a test day at the end of the nineties. What a memory!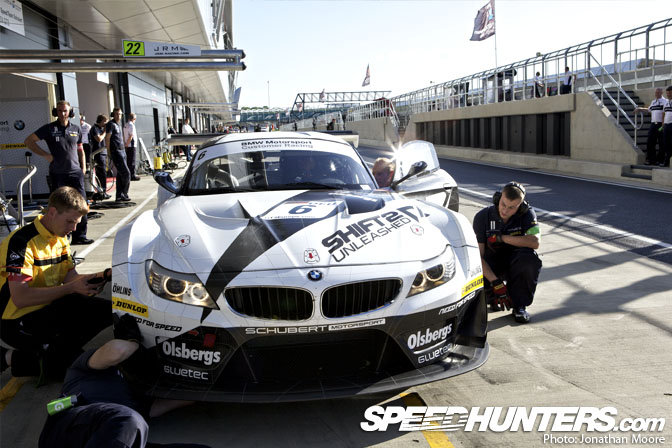 Now they have changed the pit lane and created a new modern pit building, but still it's a really fast right hand corner after the start/finish – I like it.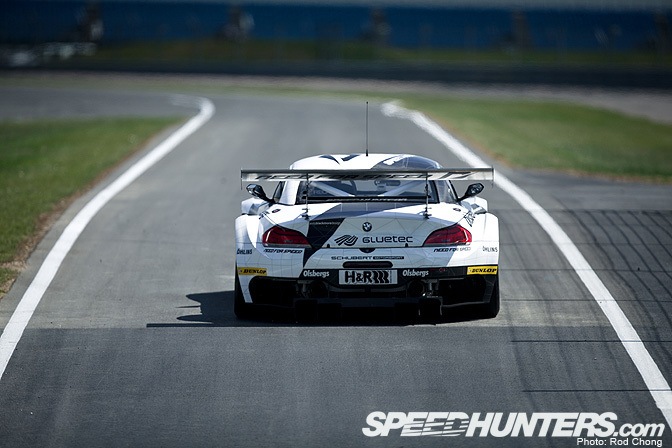 It's upwards when you're entering the track from the pitlane, so you better step on the throttle in order to save time. You still have to watch your left side for incoming cars trying to nail the first two very fast corners.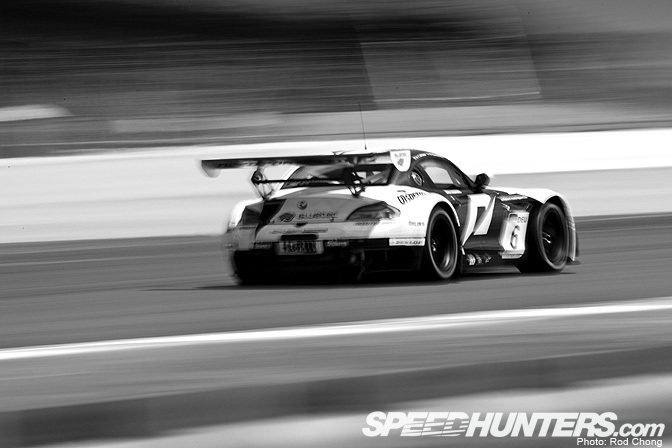 The practice sessions were all about trying to find a decent race set-up and at the same time get more track knowledge before qualifying.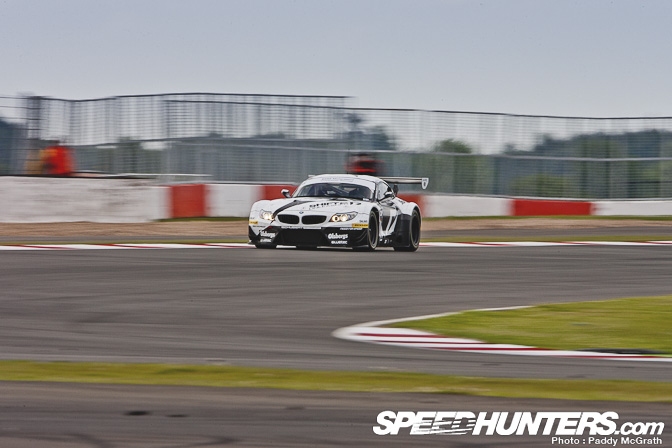 Our practice times were good enough for sixth position which was okay given that the track felt relatively green and slippery. Still our car was handling really well in the fast sweeping corners, but we were fighting to increase the traction out of slow corners.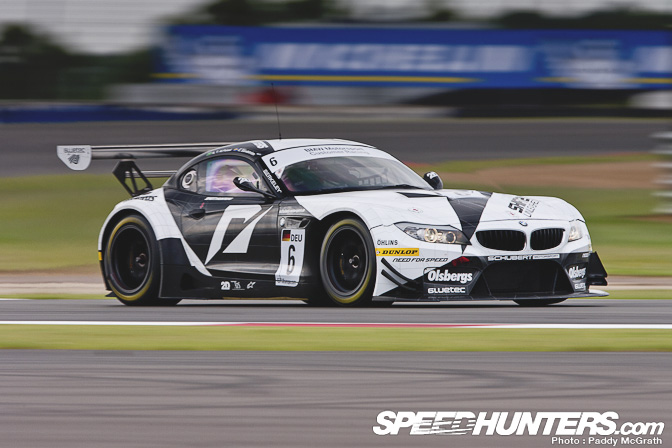 We have changed to black rims this year and I kind of like it. It makes the Z4 GT3 look even harder. We actually took this decision after reading feedback from the Speedhunters audience after the Dubai 24HR!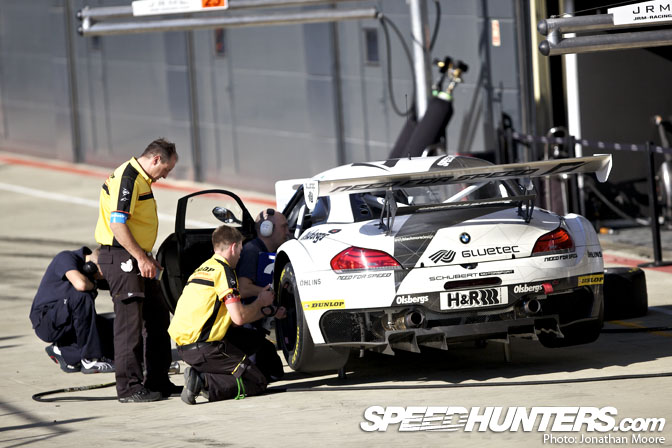 I was aware that qualifying would be a key element here. Our top speed is some KM/H slower than the Lamborghini, Mercedes and Ferrari which makes it more difficult to pass. Our tires like hot conditions and when the thermometer was showing 13 degrees before qualifying – this was not ideal for us.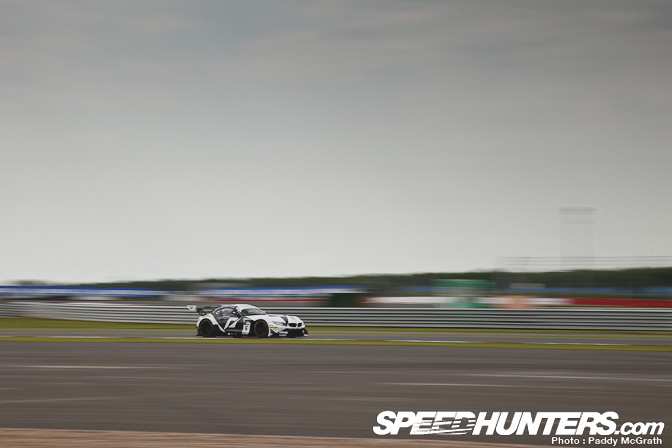 Anyway qualifying is all about nailing everything: bring the tires in perfect, brake and use the grip with a lot of feeling and at the same time push like it's the last thing you will do in life. I pushed but unfortunately never got that real feeling of grip like in Portimao. At least we ended up in third position.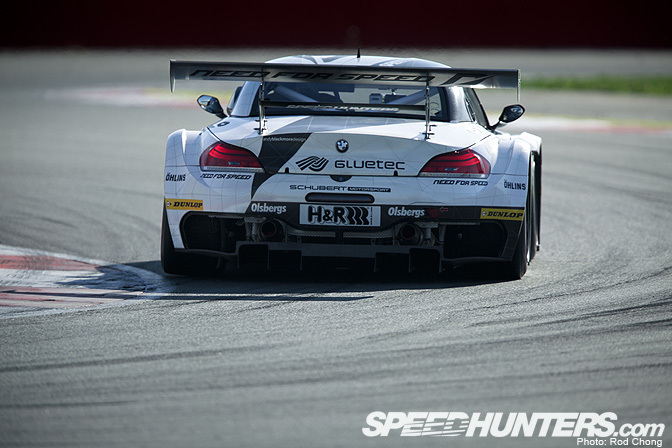 In this shot, I've been braking into the last chicane before the double right leading out on start/finish straight. The BMW was really good into the chicane which boded well come race time.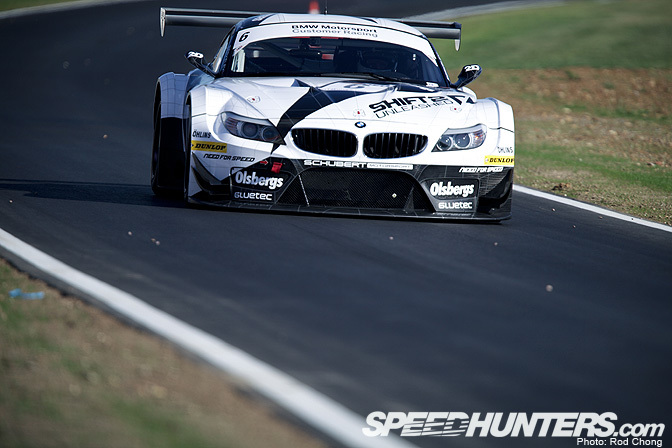 The pit lane has a very fast entry. You could easily gain and lose during
a pit stop, therefore it's important to always make sure you know where
to brake and where the speed limit
starts. We also start the running time for our stop when passing that line, so you have to push the button at the right time.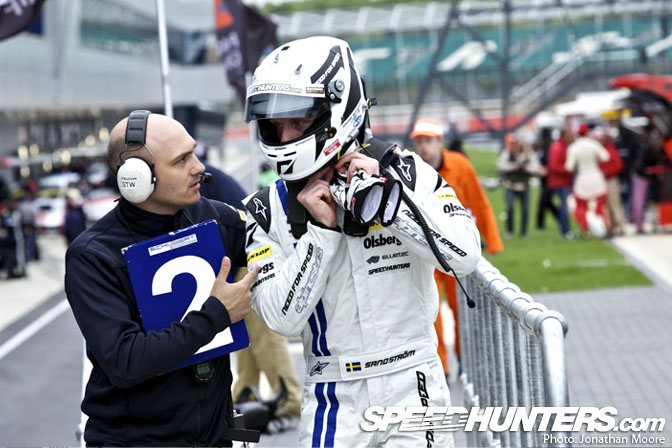 After my qualifying laps I gave some feedback to Stefan…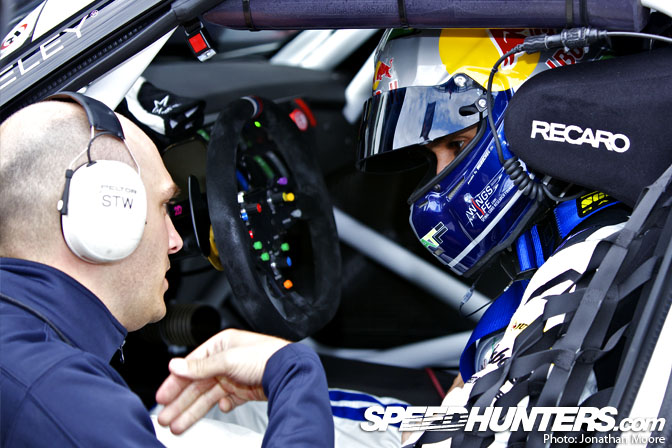 … so he could make some small changes on the car before the second outing with Aziz behind the wheel.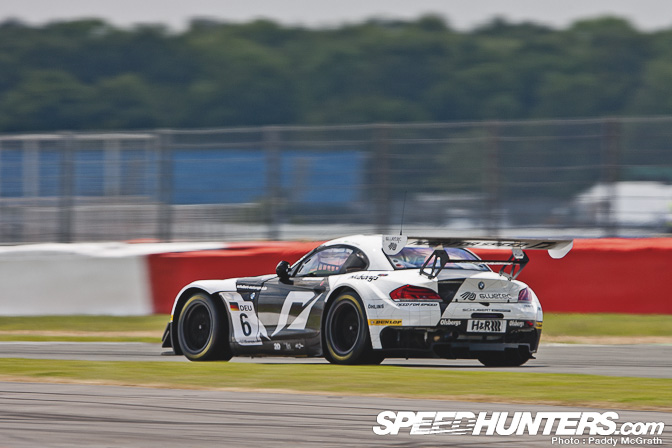 Aziz was happy with the car, but we were still well behind the other BMW team with their Michelin tires.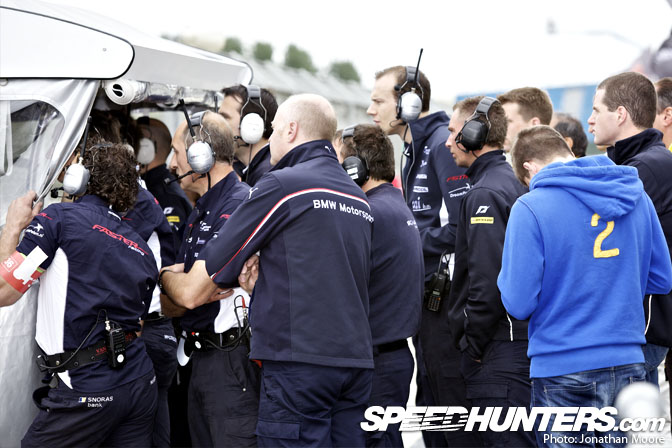 At the same point we had a penalty from Portimao. So the grid position for race two was not so good. But Aziz and I will always fight through to the end so I wasn't too concerned about starting in 22nd. We just had to push a bit more and do some proper overtaking!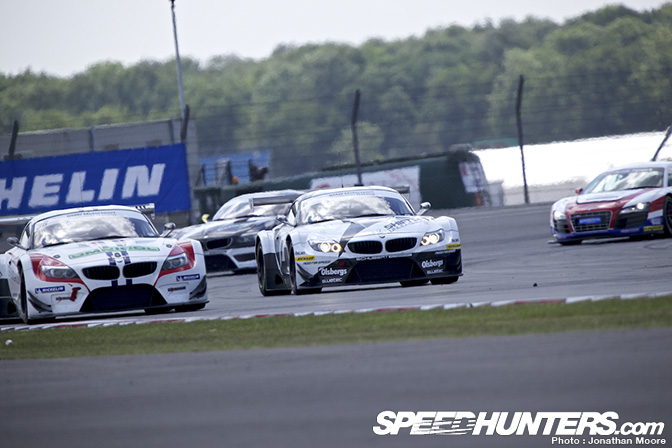 The Dutch Faster Racing team are right in the mix with us speed-wise. I have to admit their Michelin tires were the better choice at Silverstone. I hope the situation will be the opposite when the weather hopefully wants to melt the tarmac in Navarra and Paul Ricard! It's in these hot conditions where our Dunlops really excel.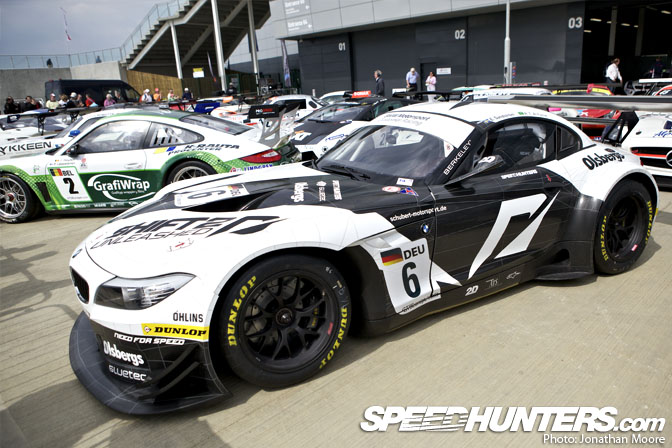 Second place in Portimao and now a third place qualification at Silverstone. Next time I
want to grab the pole position! I actually lost my second place during
the last lap to Markus Palttala in the Ford GT!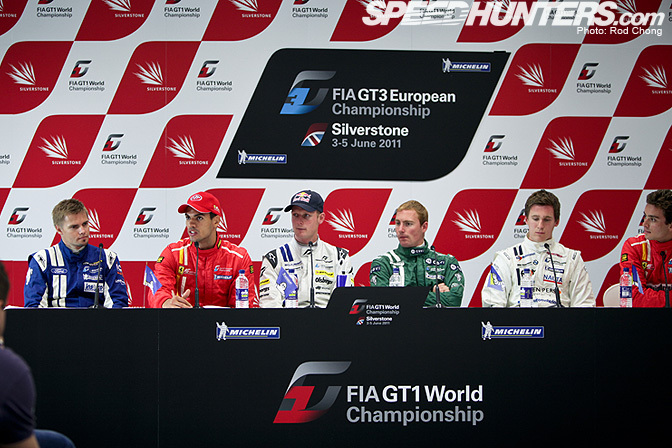 The #50 AF Corse car were top three in both sessions, just like in Portimao which means they have a very good driver line up and will be the ones to beat during the season.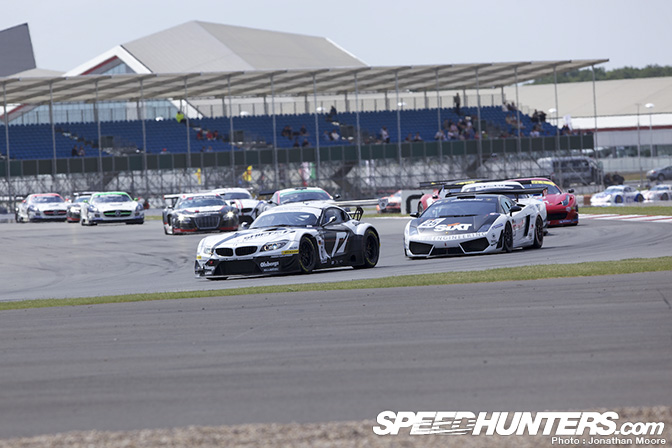 This is either a dream or the formation lap! Because at the moment the Lamborghini is where it should be – behind me. I tried to work the Dunlop tires really hard before the start as normally it takes a bit of more time compared to the Michelins to get them up to working temperature.
I was aware that my start stint would be very important in this race.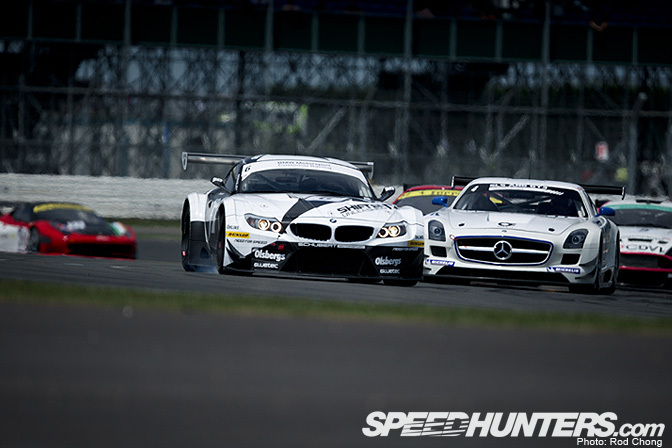 I was about to sneak up through the inside of the Ferrari in to the first corner but had to back off to avoid a crash with the Ford GT. This was rather bad because the Lamborghini had more momentum and passed me me into turn two. So I finished the first lap of the race in fourth position.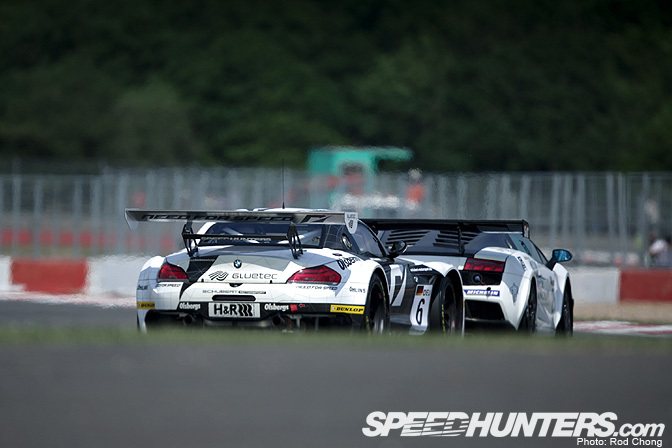 Ohhhhh dear I'm stuck here – help me! The tires went off the Lamborghini quick and I was much faster, but still not quick enough on the straights. He was just flying away and I had to brake very late to be close to him again. Not a good rhythm! He was actually really good in blocking and stopping in the corners so my momentum was lost.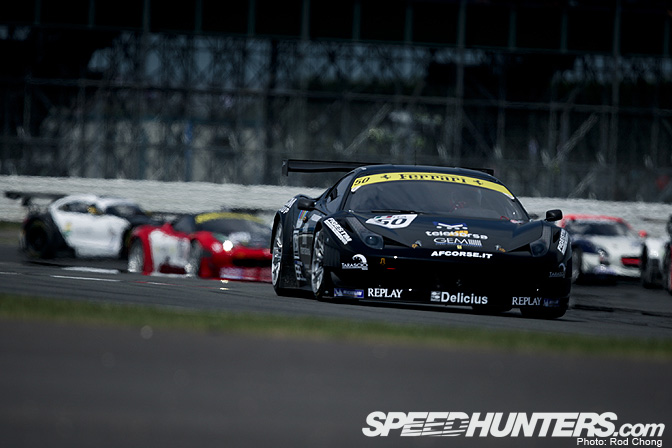 I wasn't too happy to see the leading Ferrari go away from us. The Ferrari had a success penalty from Portimao so the strategy was to just be behind until the pitstop. This wasn't happening right now.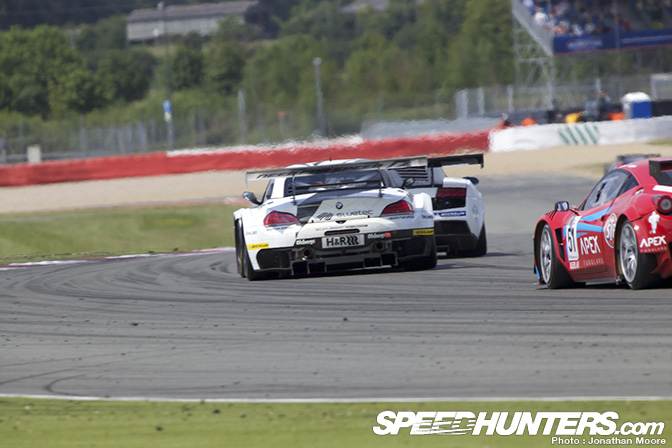 Instead, the other Ferraris were closing up behind while the Lamborghini started to block with even more intensity. I was trying to pass everywhere but couldn't find enough room. Frustrating!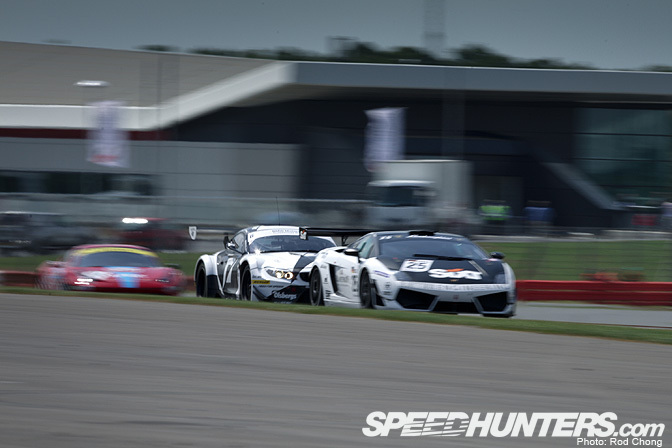 The only way to get a really good slip stream is to be close, but it wasn't enough. At this moment I started to hope he would pit a little bit earlier so I could put in some decent lap times.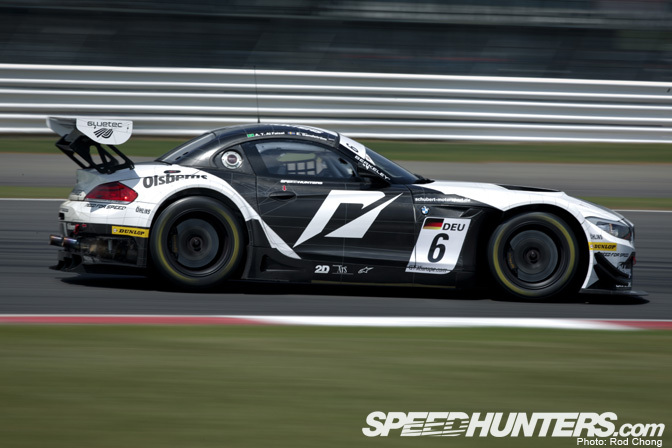 Heavily loaded and vertical forces really makes the body roll. This we can adjust with anti roll bars, springs and dampers. Data shows how much the dampers are travelling, but still it's easiest to feel it from the driver's seat. Our car's balance is very sensitive on roll bars.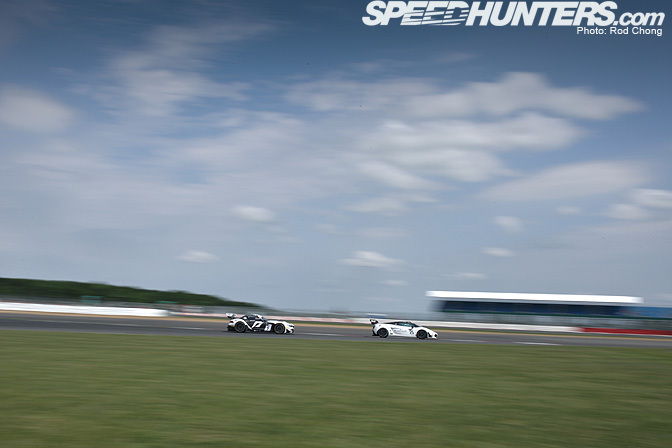 Another one ! Enough I think.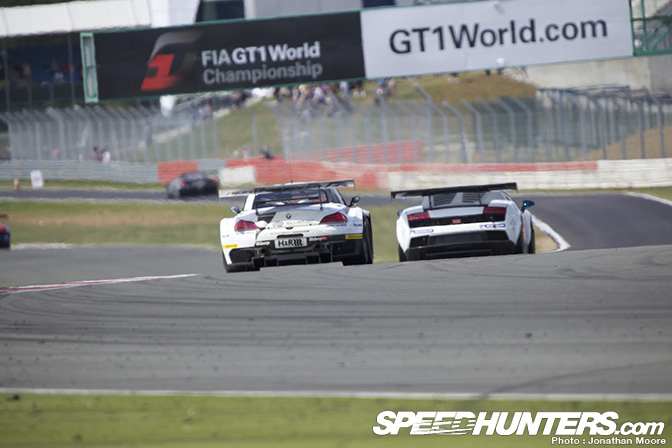 And it finally happened… He is heading into the pitlane. Once the Gallardo shaped road block was out of the way, I immediately managed to lower my lap times by one second per lap. My plan was to do as many fast laps as possible to overtake them in the pit stop.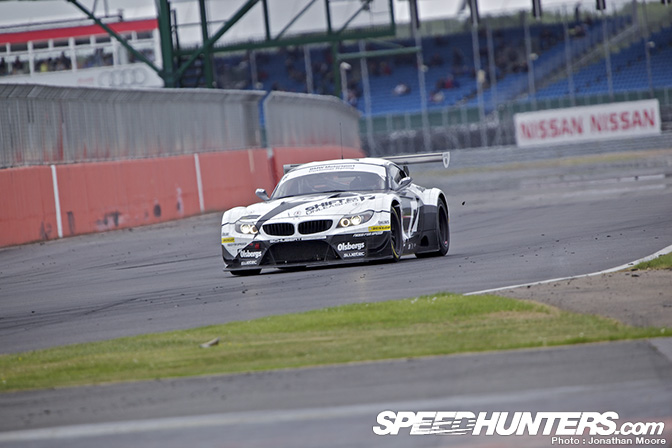 Actually we were close enough to be able to put some pressure on the Ferrari in the lead due to their penalty.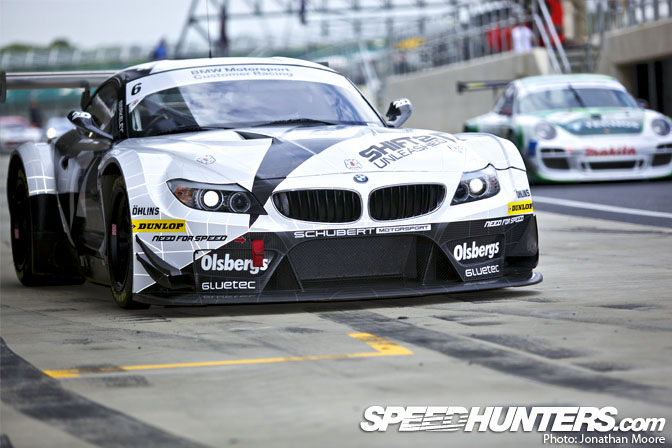 Unfortunately we did a really bad stop and lost 15 seconds when the engine refused to fire up. So instead of fighting for the lead, Aziz came out in third place behind the Lamborghini. Still it could be a podium. Aziz was fast but there were a lot of cars now in contention for the top spots.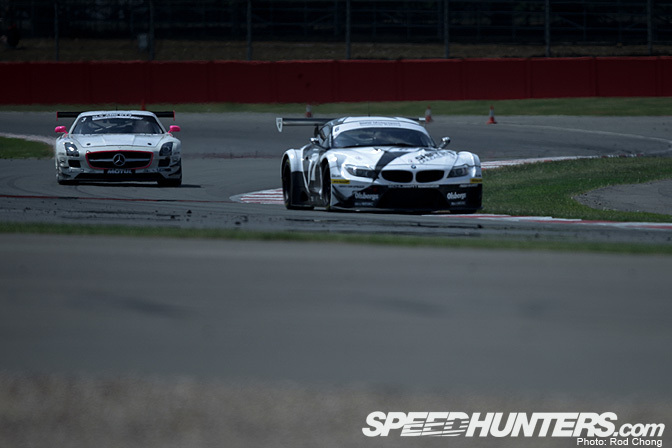 The Mercedes started to give Aziz a hard time in the end. And in the last couple of corners he pulled a pass and made it stick. Anyway we secured fourth and had some decent points.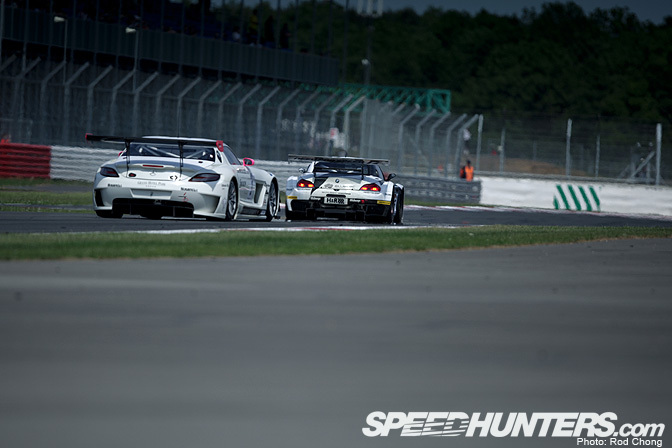 It was thrilling to follow the fight on the last lap. I'm happy they didn't crash into each other. We have to bring the points consistently this year to maintain our championship hopes.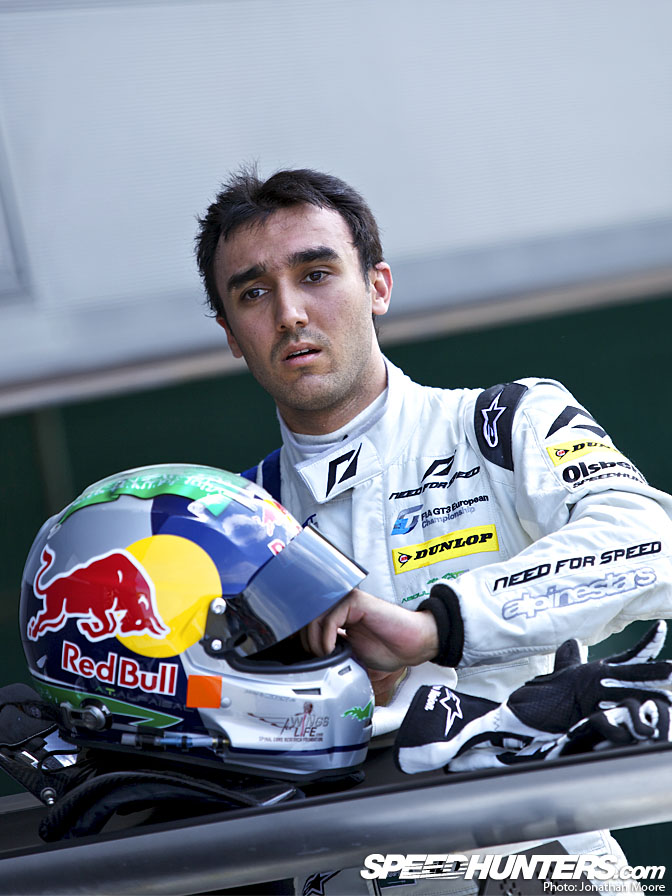 I was a bit disappointed that I lost so much time behind the Lamborghini
and that we lost some valuable time in the pit stop. I think it's okay
to be disappointed for a while, but then you just have to start work on
how to do things better next time. I really find it easy to work with
Aziz and have a great time with him.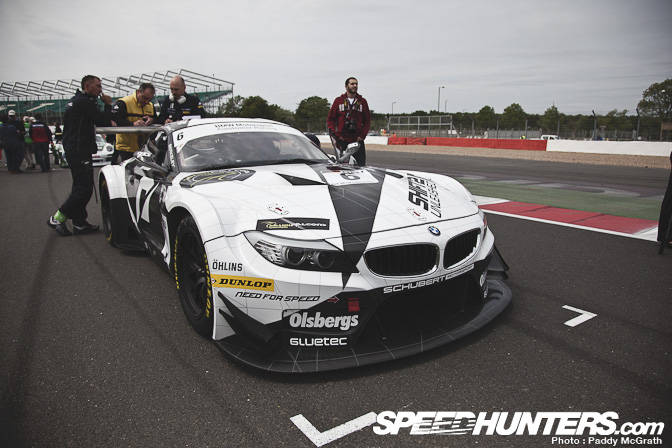 For race two we started in 22nd position due to a penalty from the accident in Portimao. It would be tough, but Aziz and I hoped to be able to score some decent points.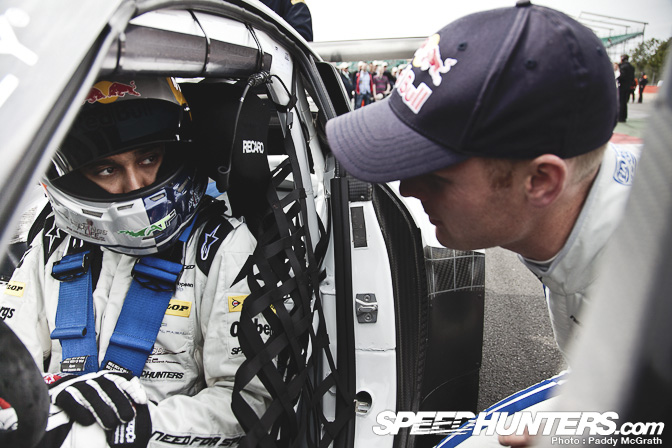 A very focused Aziz waiting for the battle to start.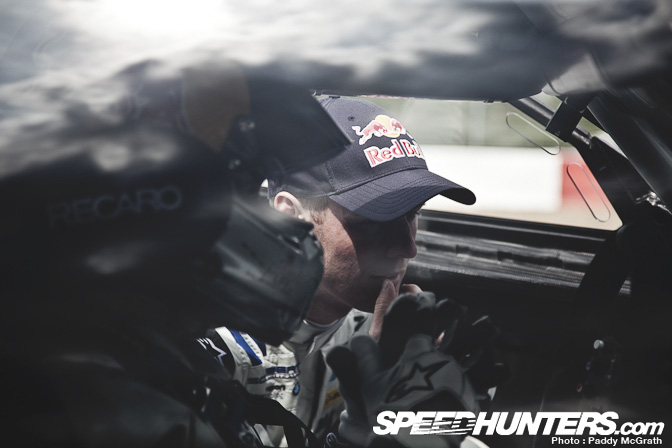 I just said "see you in the pit stop and go for it"…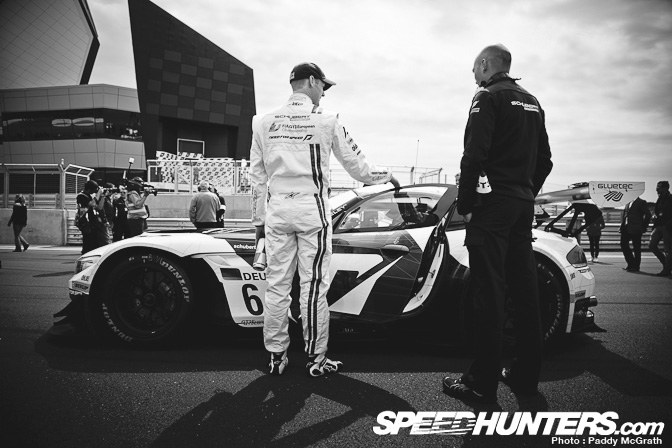 I stuck around on the grid a bit to keep the door open to let some air in to Aziz …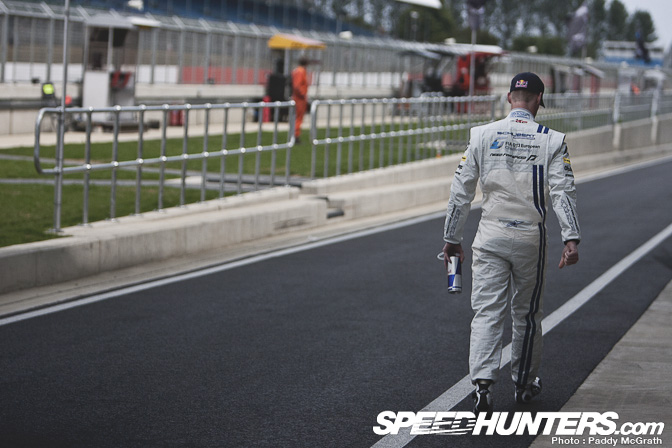 … before heading back to our pit box to see the start on television. I was a bit nervous of course.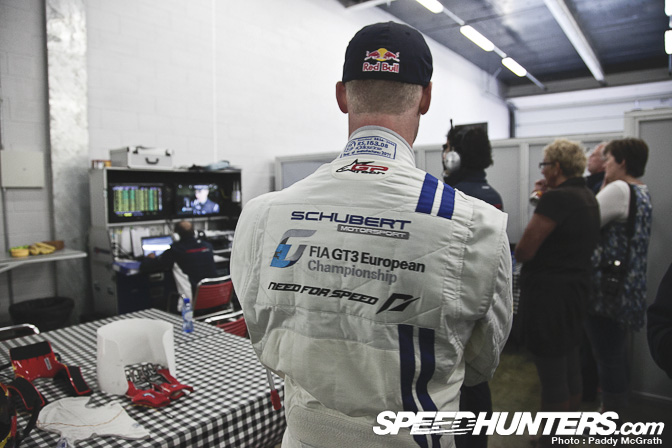 We needed to make up a lot of positions and it would be good to have some in the start.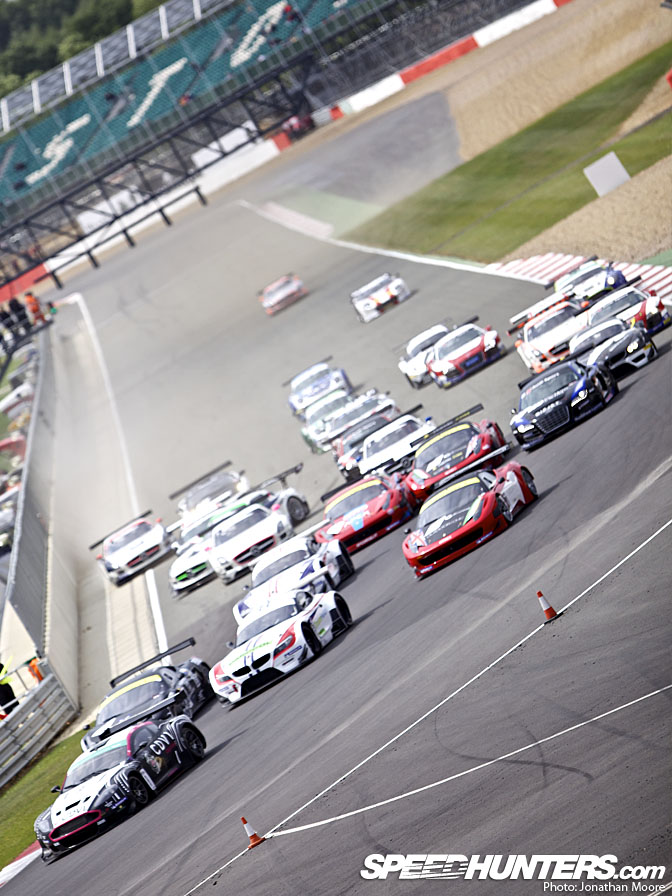 Cars everywhere! In the background you can see Aziz in a safe spot behind the Audi. Meanwhile one of the Mercedes is just starting to have a bit of an accident.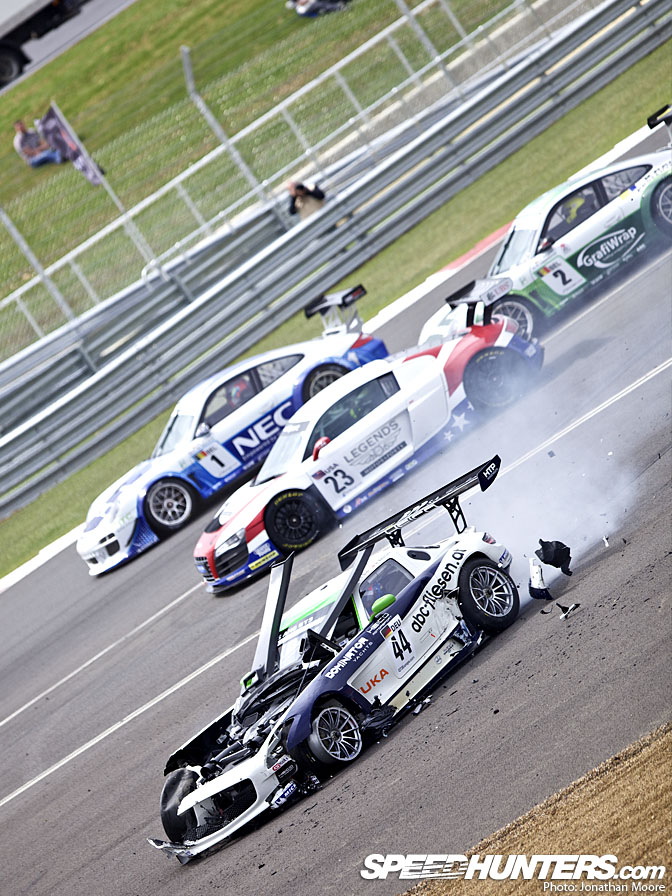 The SLS was hit from behind and had a terrible crash in to the first corner, taking out several other cars in the process.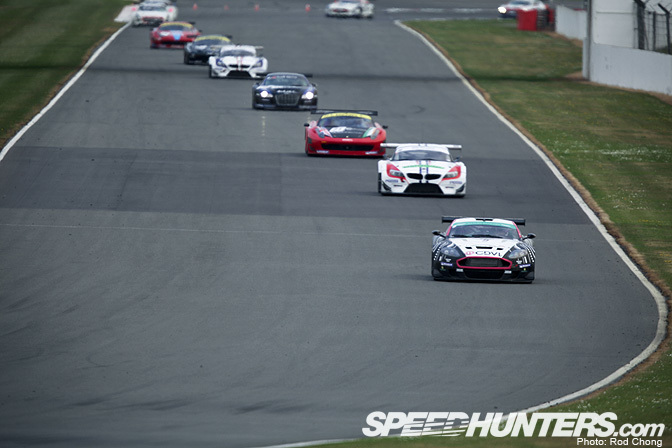 Actually we were lucky that it was a safety car period after the start accident as Aziz got tapped into a spin in the third corner. So by the time of the restart we were last in the field. But we didn't give up.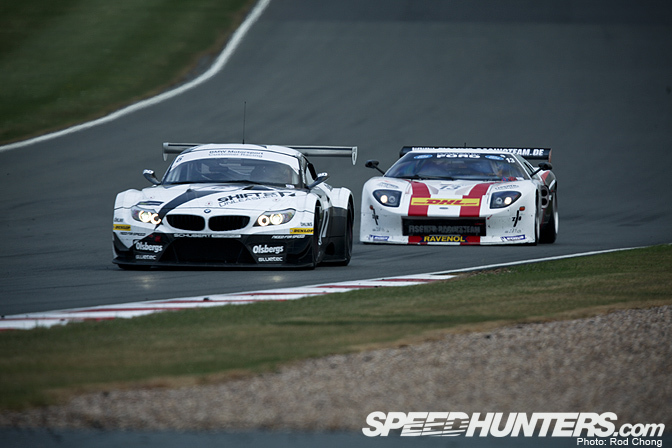 As soon as Aziz got some free air, he pushed hard and did some really good lap times. It was an impressive turn of speed which gave us some hope for a good result.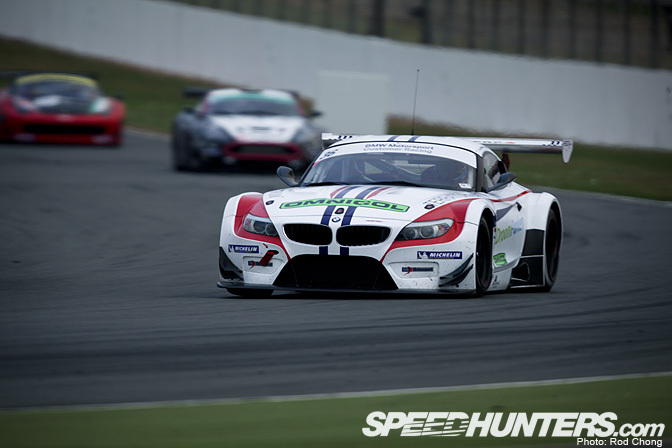 Nick Catsburg in the Faster Racing BMW was just flying at the front and was turning in lap times no one could match.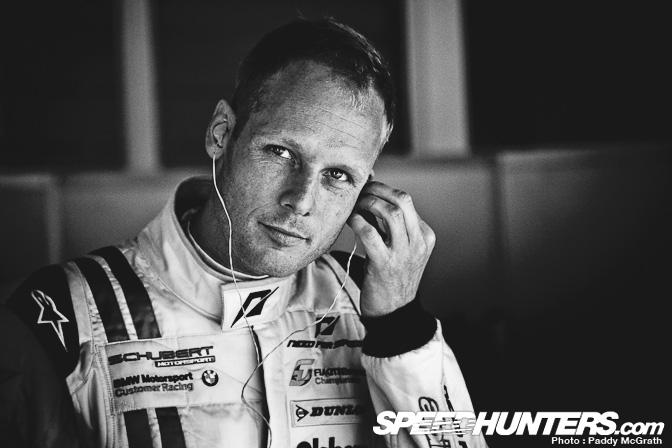 When I put in my ear plugs I immediately change into a different mental state.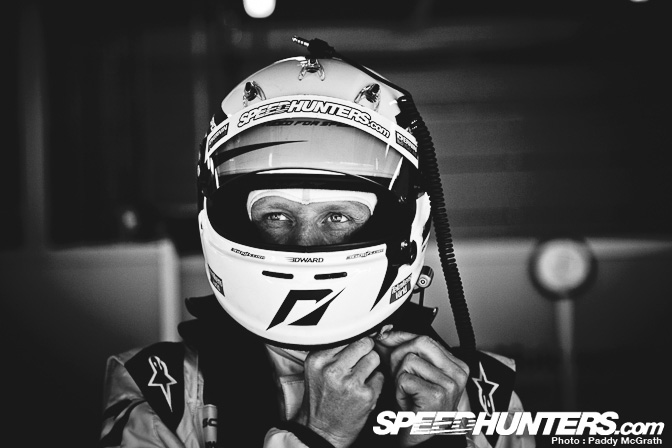 I wanted to drive and see what we could achieve. It's really important to bring all of the possible points home when you have a fast car. This time I had to take some risk to do it.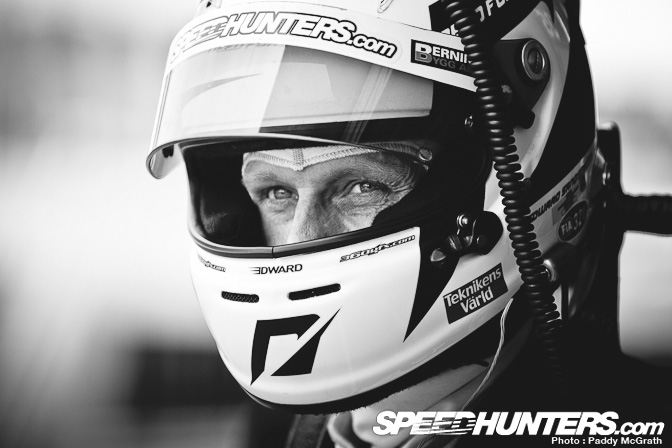 Here I'm staring at the pit entry to see if Aziz was on his way in. Fast in, nail the connection of the belts, start engine in time, four seconds on the dash and I should leave. Just memorizing the procedure.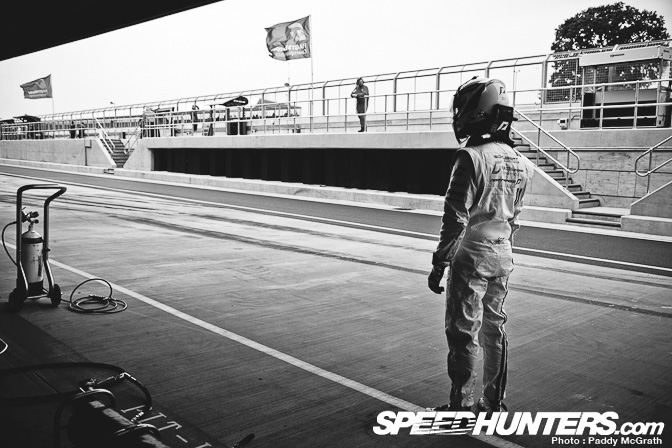 I was prepared…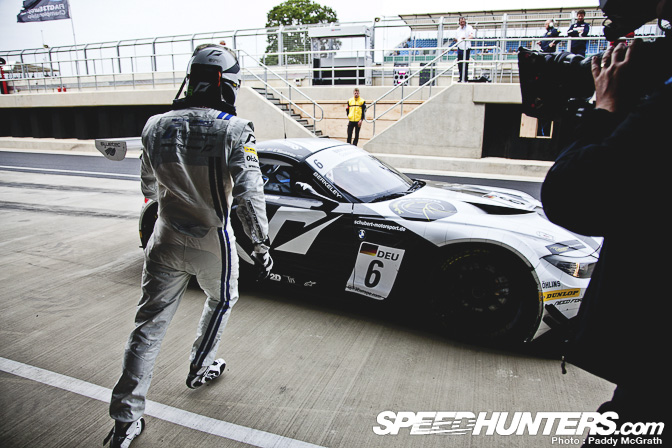 Go ! No it isn't right hand drive! I have to run to the other side.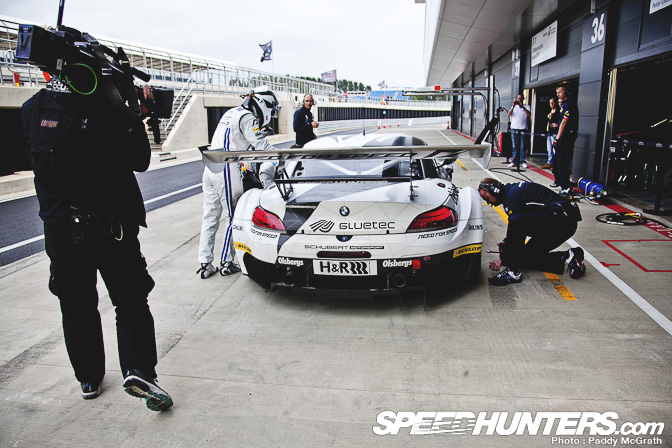 Aziz and I make the change while Rene adjusts the tire pressures.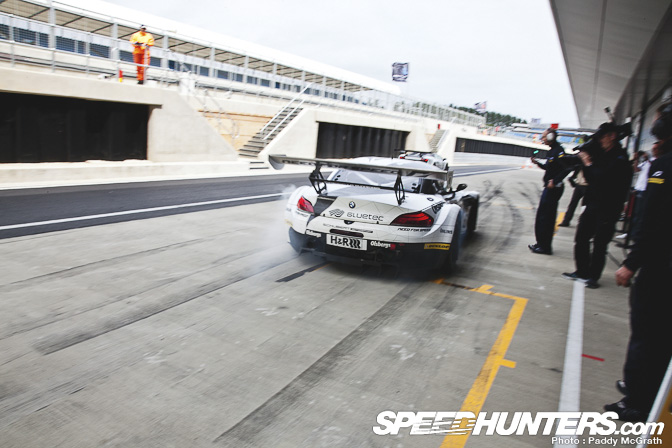 Four seconds, drop the clutch and the battle is on …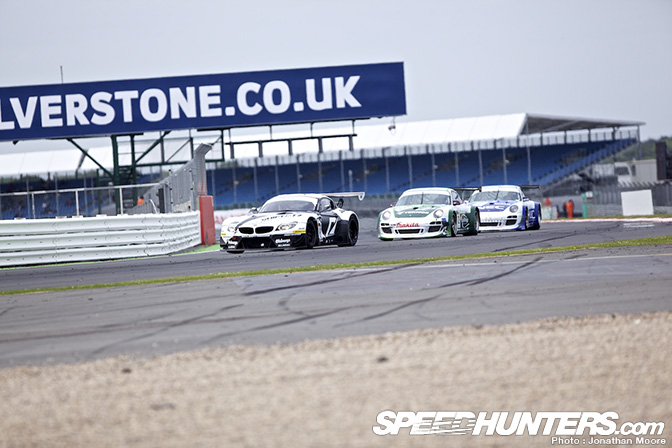 I entered race two in 21st position and started my fight by passing two Porsches.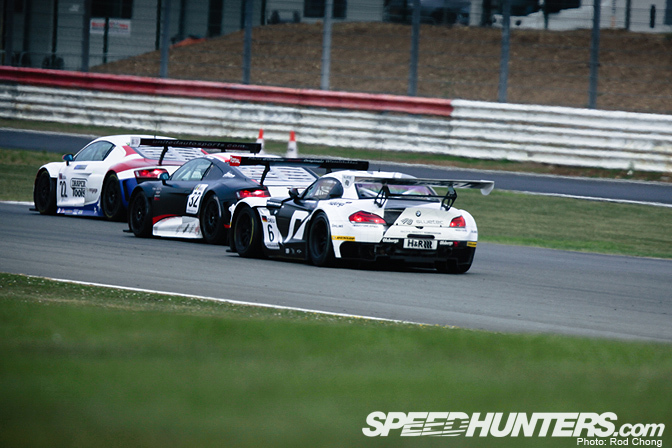 I had to pass cars effectively to save time. Not so easy … but I was pushing.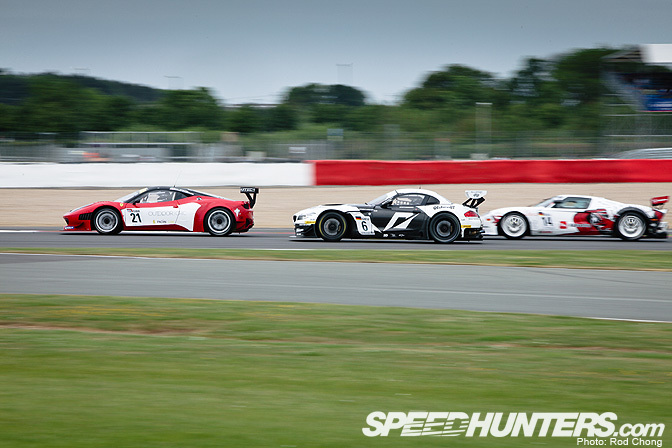 The next two cars I could quite easily get past.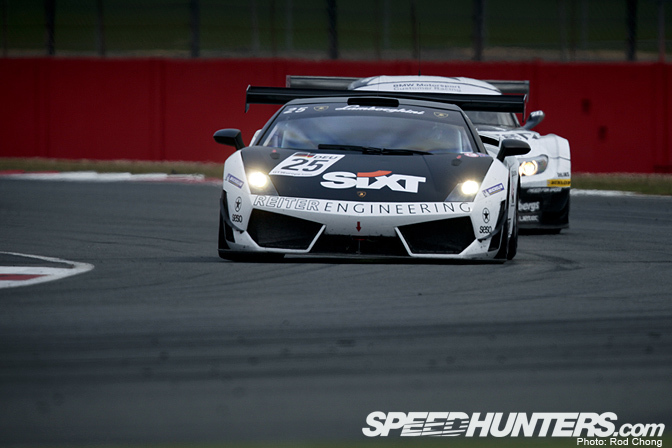 Oh no… Not again.  Because we pitted early I was supposed to be having free air for the first 10 minutes and hopefully be able to gain time against the front running cars.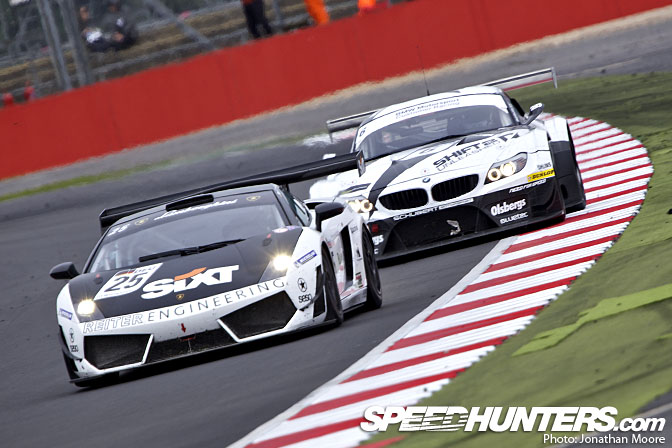 It didn't really work out. Hmm, the Lamborghini was there again.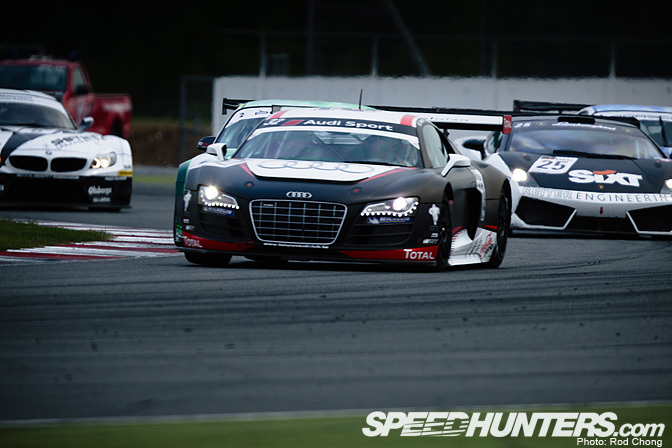 But in the second race he at least was a bit faster, so I followed him through the traffic.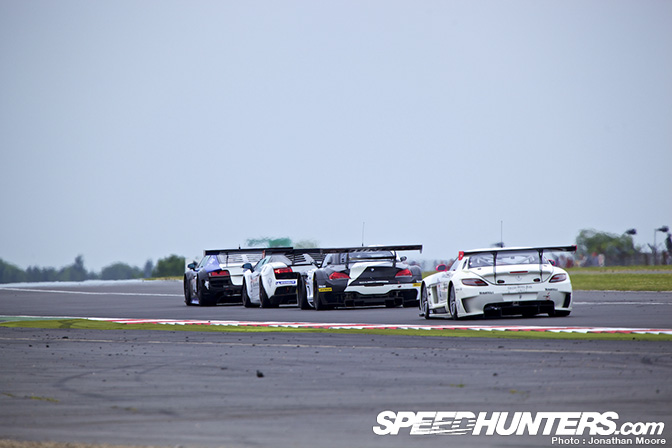 After passing around ten cars, Stefan called on the radio and said I was catching up with the group placed between five to ten. Points were around the corner. Only problem was time, with only 10 minutes left or around 5 laps.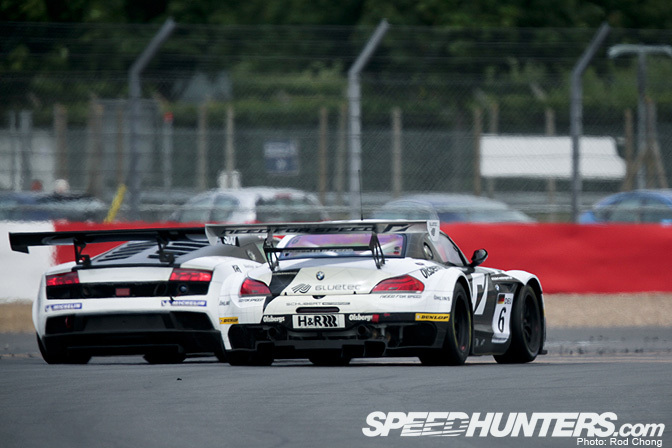 If you keep on trying you'll get there. I could in the end pass the Lamborghini and when that was done everything was easier.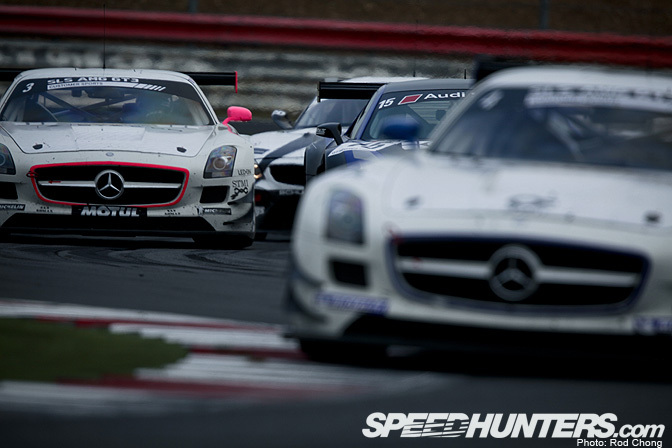 I dived several times on the inside of the last chicane to overtake. It was a real battle going on out there. The track was dirty and many were suffering from bad tires in the end. I was pushing hard into the last corner to make up as many positions as possible. On my way I braked too late and hit a Mercedes, destroying his bumper a bit, sorry for that!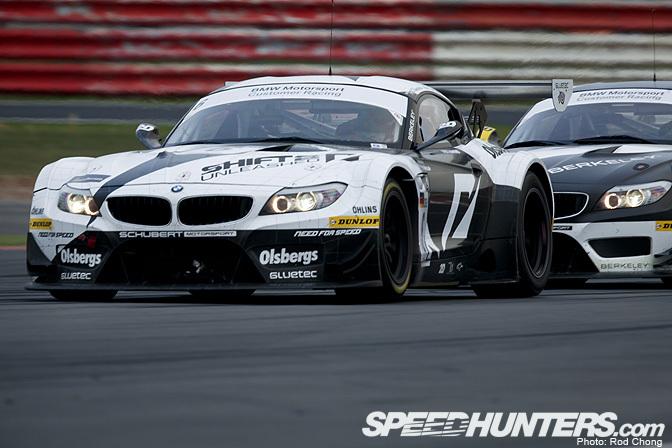 I passed our sister car which had big problems with grip. He tried to block me, but I was confident to overtake and out braked him on the outside of Stowe.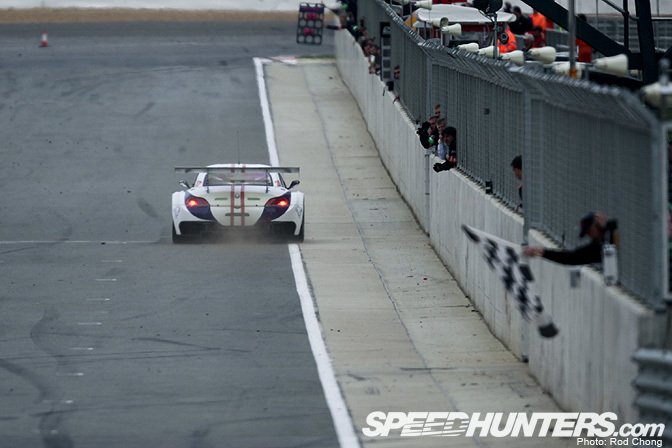 In the end the Faster Racing BMWs scored a dominant 1-2 finish, with me having to settle for a fighting 6th place.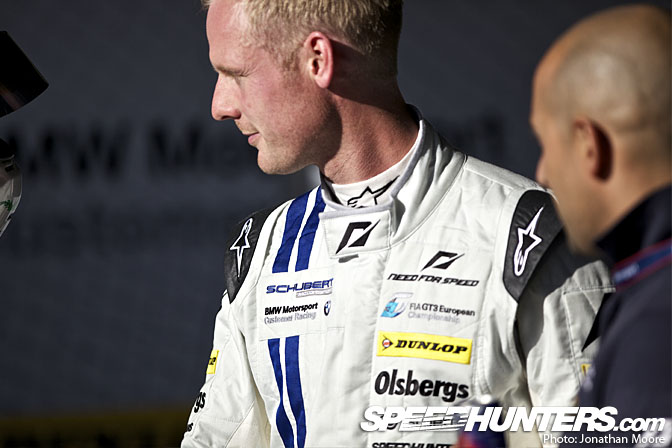 You can't win them all and with our strategy we should have won the first race. Still we did a really good job this weekend but in the end we were only twenty seconds behind after coming up from the back of the grid. If our tyres can work a bit better in qualifying next time our competitors will have to fight hard to beat us.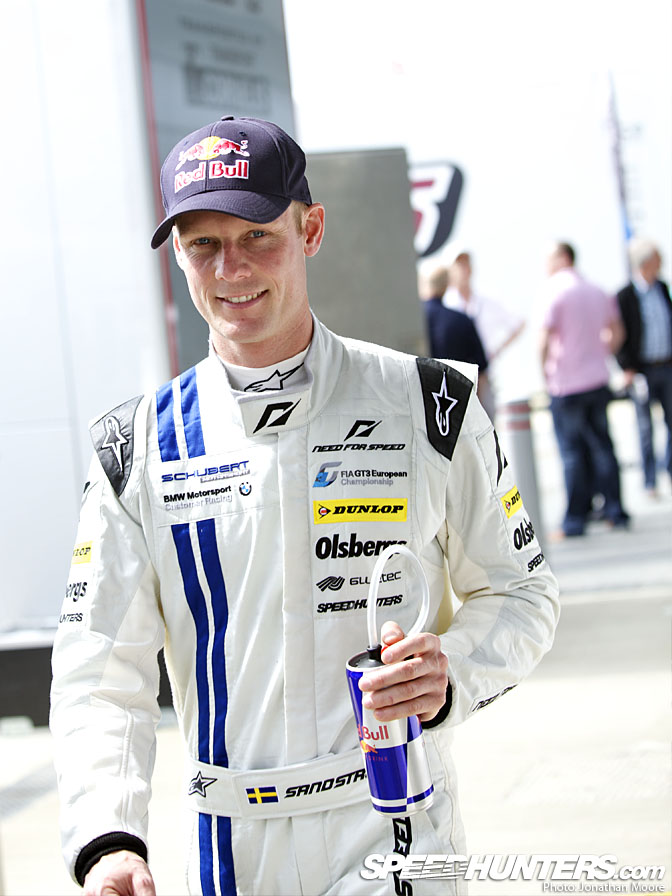 I have to say it's fantastic to be second in the championship after two weekends. The FIA GT3 European Championship is only six weekends in total and therefore you need to score points on a regular basis to be in the game. At the moment we are only five points adrift of the leaders.
Next race in FIA GT3 is Navarra where I haven't been before, but I will be prepared, promise.
Next race in our calendar is the infamous Nurburgring 2HR where we ended up fourth last year. It will be interesting to see if we can do even better this year with the updated spec BMW Z4 GT3. We have a very good line up with Tommy Milner, Claudia Hurtgen and Fredrik Larsson.
I can't wait!
Edward