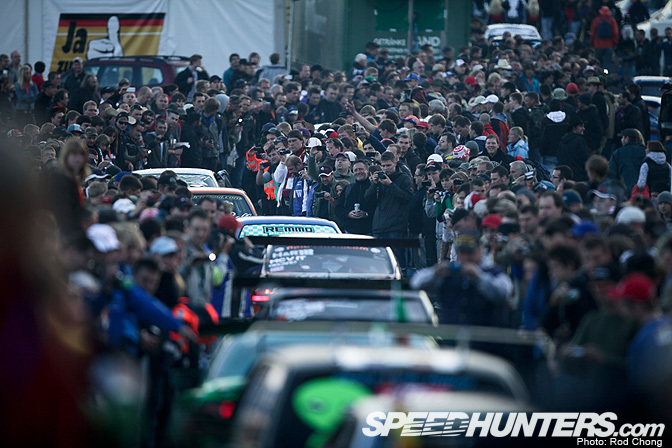 From 1996 to 2006, my chosen abode was London, UK; a majestic, yet somewhat challenging mega-city. During my ten years of living there, I never really felt that I truly knew the place. London as a city is so large, so multilayered, it's possible to have a completely different life experience than someone who lives perhaps only a mile away. I never really felt like I could know the place.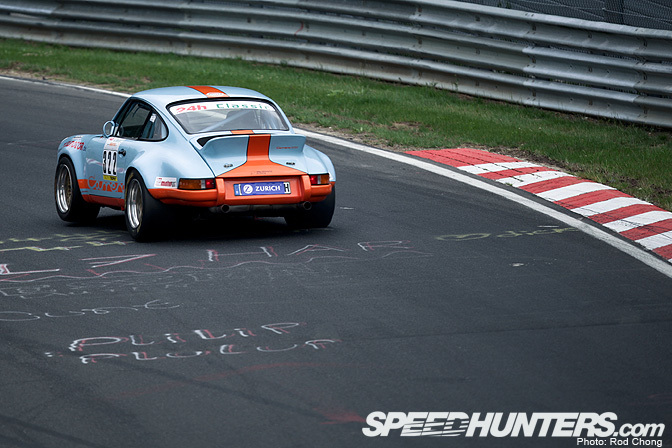 I'm experiencing something similar here at the Nurburgring 24Hs. This is my first visit to this rather epic event and I get the feeling that it's going to take me several trips here to get even basic bearings.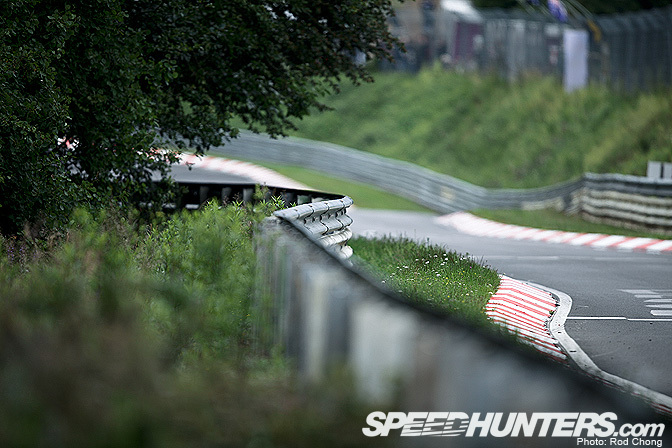 There are secrets around this track. Many photographers zealously keep their secret shooting places… Ask them for advice, and you may not get a clear answer.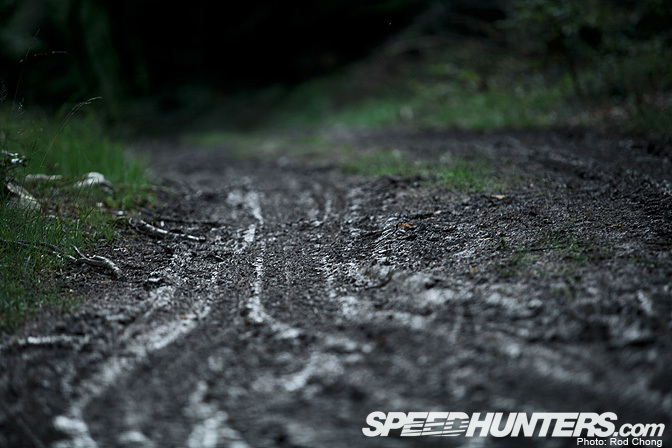 Many years of experience are needed to understand what dirt trails take you to the far reaches of the North Loop… and even so, you also need to have the right vehicle passes and media credentials to gain access.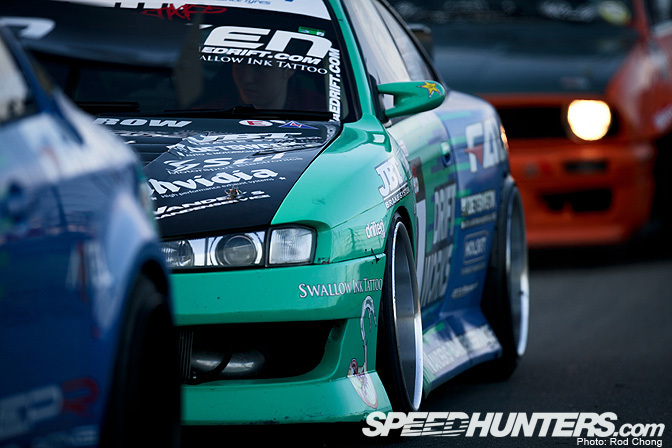 Even as a spectator, there are so many different ways to experience the Nurburgring 24Hs.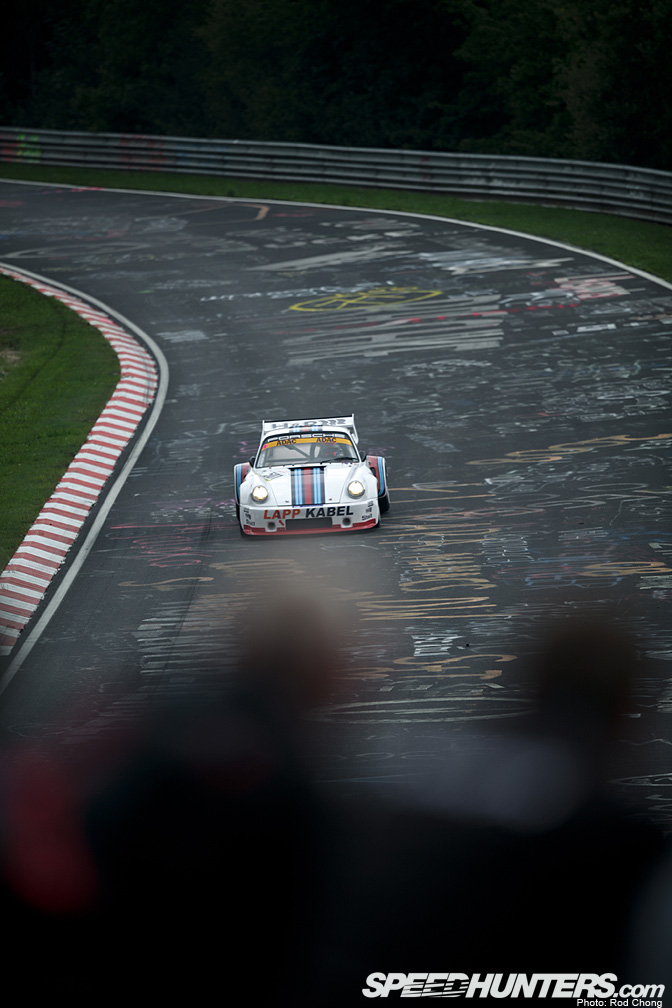 Over the week's activities, you'll be able to see and experience a massive range of automotive culture.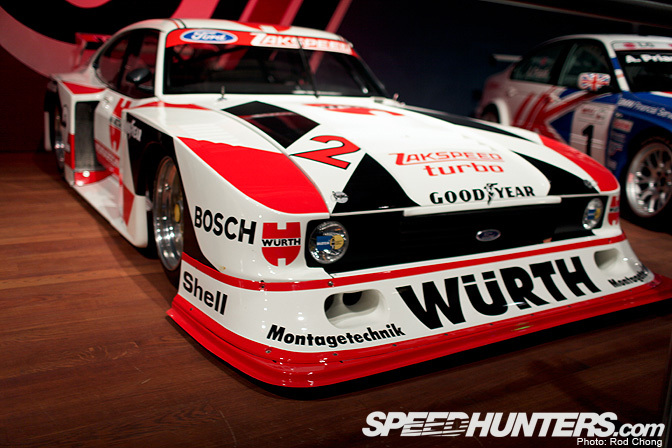 You may see machines from your boyhood dreams.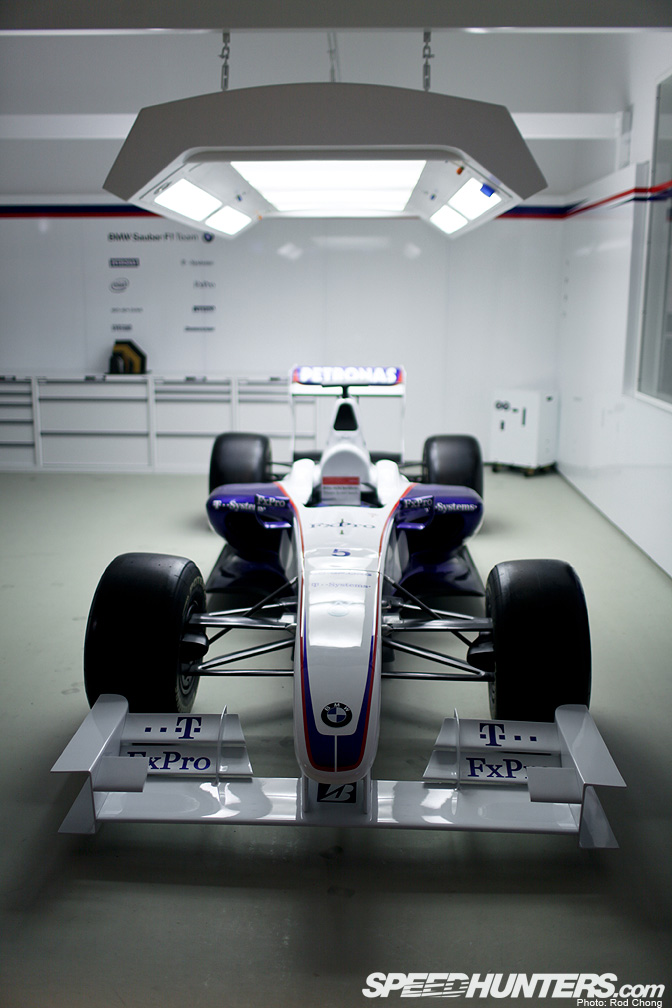 And you'll be able to get right up close to race cars previously  thought to be inaccessible.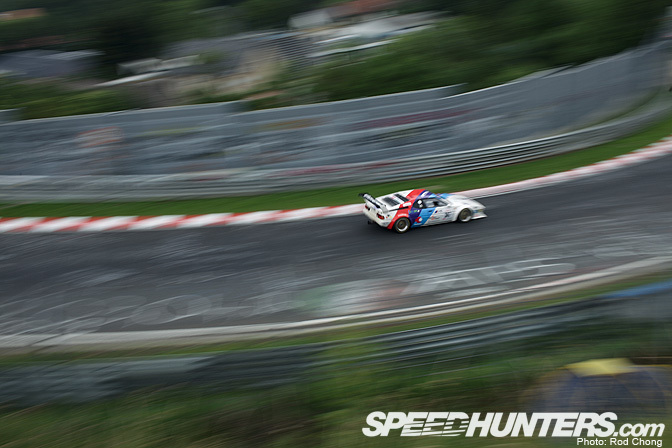 Legends will come to life right in front of your very eyes.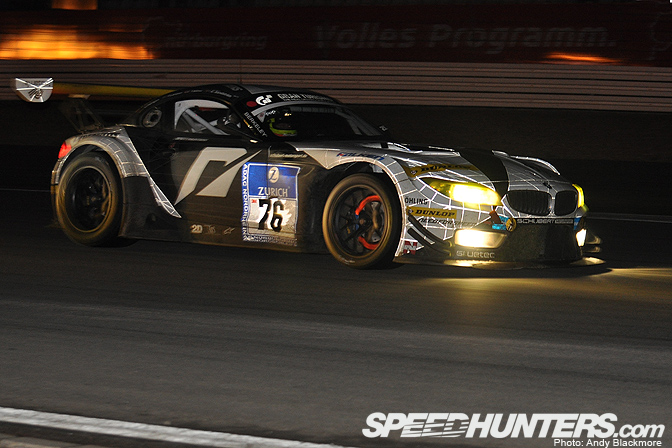 As a hardcore automotive fan, it's a bit of an overwhelming experience…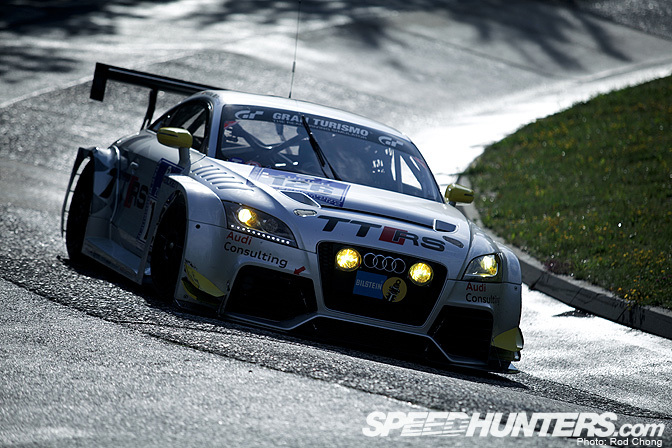 But at the same time completely exhilarating.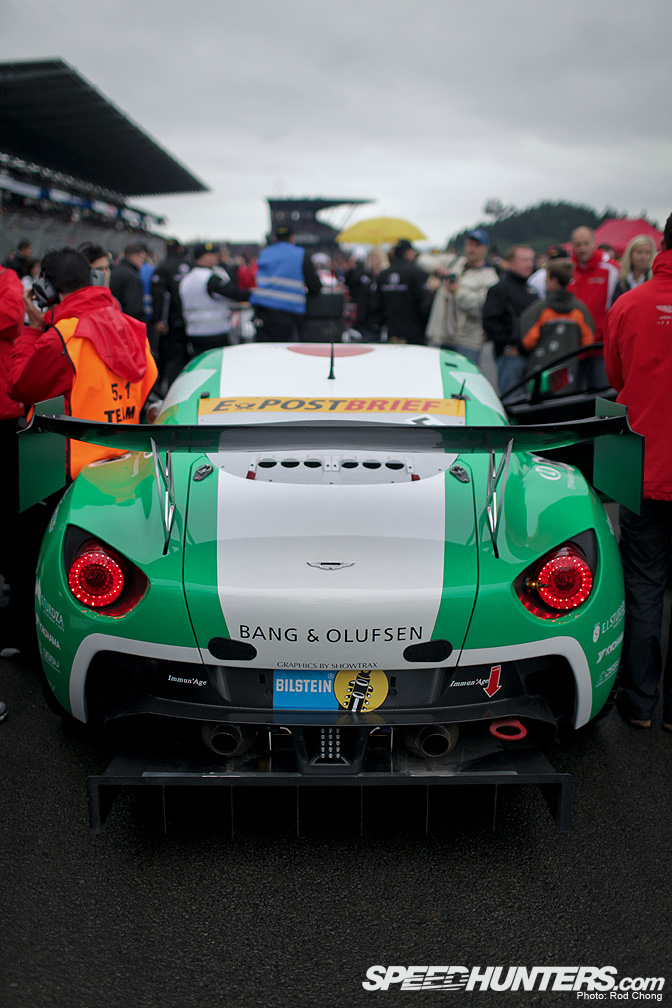 There are very few car races in the world that allow fans to get so close to such elite racing machines.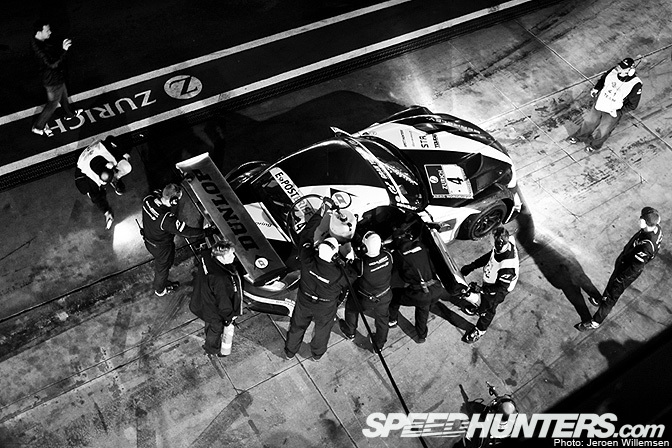 It's well and truly…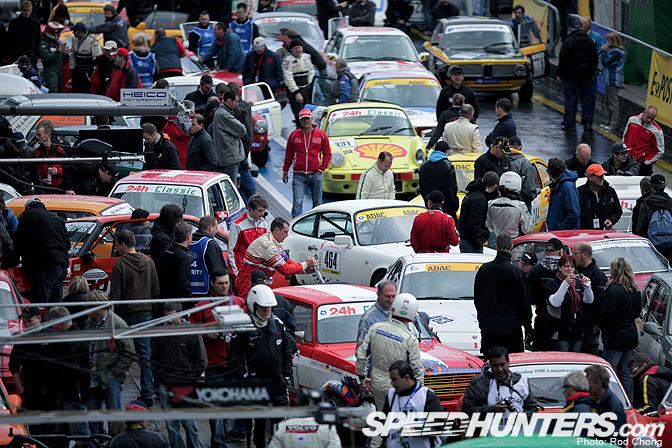 … the stuff that dreams are made of.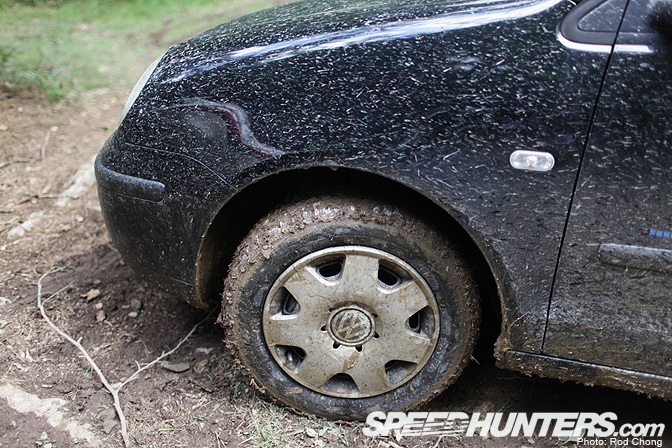 Coming here is a bit like a religious experience – but a doubled edged one. There is just no way of knowing if you are going to get a douse of pleasure or a douse of pain.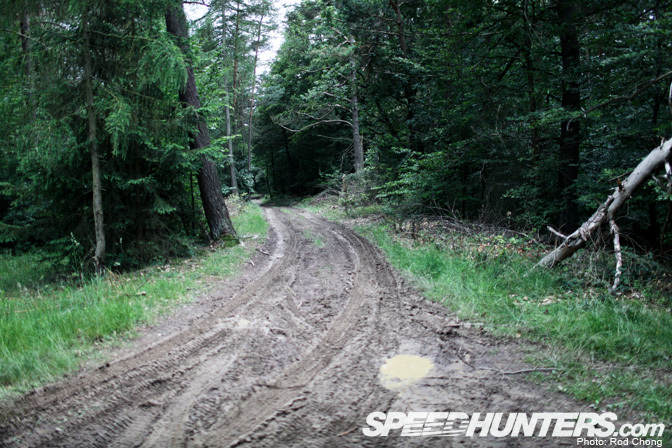 I need to step you though the highlight of this Speedhunting trip: a session of shooting on the outside of the world famous Karussell corner.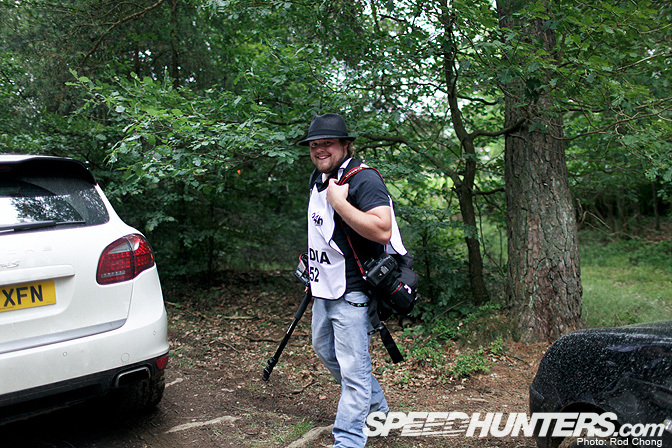 I needed a guide to reach this special place: the official Nurburgring photographer: Christian Maskopp from Trackshoots.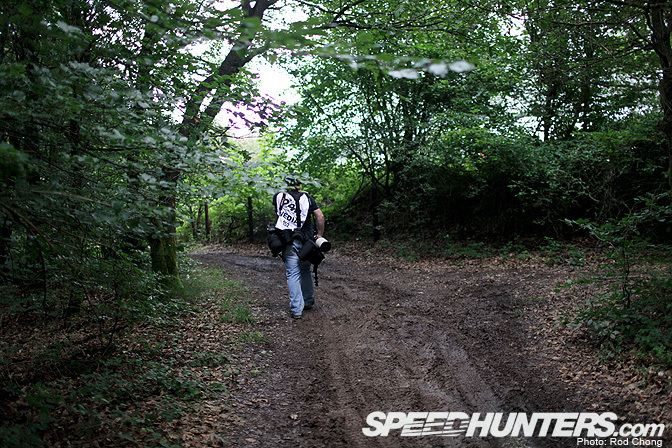 He took me down several miles of twisting, muddy tracks to reach the Karussell. It was a trip that required a course worker's pass. Regular media need not apply.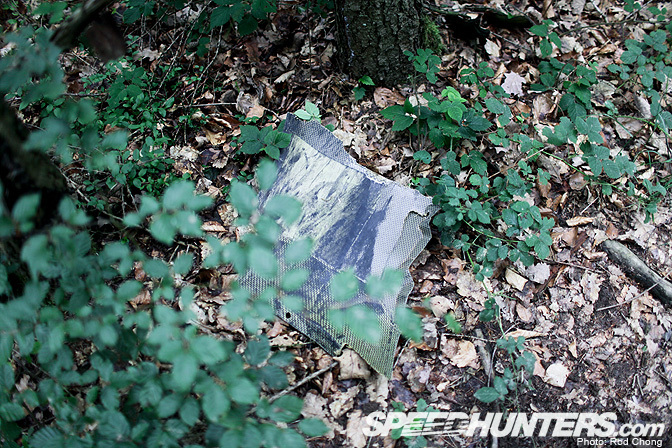 Walking through the forest, I spotted bits and pieces of old wrecks.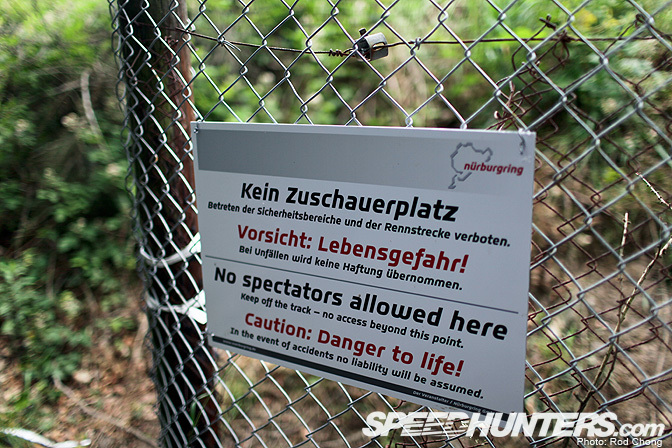 Nuff said!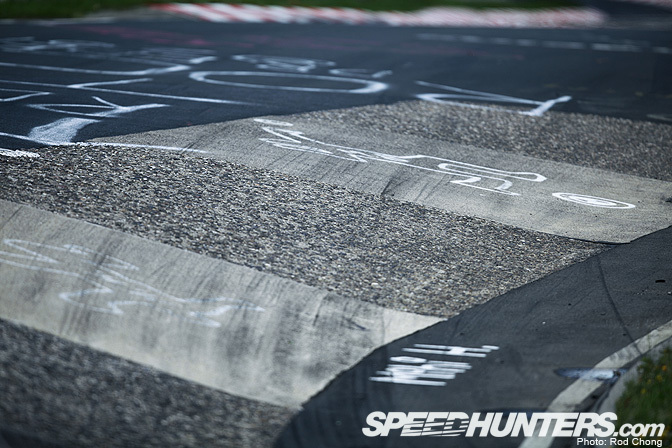 Emerging from the forest I was faced with what must be the world's most well known strip of concrete.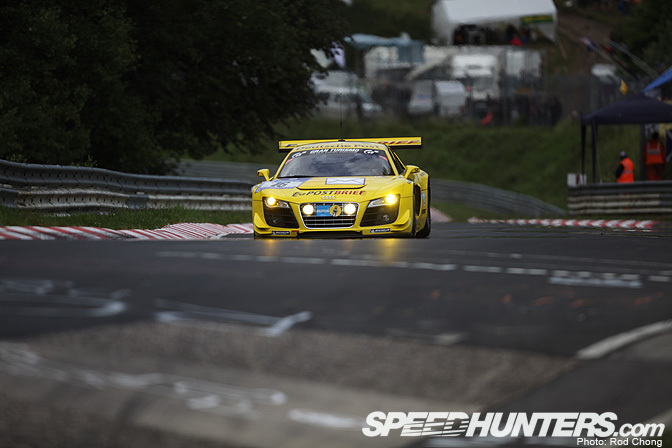 Cars appear at speed..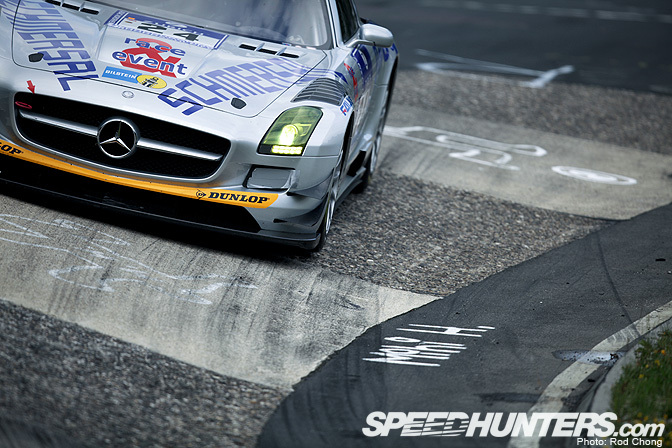 And literally drop right down into the corner.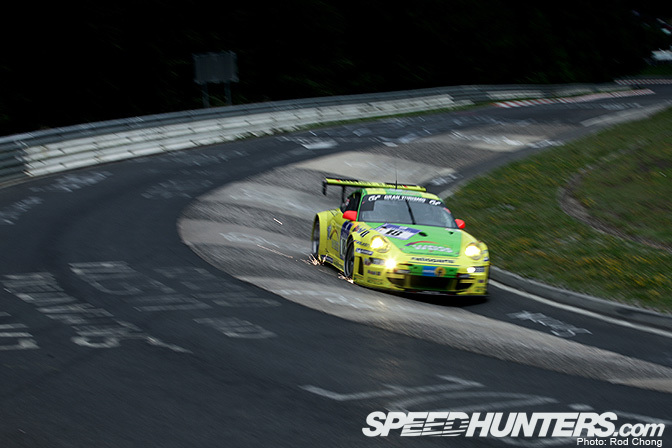 The top cars bump and drag their chassis all the way around the banking.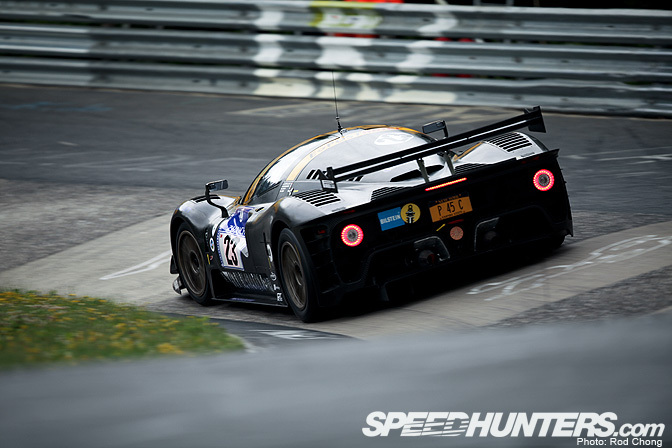 It's quite a spectacle. Its here that you can get a sense of just how tough the Nürburgring is on cars.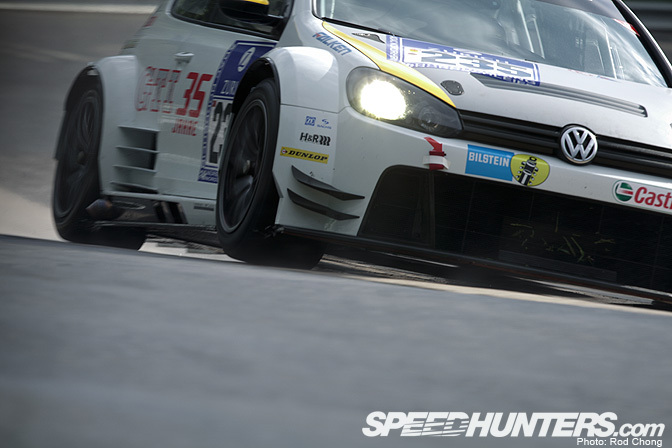 I think this photo gives you a sense of the angle of the cars, as they pop out of the bank and continue along the trail of abuse that is the Nordeschliefe.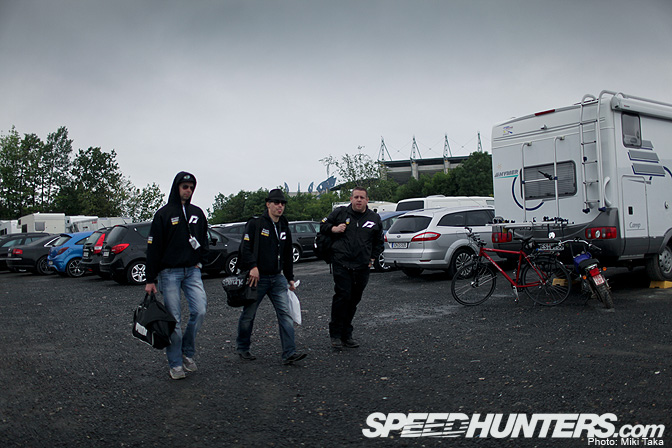 This was the scene as we arrived on site yesterday morning… already a bit crabby from long hours of shooting and writing.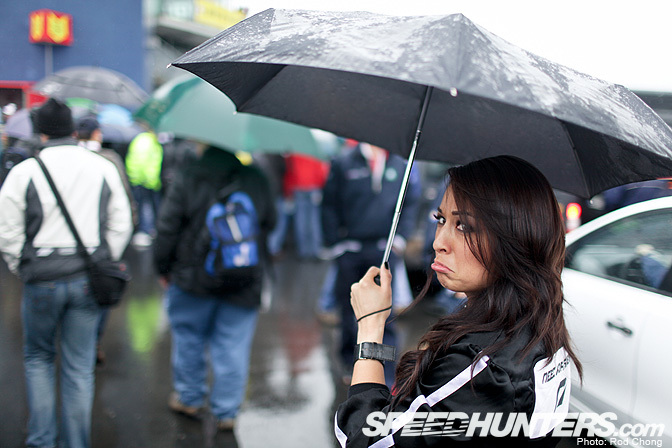 To compound our slightly-less-than-optimal moods, the skies decided that some precipitation was in order.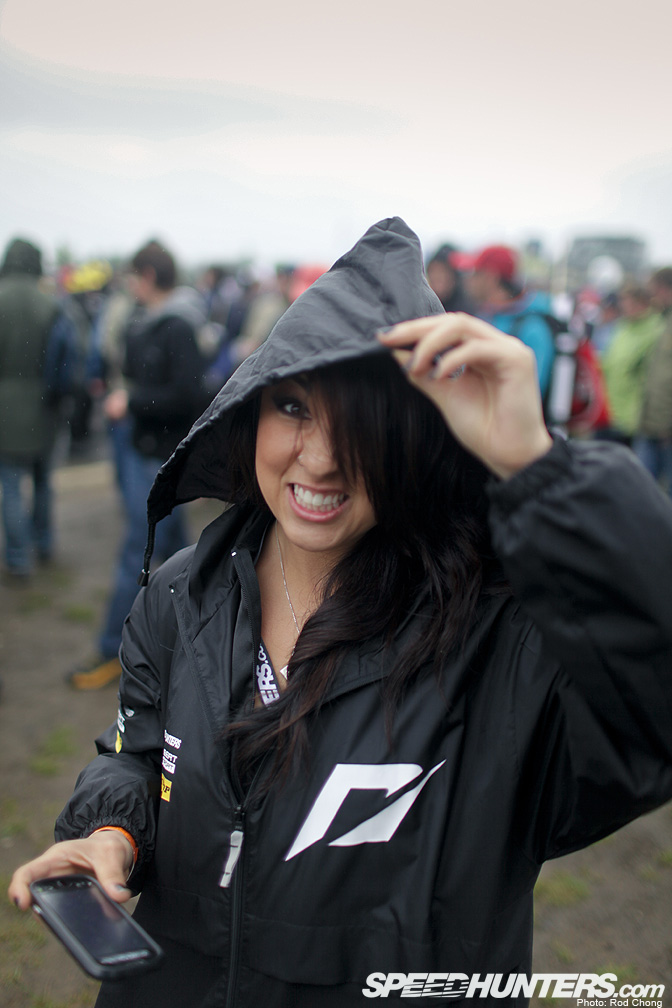 Miki decided that a change of clothing was needed. As a California native she must have been confused by the cold, wet conditions.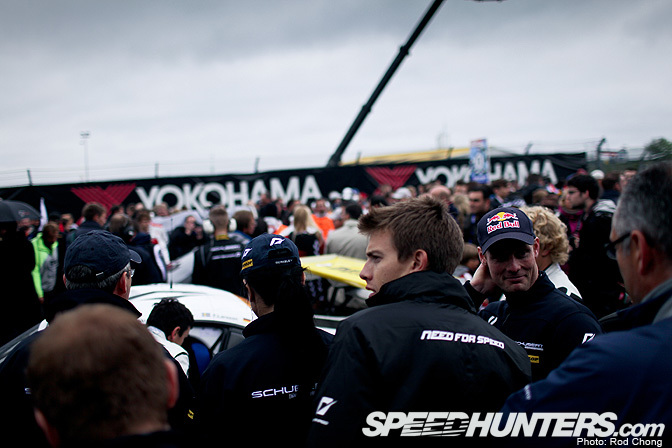 After much to-ing and fro-ing, we eventually surfed along with the sea of spectators into the open grid area and found Tommy and Edward.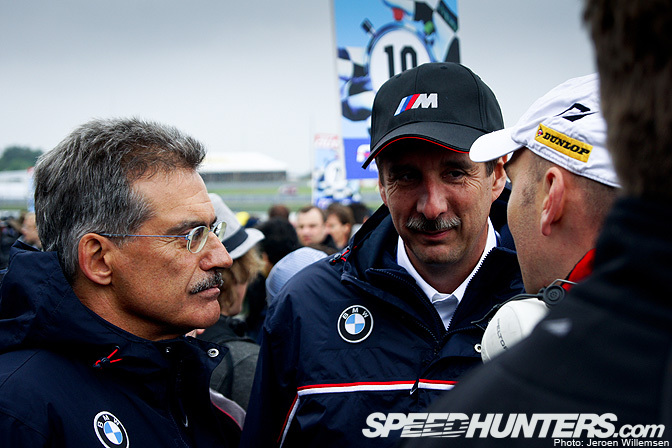 It seems like some rather important BMW VIPs were hanging about too.. had they heard about the free Speedhunters stickers on offer, perhaps?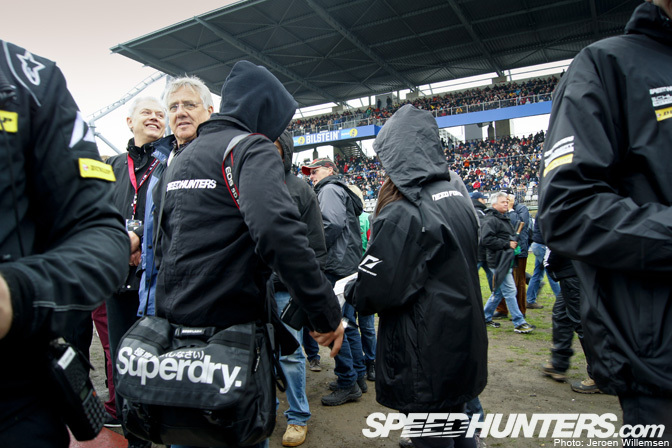 And so we got busy handing out Speedhunters and Team NFS stickers! It was quite exciting and inspiring to meet so many Speedhunters readers on the grid :>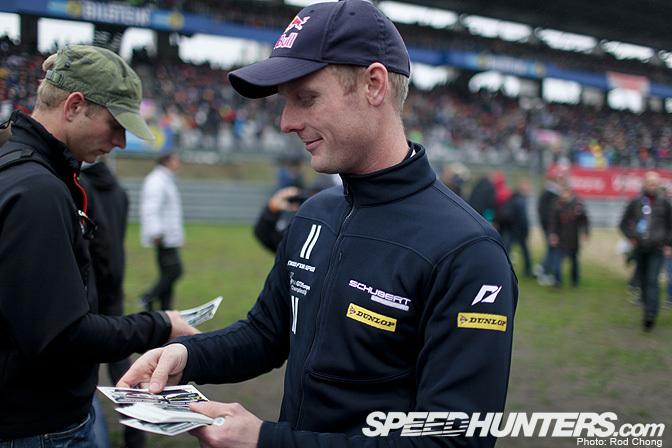 Edward even got in on the act and gave the impression of having previous experience handing out club fliers!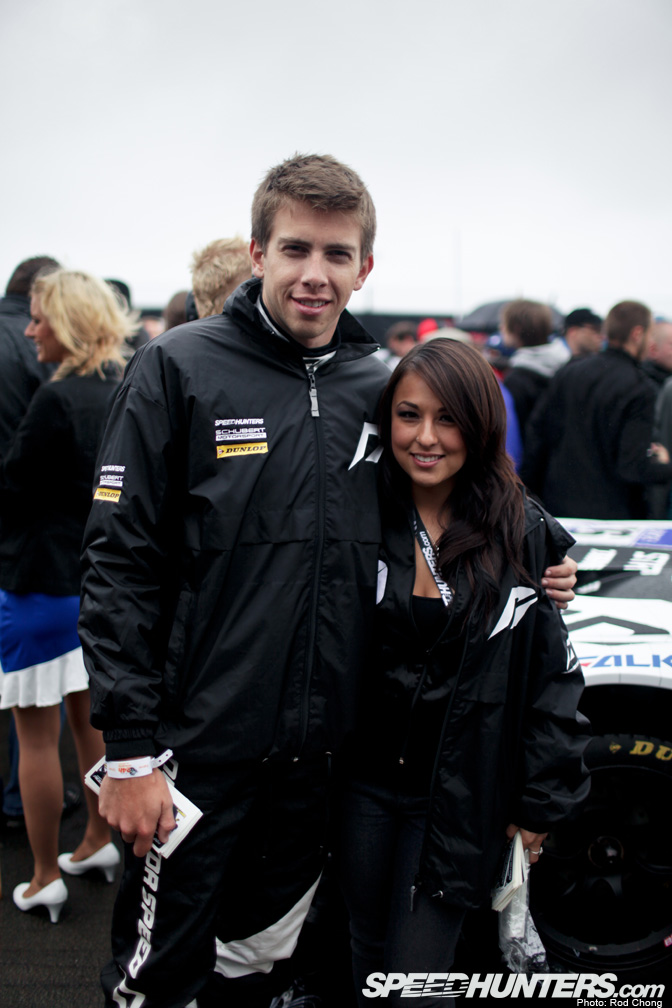 Tommy was his usual chilled self.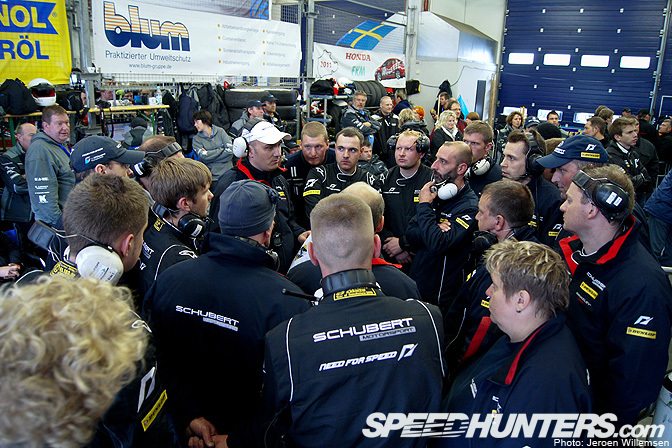 I've done very little shooting since the race started, instead electing to stay focused on facebook updates and image processing. But Jeroen has been doing a great job getting all the behind the scenes action.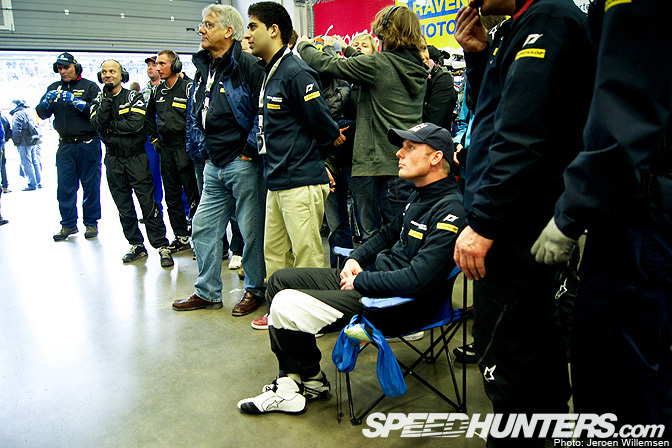 He's been shadowing the drivers as they go about their business in the pit garages…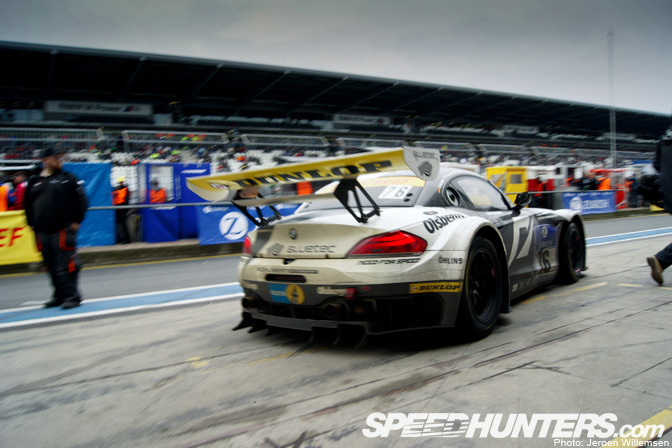 And has shot pretty well ALL the pitstops.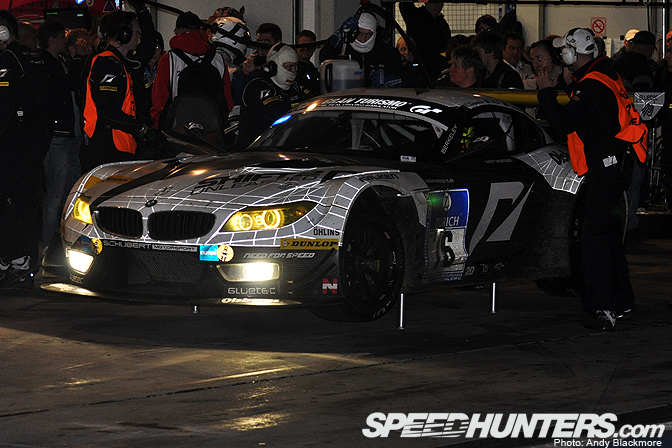 We were really starting to believe that the race was coming to us. Number 76 had just taken 2nd place…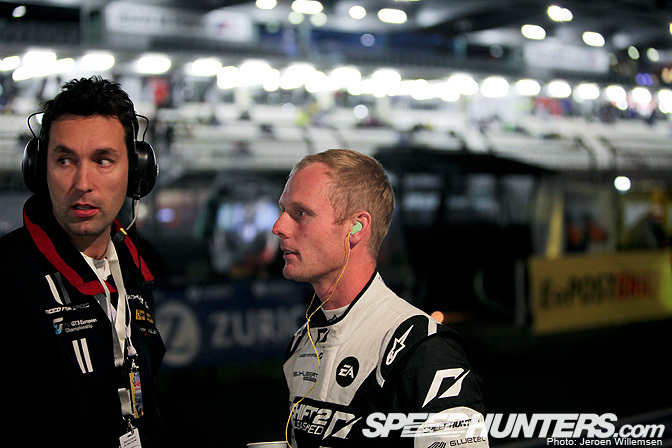 When the news came in that it had been involved with a massive wreck. Fredric Larsson had a coming together while lapping one of the Mercedes SLS and was instantly out.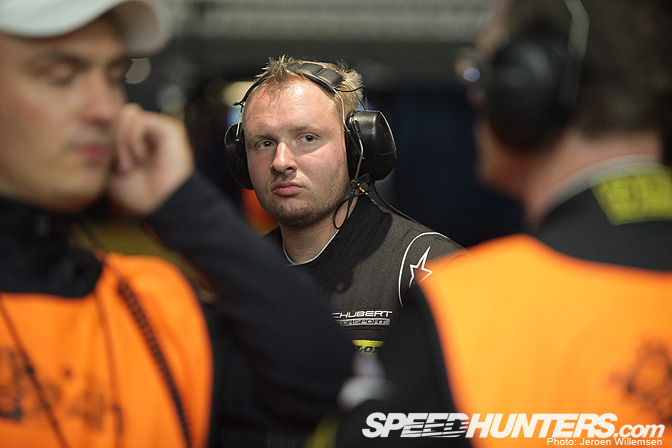 Jeroen was right there as the news hit the Schubert crew.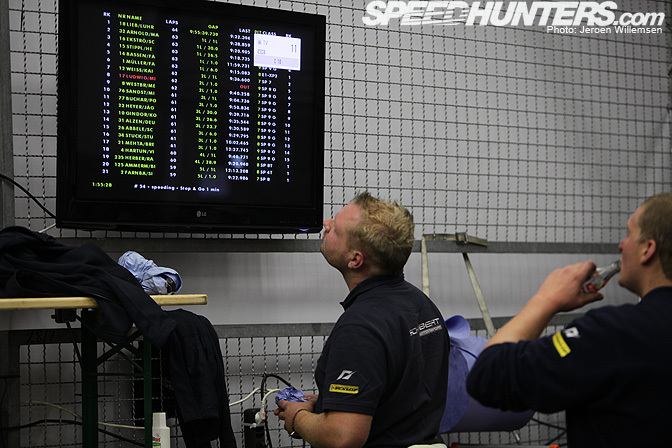 It was gut wrenching to see the stationary car dropping down the order. Somehow we wanted to believe that 76 was going to start moving… but soon it had disappeared off of the timing screens.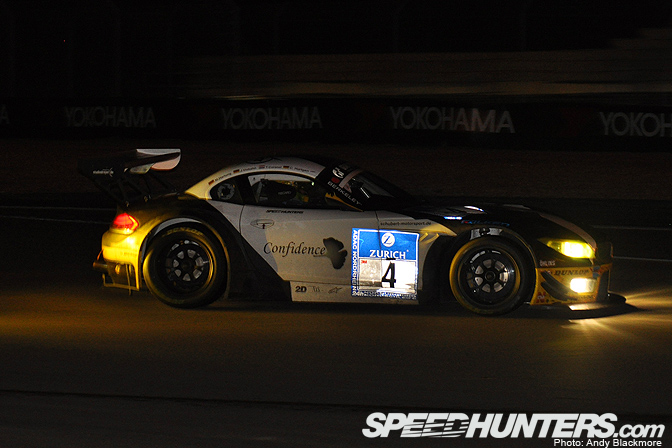 So our hopes have to ride with the number 4 sister car. It's been given number 4 out of respect to our 2010 result… it's currently sitting in tenth place, three laps off the lead.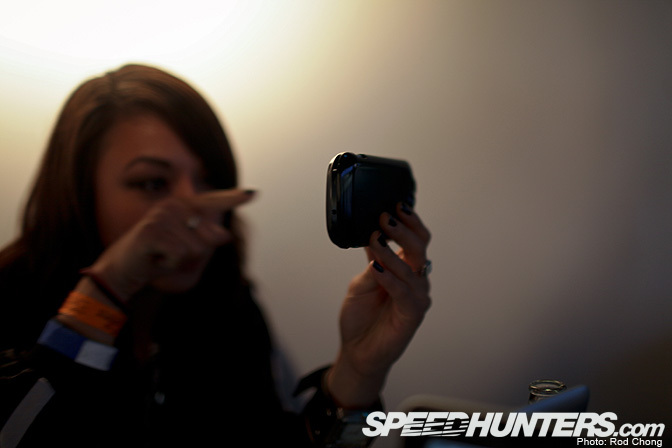 Meanwhile we've been slowly getting delirious from lack of sleep. Miki seems to be talking to her phone in a nonsensical dialogue.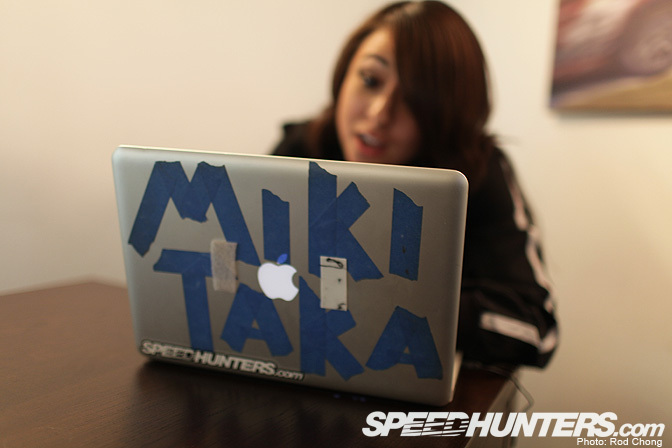 Which eventually turned into a nonstop diatribe with her laptop. There was a face talking back to her, but we all think it was a youtube video.
Thankfully as the sun is now up, we are starting to act like normal people again… maybe…
Zzzzzz….
:R