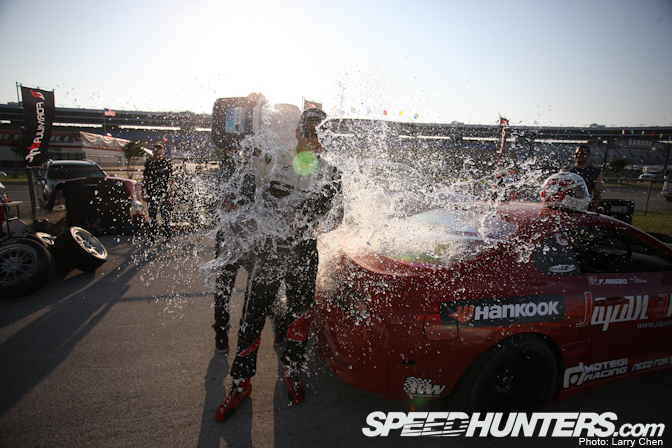 I followed Fredric Aasbo around on the last day of Ultimate Drift, presented by Formula Drift, to see what it's really like to be a Team Need for Speed driver.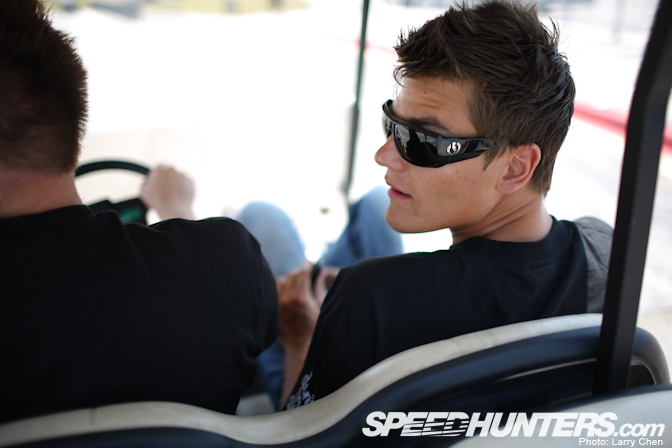 I start off the day in a golf cart with Fredric's spotter, Steffen Moy, at the wheel. We were heading to Motegi Racing's hospitality rig to meet with a sponsor.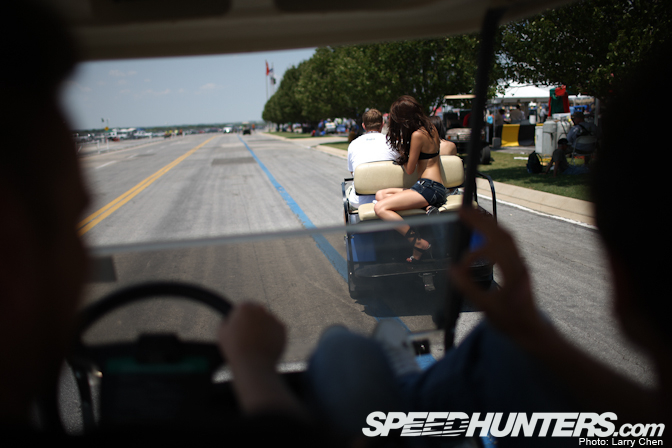 For some reason we kept getting side tracked.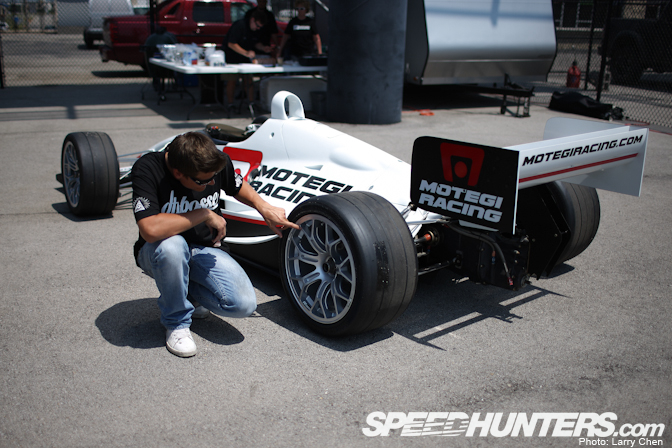 After an hour or two we finally made it. I think Fredric was wondering if he could get those in Scion tC sizes.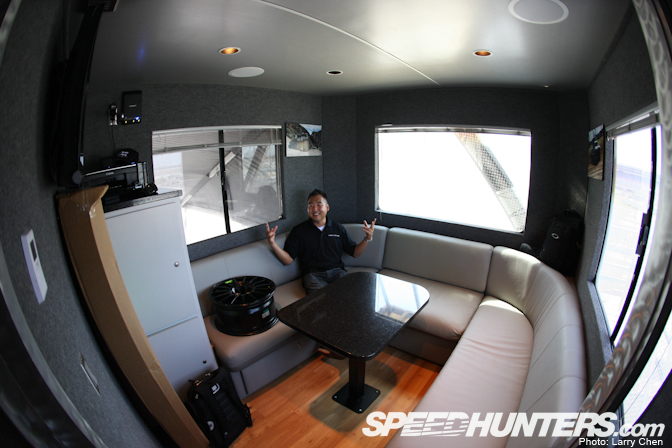 Here is Harry Kong from Nitto tire hard at work.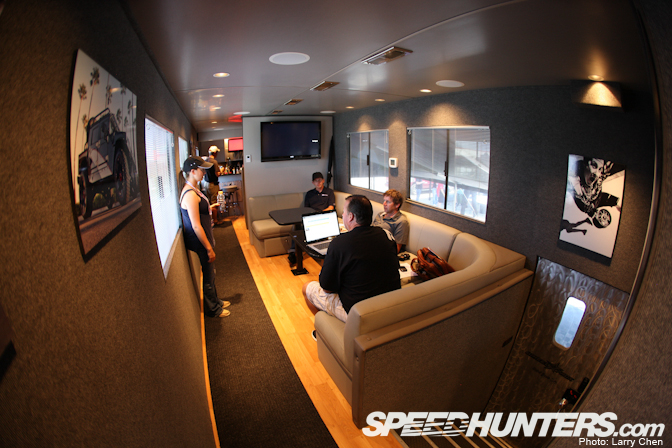 This is definitely the way to enjoy a NASCAR / INDY event.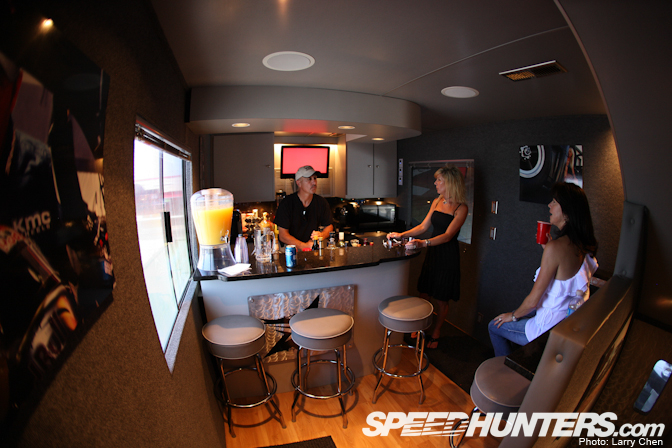 They had a large selection of beverages to keep you well hydrated.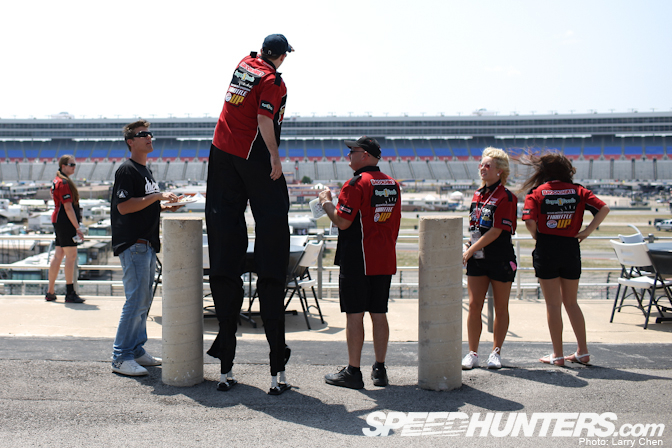 I finally found someone taller than Fredric.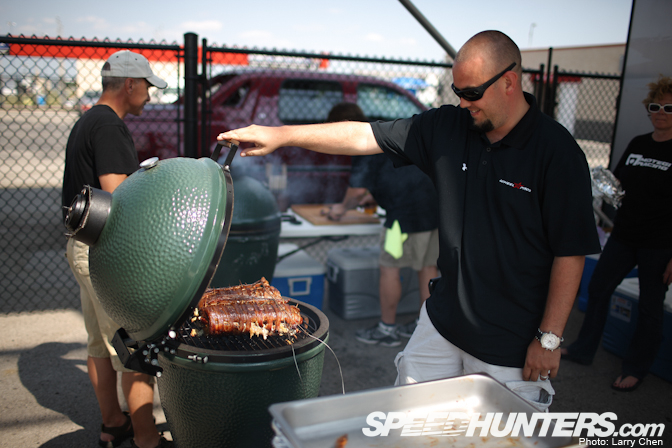 Motegi really knows how to treat their drivers.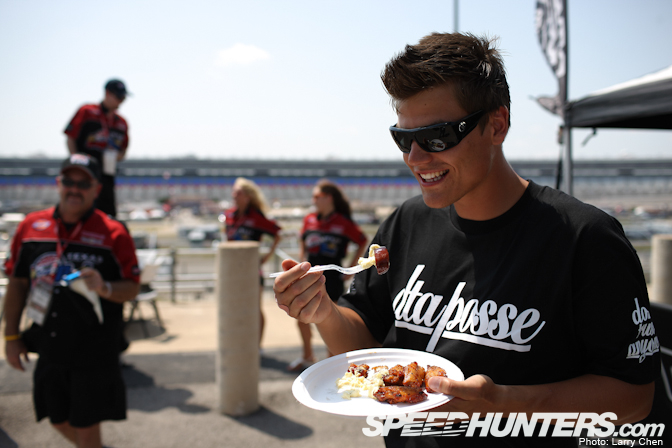 We ate until we could not move anymore.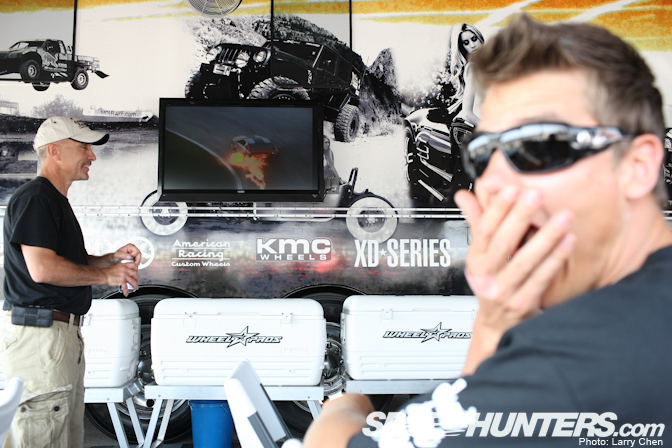 The previous day's race was being rebroadcasted on ESPN as we ate lunch. They showed clips from yesterday's drift / fireworks show.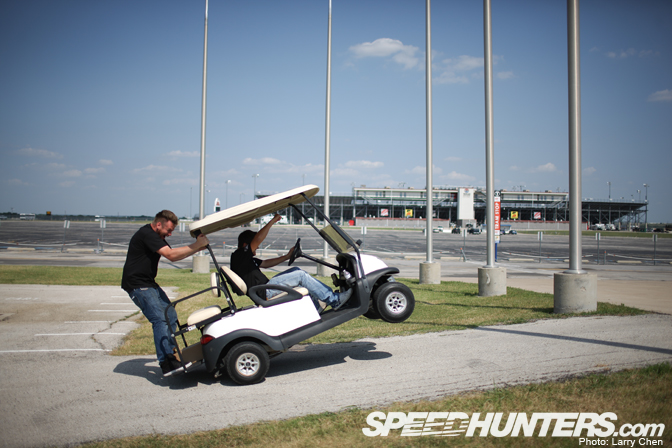 We must have eaten too much because it was hard to keep the golf cart on the ground.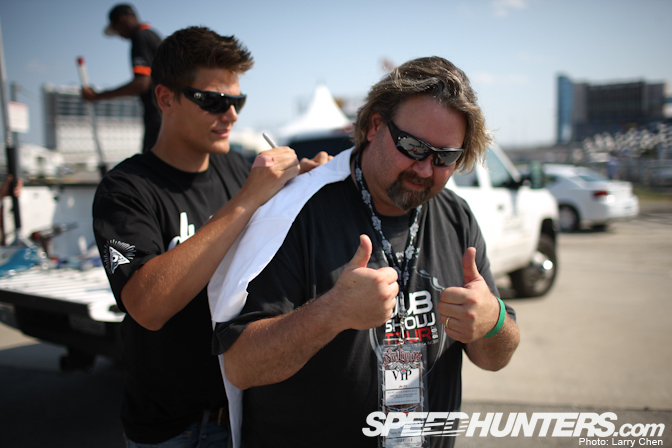 Back in the pits. Fans from all over came by to ask for autographs and photos.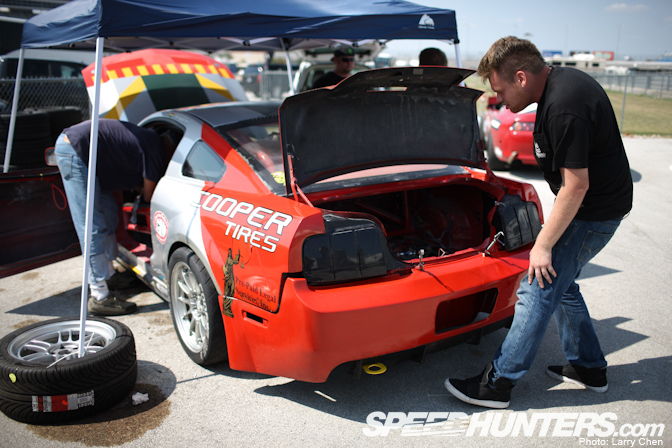 I have to hand it to Tony Brakohiapa for fixing his car after that fuel line incident. Mad respect.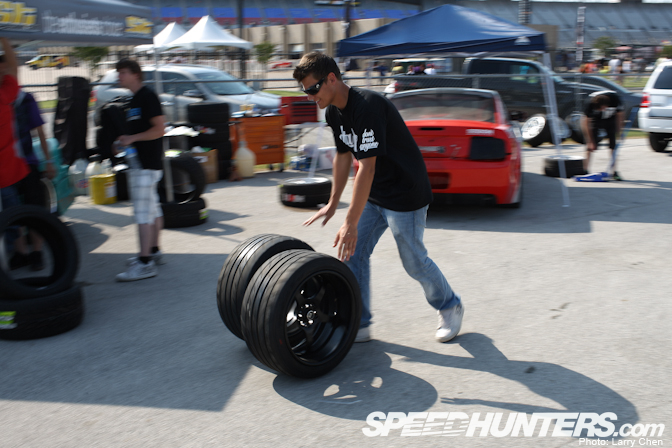 Dolph Lundgren has not forgotten how it feels to be a privateer.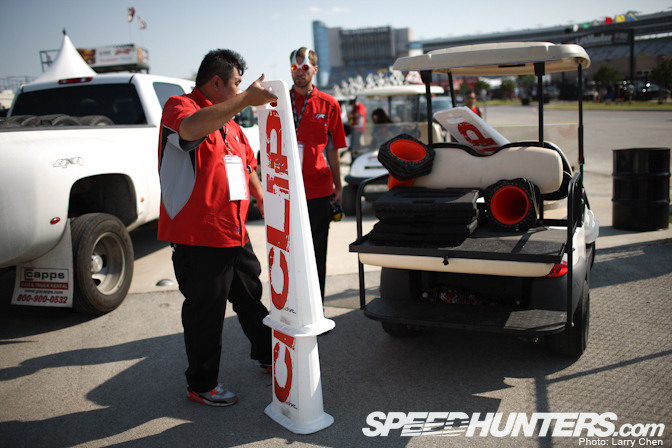 Fresh clipping points ready to be squished.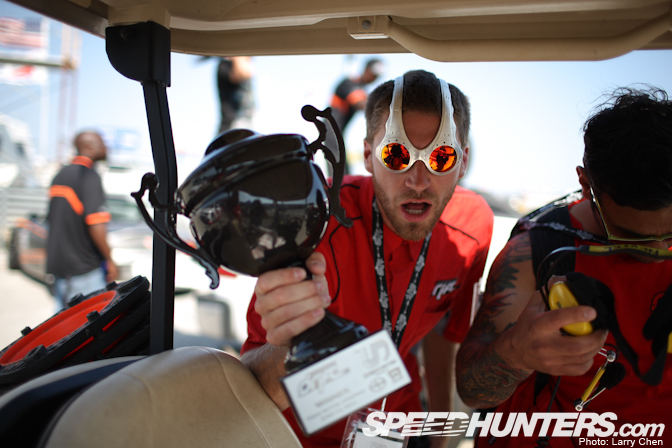 Part of the demonstration would be a mini competition. You get a small purse if you won, plus a neat carbon fiber trophy like the ones at Formula Drift.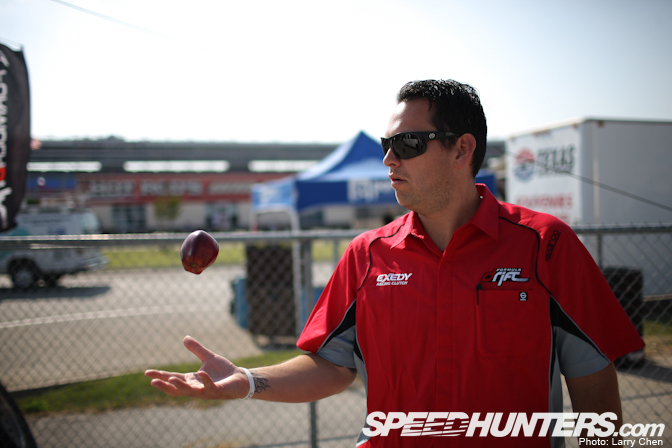 Come to the red side of the force, where you have the power to control produce.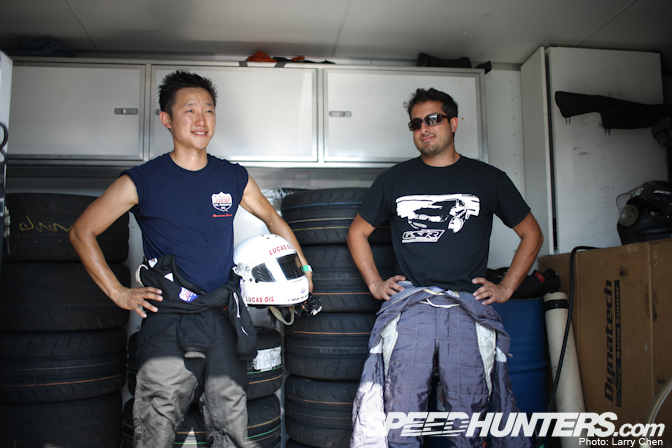 Joon Maeng and Mike Essa are going up against each other in the 8 car competition.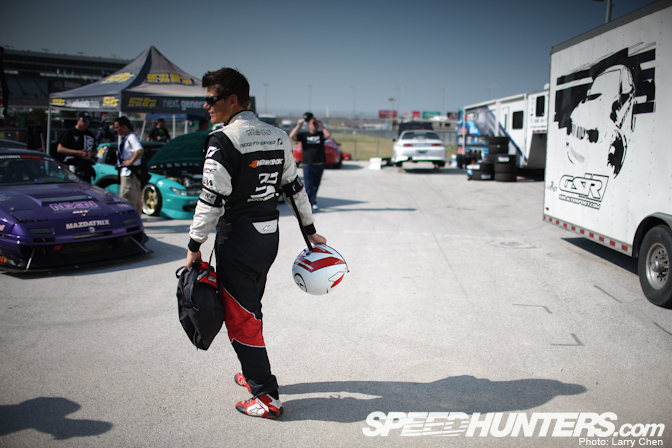 Our hero suited up and ready to go.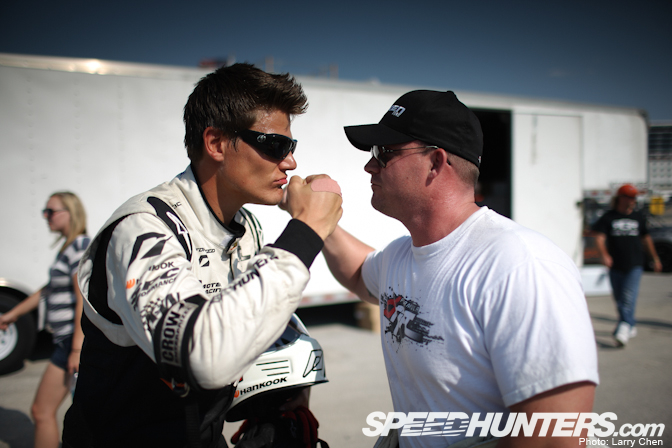 Fredric is paired up with body builder Jeff Abbott. Should be a good match.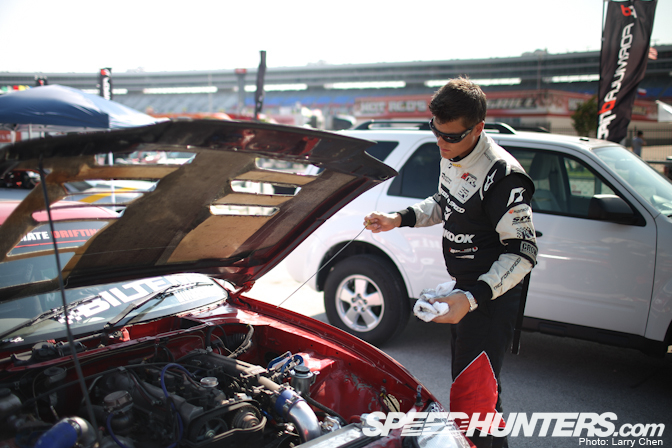 Fredric doing some last minute checks to make sure everything is in order before his battles.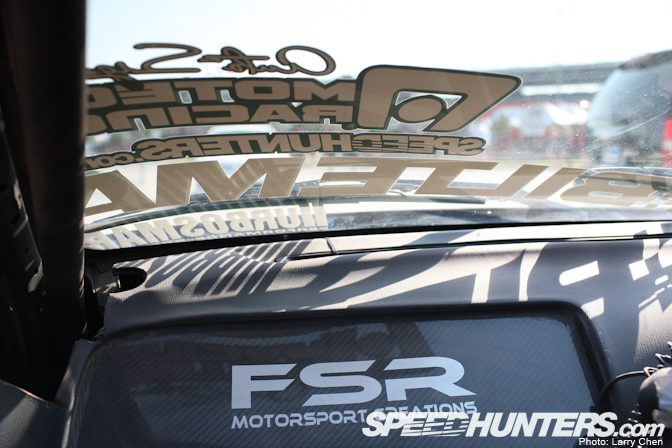 I don't understand how anyone can see through this windshield.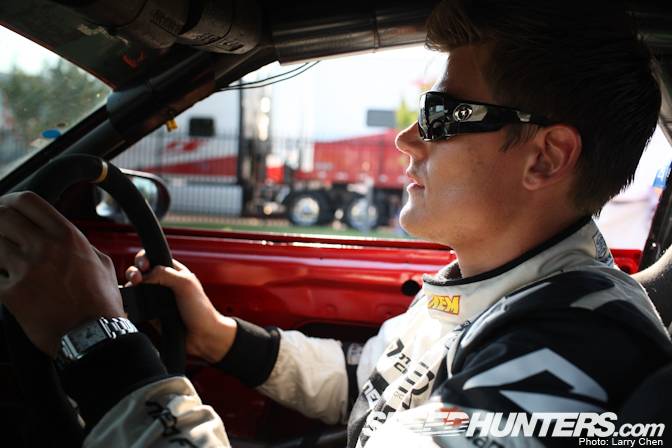 The march (drive) to battle.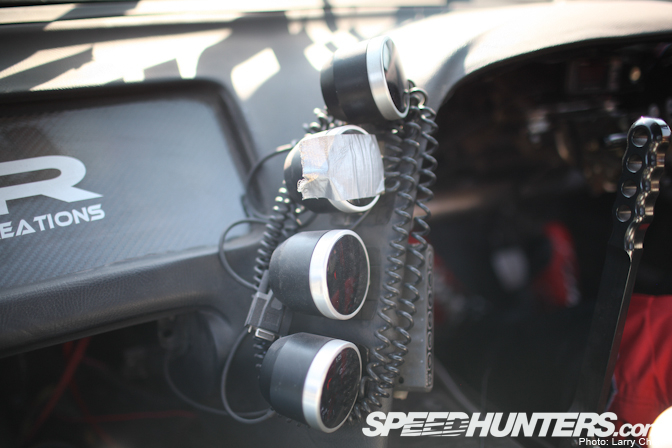 That duct tape must be covering the "danger to manifold" gauge.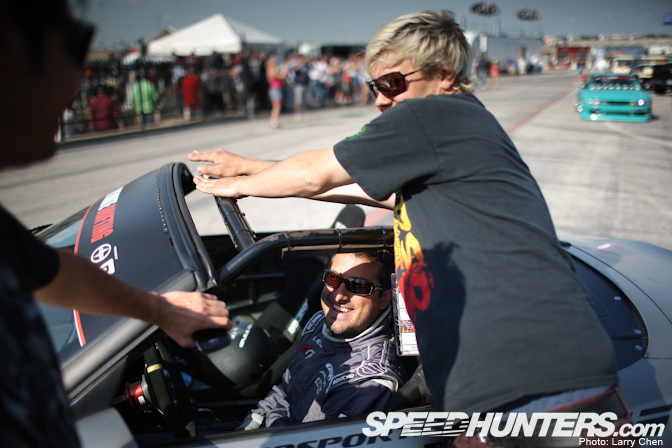 Pat Mordaunt ended up getting a new transmission but he was still short a driveshaft, so instead he provided shade for the drivers.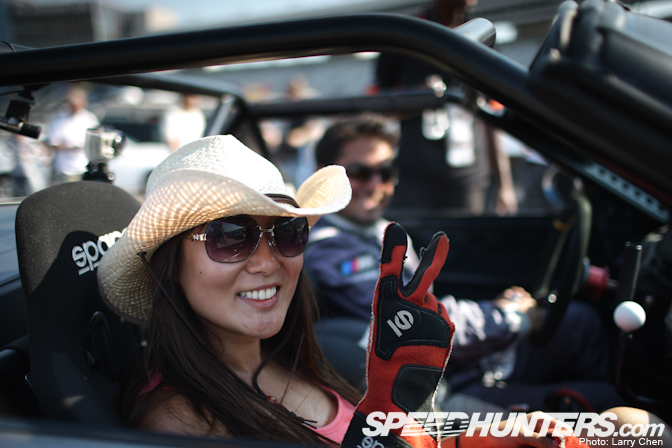 Drift fans come in all shapes and sizes!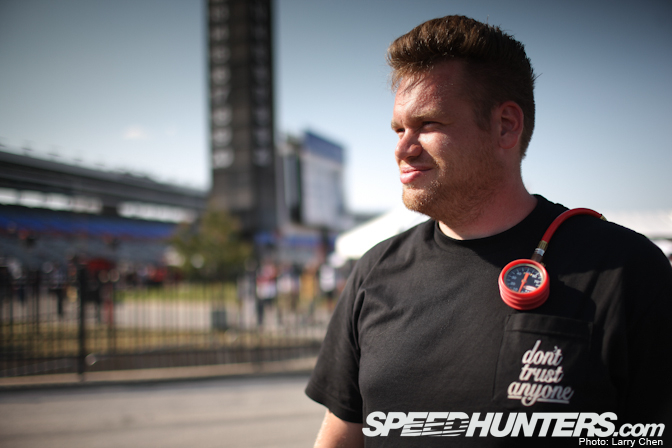 Dr. Steffen Moy ready to give tire pressure check-ups.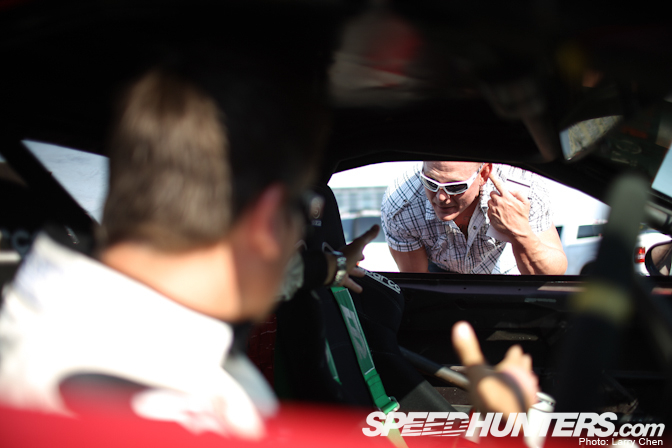 It's hard to explain what drifting is to someone when there are a bunch of cars revving next to you.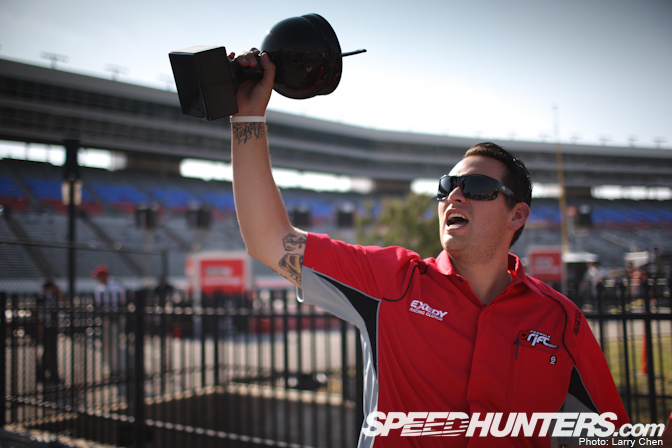 Only one will walk away with the power of carbon fiber.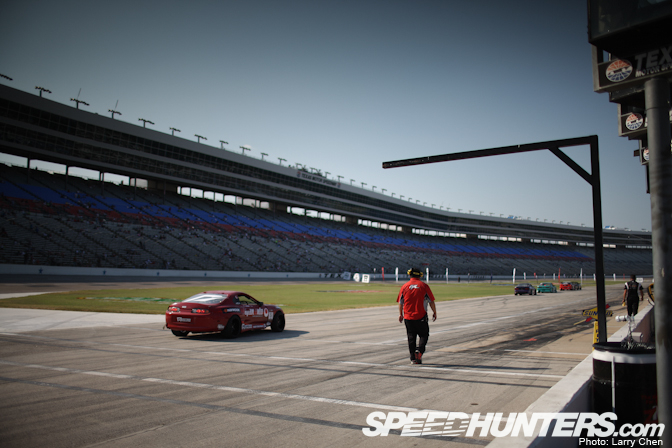 The drivers roll out onto pit lane. Almost go time.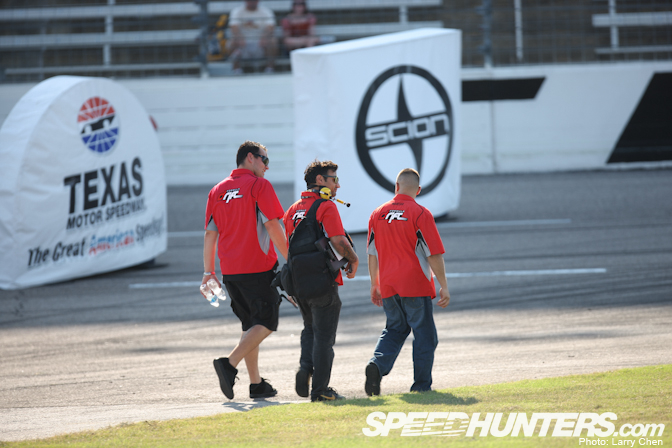 Ernie Fixmer came along to judge with Tony Angelo and a mysterious celebrity guest judge.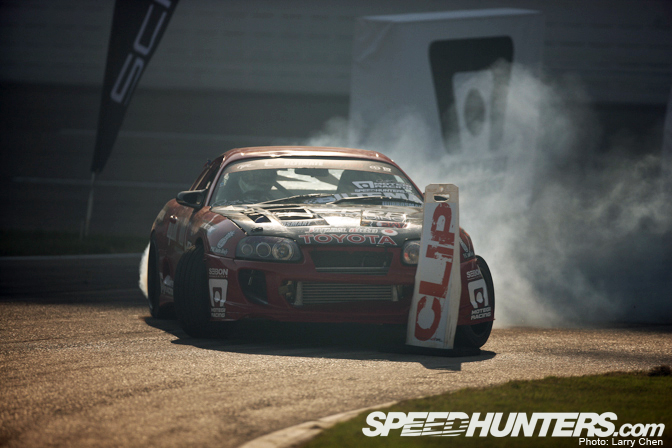 Fredric decided the clip needed to be moved back a bit further.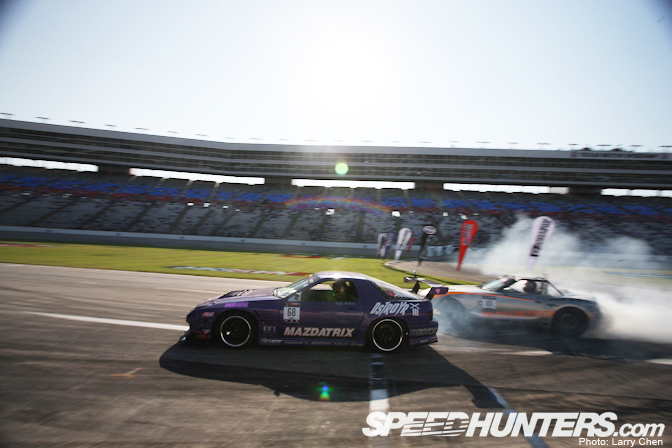 Kyle Mohan knocked out Mike Essa in the top 8 bracket.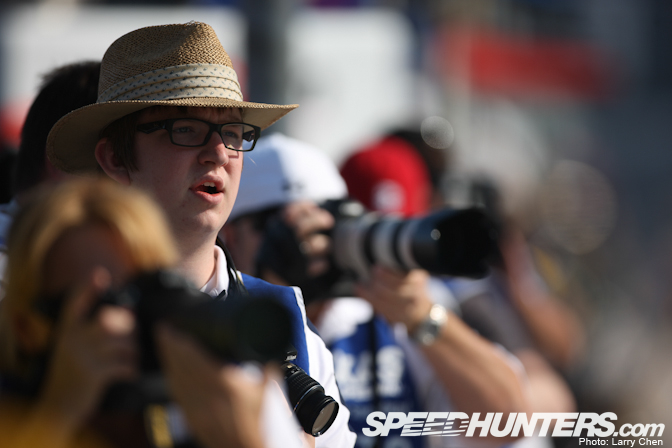 The media had never seen such a thing before, so it was hard for them to keep their mouths closed.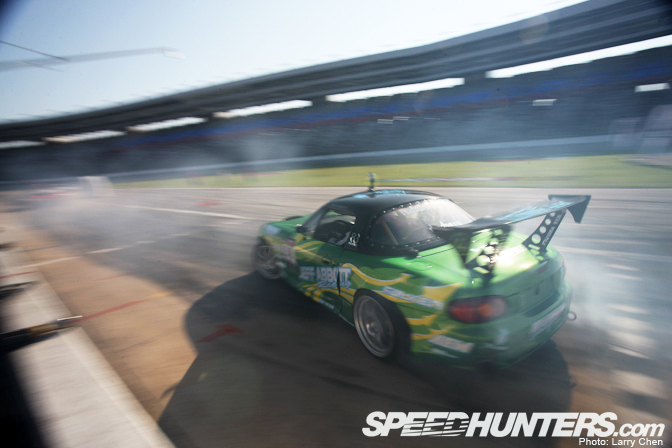 Jeff Abbot put on a great show by getting close to the pit wall, but got knocked out in the first round by Fredric.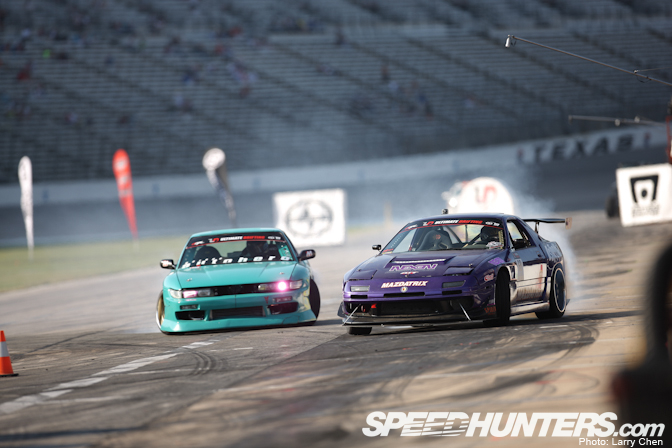 In the second round Kyle went up against Roland Gallagher. Kyle would move onto the finals with Fredric but Roland would end up in 3rd place.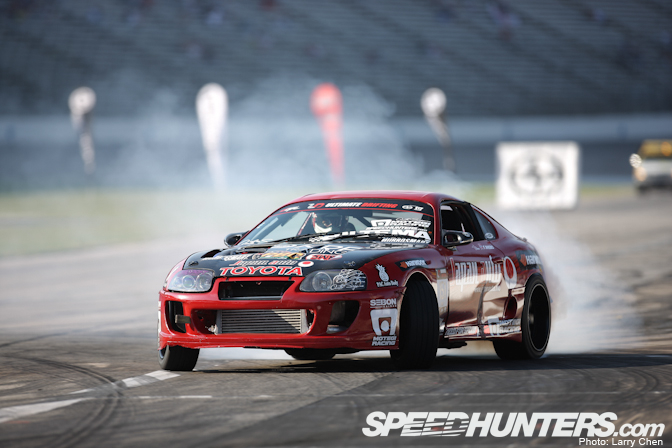 Fredric went up against Tony B in his Mustang for the 2nd round.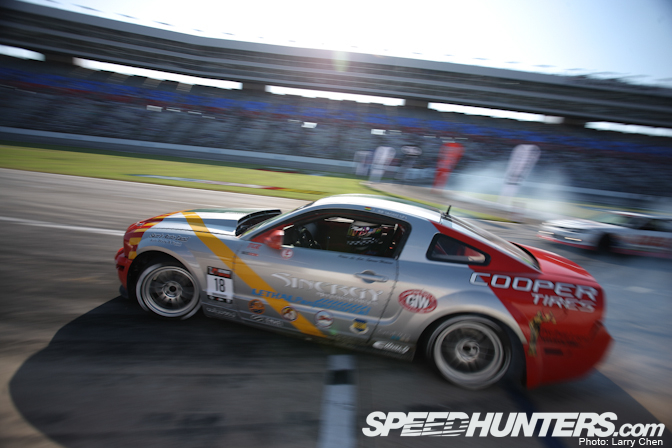 Tony spun out so the win went to Fredric.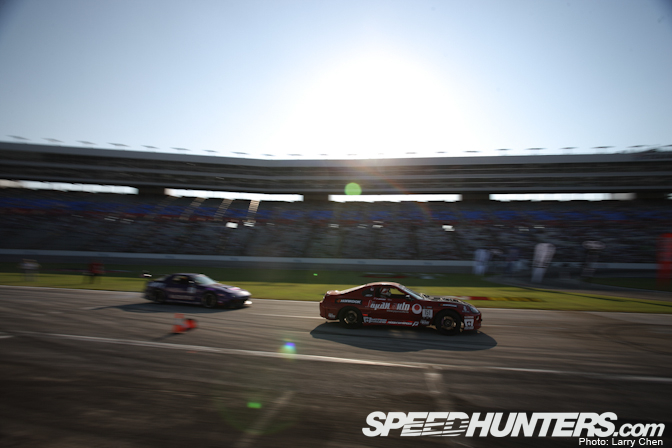 The crowd went nuts during the finals. Fredric would move on to win the competition.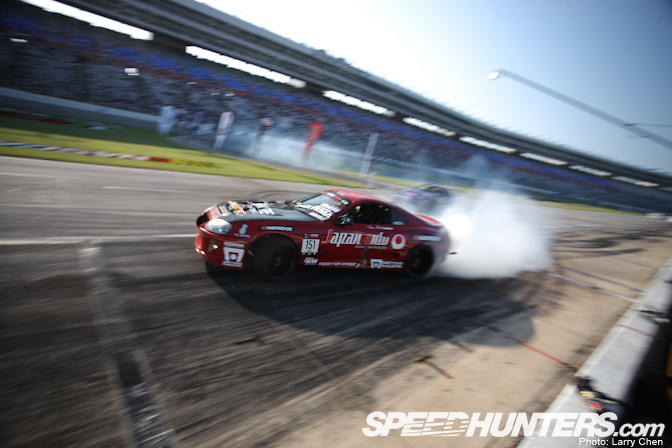 I signalled to Fredric to get closer to the retaining wall.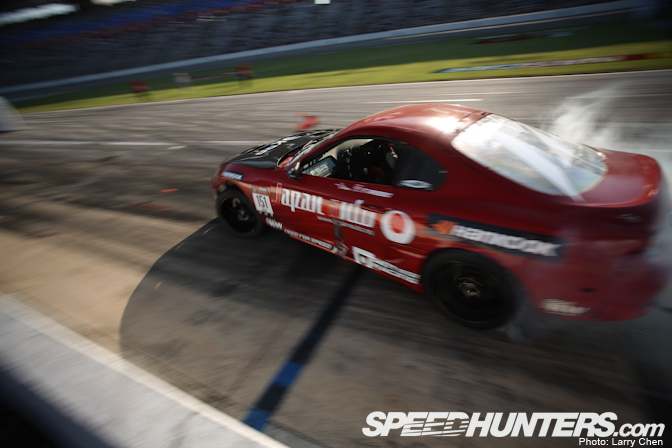 He listened.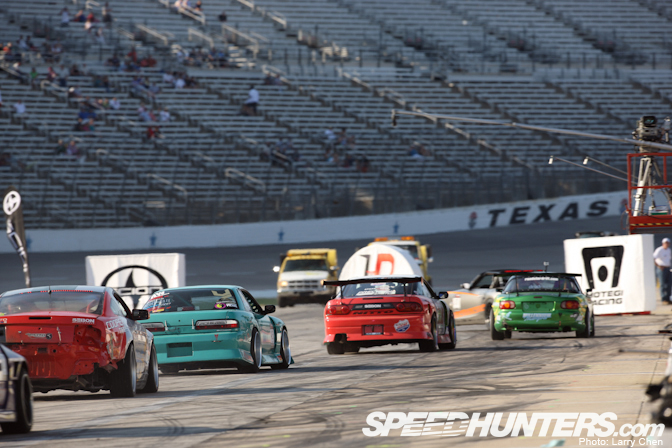 After the mini competition, it was time to run a 7 car train.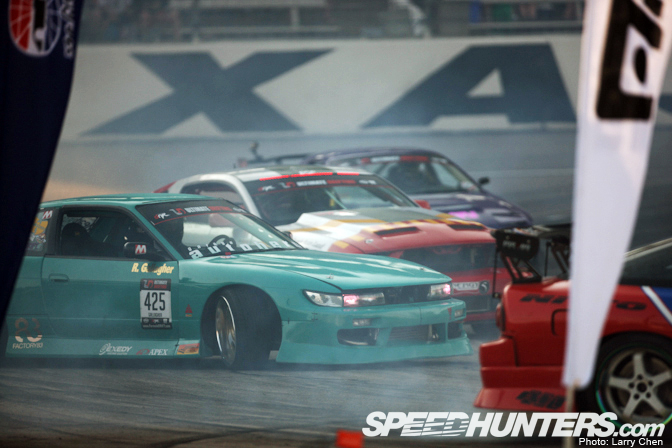 This would be a very bad time to spin out.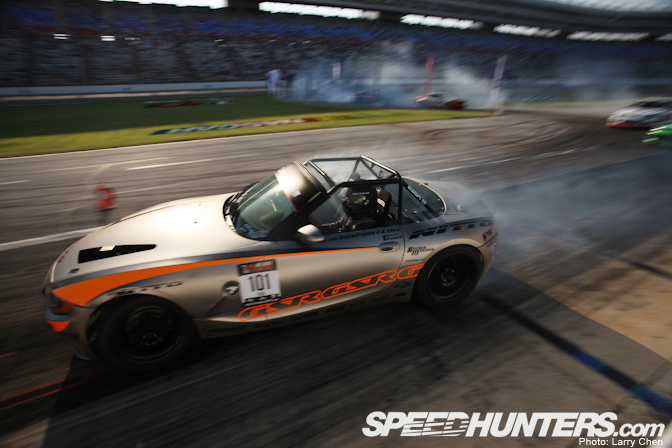 Mike led the train in his BMW Z4.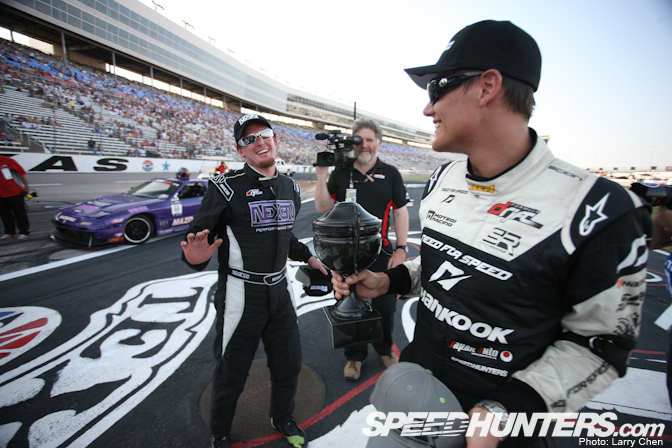 Kyle apologized to Fredric for hitting him…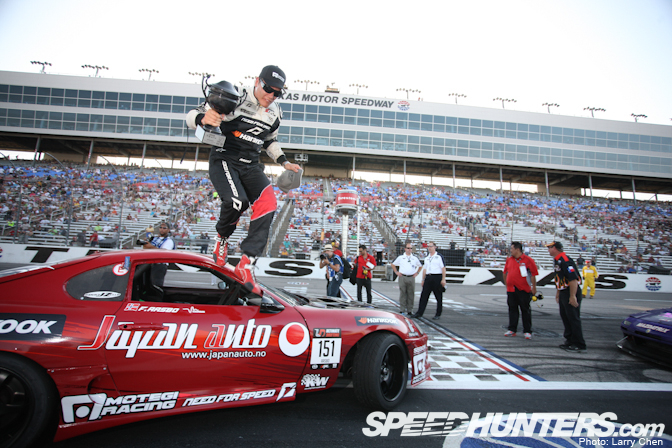 …But I don't think Fredric cared much.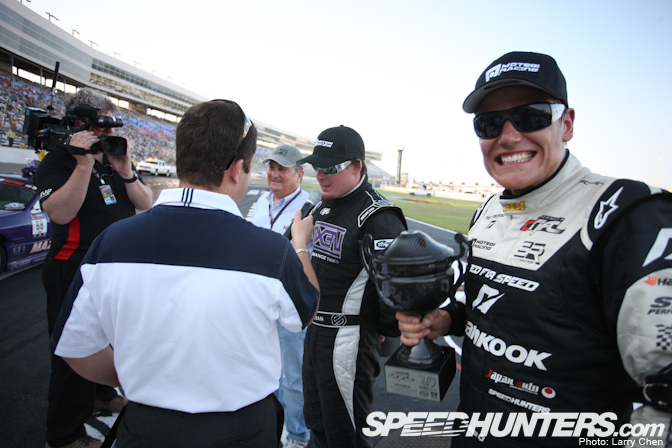 Happy as a clam.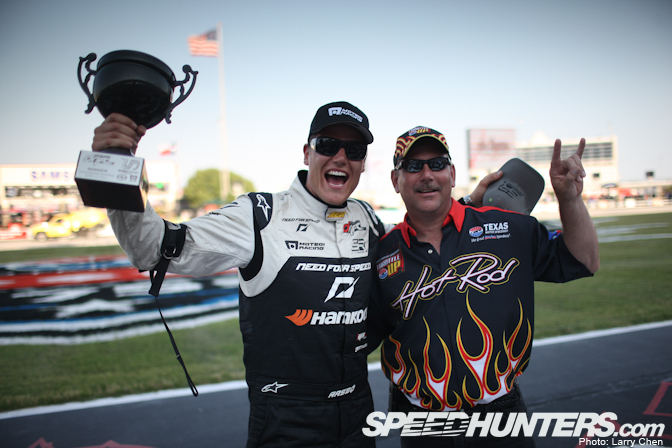 Former Dallas Cowboys Star, Herschel Walker, turned out to be the celebrity judge. He seemed to like drifting.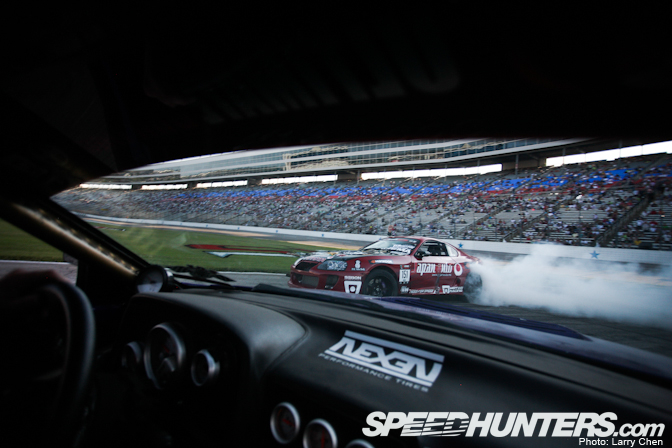 I rode in Kyle Mohan's FC RX-7 when it was time to go back to the pits.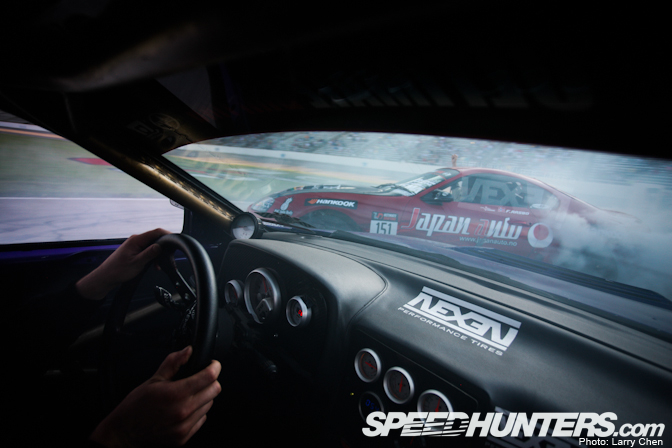 They were going to sweep the track anyways, so the guys decided to make a proper exit.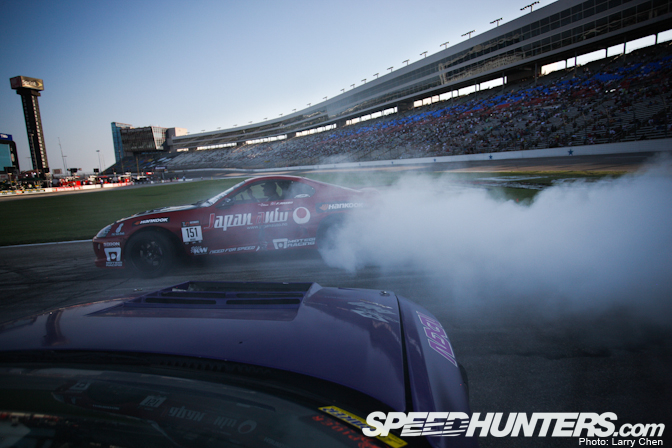 I got quite a bit of tire dust in my mouth.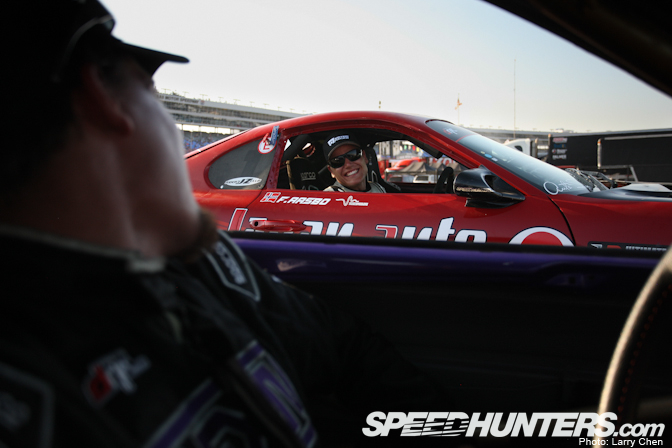 I'm pretty sure Fredric already forgot about Kyle's love tap in the finals.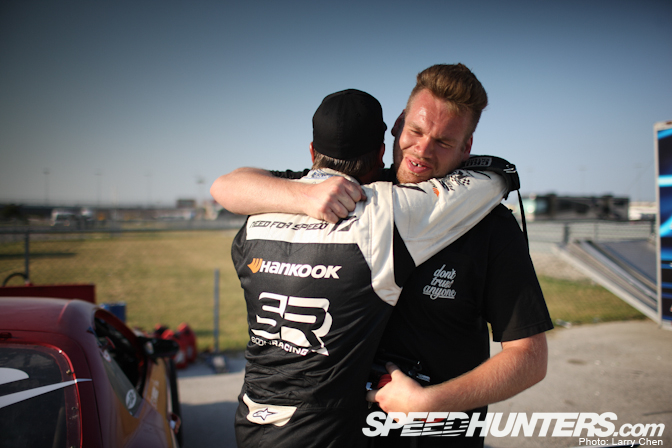 It must be a Norwegian thing to hug with fists.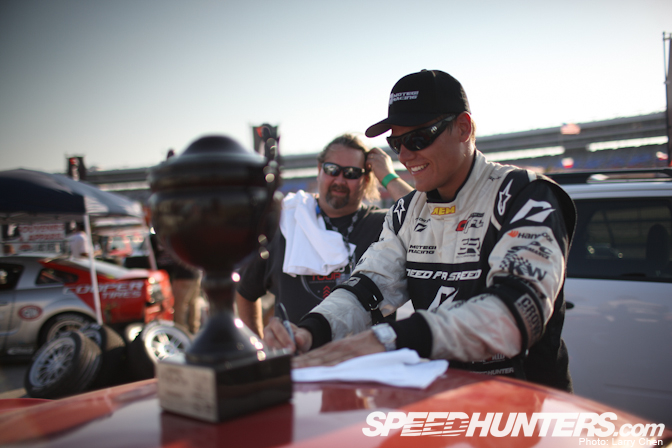 This super fan must be making a Aasbo shrine of some sort.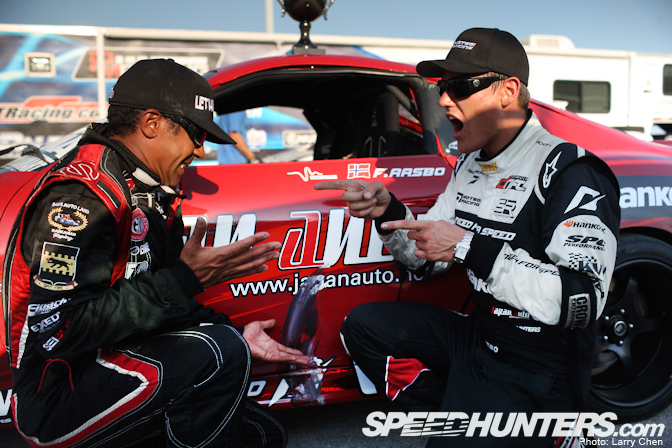 Apparently Kyle was not the only one who gave Fredric a love tap. Tony thought Fredric's brand new door needed a tire mark or two.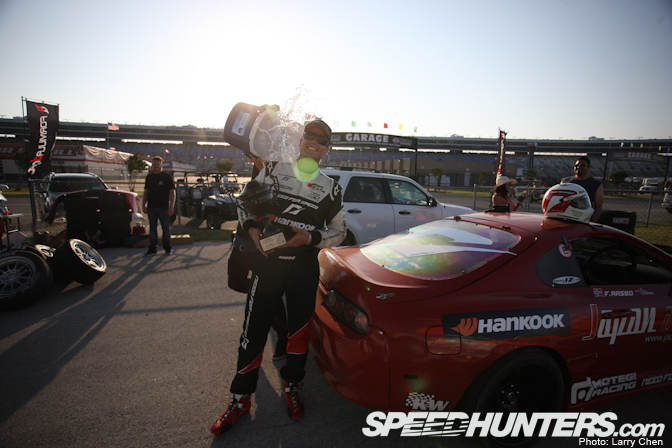 I'm not proud of setting him up.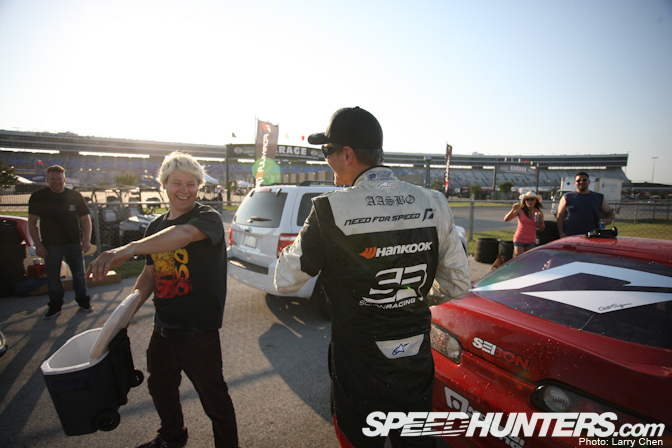 But the aftermath was just too funny to not laugh at.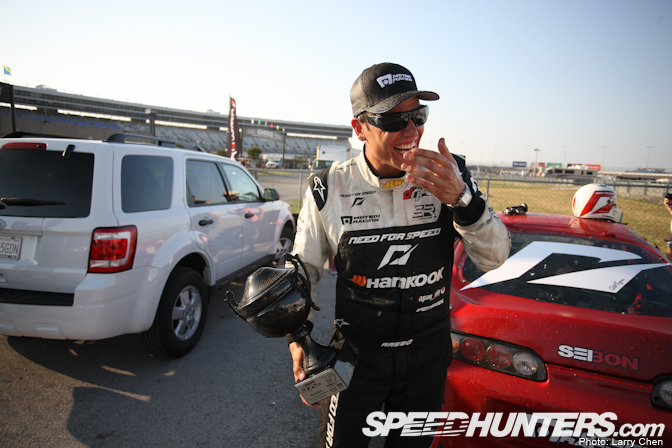 That's what you get for winning. After Fredric went to get changed, we were off to do some INDY-hunting.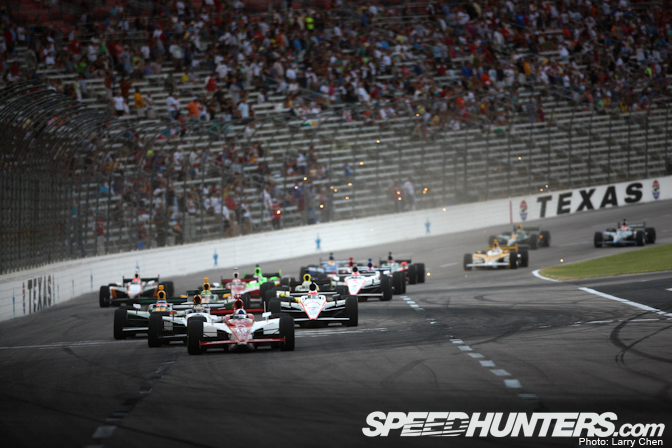 Those are not fireflys. That is open wheel racing contact.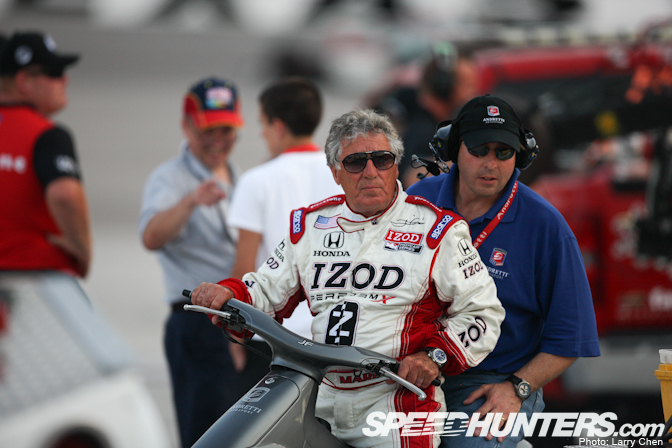 No one can tell you what to do if you are Mario Andretti.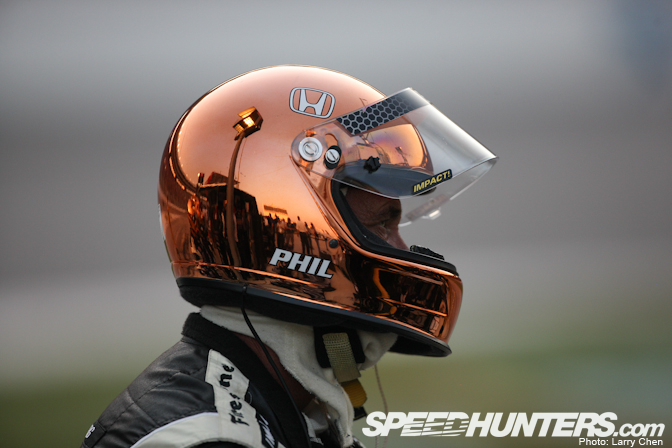 I think "Phil" had the coolest helmet in the pits.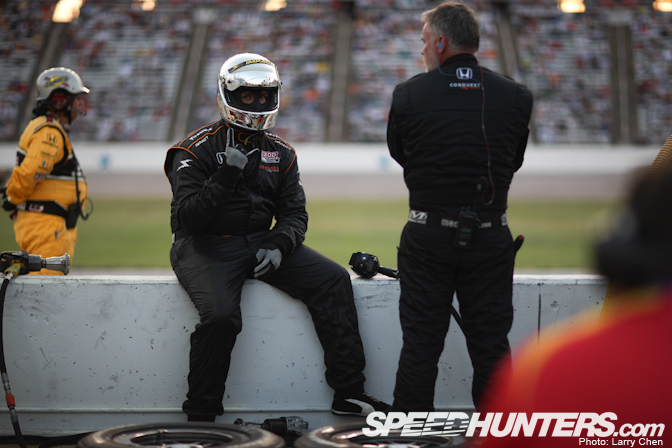 The INDY pit crew guys seemed just as friendly as the NASCAR crew guys.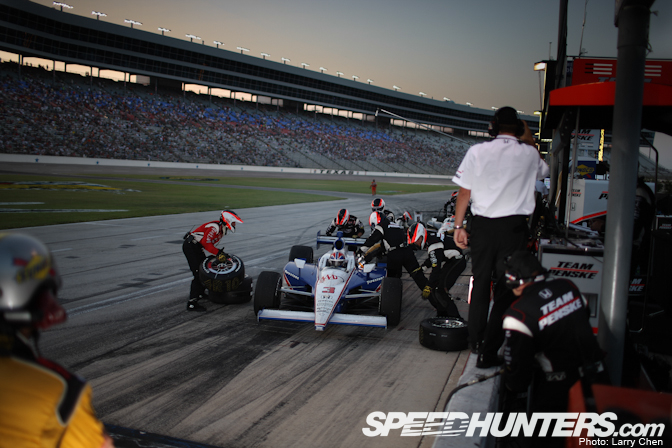 Their pit stops were much cleaner and faster than NASCAR but I think the NASCAR ones were more fun to watch.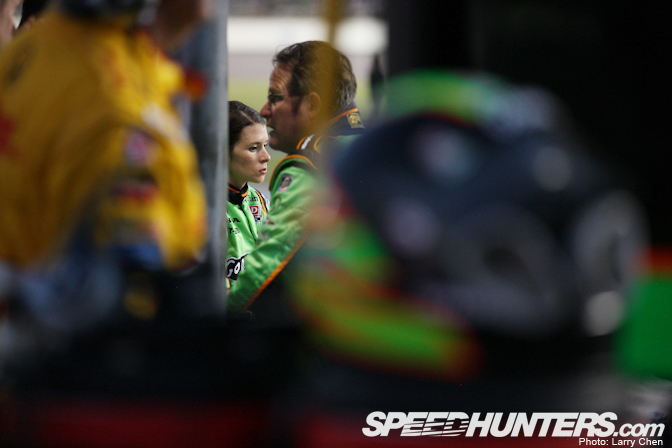 Danica Patrick finished mid pack on Saturday's race. It seems like she has the largest fan base on the INDY grid.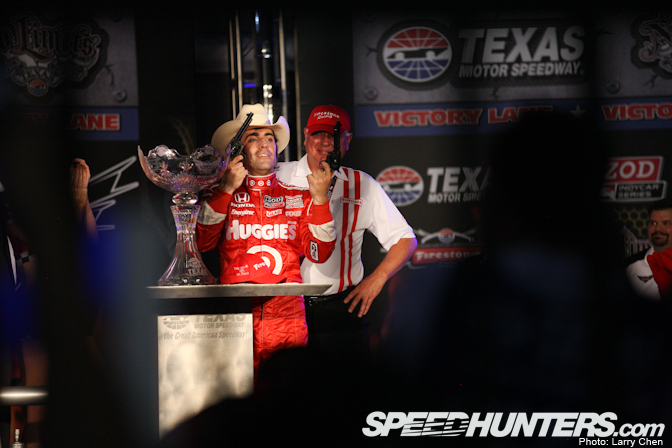 There were two INDY races that night and Dario Franchitti won the first one so he had the pleasure of shooting blanks while wearing a cowboy hat.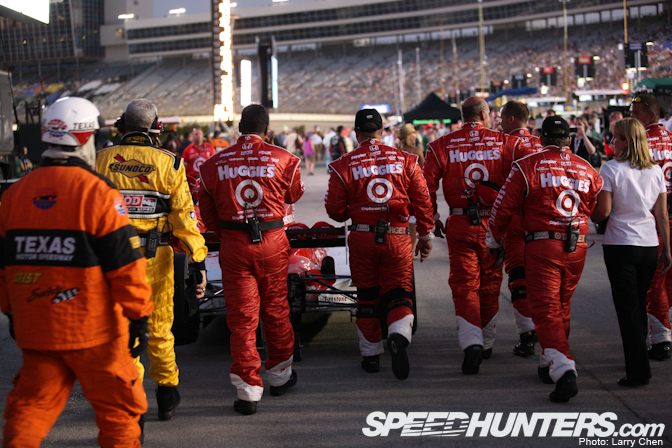 I wonder if Dario's team gets a lifetime supply of diapers?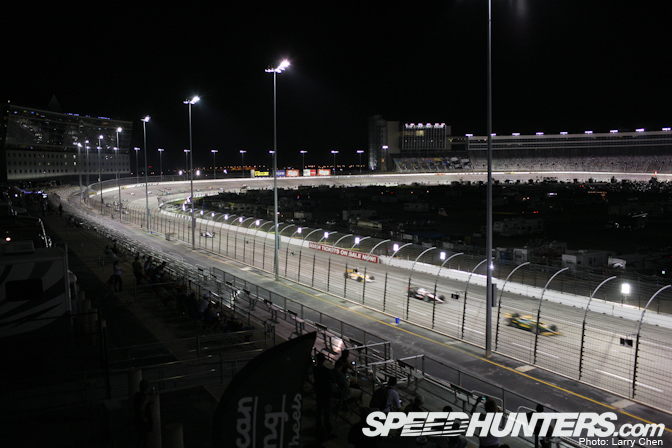 For the second race I decided to join Fredric and Steffen at Mogei Racing's hospitality rig for some Texas style barbecue. This is the view from the rig. Amazing right?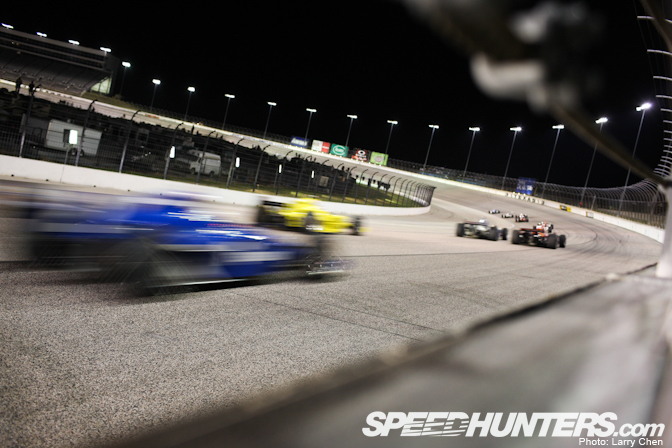 I went for a closer look only to get pelted in the face with 200mph tire chunks.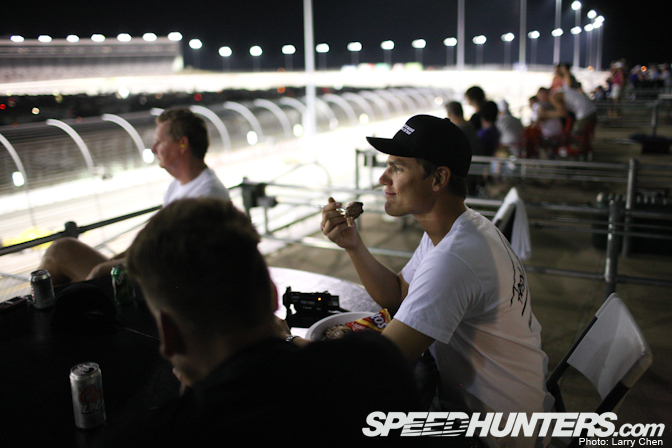 For now, Fredric and I will part ways. He will be heading to New York to do a bit more exploring of our beloved country and I will be going home to Los Angeles to get some rest from hunting speed. However, I will be following the Norwegian Hammer around again next week at Formula Drift Round 4 in New Jersey.
Larry