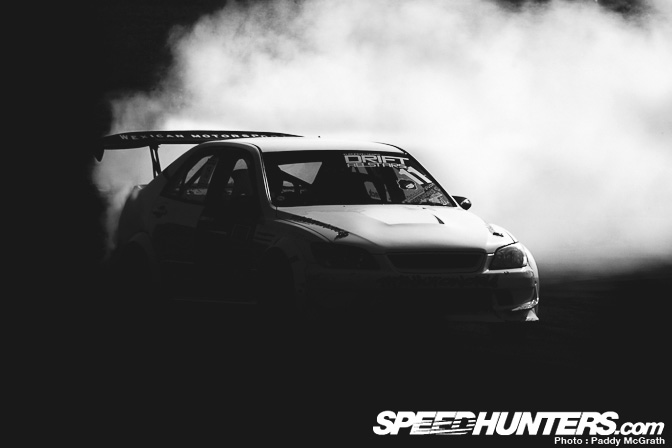 Hello everyone, my name is Martin Ffrench a.k.a. 'Frenchy'. I'm the owner of Wexican Motorsport and drive the above SR20 powered Toyota Altezza in Ireland and the United Kingdom. Welcome to my guest blog from the first round of the 2011 Drift Allstars series !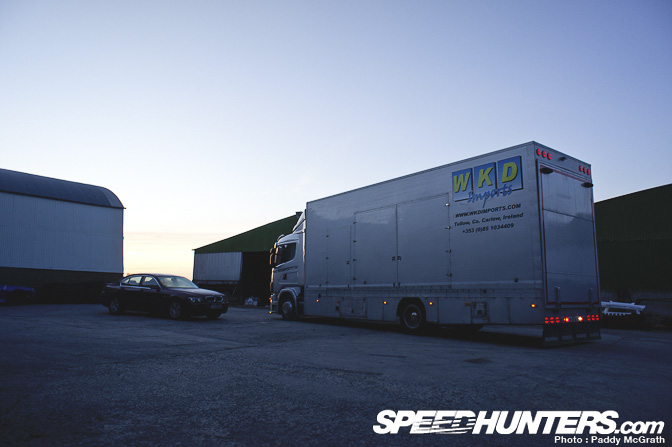 And so our journey begins ! For me it started at 5AM on Easter Sunday morning. I drove, along with my mechanic and team chief for the weekend, to the headquarters of WKD Imports in county Carlow, Ireland. We had loaded and packed the WKD truck the day before so it was a simple case of arrive and drive. There are three cars in there believe it or not, along with rims, tents and tyres !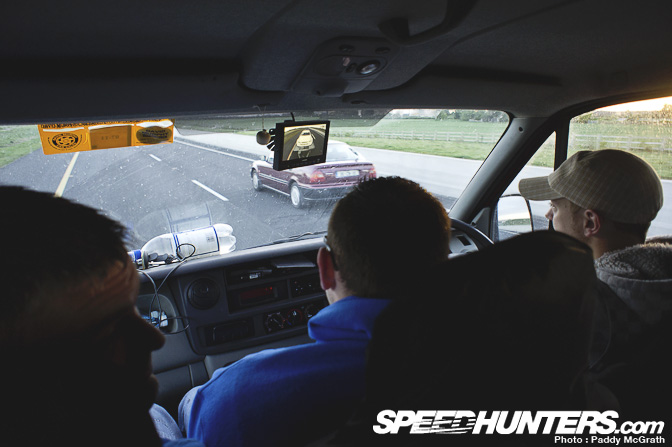 On the road and our journey begins. Our weapon of choice is a Renault Master van loaded with seven people, one compressor, one tyre machine, a generator, lots of bags and Paddy's camera gear whilst towing a trailer loaded with the Wexican Motorsport Toyota Altezza which you can just make out in the rear view camera.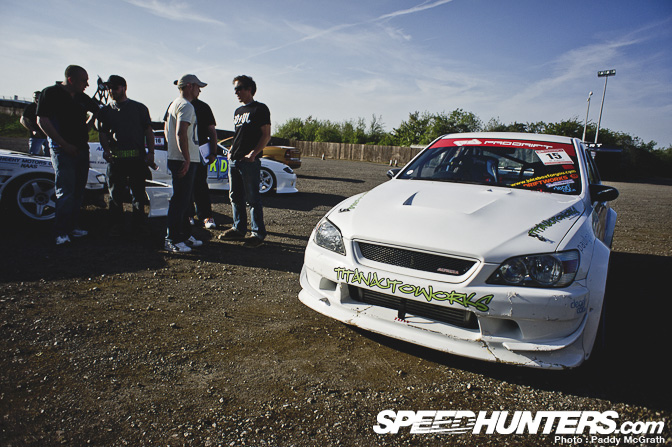 Some twelve hours after our journey began, we arrived at Teesside Autodrome for round one of the Drift Allstars series.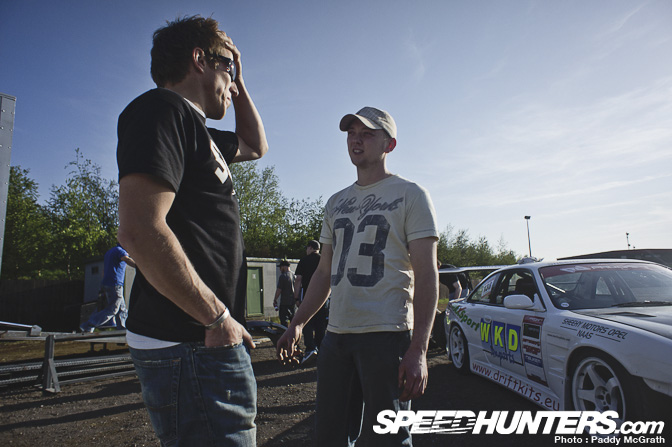 Here I am catching up with a good friend, all round nice guy and commentator Bryn Musselwhite.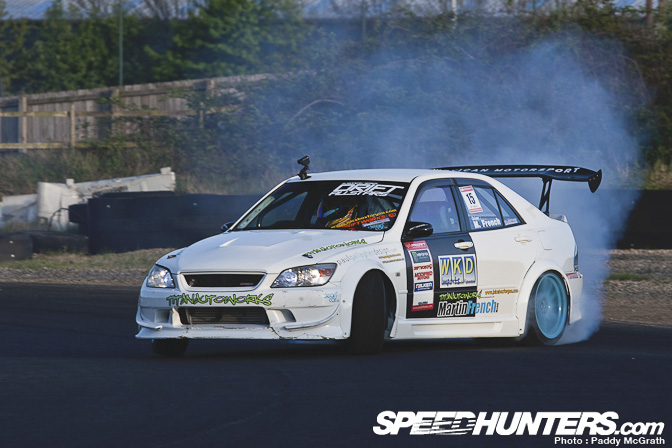 Now to what I love – driving. I was informed we were going to have a clipping point competition for the TV cameras to help explain the importance of clipping points to the fans and viewers. This was to be contested between Anthony Scott and his Rocket Bunny S13, Nigel Colfer in his 1JZ S13 and myself. The object was to get the closest to the cone without knocking the tennis ball off the top of the cone. I was deemed to have been the closest and so won this little competition for the cameras, a good start to the weekend! It was at this stage that we were to call it a night and get some much needed sleep but not before some food and a bit of banter between the drivers back at the hotel.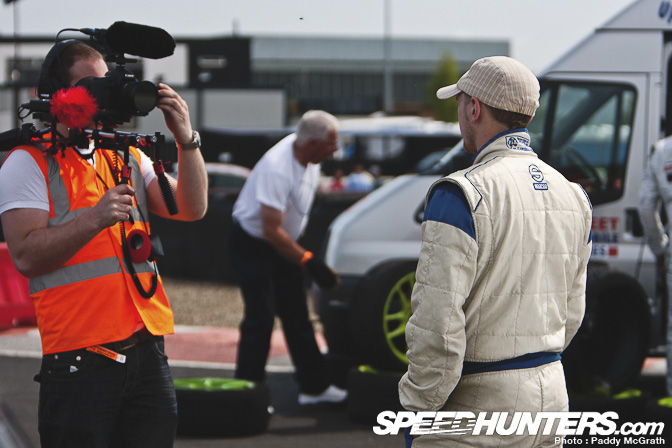 Race day ! Time to get suited and booted and do what every driver must do in these modern times, talk to a camera.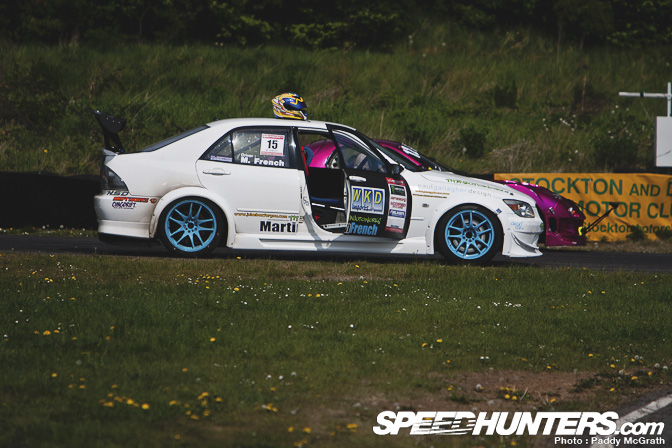 I couldn't wait for practice and once the car had passed scrutiny I was one of the first to line up. Door open and helmet on the roof ready to go, just waiting for the track to be cleared and ready for action.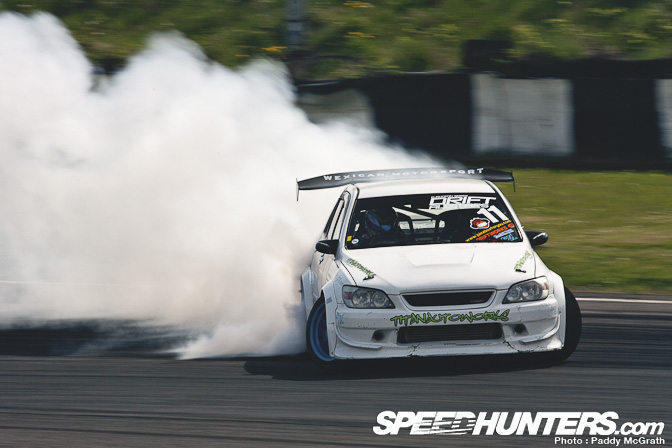 As soon as I got the beckon from the startline marshall, I was in the car and on track. I was a bit nervous as to how the car was going to perform but these doubts soon left my mind. I was happy as all I could see was smoke in my rear view mirror and inside the car after every run.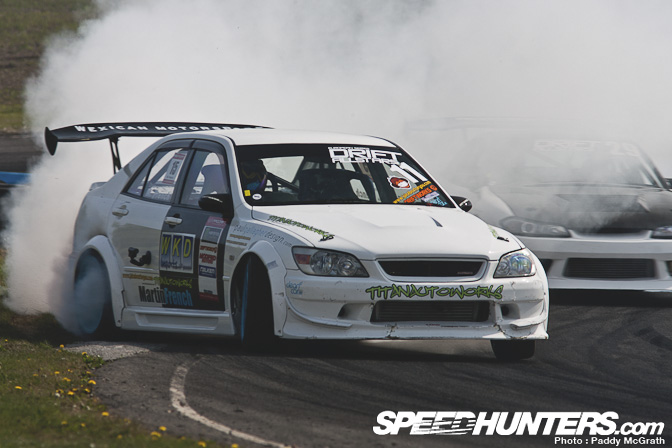 Happy with the general setup of the car, we set about making minute changes to best suit the track and other competitors. Straight away we found that the gearing was wrong for the track. So we had to make a decision – should we swap out the rear differential so we could dial in more grip and traction? We decided against this change because the differential we would be fitting was only a standard Altezza size 7.5 inch crown wheel, which my team felt might break under pressure (the car was and continued running an 8 inch crown wheel for the rest of the event)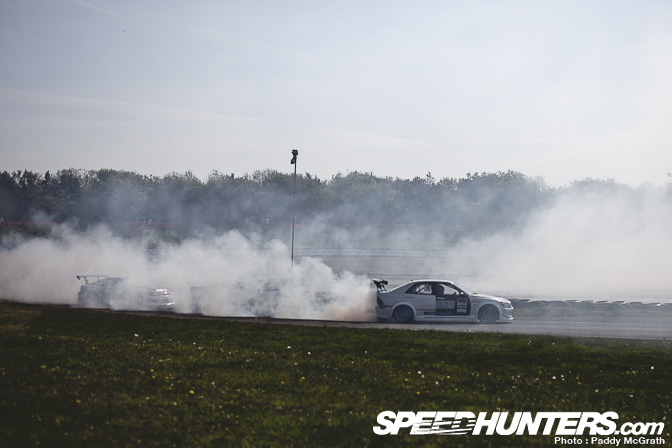 Having made this decision we found ourselves raising the rear tyre pressures to 50PSI and running stiffer damping to allow the car to perform on the first long fast corner, but this had a negative effect on our speed exiting the slower corners on the infield.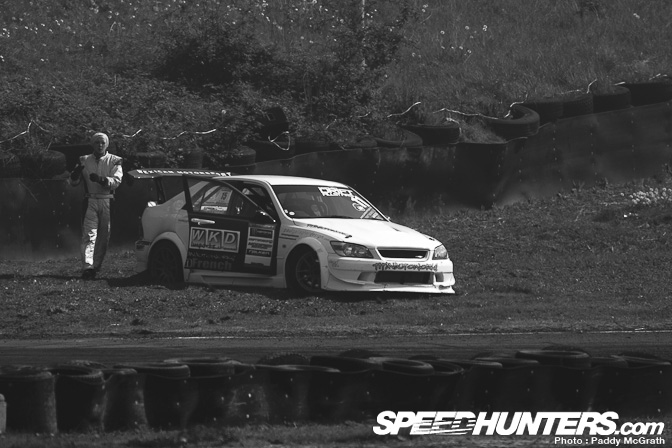 Even with our compromised setup we were very fast in practice and I decided to see just how fast was too fast which resulted in the above picture. Thank you gravel trap !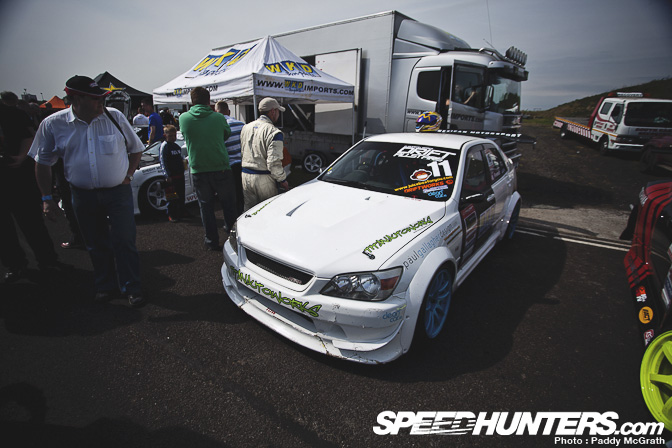 After my incident with the gravel trap I decided to return to the pits and give the car a good check over to make sure everything was ok. I have to say a huge thank you to Wez and the WKD team, without them I would have not made it to the first round. It means everything to have access to the setup in the background.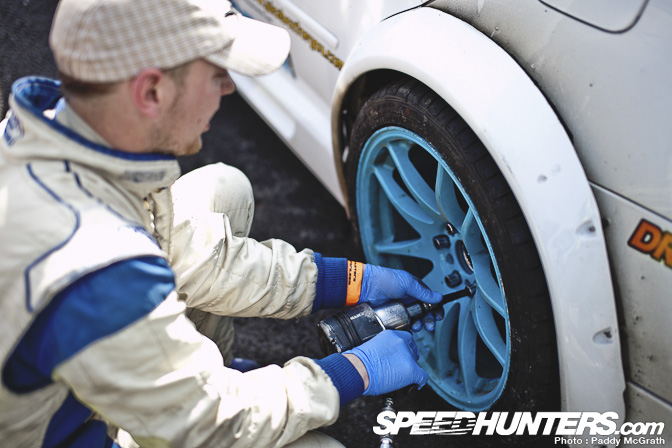 Luckily the only thing the car needed was tyres and lots of them as it was producing more smoke than every other car on the grid.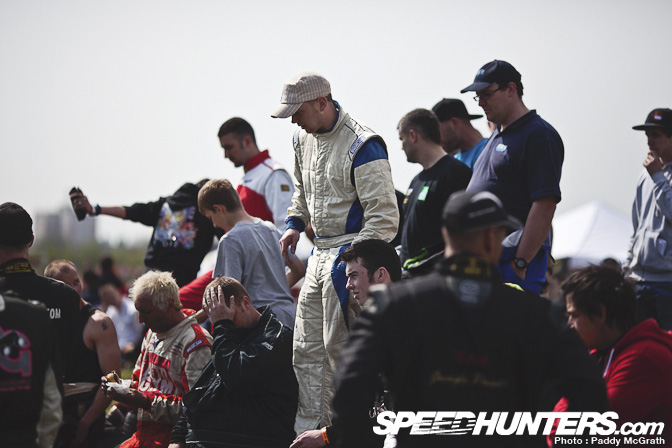 No more time for more practice, it was time for the judges to brief us for qualifying.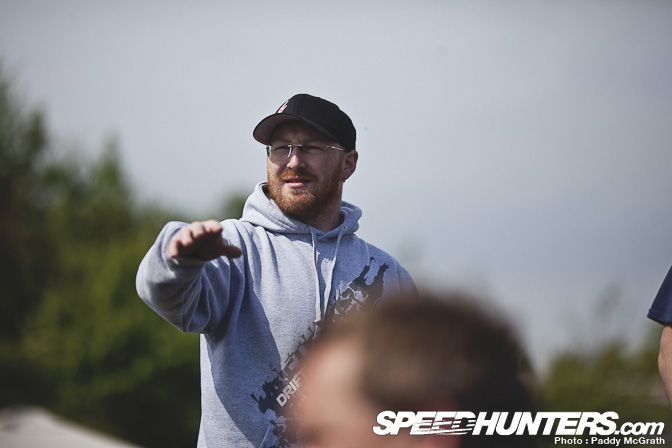 Enter Matt 'Mitto' Steele, the Drift Allstars head judge, all round JDM enthusiast and driver. I'm not sure what he was doing here but I'd say he was trying to be serious and explaining how he wanted an outside line and fast entries. I was thinking to myself 'I'm up for that.'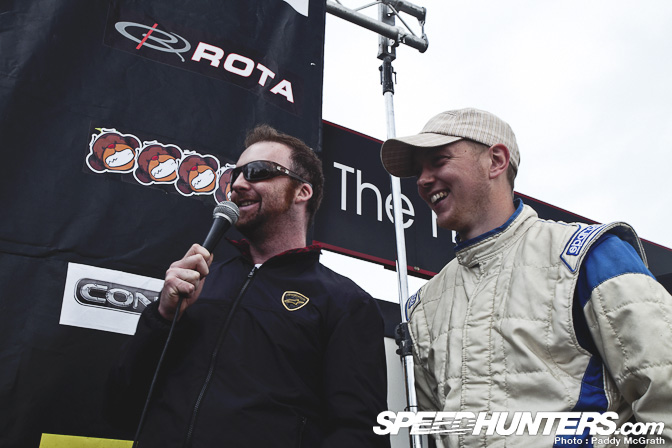 So now time for qualifying. As usual I got nabbed to talk on the mic with another cool dude and commentator Paul 'Fuzzy' McCarthy.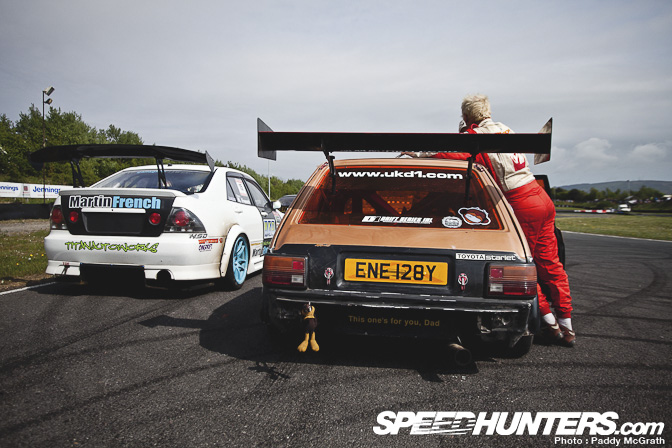 I finally got myself back to the track and lined up beside a good friend Steve 'Stiggy' Evans in his 'mighty' Toyota Starlet.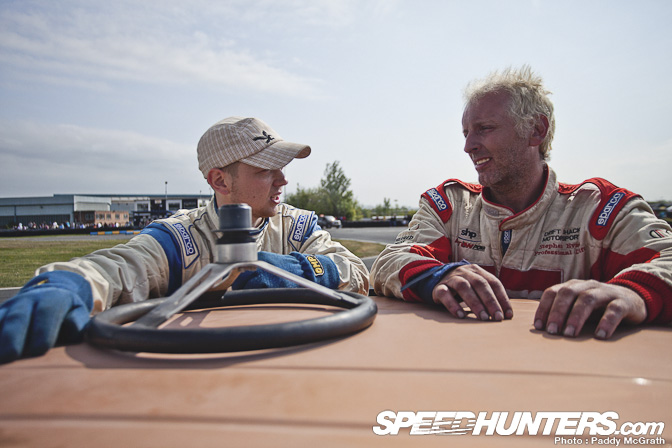 Stiggy also has an Altezza or Lexus IS200 with an LS1 motor which will be finished soon (come on Stiggy!) He was asking me about my car and how it drove so I was just telling him my impressions and how happy I am with how my car handles and behaves.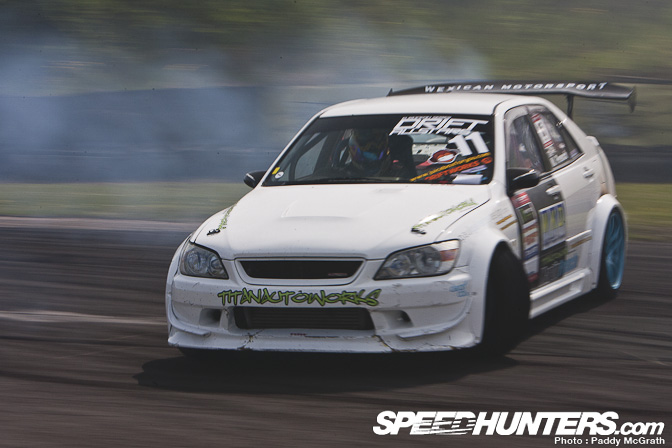 My turn to qualify. New tyres with 50PSI, I felt good. I had one warm up run followed by two qualifying runs. I came in hard on my warm up run, nice line got all my clips. Everything was good, back to the start line to put in a solid run. Came in for my first qualifying run, same pace as my warm up to first corner but the car bogged down midway through turn one and didn't want to spin wheels. Seven clutch kicks later and no clip on the first corner, I entered the infield on the wrong line, transitioned and spun.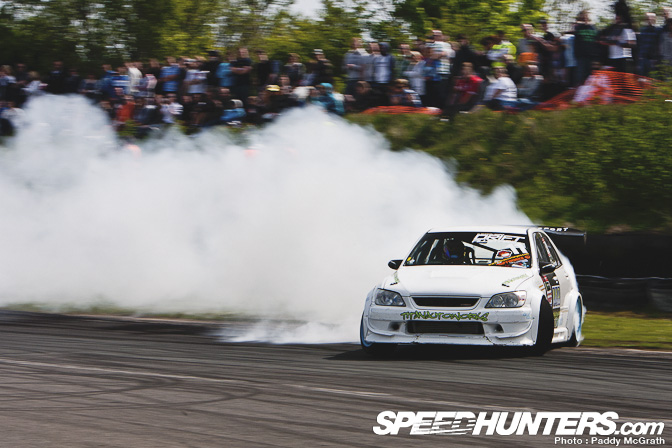 At this moment I was trying to figure out what to do and what went wrong. As I drove back around to the startline, my mechanic came over and said that the track the temperatures have gone sky high, everyone is having the same problem and go harder! As I pulled up to the line and took a deep breath I got the signal to go. It's on – First gear, second, third, big clutch kick and off we go. I ran wider clipping the dirt and with less angle than I had all day. The car didn't bog down but as I got to the outside clip it started to grip again. One big clutch kick later and I got the outside clip …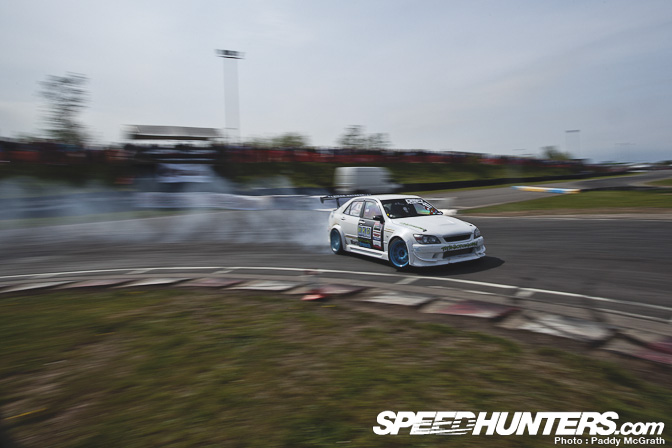 … and now to the infield inside clipping point. Good, but a bit off it.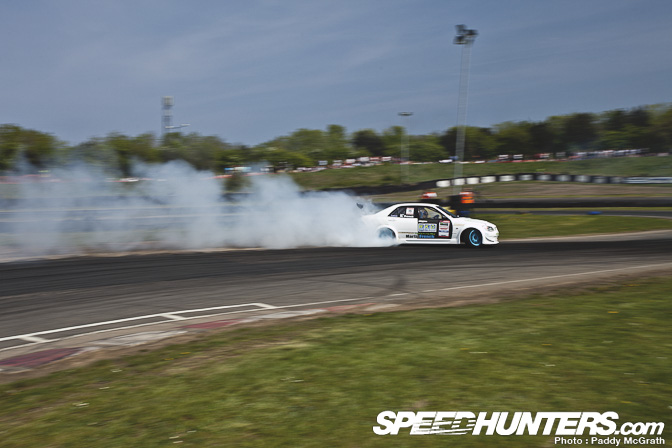 Back on the power, transition and hit the next inside clipping point, power on through the final left hand sweeper and breathe a sigh of relief. The run was nowhere near as good as my earlier practice runs or even my warm up run. I hoped I had done enough to qualify.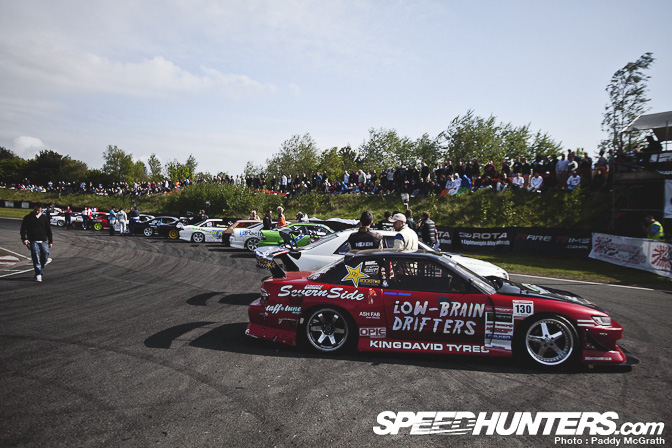 I managed to qualify in second place which I was delighted about and we then lined up for the top 16 parade.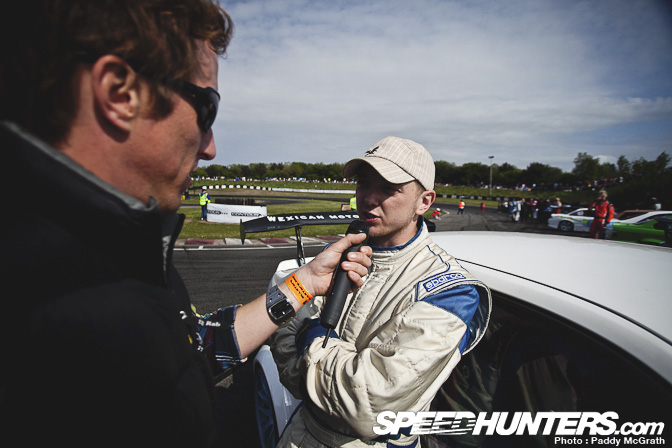 Where yet again I got to talk about how I felt the day was going and got time to thank my sponsors.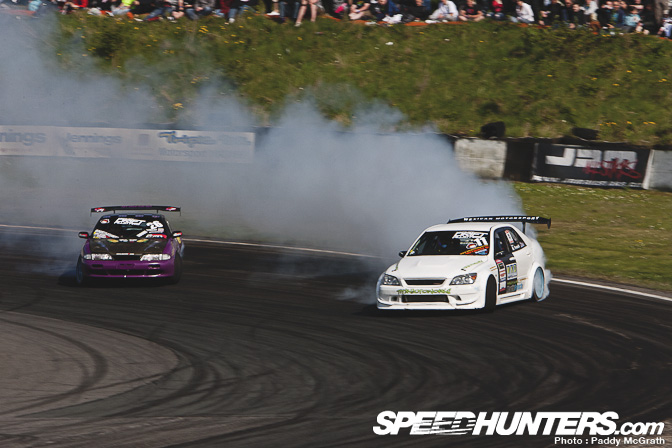 Top 16: With no time to waste, it was time for my top 16 battle against Tom Yates in his s14 fronted S13. As I was the higher qualifyer, I lead on the first run. I should add at this time that i had to put 70PSI in my rear tyres to overcome my grip issues during qualifying. The judges had stated no over taking unless the other car goes completely off course and to run the outside line on the bank (same as the qualifying line)
Being the good person that I am, I did as I was told and while leading I ran a better line and pulled a gap. Now my turn to follow, I knew Tom was slower so I gave him room to the first corner and then running an awesome qualifying line which I should have done in qualifying. I closed the gap towards the end of the bank and was on him through the infield. We pulled to the line and i got the nod. This was a huge relief to me and I started to really relax.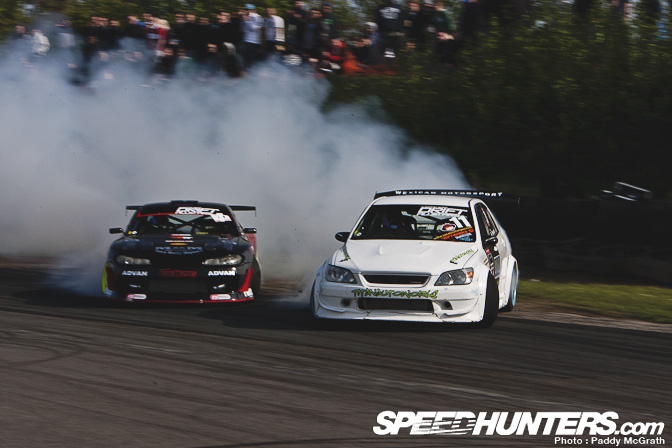 Top 8: In the final eight I drew Christy Carpenter in his awesome 1.5JZ Yokohama S15. I knew this was going to be a hard battle. We pulled up to the line and I was to lead on the first run. I just did what I always do – go in as hard as I can. I pulled a gap on entry but Christy was soon on my door. I had a slightly better line and he made a small mistake which gave me the advantage going into the second run. My turn to follow and I wasn't giving him an inch but I got too close on the entry to the first corner and nearly made contact. Christy powered on and pulled a gap whilst I had to clutch kick to avoid straightening. I kept it together and caught him at the end of the first corner and stayed on him to the end.
Top 8 Re-Run: We pulled up to the line and I wasn't sure of the decision which seemed like it took forever. They called it a OMT and I was pumped. To the line once more and again I went as hard as I could leaving a cloud of brown dirt before the smoke started. Again I had the better line but Christy was on me but with not as much angle – advantage to me again. Christy's turn to lead and I wasn't going to get caught twice. We were off to the first corner, but this time I timed my entry perfect and was watching the back of the S15. Once he got on the power, so did I. I had a higher line on the bank and was on him through the first clipping point to the infield transition stuck to his door – I love it !
We pulled back up to the line and I got the nod. Big thumbs up from Christy and the same from me to him. This is what it's all about, no BS or dirty tactics, just flat out competition.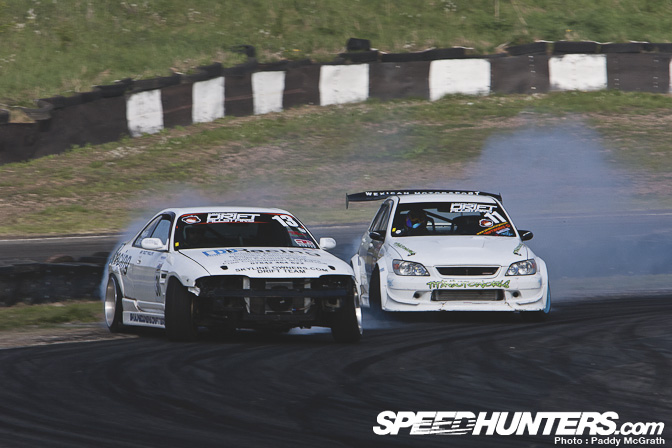 Top 4: The battle of the V8 R33 Skyline of Ian 'Bizz' Phillips versus my little SR20DET. After saying best of luck and may the best engine win, it was time. I lead once again from the start. I really didn't know what to expect as I hadn't practiced with Bizz at all and I know he is a good driver. It's all or nothing from the off and if he can stay with me then lets battle.
I entered as fast as I could, dirt dropping again. I was fixed on my line and it felt good as I came off the bank and got my inside clip. I looked back through the smoke and either he was very close or not there. I looked again as I transitioned and saw him at the entry to the first corner. He had spun but I wasnt sure what had happened. This meant a 0 for Bizz and all i had to do was perform a clean run. As I came around to the start line I was thinking don't give him too much so I didn't. At the line I gave him the thumbs up and we were off once more. I ran a higher line and closed on him through the first corner but then he put on loads of angle out of nowhere in an attempt to get me to spin or straighten. I remember thinking 'Oh no you don't!' and used all my lock and a dab of the brake and transitioned back onto on his door. To the final we go !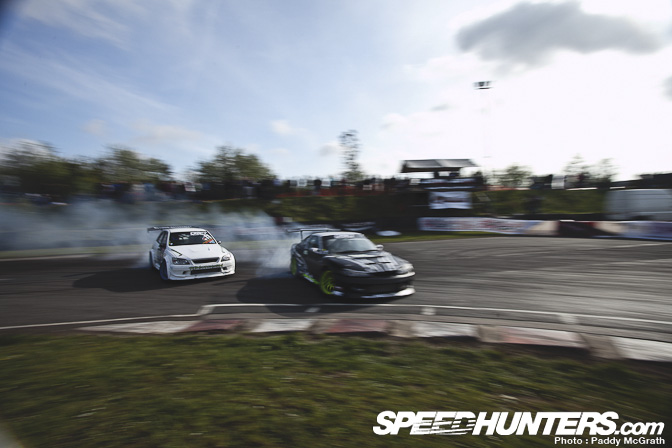 Final: The final of the first round of the 2011 Drift Allstars series. The Wexican Motorsport Altezza versus Nigel Colfer's 1JZ S13. Nigel only lives a few miles from me so this was going to be a hard fought battle. I knew he was going well all day but I knew that we had better lines. I looked across at him and gave him the thumbs up and he signaled the same back. It was go time and once more I did what I only know how to do, go as fast as I can. I dirt dropped again and pulled a gap on the bank with a better line and more angle. He closed in on me through to the infield but made a slight mistake which gave me the advantage for the second run.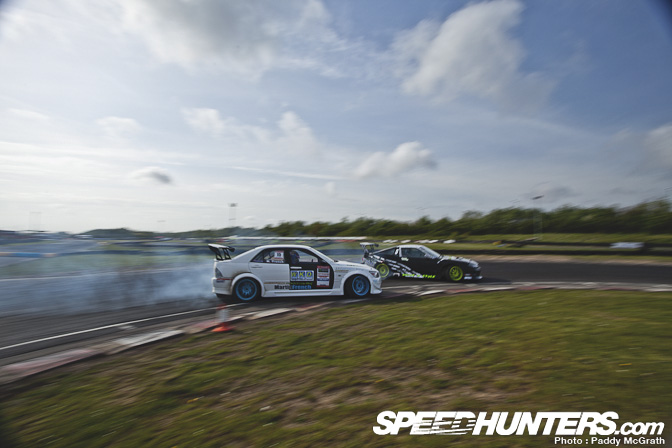 We lined up again and I was to follow. I stuck with him on entry and stayed on his door on the bank. Keeping the same distance he had a slightly better line to the first inside clipping point but I managed to keep the same gap through the infield. I didn't know if I had done enough. We pulled back up to the line and waited. We were told go to the podium and that a decision had been made.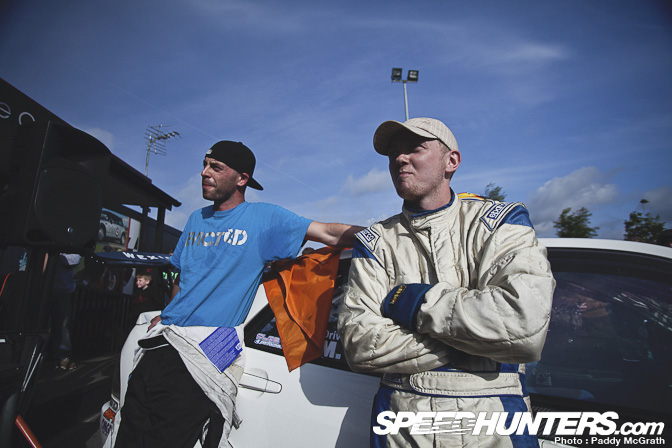 We drove to the podium to find James Deane had beaten Bizz to make it an Irish top three finish. They first announced third place James Deane in the Low Brain Drifters PS13 and then we waited for them to announce the second place result …
… which they called as Nigel Colfer in the Evicted Wear / Spec Clutches 1JZ S13.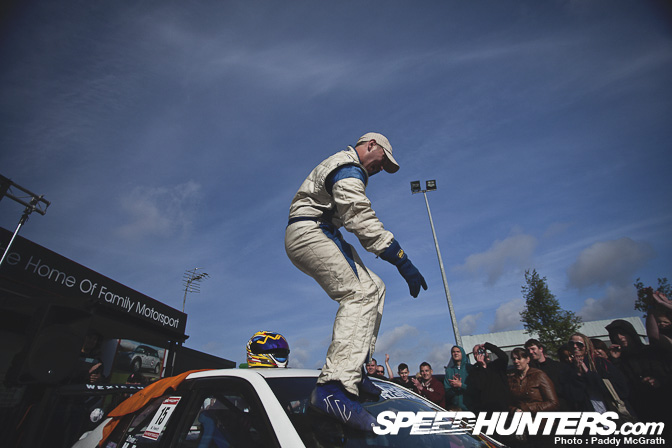 It was at this moment I decided to climb on the roof of my Altezza to celebrate! Only to nearly fall straight back off again !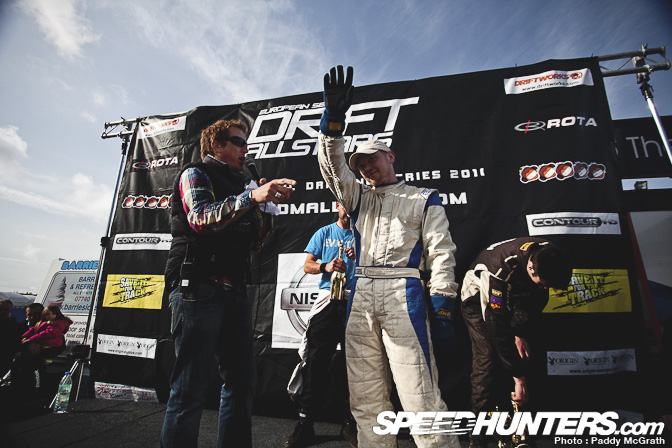 I eventually got up on the podium to take my first ever Drift Allstars overall win.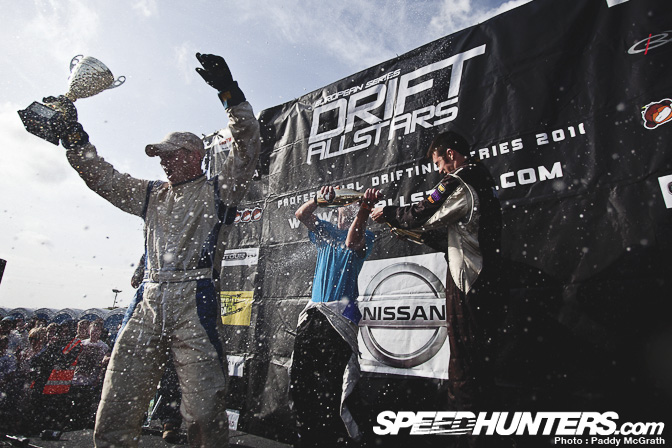 As I held up my trophy to applause from the crowd, James and Nigel decided to ambush me and cover me in champagne.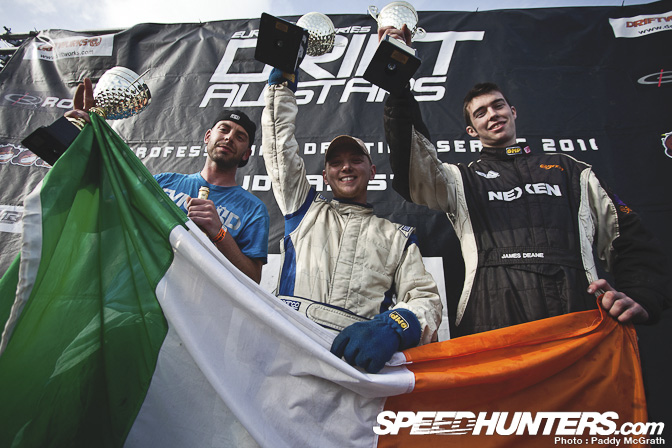 Of course us Irish being how we are, we just had to have an Irish flag for the occasion !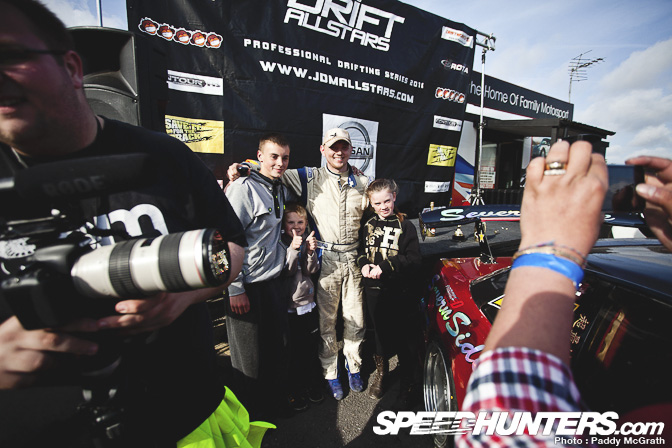 I couldn't get over the amount of support I got from people wanting to shake my hand and say well done and the people who wanted photos with me. It's awesome to see kids coming to events like this and you never know that these could be the superstars of the future.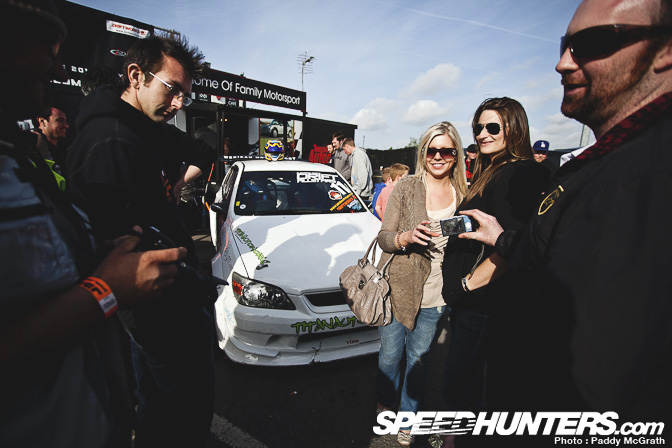 The little car that could.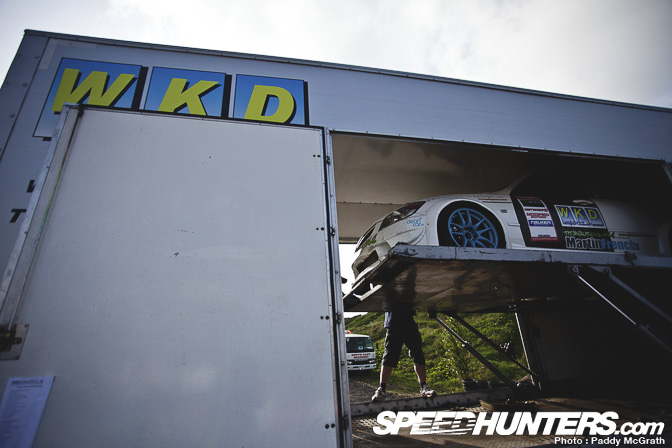 And as I leave you with this last picture of everything getting loaded up, I have to thank all of my friends but especially Colm Murray because without him this car would not even be here.
We can also end on another positive note, I would like to welcome on board some new sponsors in the form of Protuner who are going to be helping me out with mapping the car and Touge Automotive  who are going to design and fit some new and rather awesome graphics to the car very shortly. 
I'd also like to offer a final thanks to Rod Chong for inviting me to talk to you guys about this event. This long overdue win has come about by just taking one small step at a time and hopefully it's the beginning of something good.
Thank you for reading.
-
Martin Ffrench
Titan Autoworks
WKD Imports
Plastics 4 Performance
Paul Gallagher Design
Juicebox for You
PMCGPHOTOS
Driftworks
Garage D
CleanCar.ie
Ffrenchy.com (Coming Soon)