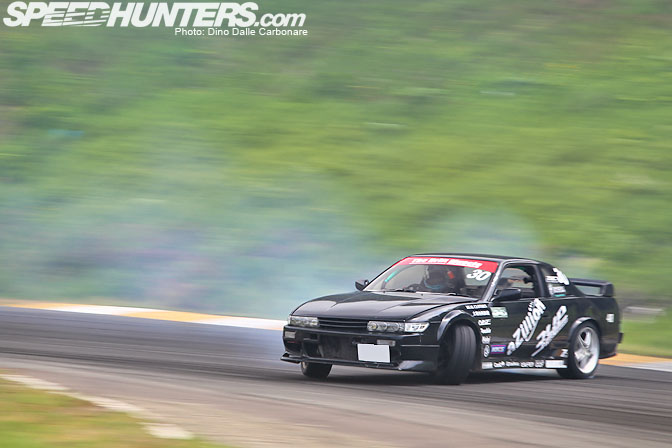 It is obvious that what Inada and Tsuchiya are doing is very much appreciated by the worldwide drift community. Keeping drifting fun and accessible seems to be the theme for this year and I'm sure this new concept will evolve and grow over time…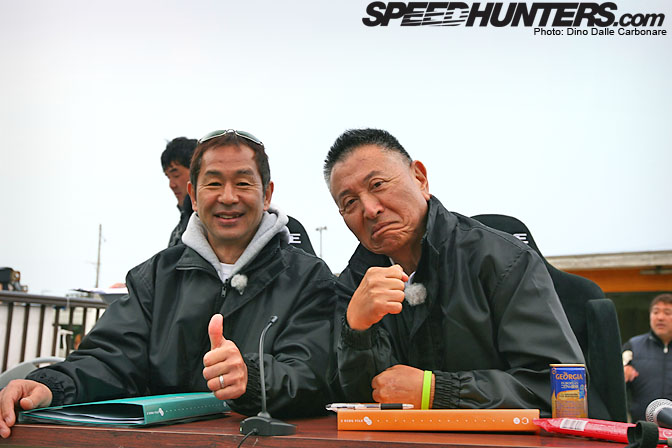 …as its founders steer it in the right direction. Like I mentioned yesterday the concept here is to allow drivers to learn, and that includes the professionals that we've been seeing in D1 for the best part of the last decade. Chatting to Mamina Inada I discovered that a lot of the big drivers from D1 were a little worried they might get caught out driving cars with less than half the power they are usually used to. Call it Japanese humbleness, but driving a less powerful car can take more skill in some ways, or at the very least require a slightly different approach. Like going from a 300 HP S14 to a 150 HP AE86, the hachiroku will demand more from the driver.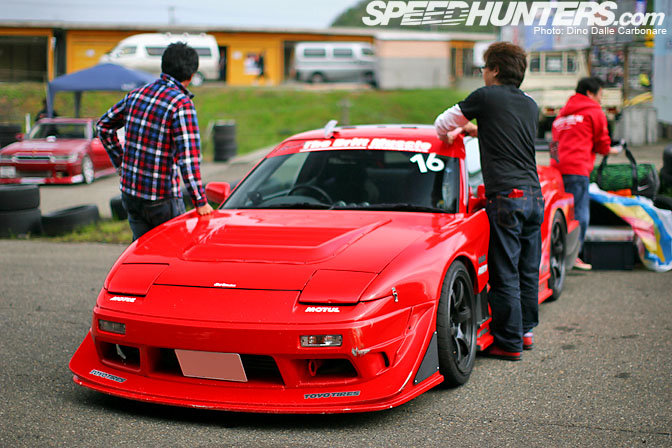 Someone wanted to see more of this GP Sports RPS13? Here it is in all its glory!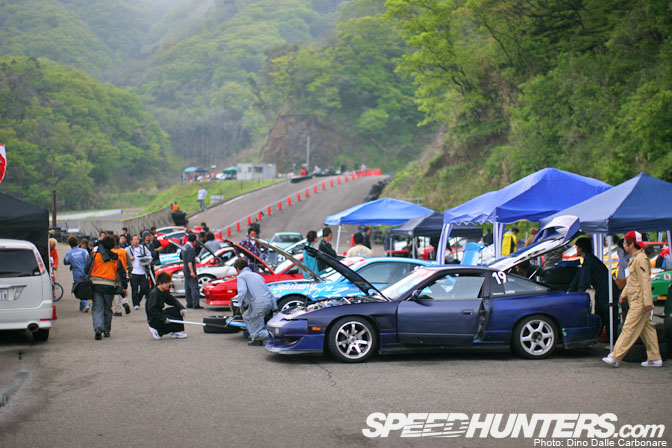 As an observer I tried to approach this whole new drift series with an open mind but I couldn't help but notice some obvious things. First up the cars. There was a certain lack of, how shall I put it, originality maybe, not intentionally I'm sure but it seemed every car in the paddock…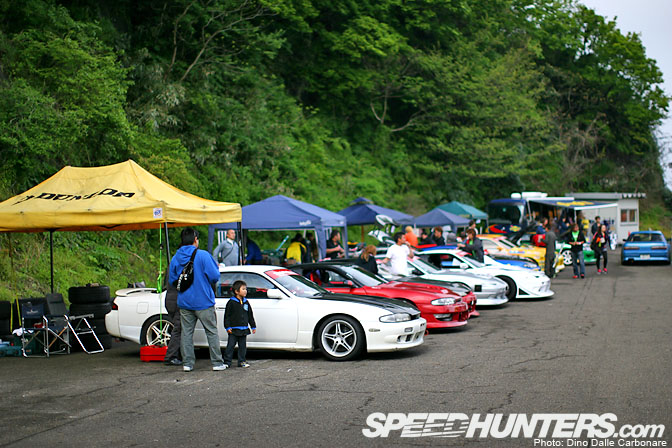 …was running SR20 power. S-chassis obviously make the most popular drift cars but I would have liked to have seen a little more variation and maybe a few more naturally aspirated cars or AE86s…in fact there was only one, Shino from Shino Kouba with her Levin hatch, which is precisely why I decided to spotlight it!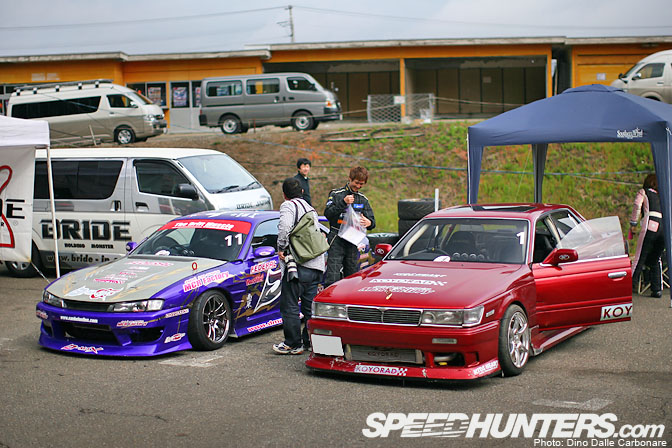 The vastness of S-chassis was peppered with a few sedans like this C33 Laurel driven by lady drifter Hayashi Yukie from Team MCR Factory, Alexi's Team Noriyaro JZX100 and two JZX90s of Saito and Masuda. That said, the quality of the cars present was extremely high, some running more power than others but all boasting the right bits and pieces to get sideways effectively and put on a great show.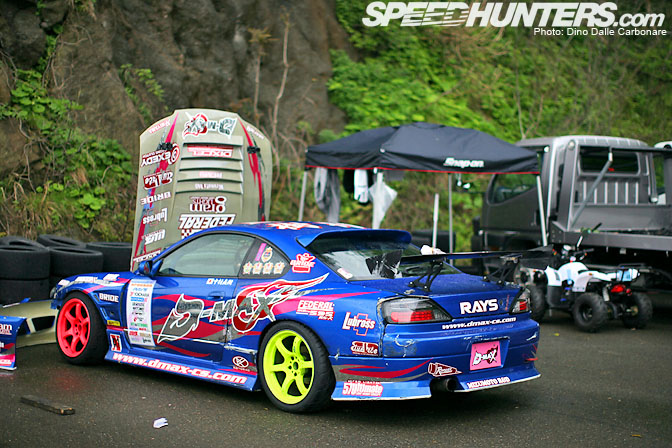 Early in the morning I spotted a couple of cool S15s in one of the paddocks, this I'm sure most will recognize as Nakamura's ex-D1 ride…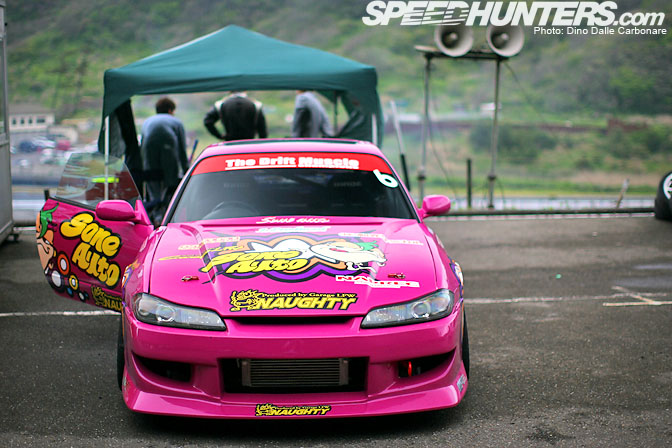 …along with this spotless pink example from Sone Auto.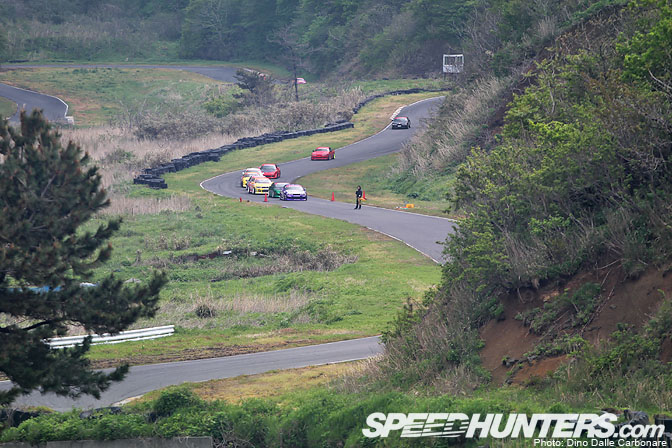 Entrants of Drift Muscle are divided into three main classes; an entry level group called the "Challenge Class," a second "Ladies Class" only for female drifters and then the most popular of all the "Muscle Class." It's all kind of self explanatory, basically beginners with lightly tuned street cars participate against each other in the Challenge class, girls in the Ladies class and those with experience and slightly more prepped cars enter the Muscle class which itself is divided into three groups as its the one with the most participants. Plenty of practice time is given in the morning to all entrants before they are individually judged by Tsuchiya and Inada. Those that manage to qualify go on to enter tsuiso battles in the afternoon, which are run in the usual Best 16 format. If subsequent events grow there is a possibility a Best 32 might be run.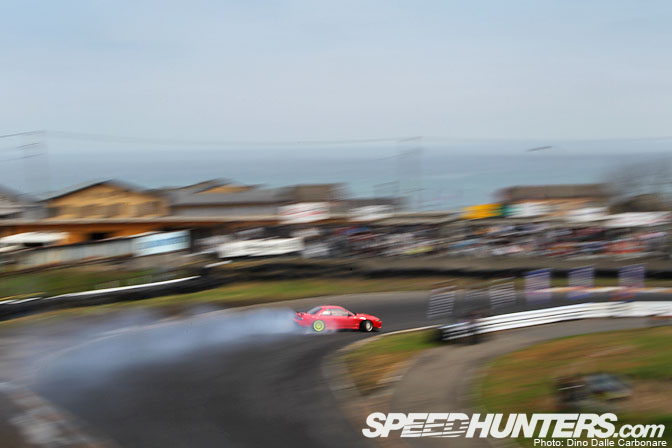 Maze circuit is probably one of the most interestingly positioned circuits in Japan, right on the cost of the sea of Japan offering a very unique backdrop when looked at from this angle. Being right on the coast means the track is constantly hit by strong winds and changeable weather, which on the day went from pleasantly warm to utterly freezing in a split second. I managed to get a sunburn and freeze to death all at the same time!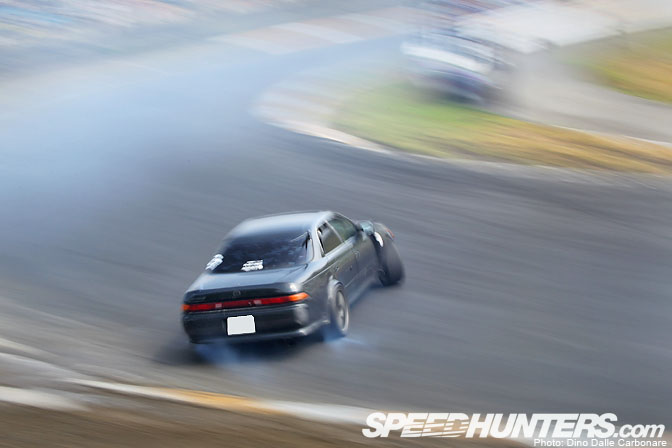 This is Masuda Toshimitsu, a friend of Daigo Saito and one of the most entertaining drivers on the day. His lack of fear pushed him to try out some pretty wild entries with his JZX90!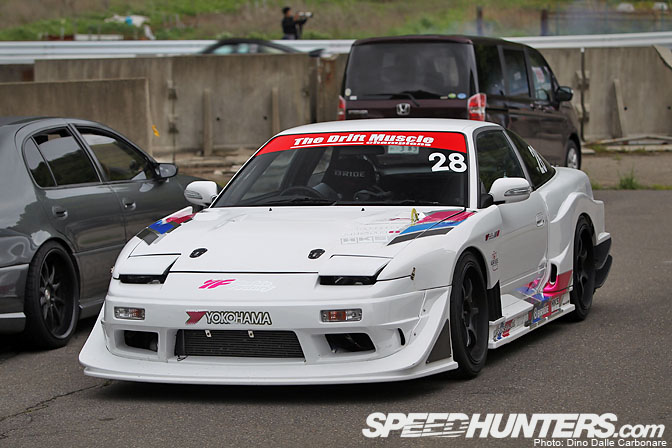 Okachan from Yashio Factory was behind the wheel of his GP Sports 180SX. What is it with Niigata and GP Sports? I think it's a law that if you own an RPS13 it has to be fitted with this kit!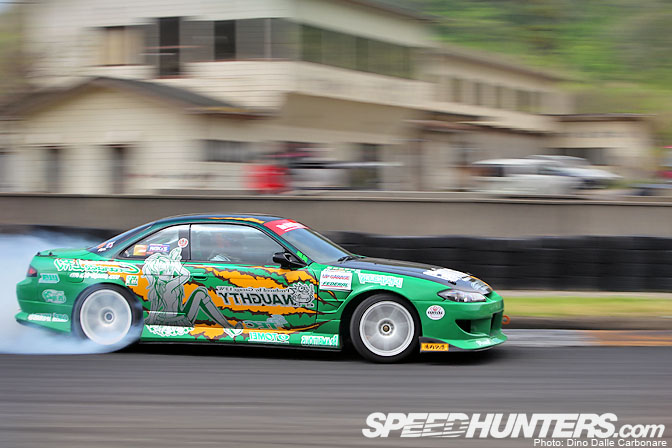 Garage LFW S14 exiting the judged corner under full power.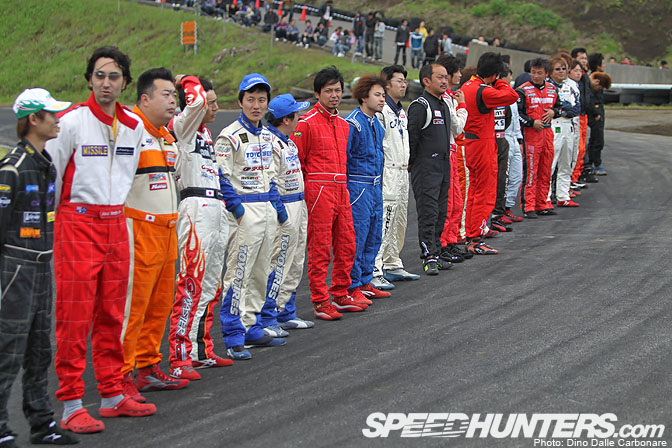 Once the morning practice was over it was time to kick off the round officially and in D1 style, all drivers lined up on the track and were introduced to the spectators.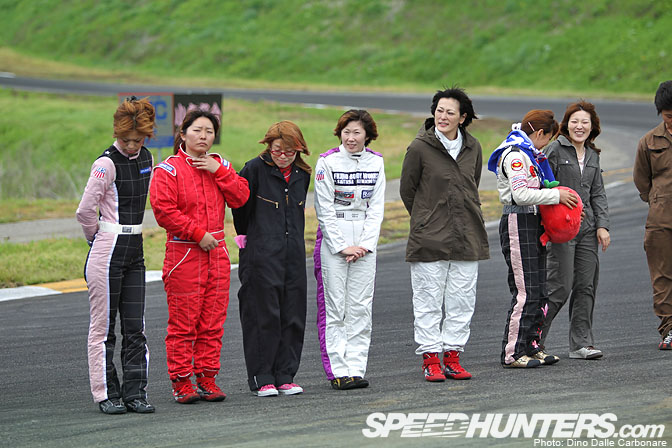 The Ladies Class.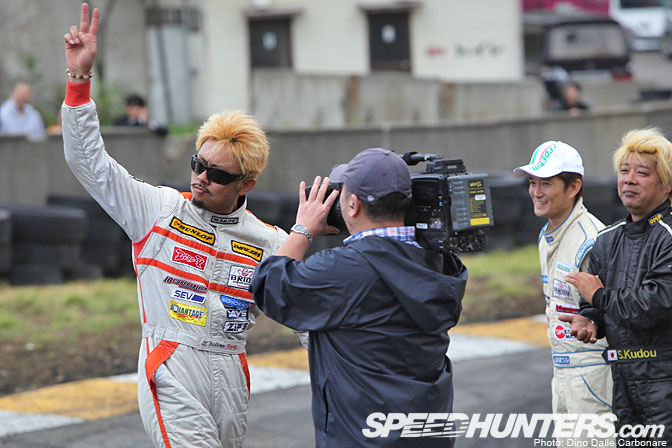 Hibino up to his usual antics…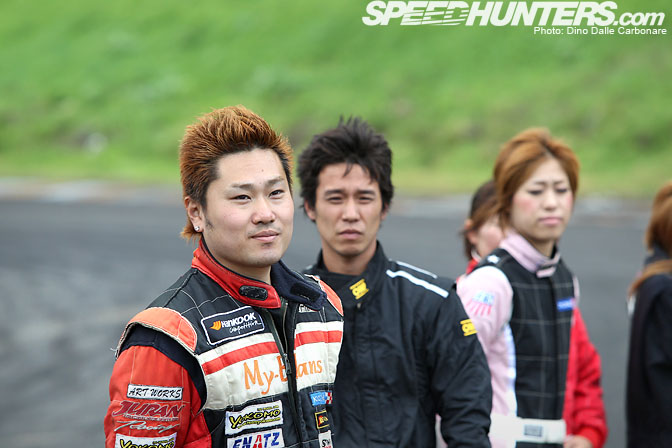 …while Saito always prefers a quieter introduction along with a nod of respect to the judges.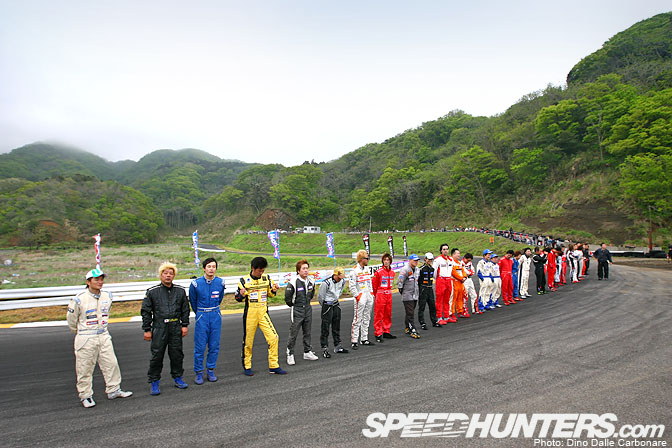 Not a bad turnout for the first round!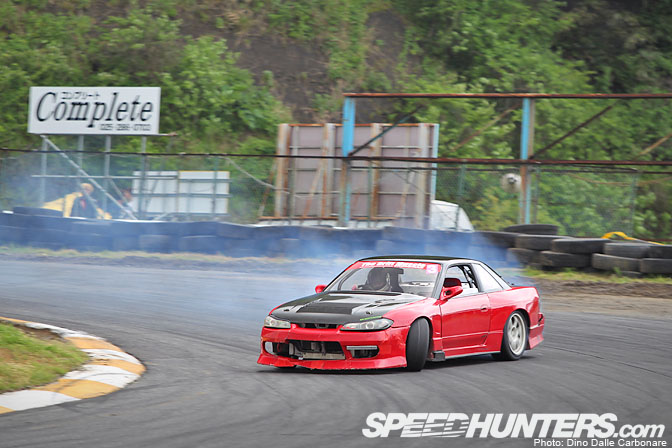 Tsuchiya was looking for a nice tight line into the main hairpin, allowing the cars to power out early thanks to the widening exit. Some nailed it spot on, others came up with different approaches. Over all it was probably one of the most entertaining sections I've observed at a drift comp.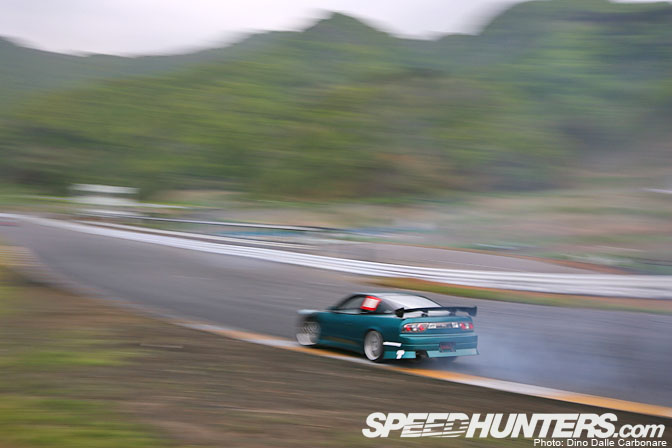 As drivers exit they finish up into the main straight where they have a chance to cool their cars down as they make their way towards the start/finish area.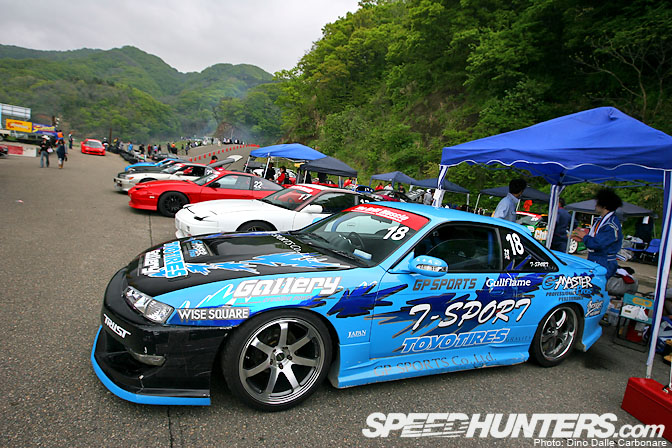 T-Sport tuned kouki S14 from Team Road Sensing.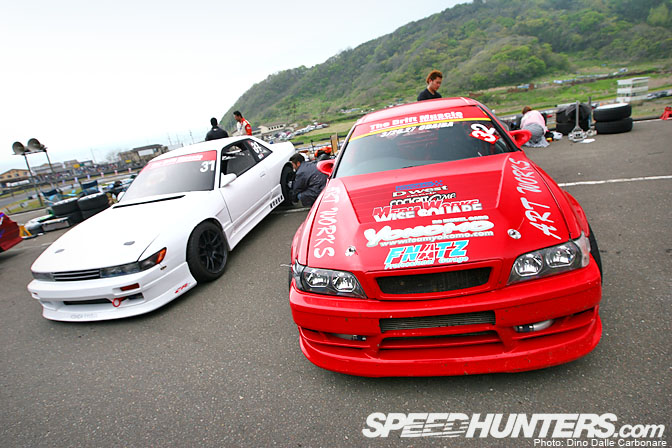 Saito's JZX90 in the paddock after he was done for the day. I'm always surprised at how many different cars he seems to have!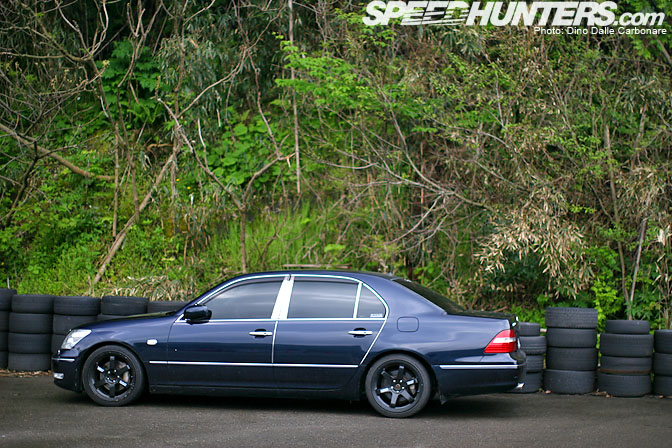 Random sighting, Toyota Celsior on black TE37s. Definitely different.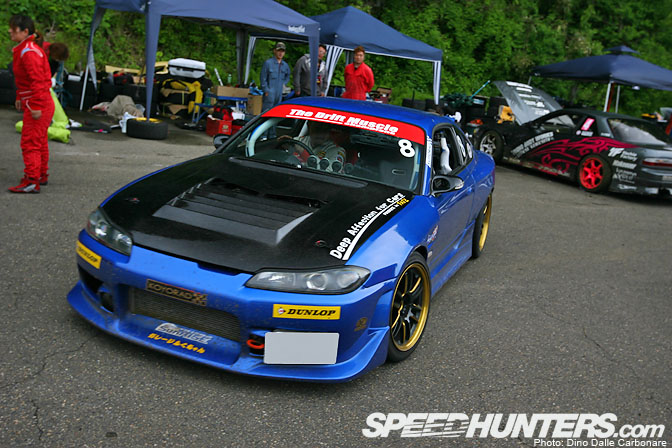 As Hibino left the pits to head out onto the track…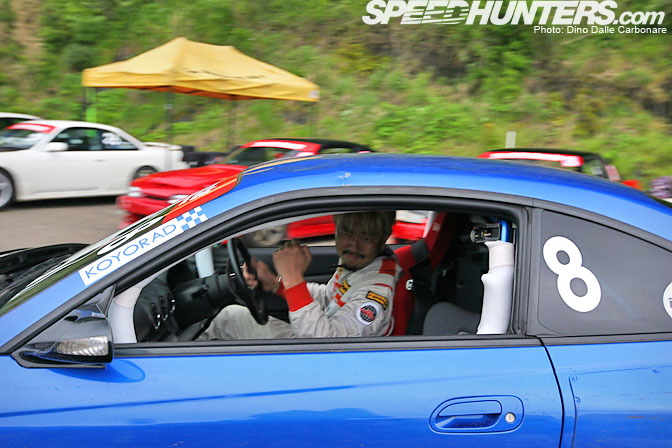 …he kindly posed for a quick snap! It looks like he is getting extremely used to forced induction after seeing him throw this Sunrise S15 around! Will he drop his AE86 in D1 and take on the power war in something else?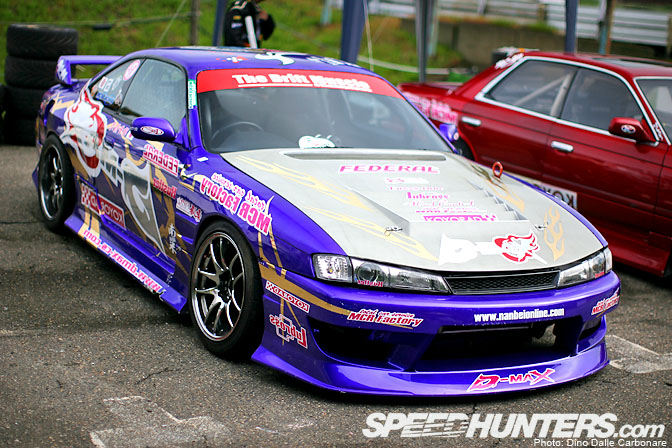 D-Max Zombie S14…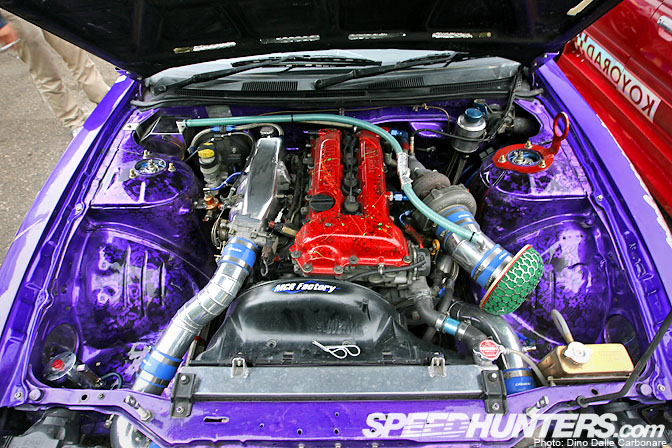 …sporting an almost showcar-like engine bay.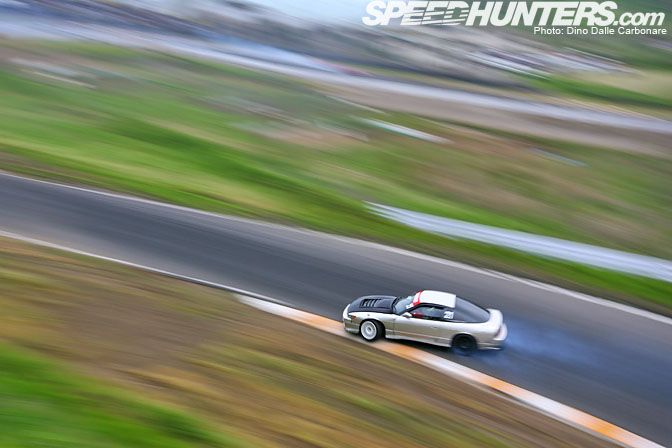 Now that is what I call nailing the clipping point! More sideways action to come in Part 2. Back soon!
The Drift Muscle coverage on Speedhunters
-Dino Dalle Carbonare