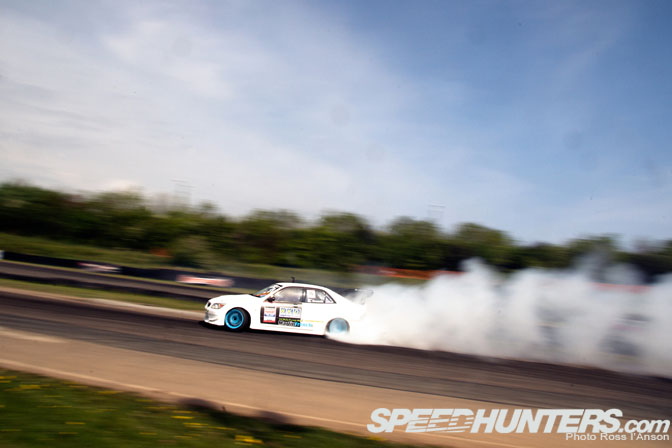 One of the things I love about Speedhunting is that you are never bored, you just don't have the time to be. No sooner had I finished up at Donington Park with the Opener of BDC, I was heading north up to Teesside Autodrome to meet Paddy for the first round of the Drift Allstars European Championship.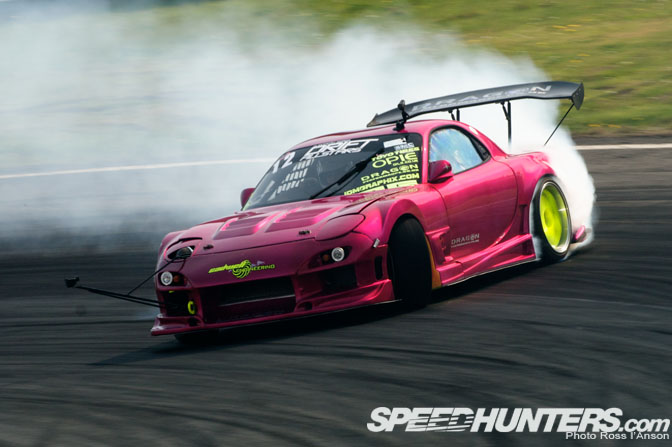 Teesside is possibly the greatest drift track in the UK and is back on the drift calender for the 2011 season. I attended the very first drift day at the track back in 2004 and things have changed… a lot!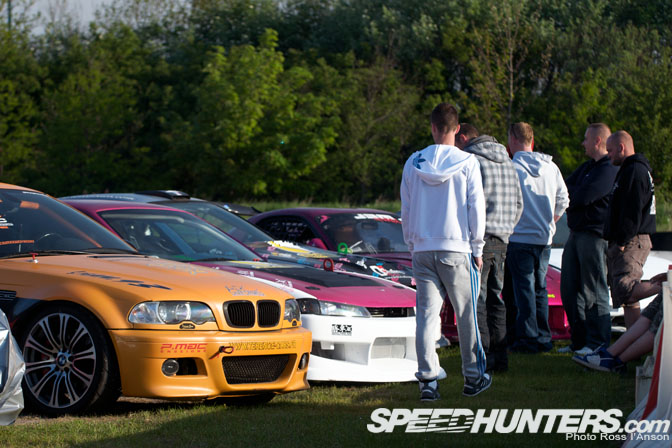 Wandering around the paddock it's very clear the Drift Allstars 2011 championship is a truly European affair.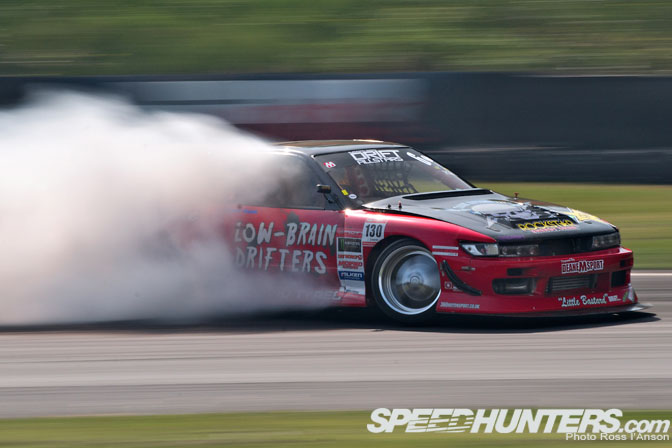 The line up includes a brace of drivers from Ireland …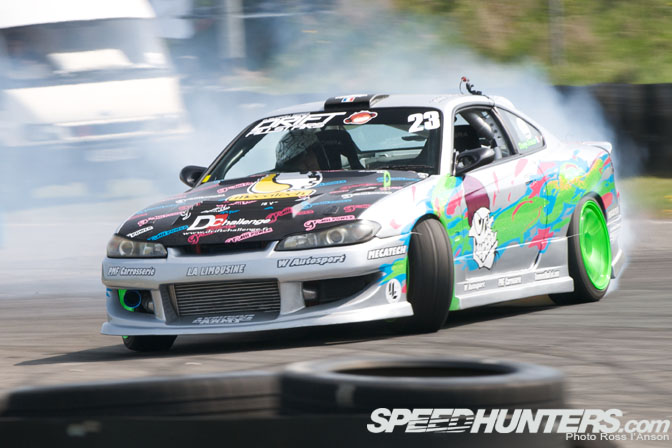 … with France being represented well by Tony Jouin, Jerome Bucamp …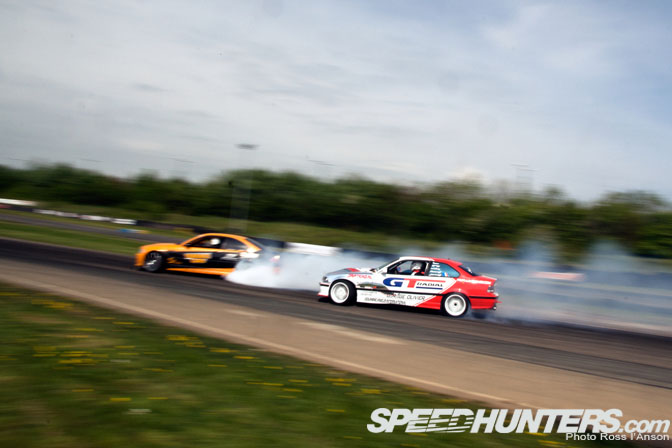 … and Benjamin Boubeles and Laurent Cousin.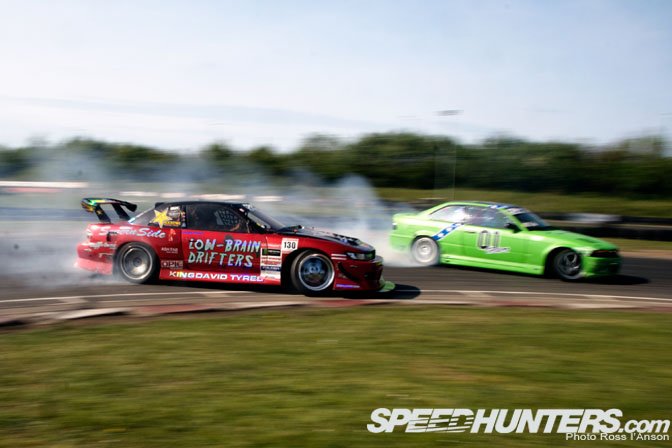 Alberto Cona and Fillippo Pirini From Italy …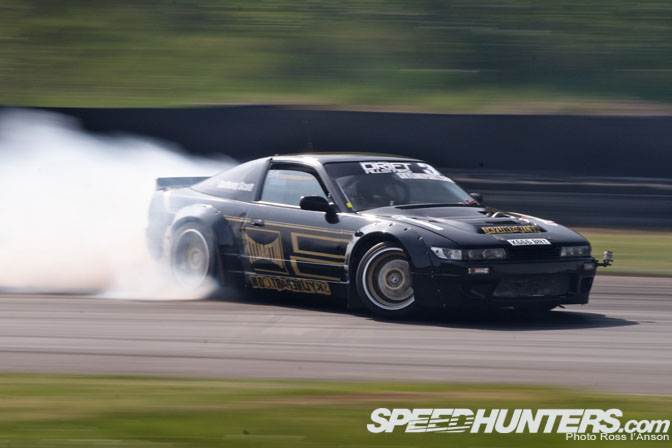 … and of course a large Selection of UK drivers. With more names from all over Europe joining the series throughout the year.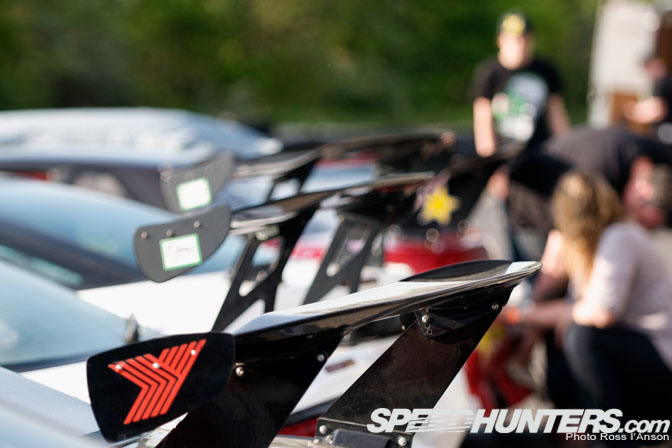 It wouldn't be a drift paddock with out some enormous wings.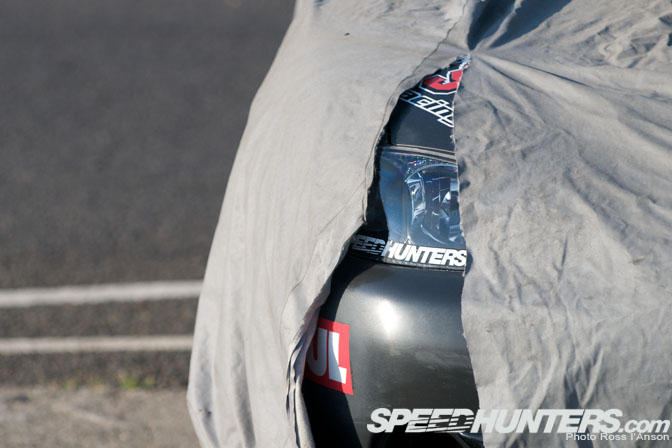 Peaking out from its cover with all the right stickers ,Fillippo Pirini's beautifully prepared Mazda MX5.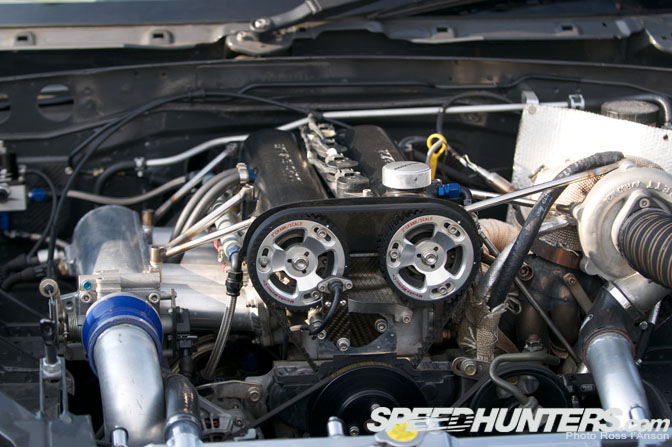 I will be doing a full spotlight on this great little car next month.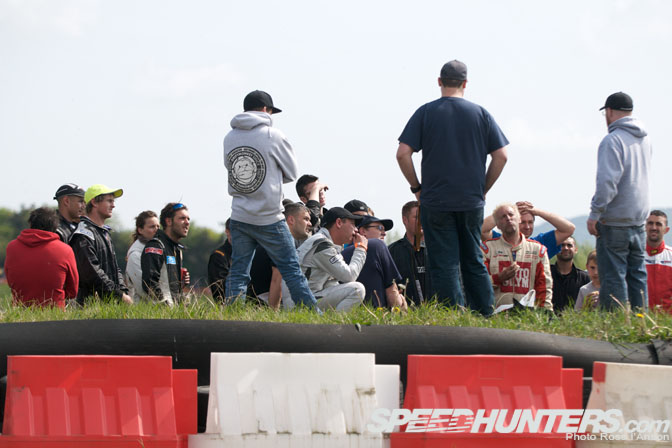 With the compulsory driver Briefing over the action turned to the track.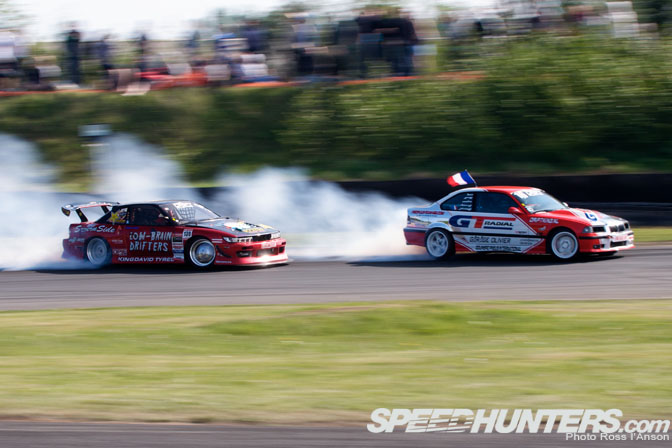 The nature of the Teesside circuit promotes close competition. A long sweeping 3rd gear right hand bend …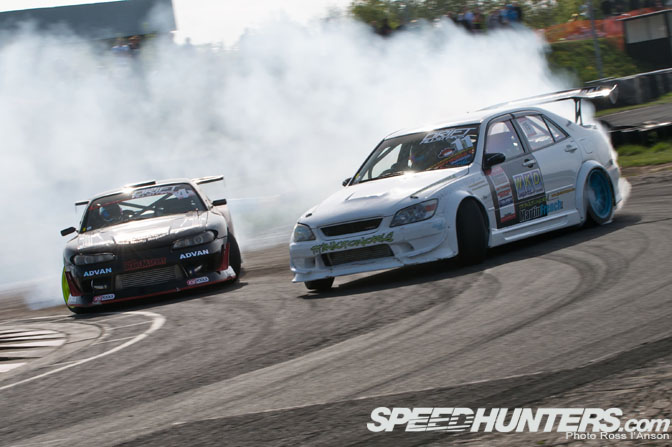 … tightening into a tight right hand hairpin …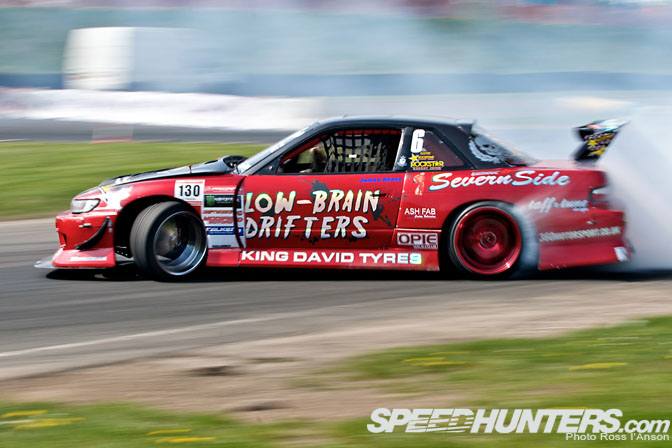 … through a quick transition into a a left hand hairpin …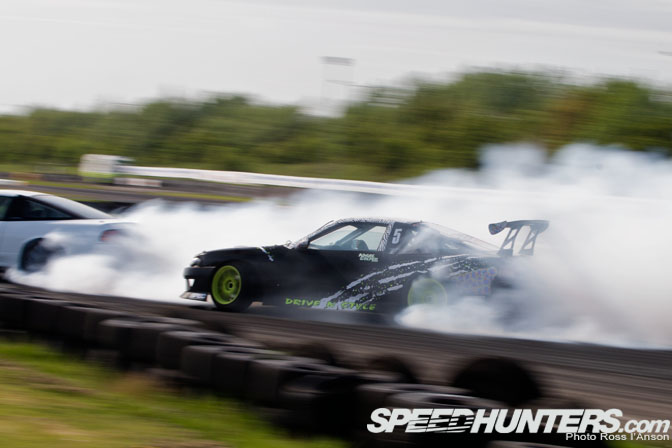 … then tune for maximum smoke, as you power along a sweeping left hander towards the final flat out 3rd gear right hander. With a high bank surrounding the drift circuit the spectators never miss a thing.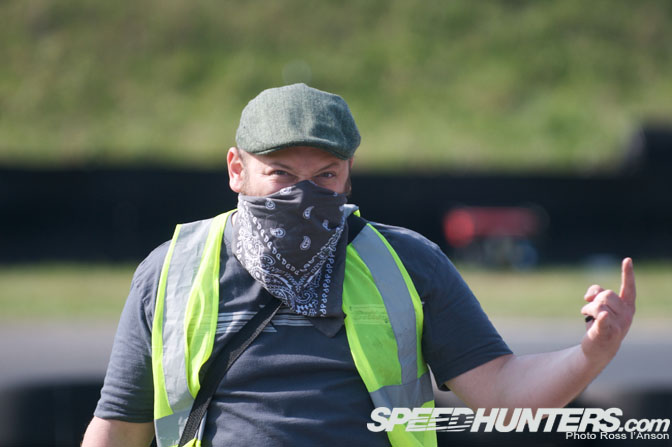 Twice over the weekend I was asked my opinion on long term tire smoke inhalation while covering drifting. I personally don't think its any more dangerous than living in any big city. Faruk from Works magazine on the other hand was taking no chances.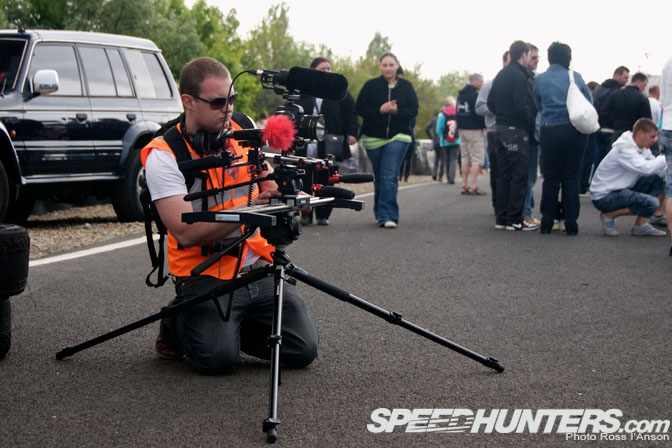 I just love the evolution of the SLR camera. From the ground breaking Nikon F in 1959, to the modern DSLRs capable of full HD video. Amazing.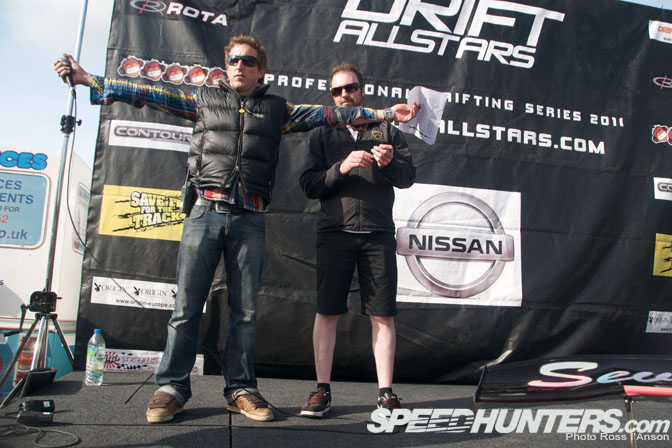 Commentary for the event was in the safe hands of Bryn Musselwhite and Paul McCarthy.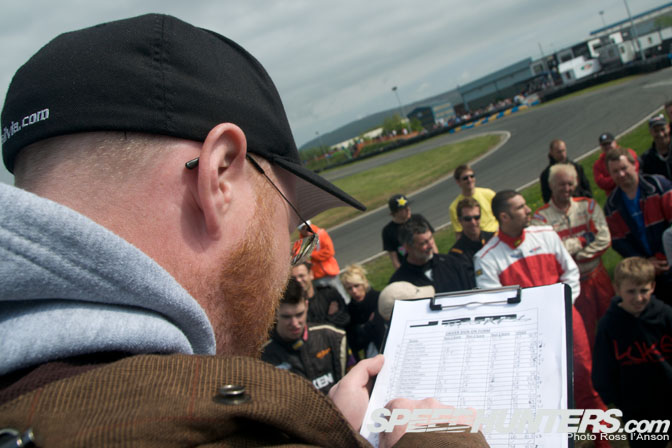 With Judging handled by Matt (Mitto) Steele and Richard Clarke.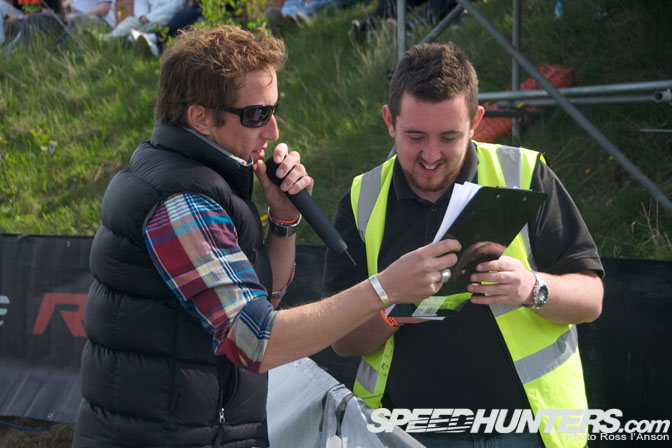 Our very own Paddy McGrath goes through some final details with Mr Musselwhite before the main event kicks off (More like trying to decipher Mitto's handwriting – PMcG)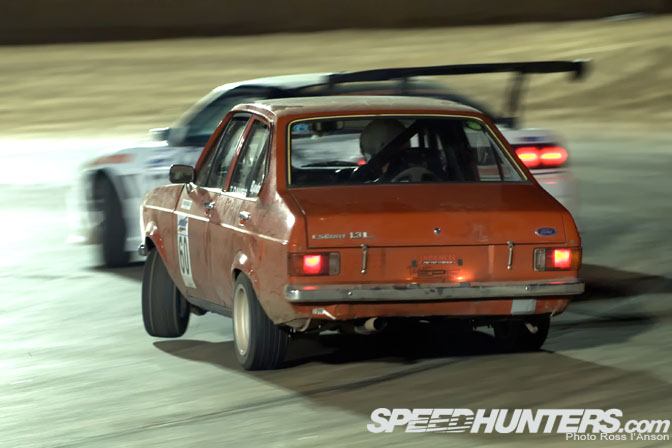 In the main event it was domination of the Irish. Low Brain Drifters' James Deane came in 3rd.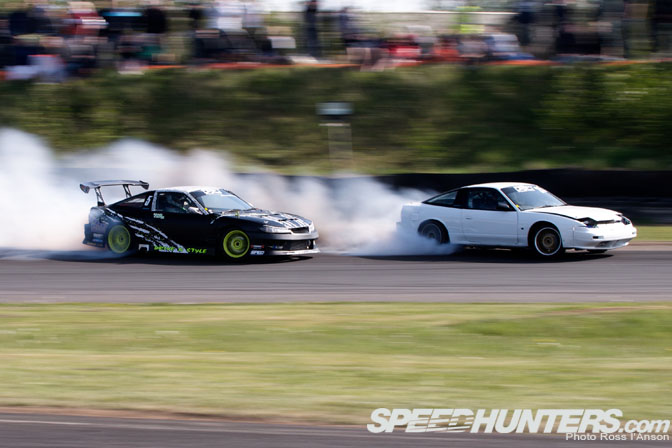 Nigel Colfer with a hard fought 2nd place..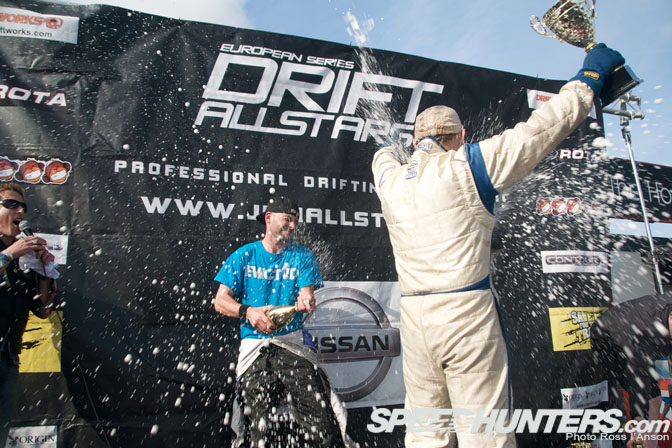 But it was Martin Ffrench who too the overall win for Round 1 of the Drift Allstars European series in the SR20 powered Toyota Altezza.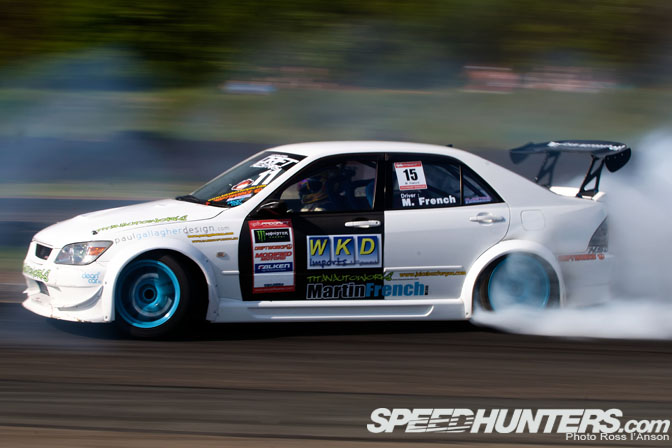 Paddy will be along soon with more from Round One .
Ross.